Dreadlocks are a protective hairstyle for frizzy hair. The good thing about dreadlocks is that everyone can have them. No matter if you are a Caucasian woman, African American woman, or of mixed ethnicity, dreadlocks can adapt to your hair.
Dreadlocks also adapt easily to different hair types and styles. Long, short, or medium hair, it doesn't matter. You can wear them as long as you like.
We live now in a society that is more accepting than before. That has helped dreadlocks enter the mainstream hair and beauty culture. Dreadlocks are no longer frowned upon.
So, if you are craving an innovative way to express yourself and embrace a unique hairstyle, here are some ideas you can try. When styled upright and individually set apart by color and length, dreadlocks are too cool to ignore.
1. Medium Dreadlocks With Loose Side Bangs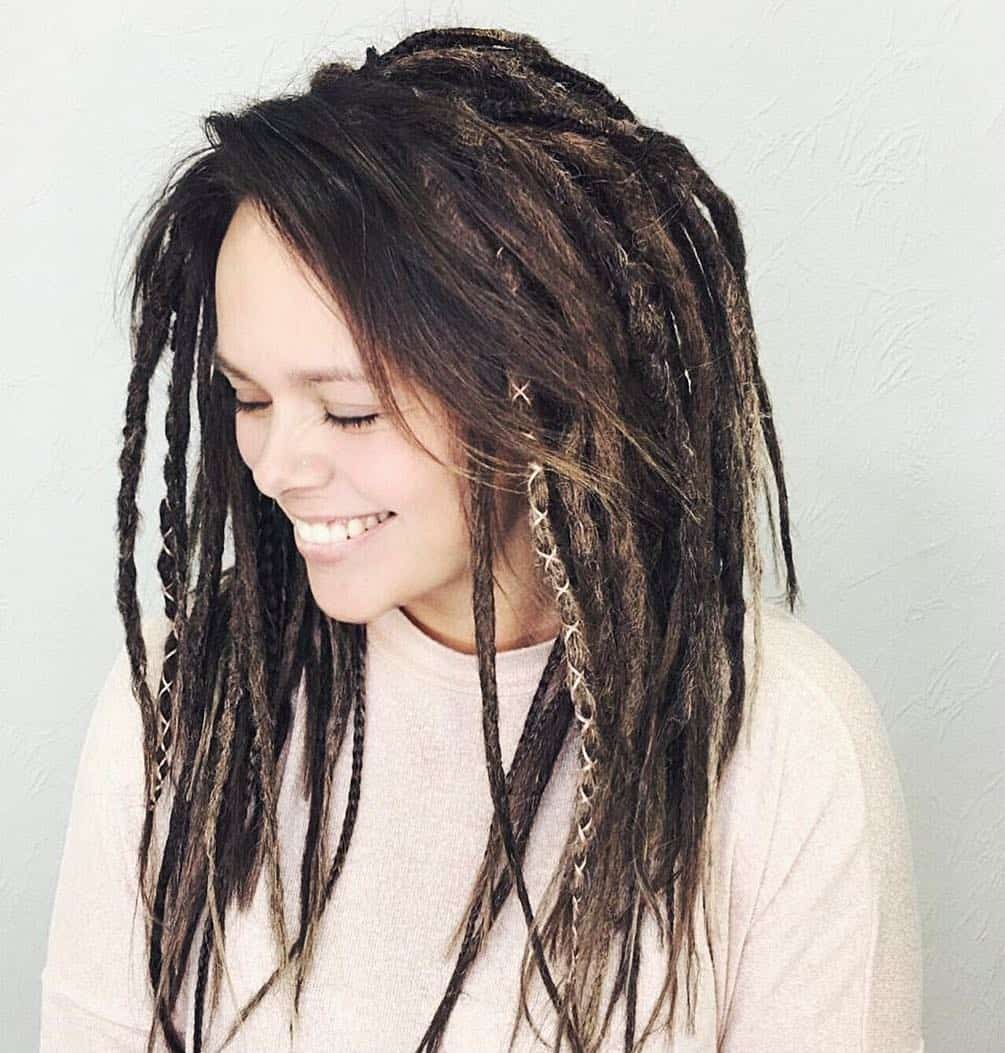 One of the many misconceptions regarding dreadlocks is that you have to put them on your entire hair. Wrong. Let's start with a hairstyle that shows you can combine dreadlocks with your loose hair.
2. Short Tied Back Dreadlocks With Shells
Dreadlocks are perfect way to add some texture and accessories to your hair. As we mentioned, they work on all hair lengths. African-American women love to add some accessories to their dreadlocks hairstyle. Here, we have some shells, but you can try other items as well.
3. Black And White Dreadlocks In Top Twisted Bun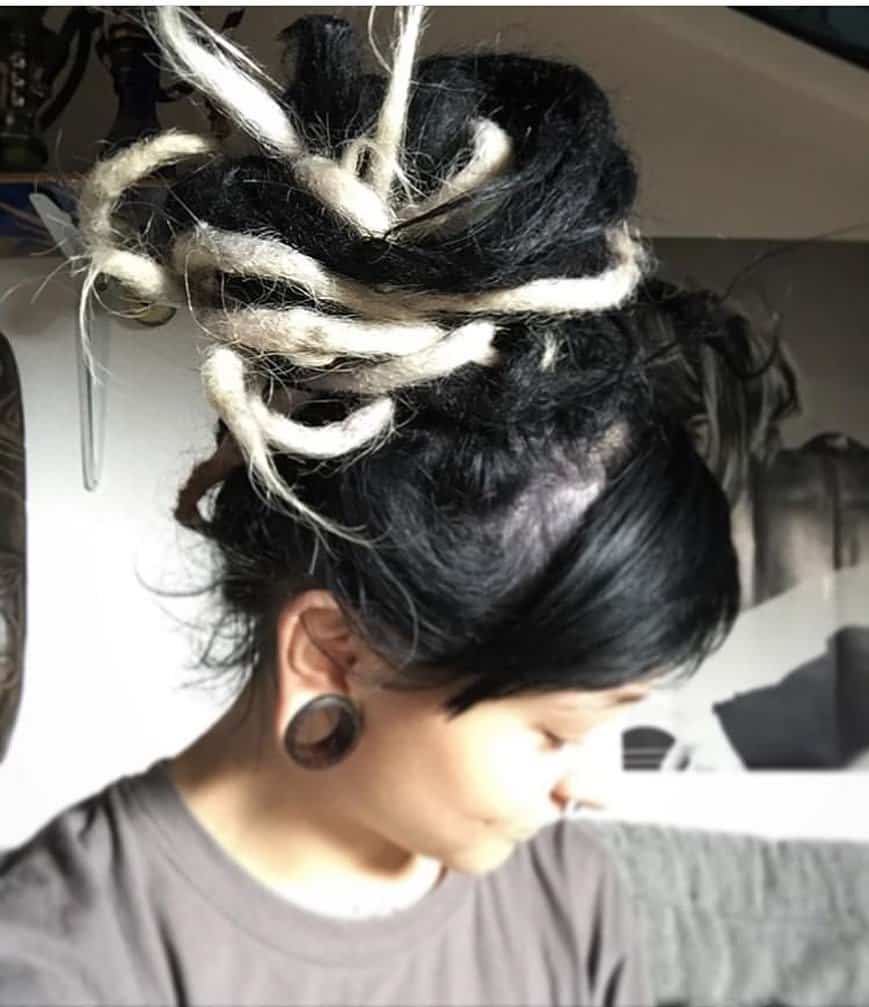 We said at the beginning that the best way to wear dreadlocks is in different colors. Let's start with a classic option, the black and white contrast. And you will see as we go down the list, there are many other color options.
4. Front And Back Dreadlocks With Twisted Microlock Cornrows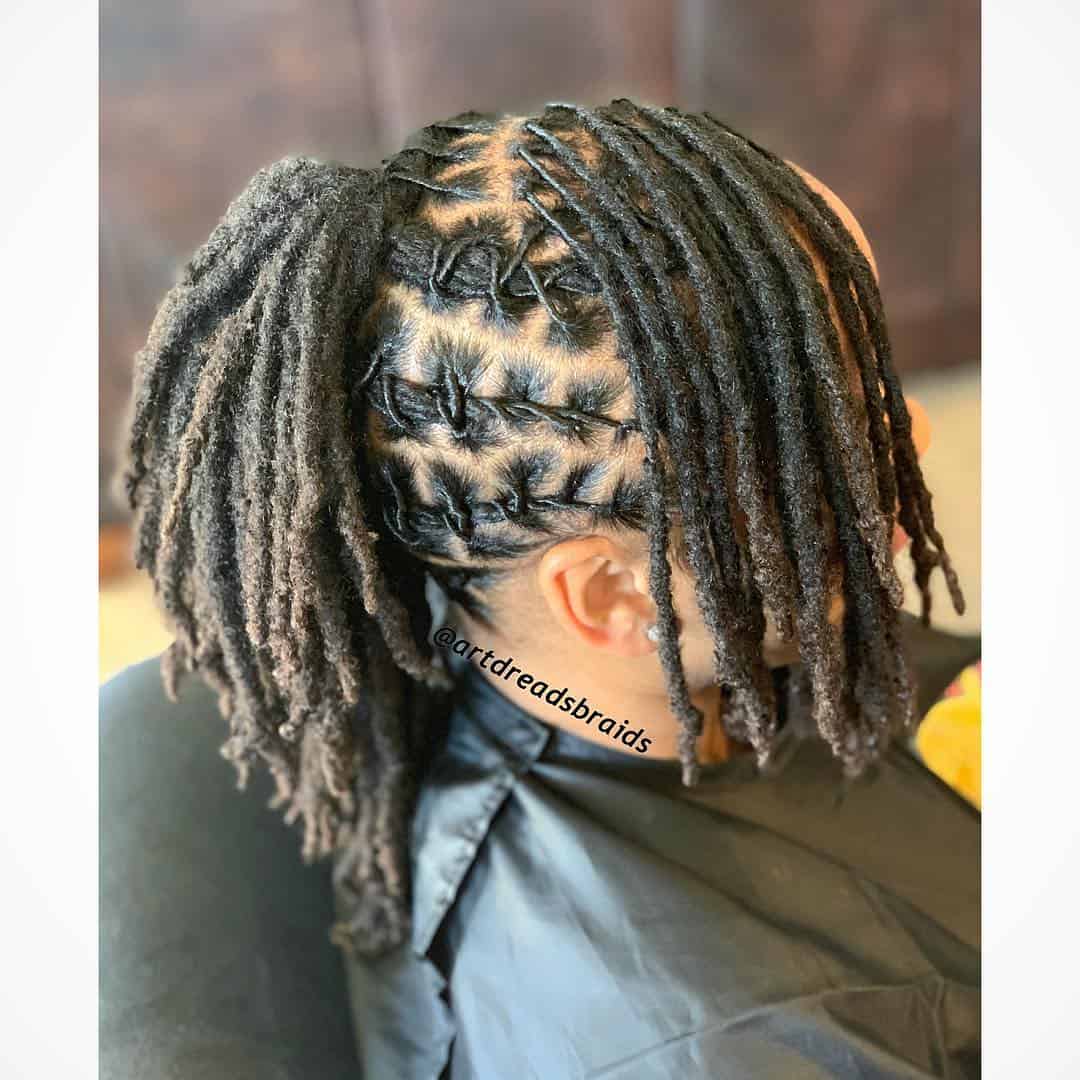 Dreadlocks are quit versatile hairstyle. You can get them on one part of your head, or the entire. And you can easily combine them with other protective styles for frizzy hair. For example, some cornrows.
5. Curled Tiny Dreadlocks On Shoulder-Length Hair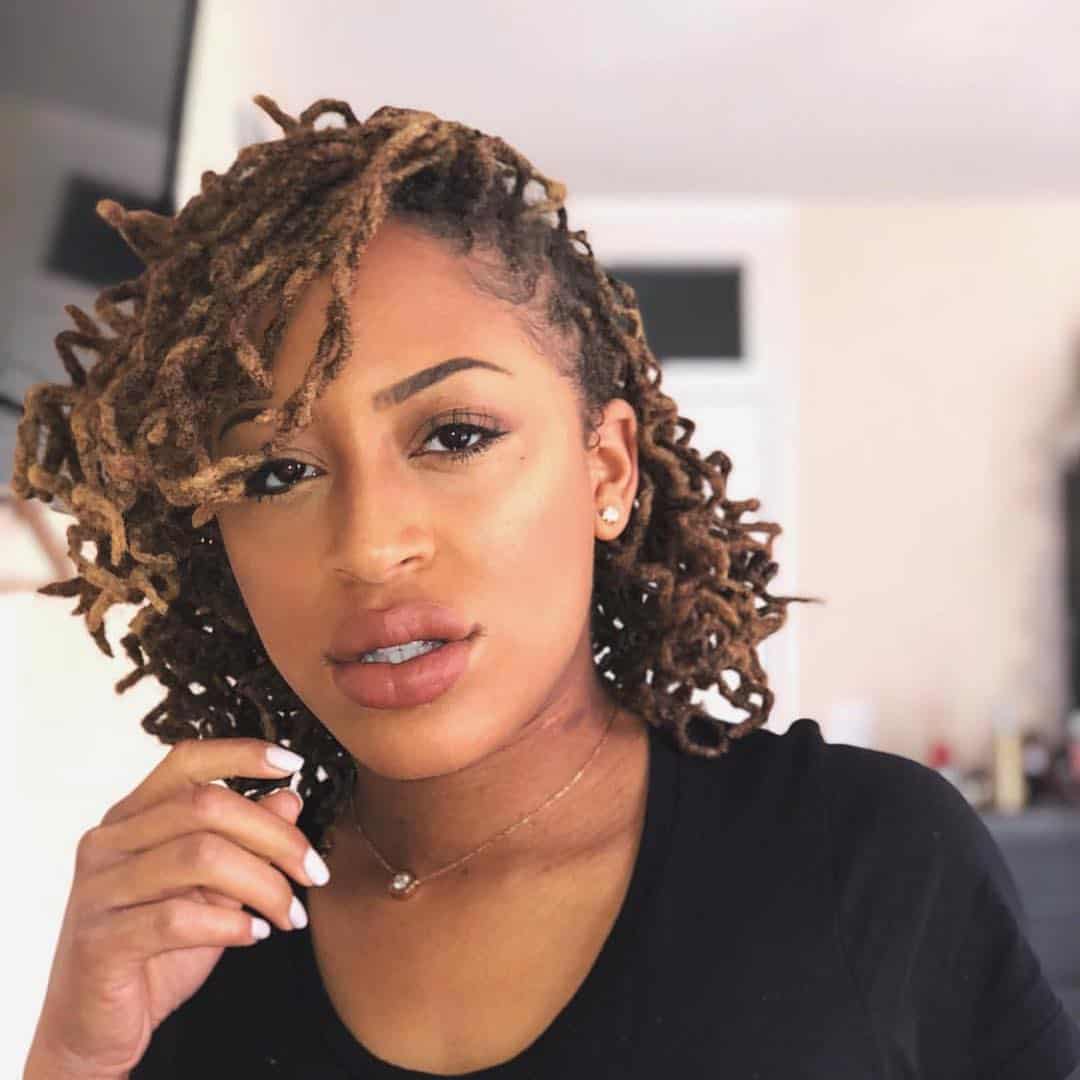 Some women want bigger dreadlocks, others go for smaller dreadlocks. As we said in the beginning, our society is more acceptable towards protective styles nowadays. But just look at this picture, and say it is not urban and chic? Right?
6. High Swirled Bun With Weave From Nape To Top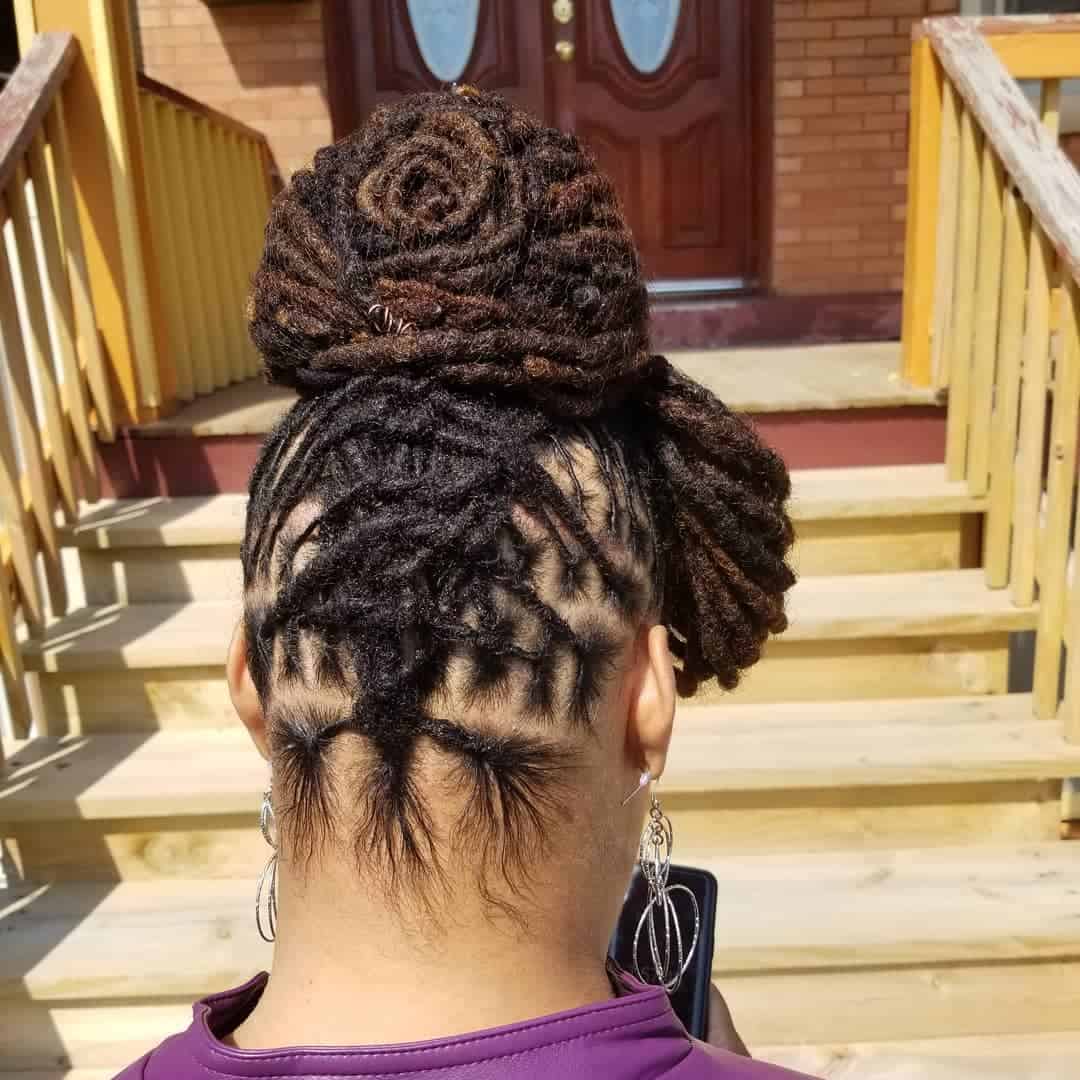 You want a bun with your dreadlocks? No problem. Not only dreadlocks are protective, they can also be styled in different ways. It is all up to your preferences.
7. Sunset Colored Dreadhawk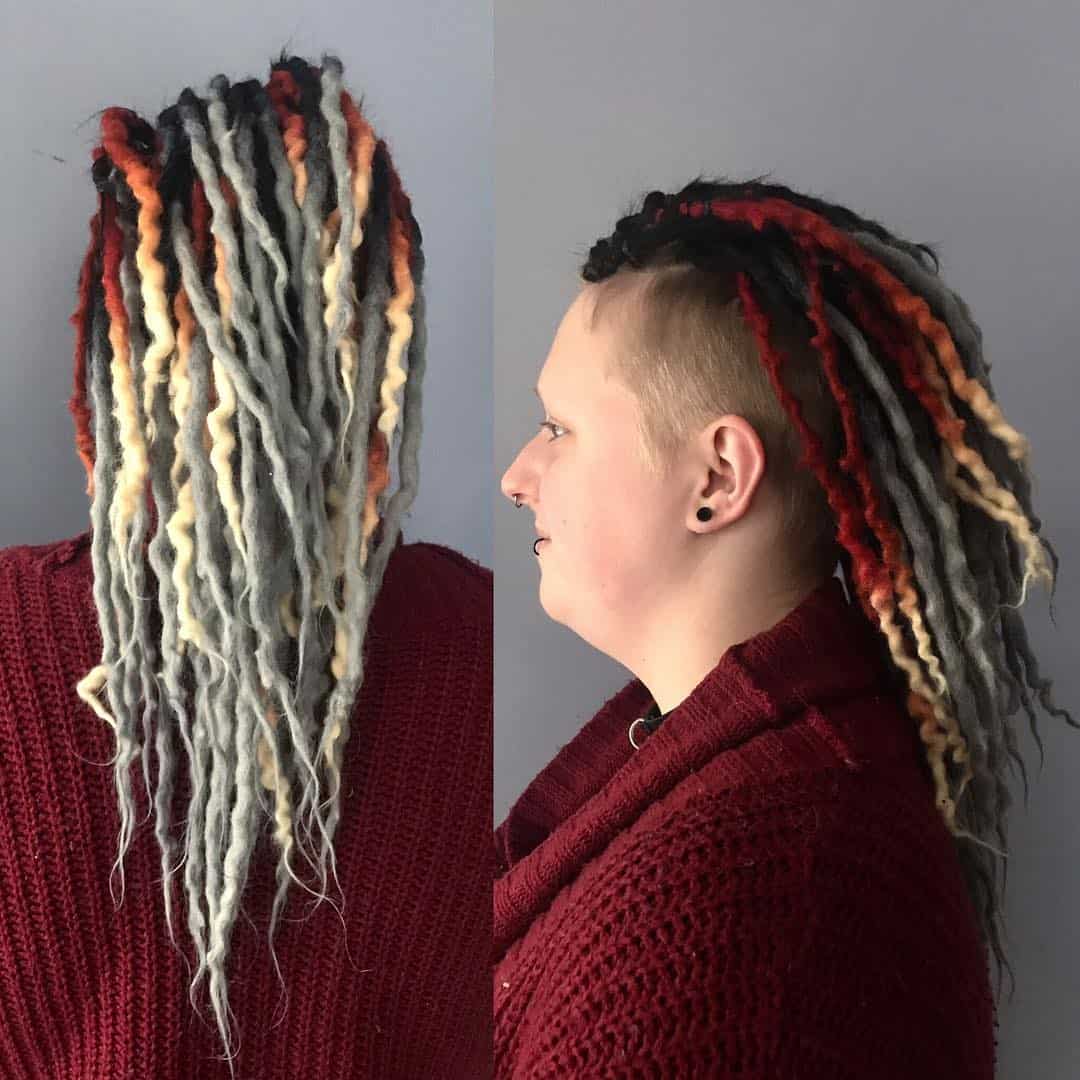 As our society is becoming more and more open and acceptable of hairstyles, we get more mainstream hairstyles. One of those is the Mohawk. And here is a unique take on the Mohawk, with dreadlocks and lots of different colors. Talk about being unique.
8. Barrel Rolls Coiled All Around Ending In A Braid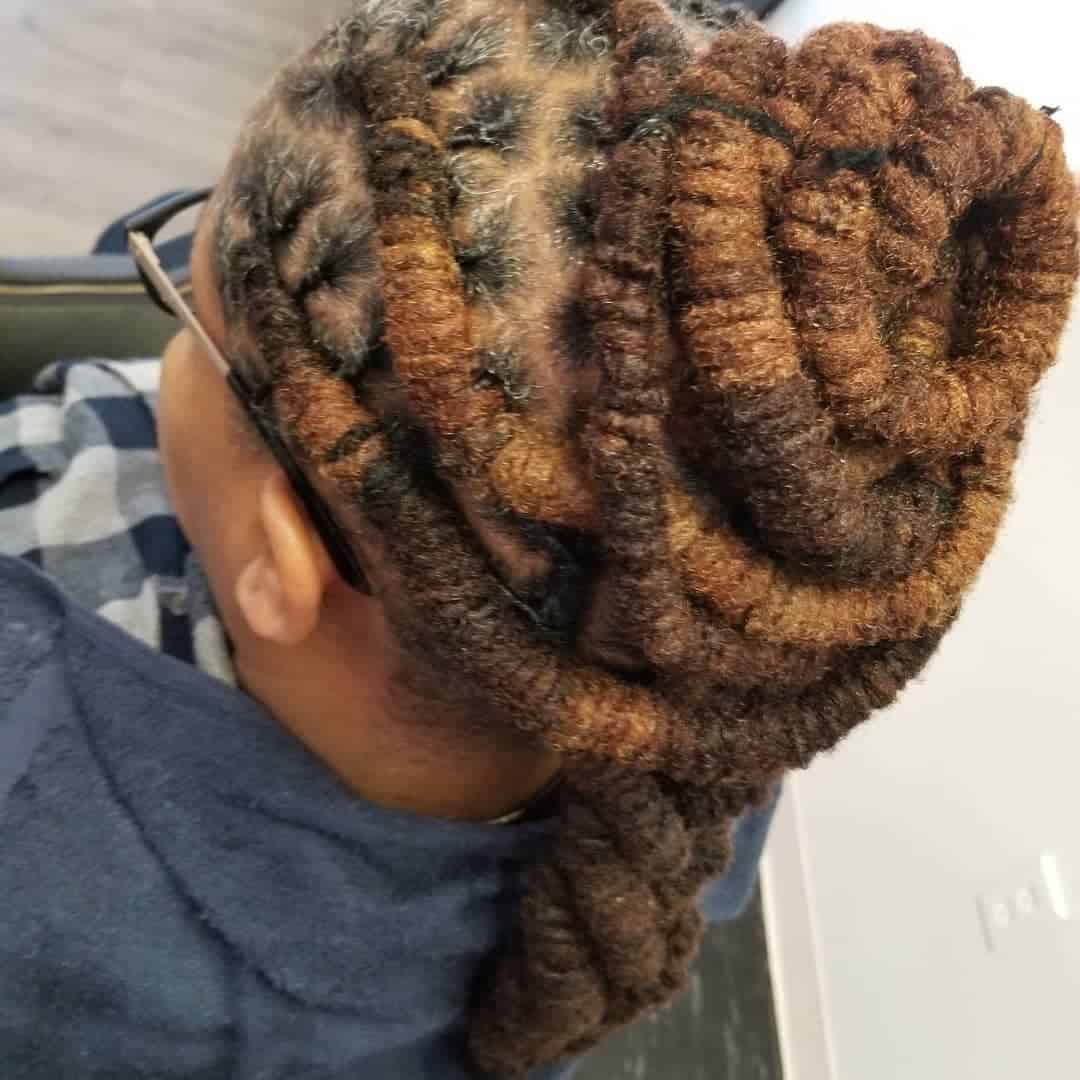 Braids are another protective style that is quite popular among ladies. And you can braid your hair even in dreadlocks. That is, if you like to get it all sorted out and styled.
9. Tied Back Hair With Dreadlocks At The Nape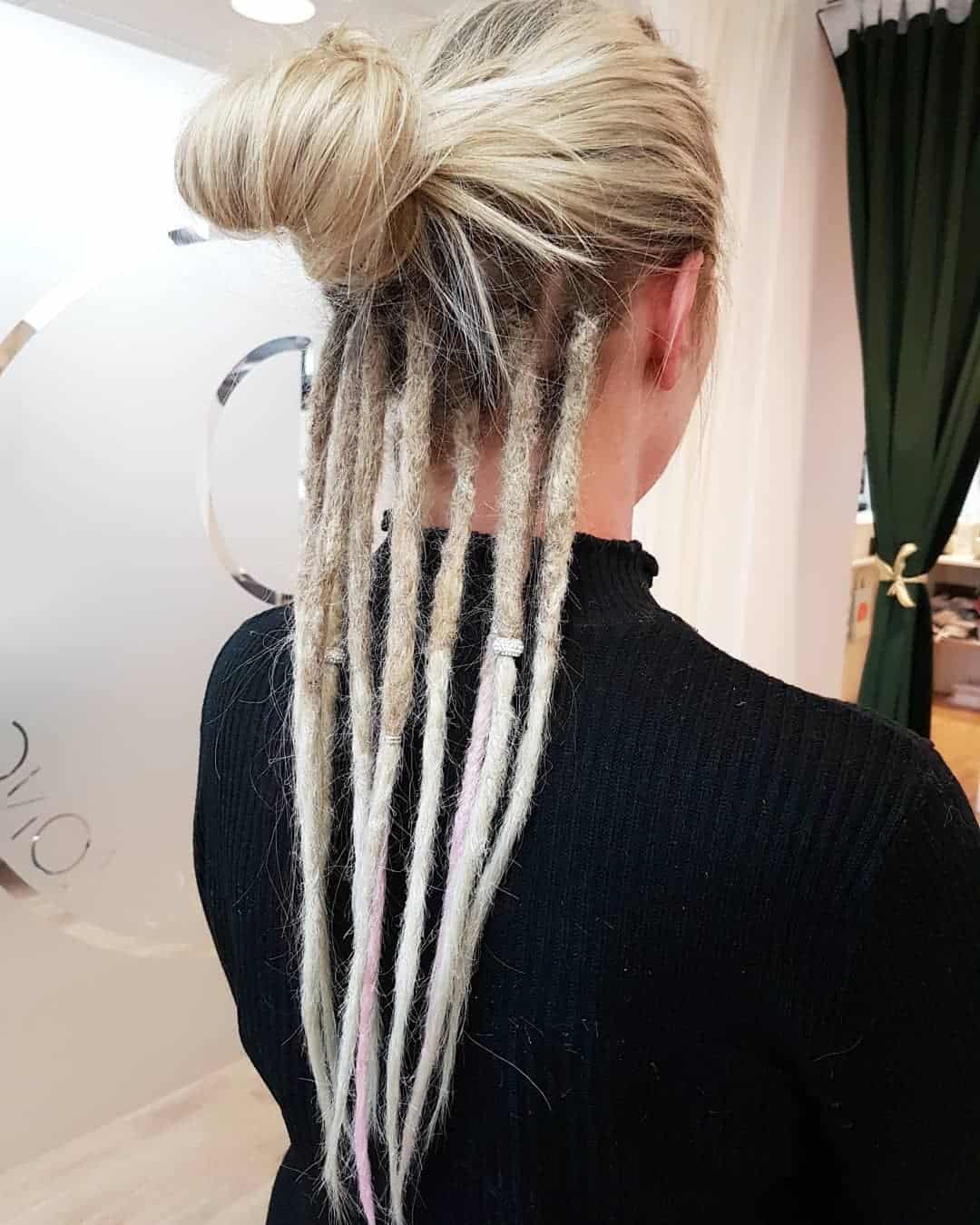 We said before that you do not have to have dreadlocks on your entire head. In fact, you can easily combine loose hair and dreadlocks. Or in this case, styled bun with dreadlocks left loose downward.
10. Short Dreadlocks With Spiked Bangs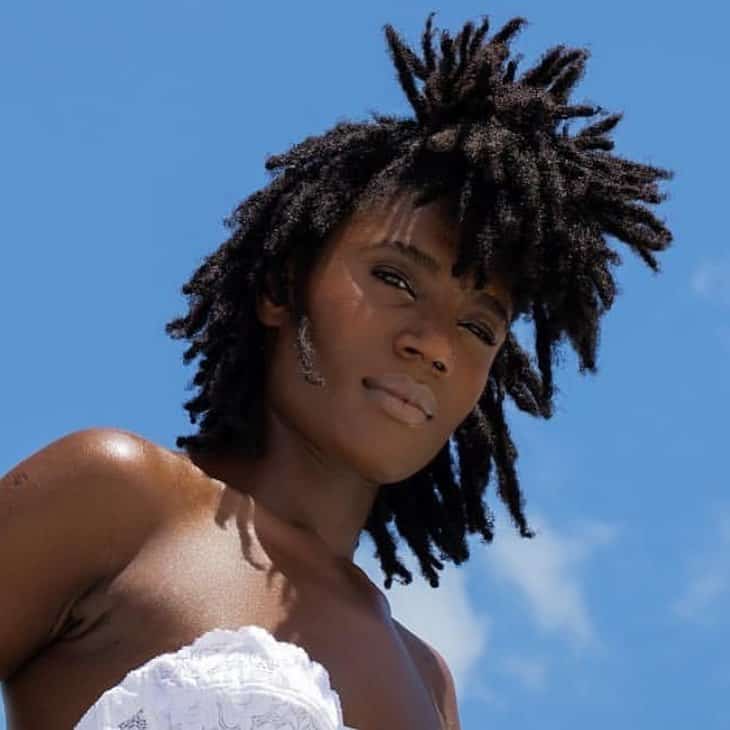 This is probably one of the best retro looks you will find. Try it, and you will instantly be transported back to the 1990s. Chic and urban look for bold girls.
11. Cockatoo Tied Top With Slick Side Bands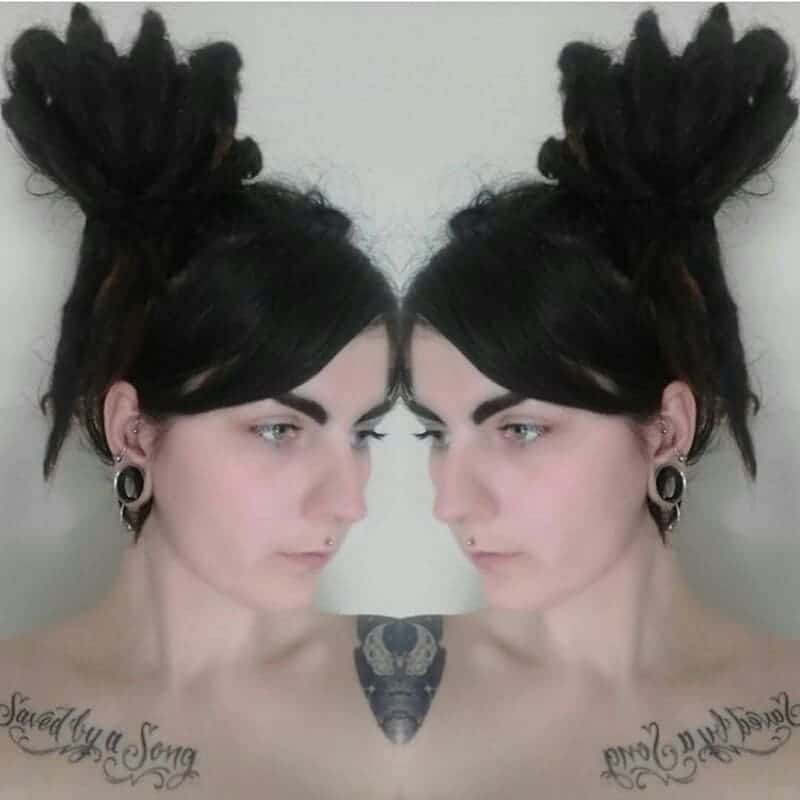 Dreadlocks are a way to show your creativity and innovative side. Therefore, it is no surprise some women want to show their artistic side using dreadlocks. This one is taken right from the Haute Couture shows.
12. Micro Twists Braids In Twisted Brown And Red Dreadlocks Bun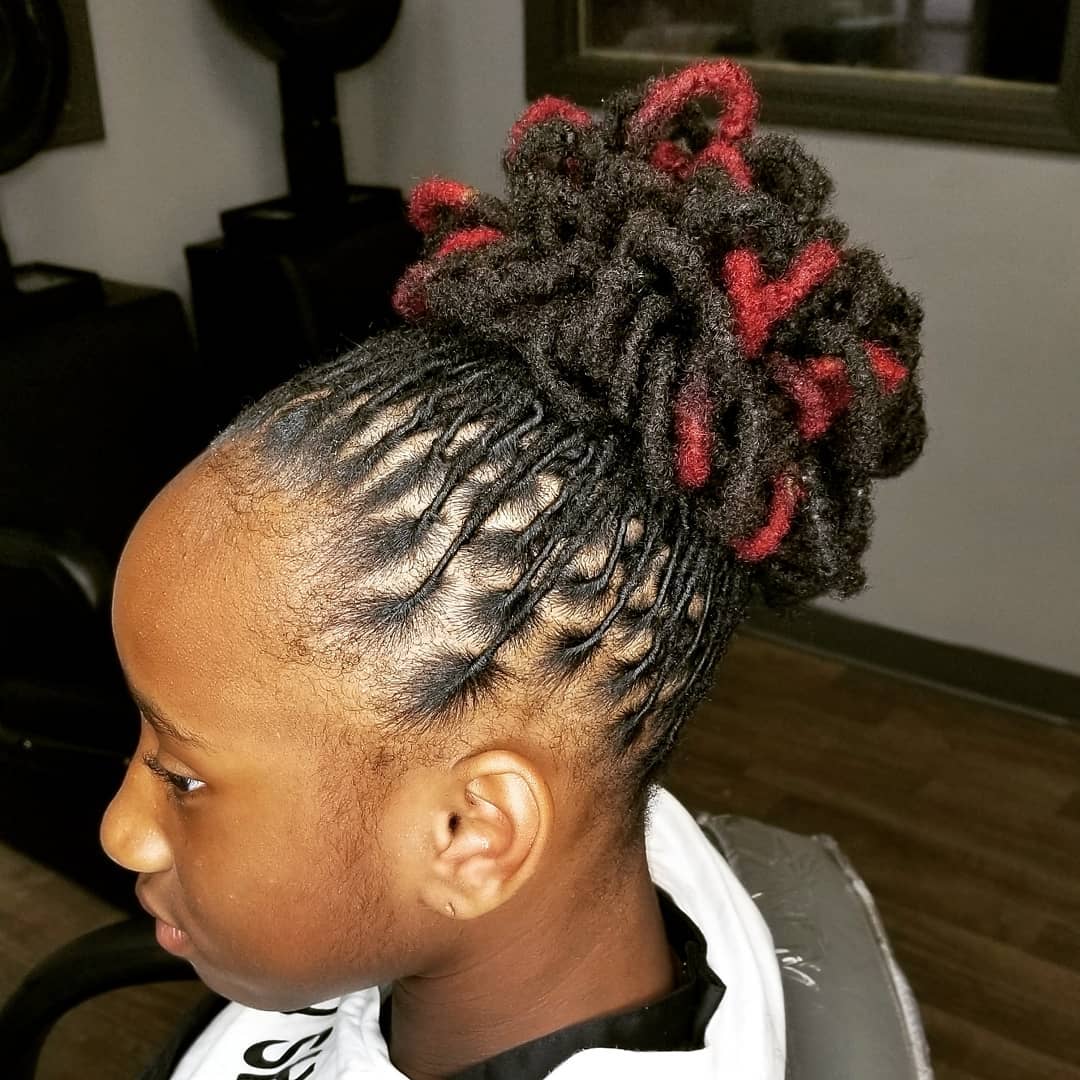 Red and black is a classic combo you can always try. Simply put, you cannot go wrong with these two colors. Put more emphasis on your color twist by putting it in a bun.
13. Coily Midnight Dreadlocks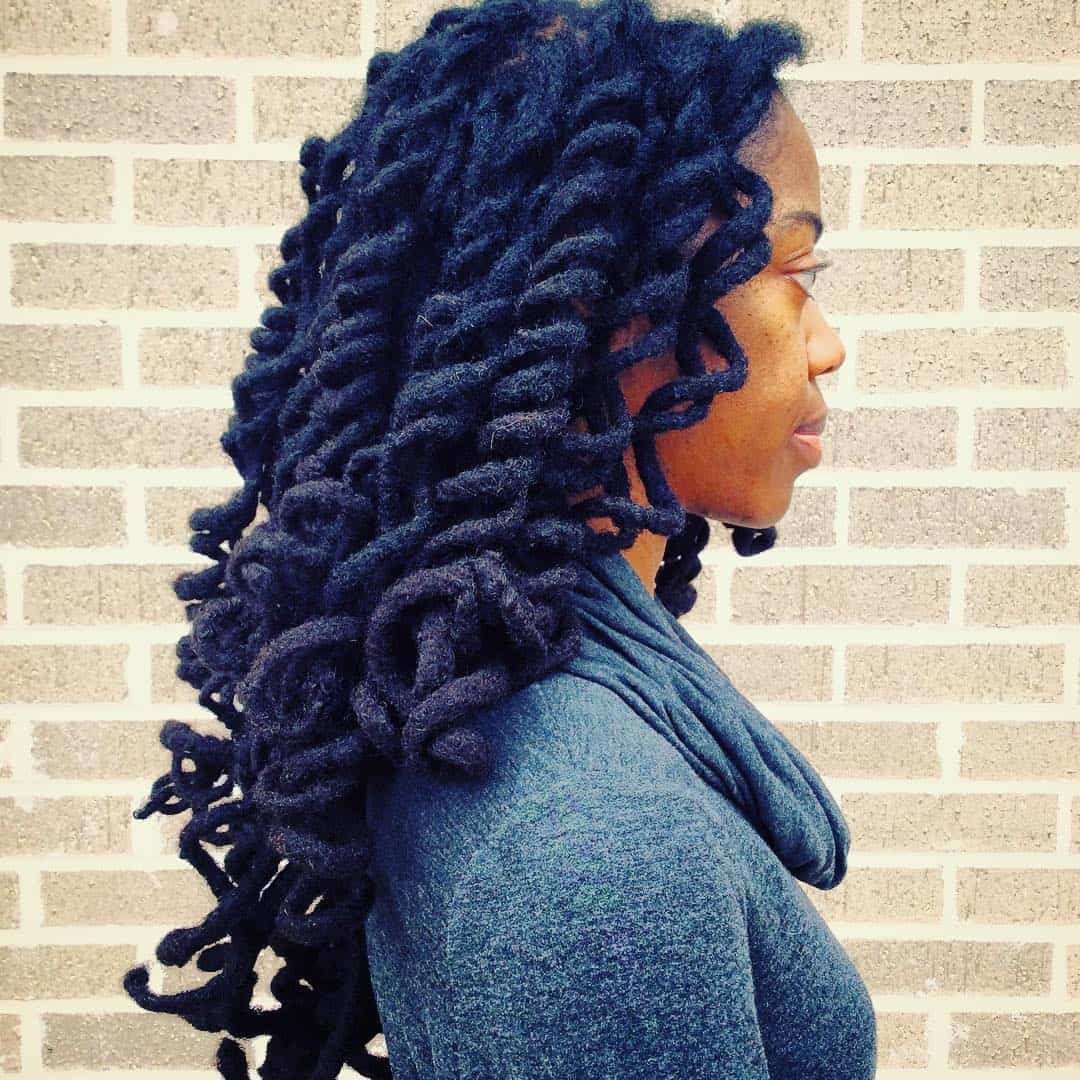 Coily hair is the latest trend when it comes to curls. In fact, coily hair is a type of curly hair, that is just super voluminous. It refers to strands that form tight curls in zig-zag pattern from the scalp. And you can achieve the same effect with dreadlocks.
14. Red Dreadlocks Chignon Updo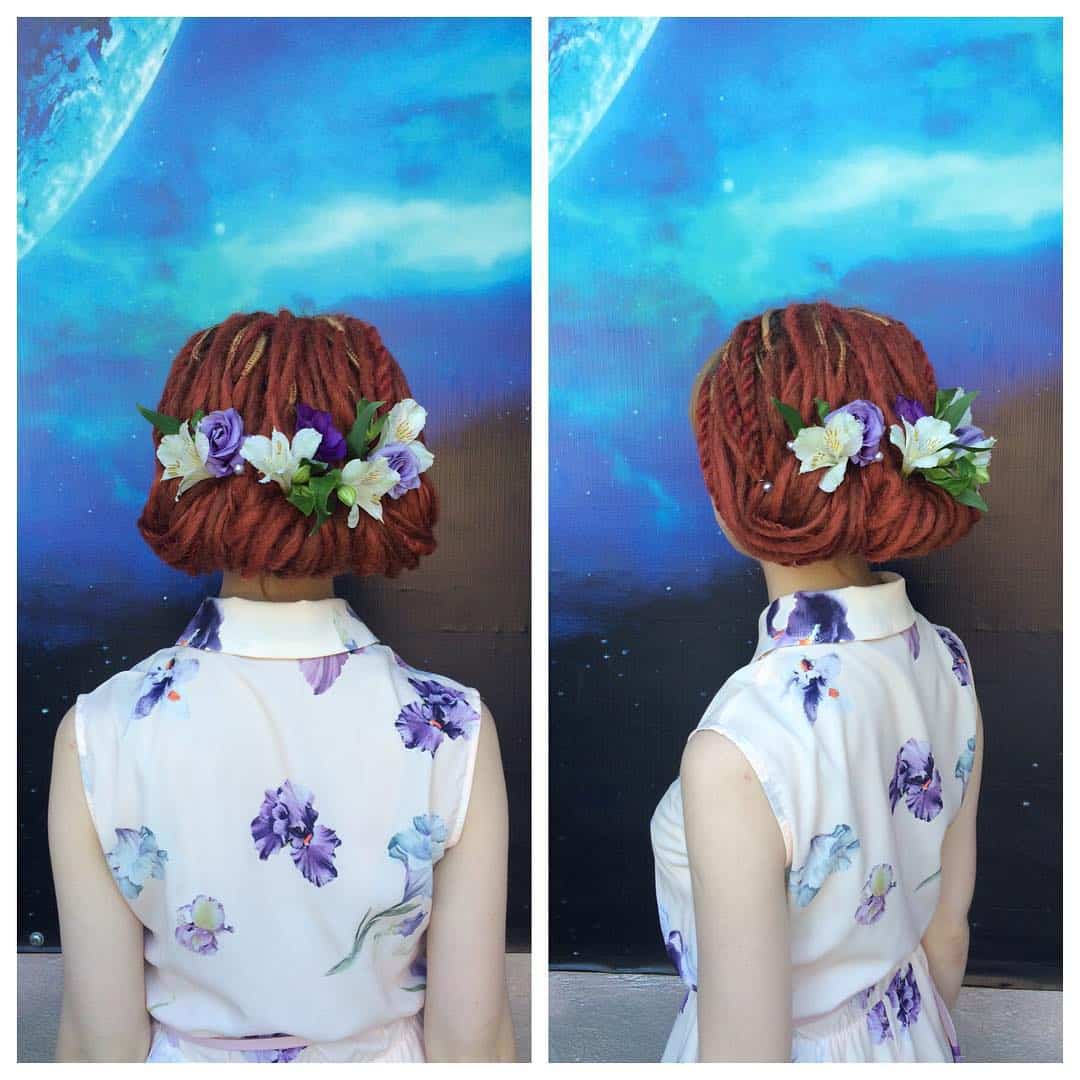 As you can see, you can get dreadlocks even for some more formal events, for example, a wedding. Yes, you can take your dreadlocks with you. Of course, you can choose some elegant hairstyle like chignon, or wear your locks loose. It is all up to you.
15. Barrel Roll Twist Fauxhawk Updo With Side Micro-twists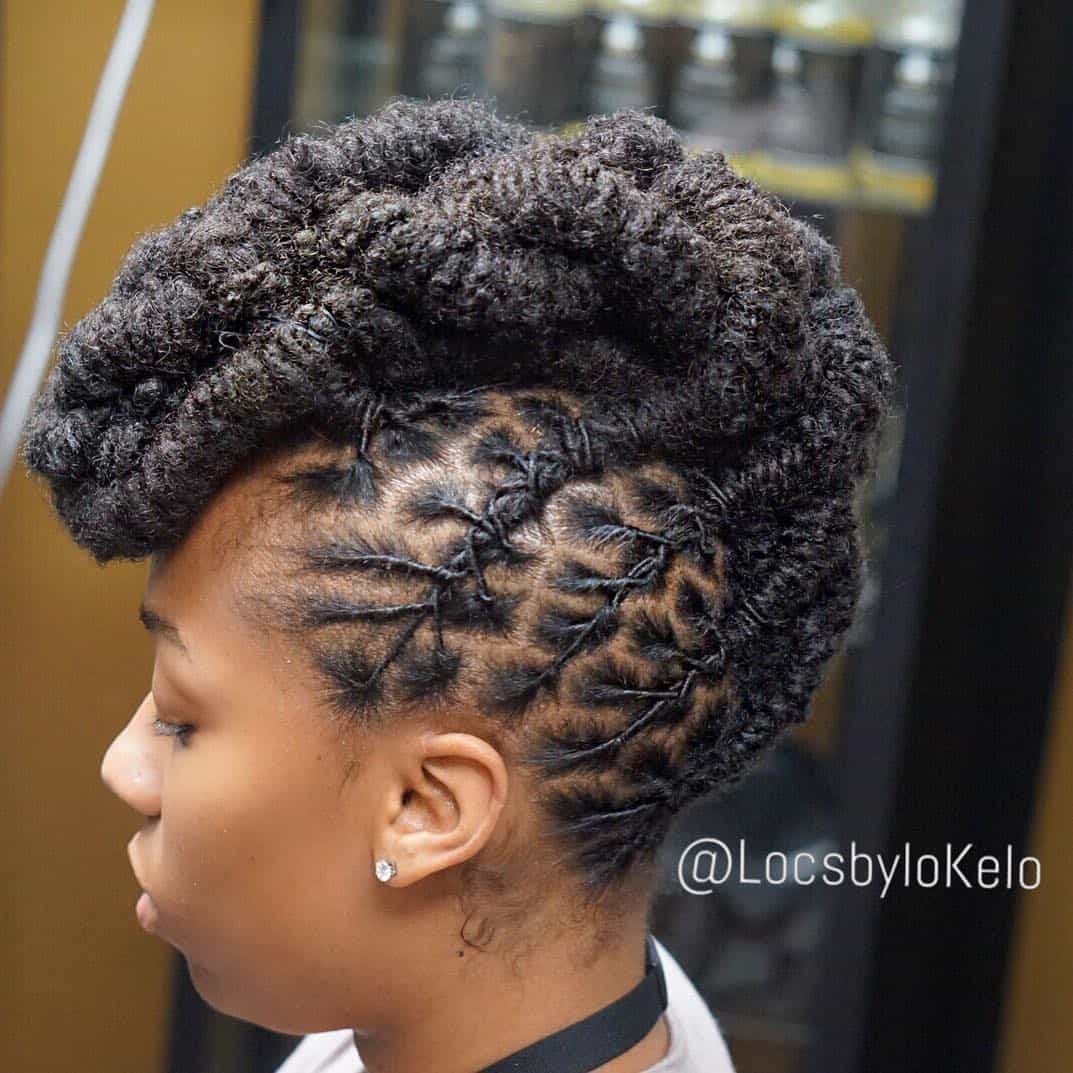 We love it when a hairstyle combines so many different trends and styles. Micro braids, dreadlocks, and a faux hawk. A true 3 in 1 hairstyle.
16. Tied Back French Braid On Blue And Pink Hued Dreadlocks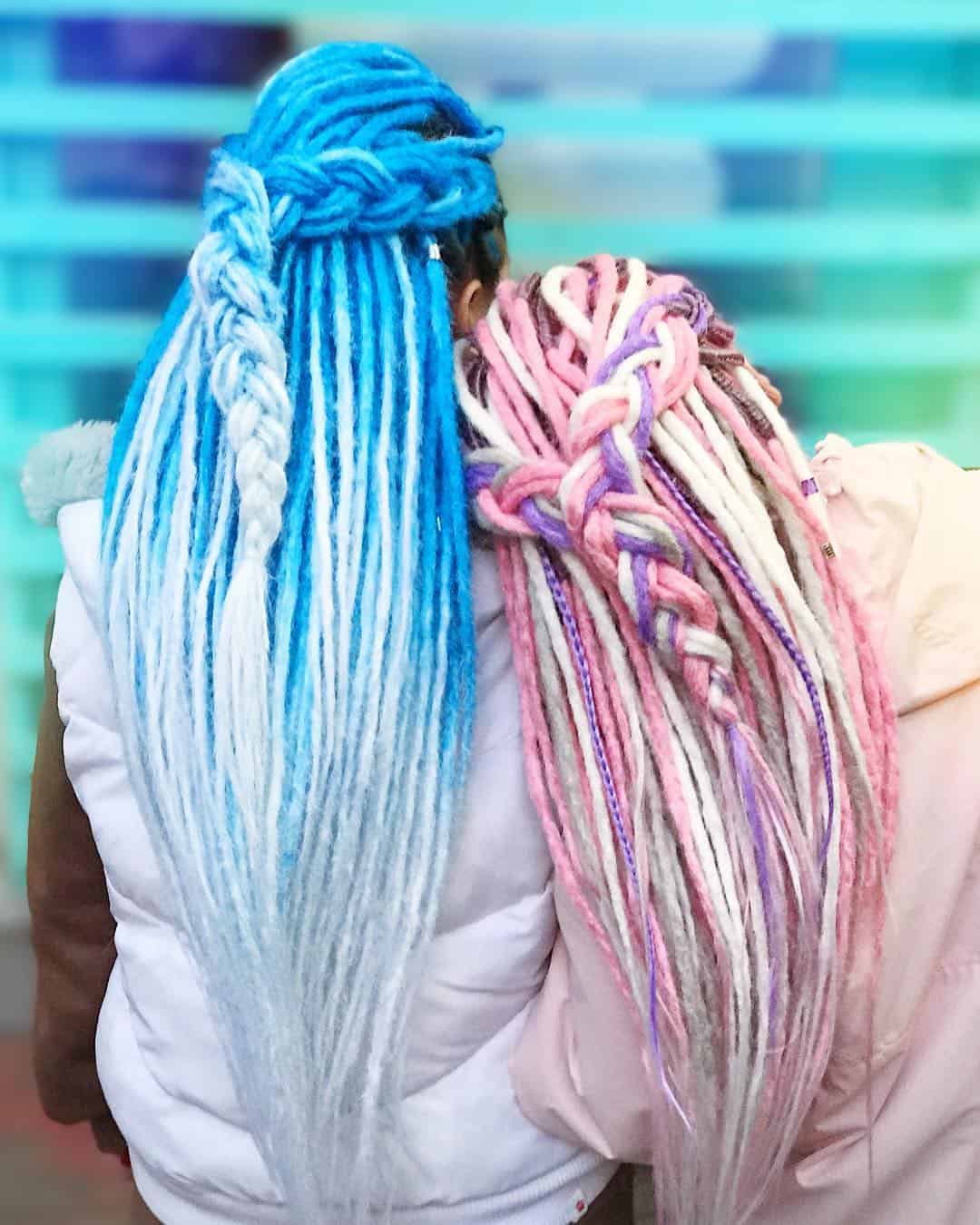 Some women just want their hairstyle to pop. Is there a better way to achieve that effect than with some vibrant color? Not many colors can match the intensity and pop factor of pink and blue.
17. Cornrows And High Ponytail Dreadlocks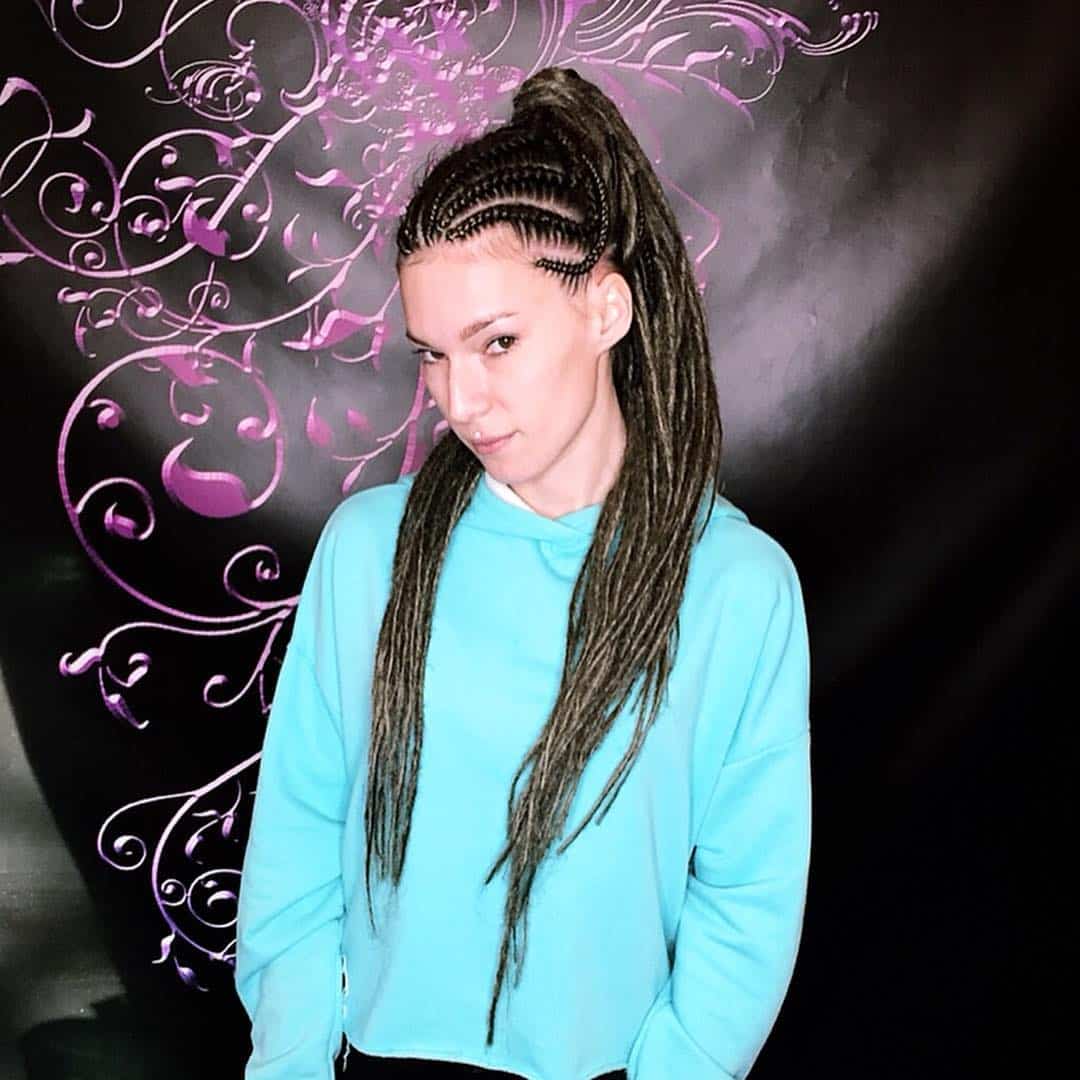 The pony is a classic hairstyle. But the reality is that it is kind of outdated. Yes, it never goes out of fashion, but that is thanks to other trends incorporating the pony. For example, dreadlocks and a pony. A killer combination.
18. Pinwheel Bun Of Brown And Blonde Dreadlocks And Burgundy Braids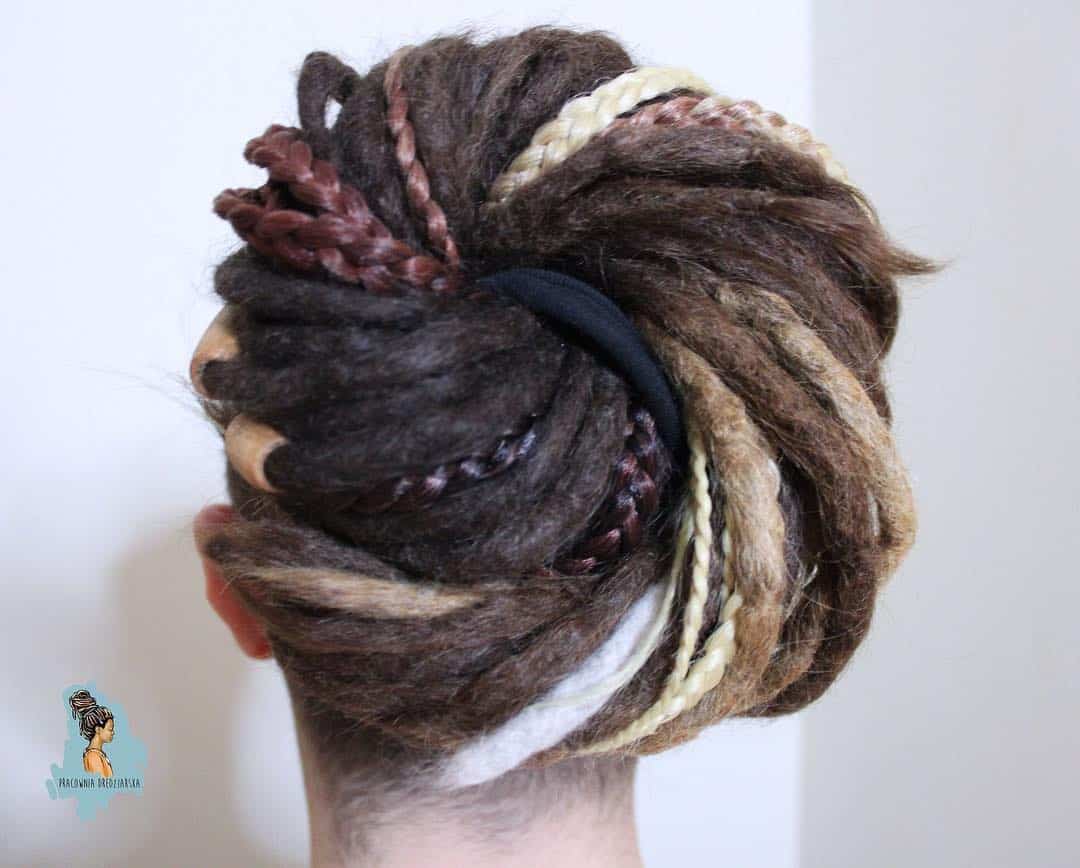 If you have long hair and a bit more time, we suggest trying this unique hairstyle. It will take a bit of practice and trying to get it perfect. But once you master the pinwheel bun, the world seems different.
19. Space Bun Dreadlocks With Silver Balayage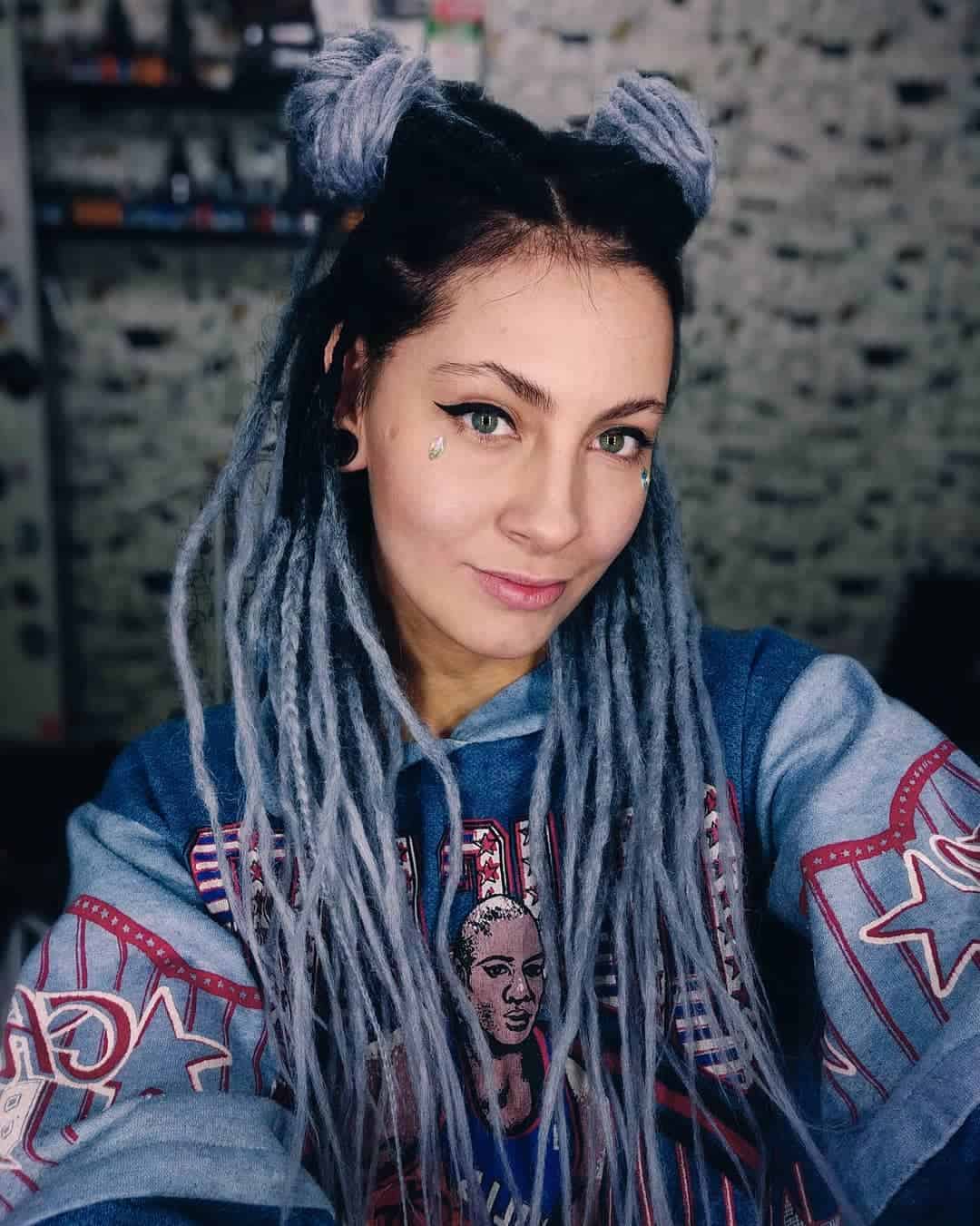 Balayage is a coloring technique that helps you achieve natural looking highlights. In a way, it looks like the colored hair is close to your own hair color. With that in mind, there is no hairstyle that cannot benefit from a touch of color. That includes deadlocks as well.
20. Blonde Waterfall Fishtail Tied-Back Dreadlocks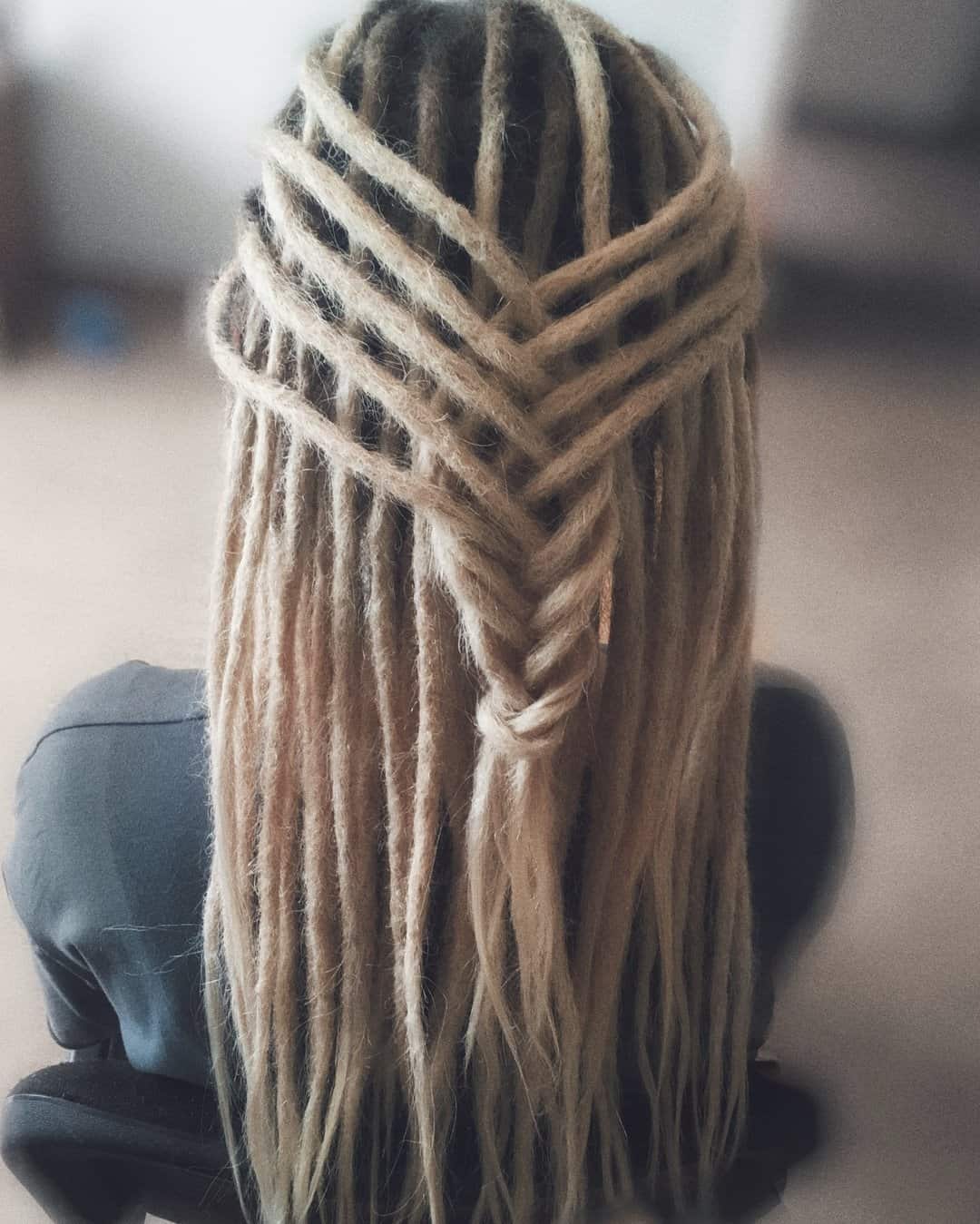 When you think of dreadlocks, you rarely think of some romantic and feminine hairstyle. But that doesn't mean you cannot be feminine with dreadlocks. The fishtail braid is the perfect way to show your romantic side, even if you are wearing dreadlocks.
21. Fauxhawk With Cornrows And Baby Pink Dreadlocks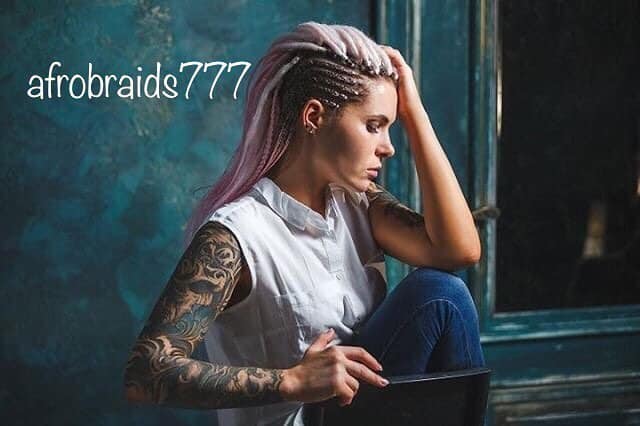 We saw fauxhawk with dreadlocks before. But now we have a color twist. And that gives you a unique touch.
22. Pigtail Braided Dreadlocks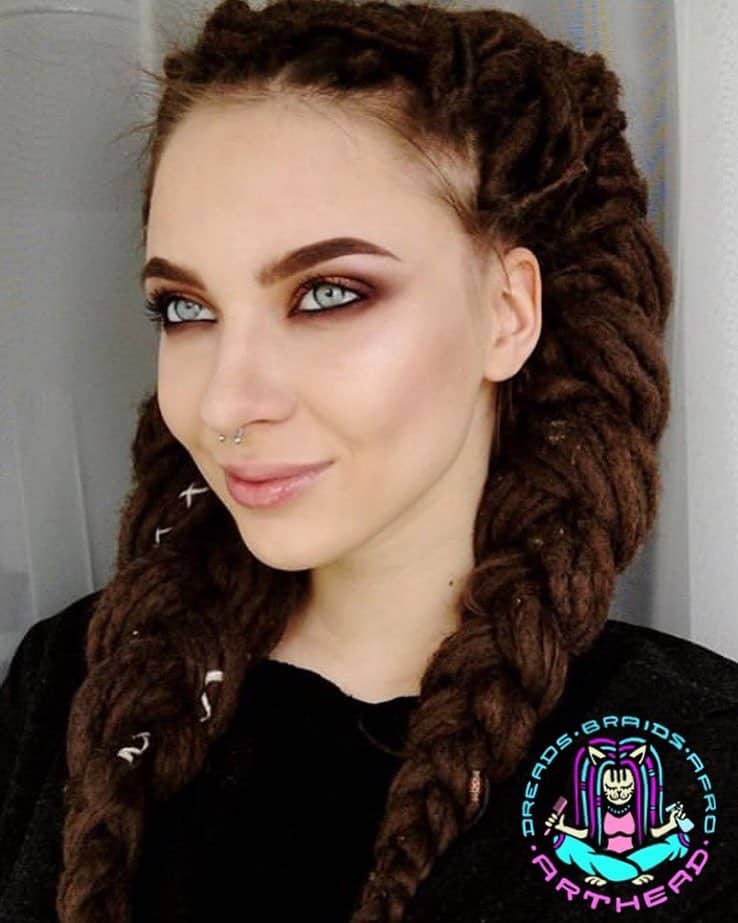 Pigtails, or twin braids as some like to call it, are a classic little girl look. But even as you grow older, you can always go back to girly hairstyles. Add some dreadlocks for a more mature twist.
23.  Ombre Blue Wrapped Up Dreadlocks Tied Back With A Clip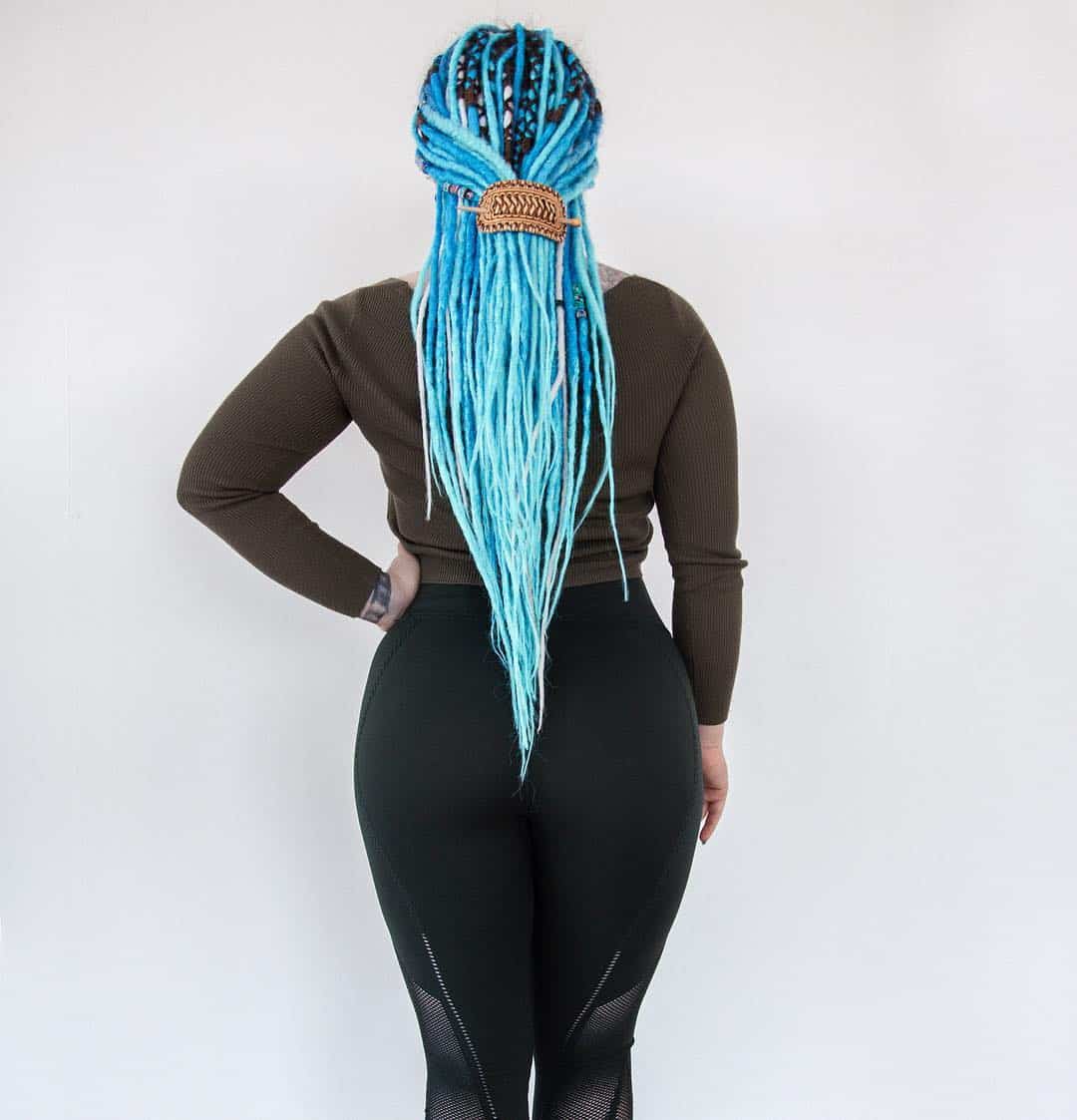 We said at the beginning that colors make dreadlocks special. Well, when it comes to hair coloring, you just have to try the ombre. Even though this hair coloring trend has went down in popularity, it is still good enough.
24. Natural Light Brown Hued Deadlocks In High Turban Bun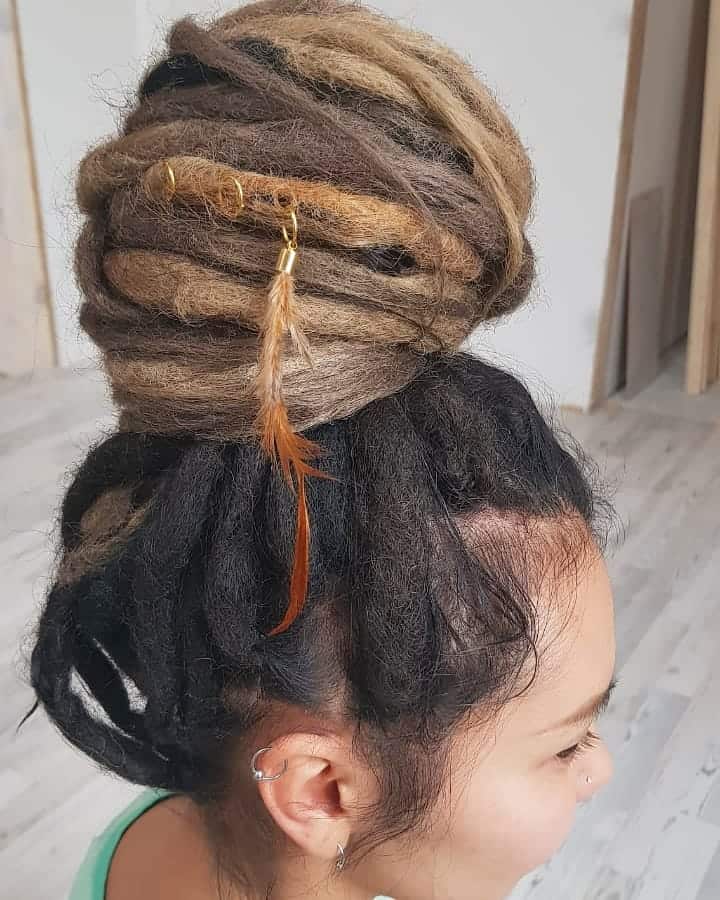 For those of you that want to achieve that Harlem and Brooklyn vibe, the turban is the way to go. Turbans are getting more and more popular thanks to Alicia Keys. And you can make one with your own hair. How cool is that?
25. Burnt Orange Dreadlocks And Yellow Braids Tied In Knots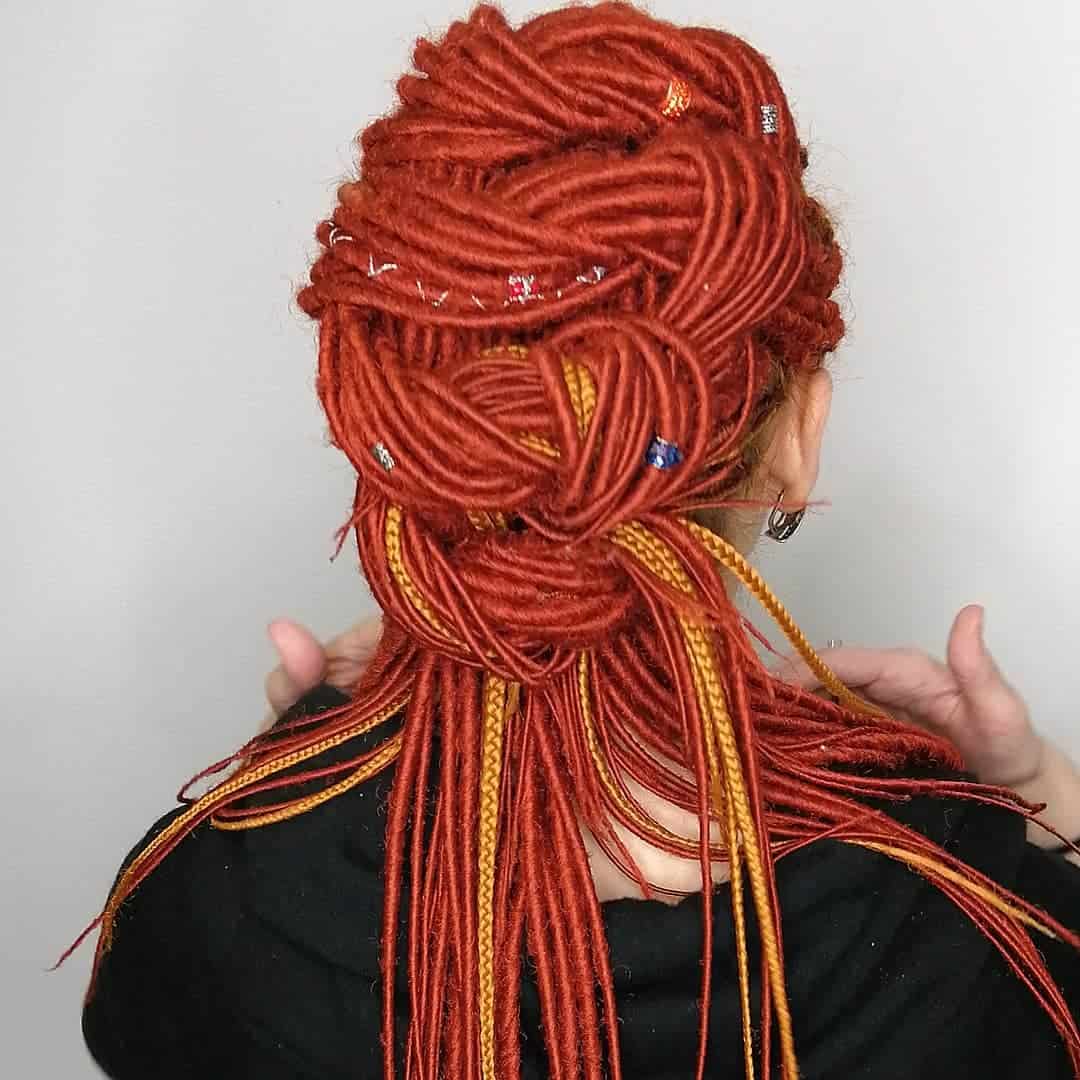 Do you want vibrant colors? Do you want a hairstyle that pops? Well, is there something better than orange and yellow? These sunny colors will make you stand out of the crowd easily.
26. Elegant Pink And Blue Ombre Dreadlocks In Low Bun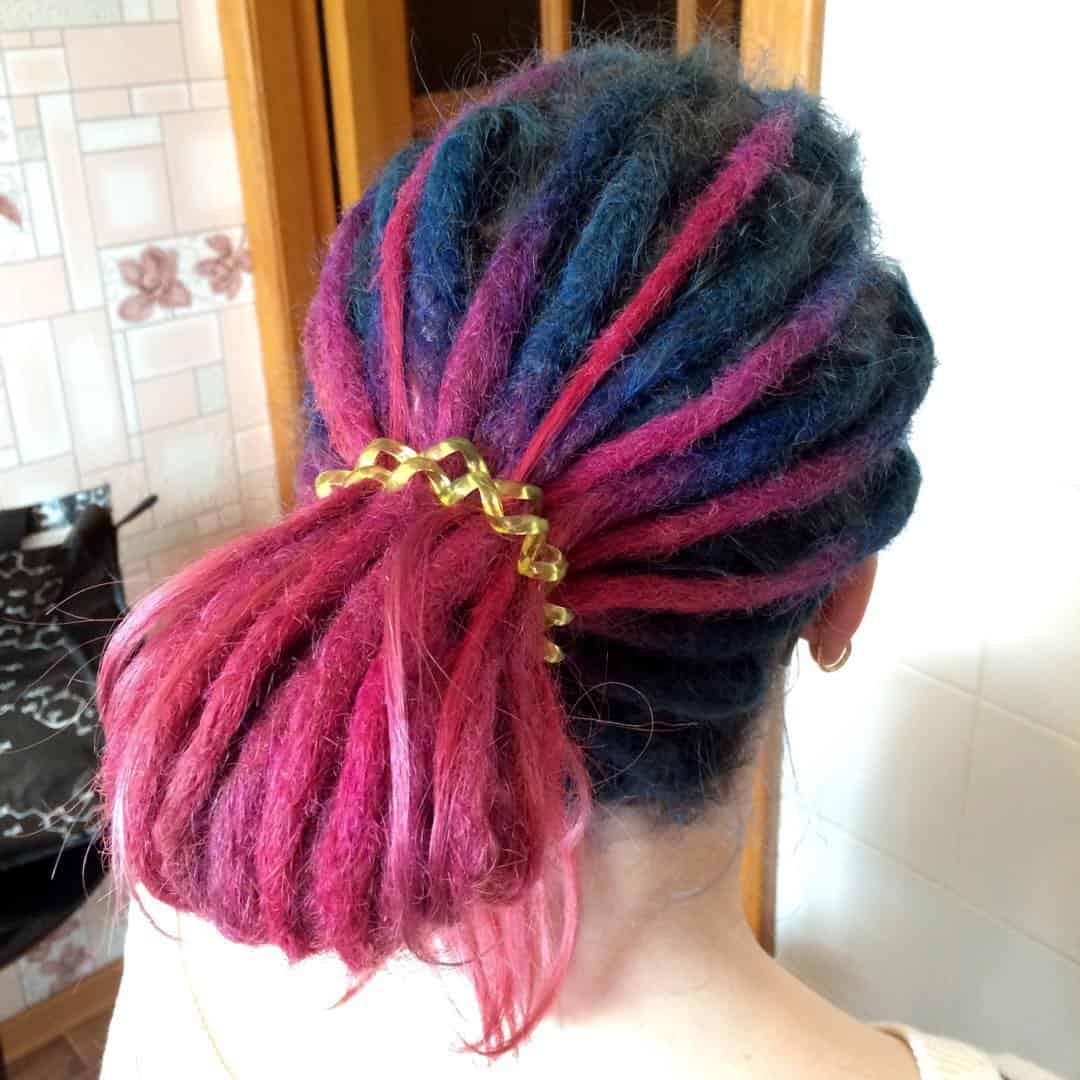 We had ombre with just one hair color. But now we take it to the next level, with a couple of more colors, and of course, the low bun. Some women just want their hair elegantly tied up.
27. Dreadlocks In Elegant Swirled Updo
Speaking of elegantly tied hair, you can try this vintage look. Basically, get back to the 1970s, when the updo was in its full glory.
28.  Blonde And Lavender Dreadlocks In Three Chunky Inverted Braids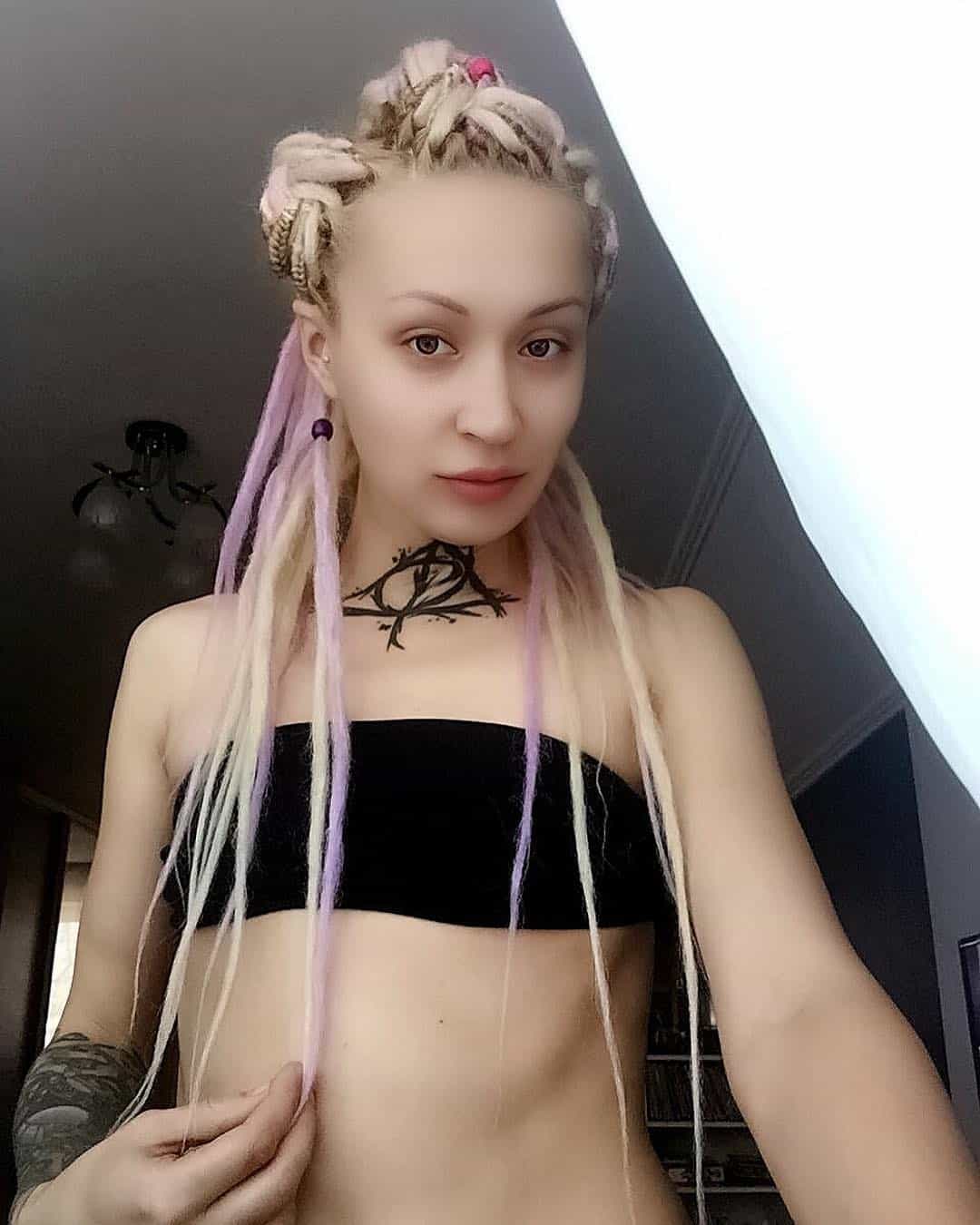 Now here is a style you can and should wear to a festival like Coachella. You can easily see a resemblance to Avril Lavigne and her style here.
29. Dreadlocks In Upside Down Braid To Bun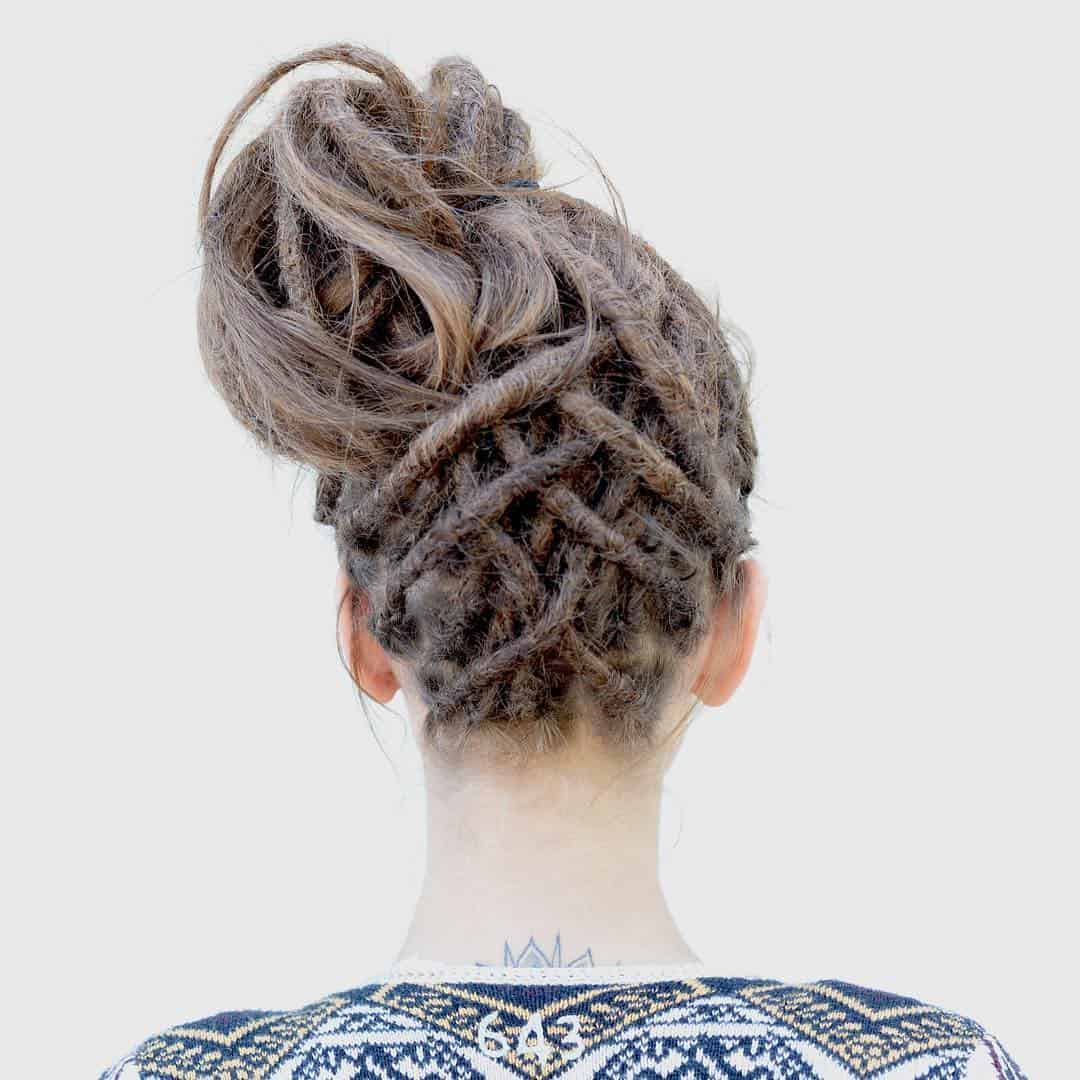 We had a couple of elegant hairstyles using dreadlocks. The upside down braid bun is often referred as a stylish, yet carefree hairstyle. And that is something a lot of women dream of.
30. Straight Dreadlocks Ponytail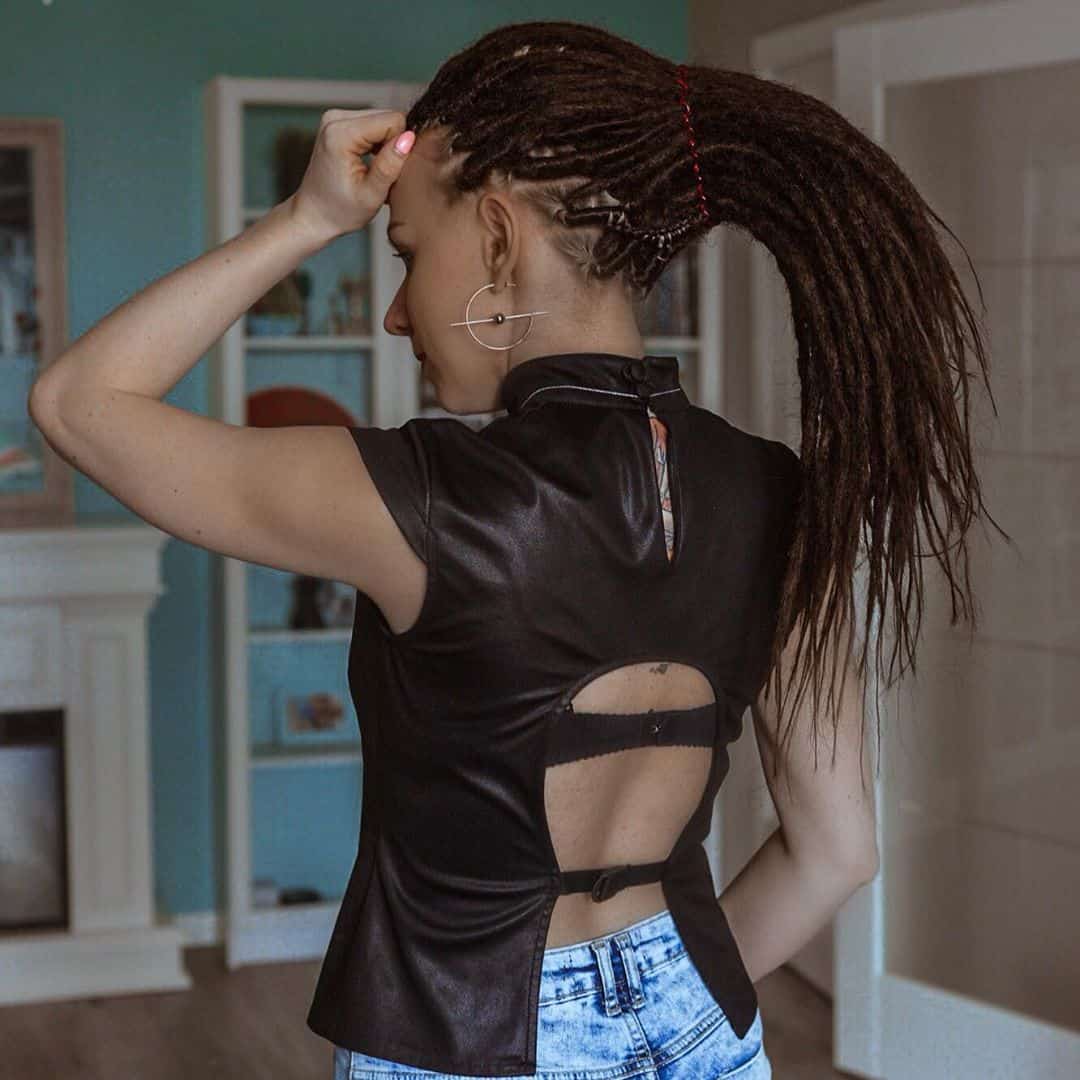 Let's finish off with classic dreadlocks look. This is the one that made dreadlocks popular, as many rock musicians wore them like this. Hopefully, you found a way to try this mainstream look.