Micro braid hairstyles are most commonly seen on African-American women. However, in the past few years, the trend has become more and more popular, spreading to women of other hair and skin color as well.
Micro braids are a kind of hair braid that is delicate and tightly woven into hair. If you get micro braiding extensions, they can be less damaging to your natural hair. The trick with micro braids is to prepare your hair before getting the extensions.
Micro braids can last up to three months. And that should be the maximum. However, the ideal length is two months.
Make sure the braids are removed carefully, if possible by a professional. Your hair can be fragile after two months of micro braids, and you should treat it gently. With that in mind, here are a couple of ideas how to get micro braids.
What are micro braids?
Micro braids are tiny braids. They are so small, that they sometimes resemble thick strands of hair. Installing micro braid hairstyles can take several hours, and it is best that you get your braided hair done by a professional.
The time spent on it is well-worth it. This braided hairstyle can last a long time. As some people often say, a micro braids hairstyle is the lazy woman's hairstyle.
We have to make the difference between micro braided hair and box braids. The later can be chunkier and have a box-like appearance. Micro braids, as we said before, are super tiny plaits that are more versatile. You can wear them straight or wavy. The downside is micro braids take longer to install than box braids.
1. Micro French Braids On Shiny Brown Hair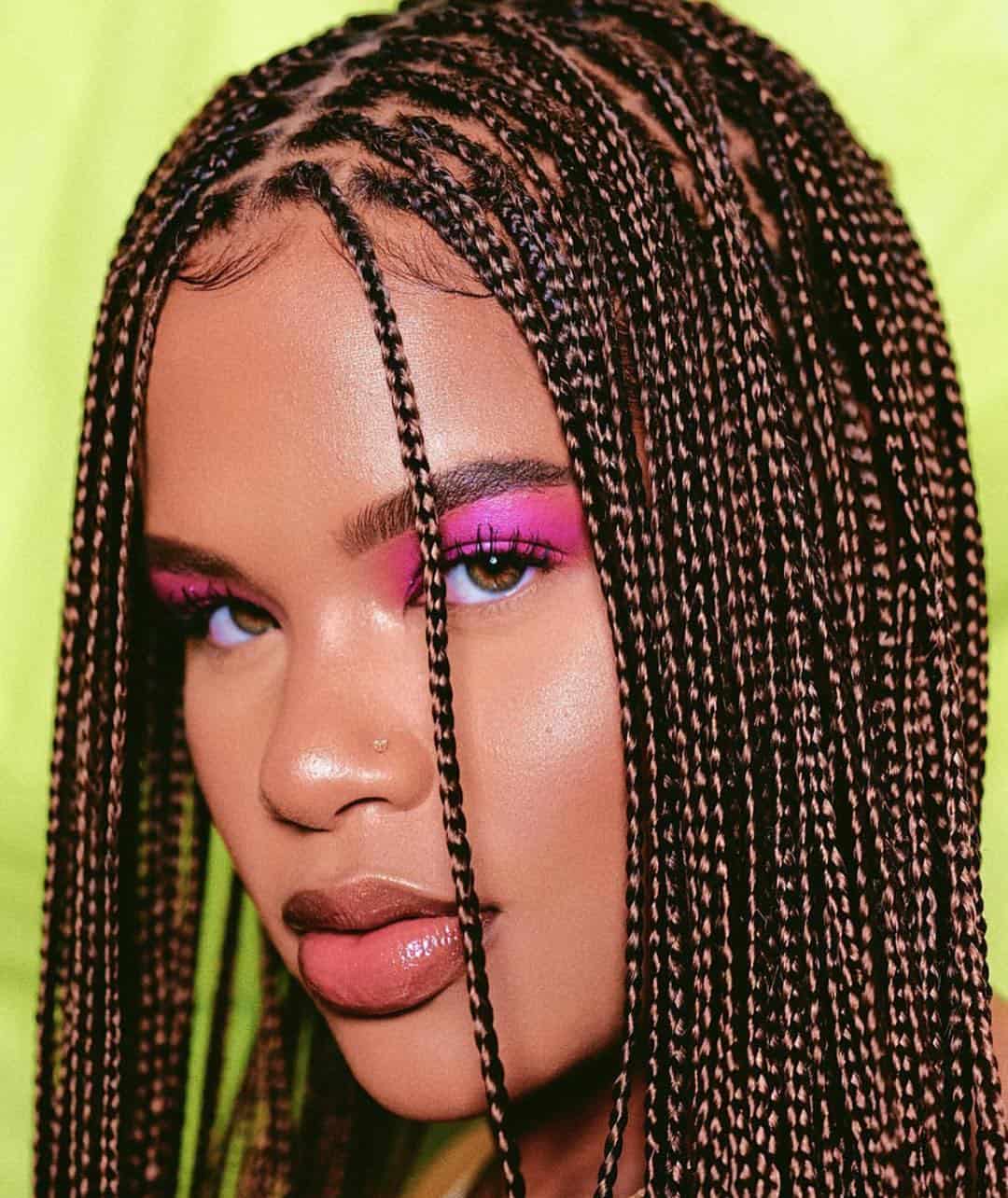 When you talk about braids, the French braid is usually the most popular and well-known. That is why we want to start this list of micro braids with a twist of the classic French braid. Let's move on.
2. Layered Micro Box Braids On Medium Length Hair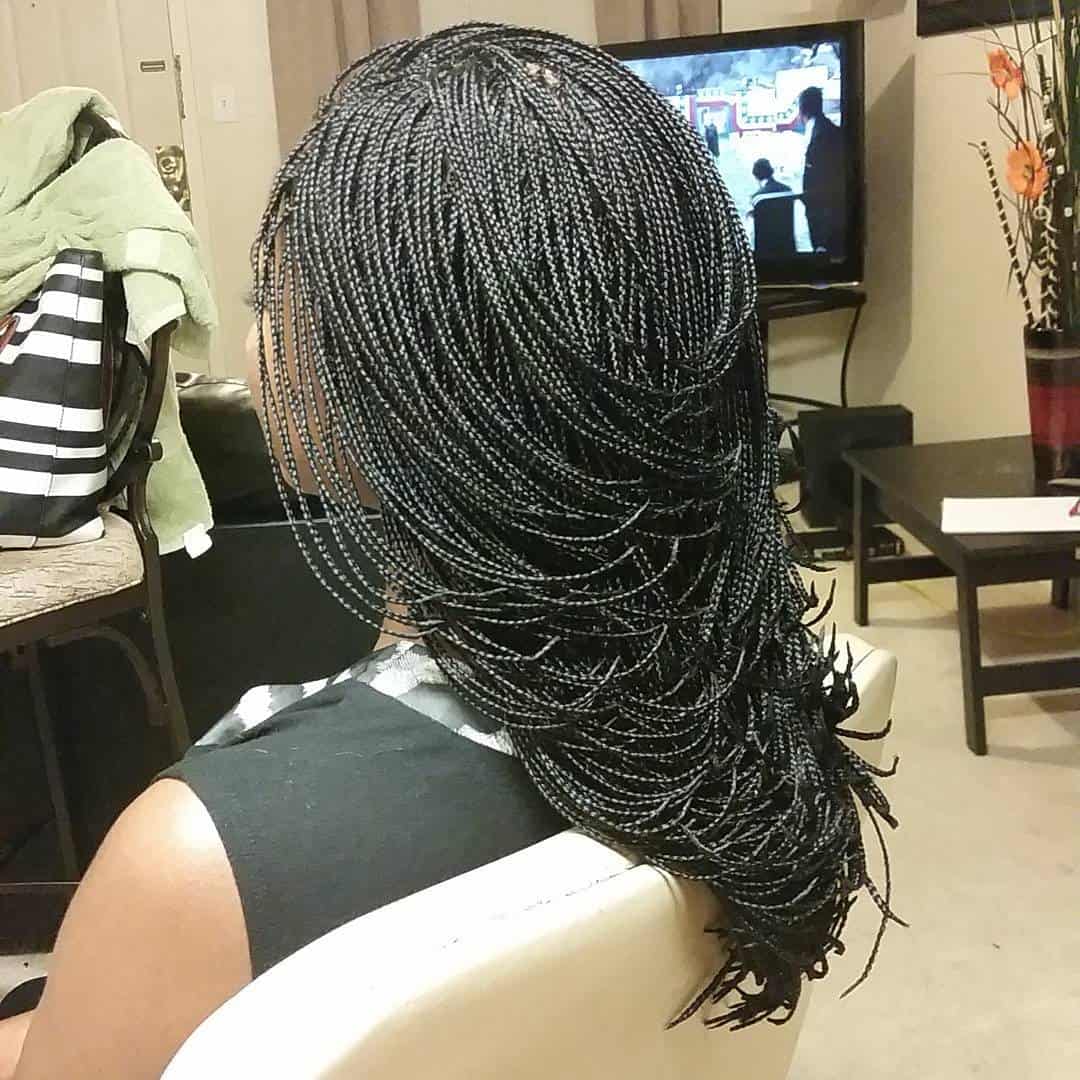 Micro braided hairstyles are so versatile, they allow you to do whatever you like with your hair. And that includes layering as well.
No matter if you have short, medium length, or long hair, micro braids will look amazing.
3. Black To White Ombre Micro Braids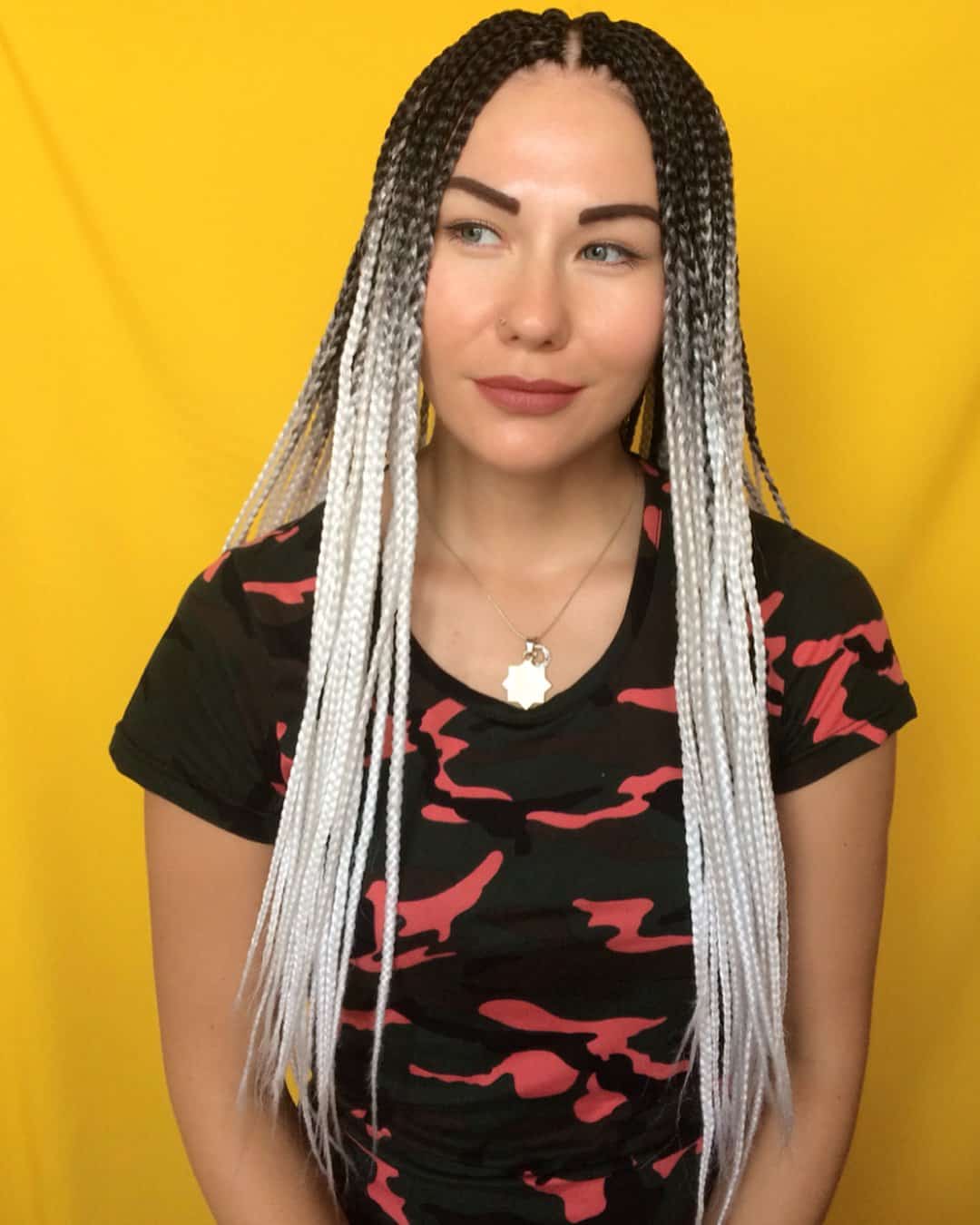 Yes, micro braids can be dyed as well. And that includes the popular ombre treatment. For a great and classic contrast, go from white to black. Of course, there are other options you can try, but start with a classic one first.
4. Micro Braided Bob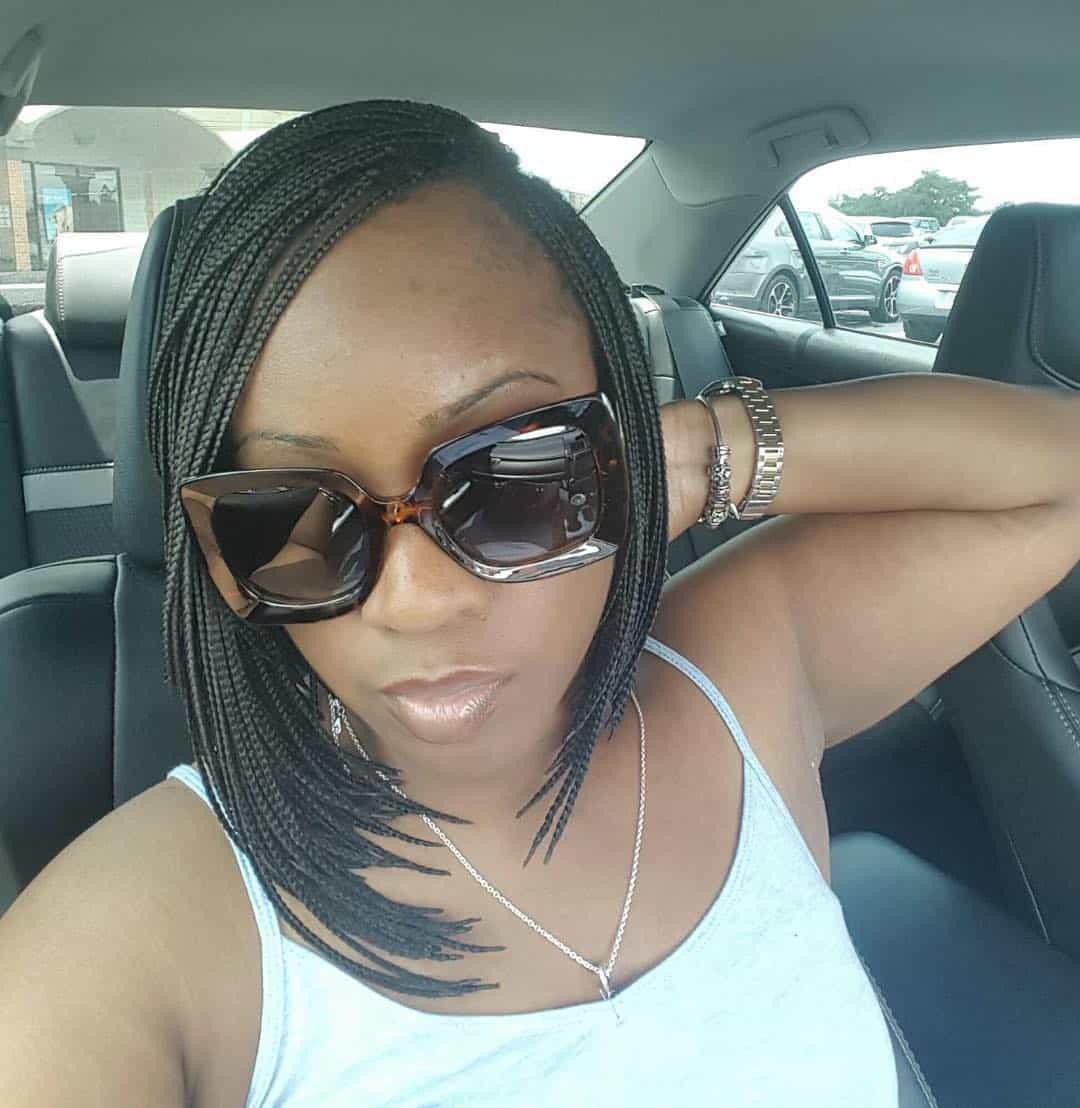 Think of micro braids as extension hair that can help you get the braiding style you dreamed of. Is that a classic bob hairstyle?
If yes, here is a way to get it with micro braids. And of course, the bob looks much more playful and unique with braids.
As you can see here, this braided hairstyle can work on both long hair and short hair. That way you have long micro braids and short micro braids.
5. Rose Gold Micros Into Large Fishtail Braid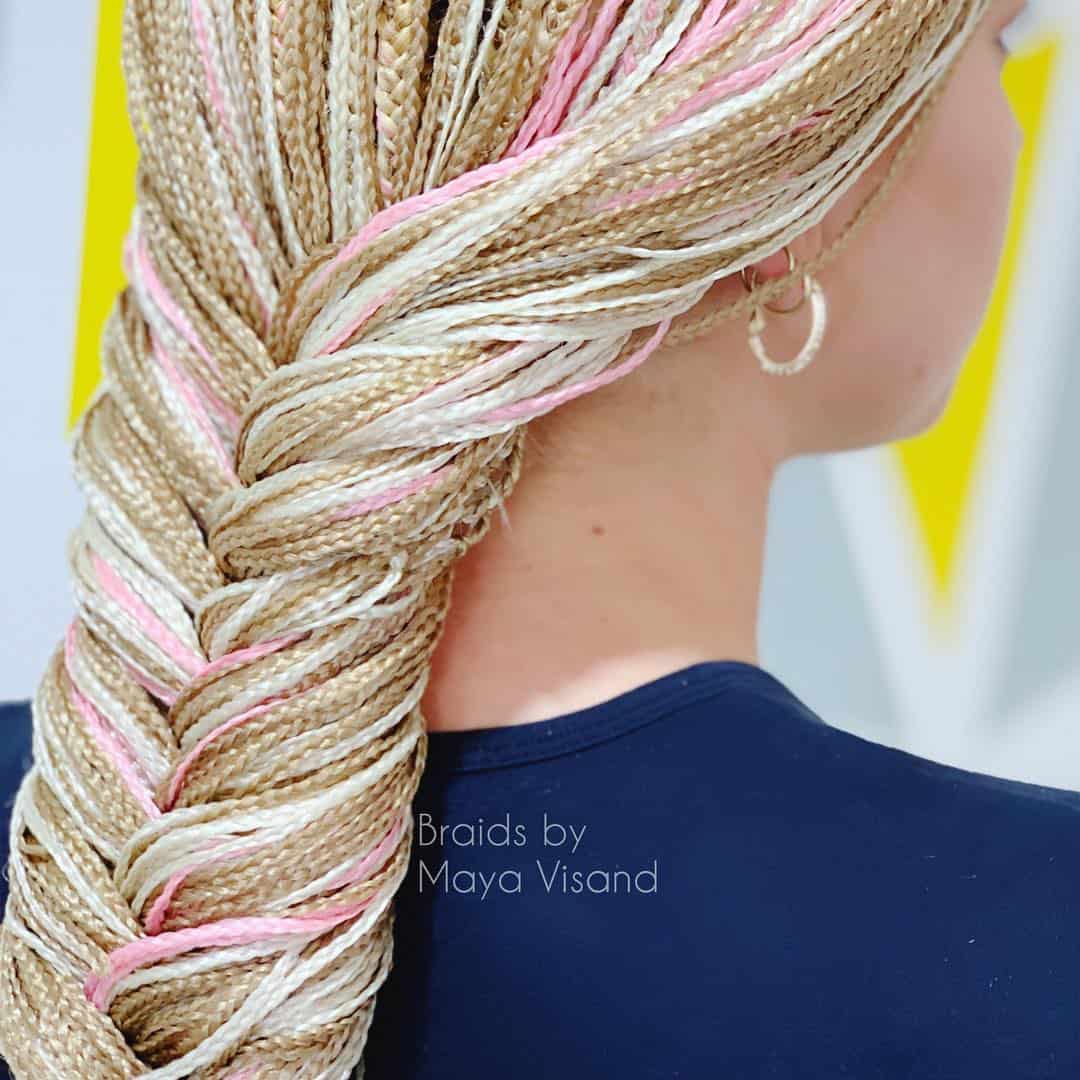 Speaking of classic braiding techniques, the fishtail braid is something every girl learns in her childhood years. As we grow older, a lot of women ignore the fishtail braid, thinking of it as something childish.
Well, even mature and adult women can use it, as long as they use it properly. Truth be told, the fishtail braid can add a dose of elegance and sophistication to your style.
6. Crescent Cornrow Micros In High Ponytail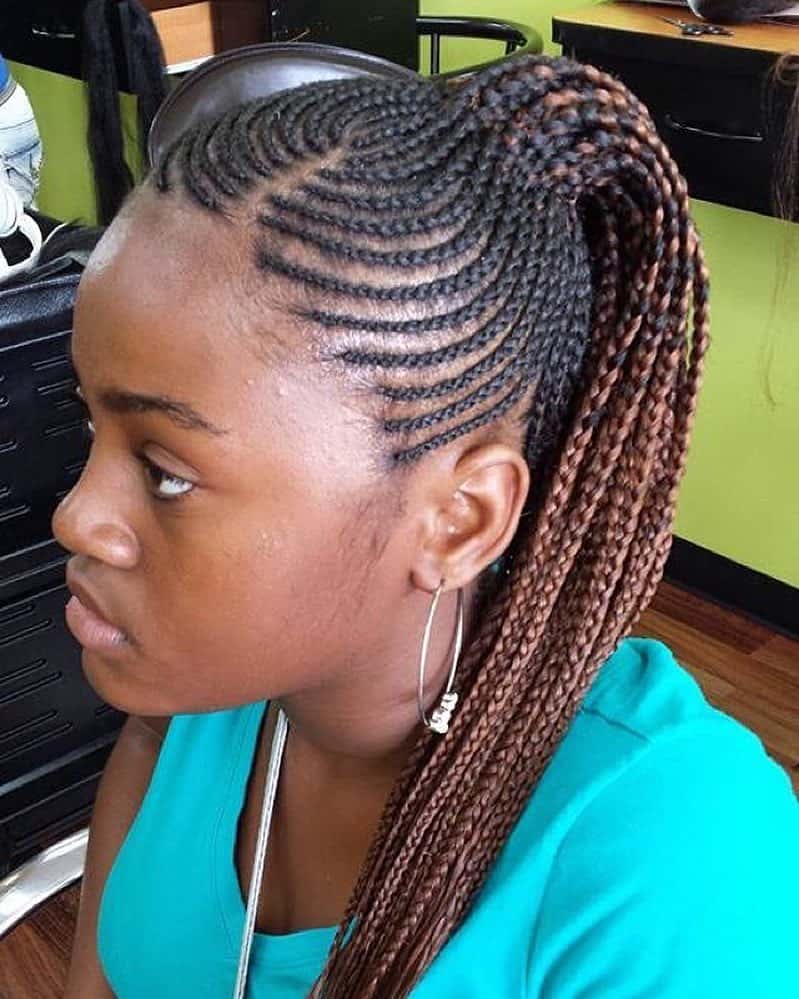 One of the classic R&B looks for women nowadays is the ponytail braid. Alicia Keys sports this look on a frequent basis. And she is one of the most beautiful women in the world.
So, why not try copying some of that flair and elegance?
7. Half-Up Micro Box Braids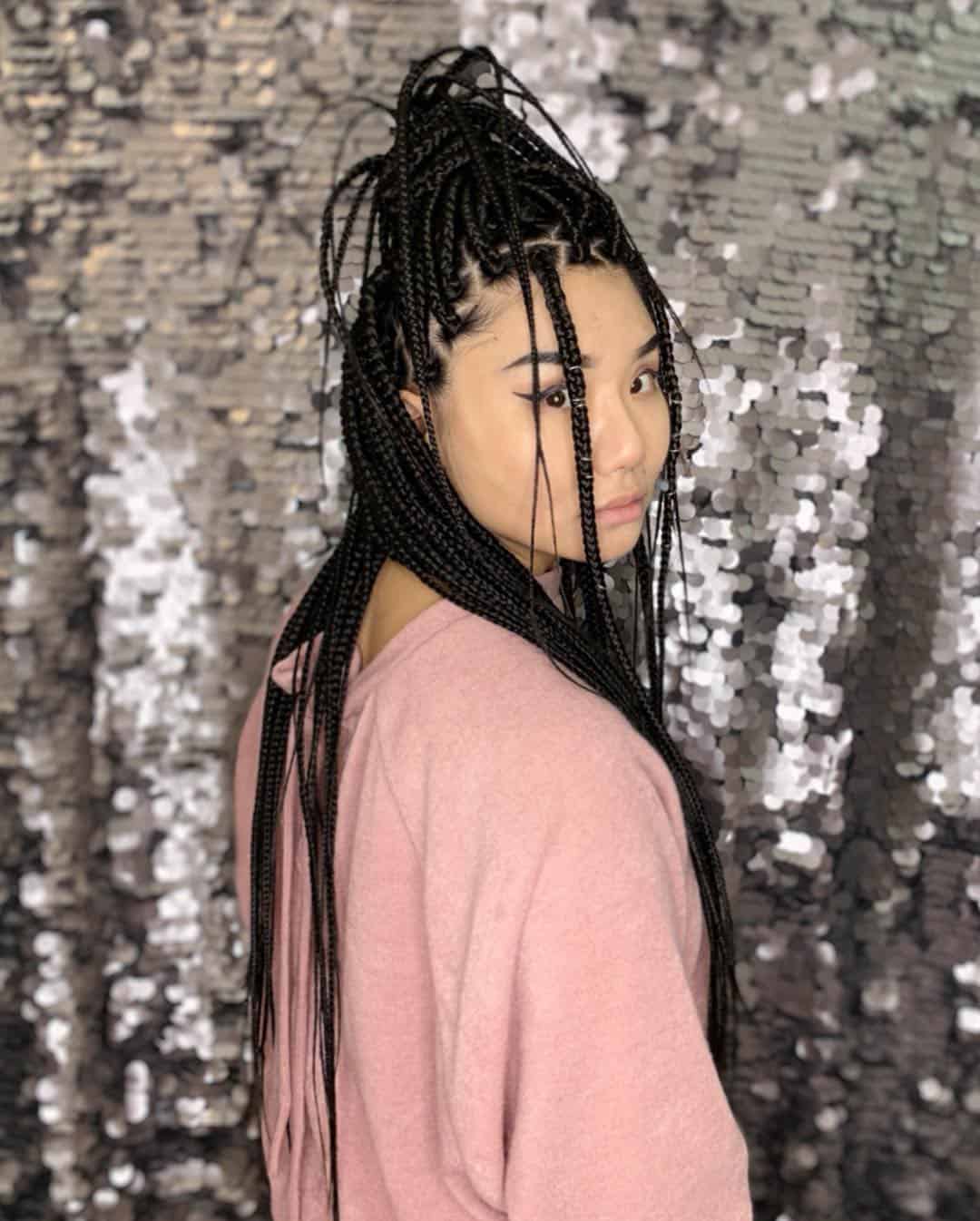 We love the half and half braids. Basically, you get an updo, and you also let your hair to fall loosely.
The result is an elegant look that is casual at the same time as well. Definitely worth a try for every day going out.
8. Flowing Individual Micro Gypsy Braids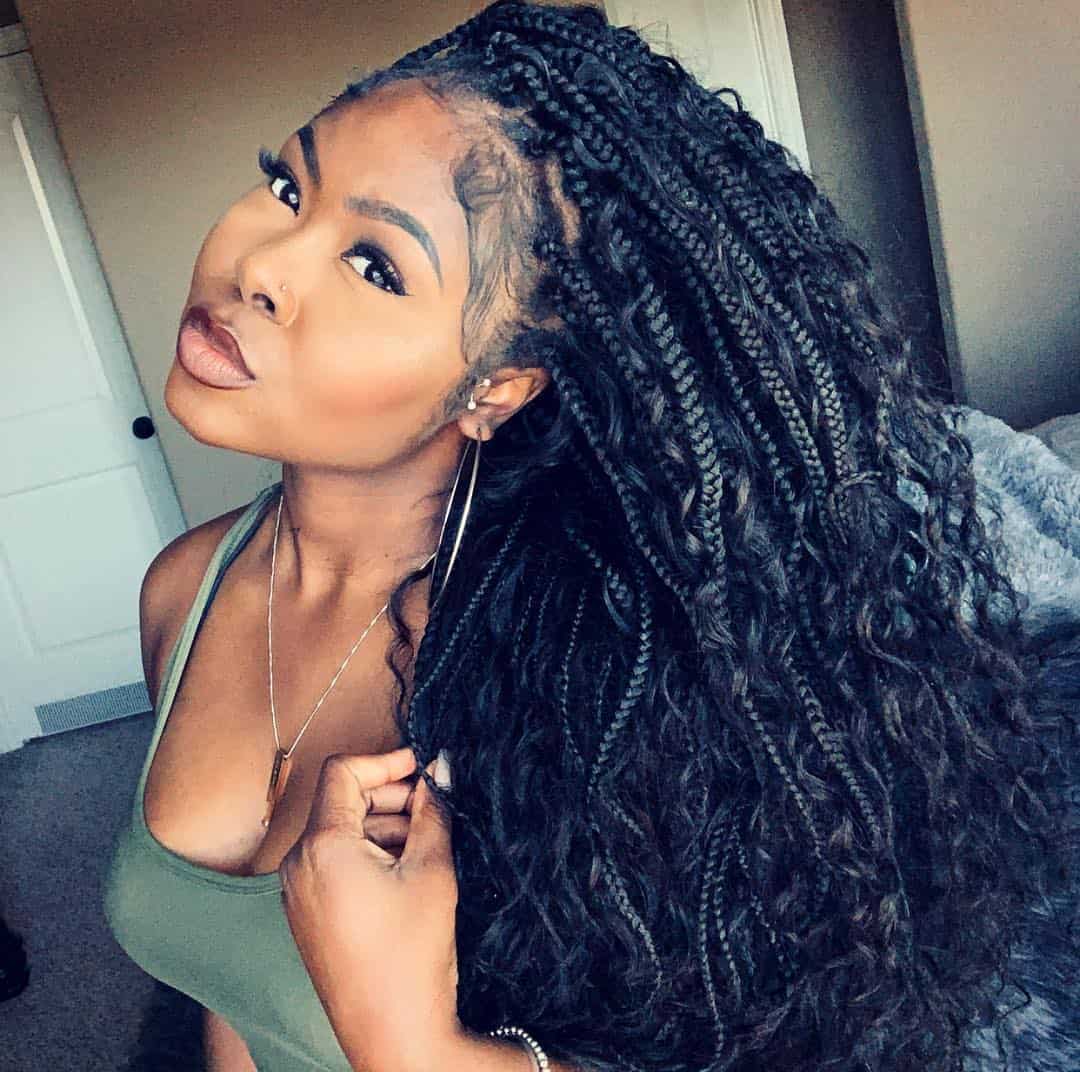 If you like to add a ton of volume to your hair, we suggest trying this hairstyle. Each of the braids is flowing out on its own, and together, they create a unique and amazing looking blend.
9. Twisted Micro Braids With Caramel Highlights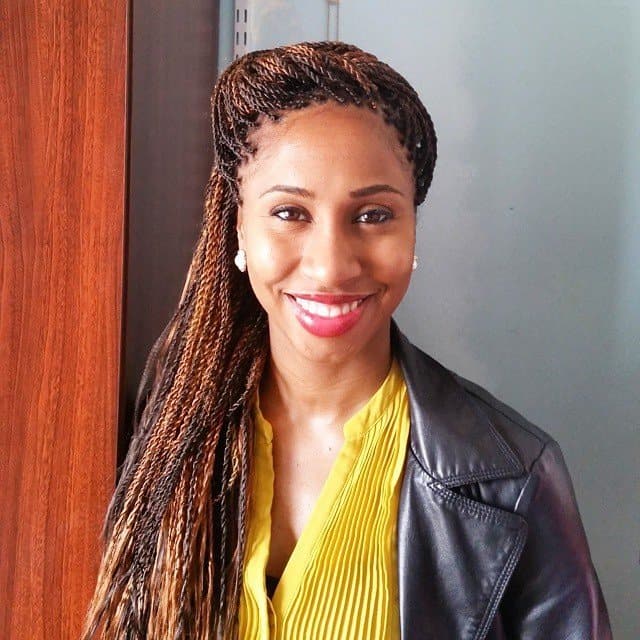 As mentioned previously, if your braids are not enough funky, you can always add some hair coloring and get colored micro braids.
In this case, we want a bit of sunshine and light color. And instead of the whole hair, go for some highlights to get a playful look.
10. Short Cropped Burgundy Red Micros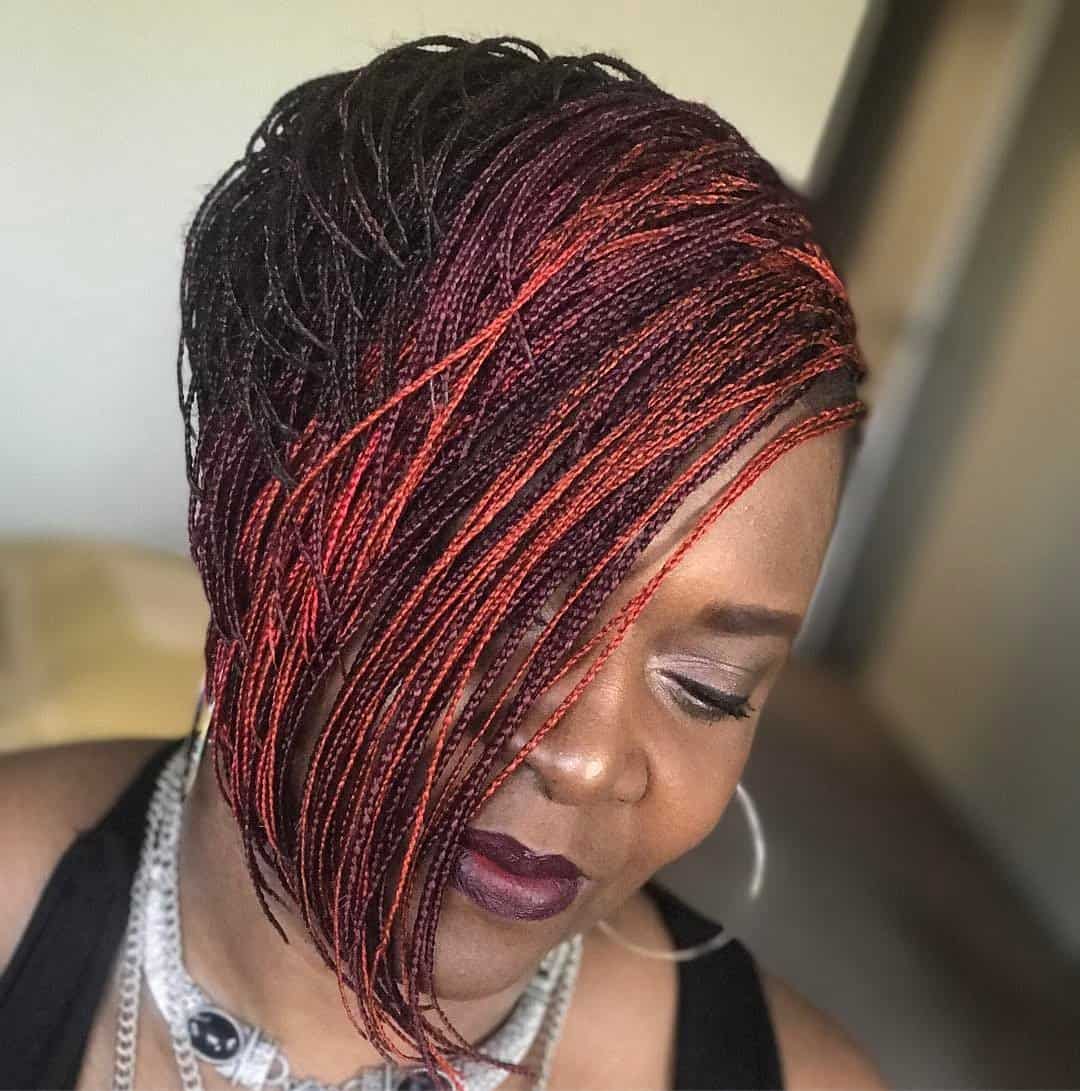 We said at the beginning that micro braiding can work on any hair length. Even if your hair is extremely short, you can find a way to work the short micro braids in. Add some color, and you have a bold and statement-making look.
11. Micro-Box Braids With Undercut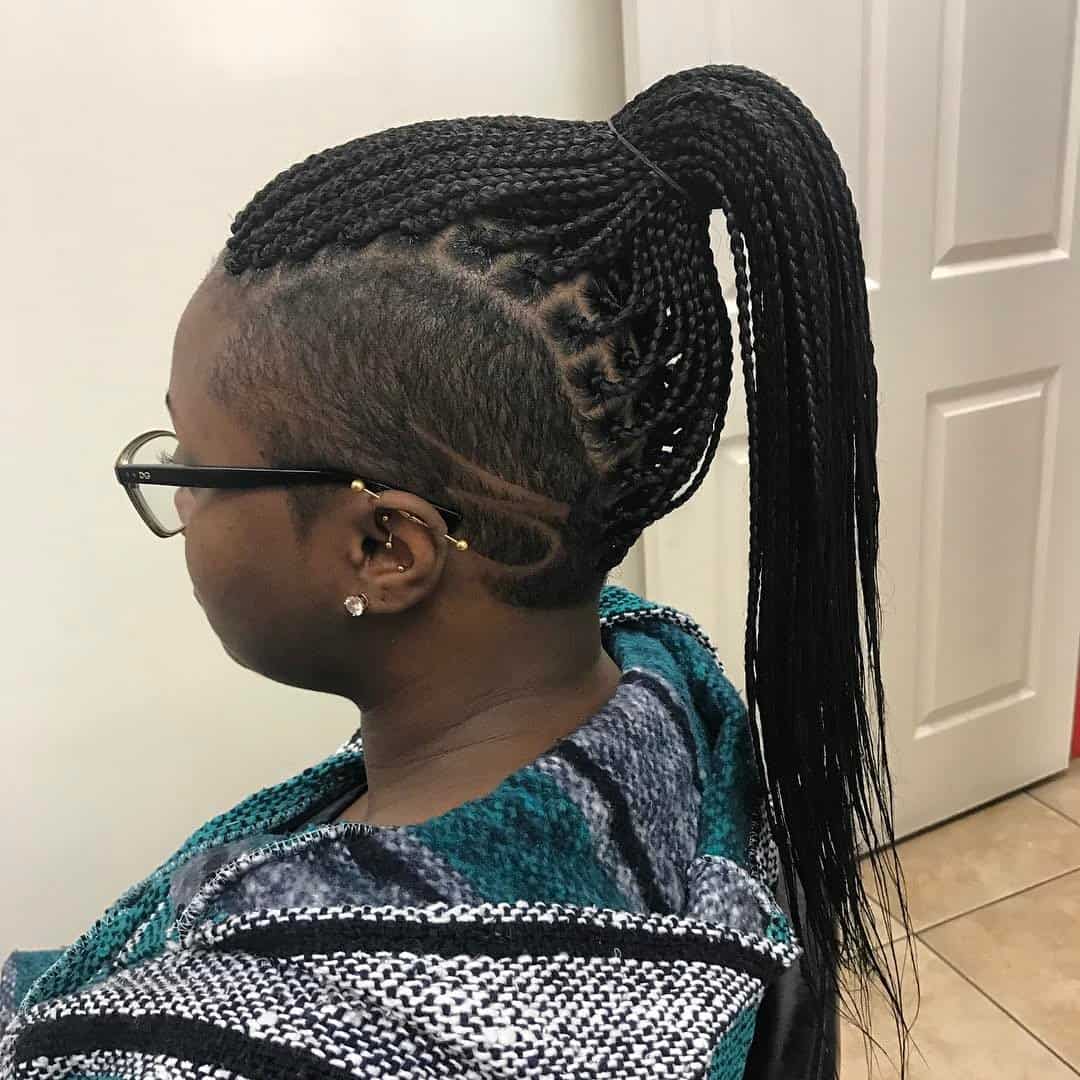 One thing we love about this protective hairstyle is the versatility. They blend well with all other hair trends of the past few years.
One of those trends is undercut design. Truth be told, the look is even more significant with some braids, as the contrast in texture is more evident.
12. Micro Middle Parted Cornrow Braids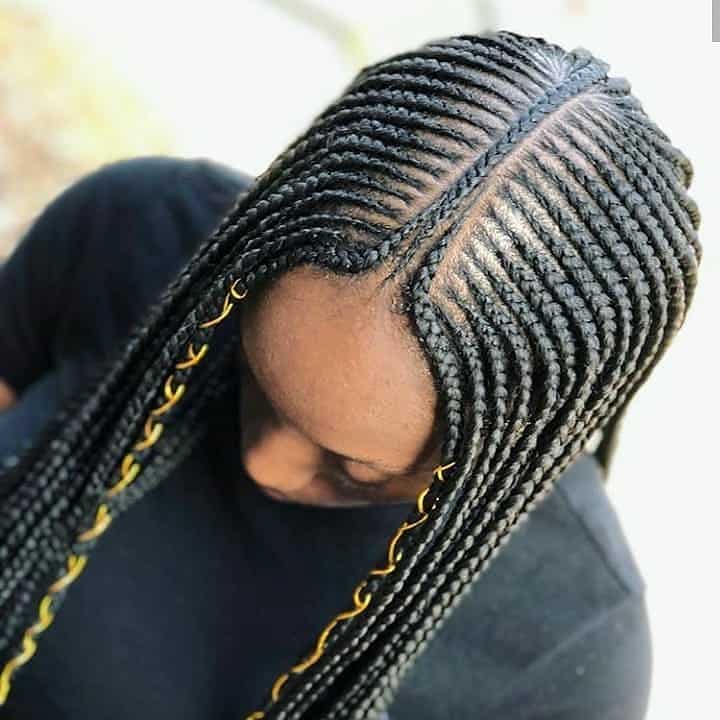 The classic middle line can be done in so much more fun ways. This is just one example of how to add some funky touch and flair to the middle line.
13. Rainbow Peek On Platinum Blonde Micro Braids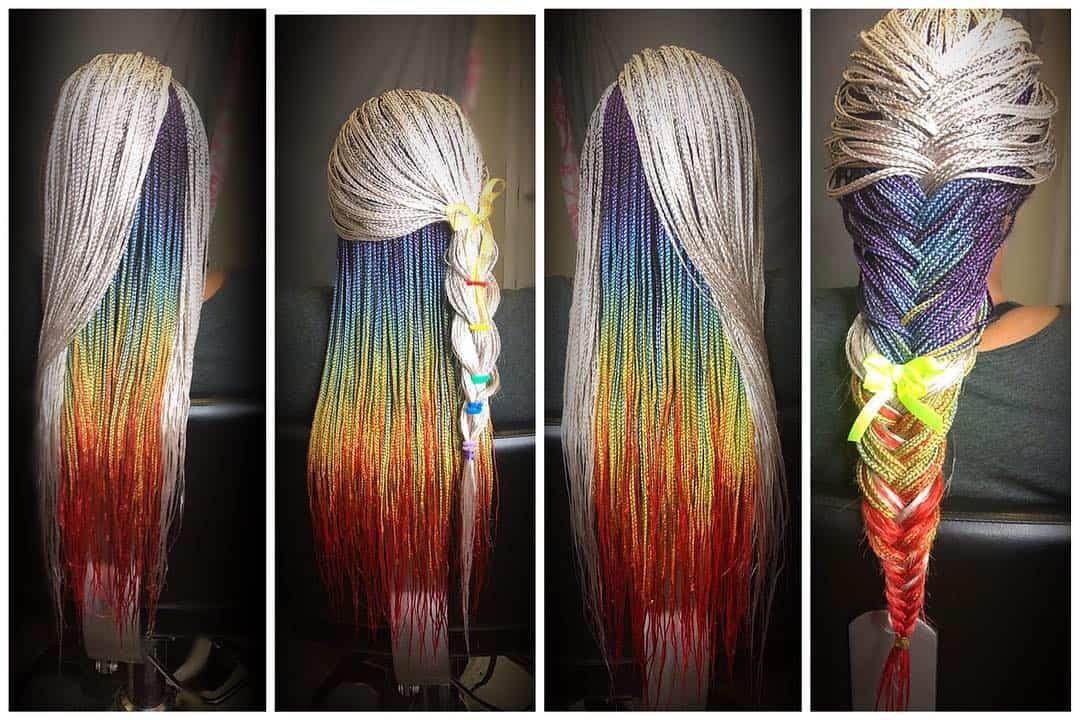 One trend we see a lot in the past few years is hair coloring in unique colors. That includes the rainbow coloring. While it is not meant for all ladies, you can try it at least once. We just have to mention you have to be bold and ready for eyes gazing at you.
14.  Micro Box Braids With Golden Accents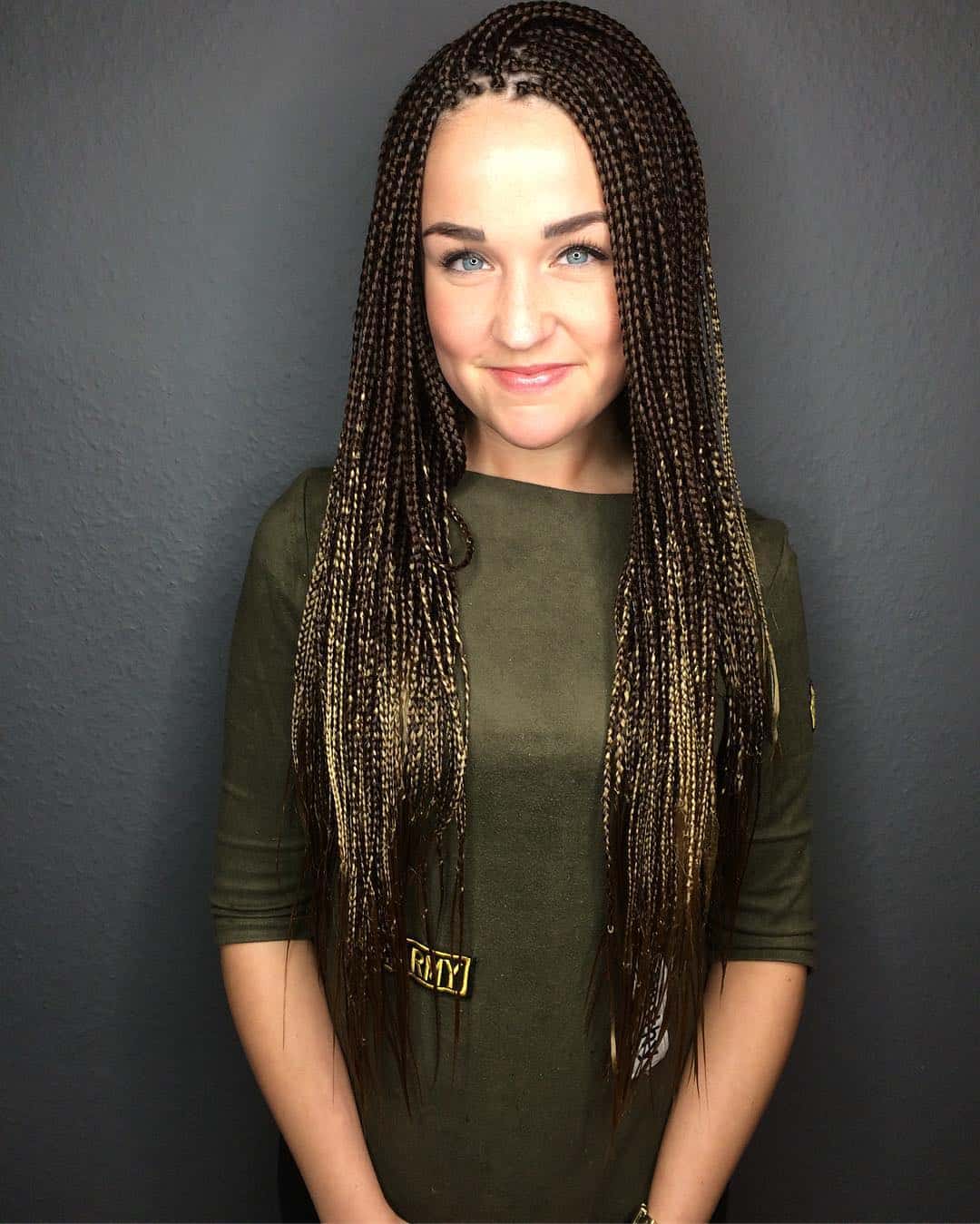 Some women love the subtle touch. And they implement that in everything in their life. They just don't want to stand out.
Instead, they add some subtle touches, like golden accents, and their braiding style transforms in a minute. Definitely a strategy worth trying.
15. Golden Micro Braids In Loose High Bun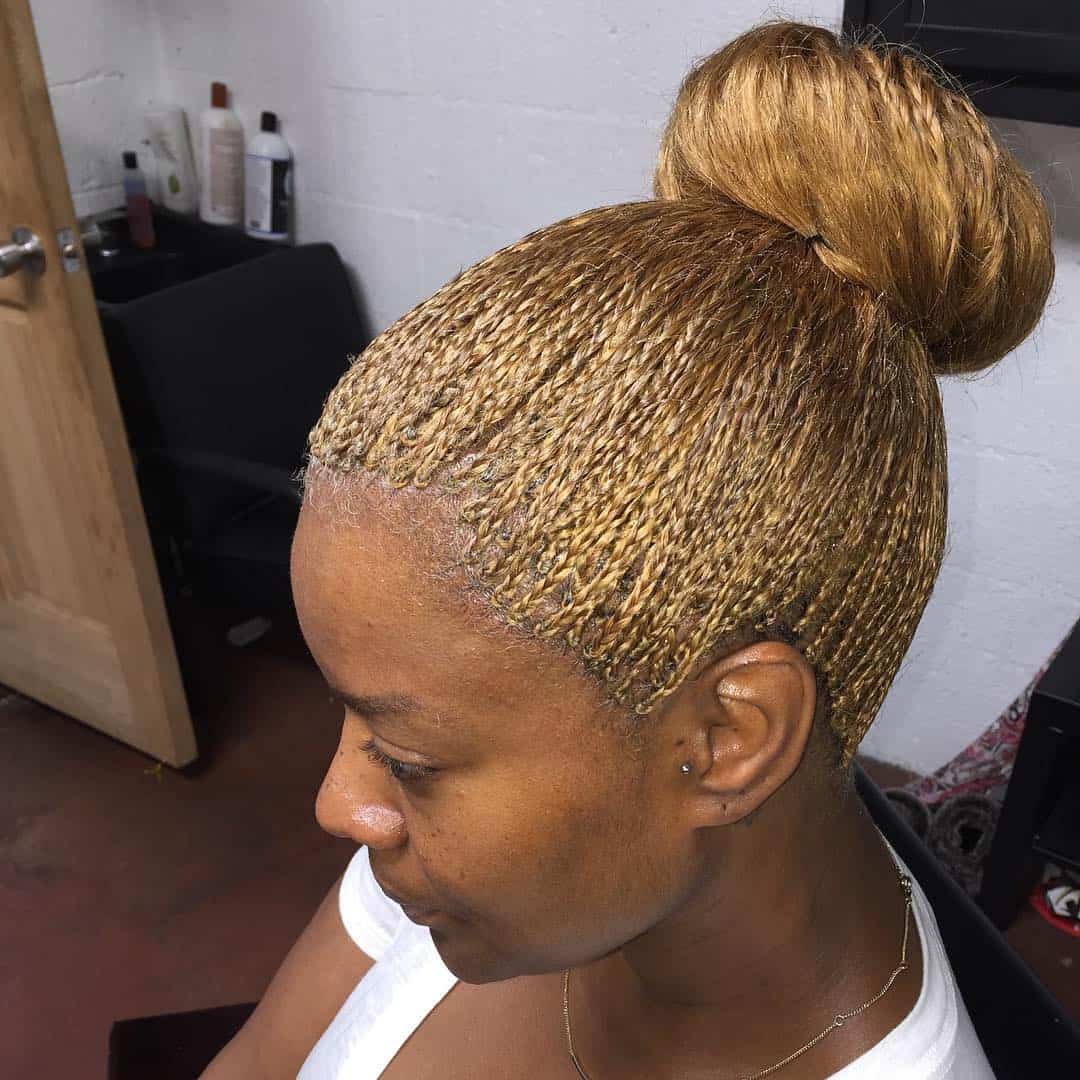 A high bun hairstyle will definitely earn you a lot of compliments. The bun looks laid back and lady-like in the same time, and not many hairstyles can pull off that middle ground.
16. Side Swept Micro Twist Braids With Cuffs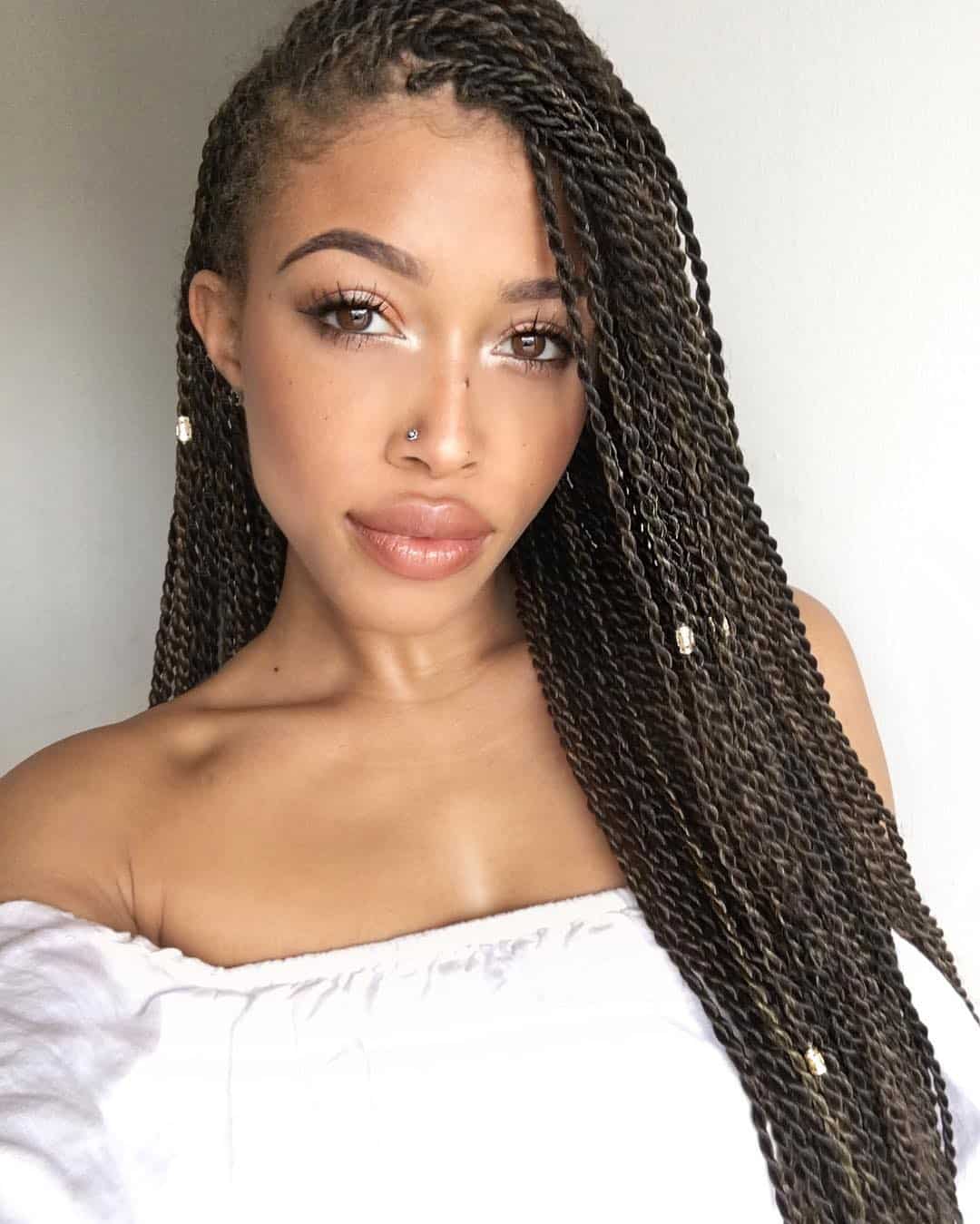 We said previously that just some subtle accessories here and there can easily transform your hairstyle. Try any of the "twist" hairstyles like Senegalese braids, and then add some cuffs for some glamour.
17. Pink, Purple And Silver Twisted Micro Braids
If you thought the rainbow hair coloring is unique, take a look at this one. Basically, the purple and pink is a way to pay tribute to the unicorn hair coloring. And it looks even more amazing given the unicorn T-shirt.
18. Copper Cornrow Spiderweb With Top Knot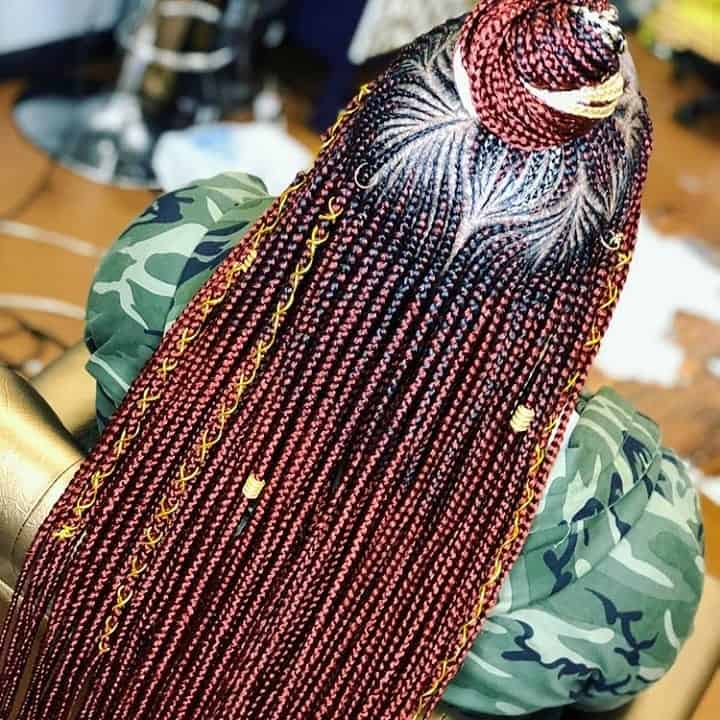 You can say that the top knot is the updo of the moment. It is ultra easy to make, and looks stylish at the same time.
Not many hairstyles can deliver those results. If you crave big hair, a top knot is a way to go. If you want to take it to the next level, you can also color it.
19. Long Triangle Parted Micro Braids In Lavender Tones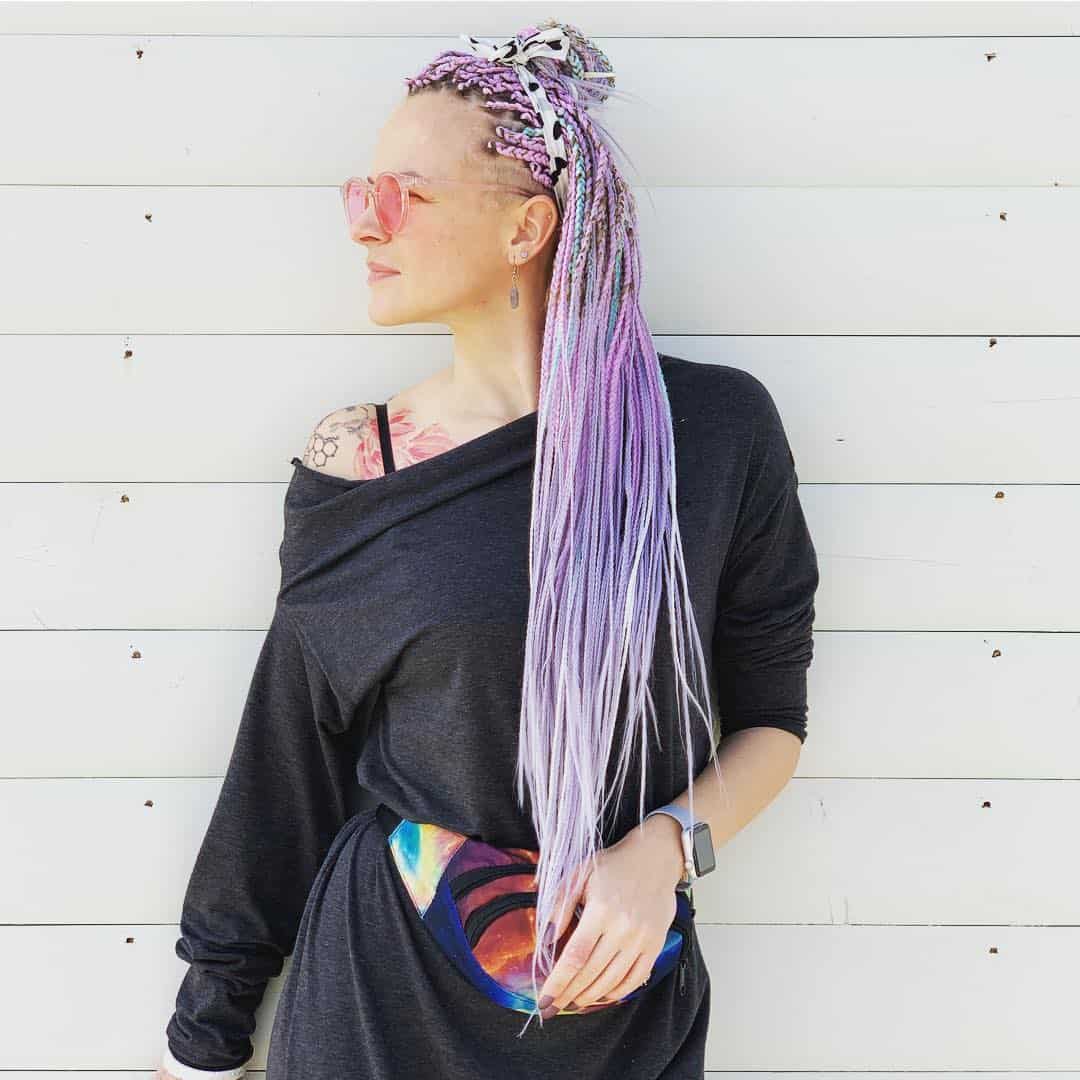 In the sea of braiding options and techniques, every woman is looking for the next best thing for a new way to update her braids. Enter the triangle braiding technique. With some coloring, you can further emphasize the difference in braiding.
20. Micro Cornrows Into Faux Hawk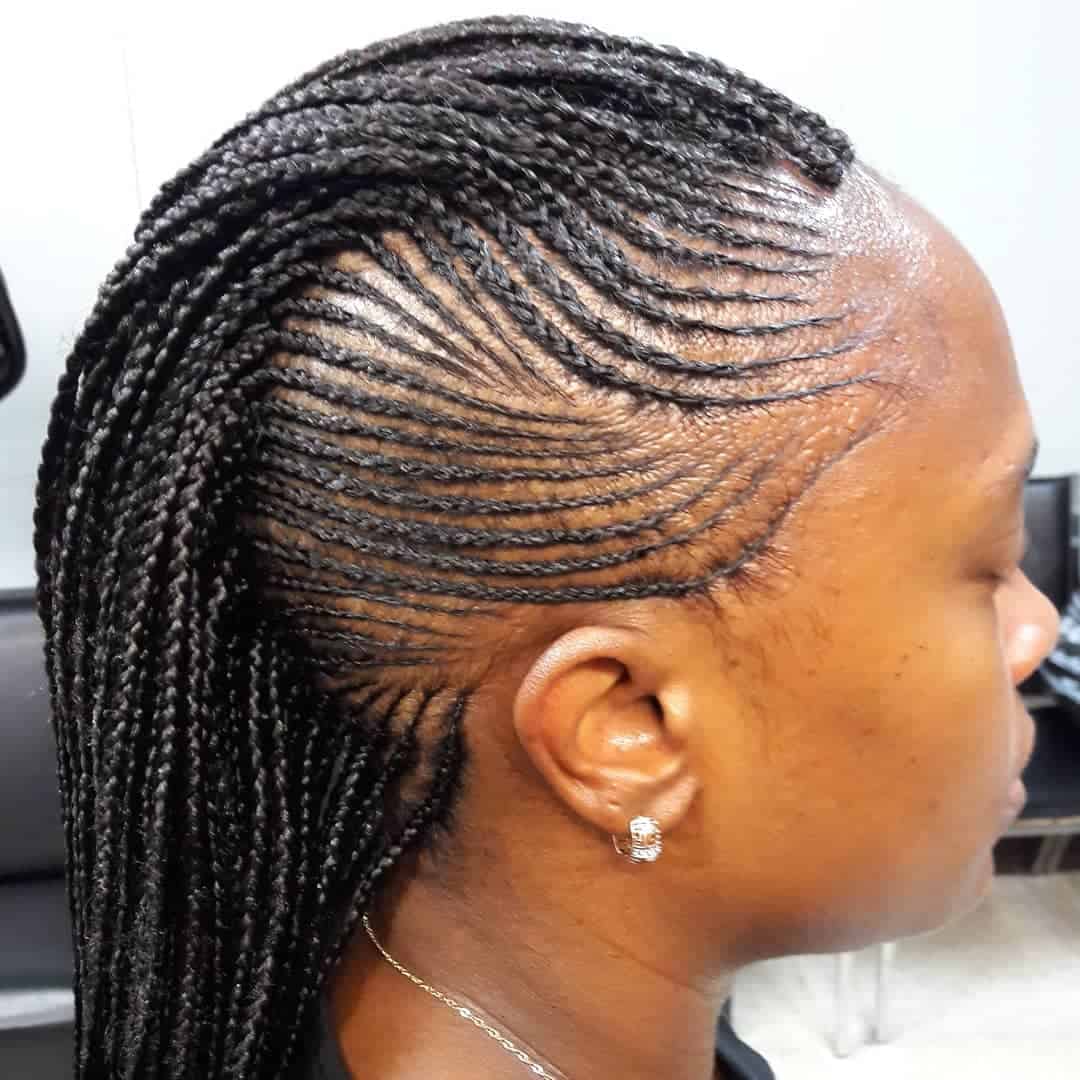 Fauxhawk is a way to get a Mohawk, but without the extra volume and weight of hair. In the past few years, the faux hawk has become one of the most popular hairstyles for men. But that doesn't mean women cannot experience with the hairstyle as well.
21. Half Loose Micro Braids On Short Hair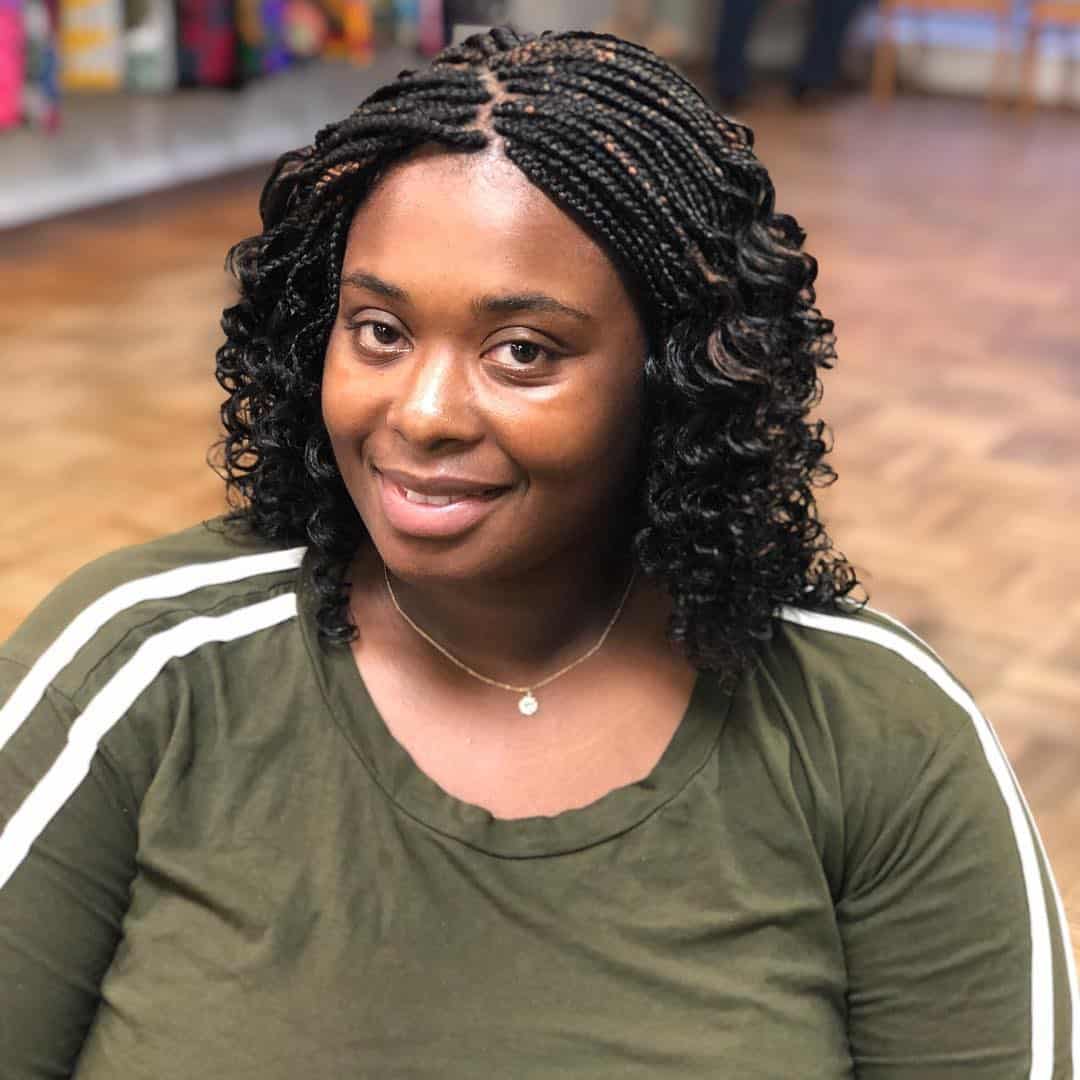 We mentioned previously that short hair should not be preventing you from getting micro braids.
No matter the length of your hair, braids are easy to get. And they look stylish and fashionable.
22. Icy Silver Blue Micro Braids With Curly Tips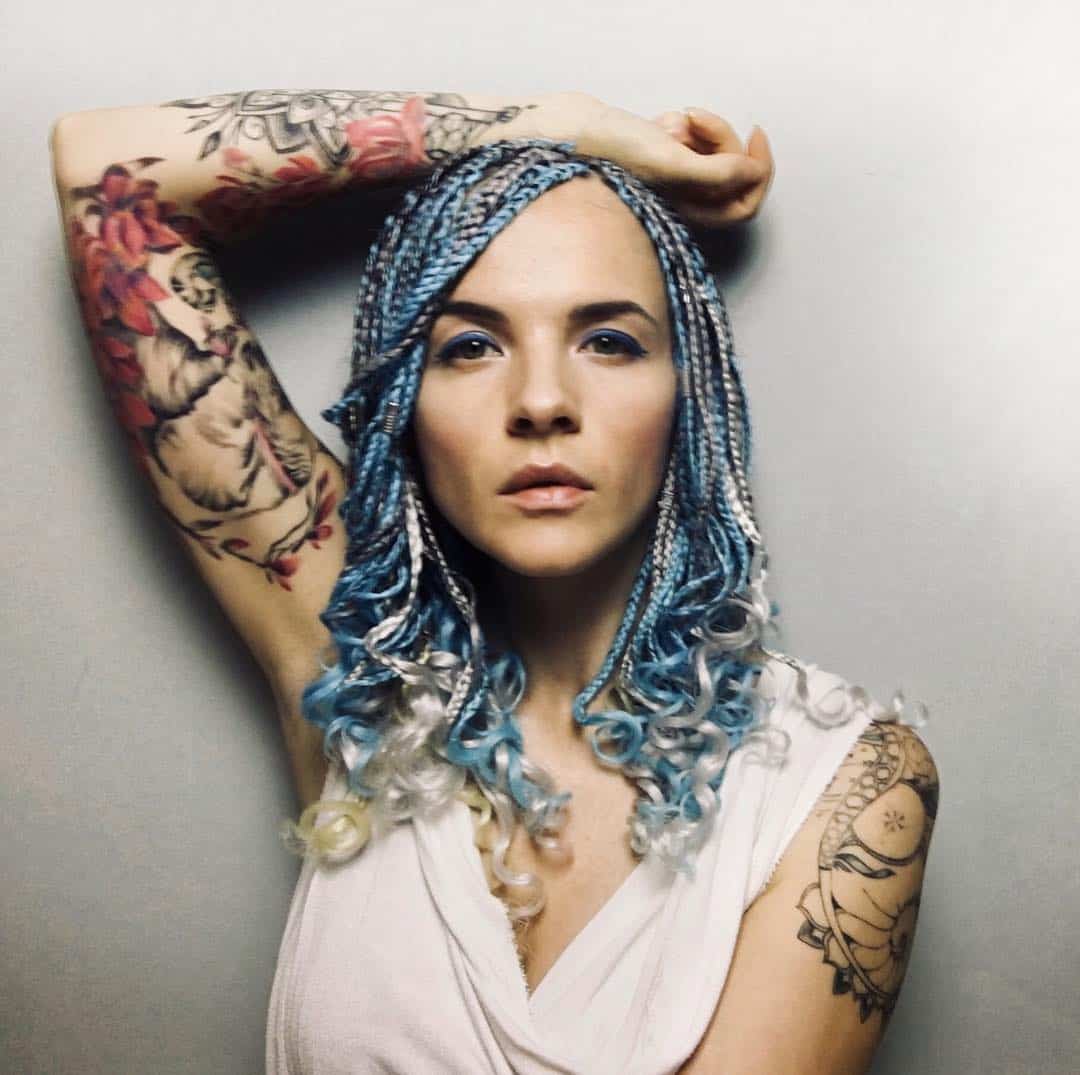 When you talk about braids, one thing people mistake is that they are all alike. No, women are always trying for a way to make their braids unique.
Here is one idea you can copy. Just let some loose curls at the end. And you do not even have to color your hair in white and blue.
23. Long Side Swept Micro Box Braids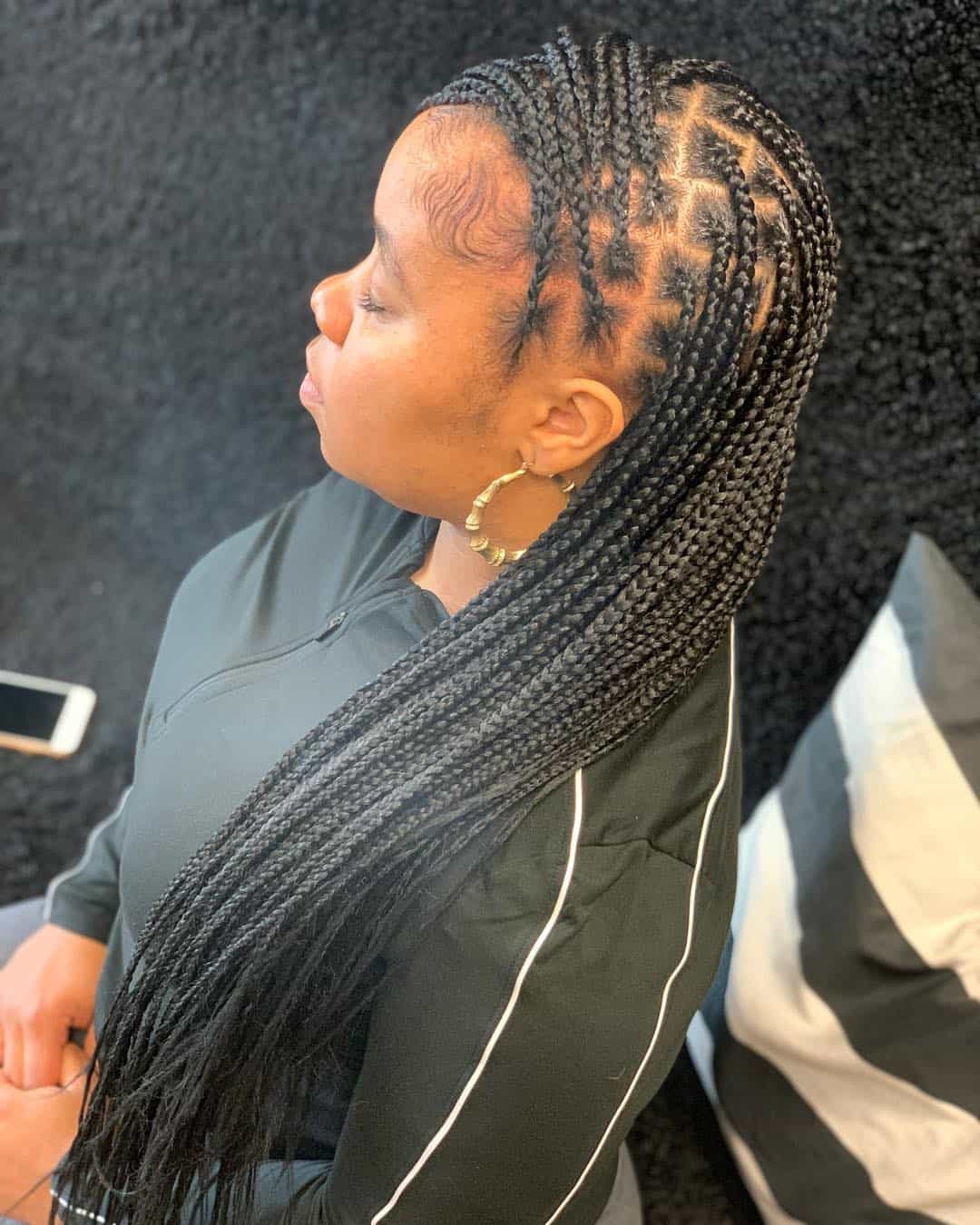 Side swept braids are perfect for a woman who wants to keep a more natural looking hairstyle, and protect her hair at the same time.
Side swept braids prove that braids are not just for African-American women.
24. Ash Blond Braided Micro Braids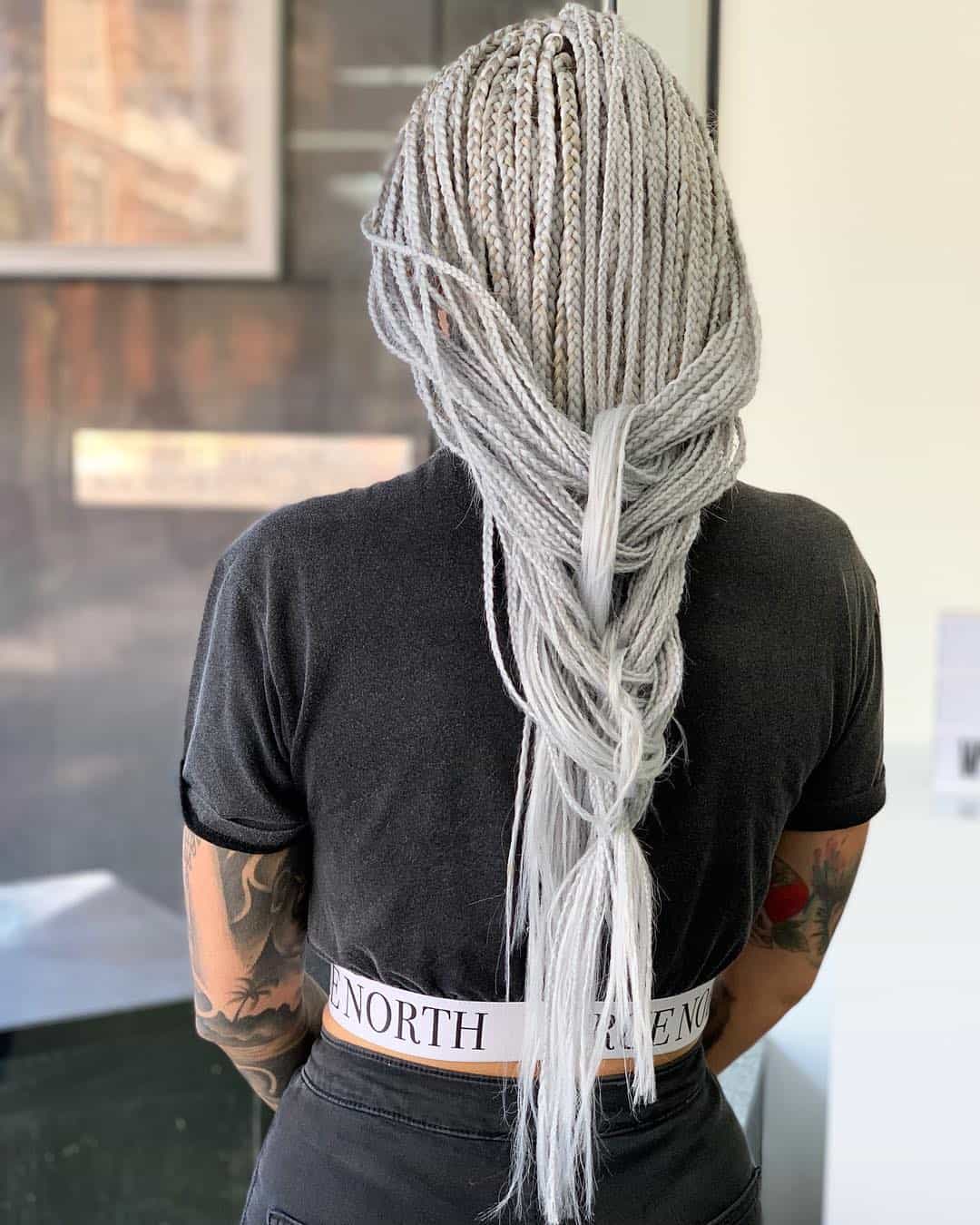 The unique aspect of this hairstyle is the color. Ash blond is one of the hottest trends in hair coloring. And while it can be quite damaging on your natural hair, the braids are protective hairstyle.
So, if you always wanted ash silver or platinum blonde hair, but you were afraid of bleaching and damage, braids are your solution.
25. Dark Blond And Brown Tied Back Micro Box Braids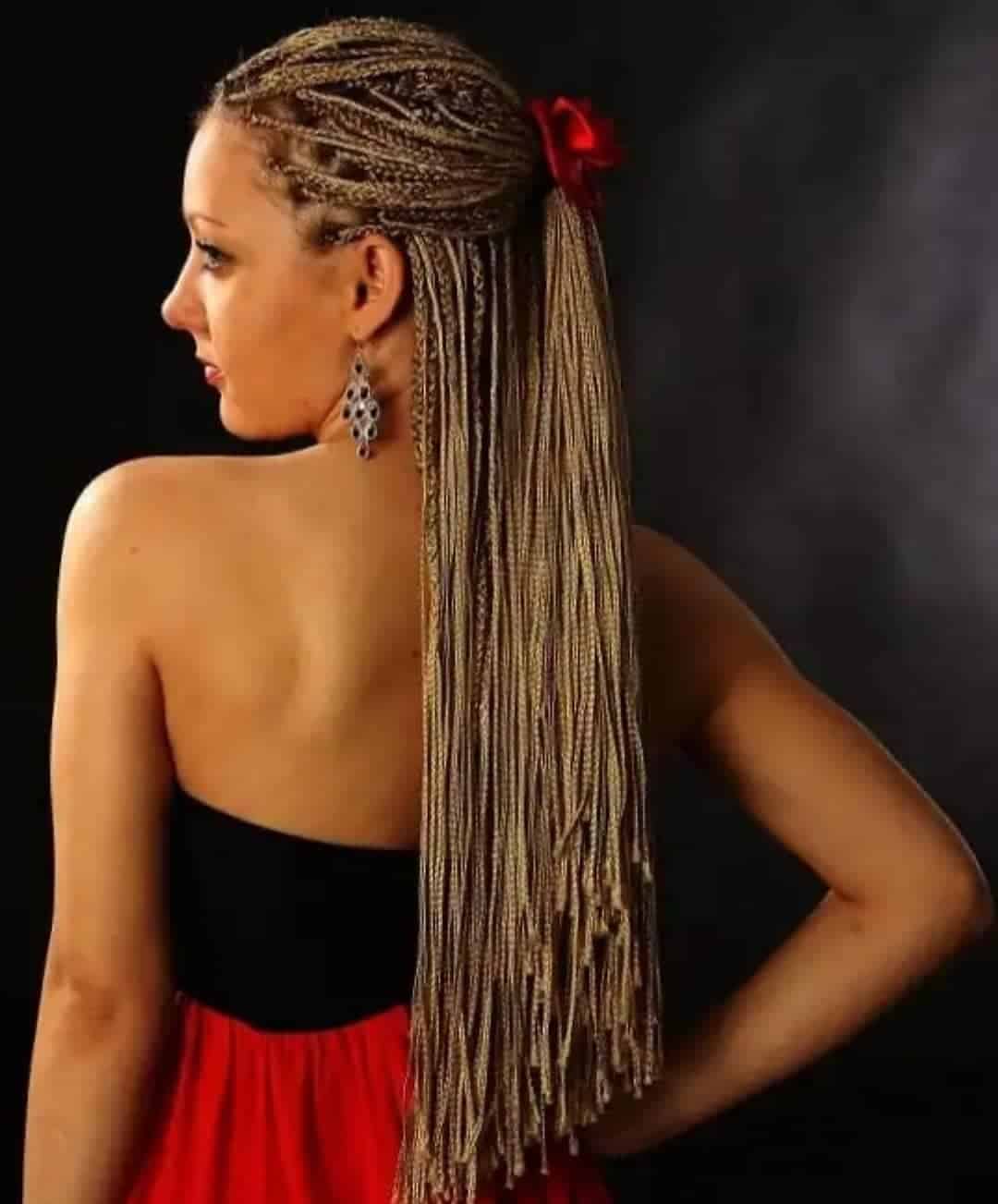 We love how the two colors are combined here. Black and brown usually do not work well together.
But every now and then, a woman finds a way to make it work. Check it out!
26. Platinum Micro Dreadlocks With Baby Blue Highlights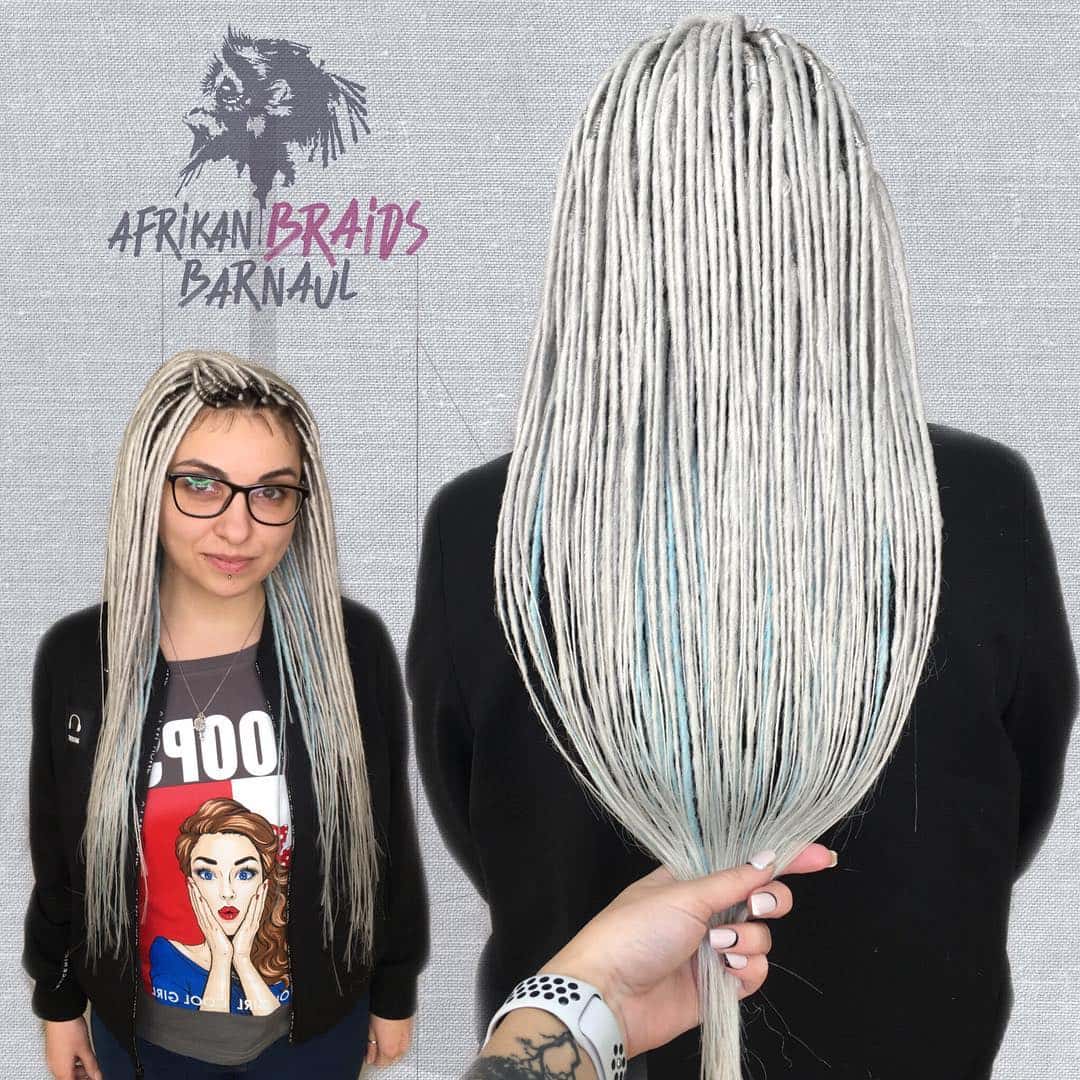 Dreadlocks give you a bit more volume than usual braids. And if you have ever seen Predator movies, you might even think of this hairstyle in a different manner.
Keep in mind, dreadlocks have a long and rich history of more than 2000 years ago.
27. Side Shaven Micro Braids Twisted On Top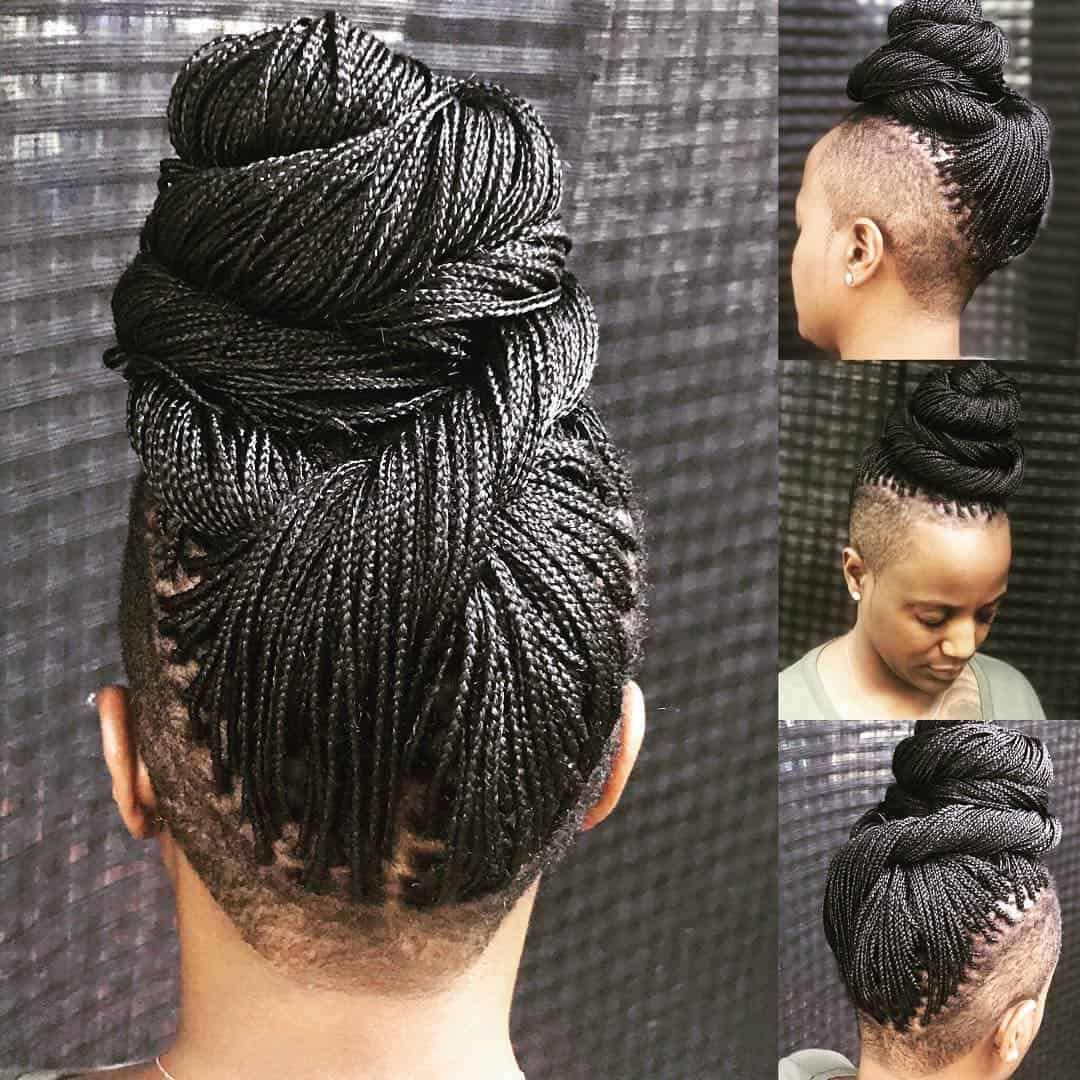 We said previously that micro braids work well with other hairstyle trends. And that includes the undercut, where the texture and contrast really come into play.
One downside, you have to shave your head frequently.
28. Individual Micro Braids With Loose Curly Ends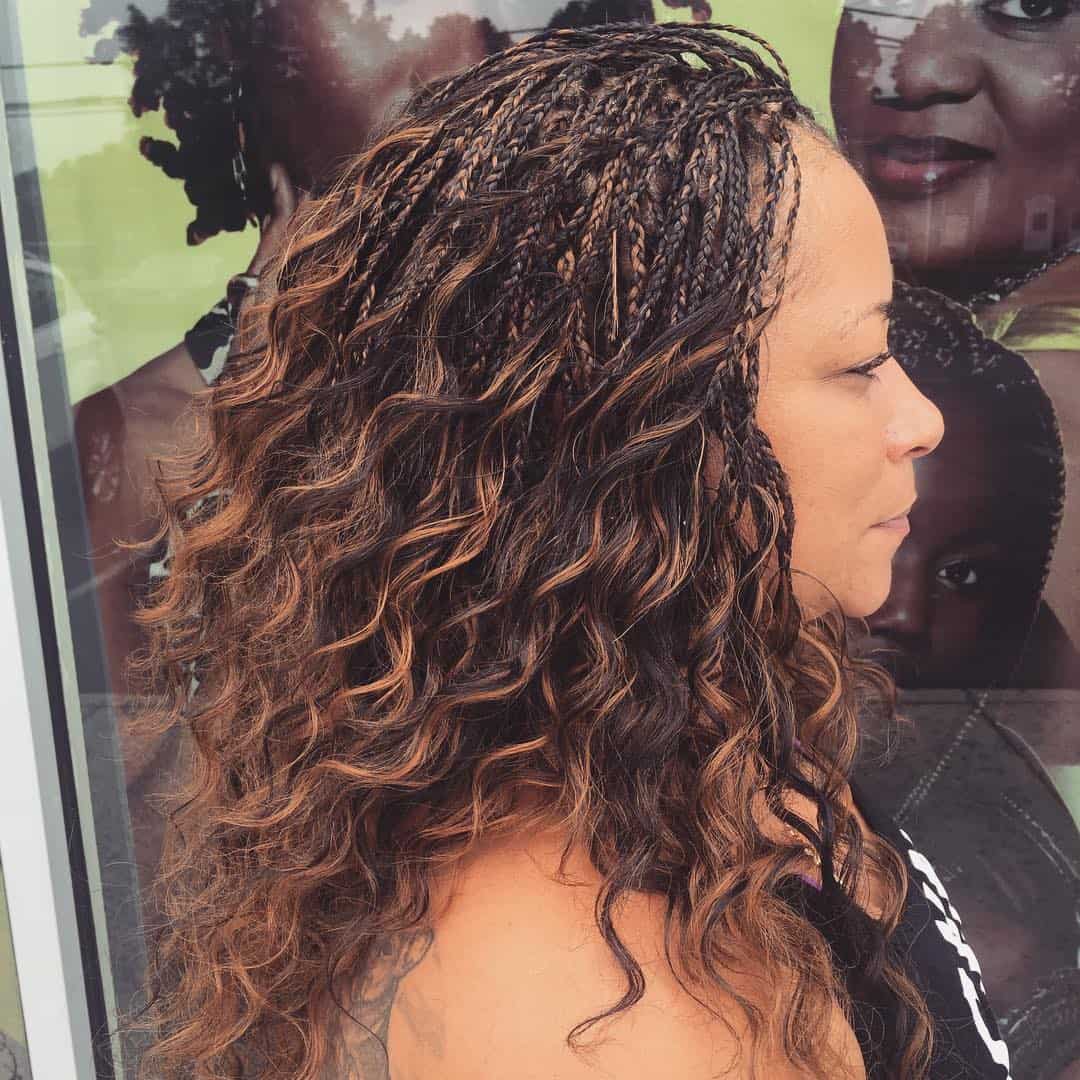 We had a similar hairstyle previously, but here is just one more idea if you want individual braids.
With some curls let loose, you get a nice playfulness and vibrant hairstyle.
29. Earthy Toned Micro Braids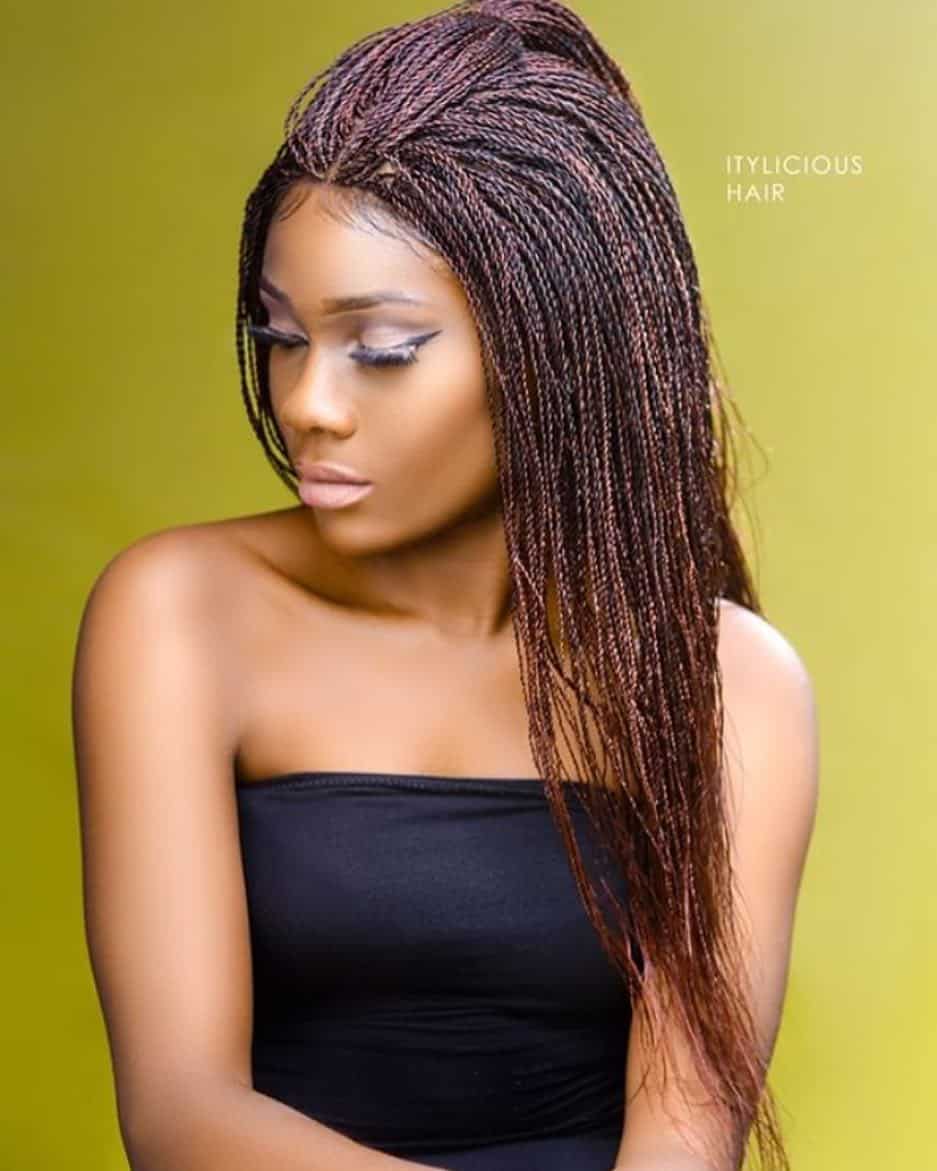 For our last micro braids idea, we want to pay tribute to our planet. That is why the coloring of the braids is inspired by the natural colors of our Earth.
Hope you enjoyed it, and you now understand that micro braids can be applied to any woman in the world, not just African-American women.