Flappers were a generation of young Western women in the 1920s. They wore short skirts, bobbed their hair, listened to jazz, and did not care about what anyone thinks of them. Simply put, flappers were women who decided to depend on themselves.
Flappers performed in clubs to make for a living, they smoked, and almost exclusively sported short hair. Their hairstyles are still very much in style now. And if you want a sassy look, get some inspiration from flappers.
They did what society did not expect from young women. And being an independent and strong woman will never be out of style.
The beauty of the flapper style is that you can make it no matter if you have straight hair, curly hair, thick hair, or anything in between. There is always a long pixie, short pixie, straight bob, or something else to choose from.
Where does the term flapper come from?
The term flapper, and with that, the term flapper hairstyles, comes from the 1920s. It was then when a new generation of women emerged.
Young and free-spirited, these women rejected the traditional norms of society. Hollywood improved its position as leader in the 1920s by recruiting some of the most talented actresses of Europe, including Hedy Lamar and Greta Garbo.
A flapper young woman would use her sexuality to attracted men who would fell for her charms. The glamorous ladies separated themselves from the older generation.
And while the older generation criticized flappers and their short hair styles, they paved the way for women to challenge traditional gender roles.
Mary Pickford, a Canadian-American actress, was one of the most influential women of the period. Her flapper hairstyle is what inspired the trend. And then you have Louise Brook, called the enigmatic flapper with her bobbed hair.
1. Smooth Chunky Finger Curls In Medium Hair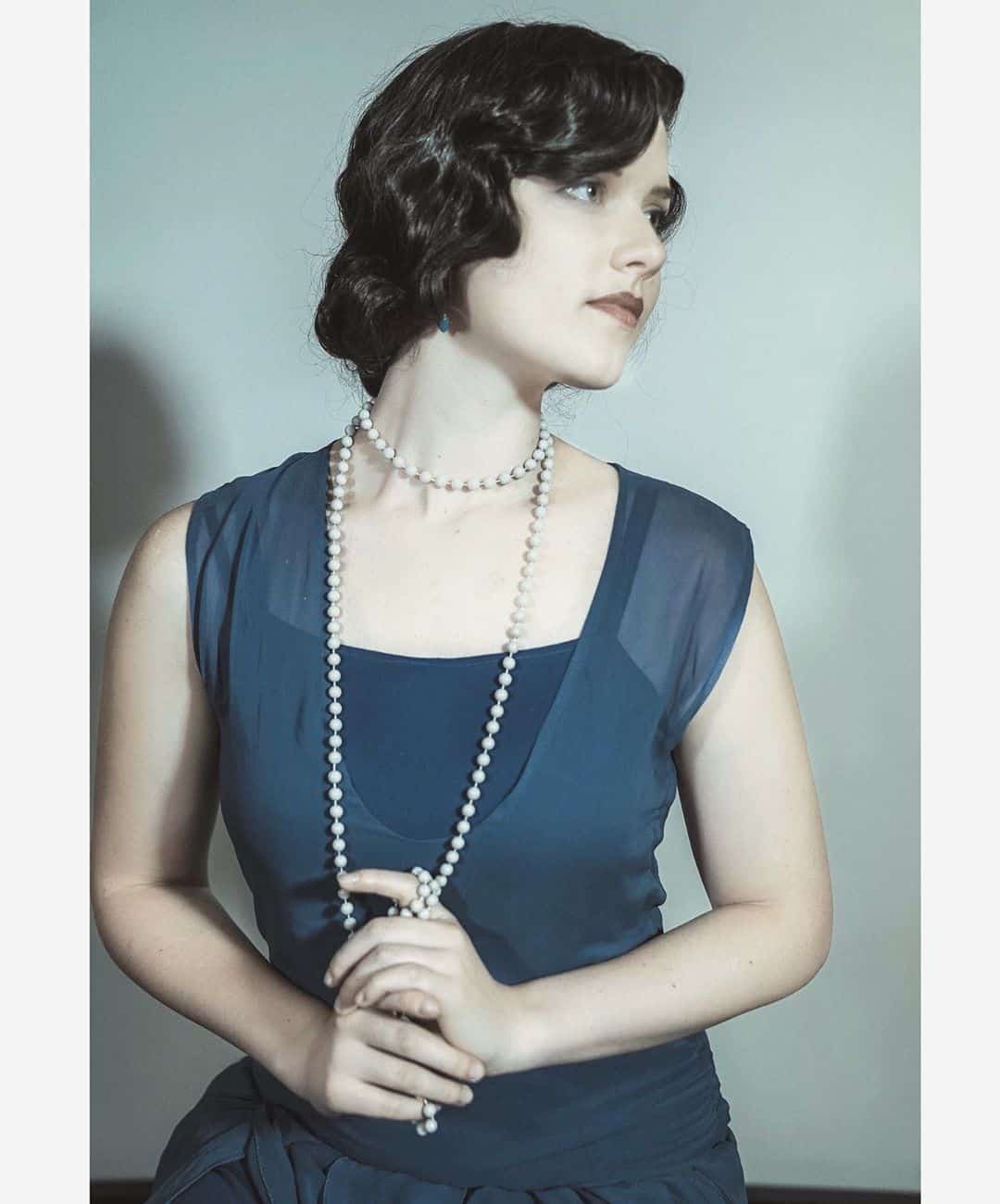 This is as classic and vintage look as you can get. Medium length hair, with some chunky curls, and you get a club look.
2. Long Curly With Flipped Bangs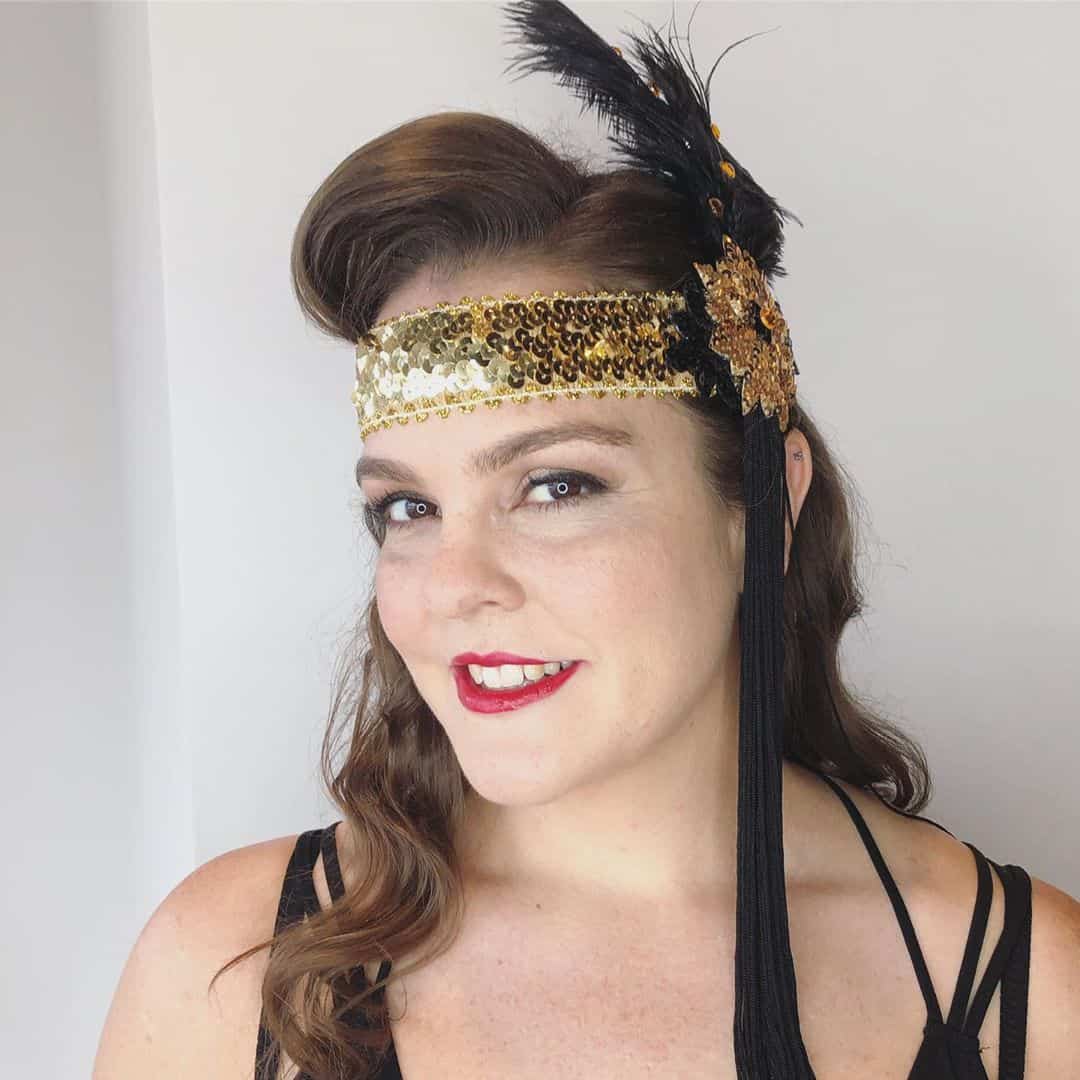 If you have ever been to a classic 1920s party, you've probably seen a lot of women with this hairstyle. Even movies became famous thanks to this look. It is all in the details, and that here is the feather.
3. Gatsby with Pin Curl Bun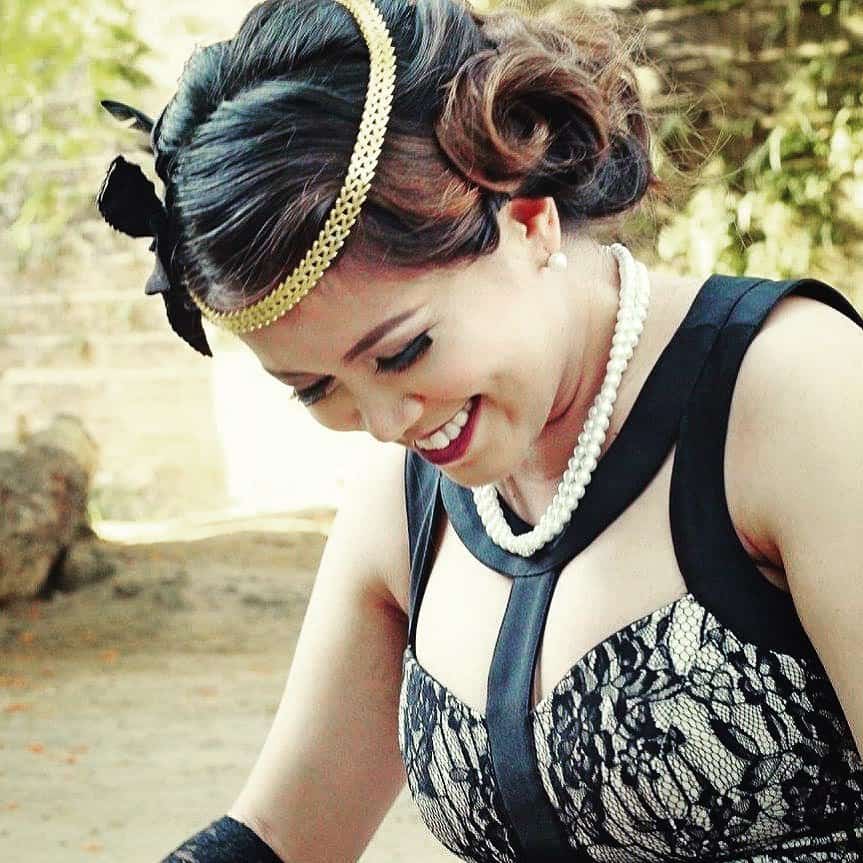 The Great Gatsby is a novel that is famous for many things. One of course, is the legendary parties. Even nowadays, people often throw up Gatsby parties. And for such a party, you need an appropriate hairstyle. Of course, you can wear this one even when there is no party.
4. Tassled Curls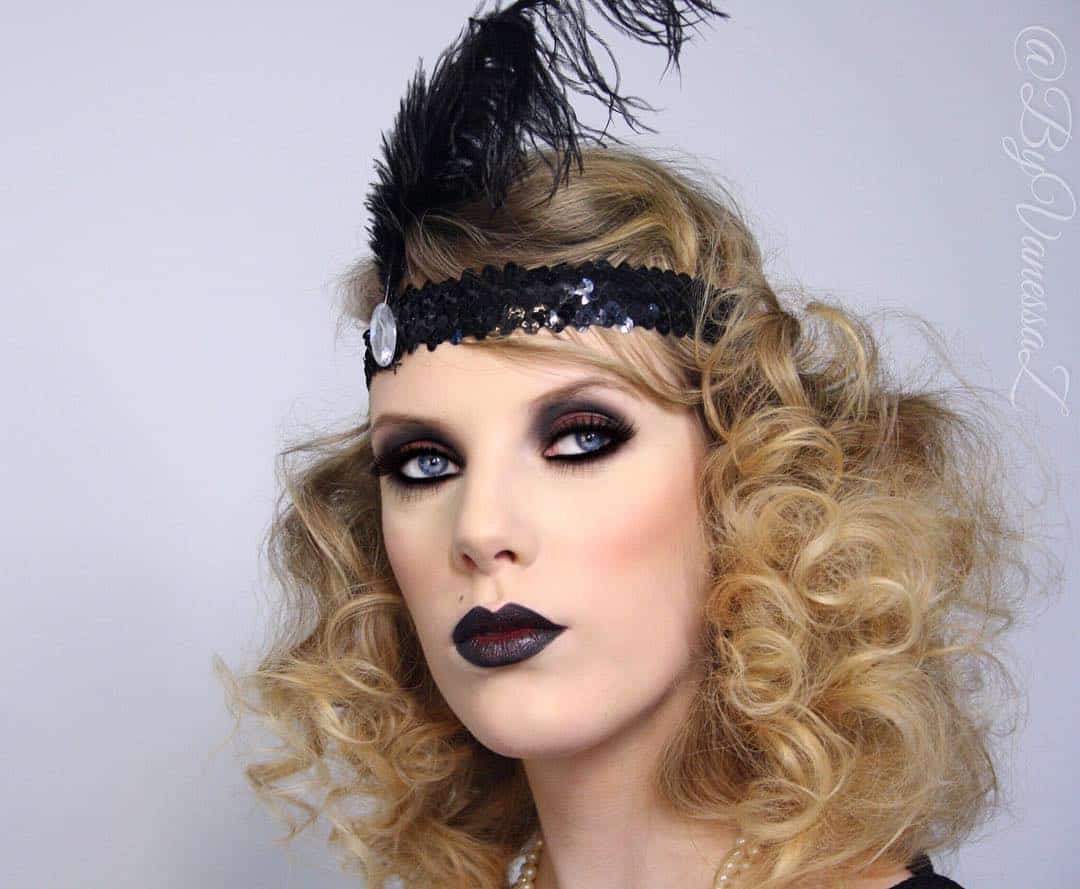 Curls were even more popular back in the days. And back then, curls were even messier. Nowadays, it is all about that beach waves. But for a classic vintage look, you need a messier look.
5. Jumbo Pin Curl Bangs UpDo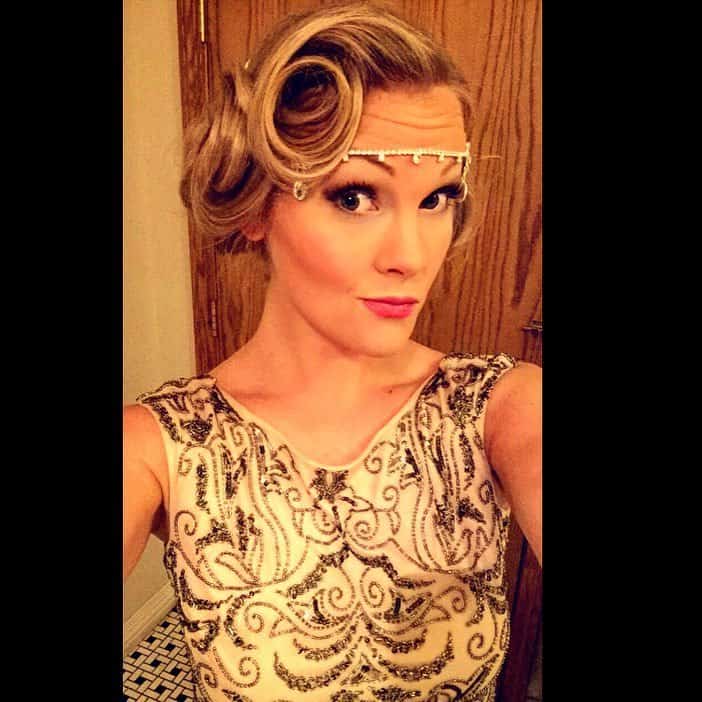 Everything was bigger and more pronounced back in the days. Even the UpDo looks better. You might even say it, we know you think it. How to come back to this era?
6. Balayaged Faux Bob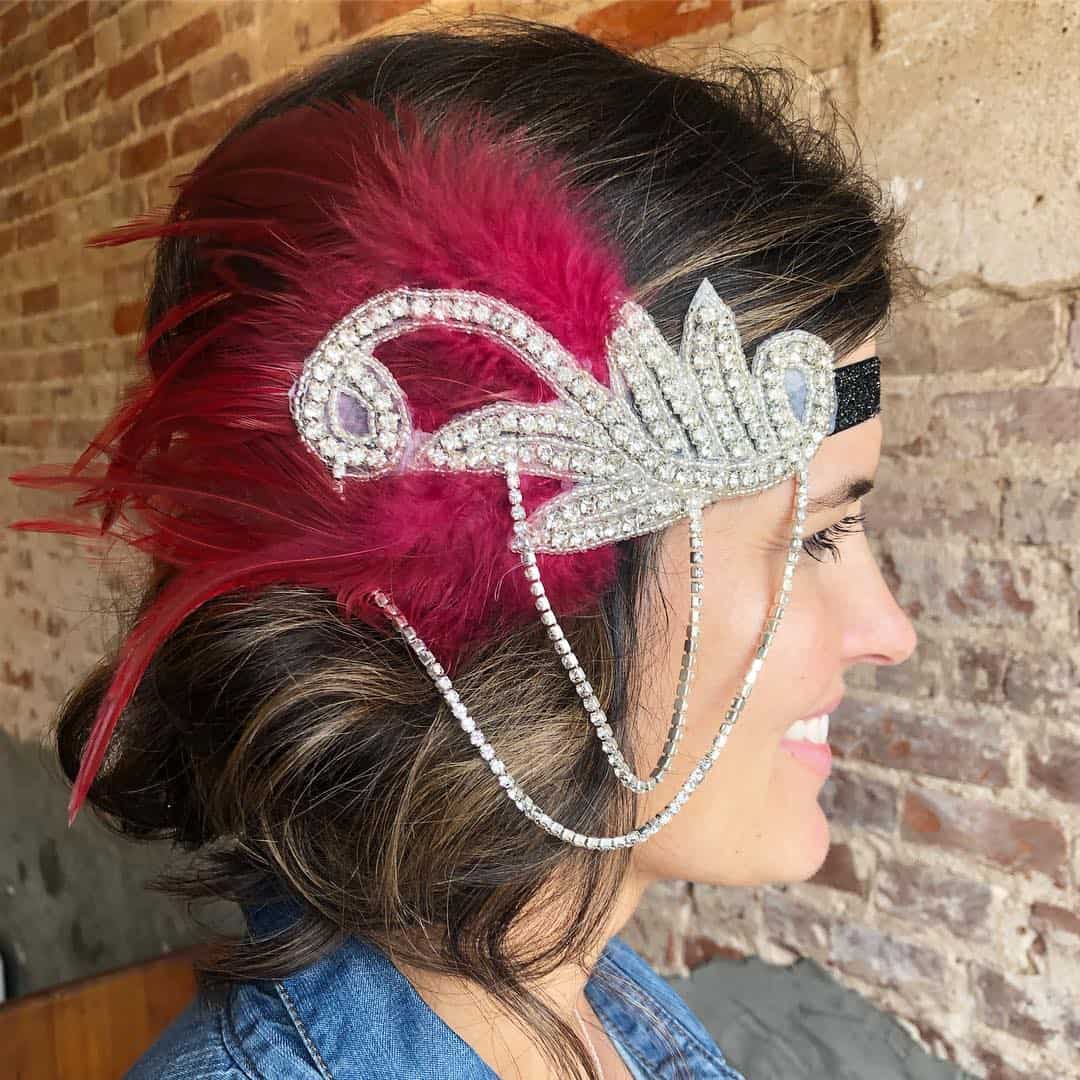 You might not believe it, but there was a time when the bob hairstyle was not as popular. Yes, the bob haircut has been present for a while. But before Jennifer Aninston wore it in Friends, the bob was the dark child. And back then, it was more of a faux bob. Good thing, balayage highlights were popular always.
7. Blonde Glamorous Curls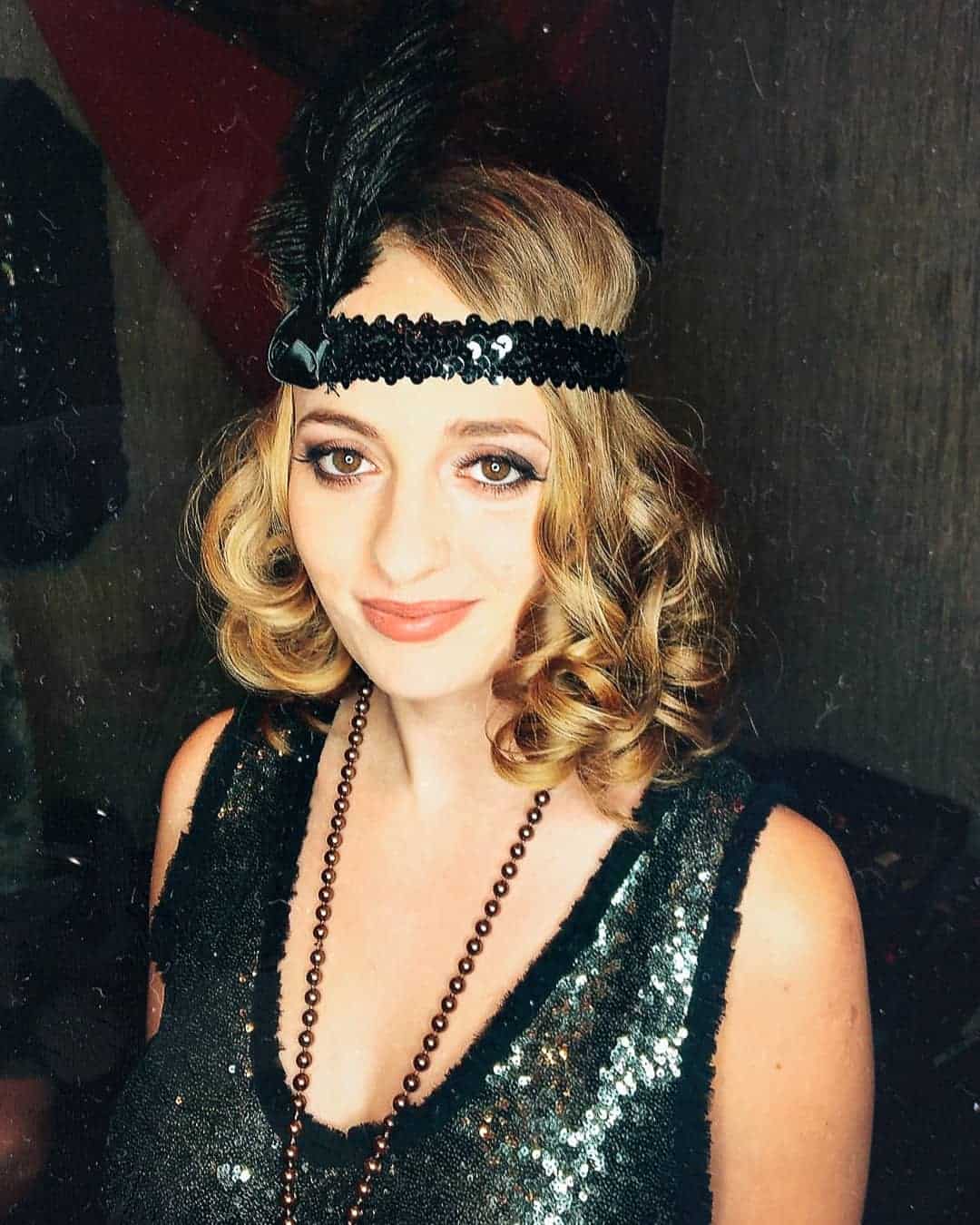 Blondes have always been in style. No matter the era, blonde hairstyles are always in fashion. The only difference is the texture and look. Back in the 1920s, the looks were messier, and so was the blonde hairstyle.
8. Pixie Finger Waves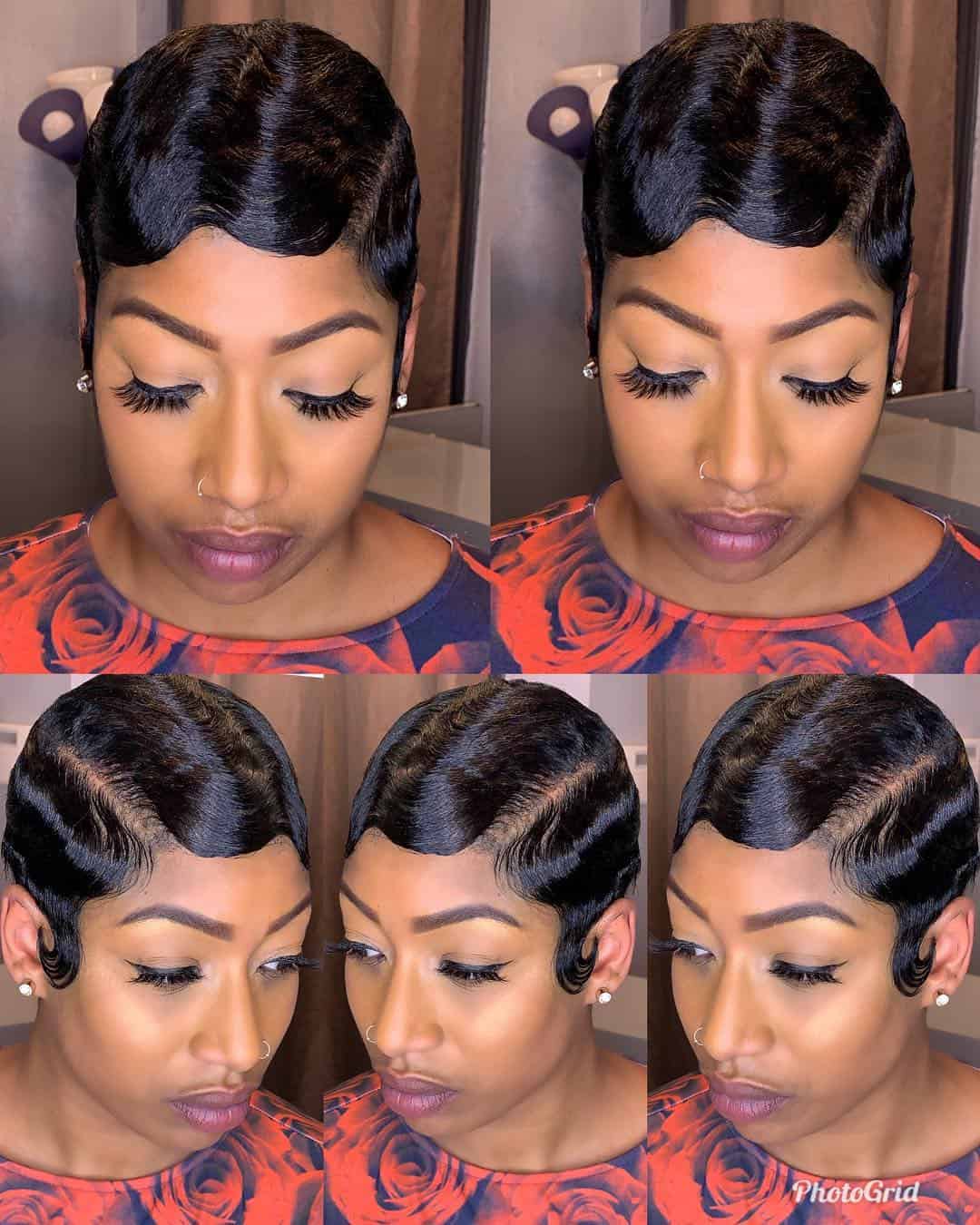 Even before Twiggy was among the world's first supermodels, the pixie cut was a huge hit. And if you are going to a vintage party, and you have short hair, the pixie should be your go-t0 move.
9. Red Bob Curls With Blonde Tips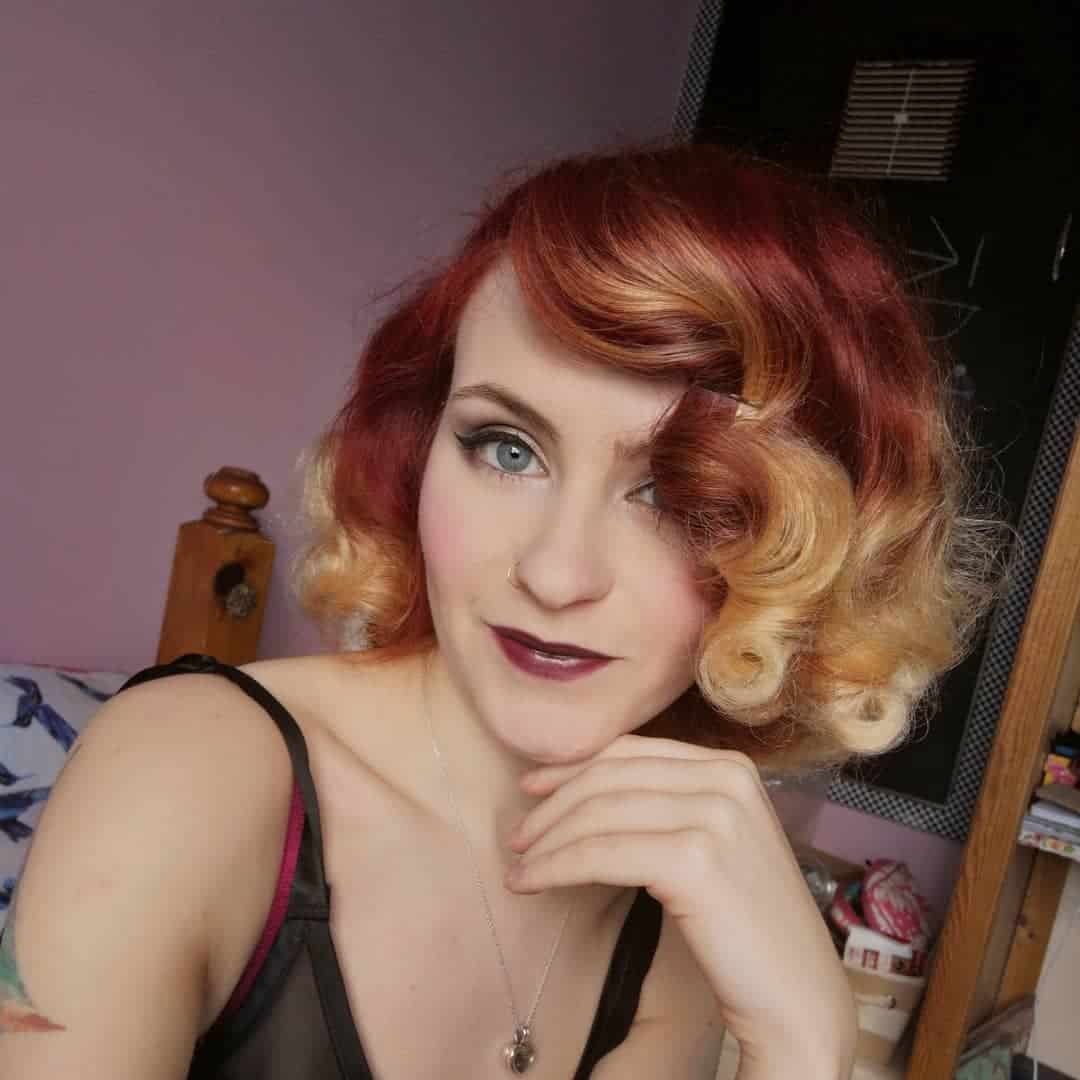 Flappers loved dyeing their hair. And not just in blonde highlights and color. But they also were more bold and courageous. The red hair color was as popular as ever back in the days.
10. Medium Curls On One Side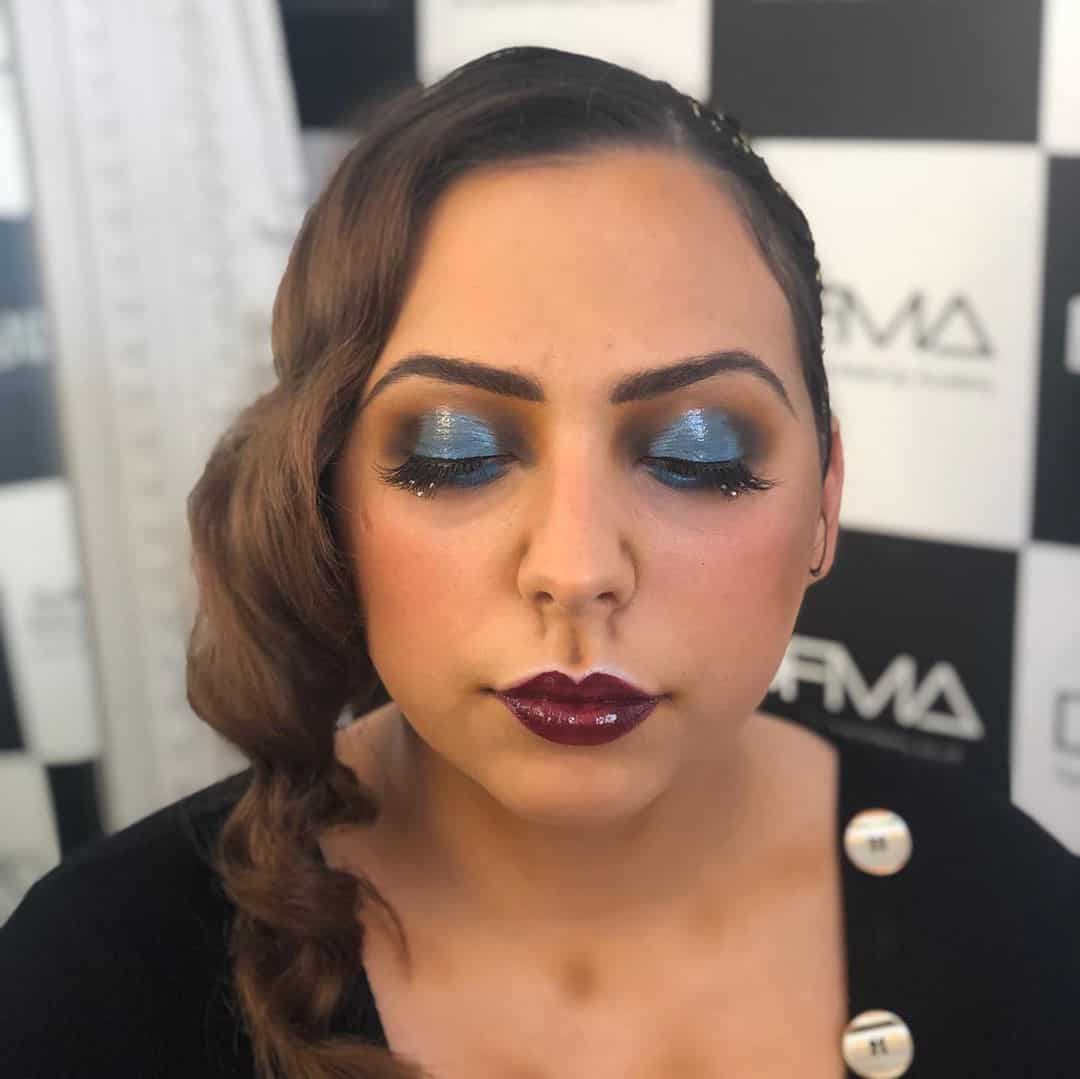 Flappers were more famous for their bravado hairstyles. But every now and then, they loved getting something simple and elegant. And when that was the case, you had to put emphasis on the lips, and a prominent lipstick.
11. Silver Elegant Waves on Bob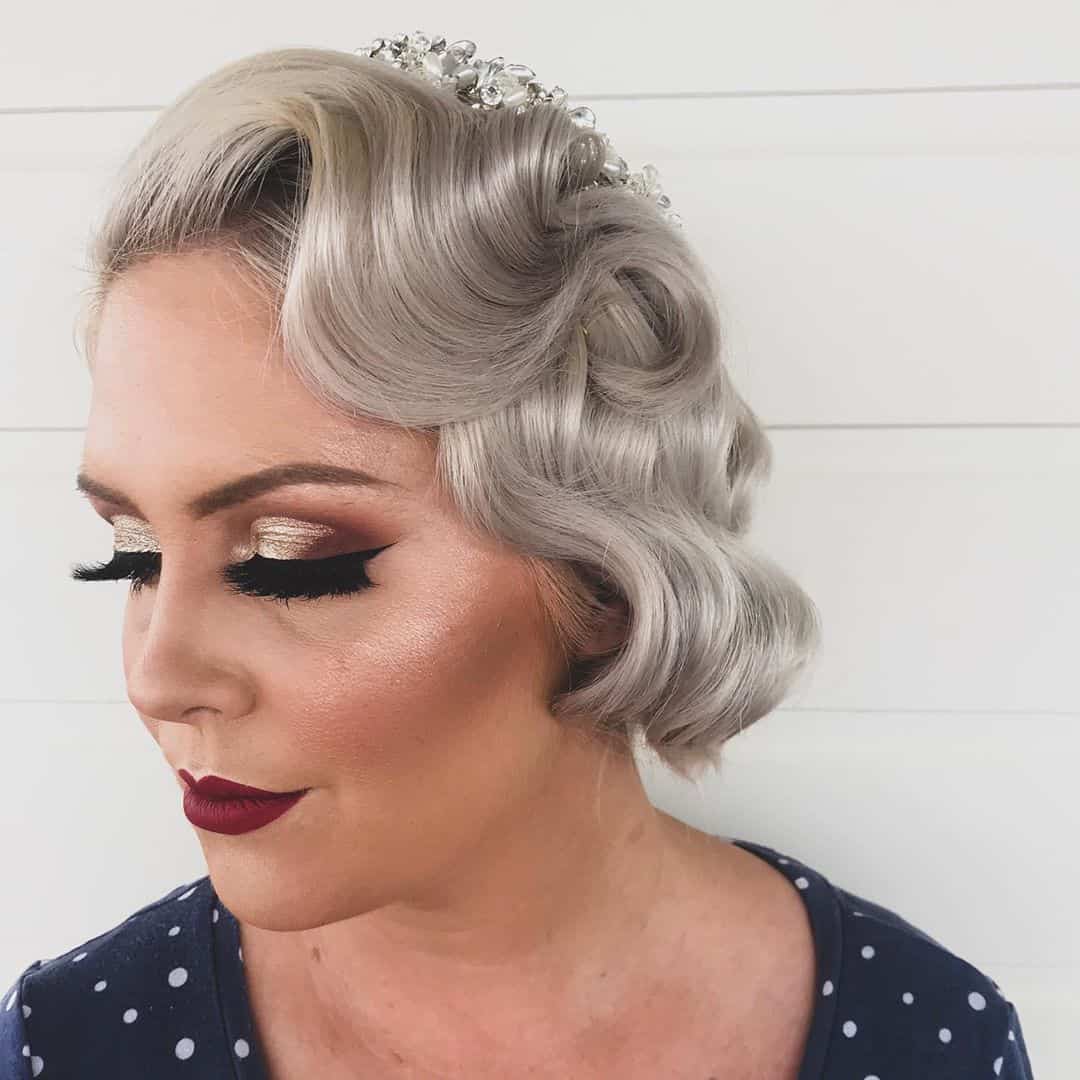 We saw before how waves were much different back in the days. The beach waves and girly waves were not a thing. Instead, we had something more elegant and sophisticated. This bob haircut is among the best flapper hairstyles.
12. Finger Waves With Chignon Bun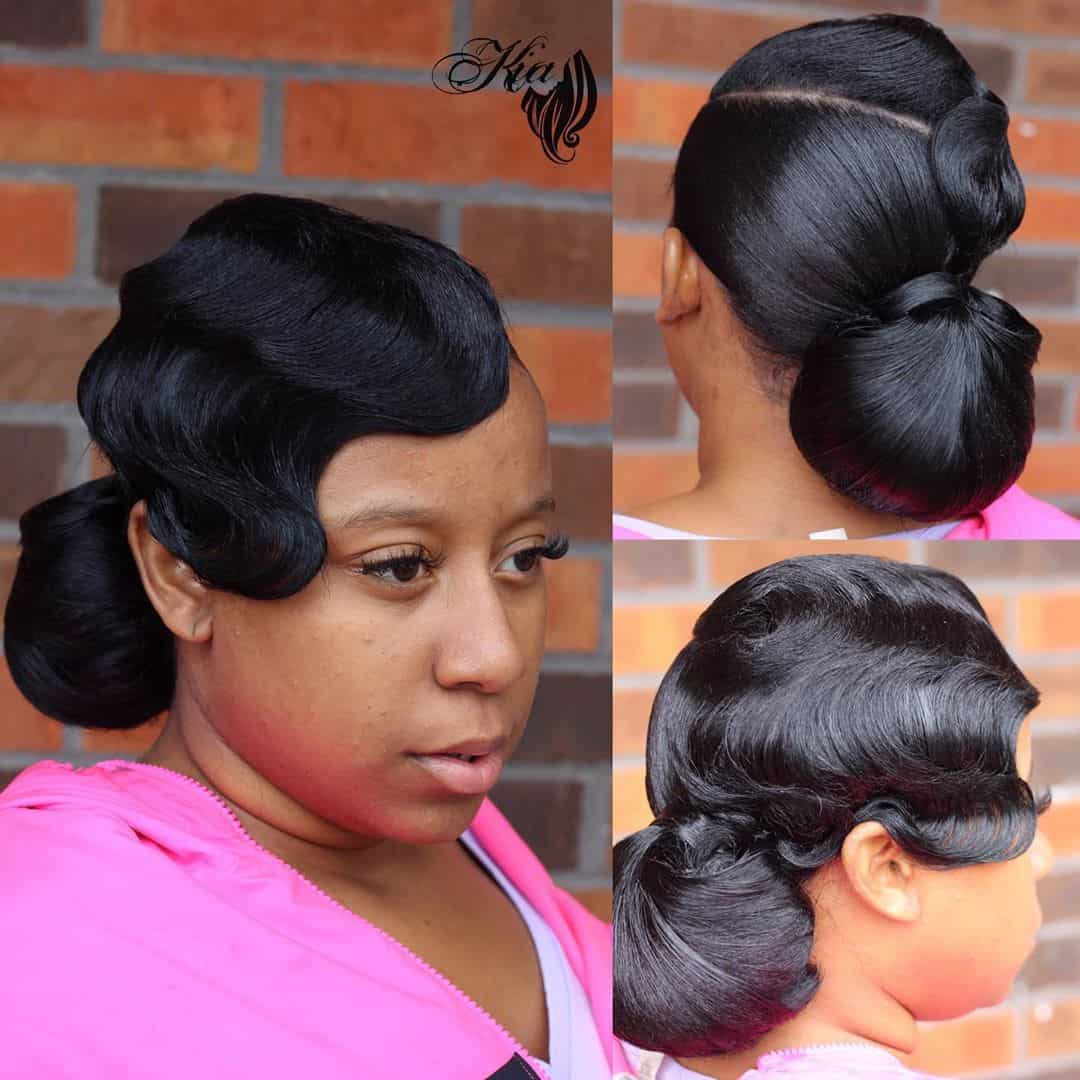 The Chignon is one of the few hairstyles that has managed to survive many years without a dramatic change. How it looked back in the days, it looks very similar today.
13. Pin Curls Bouquet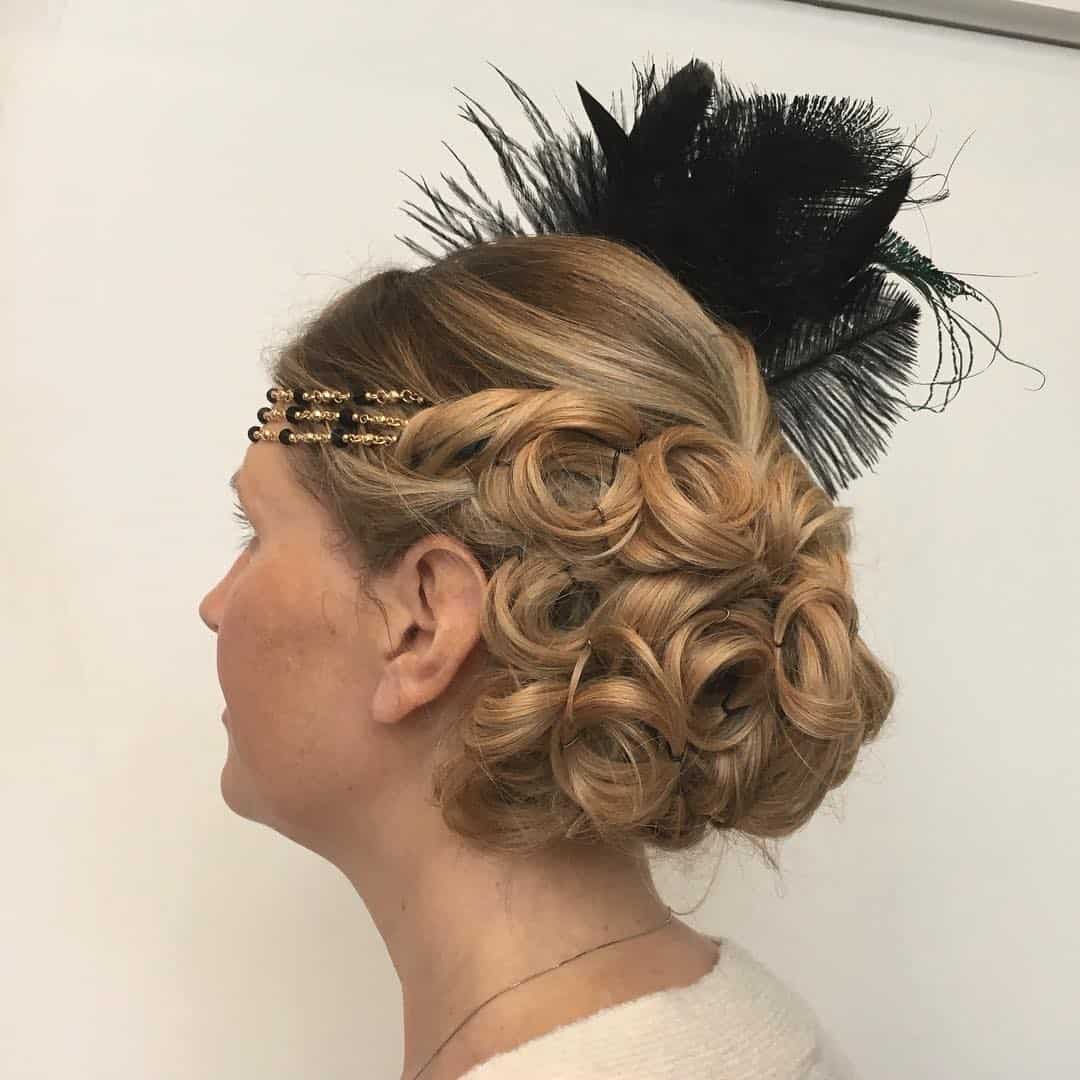 Pins and bobbies were all the talk in the 1920s. If you want a vintage hairstyle, you cannot do it without pins. They make your hairstyle pop.
14. Small Beehive With Pin Curl Updo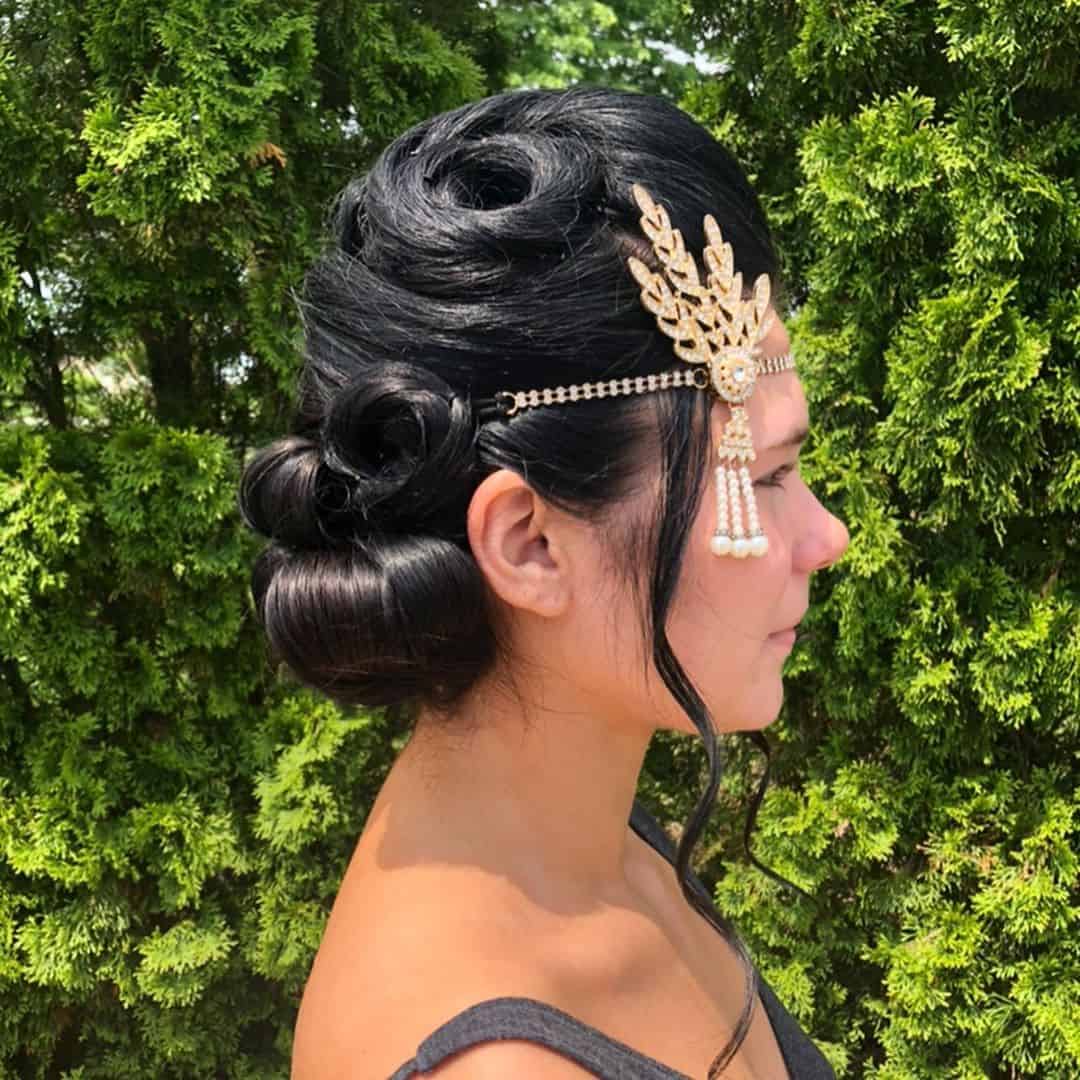 An updo is a classic mix between soft and romantic. It is also a mix between big and glamorous. If you cannot decide which way to go, getting an updo is the smart choice. Stay in the middle, where it is safe.
15. Braided Pastel Flapper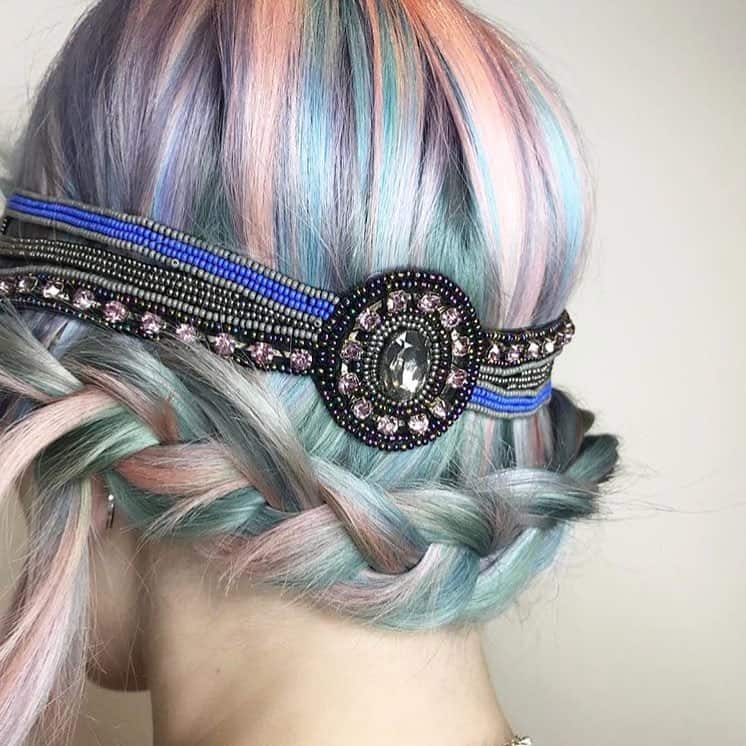 If you want a feminine and romantic hairstyle, you can never go wrong with bangs. It is as simple as that. How you braid your hair is up to you, but we have an idea you can try.
16. Straight Bob Bombshell With Bangs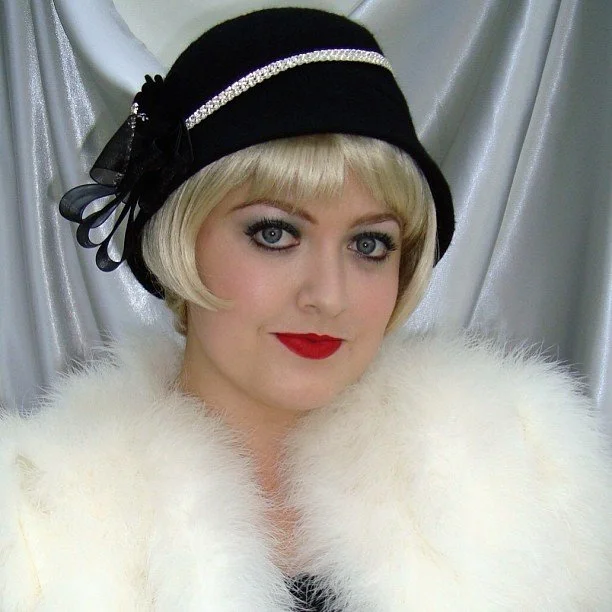 Victoria Secret popularized the term bombshell. It is a term that refers to very attractive women. Or in other words, sex symbols. Well, attractive ladies have always populated our planet, and they always had some funky and unique hairstyles.
17. Elegant Finger Waves With Pull Through Bun On Pink Hair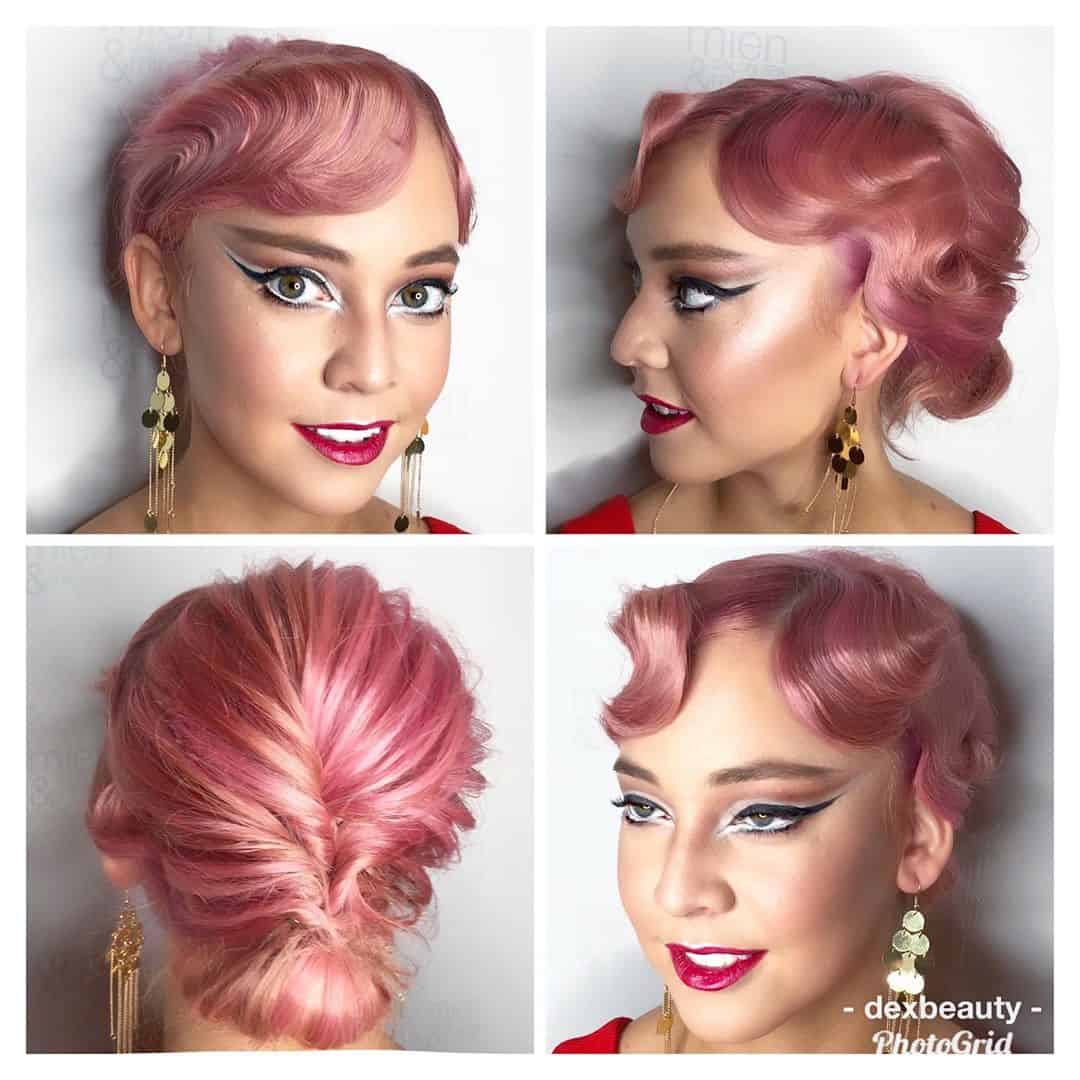 The finger waves method, a method of setting hair into waves or curls, has been around since the 1920s and 1930s. It was later popularized again in the 1990s, but it was originally popular during the era of Flappers.
18. Shaggy Tousled Flapper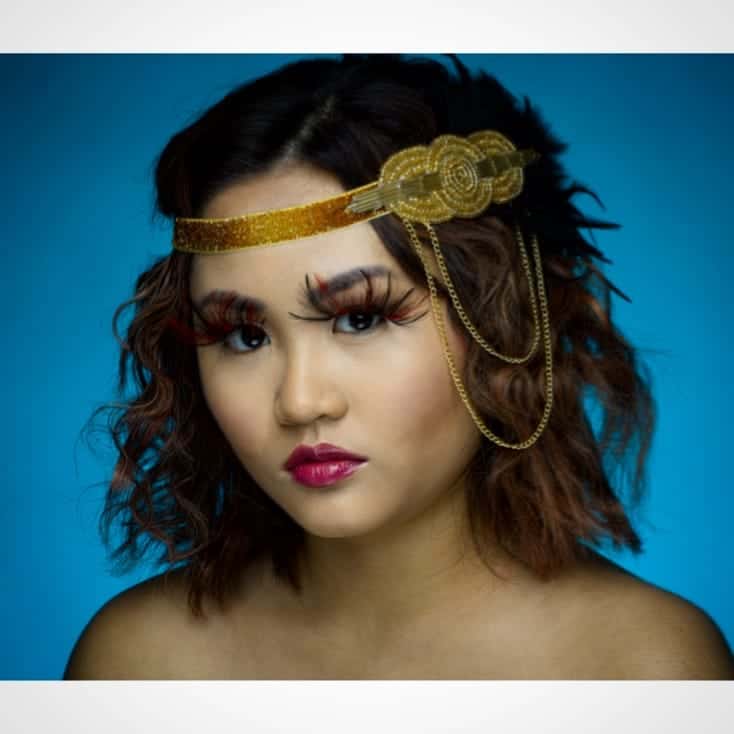 The shaggy cut is living its renaissance now. A great method for adding texture, volume, and shape to your hair. Thanks to multiple layers, you get the impression that the hair is longer, even though it is a shorter cut.
19. Balayaged Twist And Tuck Flapper Updo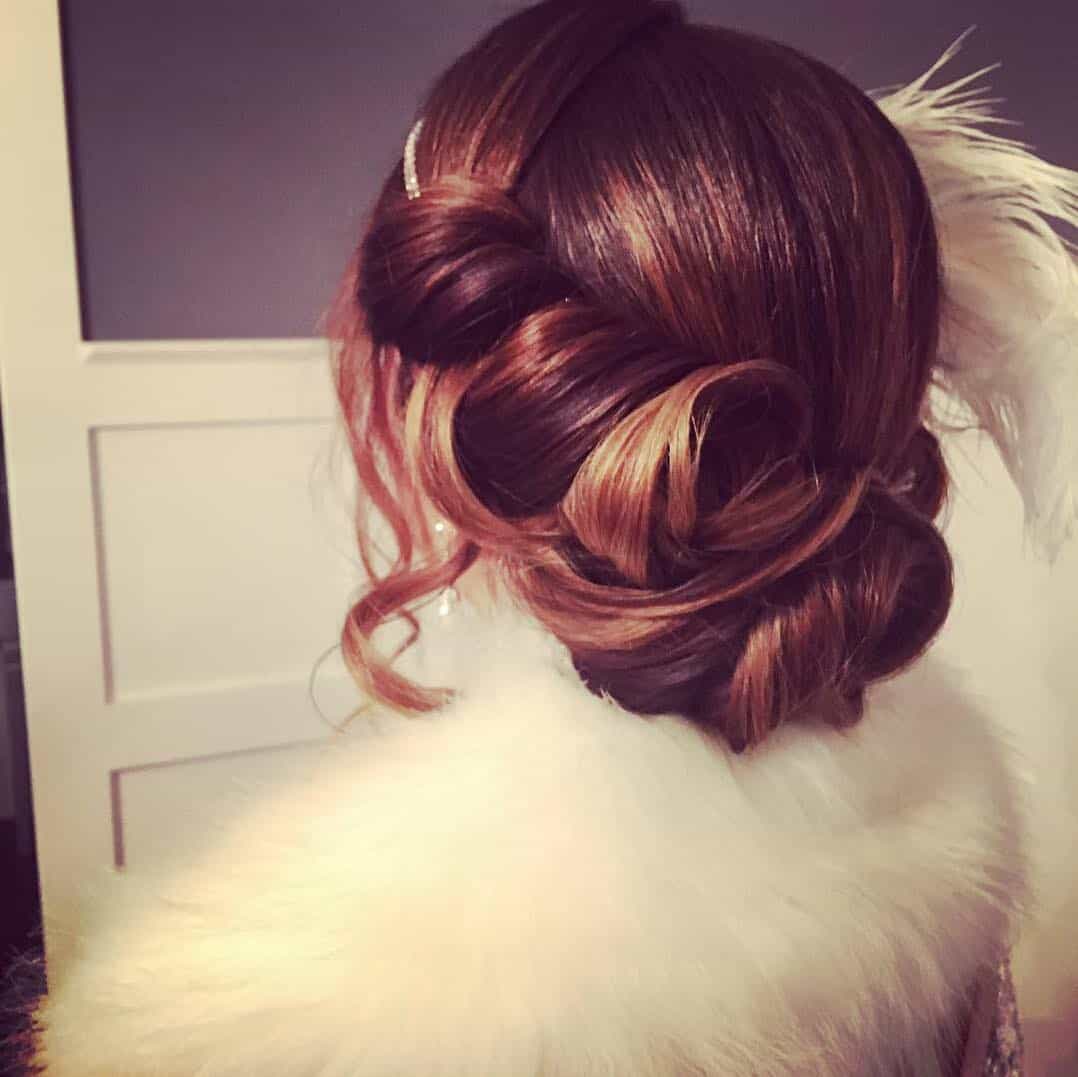 If you need some last minute inspiration, look no further. Definitely a look you can try when you are in hurry. It will take you just a couple of minutes, and you will get a look that will ooze confidence.
20. Side Swept Slick Finger Waves With Chandelier Headpiece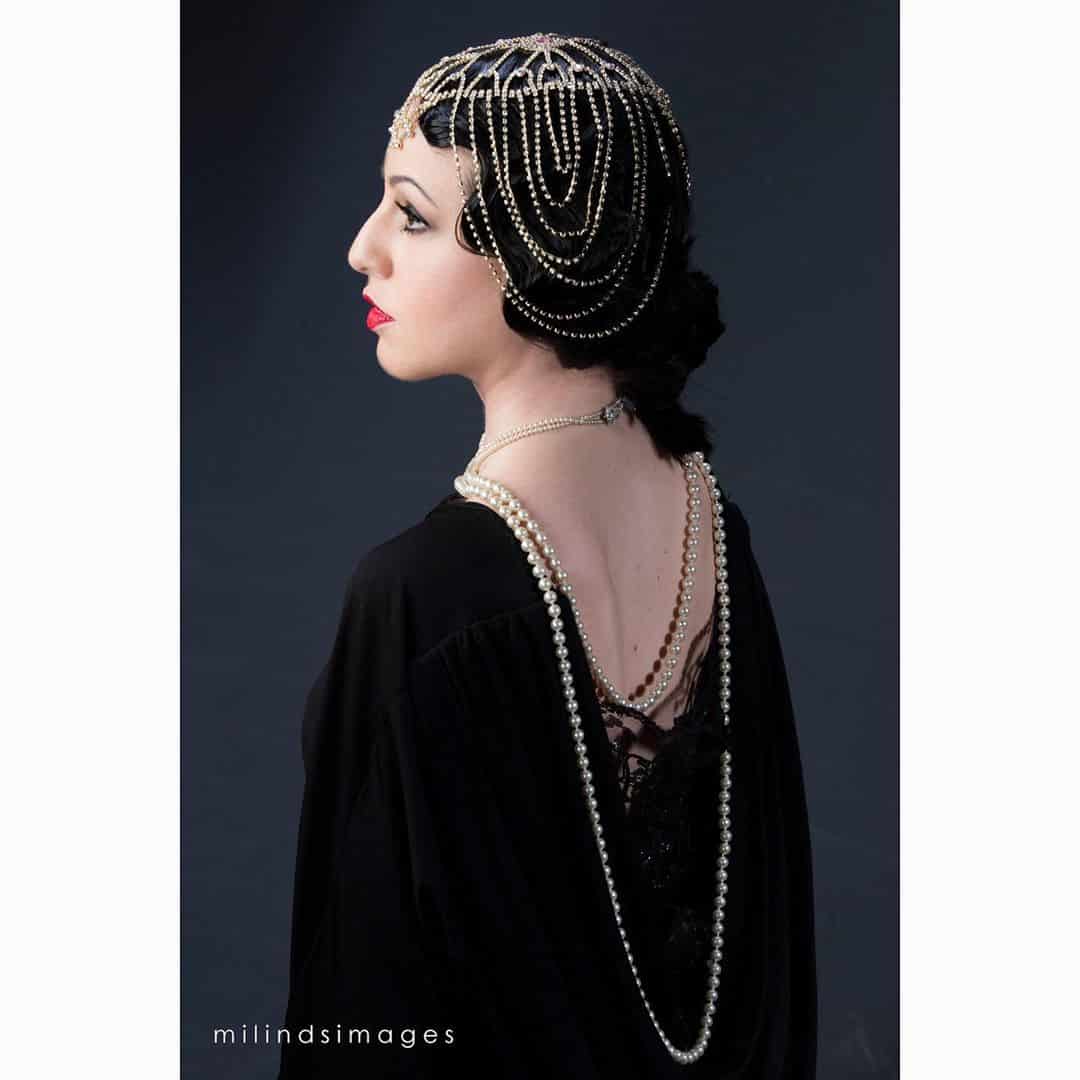 Nowadays, accessories are not huge part of the hairstyle. But back in the days, the more accessories, the better. Chandeliers, crowns, pearls, and everything else you could think of. Accessories give your hairstyle a bit more sophisticated touch.
21. Rose Gold Large Finger Waves On Faux Bob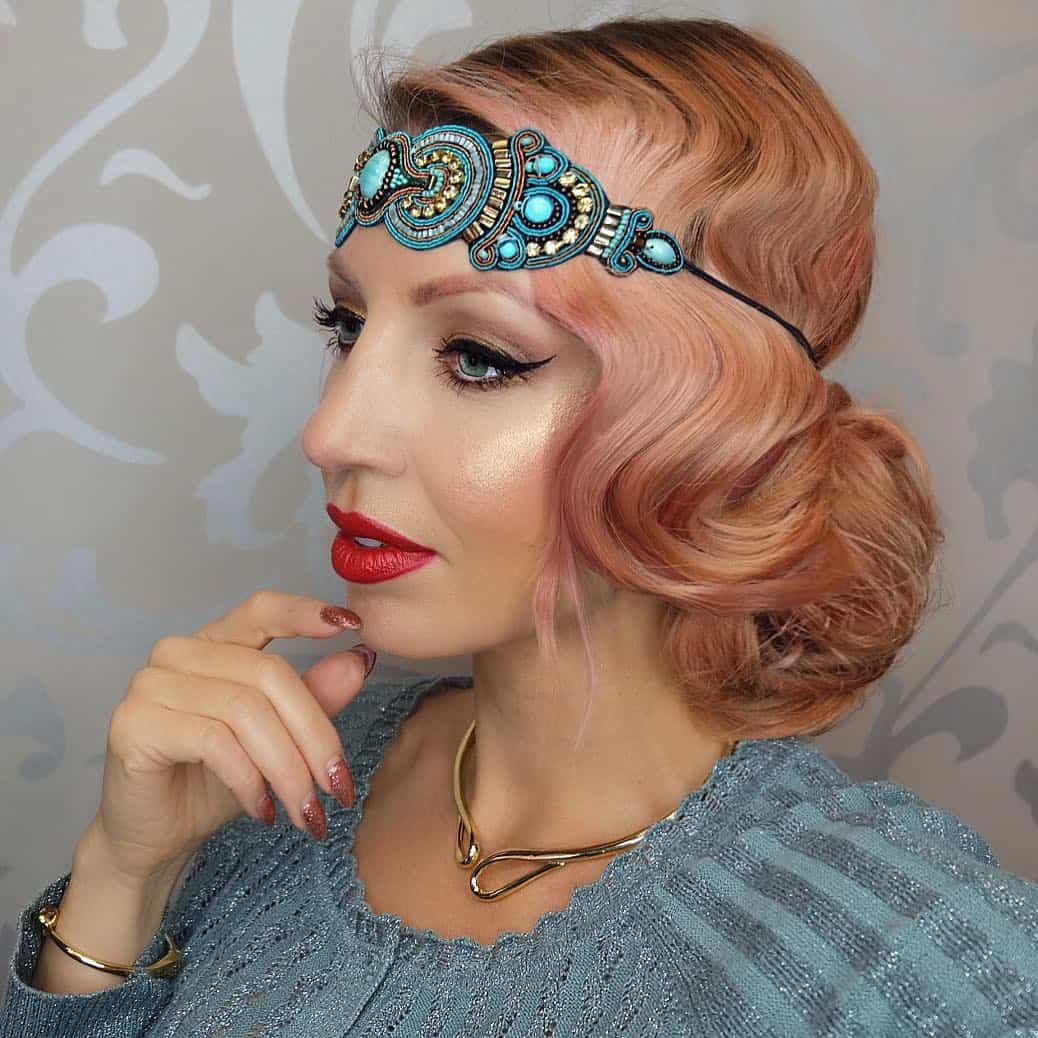 If you have ever contemplated cropped look, the faux bob gives you a chance of a test run. For all the ladies that have longer hair, the faux bob is a great way to see how shorter hair will look on you.
22. Glamorous Finger Waves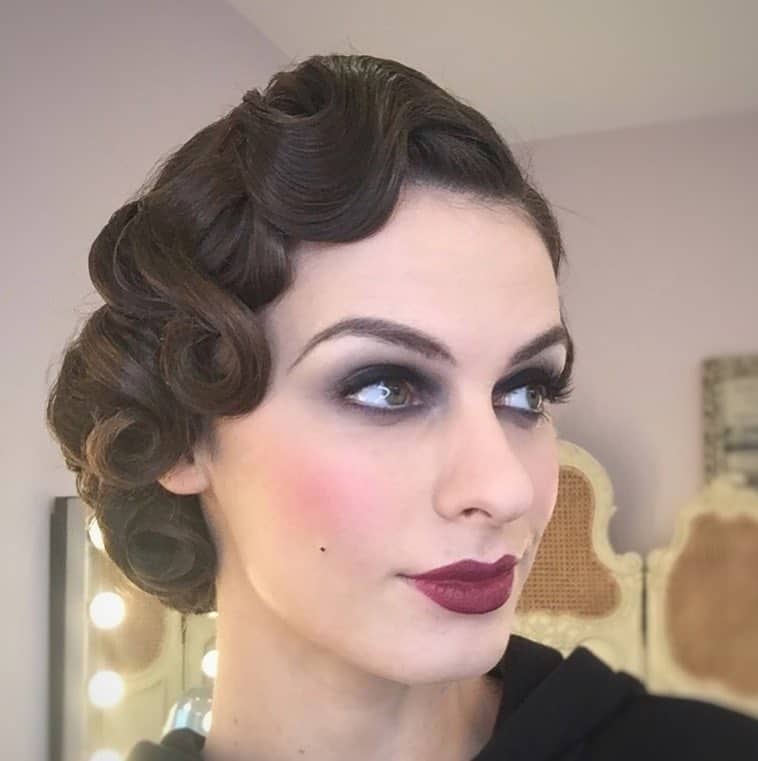 We talked previously about the fingers waves. It was one of the most popular hairstyles back in the 1920s. And you could try it in different ways. Simple, or even glamorous. Why glamorous? Well, with this 20s hairstyle, it is all about the more hair gel and spray applied.
23. Red Pinwheel Finger Waves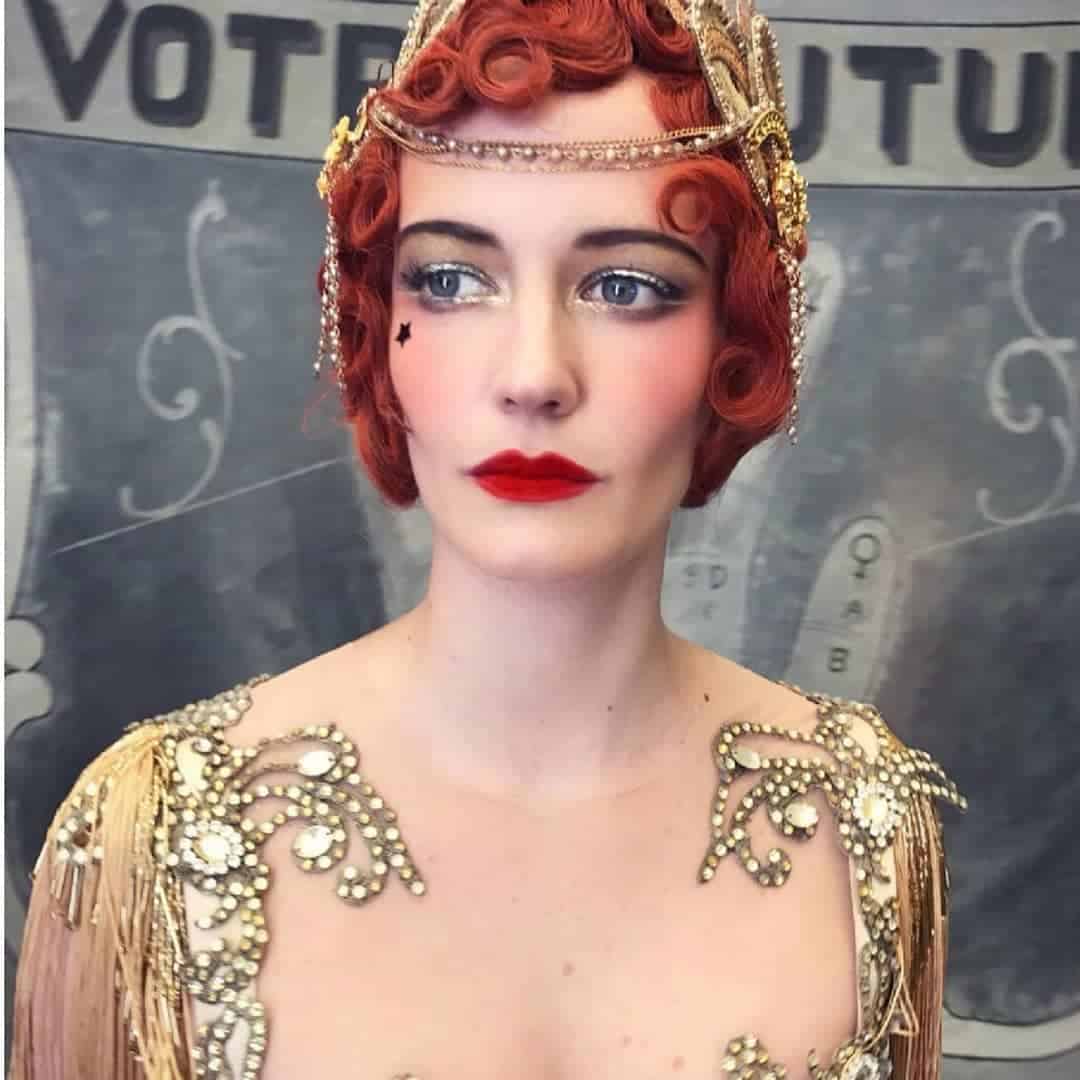 The biggest downside of finger waves is their reliability. In other words, it can be hard to sleep with finger waves. Hairspray might not hold them during the night. But for a one-time going out, finger waves are just perfect. Just be warned, it will be a mess when you wake up in the morning.
24. Curly Faux Bob Updo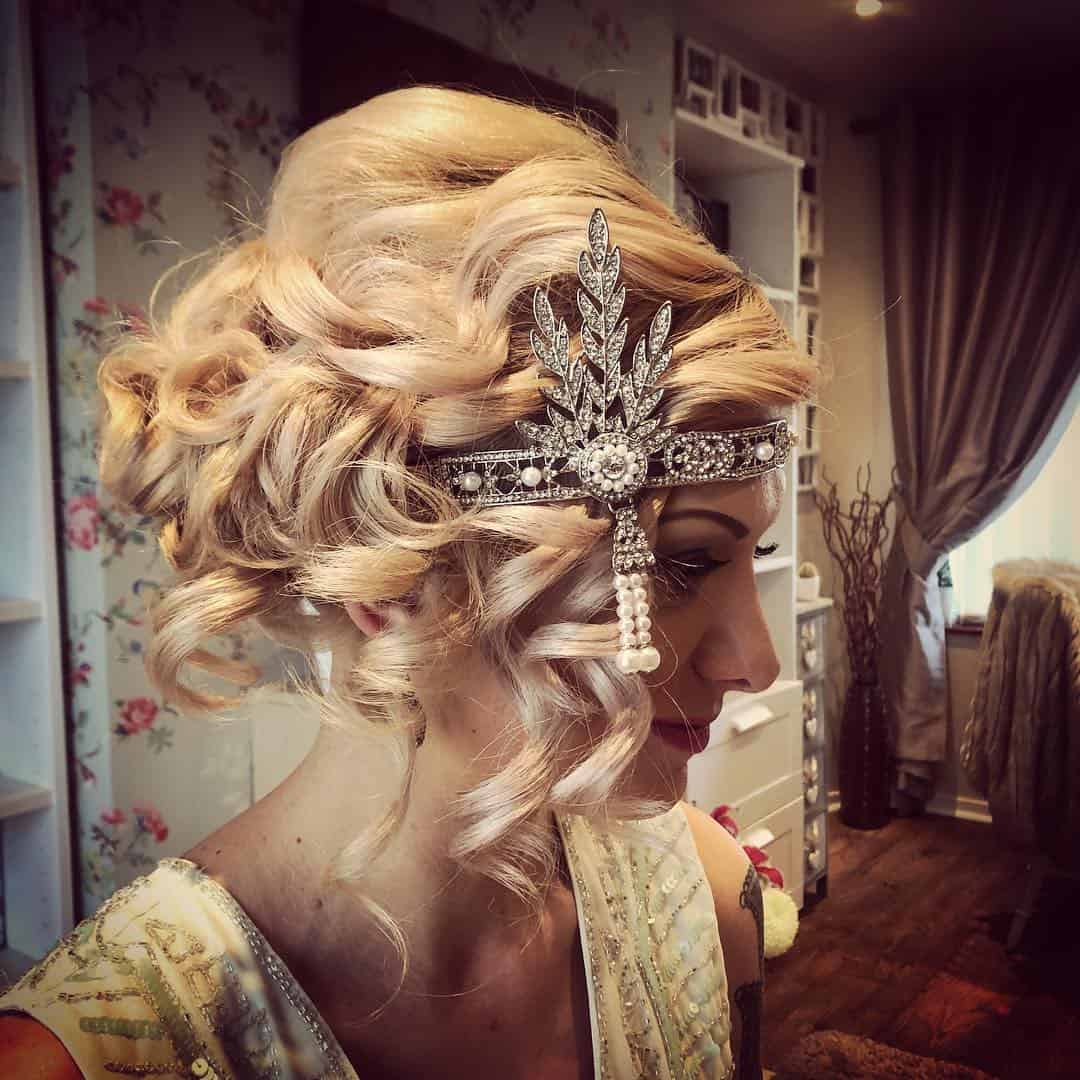 A bob UpDo is a loose and carefree look. Very romantic look for ladies with short hairstyle. And the best part is, you can make this hairstyle at home in a matter of minutes.
25. Straight Lob With Bangs And Feathered Headpiece
Bob, or lob (long haired bob), is a classic hairstyle that works best with bangs. Perfect for flattening your face. Add some feather accessories, and you instantly have a vintage hairstyle.
26. Side Pin Curls With Straight Side Bangs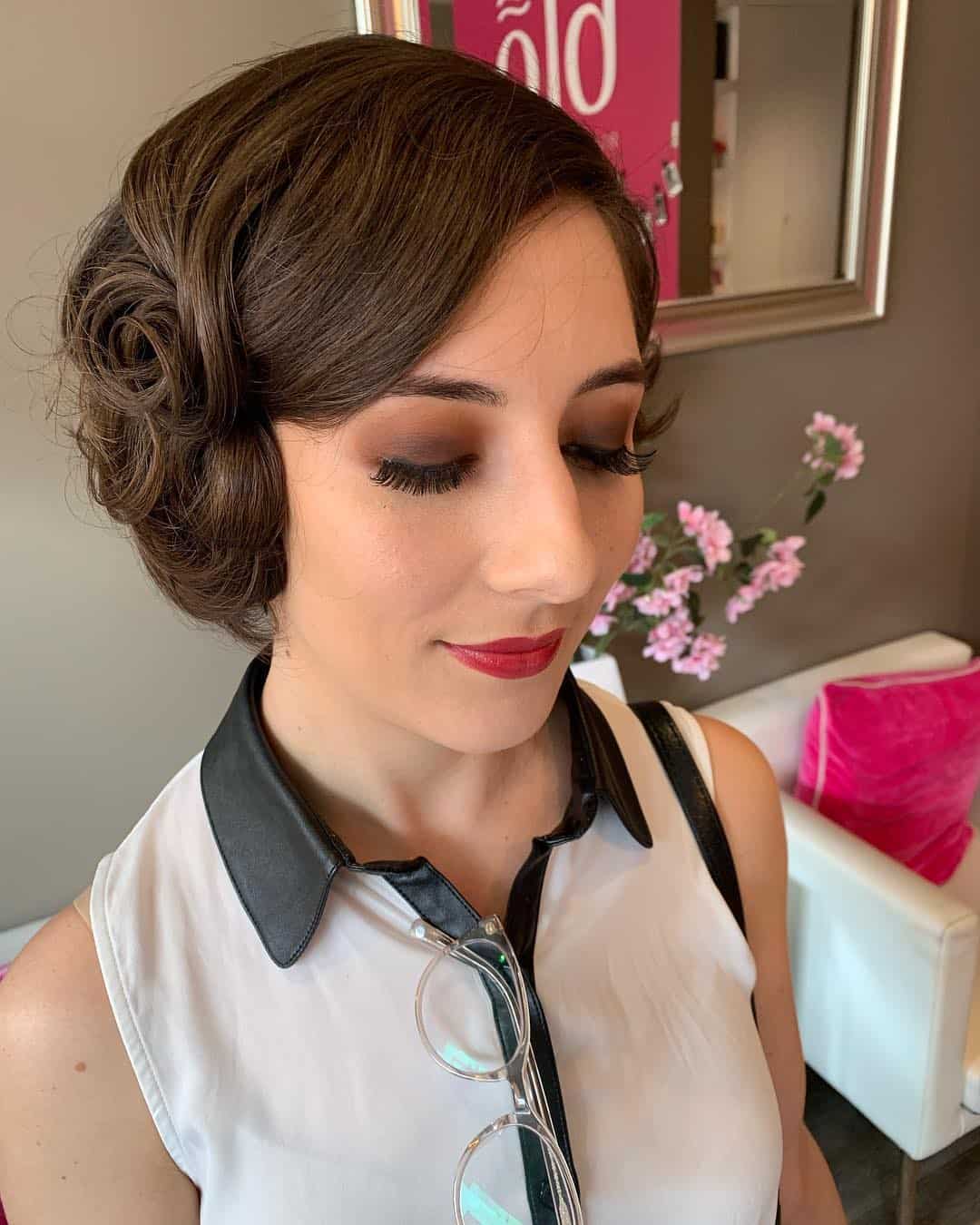 Side bangs are one of the most popular hairstyles nowadays. They have gone a long way since the 1920s. Side bangs give you a soft and relaxed look that will also flatten your face.
27. Ginger Smooth Flapper Updo With Side Blown Bangs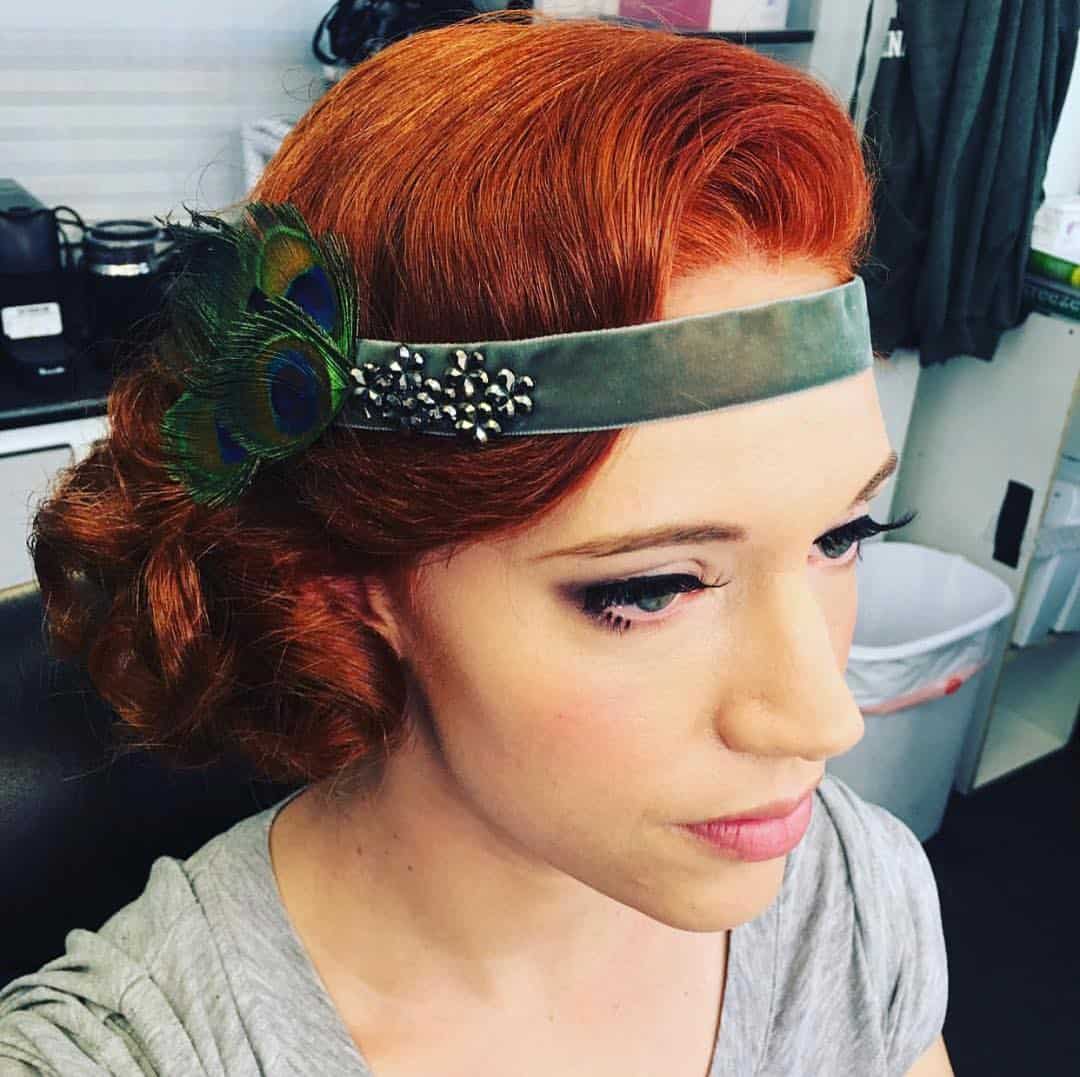 The Flapper updo is a very good option for a wedding. Or any other formal event, where you want to look elegant, but sassy in the same time.
28. Asymmetrical Bob With Finger Waves And Pin Curls With Green Highlights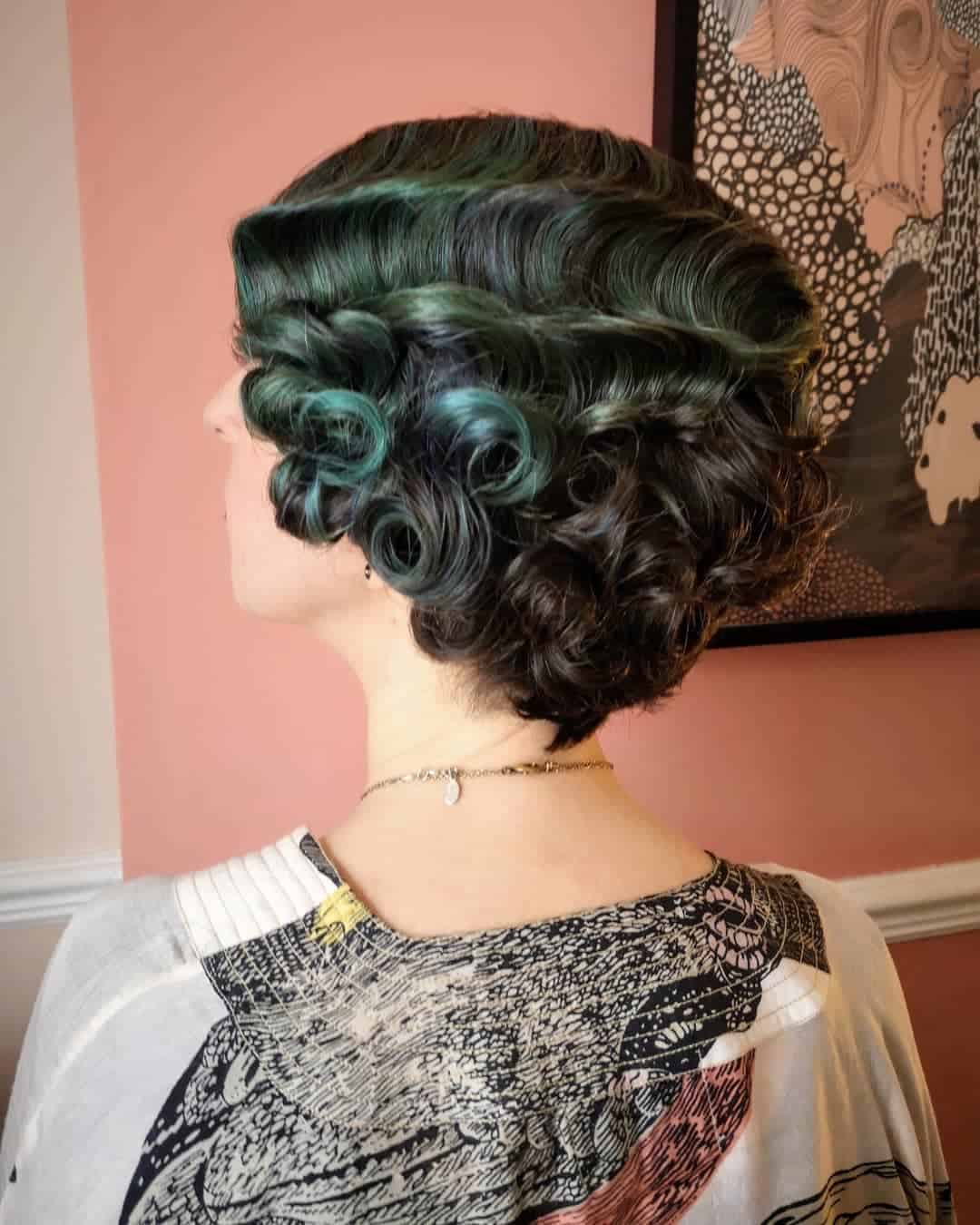 We now live in the era of symmetry and asymmetry. Everything is about shapes and lines, and making them as unconventional as possible.
29. Slick Low Bun With Peacock Headpiece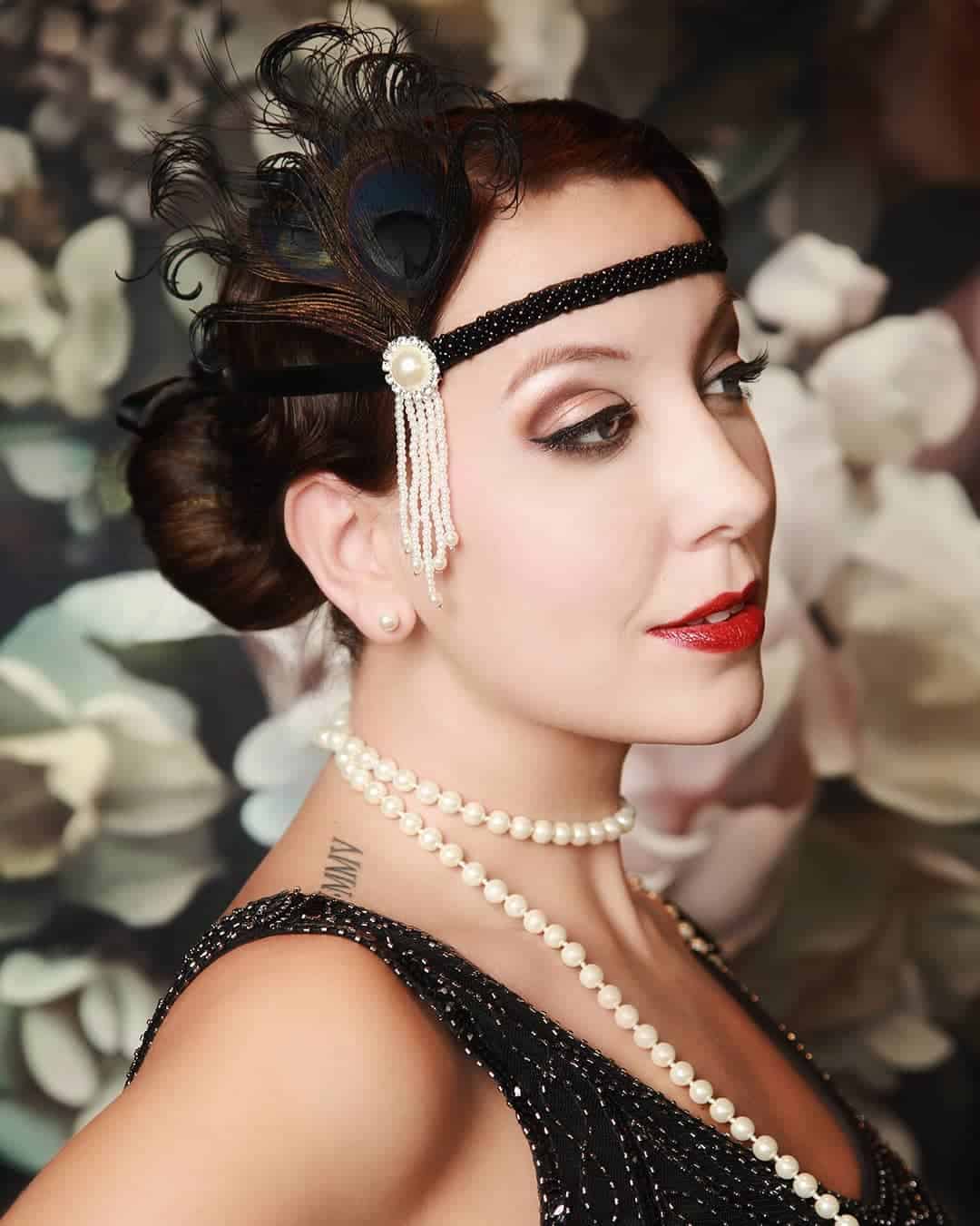 As you can see by now, the peacock accessory is quite popular among Flappers. No surprise there, women love mystique and mystery, and the peacock is an accessory with roots to Ancient Greece.
30. Curly Finger Faves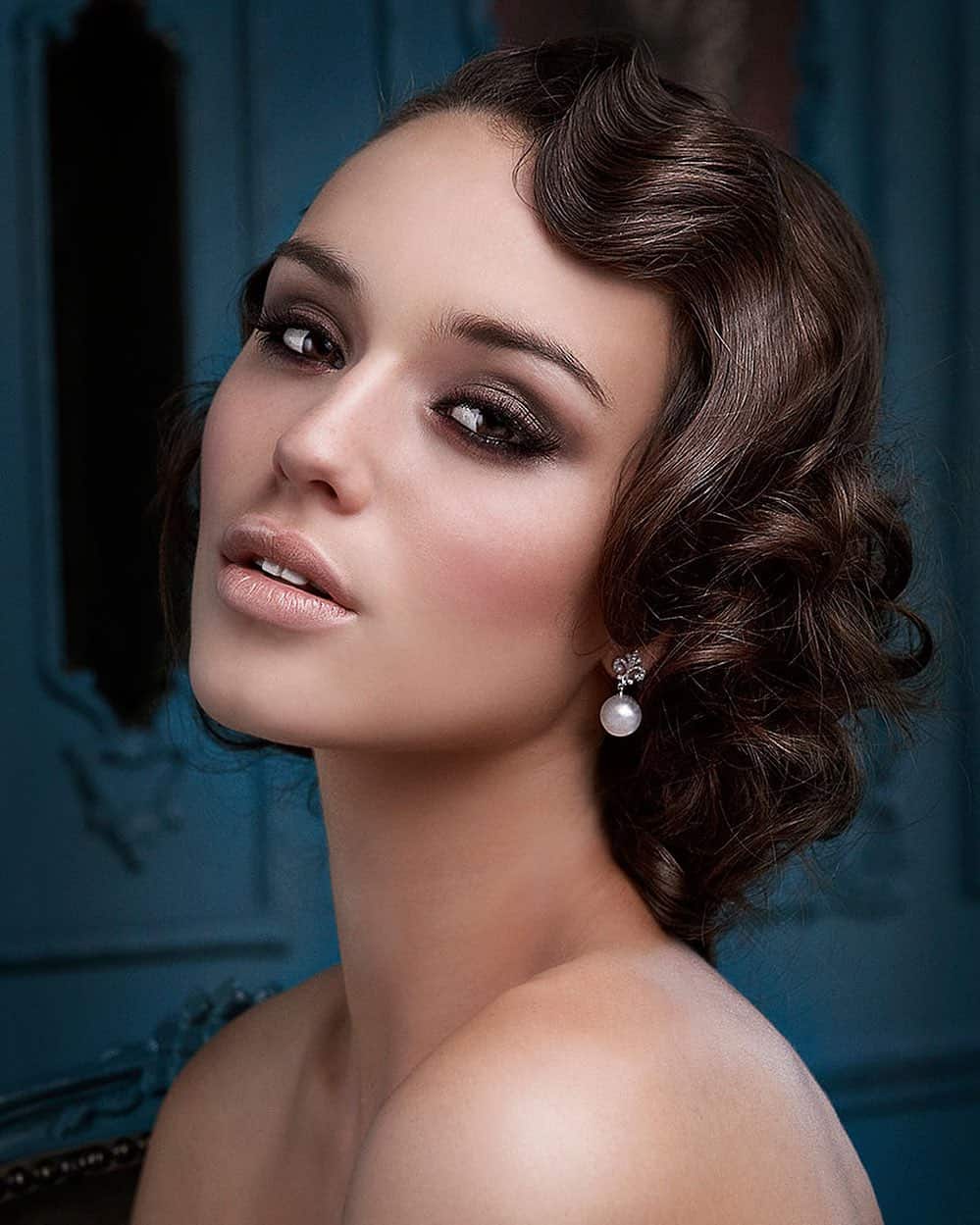 It is convenient that we finish off this list with a hairstyle that left its mark on the 1920s and the Flappers movement. After all, finger waves were born at the time.
With that in mind, we hope you are now ready for your next Gatsby party or any other vintage party.