Changing your look with popular protective hairstyles like the box braids or justice braids is possible by styling them in different ways.  Still, at the base, they are all pretty much the same. Want to try something really different? Get yourself some Fulani braids.
Alicia Keys and the Kardashians have made the Fulani braids popular and one of the must-have hairstyles of this year. What many of us don't realize is that this trendy hairstyle carries a rich history, originating centuries ago from the nomadic Fulani Tribe of West Africa.
The trademarks of this intricate hairstyle are the cornrow running down the center of the head from front to back, a cornrow braided from back to front on each side of the head, so that it hangs in front of each ear, a braid wrapped around the head's perimeter and Beads, amber, cowry shells or clips placed throughout the braids, including on the ends. The result is one hot hairstyle.
If you want to give this feminine and intricate hairstyle a try, here are some fine styles to choose from.
#1.Fulani Braids With Beads And Rings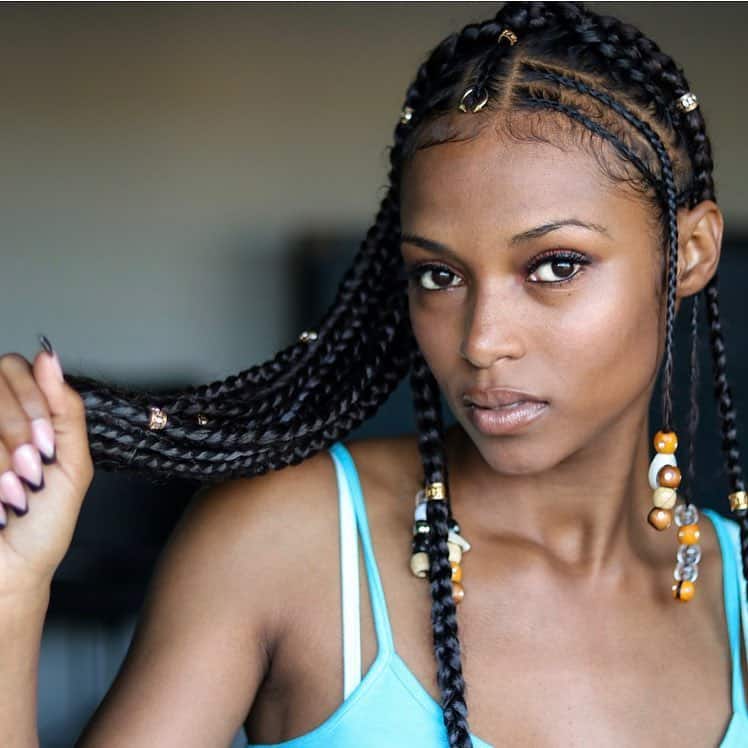 Let's start with something basic, just to get the feel of the Fulani beauty.
This hairstyle contains all the basic elements, diverting very little from the traditional look, mainly in the accessories, the golden cuffs, rings and modern beads.
2. Double Top Braids With Wooden And Metal Accessories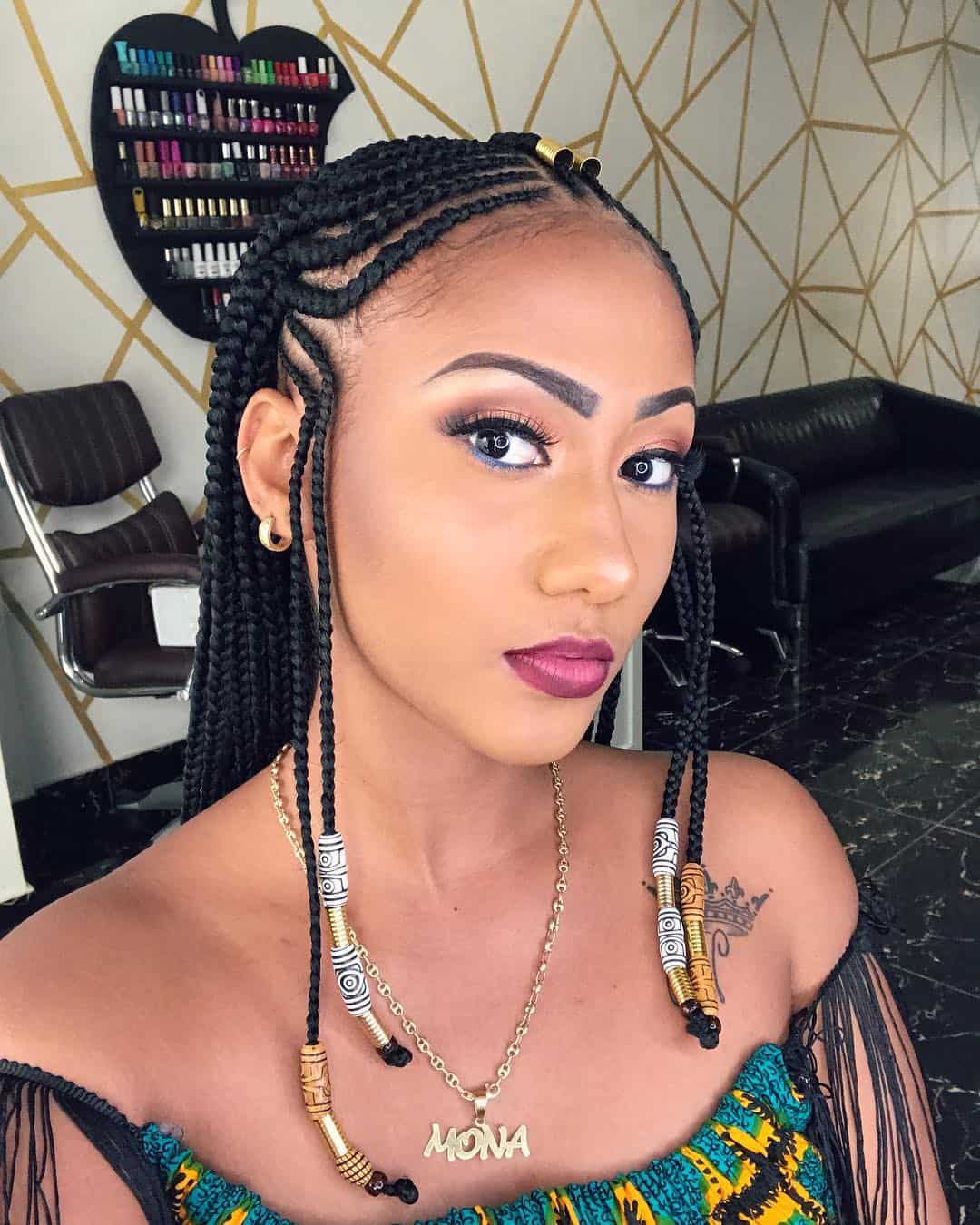 Speaking of accessories, you can jazz up the Fulani style with beads from different shapes and materials.
On this style, the difference is the two braids at the center of the head.  It just goes to show you that you don't have to have intricate braids to jazz up this hairstyle.
SEE ALSO: Best Hair To Use For Crochet Braids
#3. Kid-Friendly Fulani Braids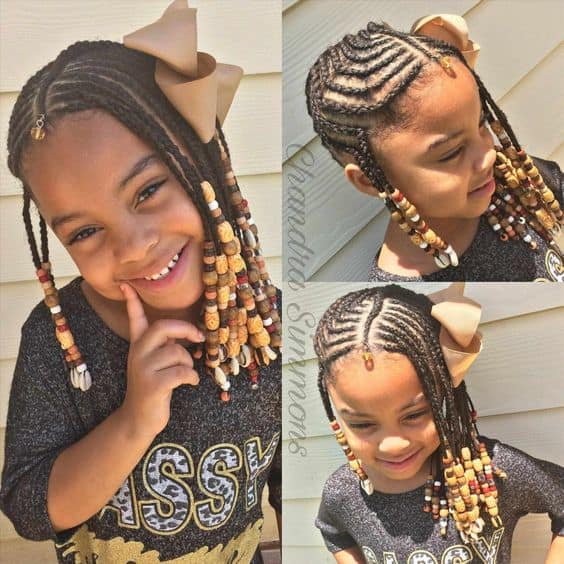 Isn't this just adorable? Fulani will be a great style for your little princess.
A little curve to the cornrows and as much colorful beads a girl can ask for. And you can't say no to that cute little bow on the side.
#4. Fulani Pigtail Double Braids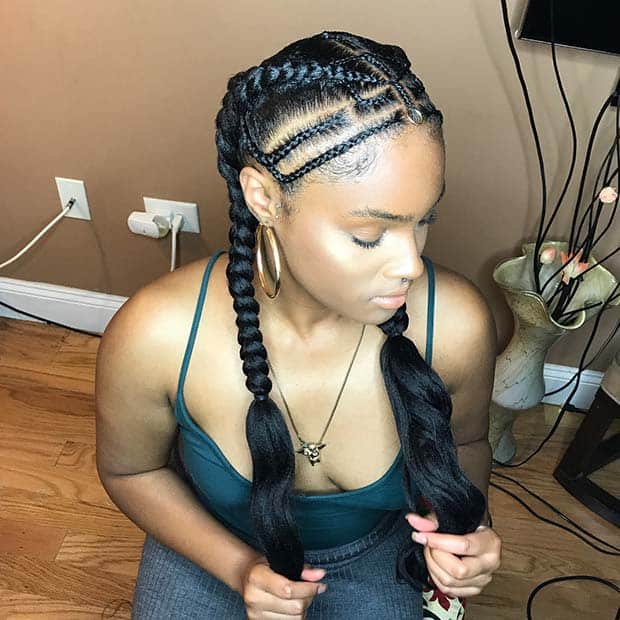 For a trendy upgrade of the Fulani braids you must try incorporating double braids.
Its a fun, carefree look accessorized with a braid ring. It leaves room to add more hair accessories f you want, but even as is, this hairstyle is a real eye-catcher.
#5.  Fulani In High Pony With Royal Bangs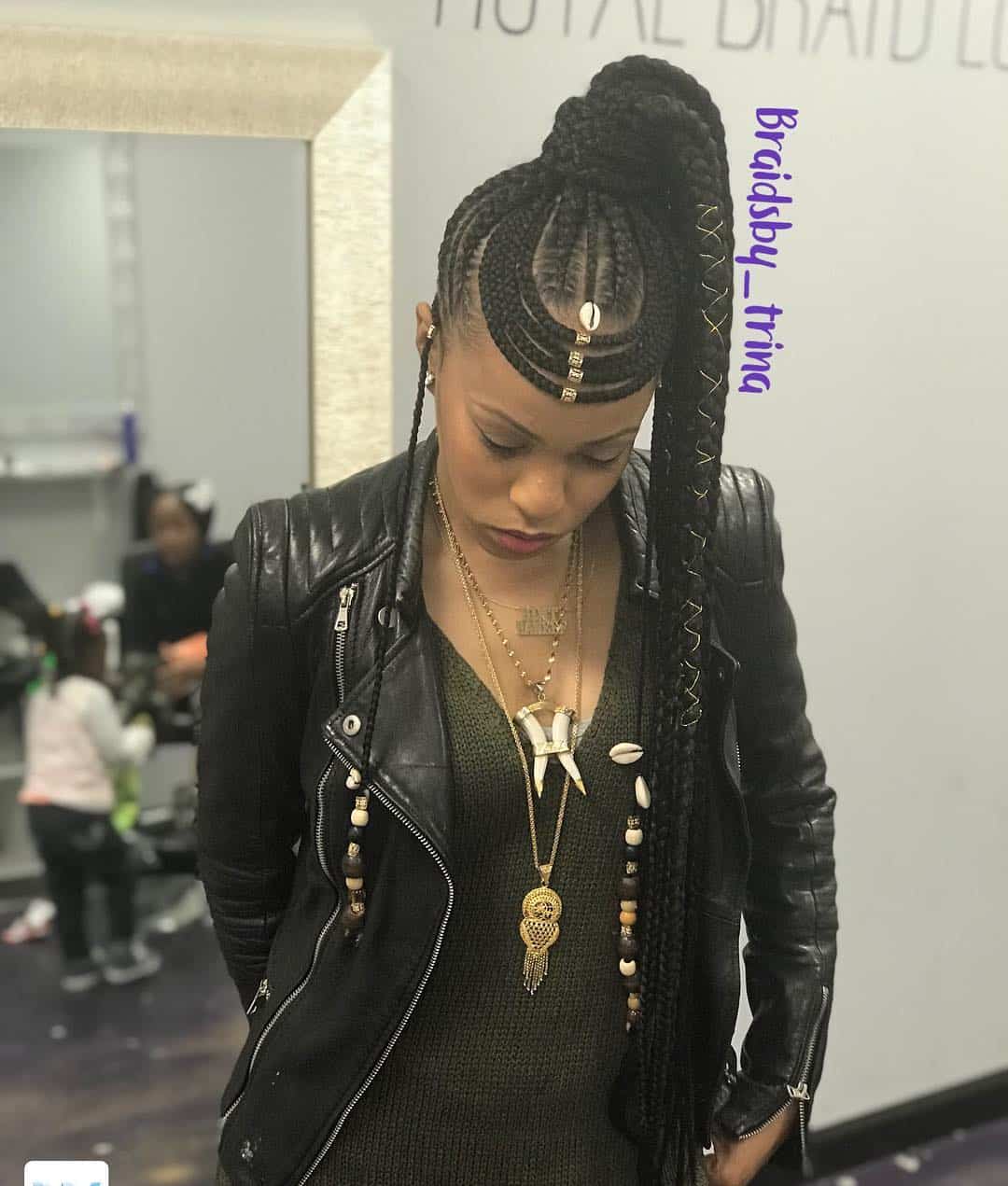 Fulani braids already look regal, and now you can take them to the next level.
Crescent royal braided bangs with gold cuffs, a shell on the middle braid, all wrapped up in a high cornrow ponytail. Absolutely royal.
#6. Back And Front Ringed Fulani High Pony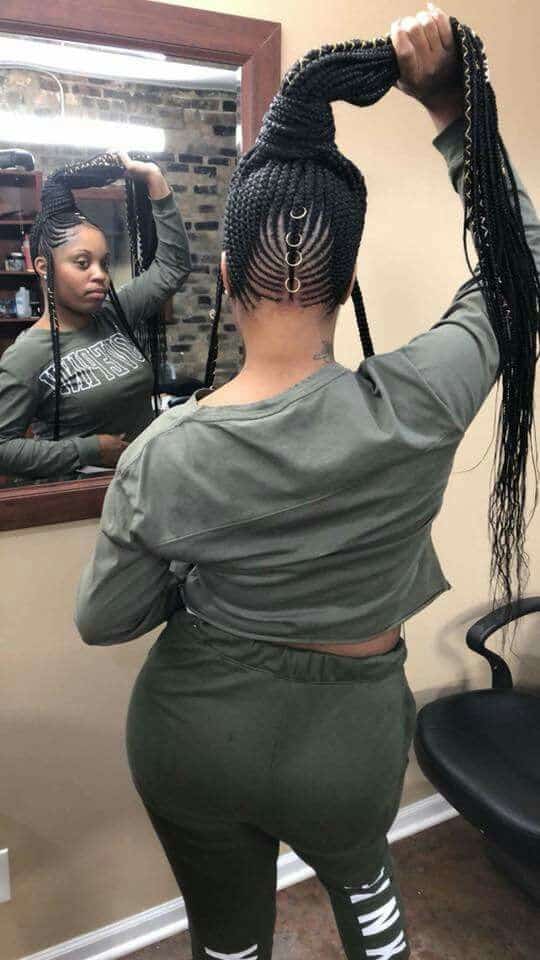 For the most part, the adornment in Fulani hairstyles are at the front.
Here you have a Fulani braided ponytail with a gorgeous high wrapped pony hiding a bit of a surprise in the back: a row of rings on the middle cornrow.
#7. Triple Center Cornrow Fulani With Loose Curly Hair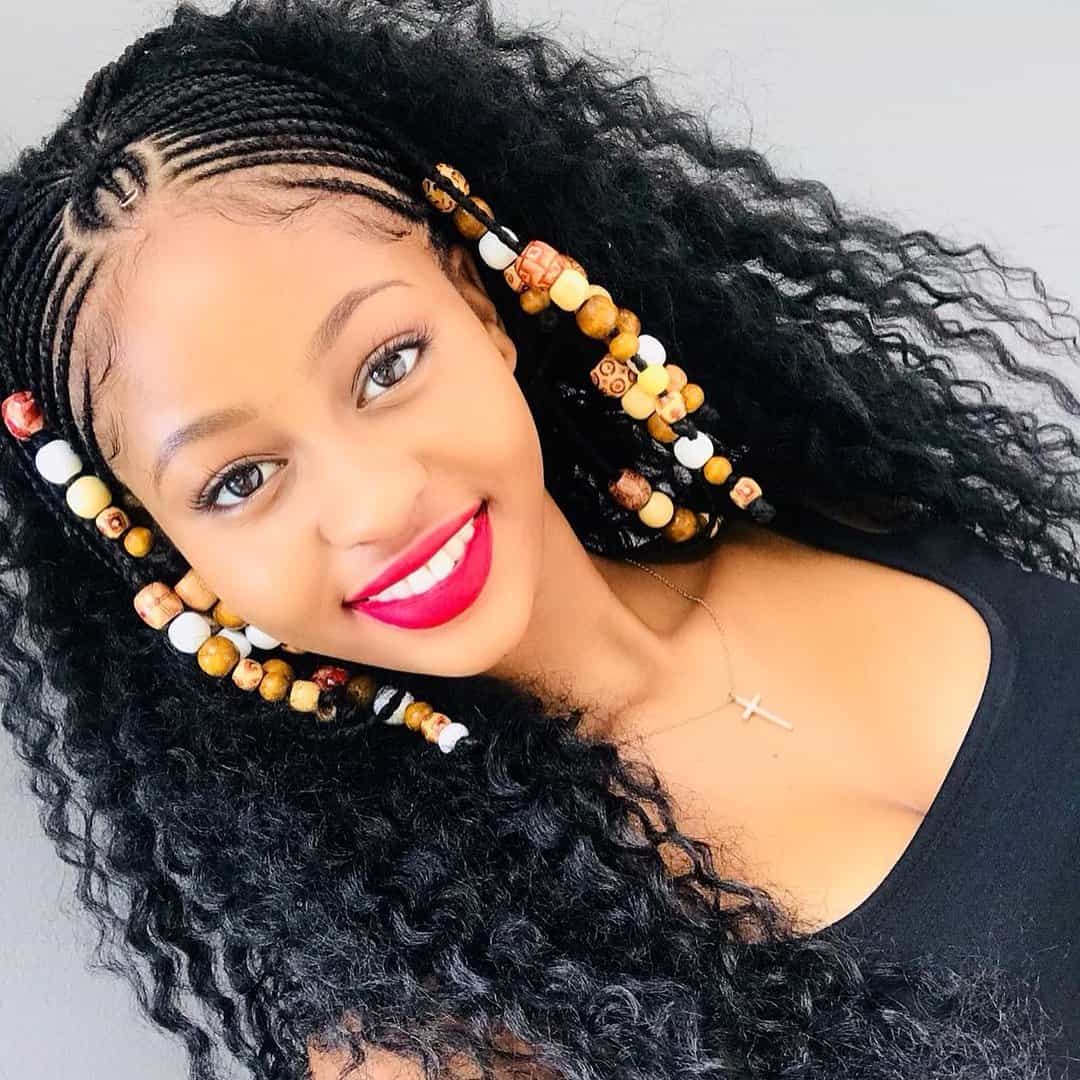 Full braided hair can get a bit heavy, so it's understandable why half-braided half-loose hairstyles are popular.
Fulani braids can also be styled in this manner, and you can jazz it up a bit, by adding three inter-looping center braids instead of one, to make up for the loose curly section of hair.
#8. Double Bun Fulani Braids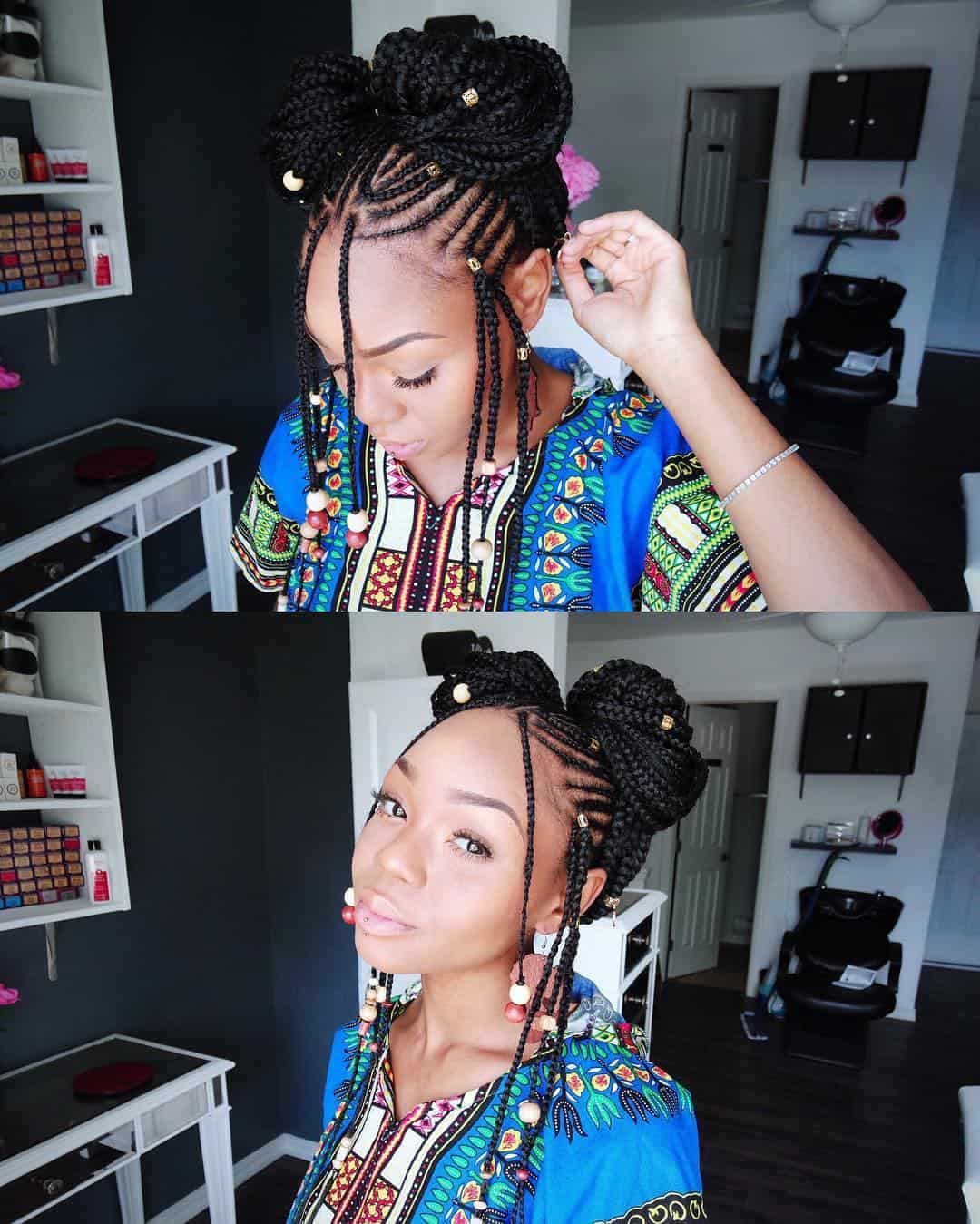 For a fun and stylish hairdo, you can't go wrong with some double buns.
Braided with natural hair or extensions, this look is just great. The braids give extra texture to the buns, and with some different sized braids and accessories, you are ready to party.
#9. Half Fulani/Half Afro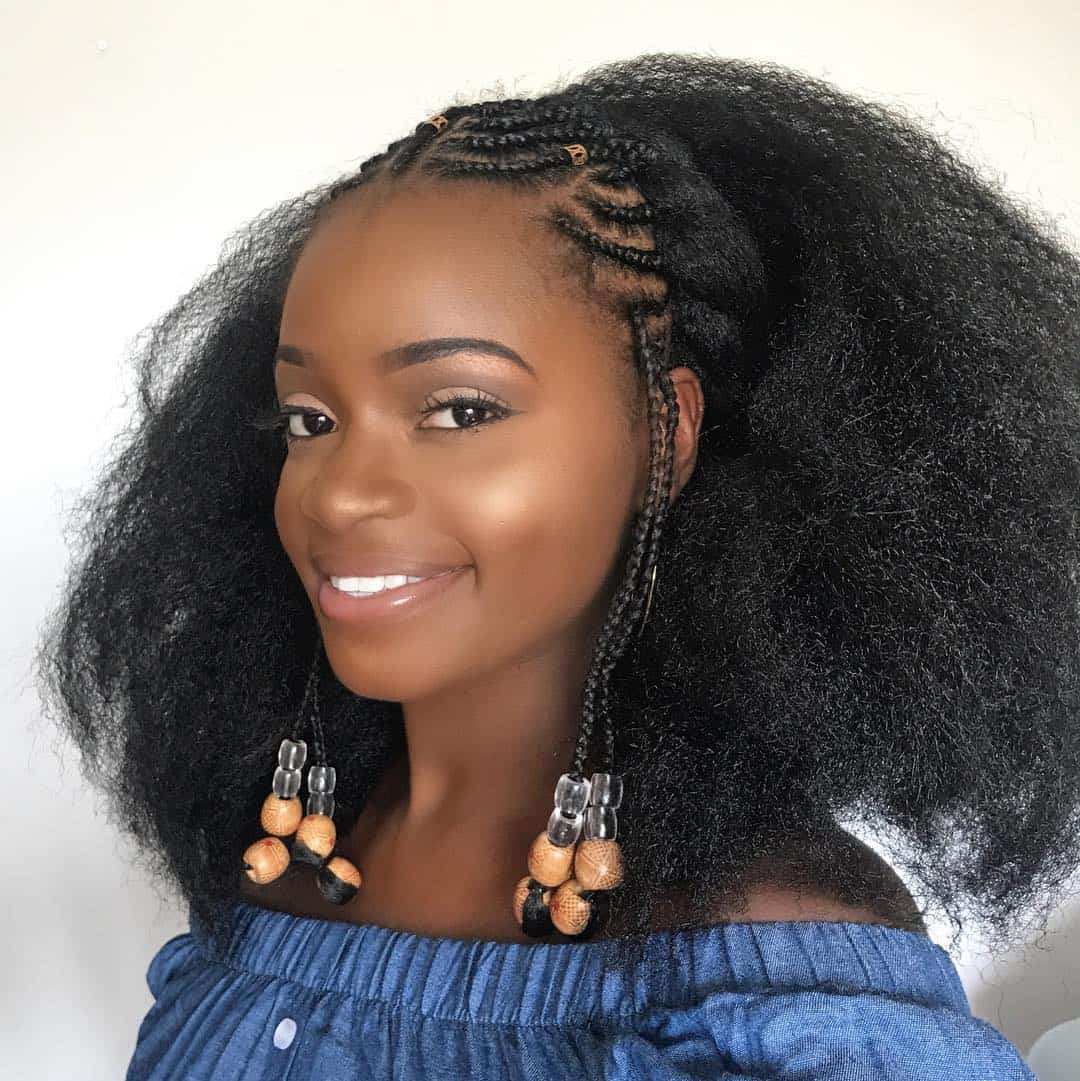 Want to keep the natural look, but don't want hair swishing in your face?
Braiding the front section will solve that problem. To make the style more exiting, incorporate the Fulani braid trademarks, and don't forget to add some clear or wooden beads.
#10. Amber Fulani Braided Bun With Crossed Looped Bangs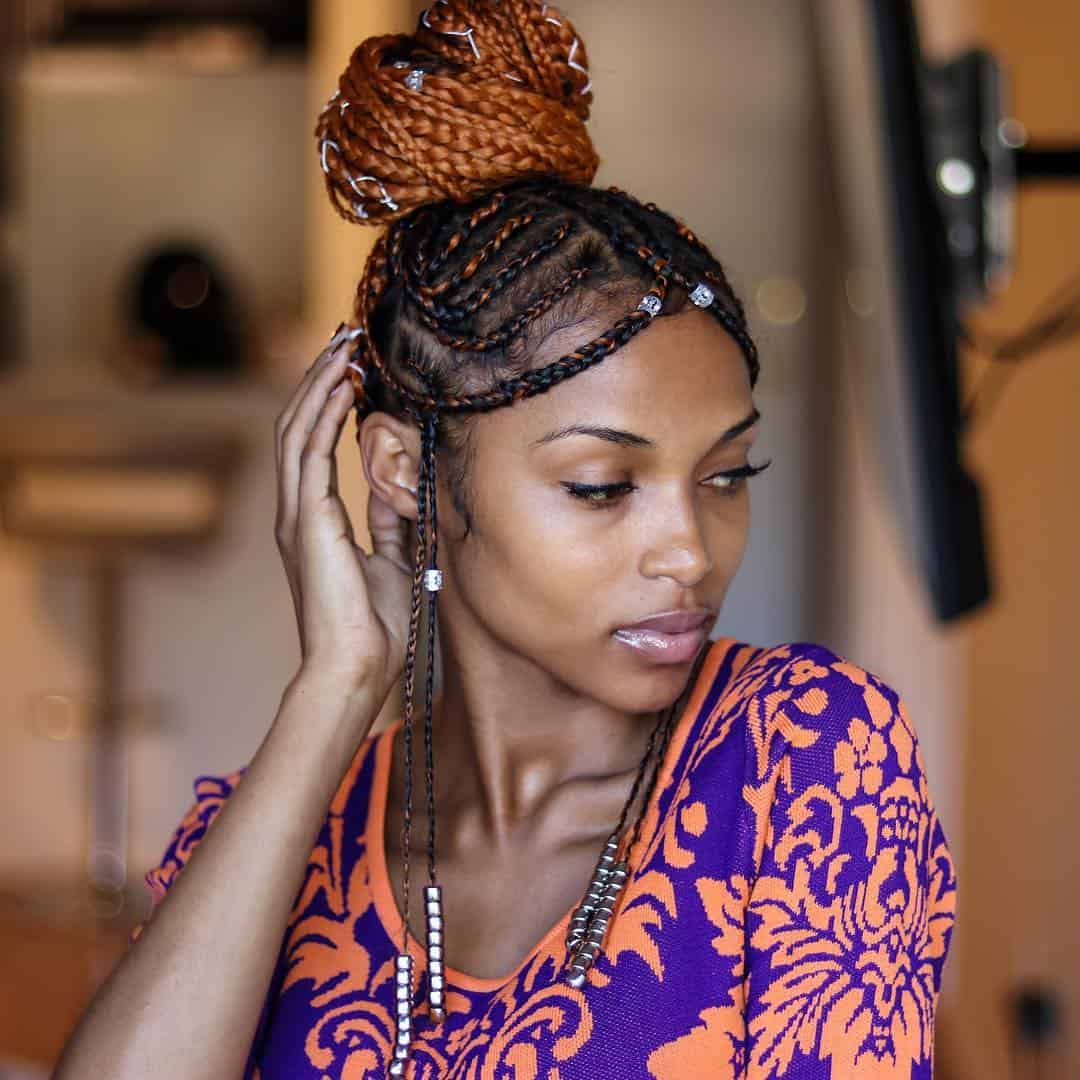 If double buns are too much for you, try a single beautifully styled bun.
Dyed in a gorgeous amber color, this style will bring out the fire in you. With double cornrows at the center, looped to the sides, you get a unique elegance, balanced out with some silver beads and cuffs.
#11. Regal High Bun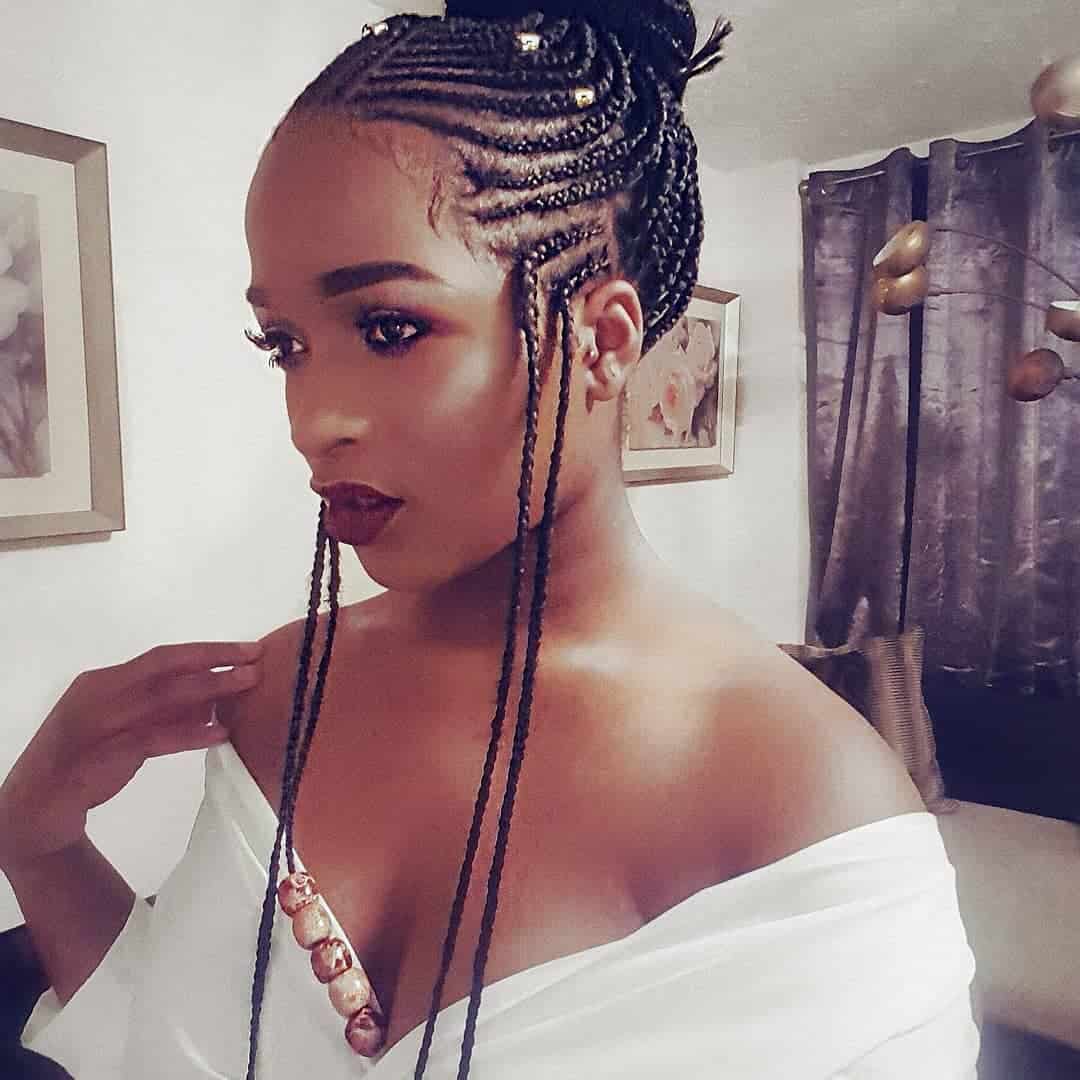 A polished and refined look doesn't need much extravagance, as this hairstyle shows perfectly.
All the Fulani braid marks, tied back in a regal bun, with a few chunky beads adorning the ends. Simple, yet eye-catching, with this style you are ready for any special occasion.
#12. Burgundy Fulani Bun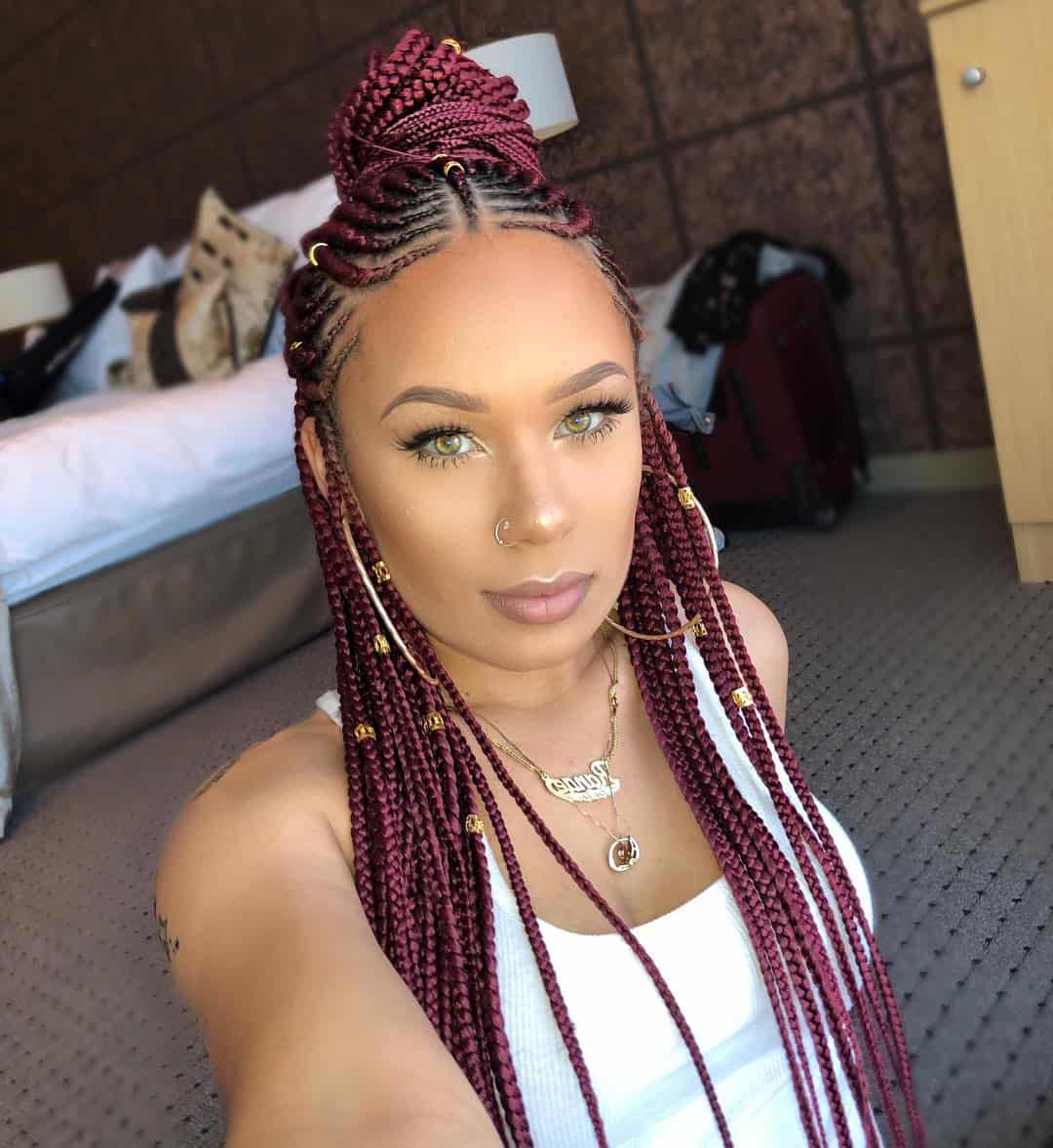 Keeping up with the bun styles here is one to brighten up your hair for summer.
Stylish burgundy tone braids that will refresh your look for the season. Styled in a bun, or let loose, with this hair color you will always look good. And if you're not sure about the bead choice, go with gold. They complement the burgundy color perfectly.
#13. Red Loose Fulani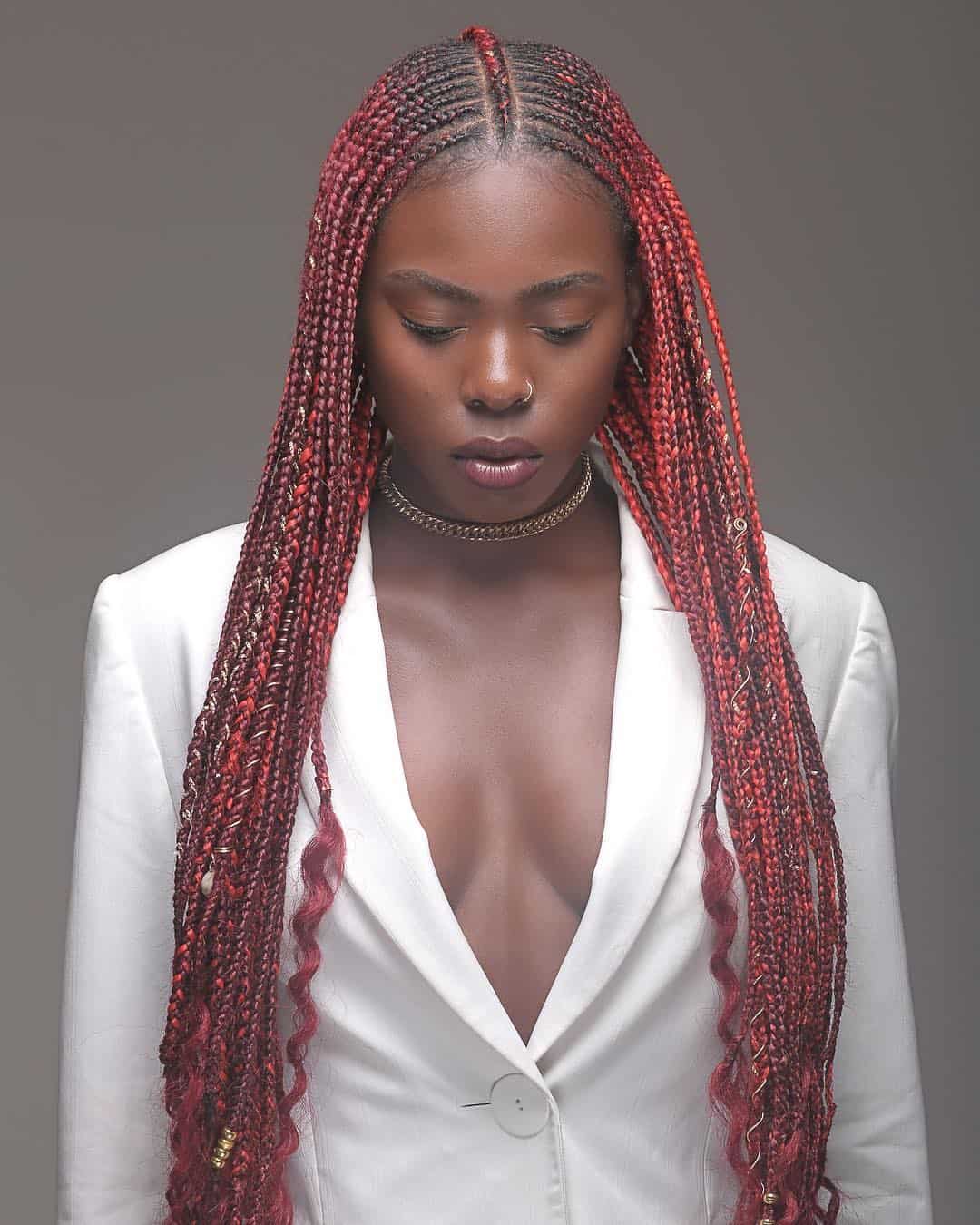 Turn up the heat with this no-nonsense red Fulani.
Rich, seductive and passionate, the color alone on this Fulani hairstyle is enough. Don't need to overdo it with flashy accessories, when a few tie-in strings and beads are enough. Put in a couple of half-done braids to complete the look.
#14. Fulani Updo Two Ways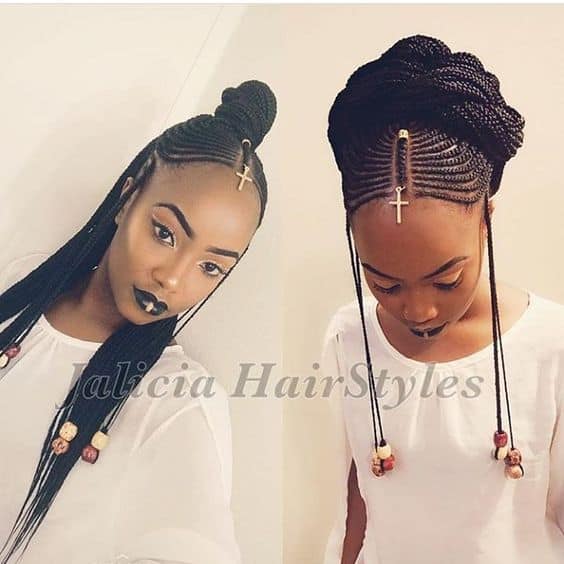 After you've got your Fulani on, there are many ways to style it in an updo.
All the styles we've shown so far have been amazing, and these two show you just how different feel you can get from basic Fulani braids. Half-up bun or twisted halo bun. Take your pick.
#15. Fulani With Halo Braids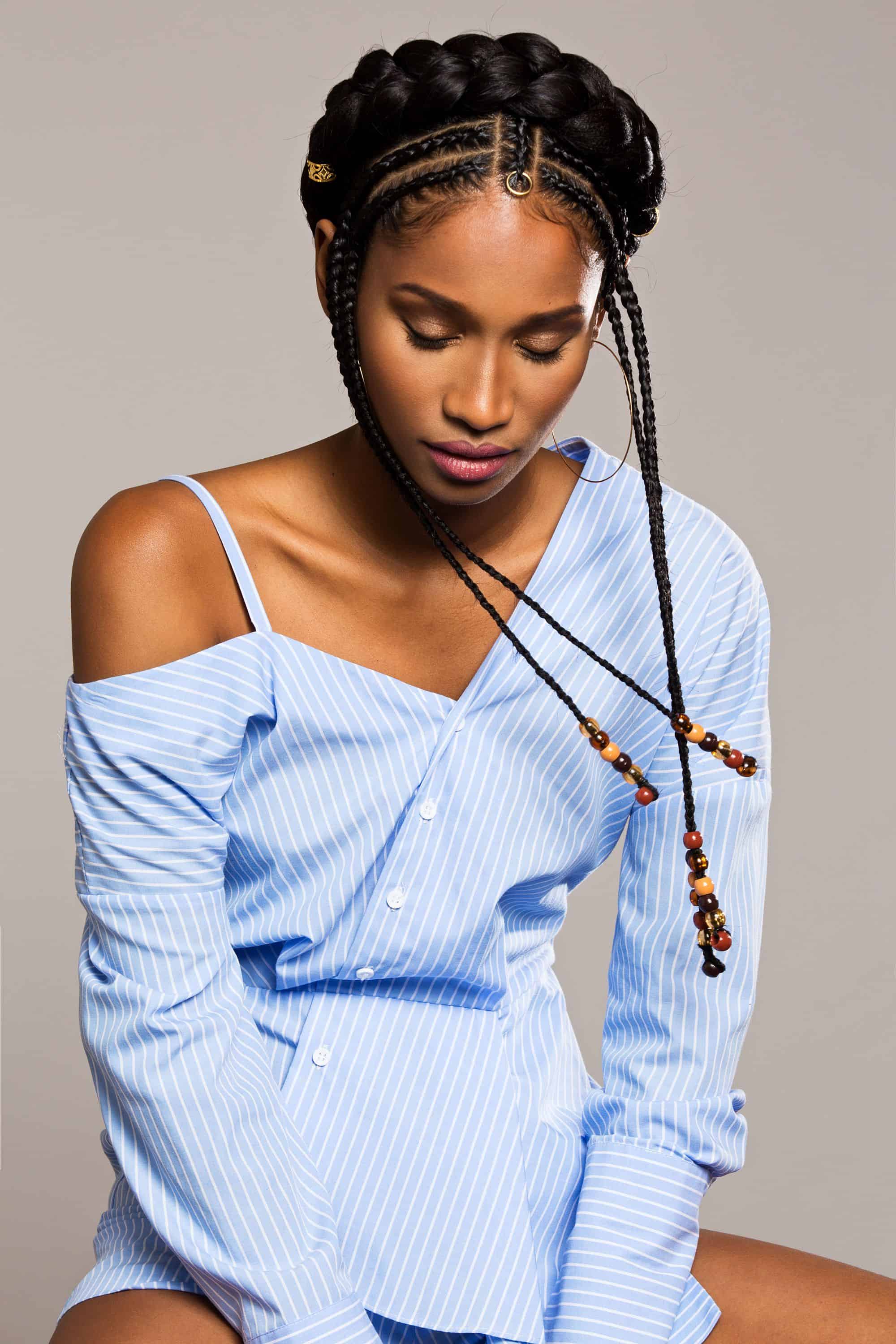 Easy to make, yet totally sophisticated, the halo braid is one of the more regal braided hairstyles out there.
To combine it with the Fulani loo, you can do a few cornrows on the front, with one in the center and adorn the ends with a few beads. Simple, elegant and absolutely styling.
#16. Chunky Cross Cornrow Fulani Braids
Cornrows give you a lot of freedom to be creative.
You have plenty of ways to keep the Fulani look yet try out something completely different, like these double cross patterned chunky braids. A fun look, and one that will definitely need less time to braid than the smaller, more packed braids.
#17. Half Done Fulani With Twisted Curls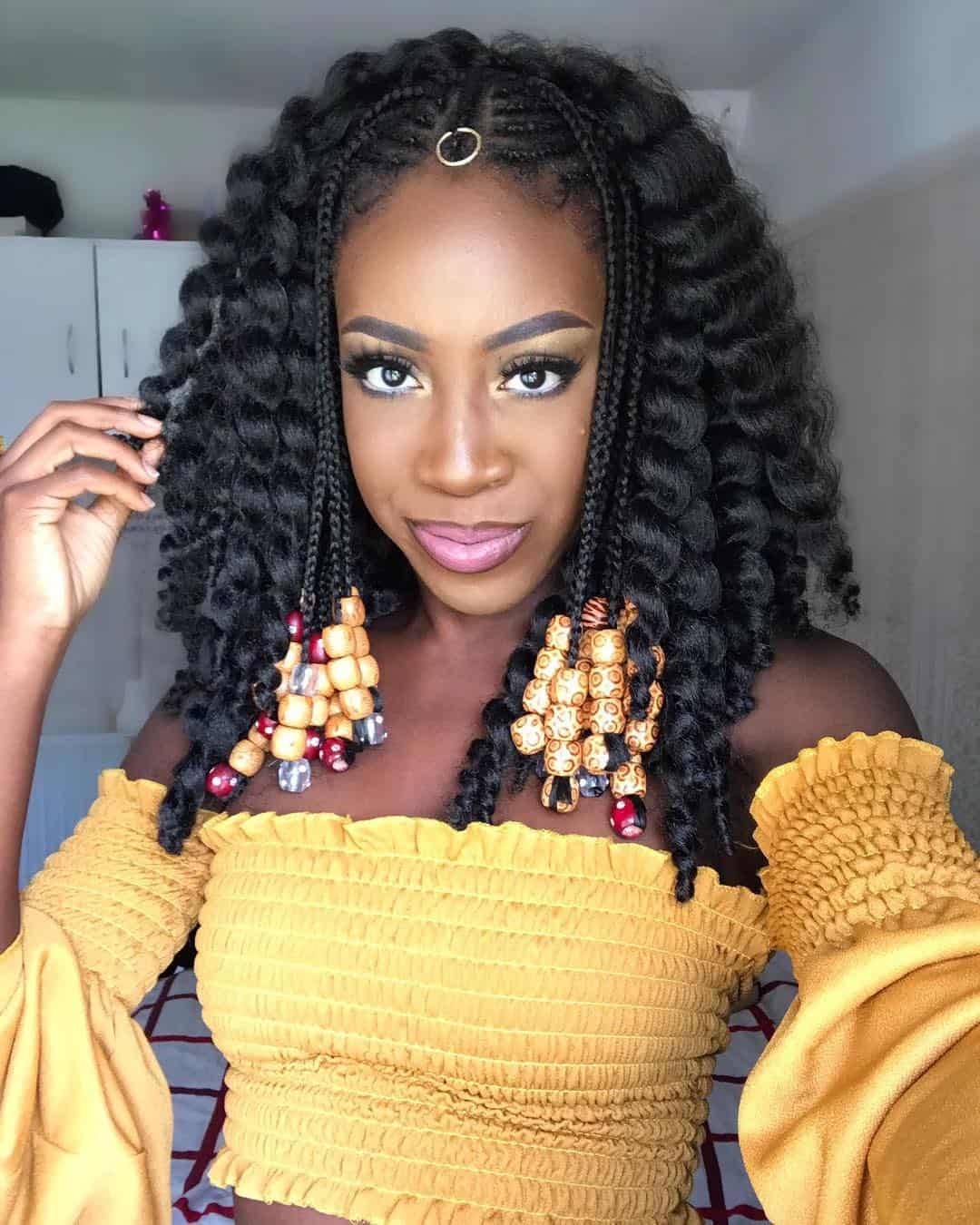 Another gorgeous half loose hairstyles you must try.
Accessorize the front braids with a variety of chunky beads and do the rest of the hair in soft twisted curls. A trendy way to change your look for the summer.
#18.  Casual And Evening Fulani Braids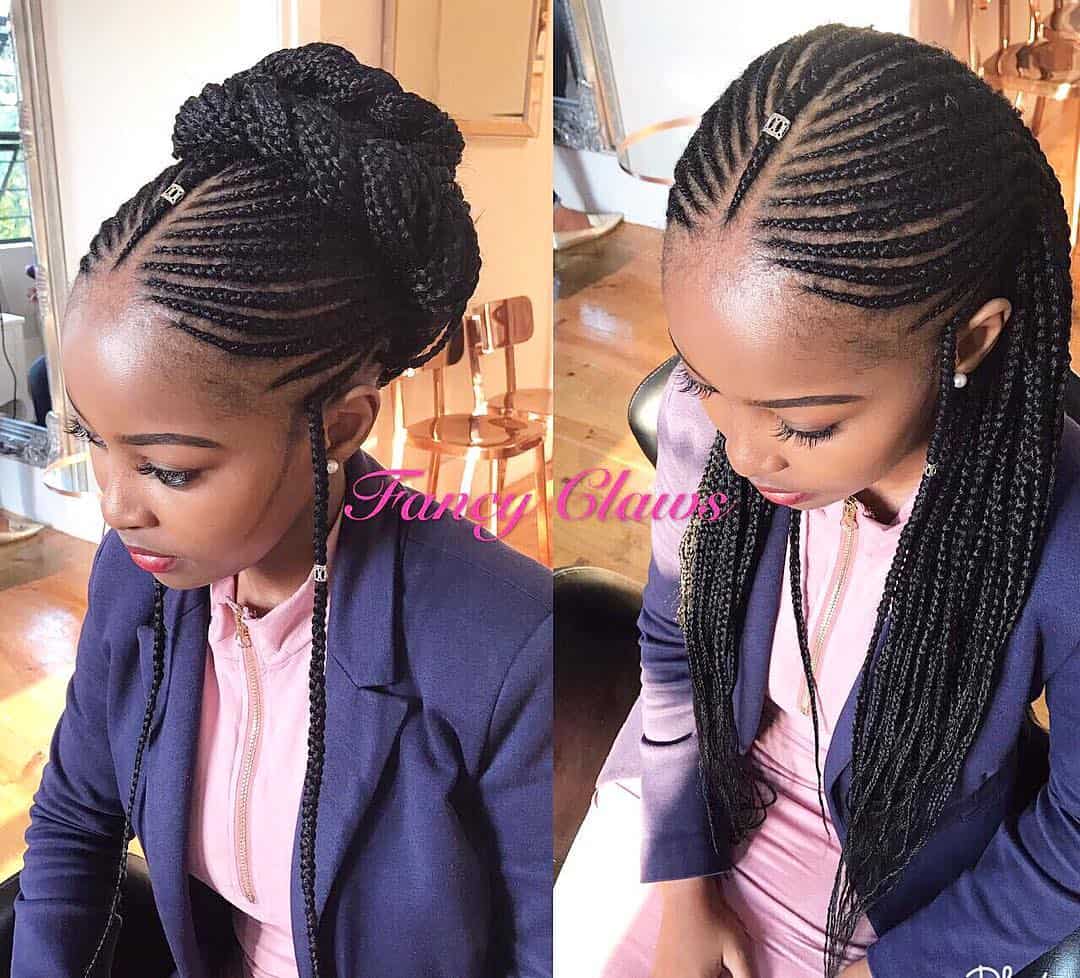 The versatility in braided hairstyles never seizes to surprise us.
See here how you can wear the braids down for a casual everyday look, and when you need a fancier look for a special occasion or a night out, wrap them up in a bun.
#19. Fulani Mohawk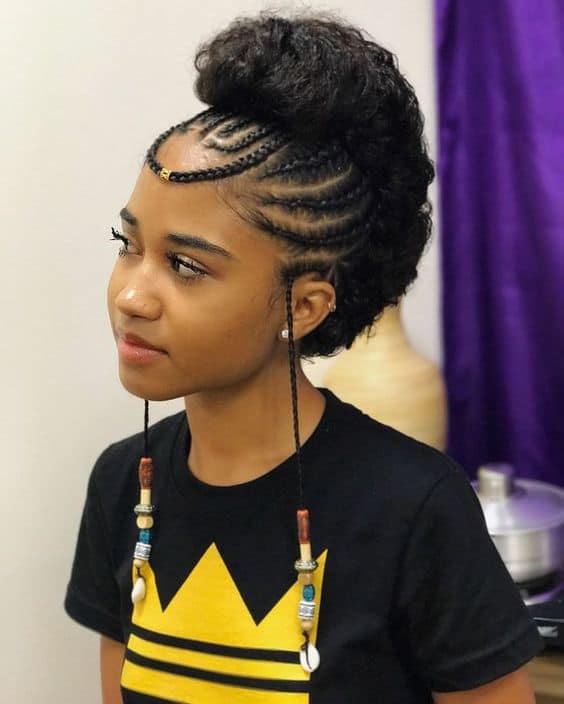 The Fulani hairstyle also gives you a great way to do a faux hawk.
Again, you don't need to braid your entire hair for this look, since you'll need your natural hair to create the raised section of the mohawk. Still, the Fulani style softens this edgy hairstyle, giving it a bit more flare and elegance.
#20. Micro Fulani Sunburst Cornrows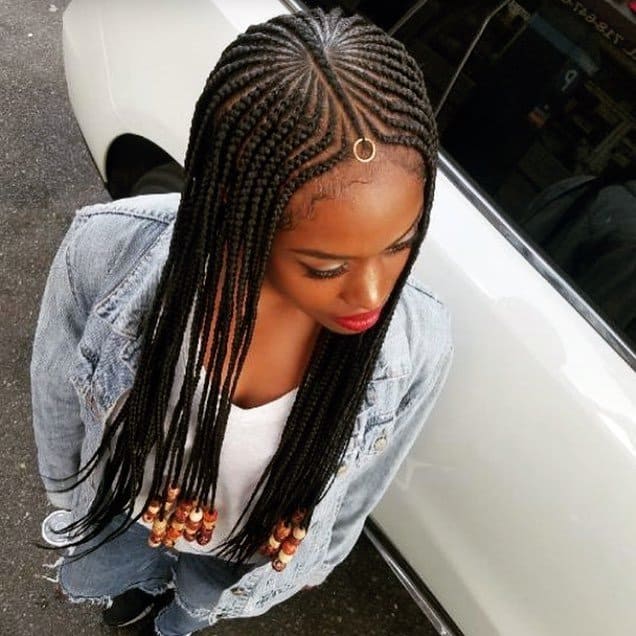 Let your inner sunshine out with this soothing sunny Fulani hairstyle.
The cornrows are done in a sunburst pattern around the center cornrows. It almost has a zen feel to it, doesn't it? Graceful and fun, it's a must-try hairstyle for the summer.
#21. Fulani Bantu Knots With Fishtail Braid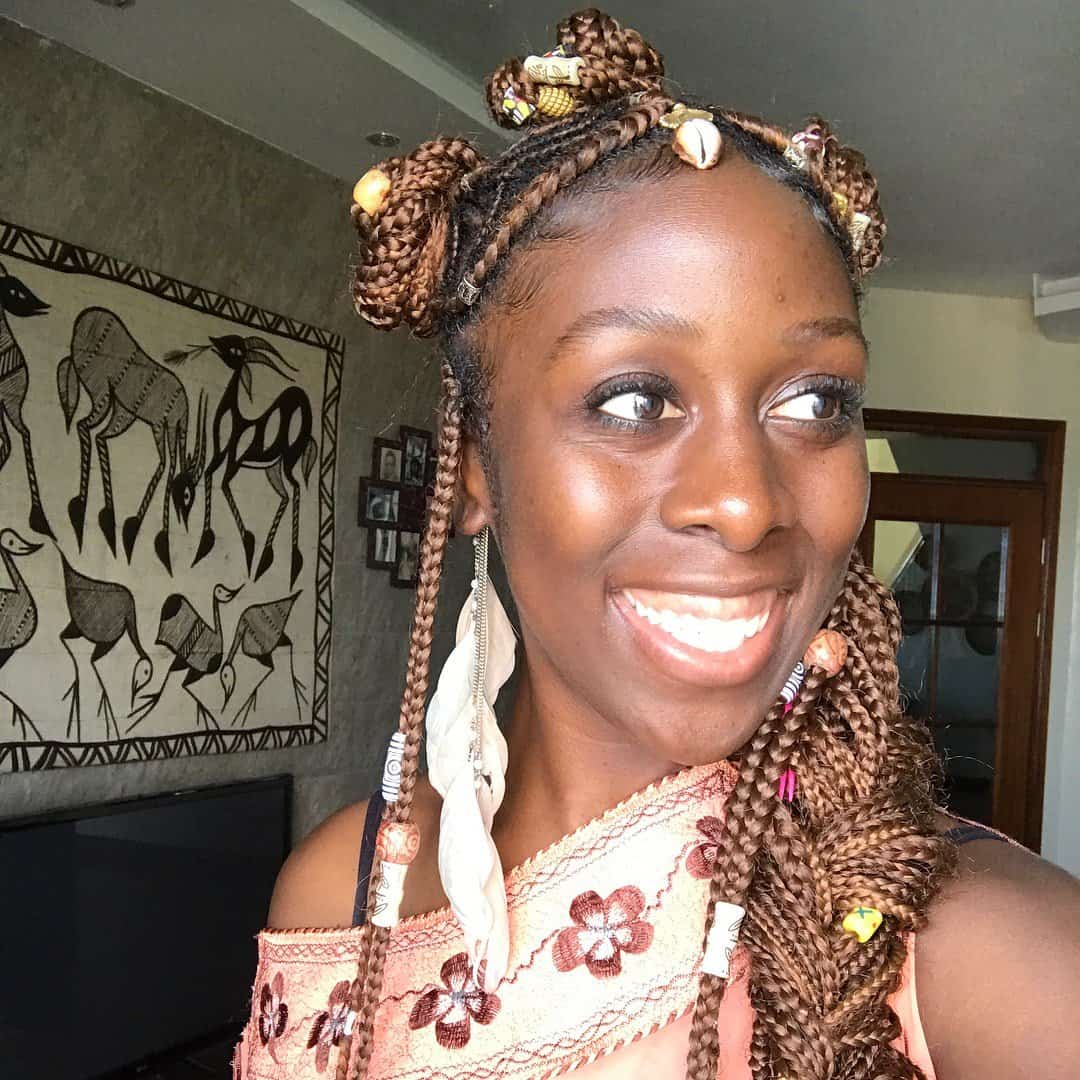 Bantu knots and braided fishtail on a Fulani hairstyle may be too much, but you have to agree that is works.
At times when choosing a single hairstyle is hustle, remember how awesome this Fulani combo looks.
#22. Fulani With Knotless Crochet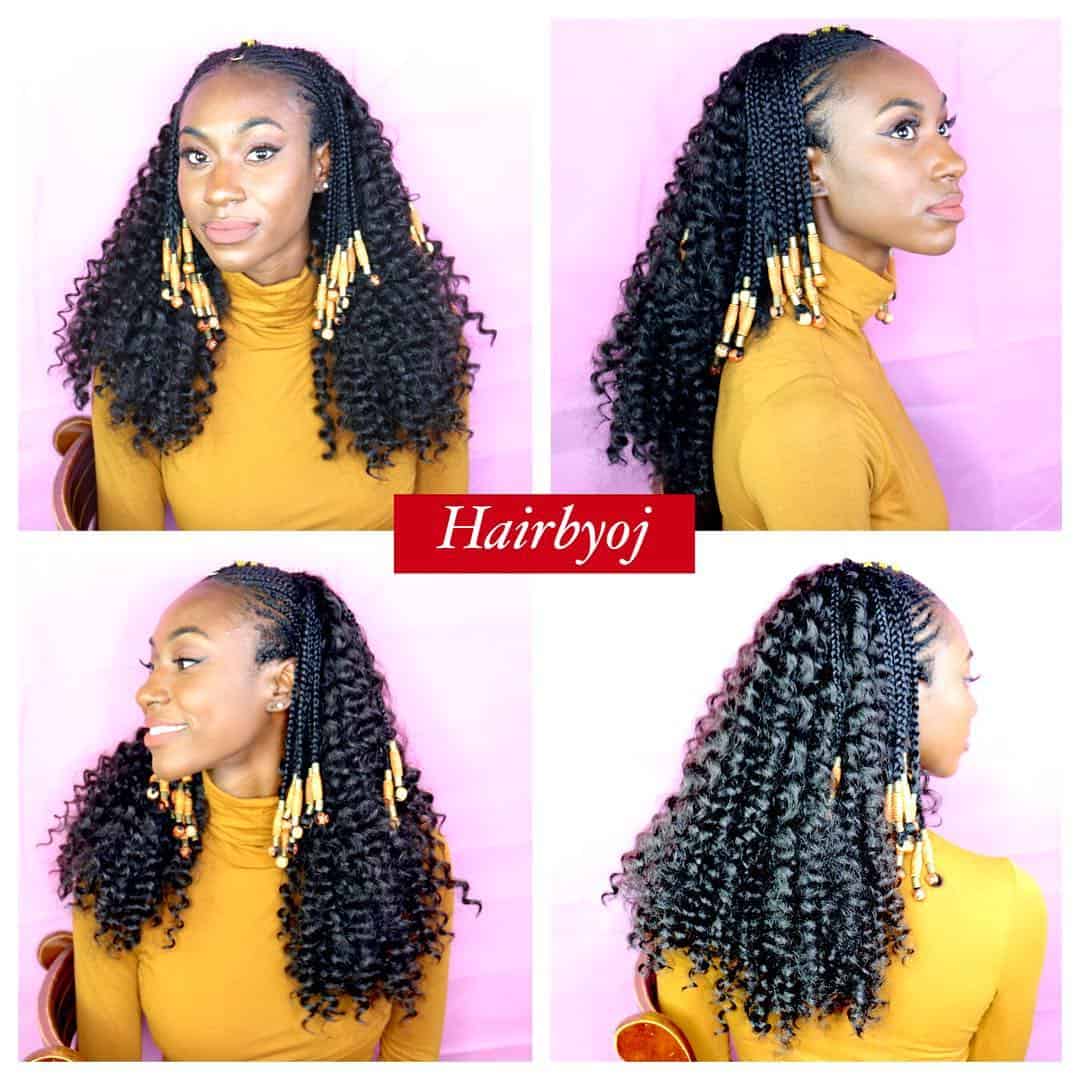 Like the other half-done Fulani braids you've seen in this list, this one has best of both worlds.
The twist are the extensions, which blend perfectly, thanks to the knotless crochet braid technique. A brilliant hairstyle that will ease all your doubts about using this hairstyle and trying out crochet braids.
#23. Thick Fulani Braids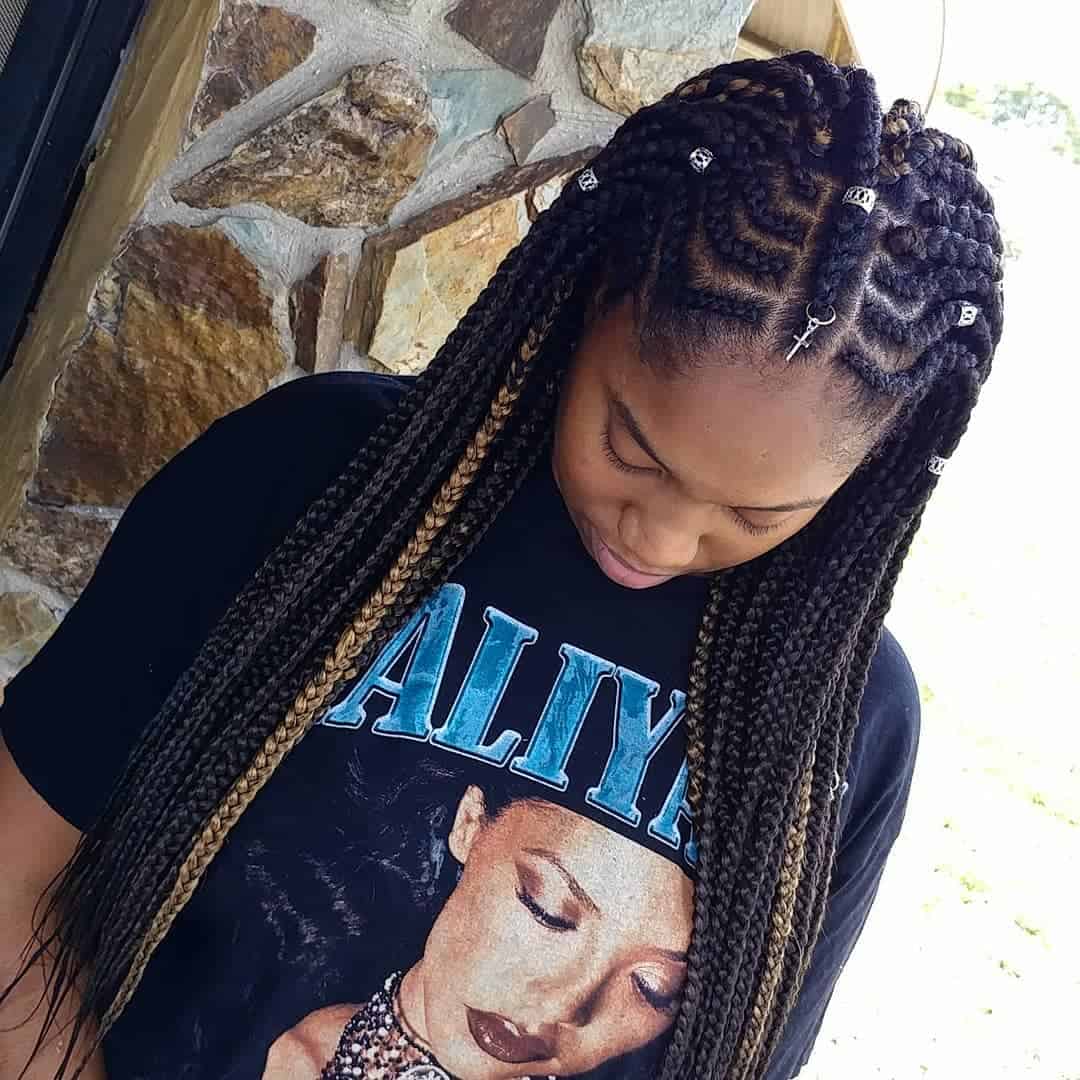 Not too thin, not too chunky, these braids may just be right,
The cornrows are almost like spider legs, and With an accent braid in a different color and minimum accessories, this is truly clean, yet exiting Fulani hairstyle.
#24. Fulani Tribal Space Buns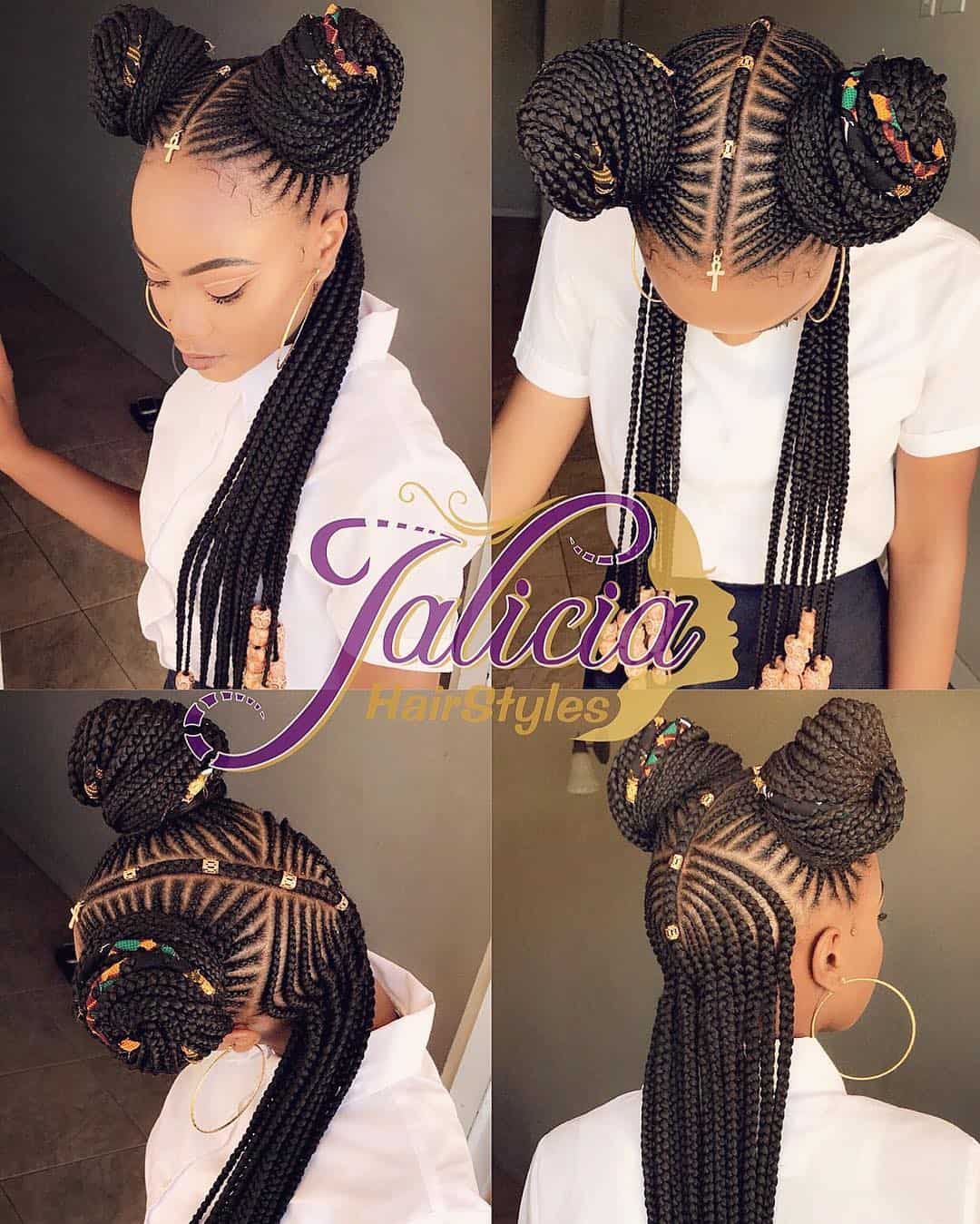 We wrap up our list with another gorgeous Fulani half-up space buns.
The double buns are done high up and front, leaving more space in the back to create some interesting tribal pattern cornrows. Like a mix of traditional and modern, this hairstyle is fun and out of this world.
What do you think of the Fulani braids?