A bob haircut is a short to medium length haircut for women. The hair is typically cut straight around the head at about jaw-level, and often comes with bangs at the front. It was Jennifer Aniston who popularized the bob in her role as Rachel Green.
But because the bob is such a classic and simple hairstyle, women often look for ways to tweak it. One of those tweaks is the inverted bob. Basically, you have short back and long front. And unlike the standard bob haircut, the inverted bob features a tapered back with stacked layers.
The goal is to make the cut appear more curved at the back, rather than flat. With that in mind, if you are looking to give your hair an on-trend update, let's take a look at some ideas for inverted bob hairstyles.
1. Long Blond Inverted Bob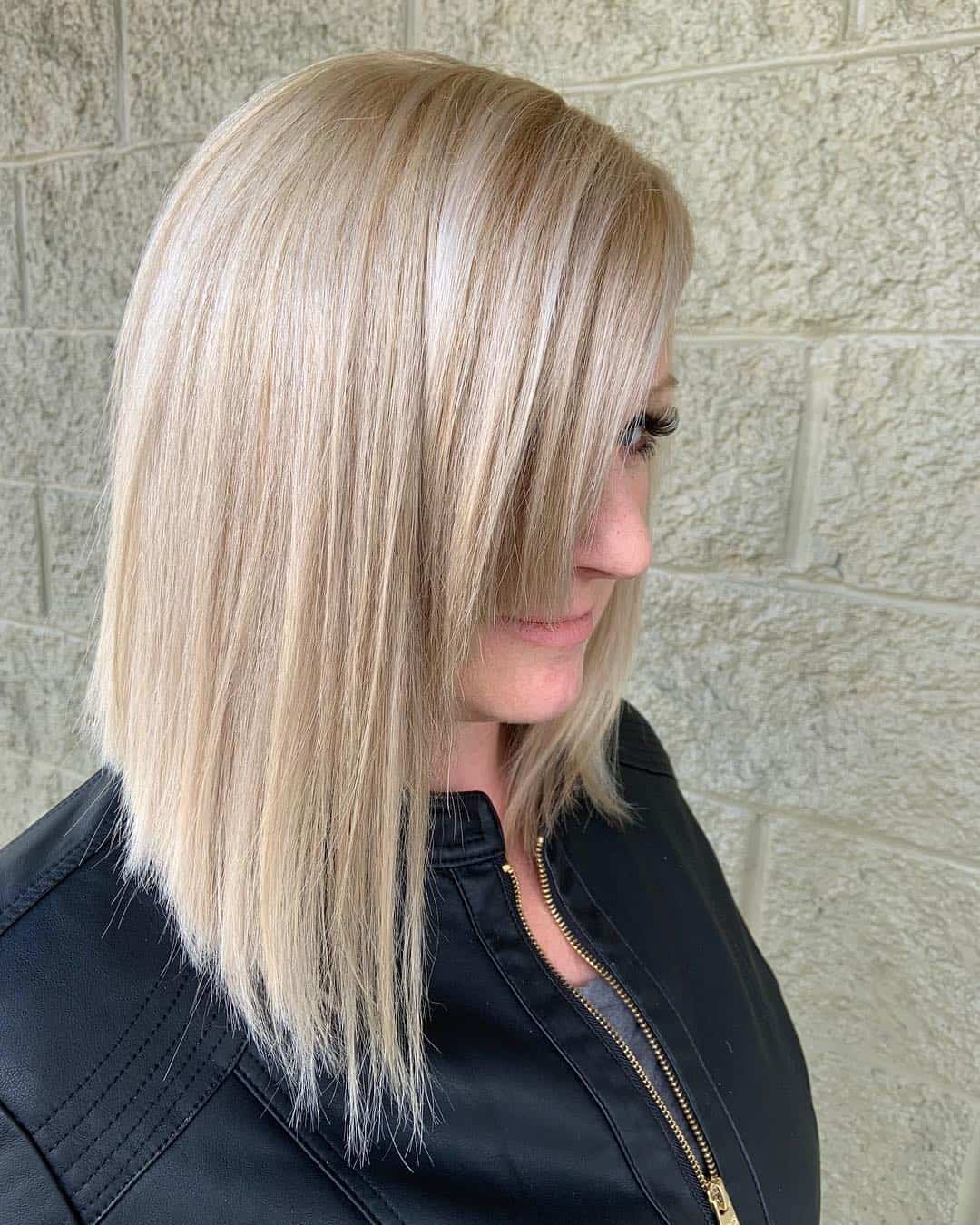 Same as with the classic bob, the inverted one works on both short and long hairs. Or as people like to call it, the Lob has made its way into the hair world. We start off with a classic blonde take on the inverted lob.
2. Magenta Tones Inverted Bob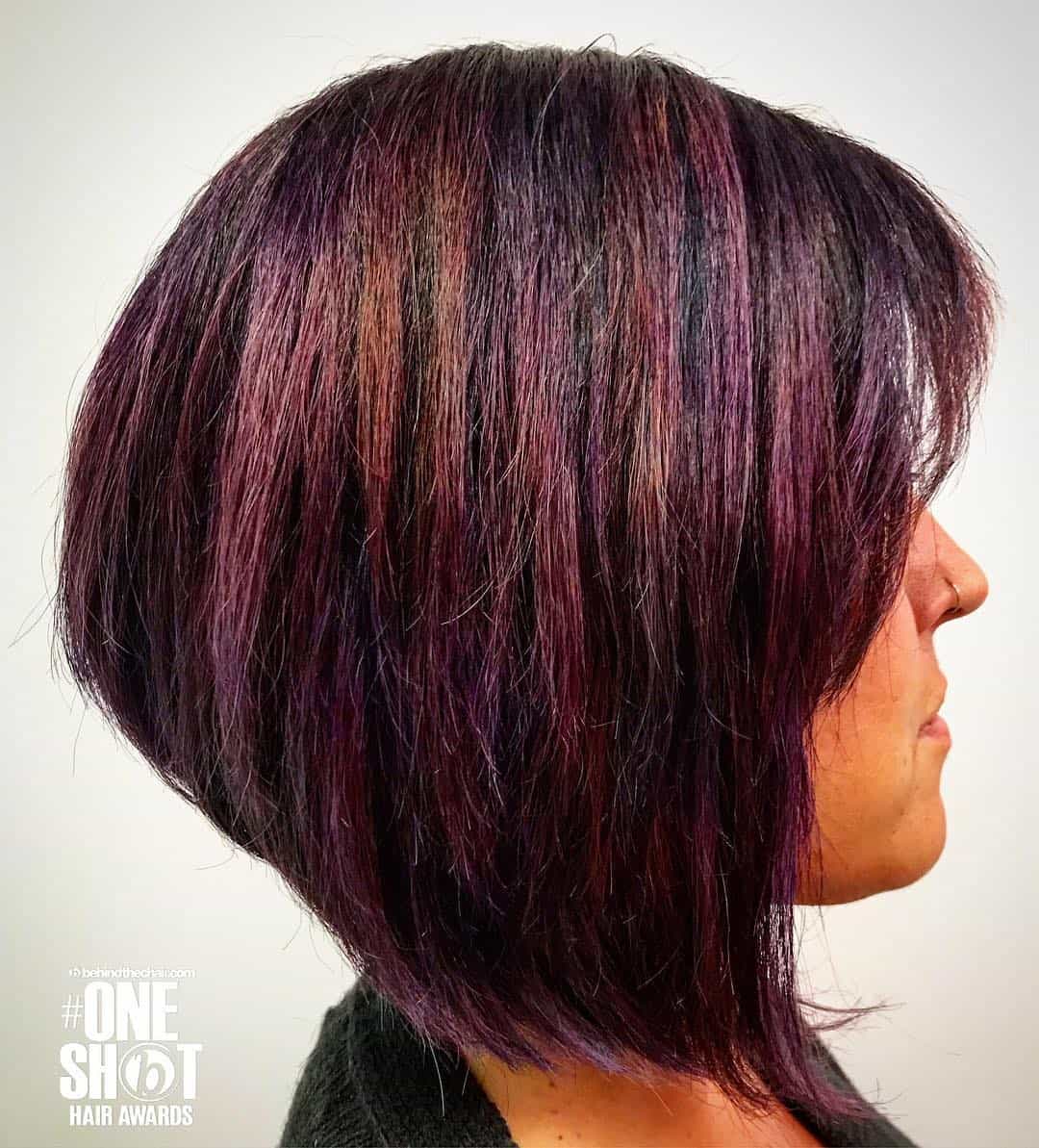 As you will see down the list, we want to give you different color options. This way, you can see how the hairstyle works on different skin tones, and choose the color most suitable for you.
3. Longer Curled Inverted Bob In Dark Blond Color Melt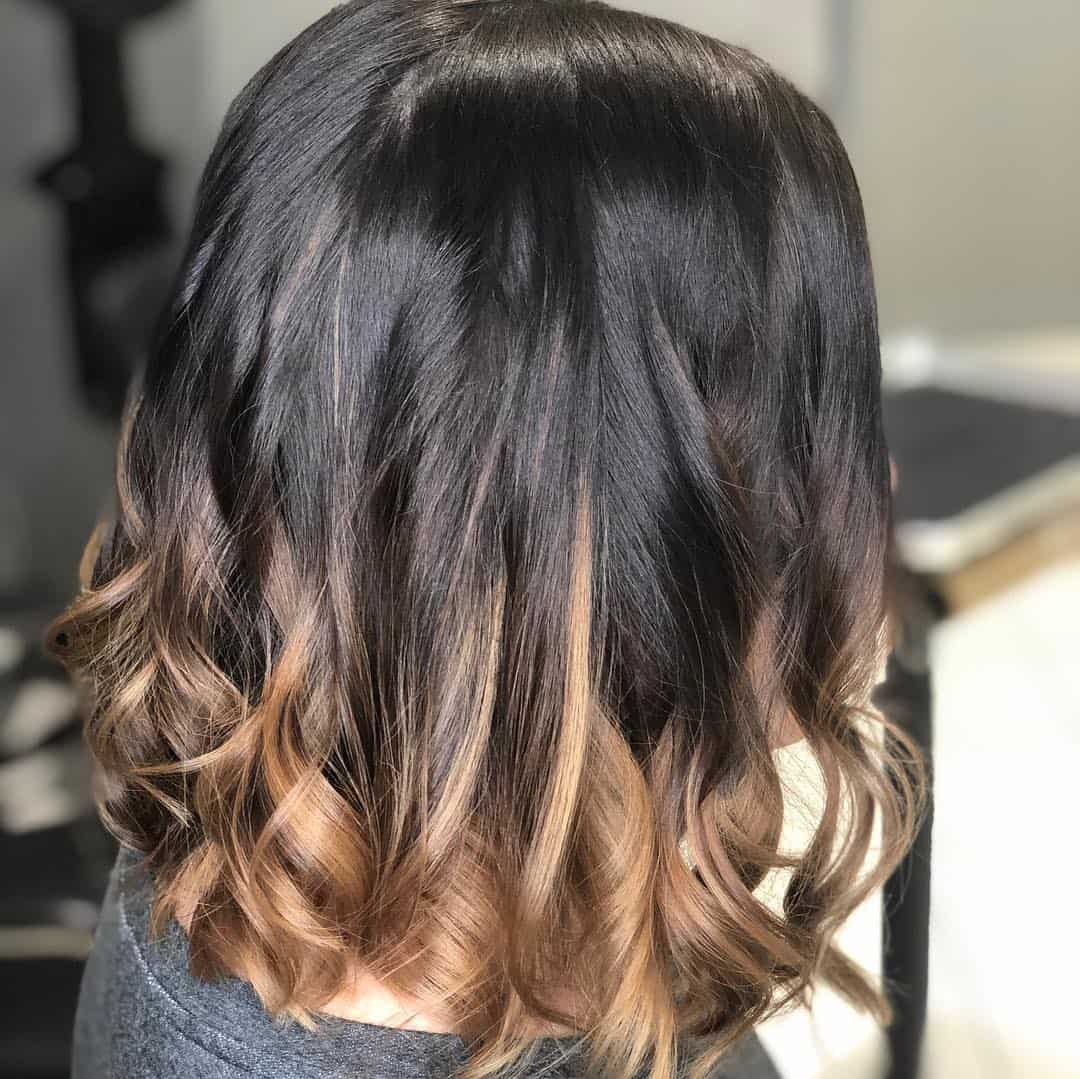 We mentioned that the longer bob, or lob, is currently trending. Add in some curls, and you have more than one trends in your hairstyle. Curls add texture and playfulness to your hairstyle.
SEE ALSO: 28 Trendy Long Bob Hairstyles To Check Out
4. Black Sectioned Inverted Bob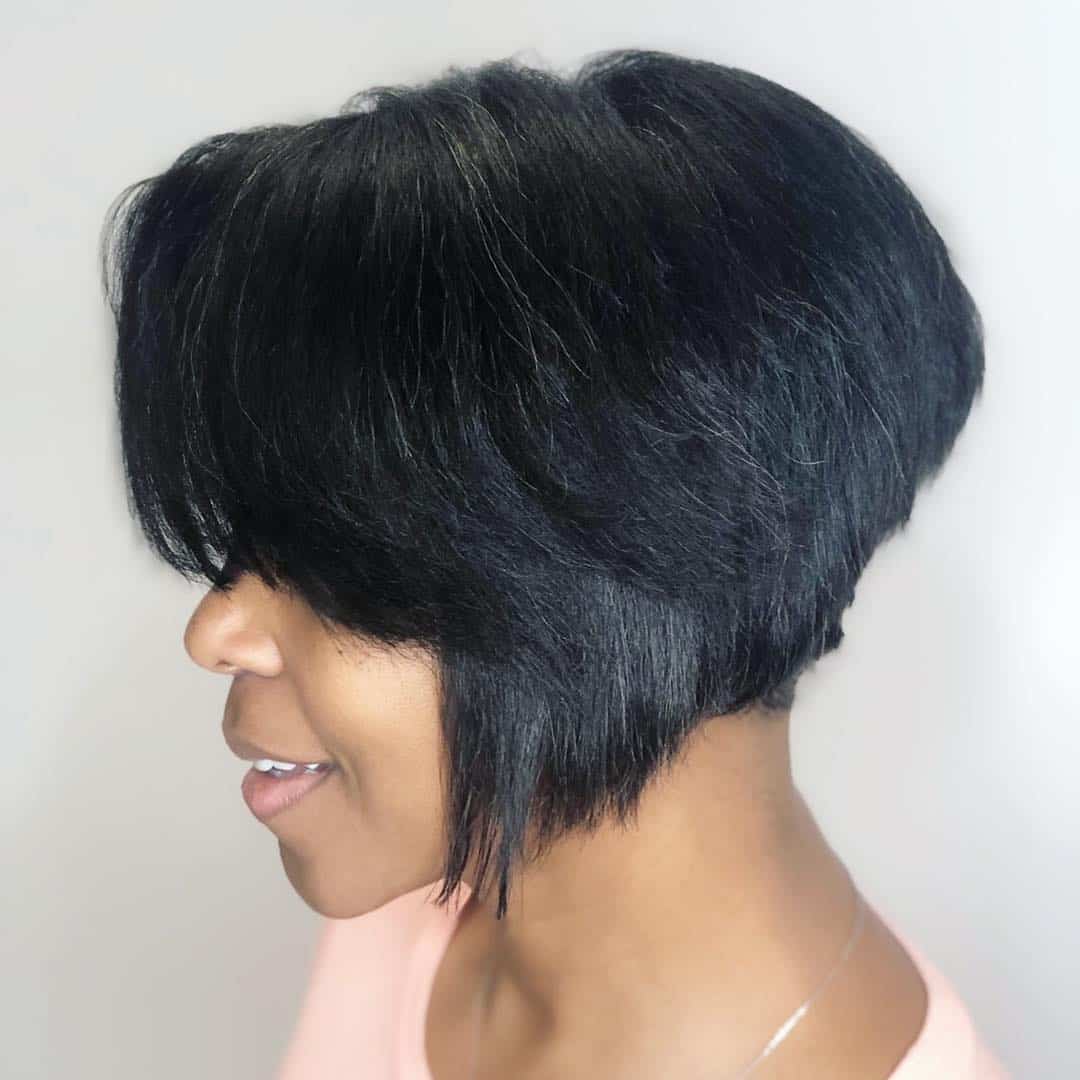 Speaking of texture and volume, one way to add more of it is to add layers. Layering is a great way to make your hairstyle look different, unique, and more textured.
Try different sections, and you will see how more beautiful it looks. The only downside is it requires more maintenance.
5. Straight Inverted Bob With Short Bangs In Lush Green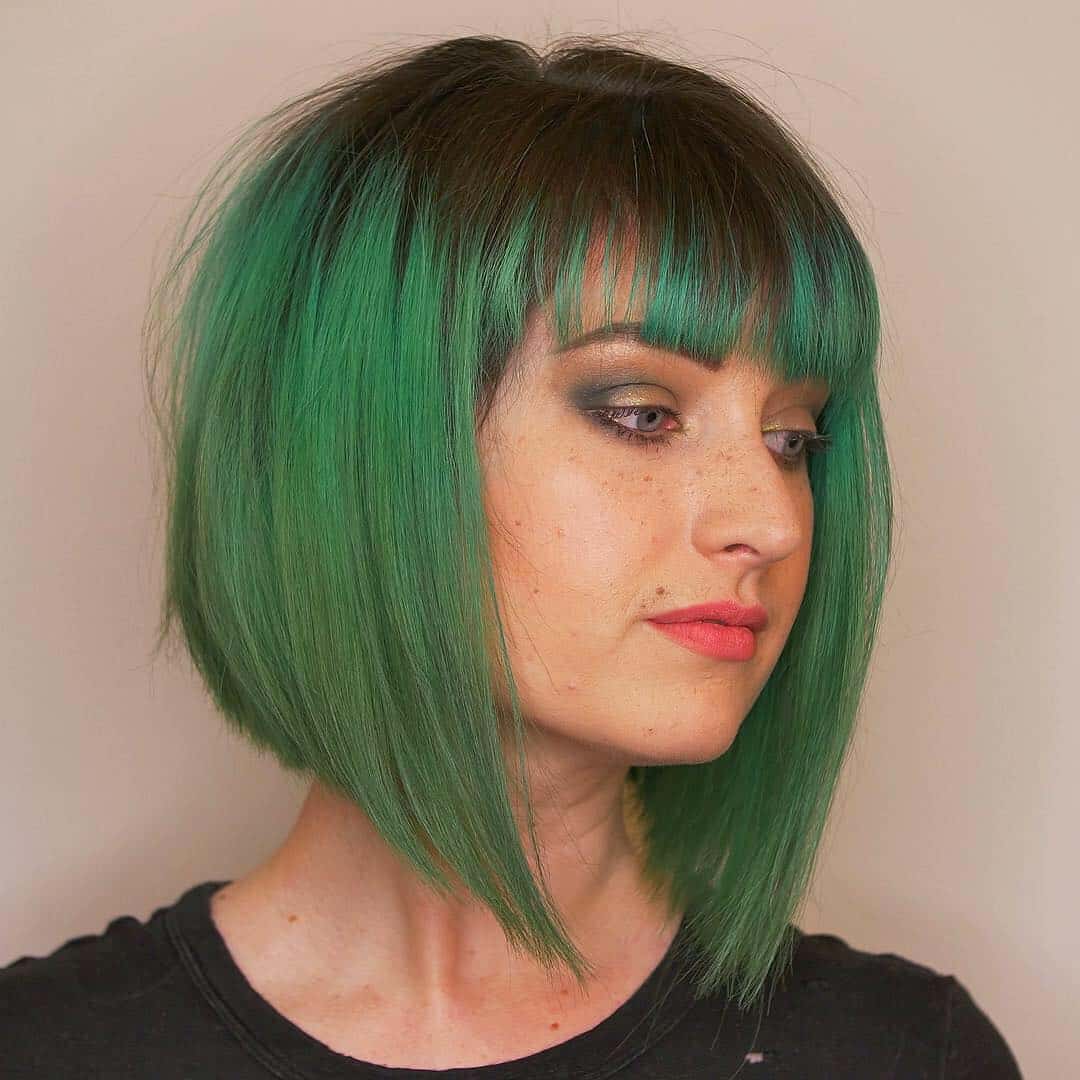 We live in an era of urban chic in hairstyles. Women are trying to be as unique as possible. And at the same time, as bold as possible.
That is why we see some unconventional hair colors, like green for example. But it is a great way to stand out of the crowd. And the bangs are a nice touch as well.
6. Blond Balayage Beachy Wave Inverted Lob
Speaking of the most popular trends in hair coloring, balayage is something almost every woman has tried lately.
Balayage is a technique in which highlights and your natural color blend, resulting in a more natural looking colored hair. You should definitely try it with your inverted lob hairstyle.
7. Dark Violet Inverted Bob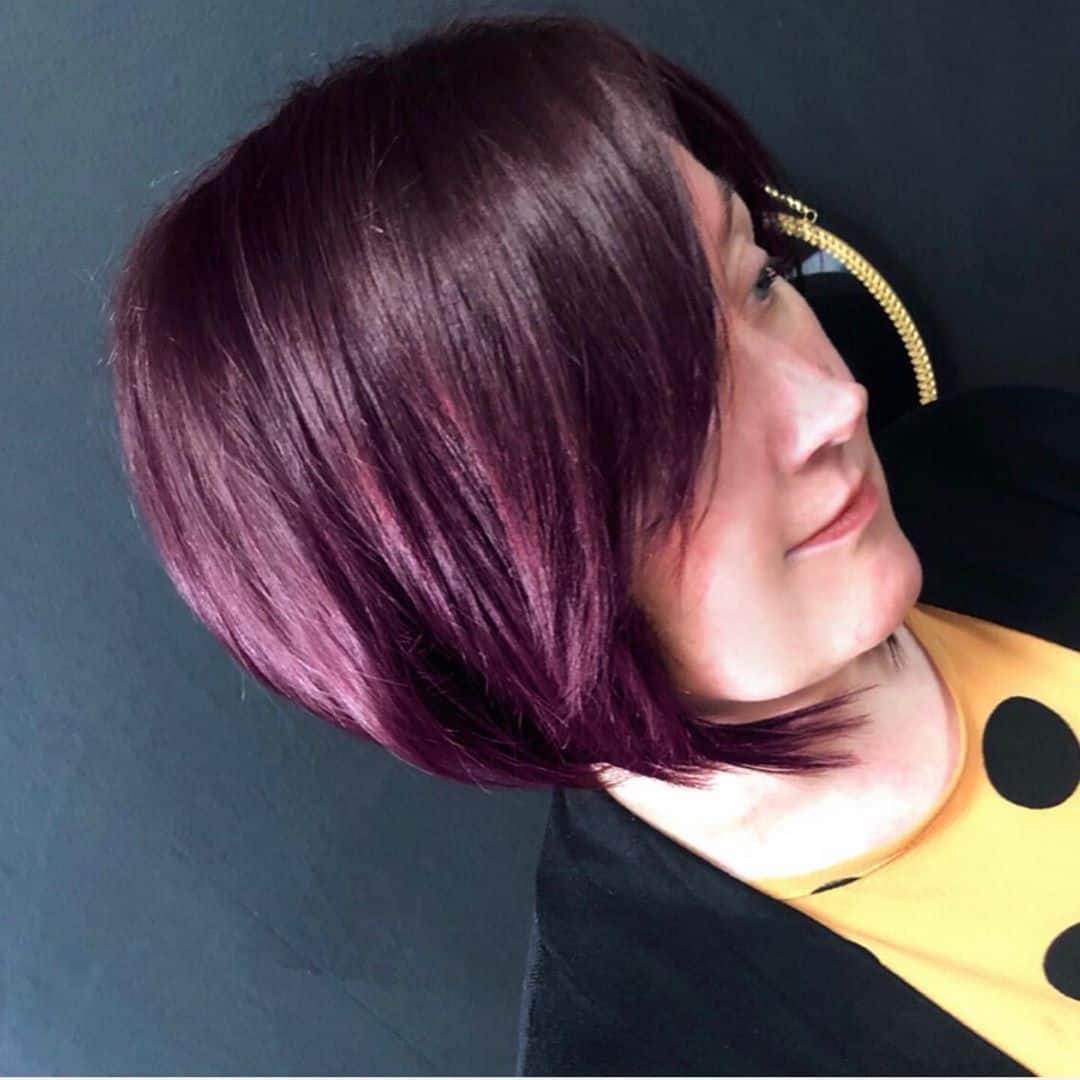 Violet is a royal color. We all know it adds elegance and sophistication to your look. Now, it also makes you look a tad more serious. If that is what you are aiming for, absolutely go for it.
8. Asymmetrical Ocean Inverted Bob With Undercut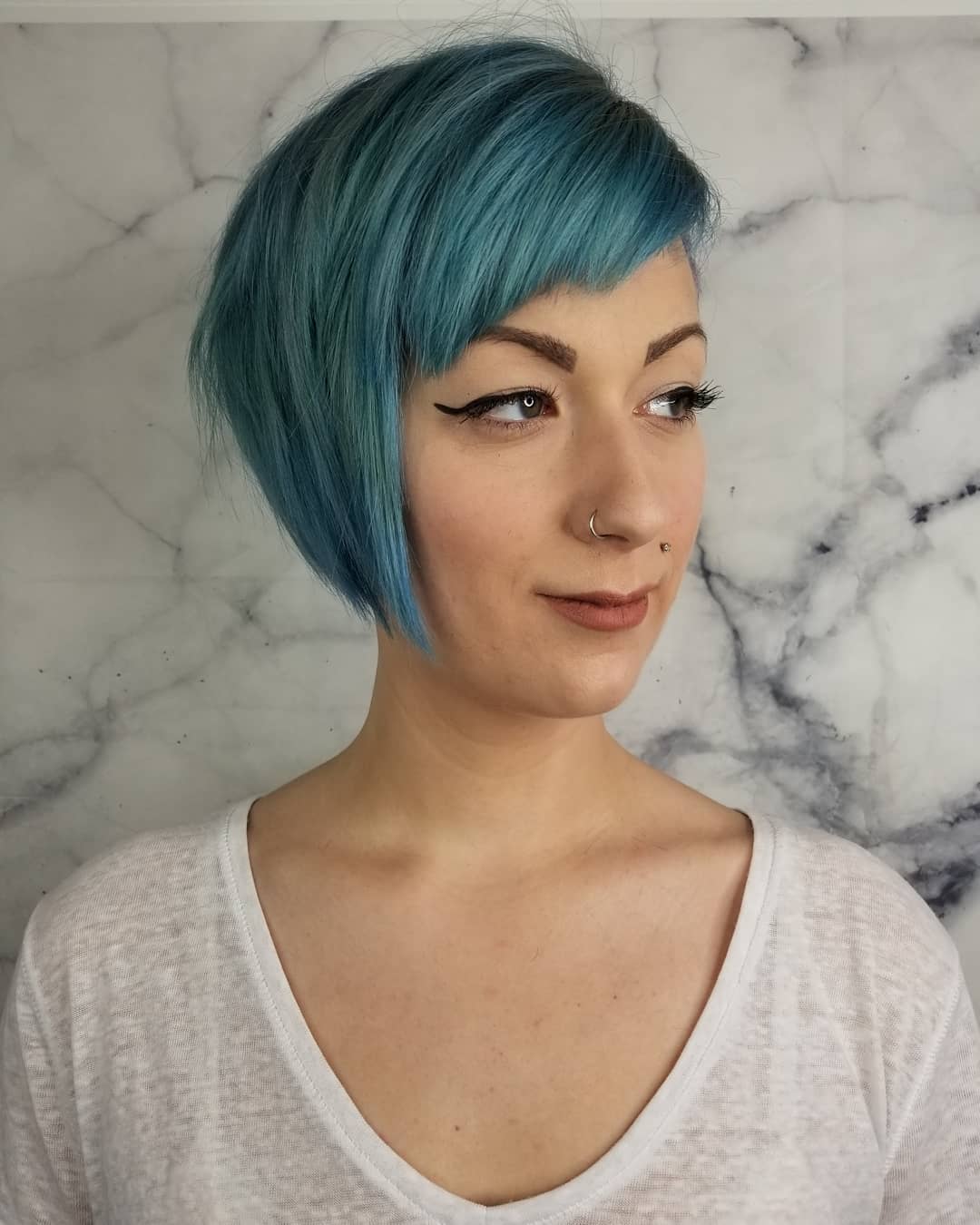 There are many ways you can play with the shape of your hairstyle. Inversion is one way, and then another is symmetry.
Most women go one way or the other. But if you feel you need a next level experiment, do both. This is the result.
9. Inverted Bob With Soft Curls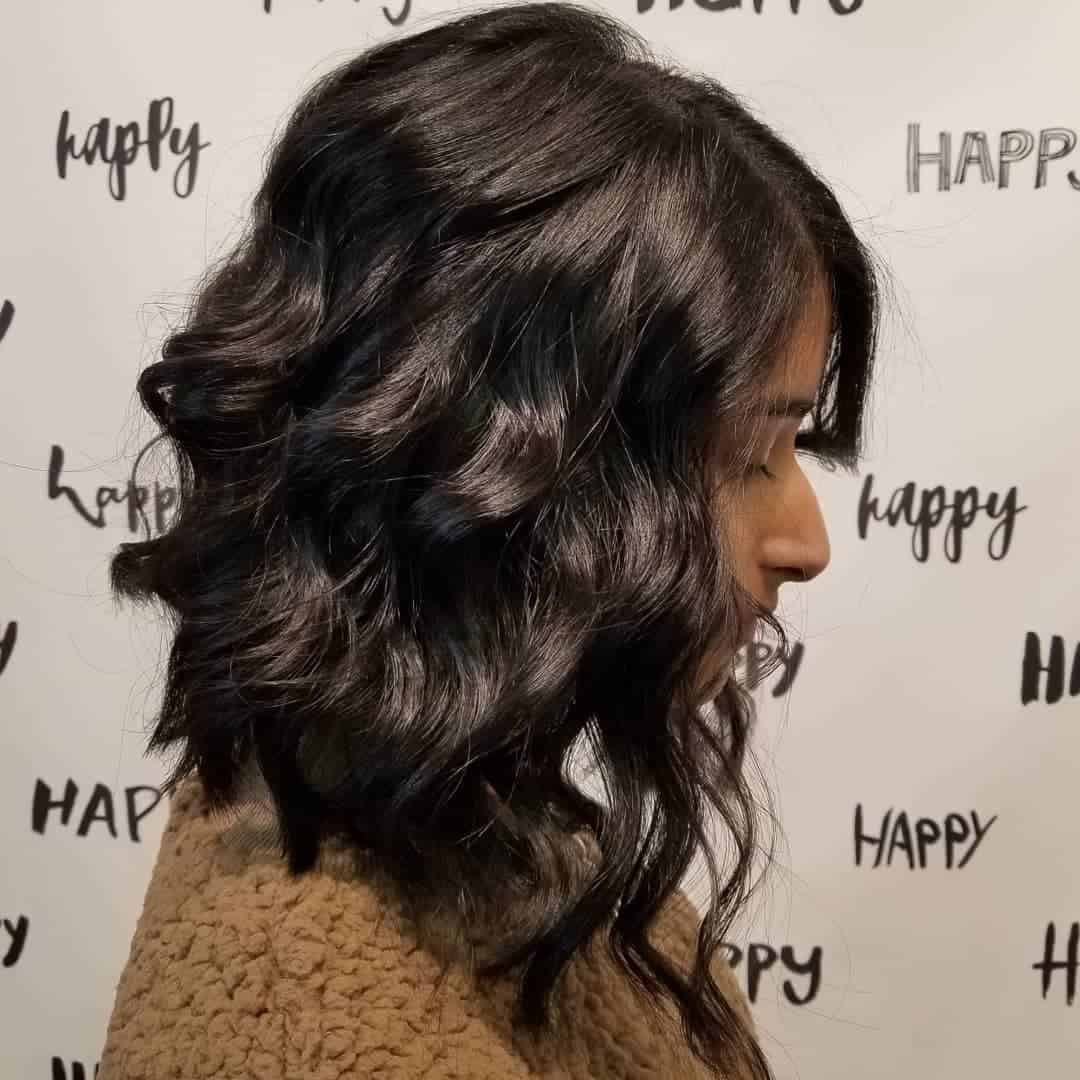 Soft curls are one of the best ways to look romantic and feminine. It is the go-to hairstyle for women who want to look cute, adorable, and sexy at the same time. Perfect blend, as you can see.
10. Rose Gold Straight Inverted Lob
There is a reason why Apple introduced rose gold as a color option for its iPhone. The color is absolutely stunning, and in the same time, gentle. Women love this color, and with a good reason.
11. Wavy Opal Inverted Lob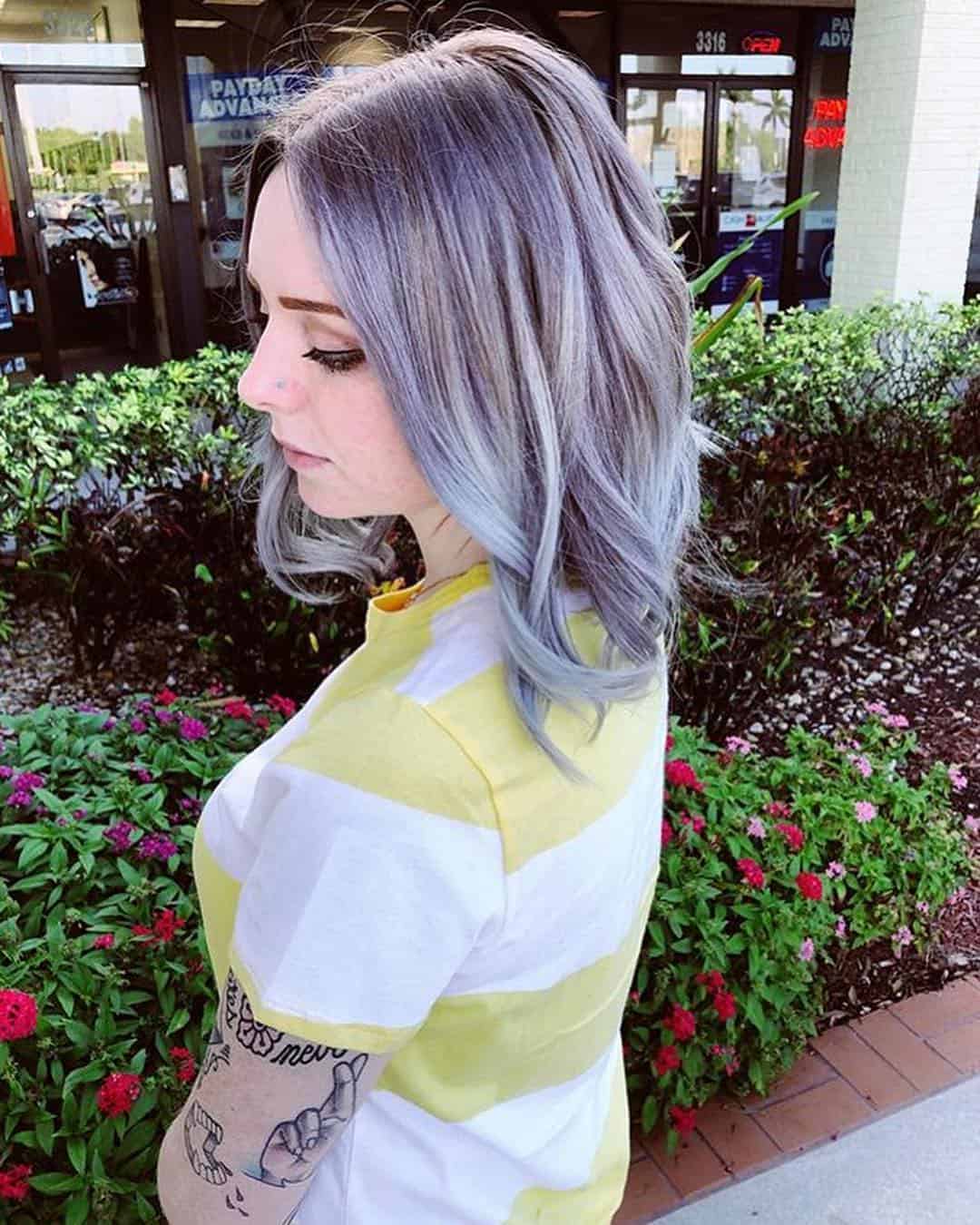 There are a couple of hair coloring trends in the past few years that are just unique. Women are trying to find something unorthodox and unconventional. Opal blue is one of those colors, and not every women can pull it off.
12. Voluminous Blonde Inverted Bob With Dark Tips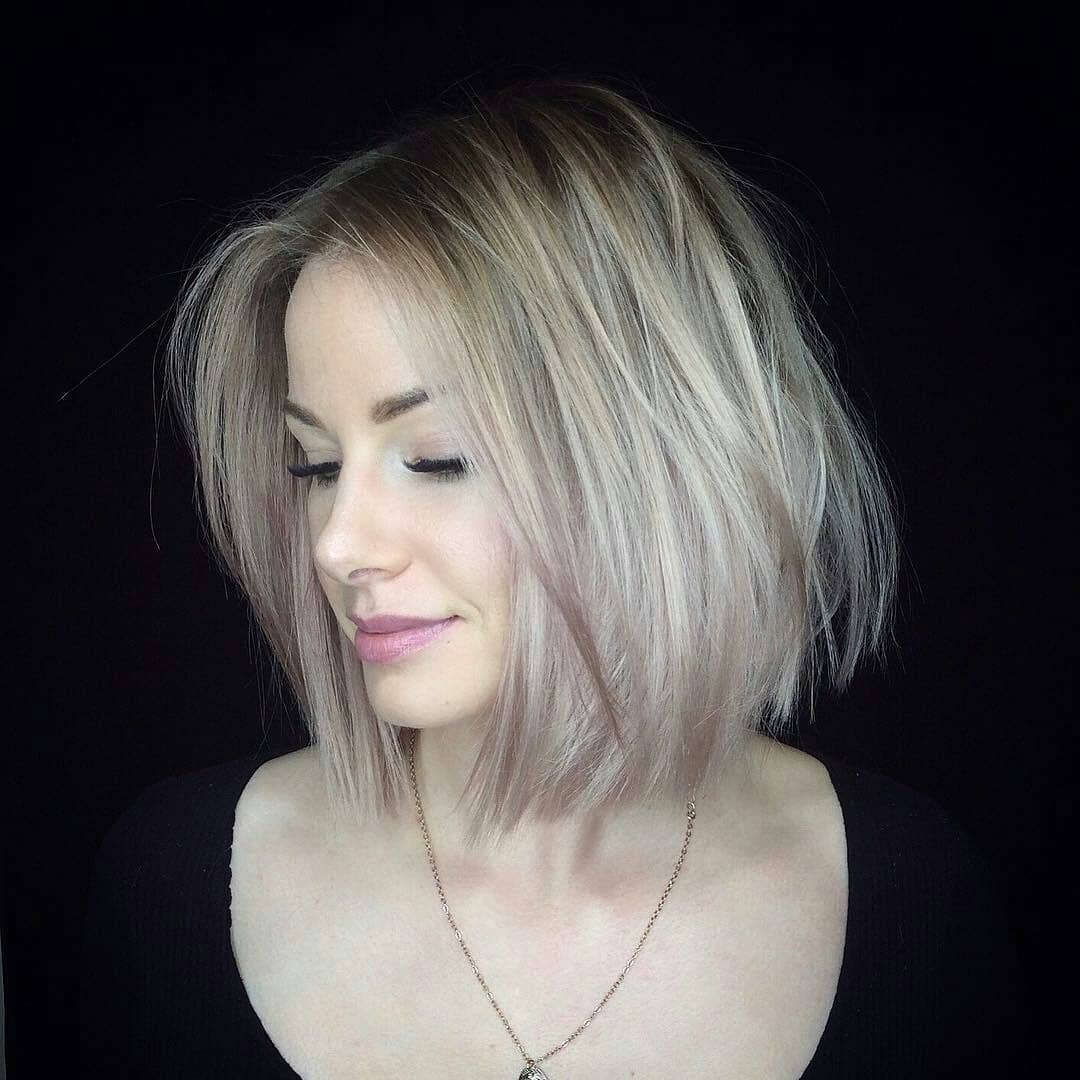 With a good blowout, you can add a ton of volume to your hair. A lot of women who go blonde are afraid to show their dark brown roots. But in some cases, it can work in your favor. Try it.
13. Brown-Blonde Balayage Asymmetrical Inverted Bob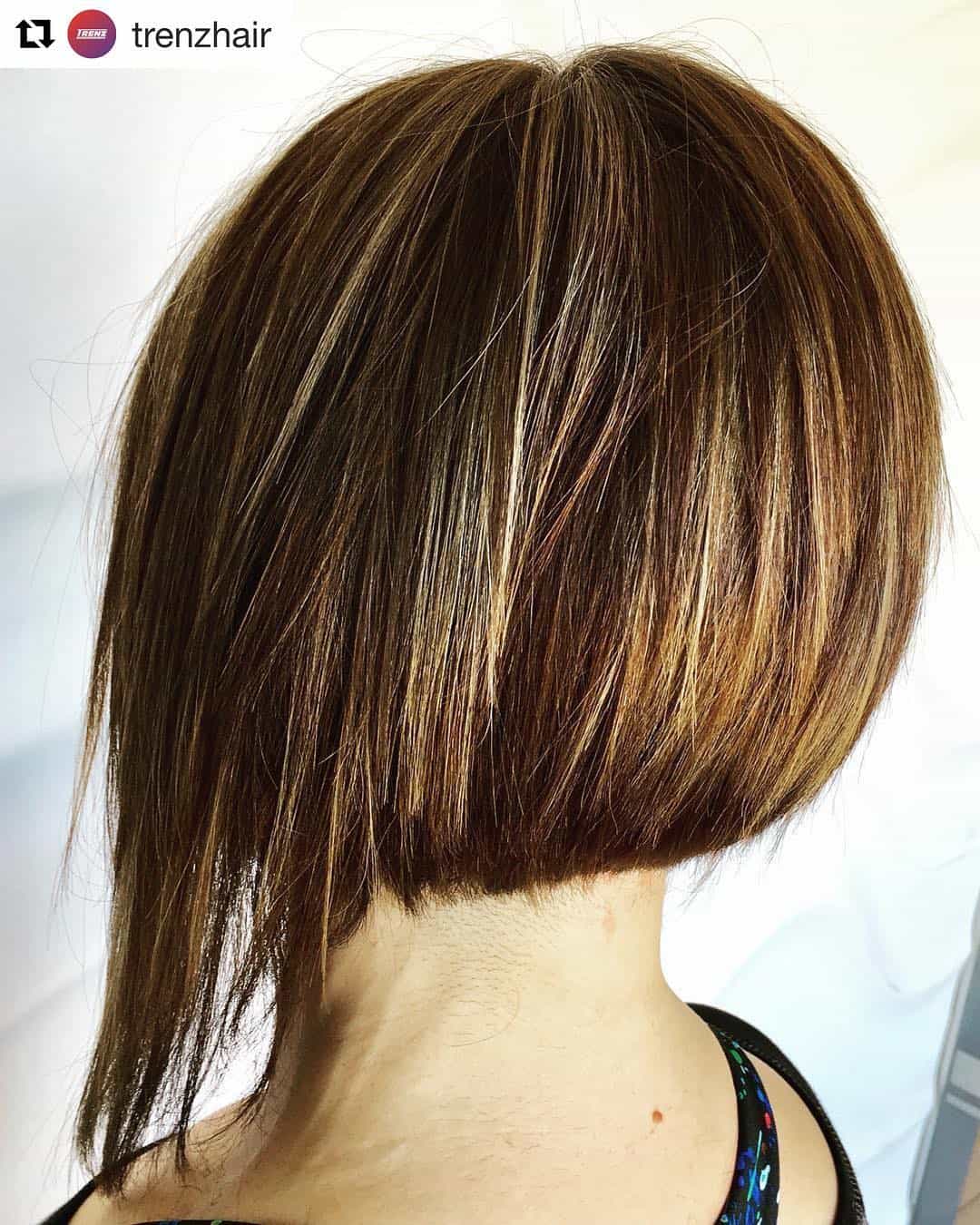 We said that in some cases, you can try both asymmetrical and inverted bob. Basically, you take geometry to the next level.
Well, as there is always the next level, you can also try adding some highlights to make it more playful.
14. Prismatic Inverted Bob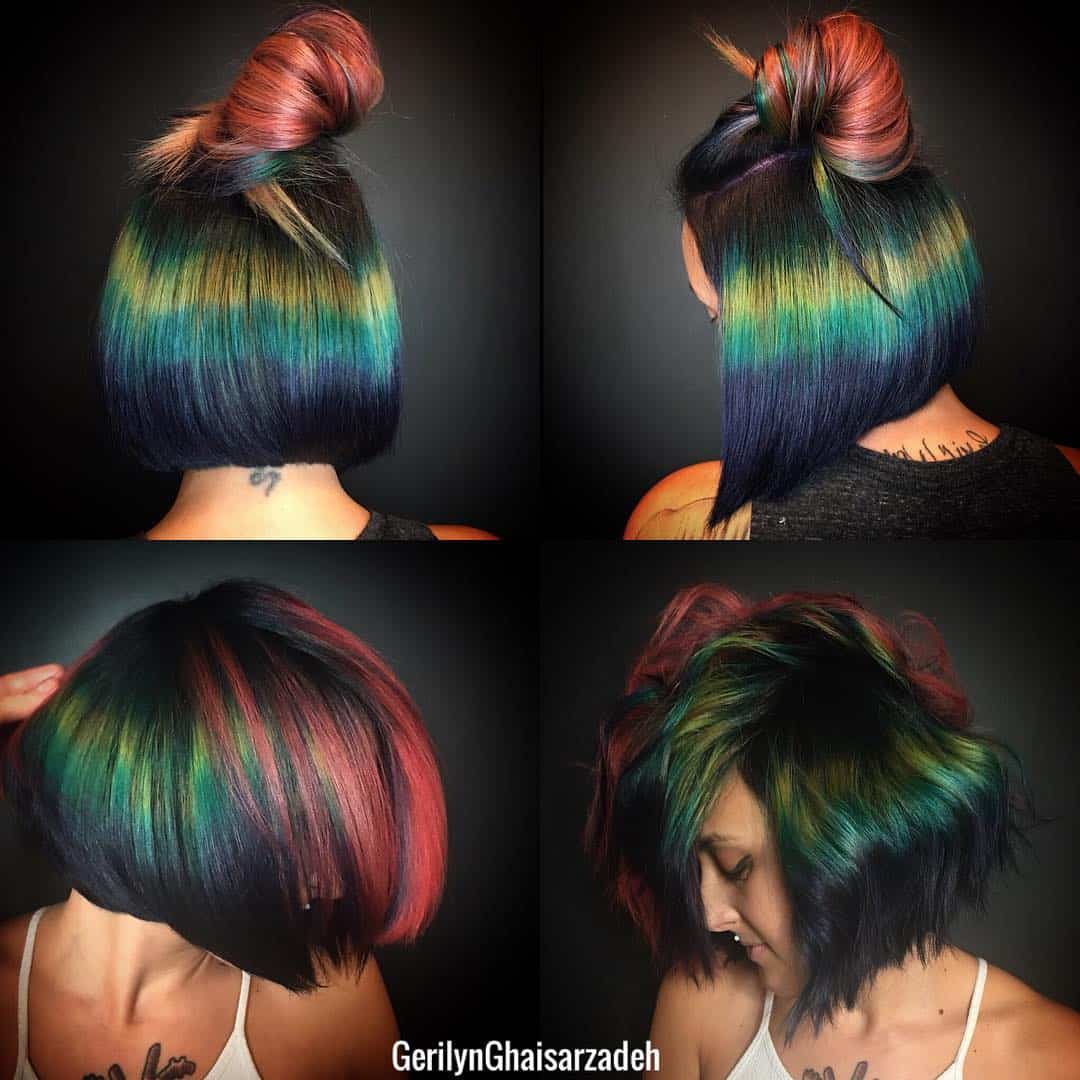 We mentioned that some unique color trends are taking over. We have the unicorn hair coloring, mermaid hair coloring, and then this is the prismatic hair coloring.
Those are the colors you can see thanks to the dispersion of white light by a glass prism.
15. Tousled Straight Inverted Bob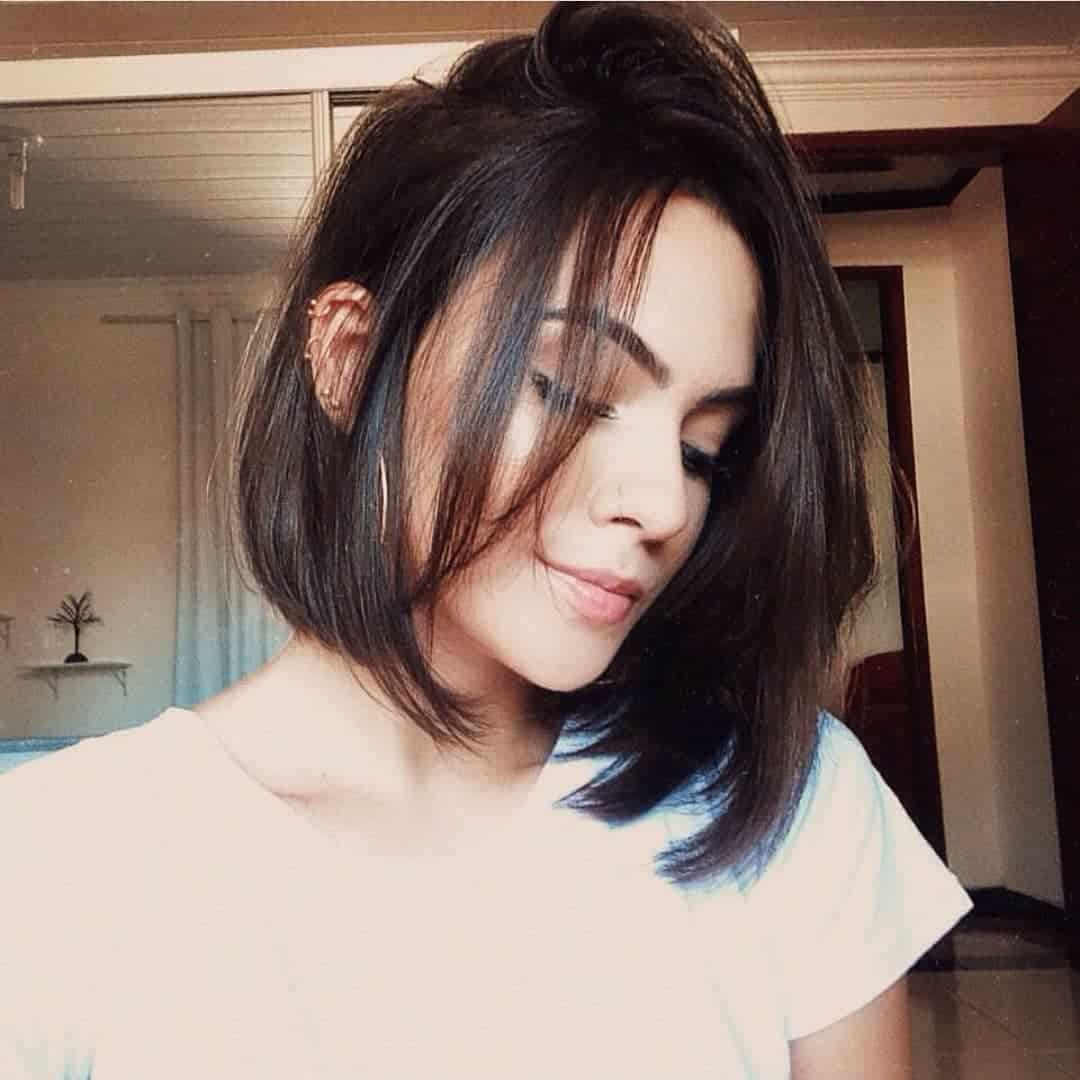 Some women like to keep it simple. And then just add just a fine touch to their hairstyle. For example, you can just toss some hair strands to the side, and your inverted bob looks differently in a second.
16. Ash Blonde To Silver Balayage On Curled Inverted Bob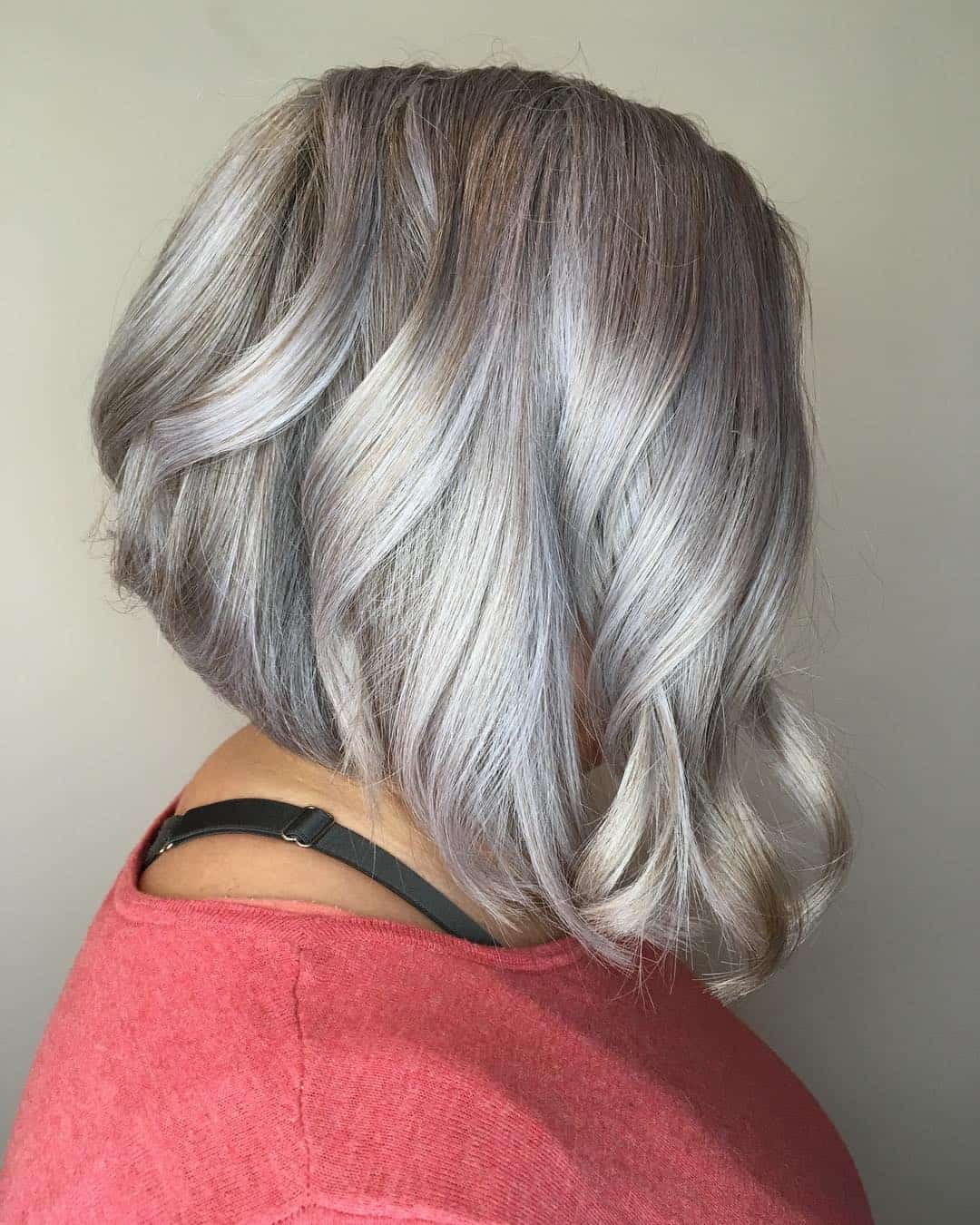 We live in an era where women are embracing their gray color. Even more, some women are dyeing their color gray on purpose.
Now that is a new thing. But we have to admit, gray, platinum, and ash blonde has never looked so damn cool and hot.
17. Burgundy Curly Inverted Bob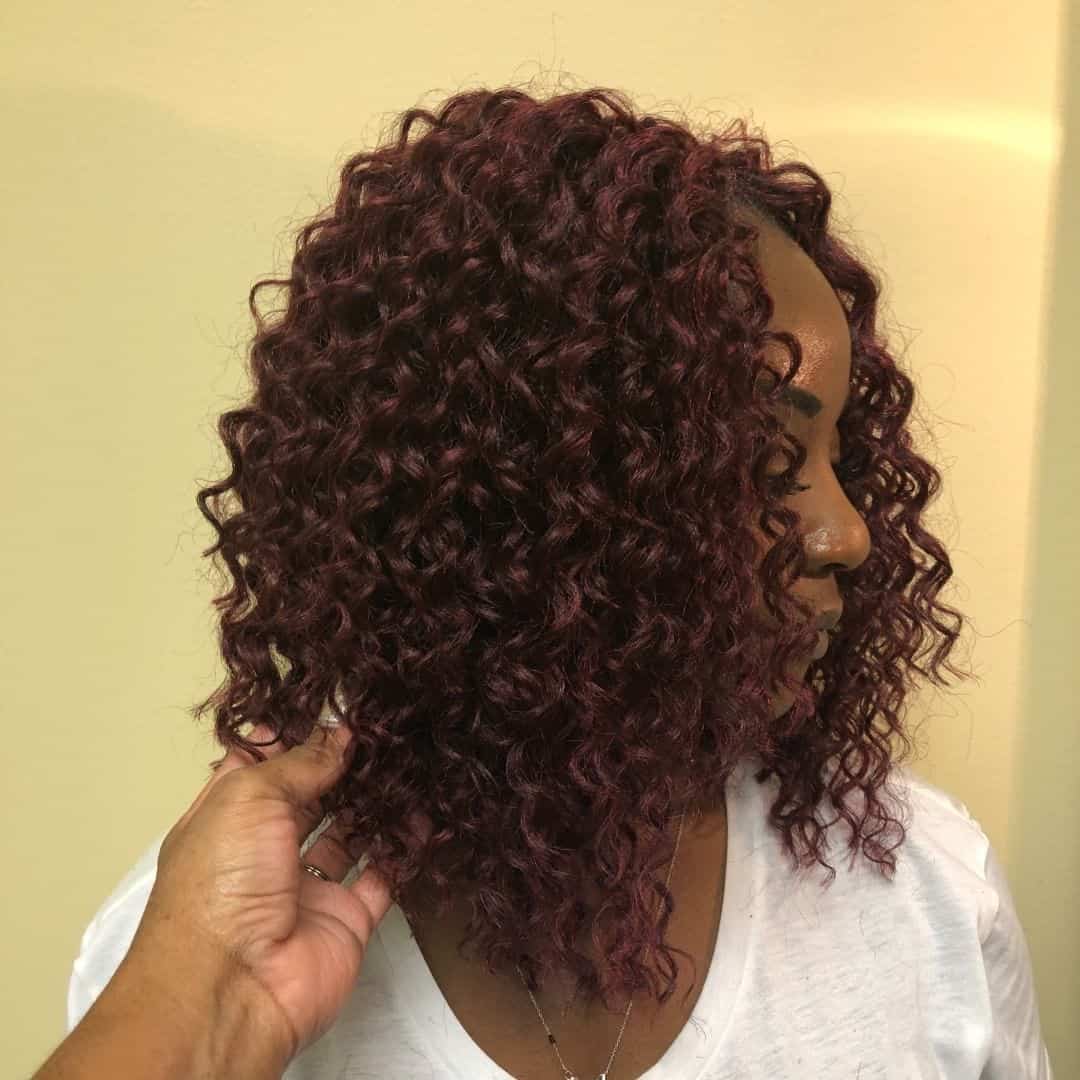 If you are into classic hair colors that are trending, burgundy is a safe choice. One of the colors of the year in the past couple of years, burgundy is elegant, royal, and luxurious. You cannot go wrong with it.
18. Peacock Melt Long Inverted Bob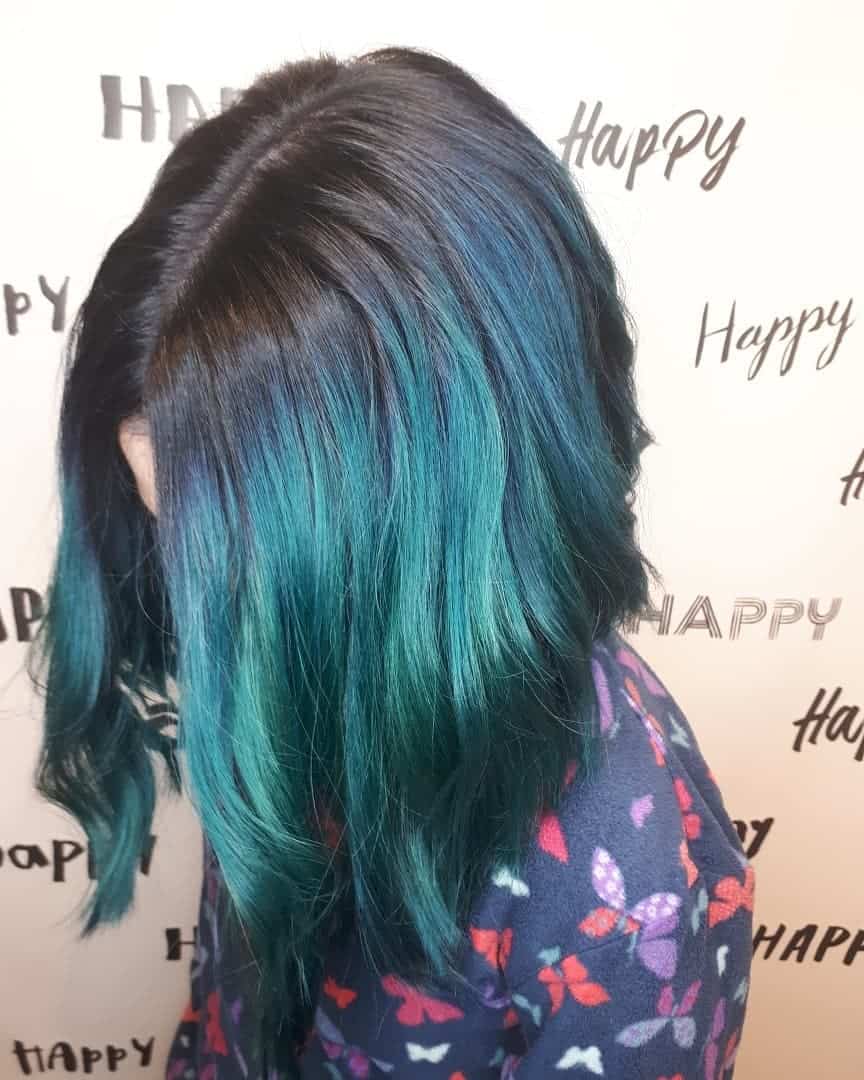 On the other hand, you also have hair coloring trends like peacock. This falls in line with the mermaid, unicorn, and similar hair coloring trends.
We have to admit, we like it, but we are also cautious about it. Not many women can pull this off. However, if it fits your lifestyle, it is an amazing choice.
19. Elegant Inverted Bob With Light Blonde Highlights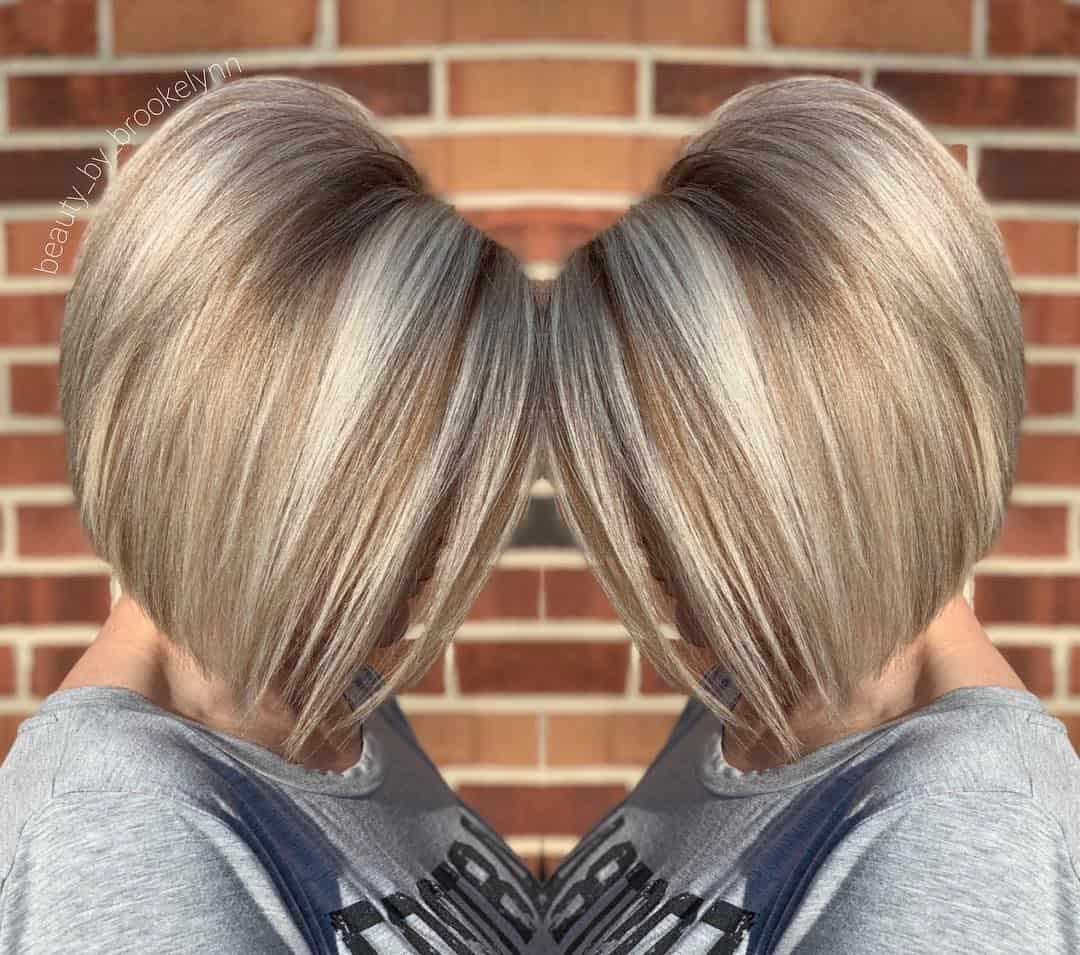 One of the best things about the bob, or the inverted bob hairstyle is its versatility. You can have a casual inverted bob, and you can have elegant. Basically, depending on the occasion, you can easily switch it up. If you want something for a red-carpet event, this blonde classic and elegant look is suitable.
20. Brunette Inverted Bob With Soft Curls And Peachy Rose Tips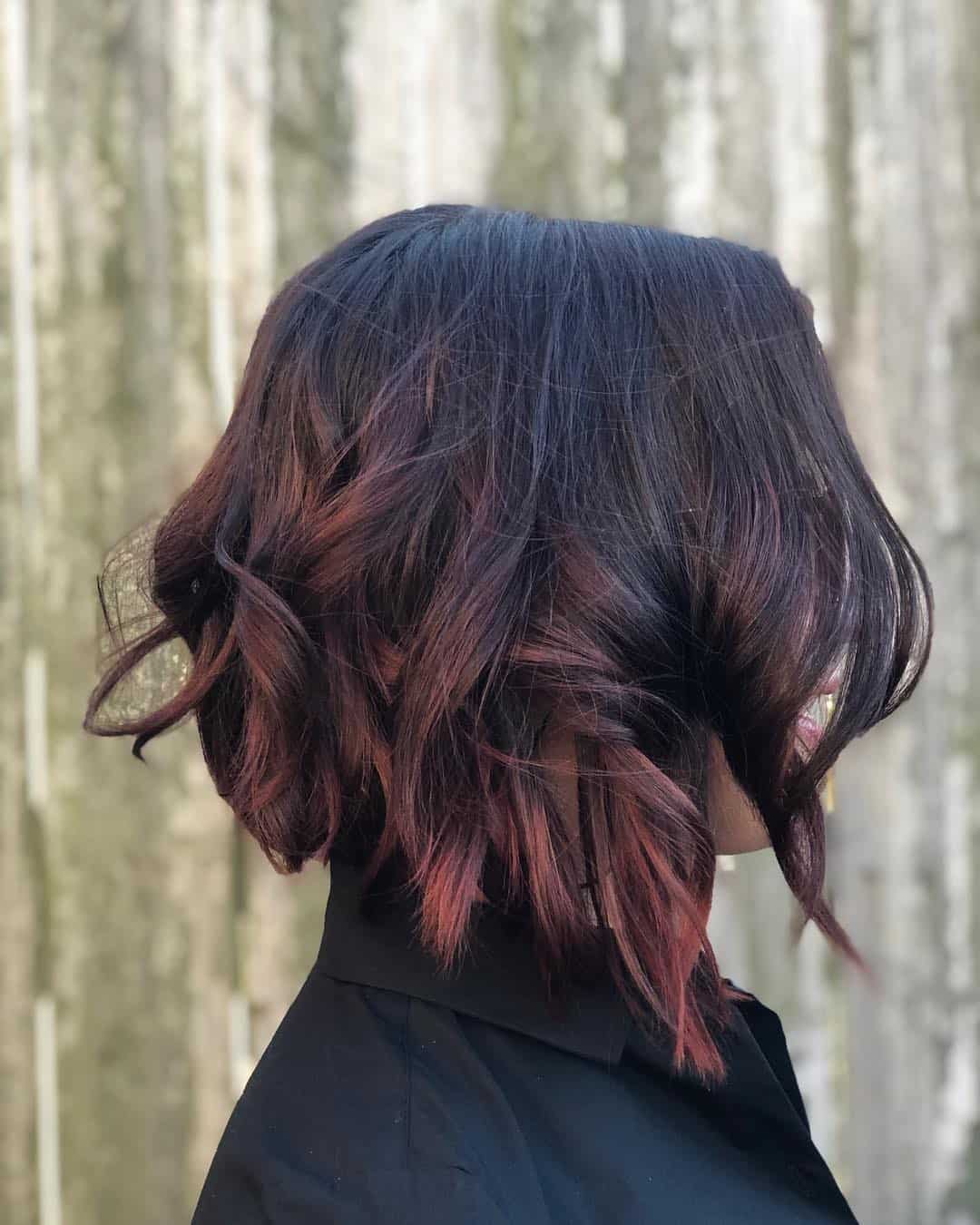 Brunettes are blessed with unique hair color. Their hair can blend in with almost any color. Whether you want light or dark, you can get there.
And you can also try some of the trends like a peachy and violet color. The curls at the ends are what make the hairstyle unique, and the color is just a bonus.
21. Shaggy Platinum Blonde Balayage Inverted Bob
The shaggy cut is very similar to bob in some aspects. You have more hair around the crown, and layers feathered at the top and sides.
The hair thins around the edges, a style that can easily be combined with a bob hairstyle. Multiple layers add volume to the hair.
22. Ginger Balayage Waved Inverted Bob
Gingers are more popular than ever. You do not believe us? Just look at red carpet Hollywood events.
More and more ladies are going the ginger way. If you do not want to go over the top ginger, try the balayage route. It is always the safest way.
23. Wild Highlighted Long Inverted Bob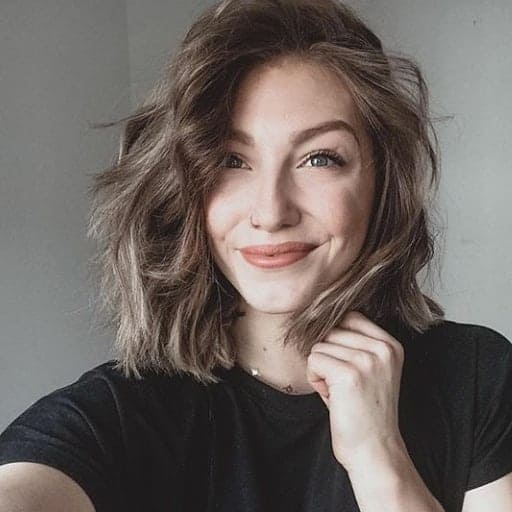 We love it when women manage to pull of "organized chaos". It looks messy, but in a good way. That is not something that is easy to pull off. And it gives you a more natural feeling look.
24. Blonde Inverted Wavy Bob With Red Highlights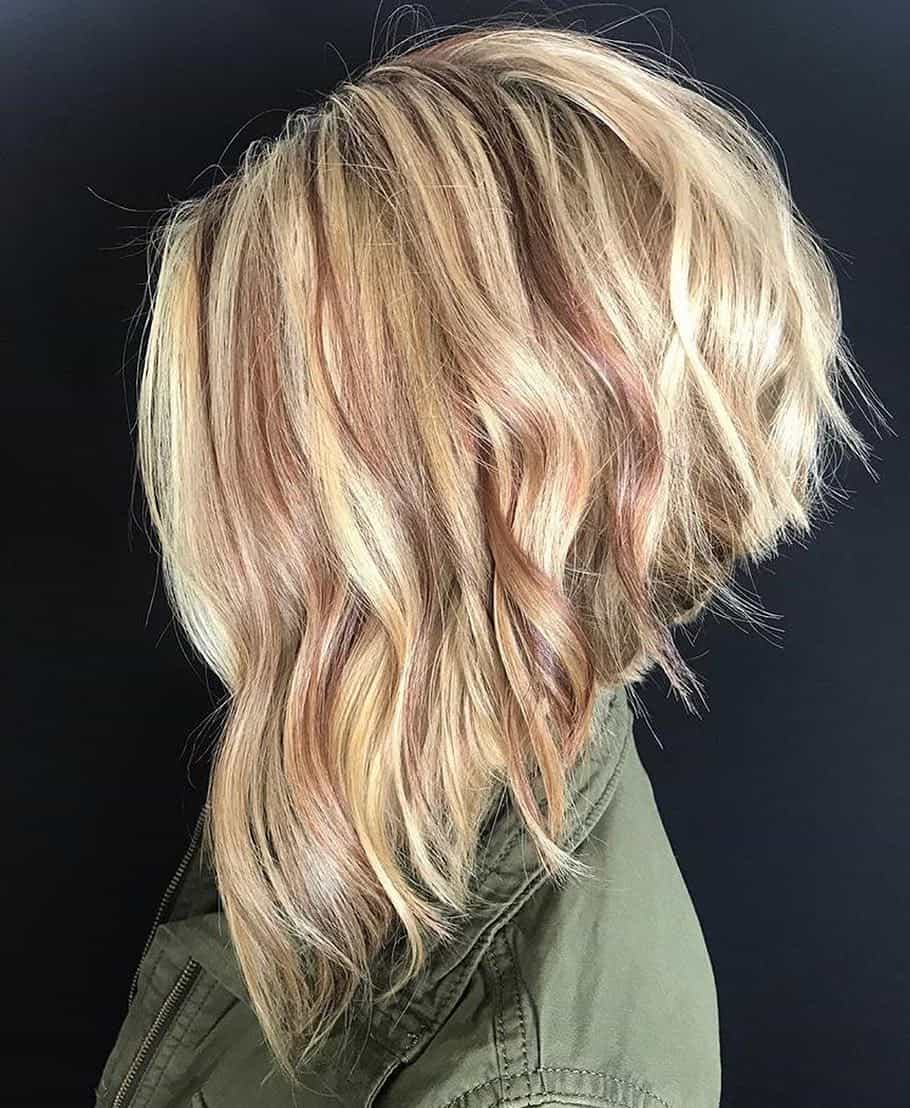 When you go blonde, you never go back. But every now and then, you want to spice it up. What can you do? Well, try red subtle highlights to see if they work for you.
25. Purple Hued Choppy Inverted Bob
Choppy bob is one way of saying medium-long hair. The haircut is great when you want to vibe laid-back attitude. Unlike other bob hairstyles, the hair is cut in layers, not in one length.
26. Blonde Inverted Bob With Pink Streaked Bangs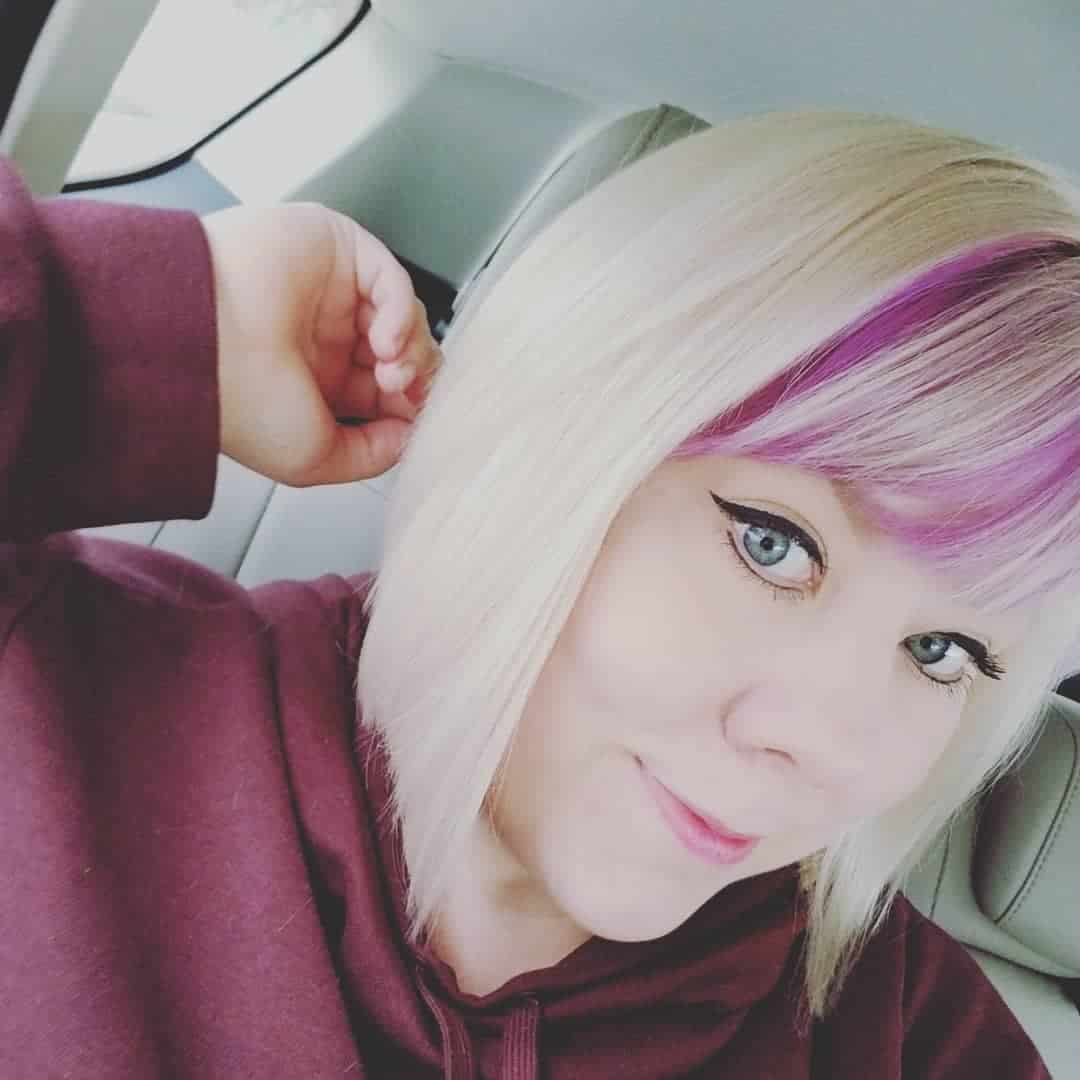 Have you ever tried accent nails? Well, this is the same principle, only on your hair. Basically, you want to emphasize just one hair strand, and in a color that pops. Pink definitely fits that bill.
27. Textured Inverted Bob With Deep Red Peek-A-Boo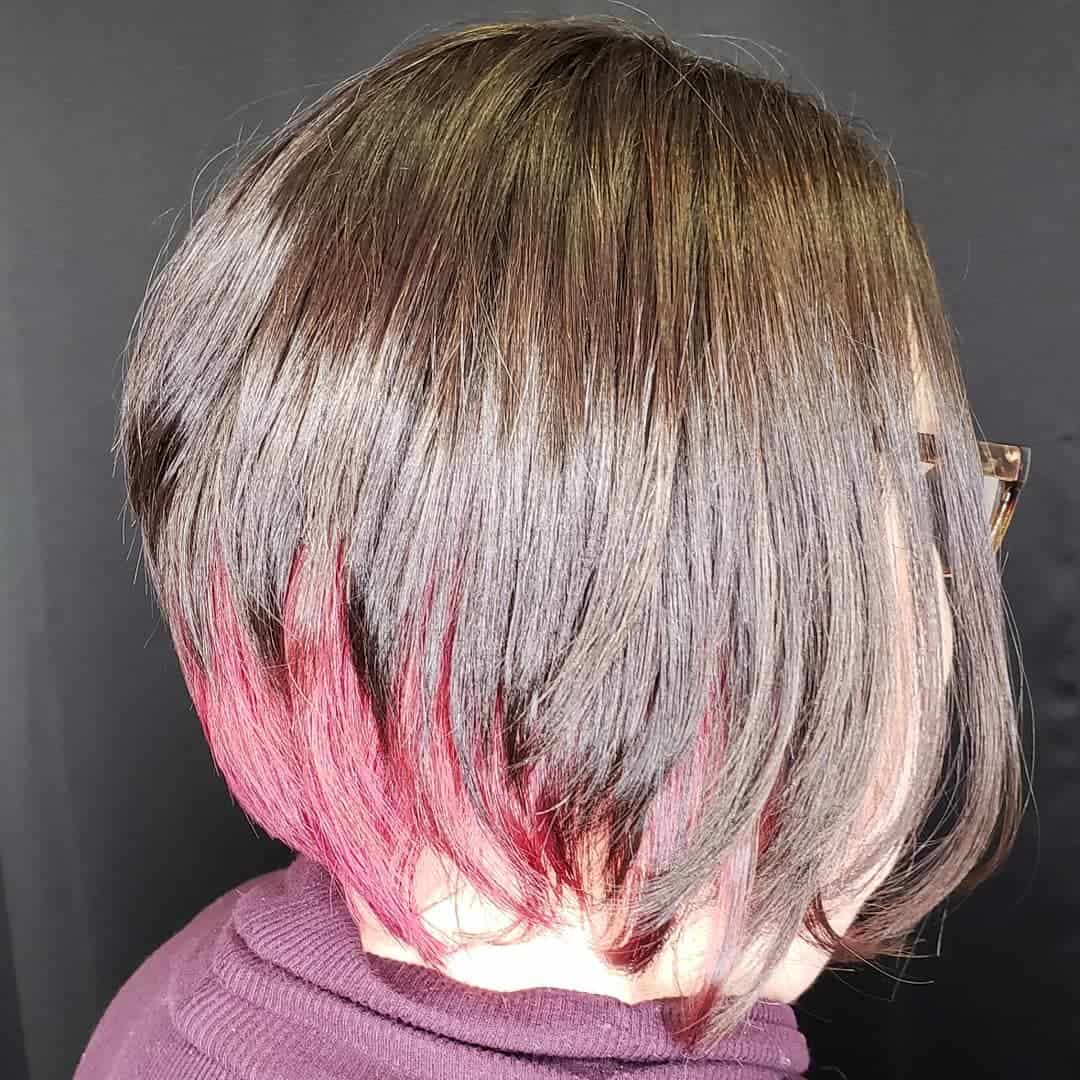 Peek-a-boo is a game we loved as children. You hide, and then you pop. Well, this reddish color certainly pops. And it looks bold.
28. Inverted Bob In Wild Curls With Shorter Bangs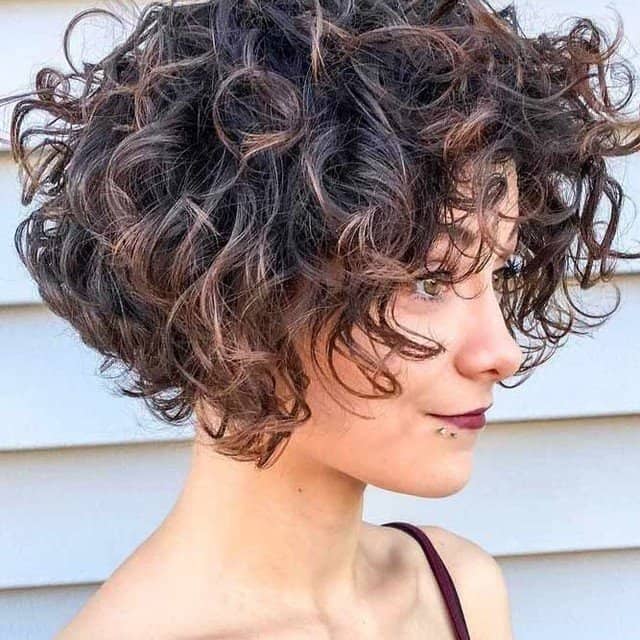 Curls and bob, those are two things that rarely are mentioned in one sentence. Why?
Well, because bob is supposed to be elegant and classic, while curls are wild and adventurous. But as you can see, everything works together when done right.
29. Black Layered Blow Dried Inverted Bob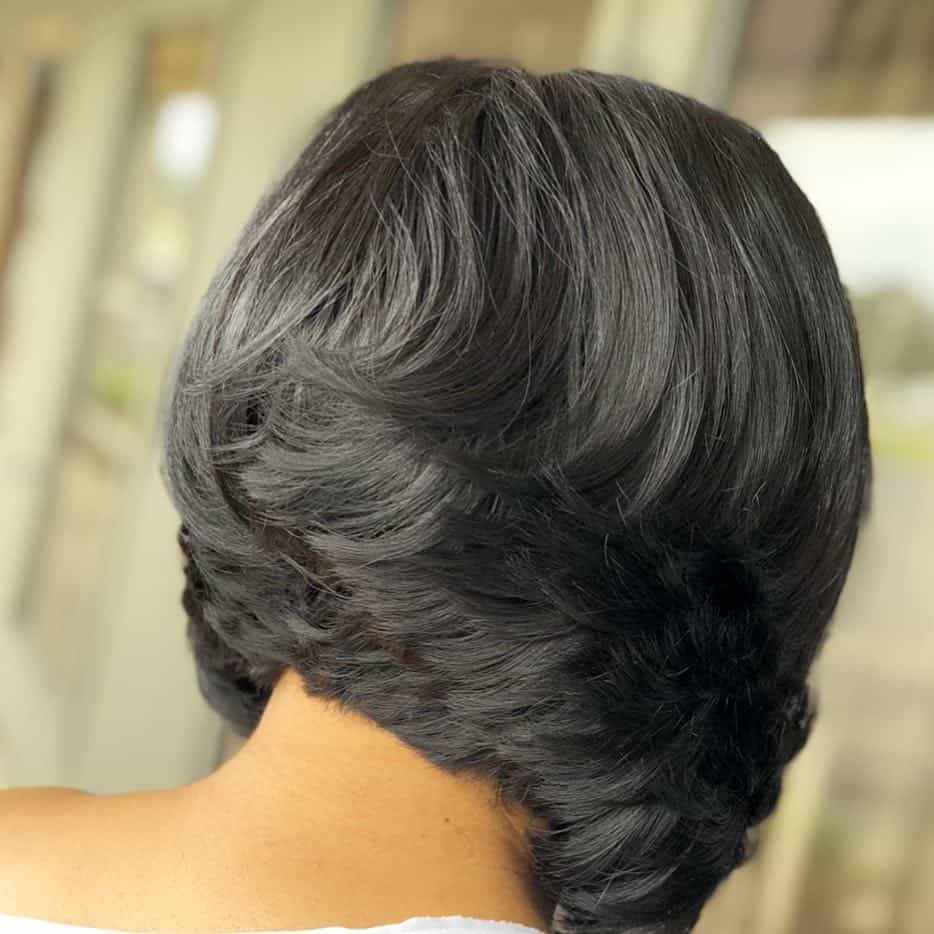 For the very end, we want to give you a classic inverted bob hairstyle. You just have to be crafty with your blow dryer to get there.
With that in mind, if you have some other ideas for inverted bob hairstyles, feel free to share them.