We understand the appeal of a fresh hairstyle but also recognize that not everyone wants to schedule a salon appointment for a dramatic change. That's where the beauty of braided hairstyles comes into play, especially the side braid. This hairstyle is not just easy to create but also adds an instant touch of elegance or playfulness, depending on how you style it. From a simple side plait to intricate braided designs, the side braid is as versatile as it is chic, making it perfect for a variety of occasions, from a day at the gym to a night out with friends.
When it comes to side braids, there's no need for extensive hair prep; a brush, some shampoo, and perhaps a bobby pin or two are all you need to get started. Celebrities have been seen rocking side braids on the red carpet, and now we can bring this trend into our daily lives. Whether you have long locks or a shorter cut, learning how to do a side braid is something we can manage at home, and we're excited to show how it's done. Stick with us and discover the many ways a side braid can elevate your look with minimal effort.
1. Inside French Braid On Long Blond Hair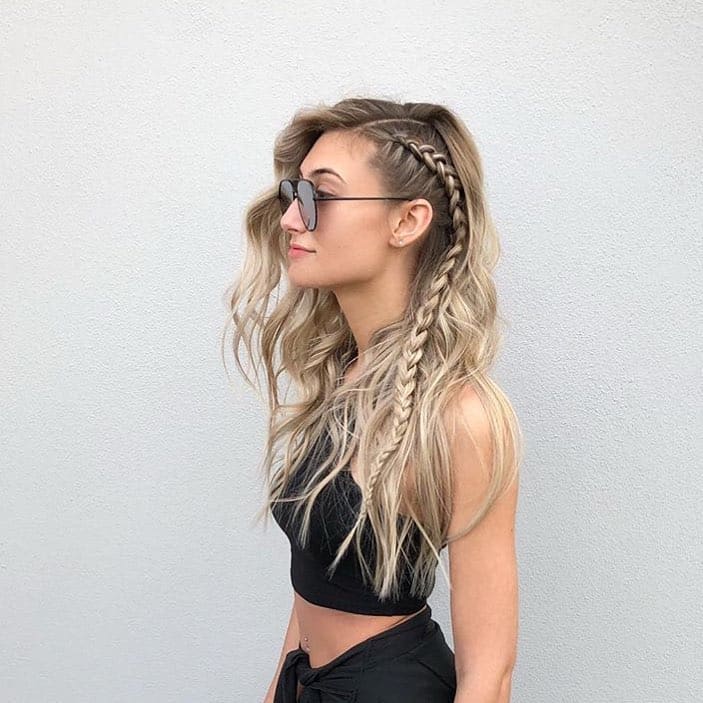 Hairstyle: Side French Braid
Hair Type: Long Blond
Steps:
Begin at the side with bangs
Weave an inside French braid
Secure with a hair tie
Result: Effortless rockstar edge with a boho twist
2. Side Micro Cornrow With Top Bun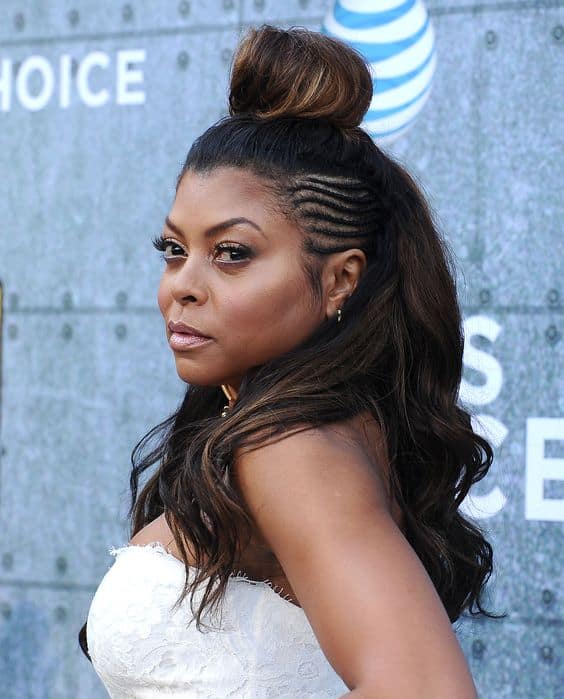 Perfect For: Those who lead an active lifestyle, seeking a combination of style and practicality.
Style Vibe: A balance of elegance and sportiness, with the practicality of cornrows and the chicness of a top bun.
Upgrade Your Look: Add micro cornrows to elevate this classic half-up hairstyle.
SEE ALSO: Best Hair To Use For Crochet Braids
3.  Waterfall Side Braid With Floral Ending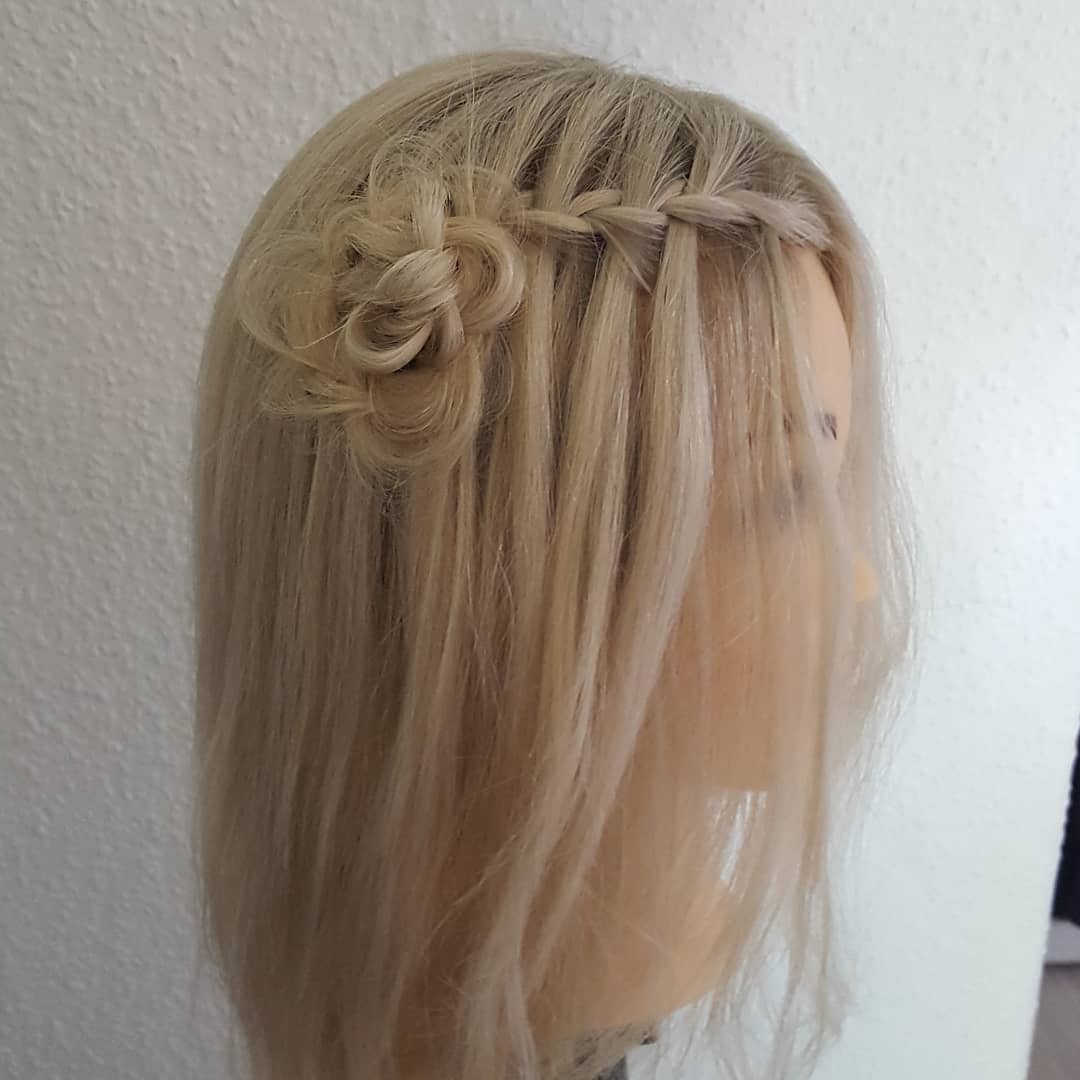 Style: Waterfall Side Braid
Texture: Wavy
Occasion: Proms, Weddings, Special Events
Look: Boho-Chic, Romantic
Season: Ideal for Summer
We combine bohemian charm with a touch of the beach by integrating waves and a mermaid braid flair into the hairstyle. The floral twist provides a whimsical finale to the braid, perfect for those embracing the romantic, free-spirited boho look.
4. Five Strand On Medium Lenght Hair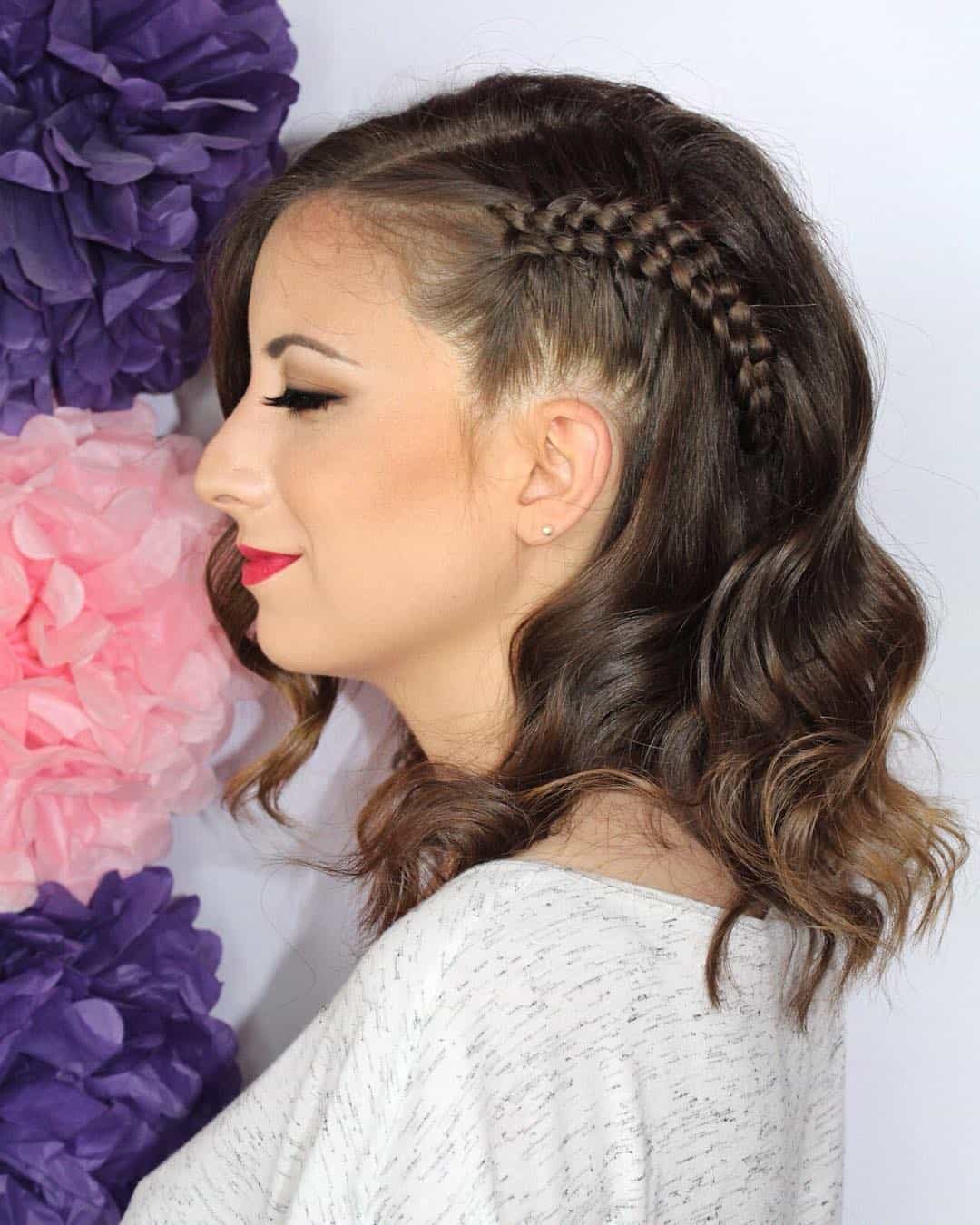 For a sophisticated twist on medium hair, we recommend the five-strand side braid, a style exuding romance and elegance. This braid can enhance our hair's natural texture, especially when prepped with a texturizing spray for grip and volume. Ideal for special occasions, its intricate pattern stands out on both smooth and thick hair, promising a stunning look.
5. Inside Double Dutch With Chignon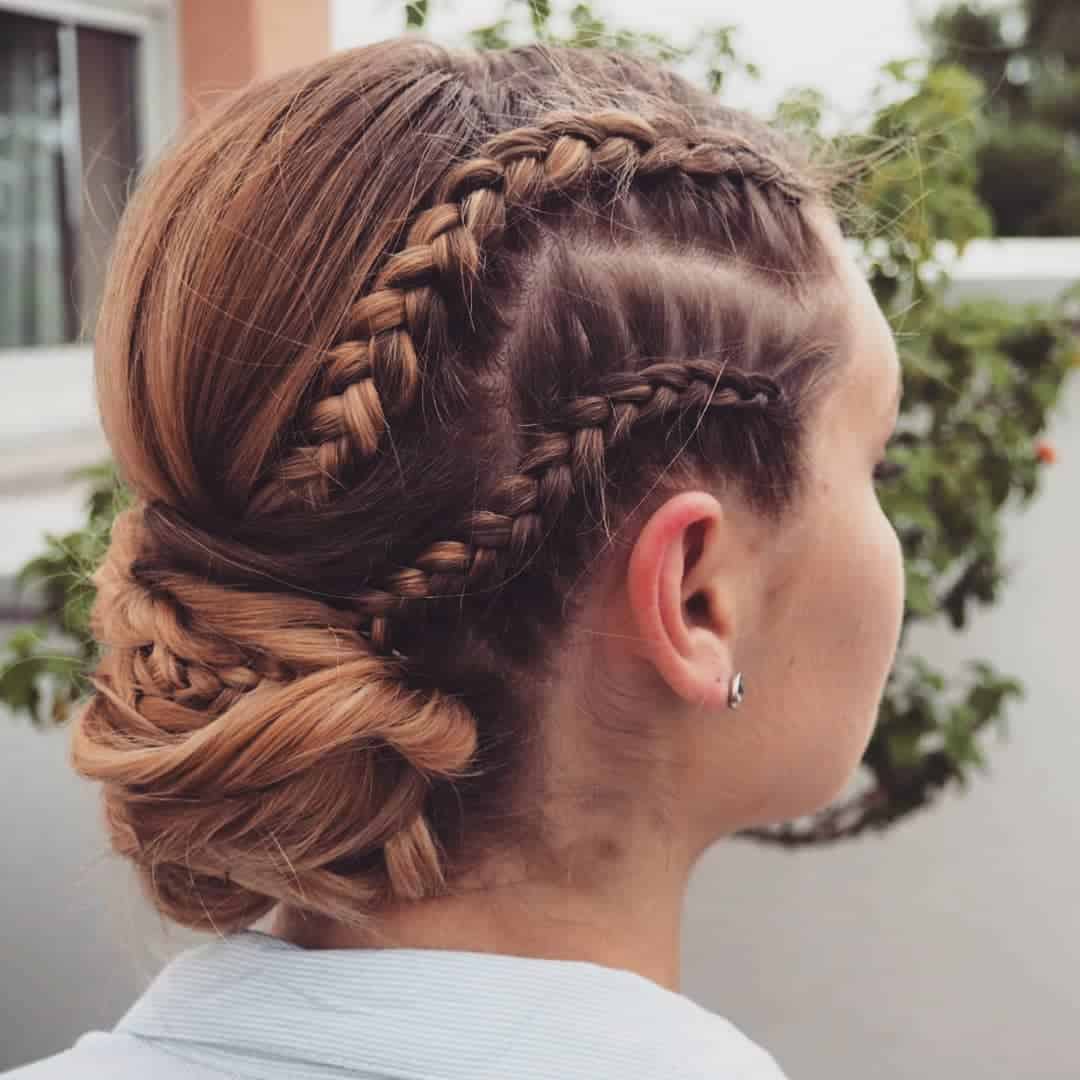 Dutch Side Braid: We integrate it elegantly into the chignon.
Side Dutch Braid: This style offers a playful twist to our updos.
Braided Bun: We accentuate the bun with a Dutch braid for a polished look.
Our technique involves weaving two side Dutch braids that converge into a chic chignon, showcasing a blend of classic and contemporary.
6. Triangle Parted Cornrow In High Pony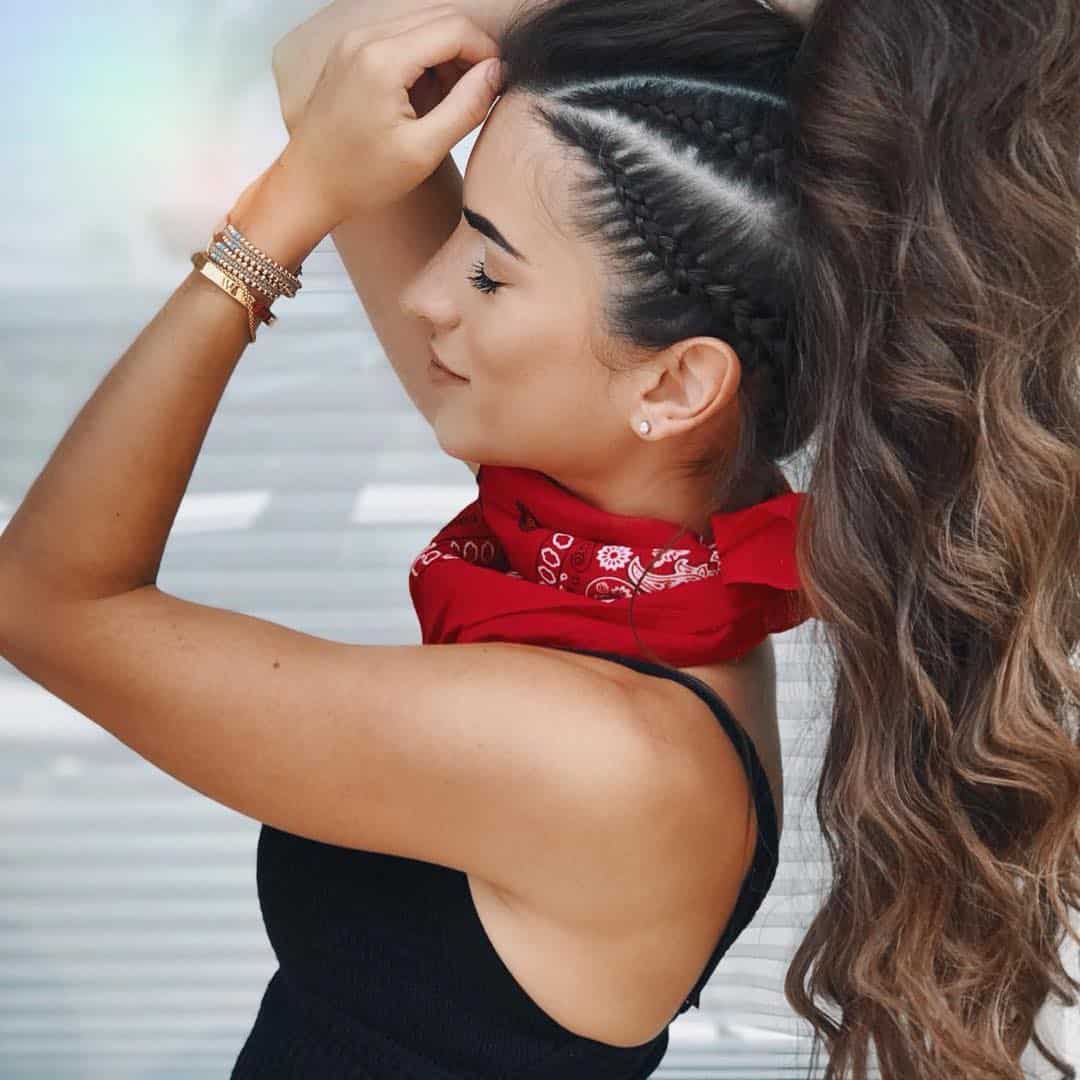 Style: High long braided ponytail
Feature: Sharp triangle parted cornrows
Occasion: Ideal for summer events
Texture: Adds a festive touch
Unique Detail: Incorporates a small side braid
7. Vertical Side Braids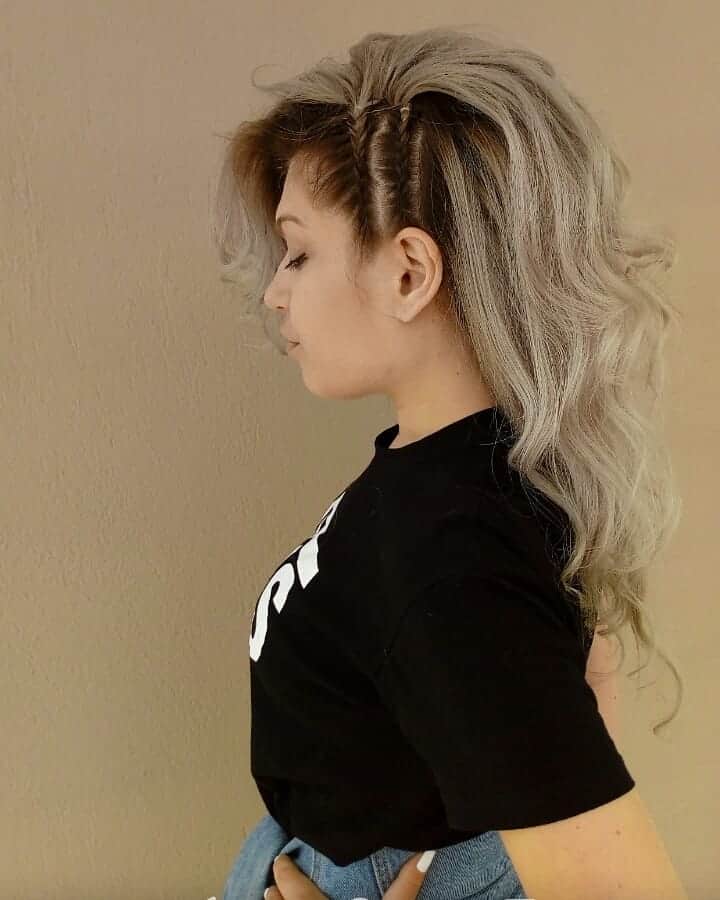 | Feature | Description |
| --- | --- |
| Appearance | Adds volume |
| Technique | Side placement, flips hair over |
| Result | Hair appears thicker |
We create vertical side braids.
We flip the top hair over.
Hair gains an illusion of thickness.
8. Pull Out Fishtail On Three Gradient Hair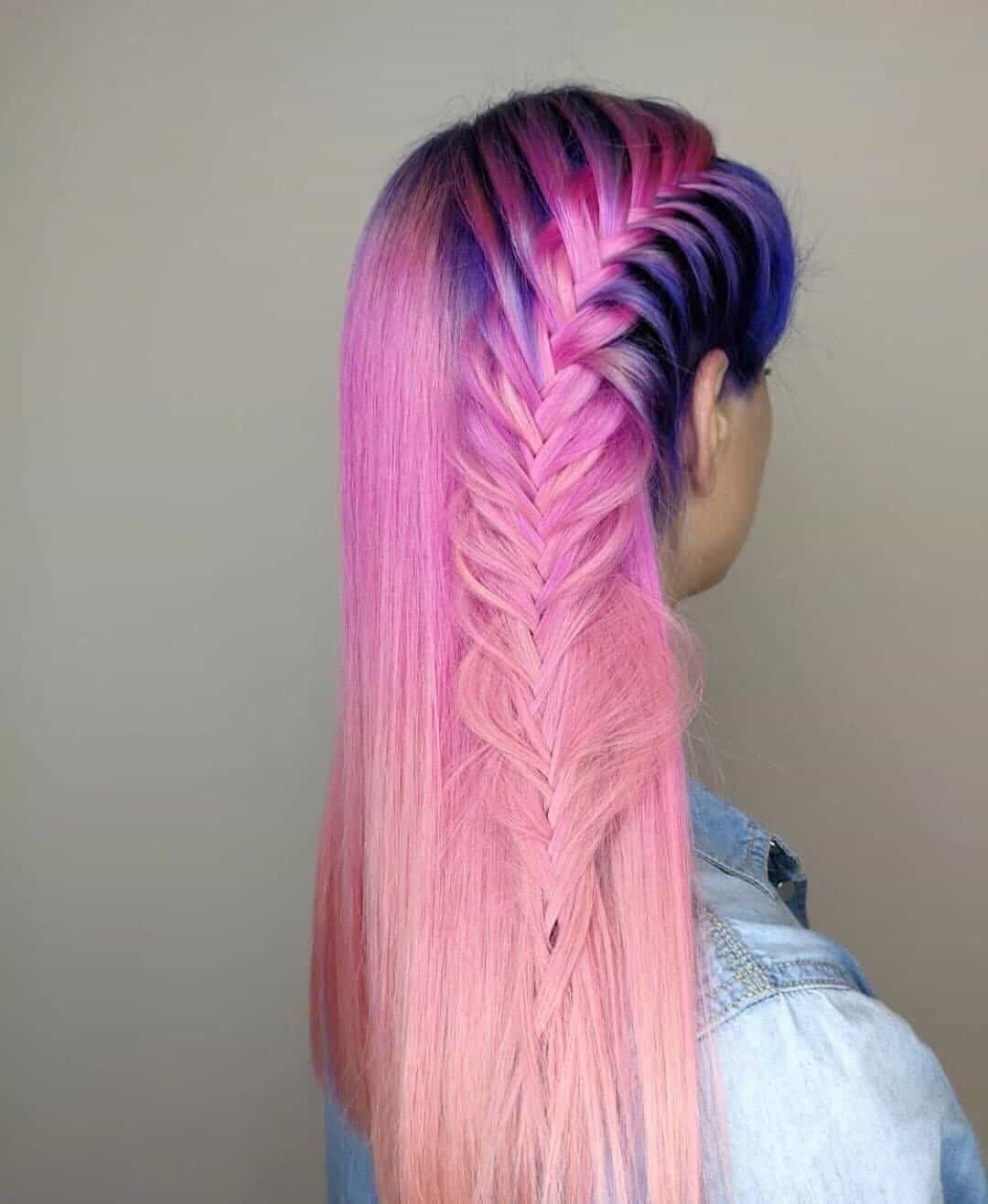 | Steps | Instructions |
| --- | --- |
| 1 | Begin weaving a fishtail braid starting at the top of your head. |
| 2 | Progress down and incorporate hair to create a fishtail side braid. |
| 3 | Gently pull at the edges of the braid to create a fuller, more relaxed look. |
We admire how Blake Lively dons the side fishtail braid, especially on multi-tonal locks.
Our tip for sleek starting texture? We suggest checking insightful reviews on tools like Babyliss flat irons for optimal straightening.
9. Branching Cornrows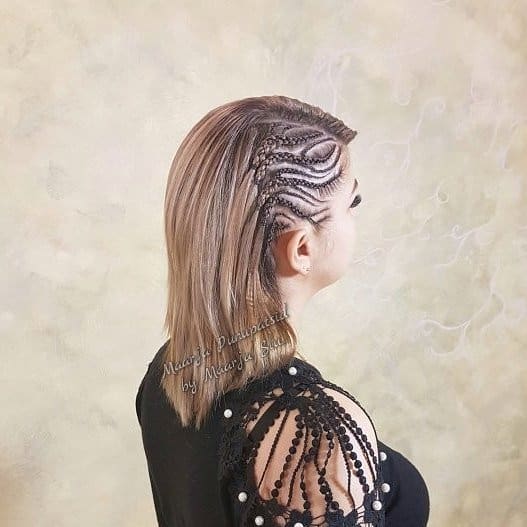 Versatility: Perfect for formal events or adventurous nights.
Protection: Guards against hair breakage.
Style: Interweaving cornrows with free-flowing locks at the back for a dynamic aesthetic.
Adaptability: Can infuse elements of box braids or weaves for a personalized touch.
10. Edged Side French On Pixie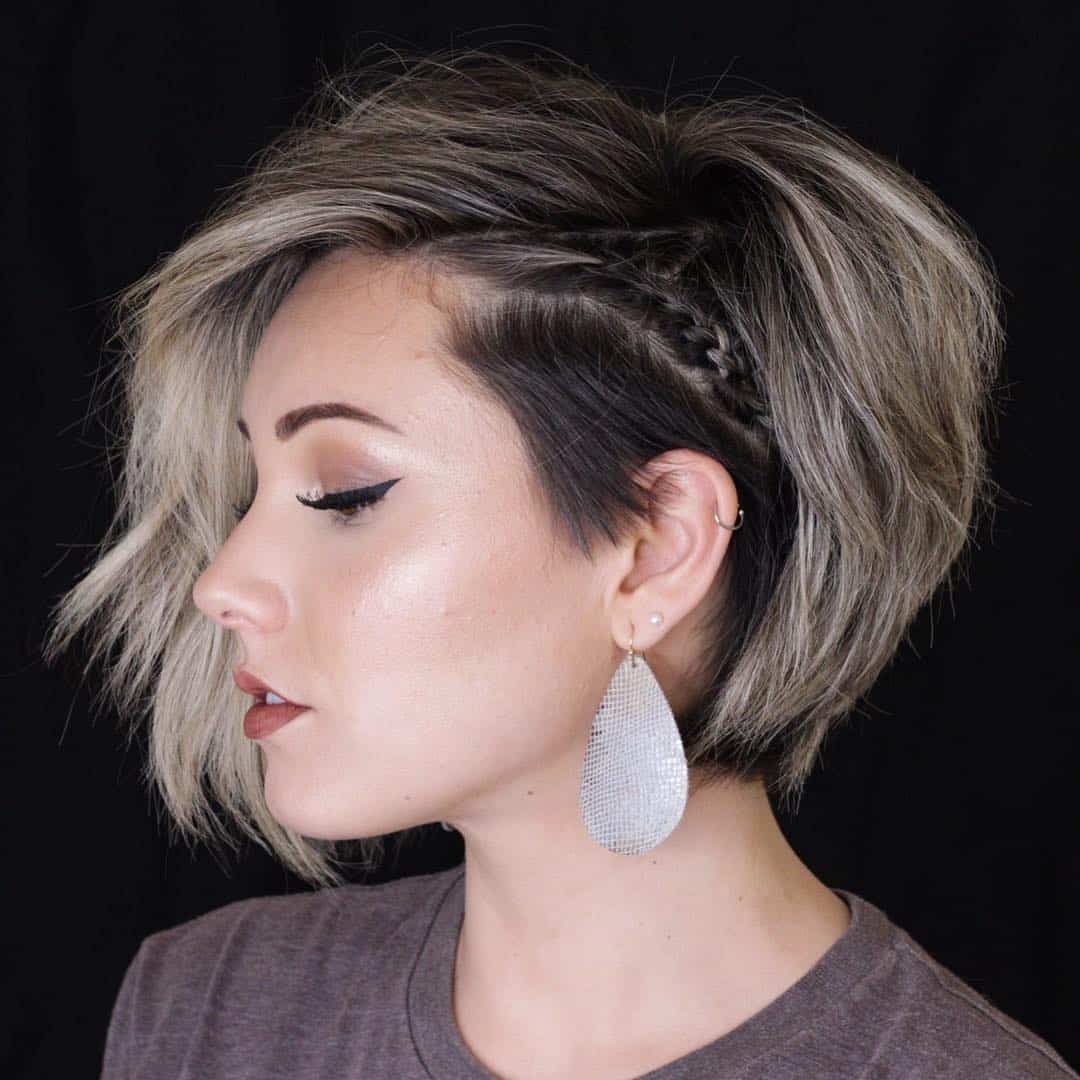 Optimal for a formal event
Requires a longer pixie
Incorporates a single French side braid
Creates an elegant side part
Ideal for a distinctive, chic look
Maintenance: Minimal. Style Time: Quick. Effect: Polished.
11. Hawaii Cornrow Side Braid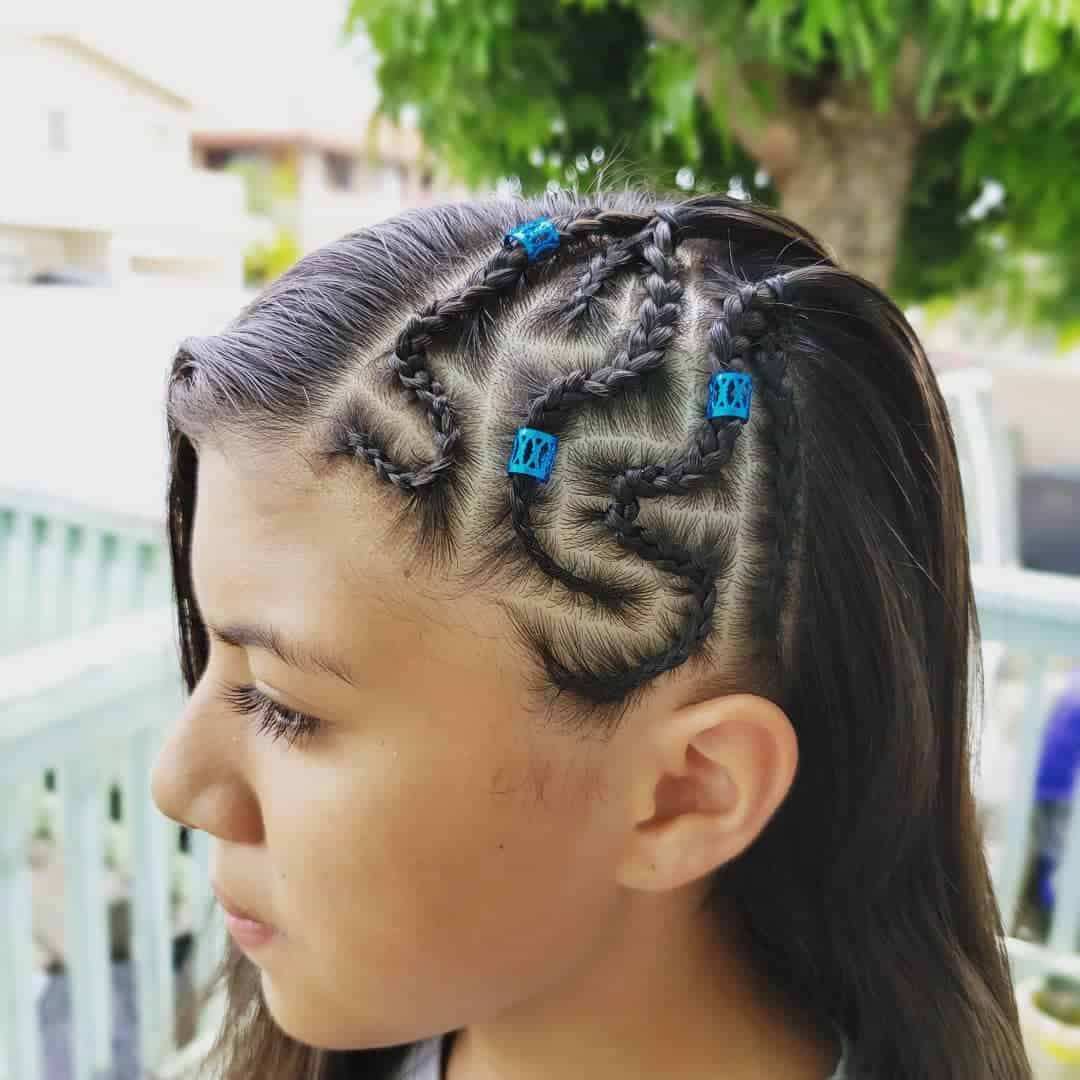 Styling Steps:
Begin with clean, sectioned hair.
Weave side cornrows in a curved pattern.
Accessorize with marine-inspired jewelry.
Perfect For:
Beach outings
Laid-back events
Tips:
Ensure sections are even.
Incorporate colorful cuffs for flair.
12. Loose Inside-Out French On Bob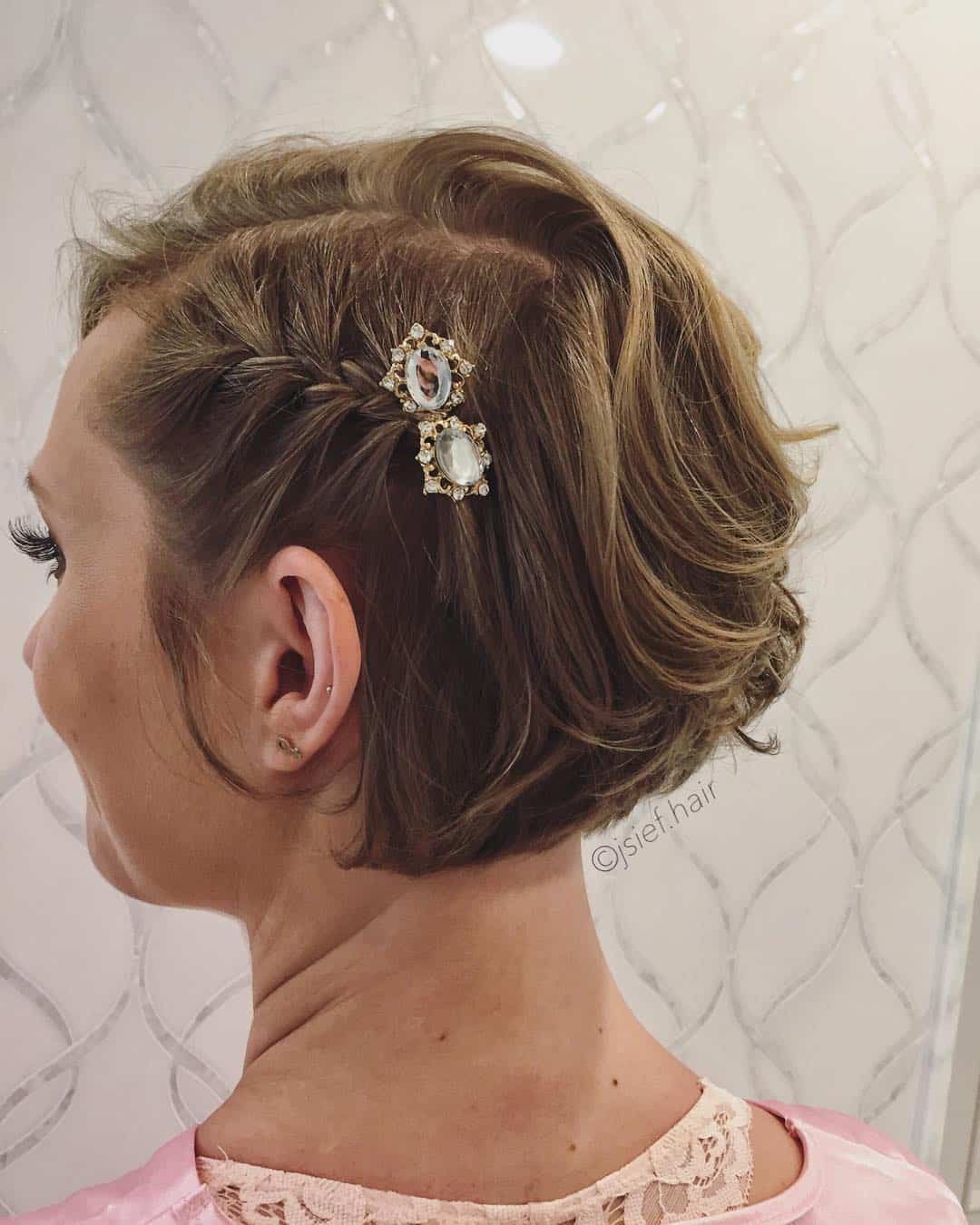 Hairstyle Feature: Inside-out French braid
Ideal for: Short hair, like a bob
Styling Tips:

Begin with dry shampoo for added texture
Braid loosely for volume
Secure with a hair tie
13. Platinum Mohawk With Looped Woven Braids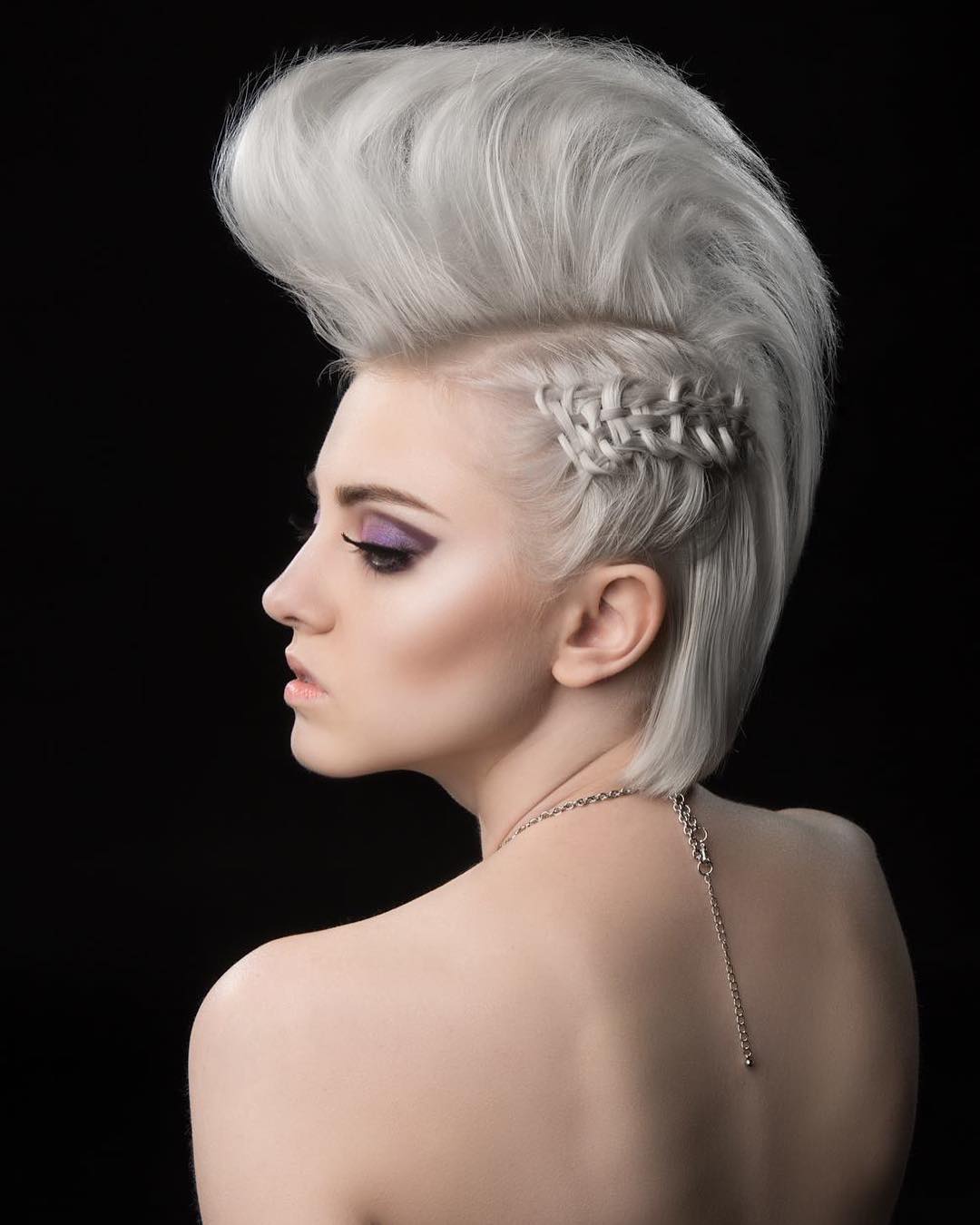 Style: Platinum Mohawk; Side Looped Braid
Occasion: Bold party statement
Hair Tone: Platinum Blond
Braid Detail: Intricate Woven
Our approach combines a high spiked Mohawk with a sleek, woven braid for an audacious look that captures attention.
14. Side Cornrow On Natural Hair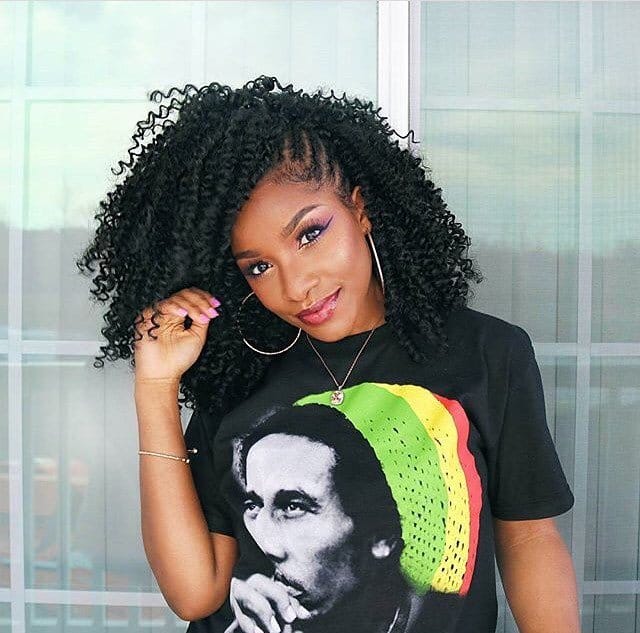 We recommend this style for a playful touch to natural curls. Janelle Monáe often sports similar looks, showcasing versatility.
Maintenance:
Emphasize baby hairs
Preserve hairline integrity
15. Double Knotted Side Braid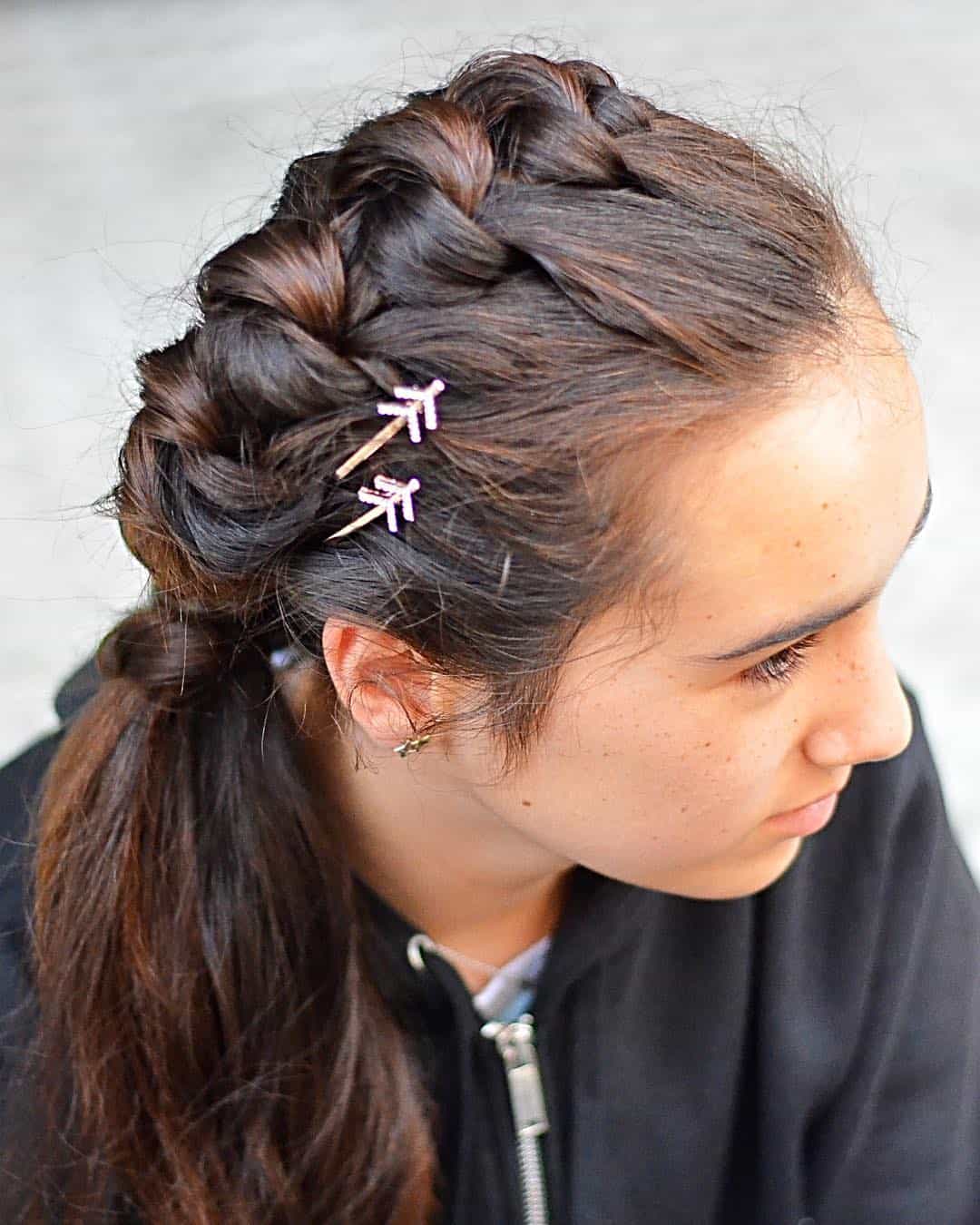 We recommend enhancing your side braid with Double Knots for an effortless yet stand-out look:
Accent Braid: Begin with a side accent braid.
Knotting: Create two knots using this braid.
Final Touch: Secure the style to maintain its unique twist.
This easy upgrade adds a playful twist to a classic style.
16. Half Halo Braid With Ponytail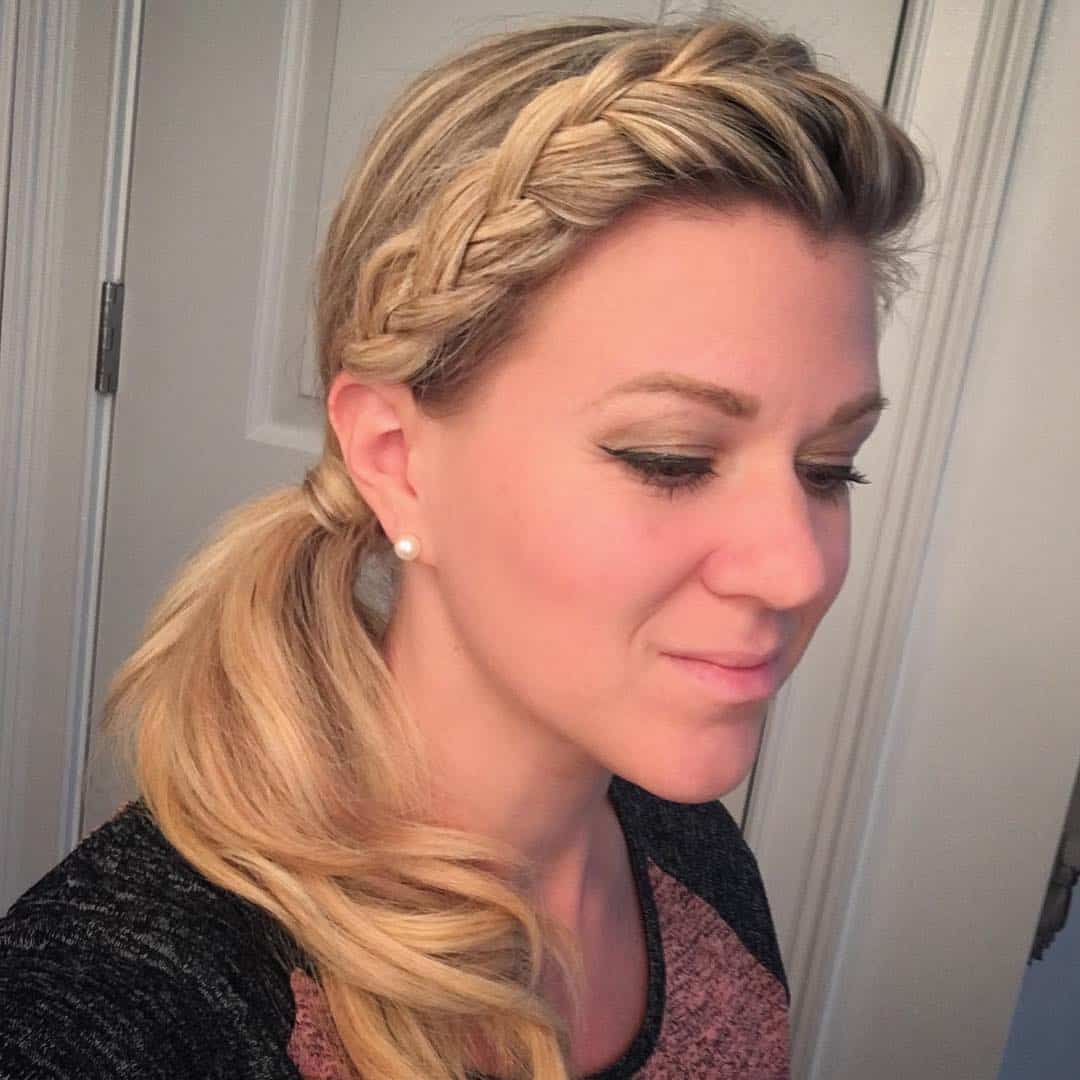 A versatile choice for varied engagements.
Weaves a delicate bow or heart into the style for added charm.
The braided crown transitions smoothly into a ponytail, exemplifying elegance and function.
17. Four French Cornrows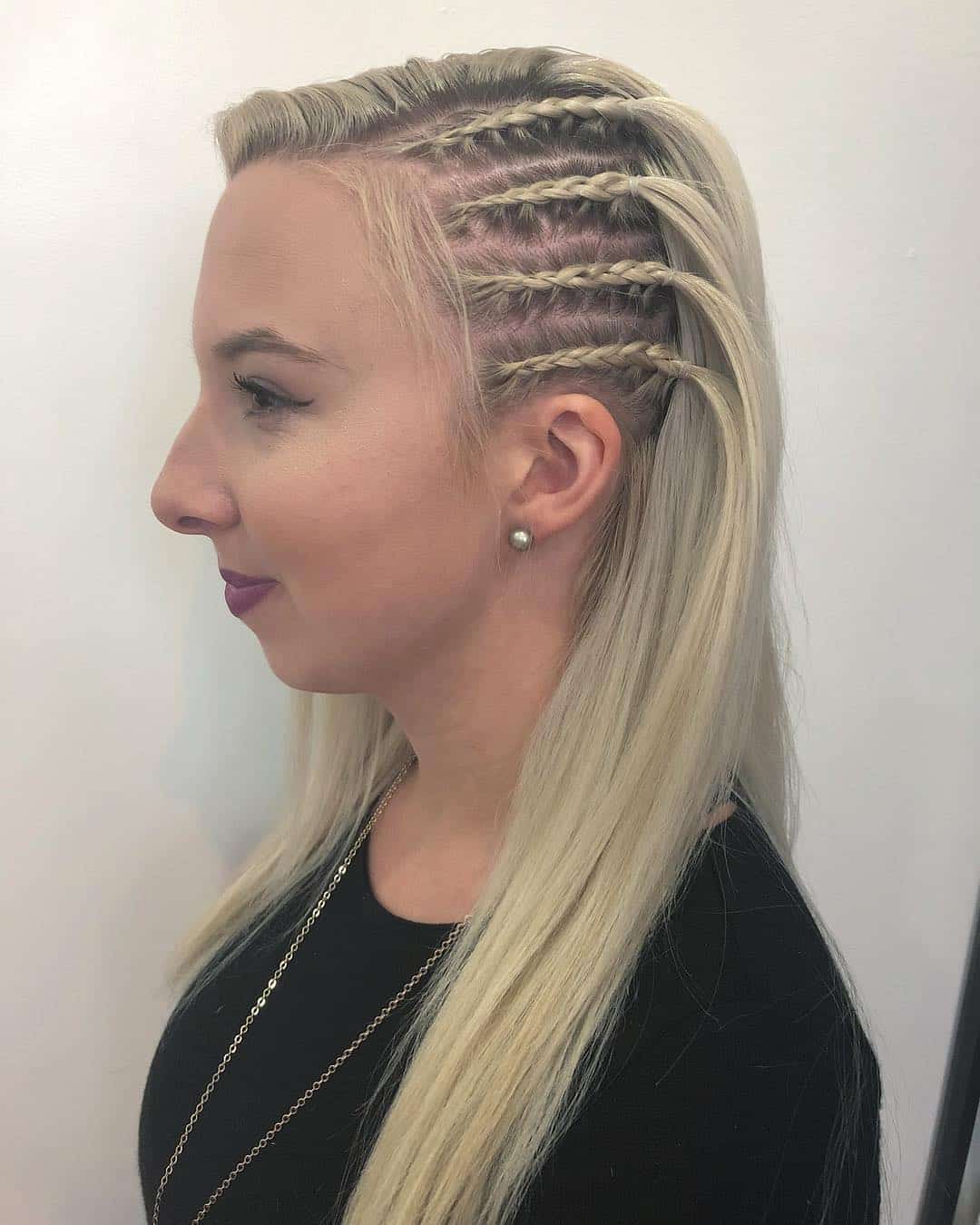 Technique: Inside out French braids
Quantity: Four Braids
Position: To the side
Hair Length: Best for shoulder length
Texture: Adds more texture
Ideal for those seeking a textured look akin to traditional Dutch braids.
18. Loose Short Strand Braid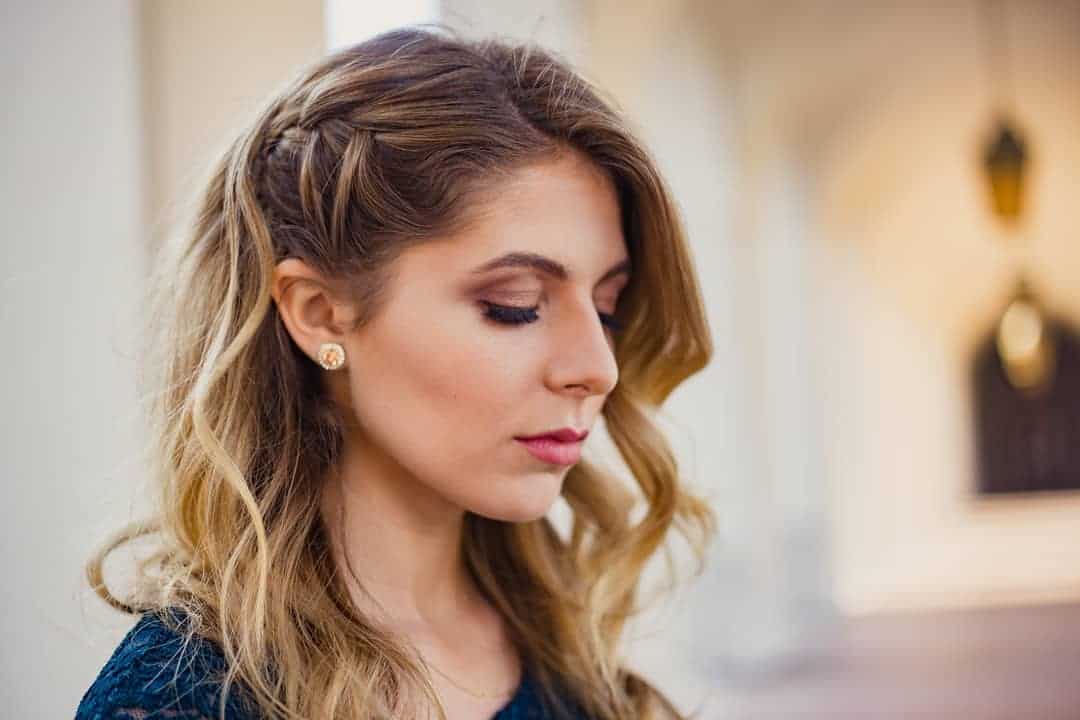 For fine or thin hair, we recommend:
Gently braid a few short strands
Secure with an elastic or hair clip
Achieves a subtle, elegant style
This method offers a simple yet sophisticated look.
19. Six Strand Side Braid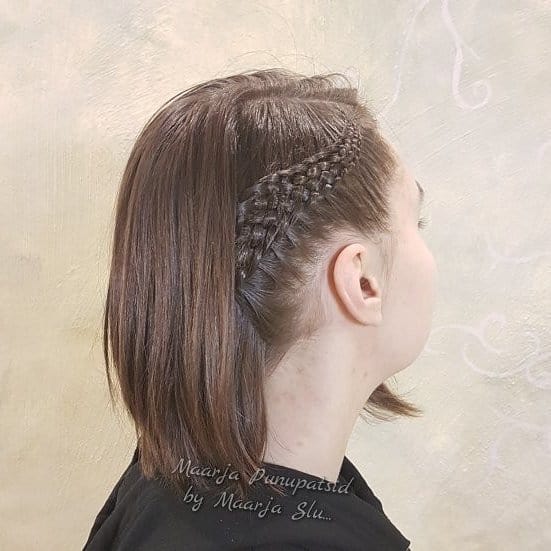 Divide hair into three sections
Weave into a messy fishtail
Secure ends for lasting hold
20. Corset Side French Braids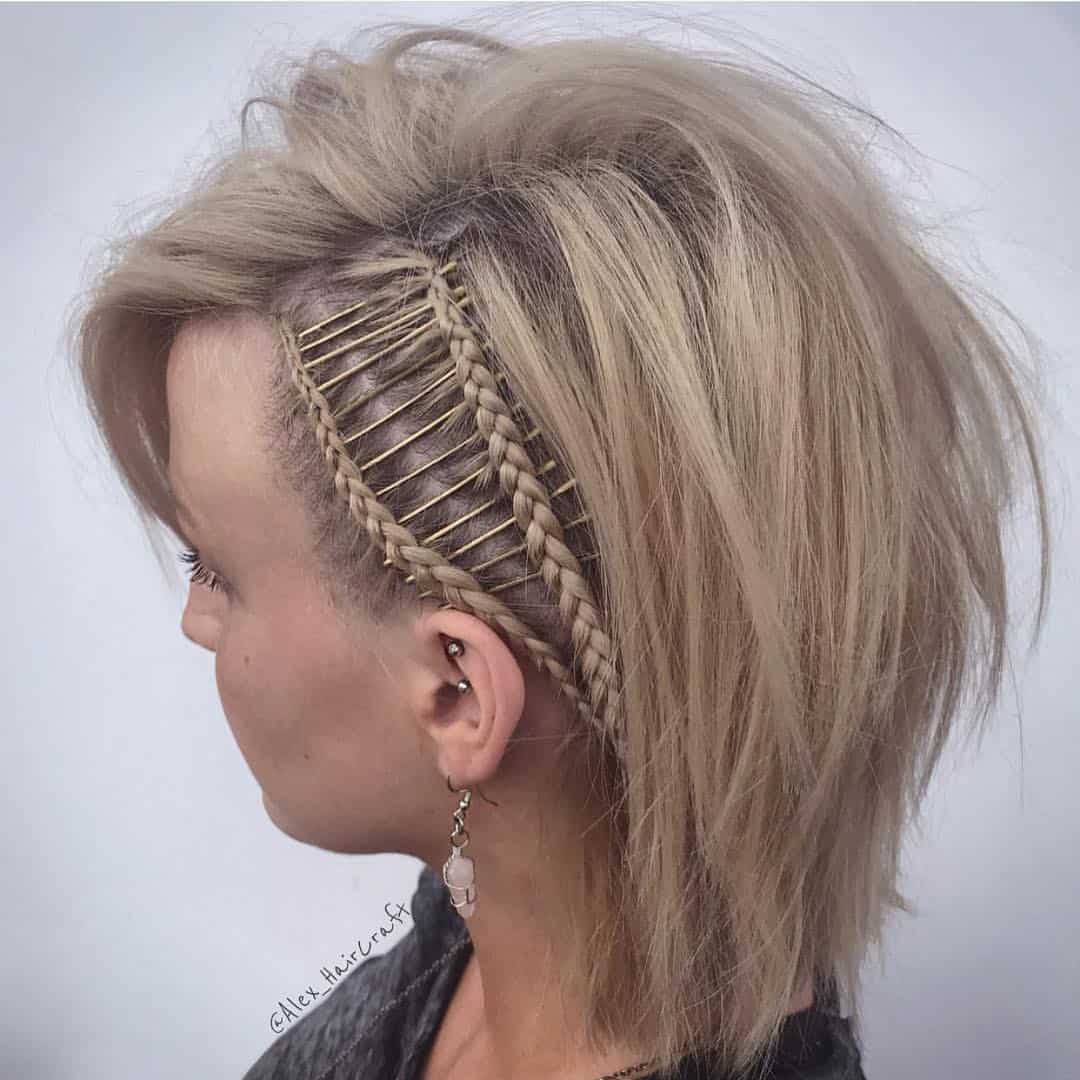 We take on a daring twist with the Corset Side French Braids. This bold style involves two neatly woven French braids, intricately secured with bobby pins to create a stunning corset effect. Embrace this edgy yet playful hairstyle for a standout look.
21. Side Cornrows On Curly Hair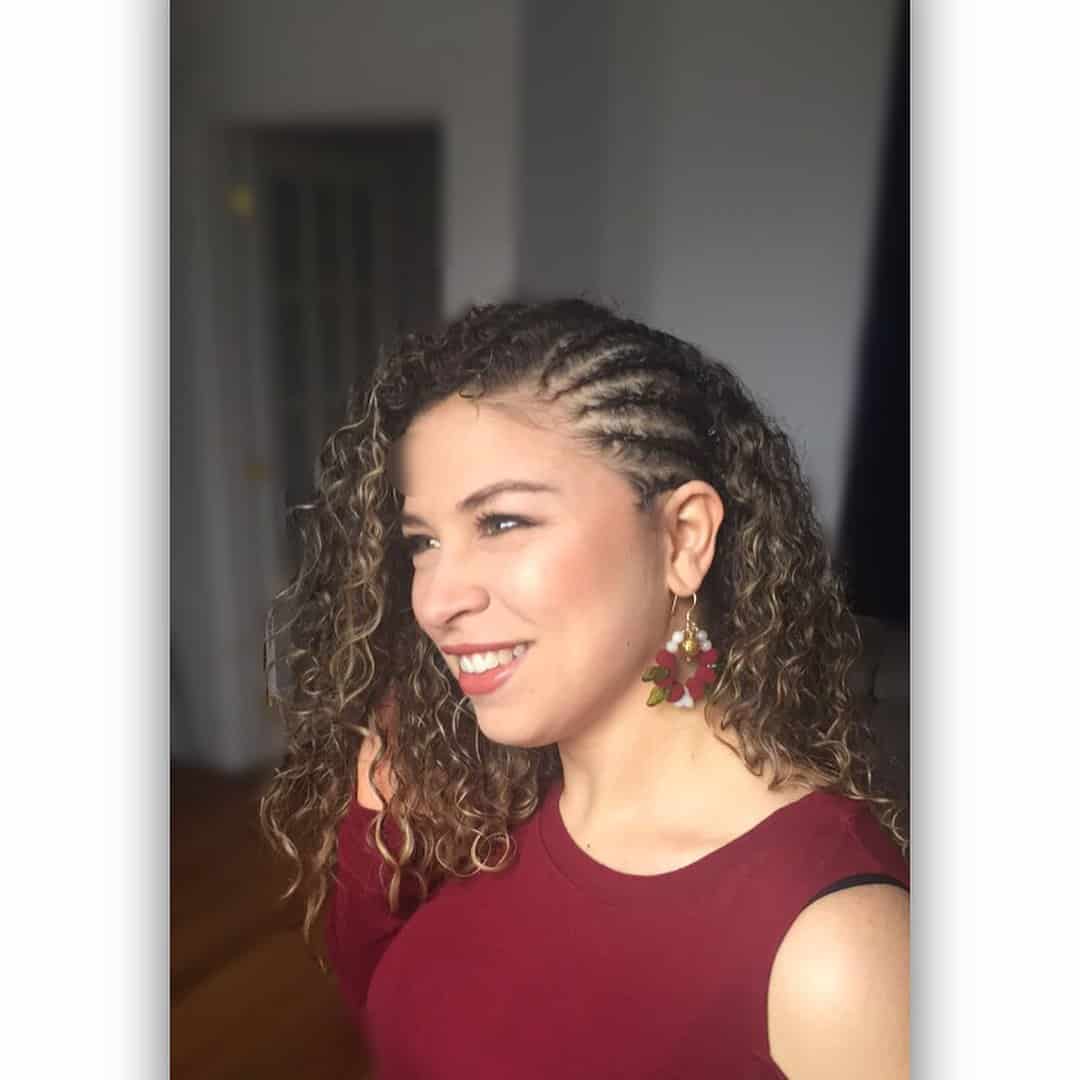 We recommend incorporating side cornrows to accentuate curly hairstyles:
Versatility: Transforms your look while maintaining the curl's essence.
Face Framing: Strategically positions braids to highlight facial features.
Extensions can be woven in for added length or fullness.
22. Pulled Back Vertical Braid On Short Curly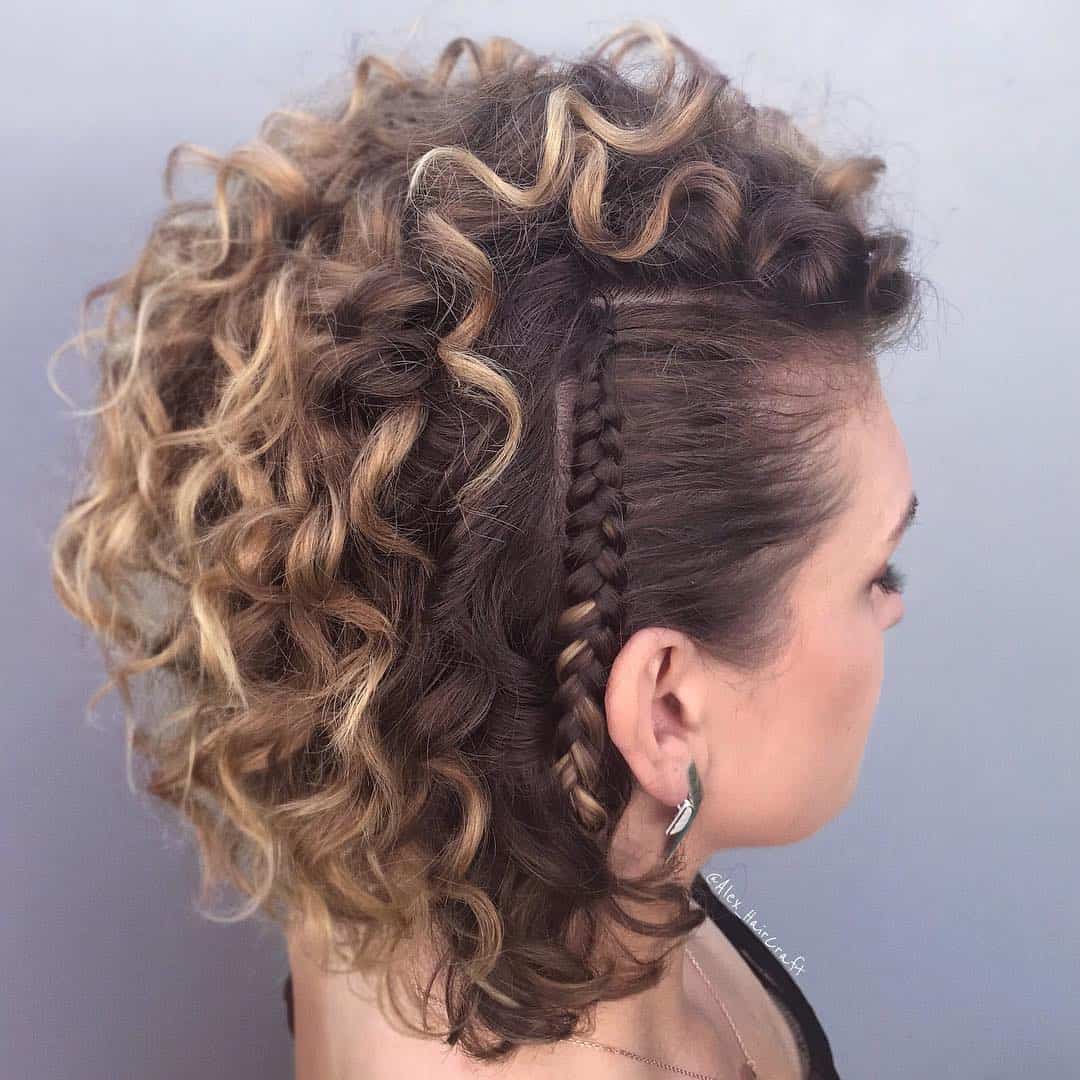 Deep Side Part: Ideal for enhancing short, curly hair.
Styling Step: Sweep hair to one side.
Creation: Secure with a prominent vertical braid.
Effect: Creates a striking look.
23. Side Fishtail With Pulled Back Strand In Bun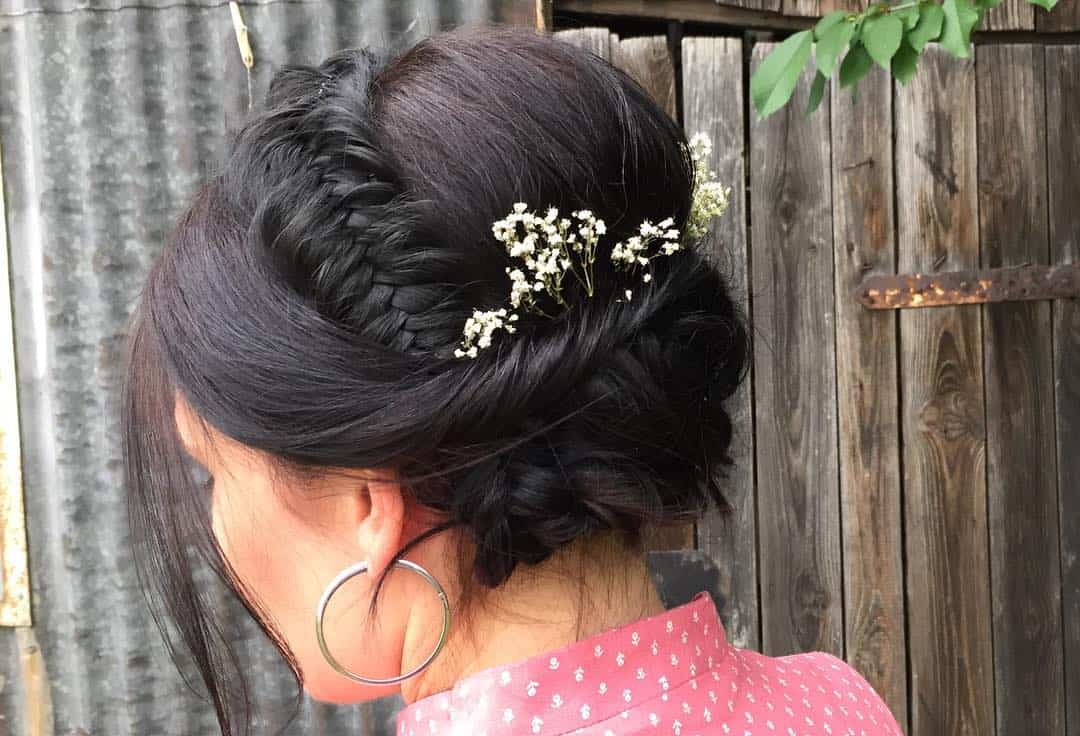 Occasions: Ideal for weddings and special events.
Style Notes:

Elegant updo.
Side fishtail braid.
Incorporates bun.
We find this hairstyle exquisite for achieving a sophisticated look.
24. Geometric Loop Cornrows On Faux Hawk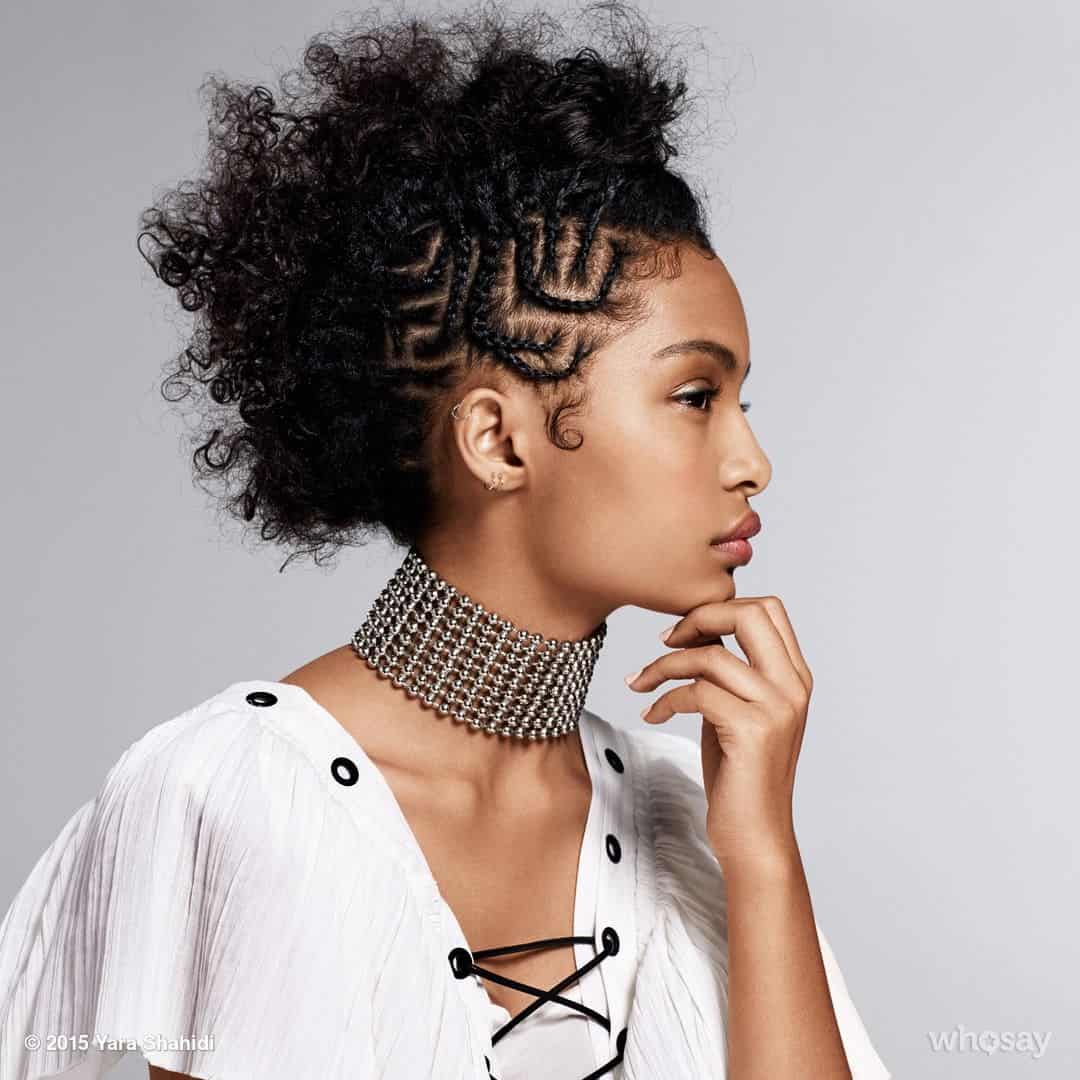 Versatility: Suits all hair lengths and types
Style: Adds a touch of color
Aesthetic: Bold geometric loops
Appeal: Guaranteed standout look
25. Side Curved French With Metal Ribbon Accessory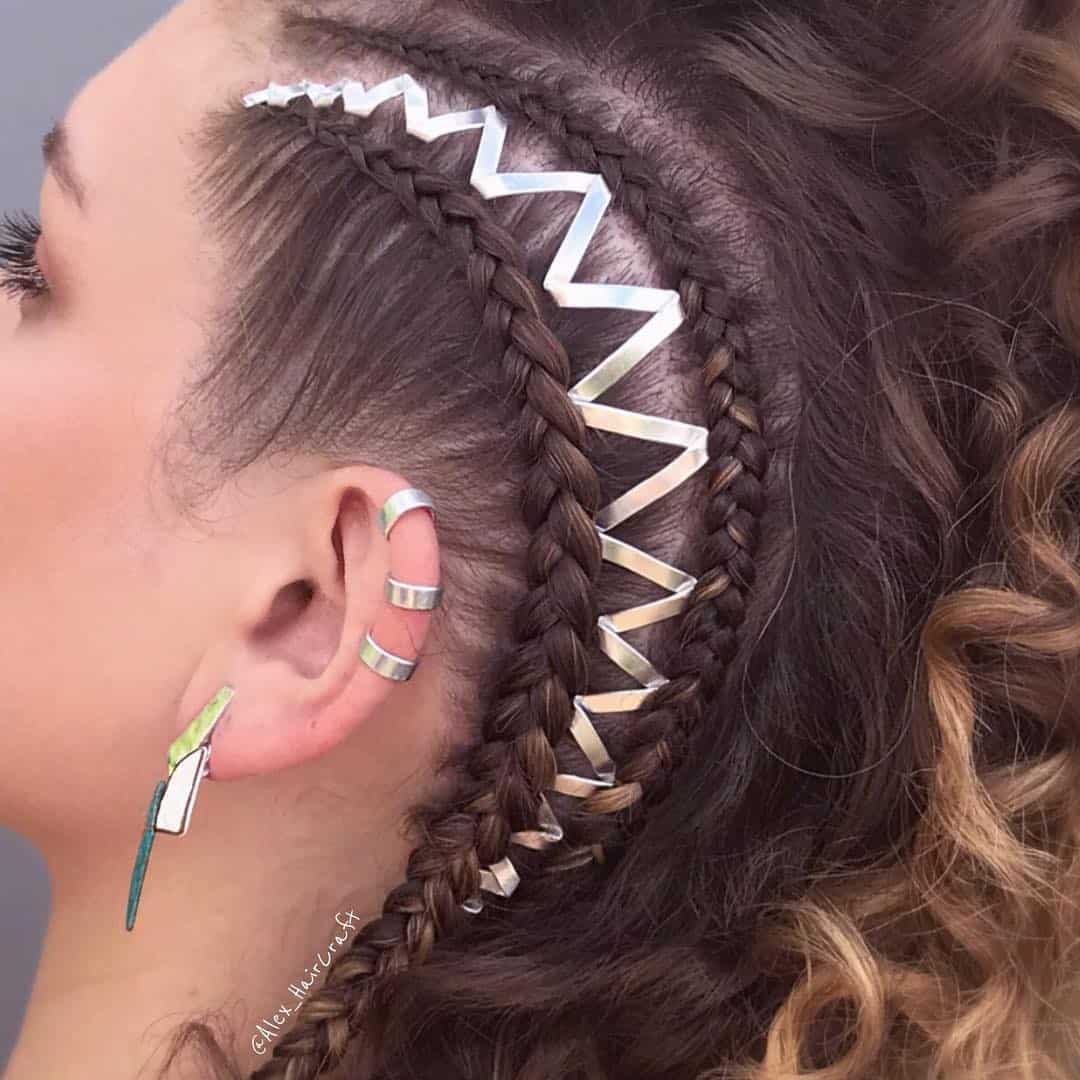 Design: An elegant side curved French braid
Accent: Incorporates a metal ribbon accessory
Visuals: Exudes sophistication with unique flair
Challenge: Inspires creativity for personal hairstyle experimentation