Getting married is one of the most unforgettable moments in a woman's life, and everything must be perfect for that day. The wedding dress is among the most important things to consider when preparing for the big day. You want to look beautiful and classy, but most of all you want to feel amazing in it. Choosing the right wedding dress is fun albeit somewhat stressful, however, by keeping some key things in mind during the process, you can rest assured that you will end up with a wedding dress that is perfect for you.
1. Personal Style
Your wedding can be based on a certain fashion trend, but never forget to include your own signature touch in it. The perfect gown combines classic elements with modern styling, and the result is a fashionable look that works for you. The specialists behind Jovani wedding dresses note that the most important thing about your wedding dress is that it reflects your personality. When you wear something that suits your aesthetic, it can make you feel more confident – and confidence will not only make you look even more alluring, but it will also ensure that you're enjoying every moment of your wedding. You can hire a fashion stylist to help you pick the perfect ensemble, or simply go through the latest bridal magazines for inspiration.
2. Shop For Your Size
It's important that you look for a wedding dress that fits you at the moment you're buying it. Even if you plan on losing some weight as part of your early preparations for the big day – it's much easier to have it taken in than to have it let out. Avoid going for a dress that is too tight because you can easily end up looking bloated on your big day, and the same applies if the dress is baggy or if you're simply not comfortable in it. You also need to remember that wedding sizing is a thing. No matter what size you are, you can expect to have to look at dresses that are two sizes bigger than your usual dress size. All that said, the most important thing is to not get too focused on weight. You're the bride, you'll look beautiful on your big day without a doubt, so focus on finding a dress that fits you comfortably and don't stress about the numbers – no one is going to know or care what size the dress is, but they are going to admire the way you look it in, especially when it fits just right.
3. The Right Silhouette
Personal style is important, and if you already have a silhouette in mind you really love, by all means – go for it! However, if you're unsure which wedding dress silhouette to settle on, you might want to consider what would flatter your body type the most. The A-line fit is flattering for all body types. An A-line or ball gown wedding dress is fitted around the bust, but its skirt flares out from there, so you get a more dramatic effect with plenty of volumes as well. The mermaid cut puts an emphasis on the waist and hips, and it looks phenomenal on tall and slim figures. The trumpet-style dress is similar to the mermaid one, except it's a bit less constricting and celebrates the hourglass body shape. A princess ballgown type of wedding dress is favored by women with a fuller bust. While these are the most classical choices, there's a wide range of different silhouettes out there, so make sure to do your research to find something you'll love to see yourself in.
4. The Fabric
Looking beautiful and feeling confident in a pretty dress is great, but what makes a wedding dress from just being pretty to being completely amazing is how comfortable it is to wear – and that has a lot to do with the fabric it's made out of. You want to make sure that you feel good in your dress, and if the fabric is uncomfortable, it can be irritating at times – especially when you're standing in one spot for hours. A good wedding gown should never be scratchy or stiff, but rather soft to the touch and lightweight. Fabrics such as tulle, silk organza, chiffon, and lace are known for being soft to the skin, and they won't make you overheat while you're celebrating your wedding.
5. The Wedding Theme
Before you go shopping for your dress, it's crucial that you think about the wedding theme and style you want to go with. For instance – if the wedding is set in a rustic setting, you might not want to wear something too modern or overly form-fitting. The best approach would be to wear something soft and flowing, with an emphasis on natural colors instead of black or white. If you're planning a beach wedding, then the same rules apply – but your dress will certainly be more forgiving in terms of cleavage and leg exposure. You want your wedding theme to provide the perfect backdrop for your dress, which means you have to keep it in mind when choosing the right dress for you.
6. Stick To A Budget
It's a good idea to keep a certain budget in mind when you're shopping for your wedding dress. It's easy to get carried away and choose something that is completely out of your price range, as pretty as it might be – but the last thing you want as a bride is to take on debt. On the other hand, if you have been saving up for a while and want to invest in something unique and flattering, it's well worth splurging on. However, when it comes to wedding dress price tags, it seems like there's no limit to how expensive they can get, so it's a good idea to not even try on dresses that are outside of your price range. Falling in love with a dress you can't have could put a damper on your mood, so it's best to not take the chance.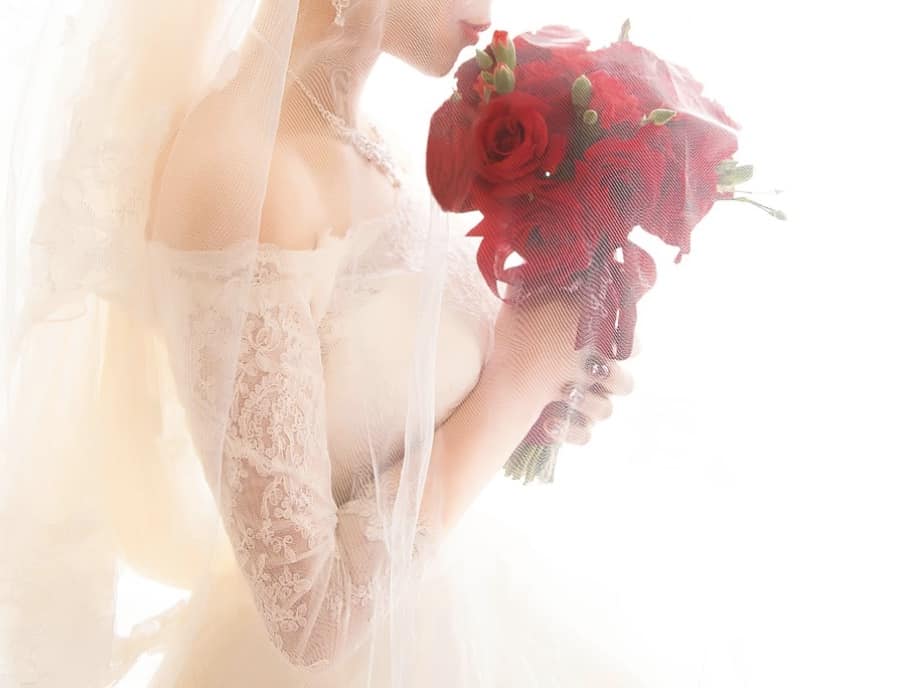 Choosing the right wedding dress can be stress-inducing at times – you want to make sure you look your best, on top of everything else you have to do before the wedding. However, by keeping these 6 key things in mind, and by shopping wisely and on time – you want to start looking for your dress at least a couple of months before the big day, you can find your dream dress without much trouble.