When it comes to facial beauty, eyebrows are one of the more underrated features, yet, a feature that greatly influences your beauty. Eyebrows frame your eyes and give you a sexy expression.
That is if they are thick, shapely, and well maintained. Several years ago, we lived in the era of pencil-thin eyebrows. Well, that era is long gone. Nowadays, it is all about having thick eyebrows, and using vaseline can help in that matter.
The reality is that not all of us are blessed with thick eyebrows. Our eyebrows are not always as thick as we would love them to be.
They can grow slowly, and we have to use makeup to make them look thicker.
The good news is that there are natural products that can moisturize your hair, and stimulate growth. Such is the case with Vaseline, which has turned into an essential restorative item for many women.
The saturating power of Vaseline is known and well used in the beauty industry to help repair harmed skin tissue. For example, when you have dry lips or dry skin on any other area, Vaseline can help.
How to use Vaseline on eyebrows?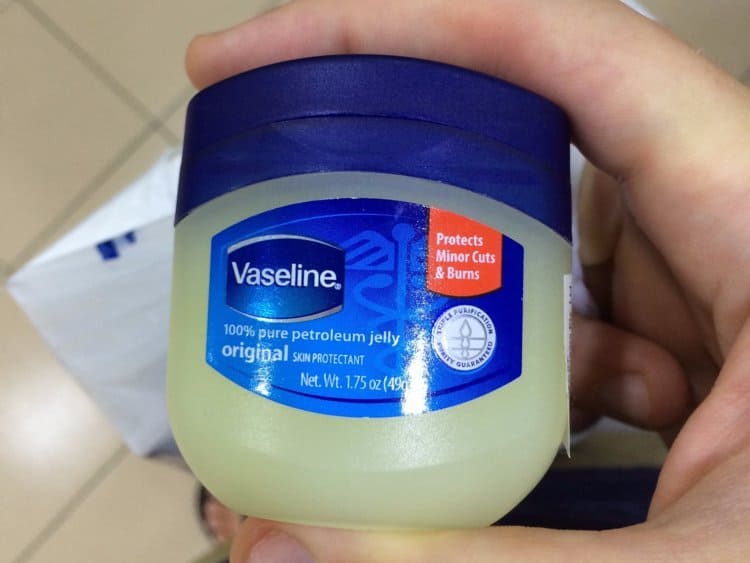 Vaseline can be used on its own, or in combination with other natural products that stimulate eyebrows growth.
Here is a step by step guide how to grow eyebrows with Vaseline.
Step 1
Start by preparing your equipment, and that means your mascara wand.
Get the mascara off the wand, as you will use this wand for applying Vaseline.
You can use a paper towel to clean the wand. Just dab the bristles of the mascara, and if there is more mascara, wiggle the wand back and forth in a folded paper towel.
Step 2
Now that your equipment is ready, you need to prepare your face.
Clean off any makeup or dirt of your face using a cotton pad to wipe makeup.
Go with a makeup remover over your eyebrows if necessary.
You want them to be clean, otherwise, Vaseline will not penetrate the hairs and will have no effect on eyebrows growth.
Rinse your face with warm or cold water, and then pat it dry with a clean towel.
Step 3
Mix the Vaseline in your hands.
With your clean fingers, move the top layer of Vaseline around.
Warm it, which will make Vaseline easier to apply on your eyebrows.
Dip the mascara wand in the Vaseline, and get a heavy amount of it.
Vaseline has a tendency to clump onto the front of the brush.
To prevent that, use a damp paper towel to spread it evenly on the wand.
Step 4
Apply Vaseline first to the eyebrows from the inside to the outside using the mascara brush.
Make upward movements, and let the Vaseline penetrate your eyebrows.
Ideally, apply Vaseline before bedtime, and allow it to sit overnight.
In the morning, rinse your face with lukewarm water.
Repeat every day, and you can see changed to the growth and thickness of your eyebrows in one or two months.
Remember, no remedy works overnight.
Step 5
Another way to use Vaseline on eyebrows is to mix it with other helpful ingredients.
For example, other natural remedies for eyebrows growth include olive oil.
Prepare a mask with Vaseline and olive oil, and apply it on your eyebrows in the same way.
You need half a teaspoon of Vaseline and just a few drops of olive oil for your mask.
Spread it over the eyebrows, and let it stay overnight.
Same as Vaseline, olive oil is a great moisturizer that can strengthen your eyebrows hair, and stimulate growth.
SEE ALSO: Vaseline On Face – Is It Safe To Use It? Should You Try It?
How Vaseline helps eyebrows?
The good news regarding Vaseline is that unlike many other natural remedies for skin, it is safe to use around the eye area.
And the first thing about eyebrows growth is that moisturizing helps.
When it comes to natural moisturizing options, Vaseline is one of the rare items that can be used safely around the eye area, and that includes the eyelids, eyebrows, and the rest of it.
Vaseline is essentially a lubricant, and as such, it helps moisturize the eyebrows.
It can help you moisturize your dry eyebrows just as it can help with dry skin.
And even better, Vaseline gives you a great and natural minimal look.
Vaseline looks like clear brow mascara and leaves your eyebrows looking glossy.
If you want a cool and editorial look, which will also help you stimulate the growth of your eyebrows, you cannot go wrong with Vaseline.
Should you use it?
The main question women have is "Will Vaseline help my eyebrows grow".
Let's be real and honest for a moment. Until now, there is no scientific evidence pointing to the fact that Vaseline can help your eyebrows grow.
What Vaseline can do is protect and moisturize your eyebrows. The liquid does not contain any elements that stimulate hair growth.
But that doesn't mean you should not try it. After all, there are many women who praise Vaseline as the reason for their thick eyebrows.
Are there any side effects?
Vaseline is an emollient, which means, it has the quality of softening or soothing your skin. Most emollients can be used safely and effectively, and they cause no side effects.
However, at the same time, we have to note that sometimes, using emollients on your skin can cause burning sensation, stinging sensation, irritation, or redness.
If these side effects happen, stop using Vaseline. Generally speaking, Vaseline is safe to use. But if side effects happen, you should try looking for a different solution for eyebrows growth.