Boho hairstyles are becoming more and more popular. And it is only logical. We are all looking for a natural and healthy lifestyle change. And that is the boho style.
Boho is all about being fresh, in touch with nature, and looking great at the same time. Boho hairstyles are easy to do, yet they look beautiful, stylish, elegant, and amazing.
With that in mind, if you are looking for a great new look, we have a couple of ideas you can try. Get your sweet and fashionable look ready.
1. Half Up Twisted Crown With Messy Pull Trough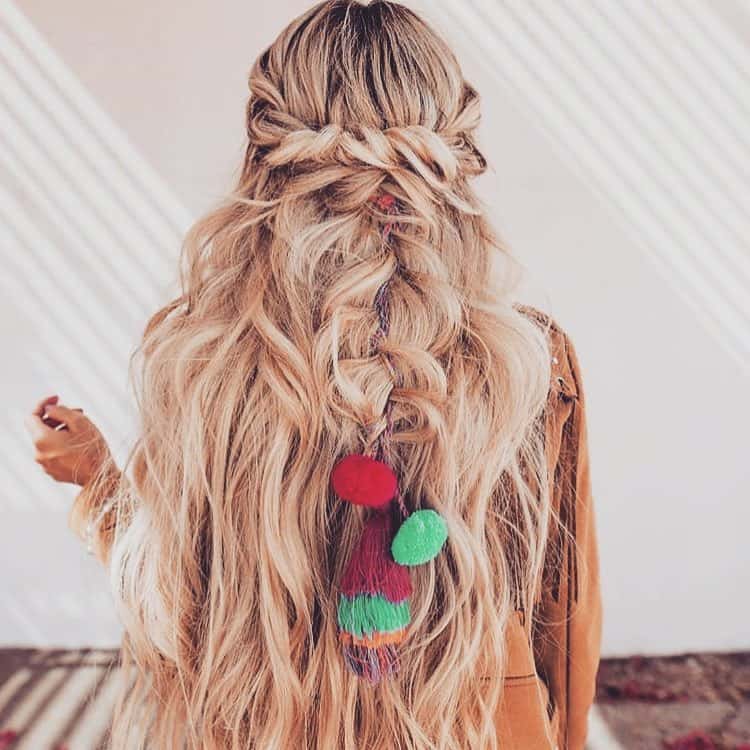 Let's start with a classic Boho hairstyle. When it comes to bohemian style hairstyles, the trick is simple, let everything loose and casual. Of course, you want a braid here and there, just to keep the texture of your hair.
2. Boho Forehead Braid Updo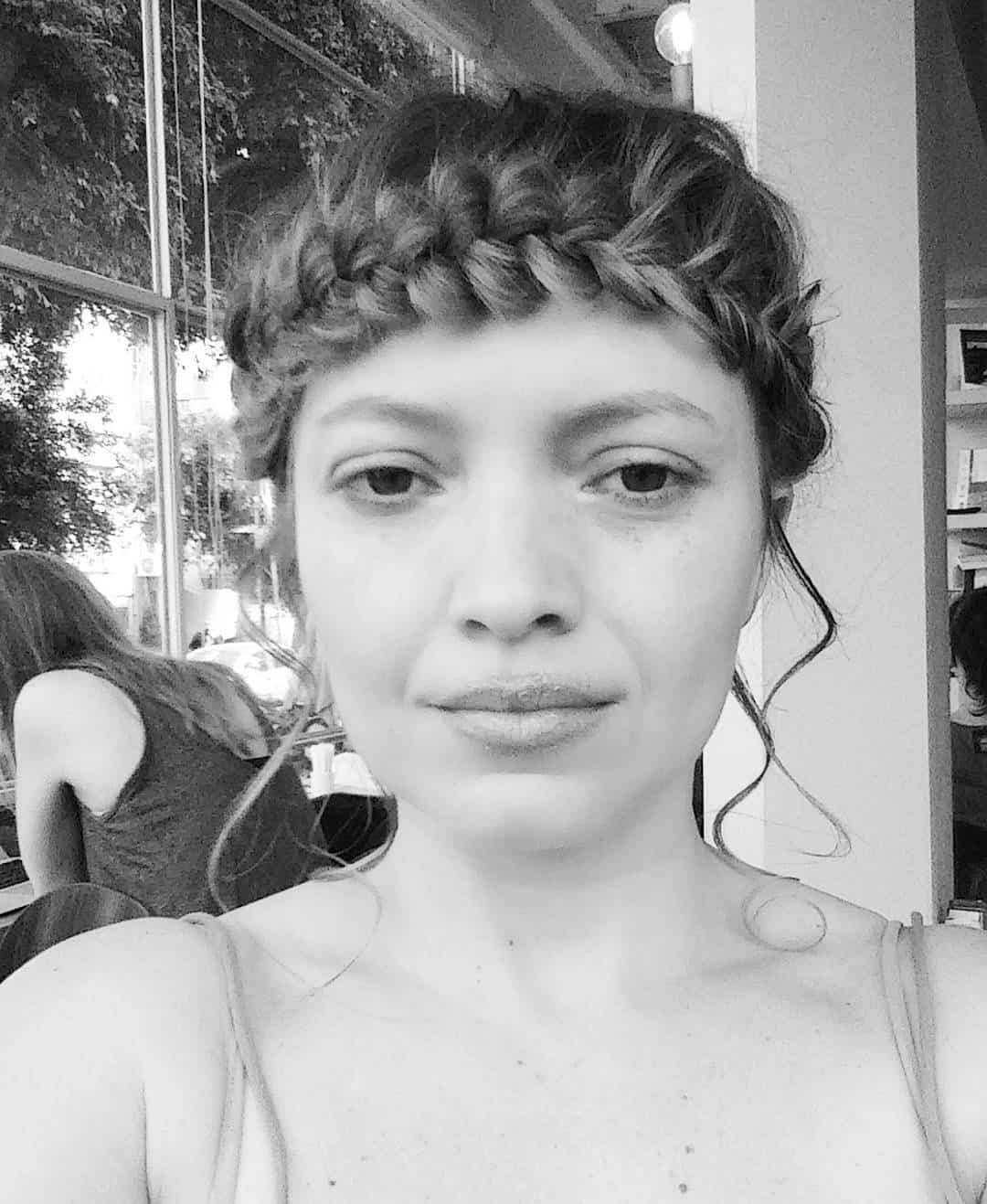 You will see a lot more braids as we go down the list of Boho hairstyles. Braids and Boho go hand in hand, and it is all about finding a braid that looks as natural as possible.
3. Messy Textured Ponytail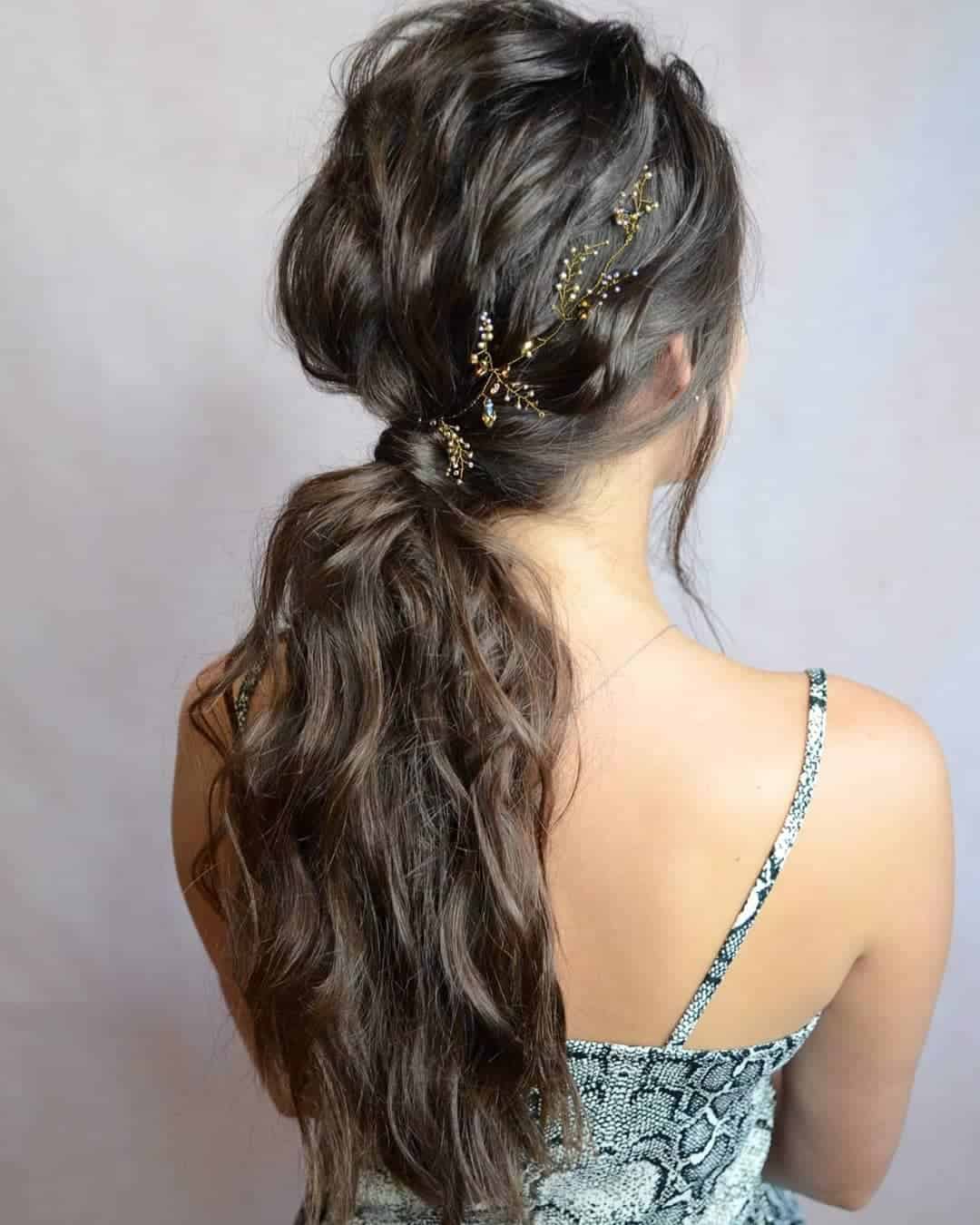 The pony is another signature move for bohemian hairstyles. But unlike the classic pony that is elegant, stylish, and sophisticated, the trick here is to let it loose. Messy and textured is the way to go for a bohemian style. After all, you want something fresh and natural.
4. Braided Fauxhawk With Side Looped Cornrows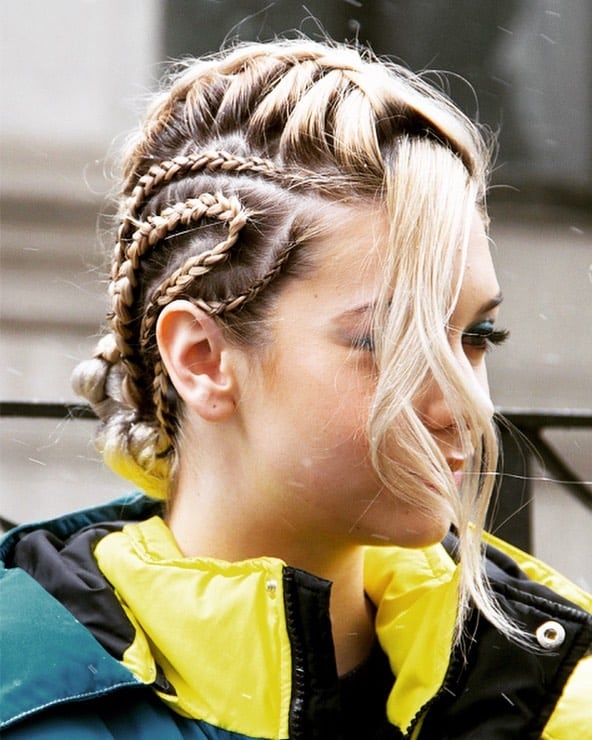 We said before that braids are common in Boho hairstyles. Cornrows are as well. Braids help you achieve a feminine, yet casual hairstyle. And that is exactly what you want your bohemian style to represent. Having some loose strands is seen as a positive.
5. Chunky Side Braid Into Messy Ponytail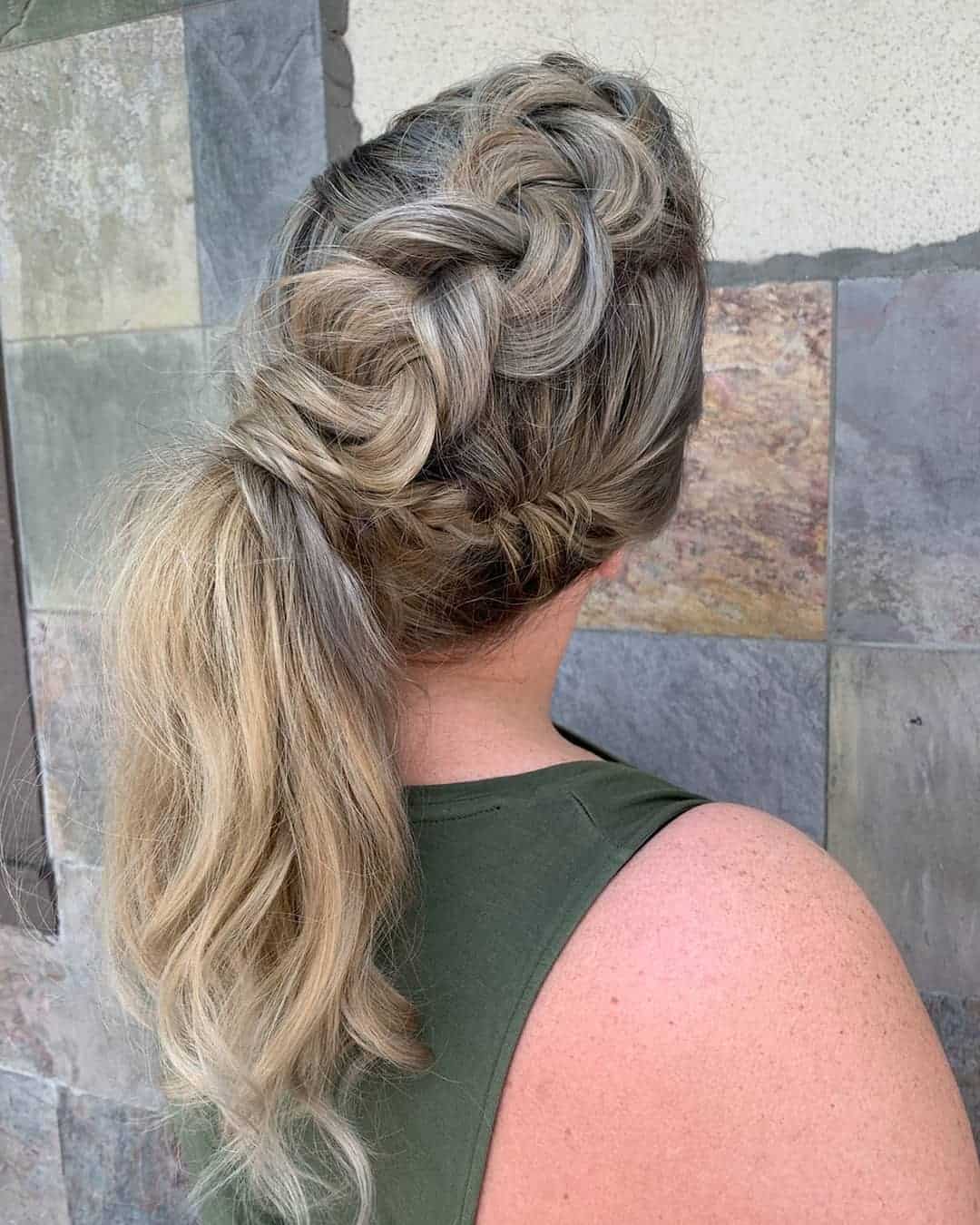 As you can guess by now, braids and pony are the two main elements for a boho hairstyle. Sometimes women get one of the two, and sometimes, they get both. The beauty is you can get this hairstyle in a matter of minutes. You definitely do not want to spend hours making your hairstyle.
6. Bob Braids And Curls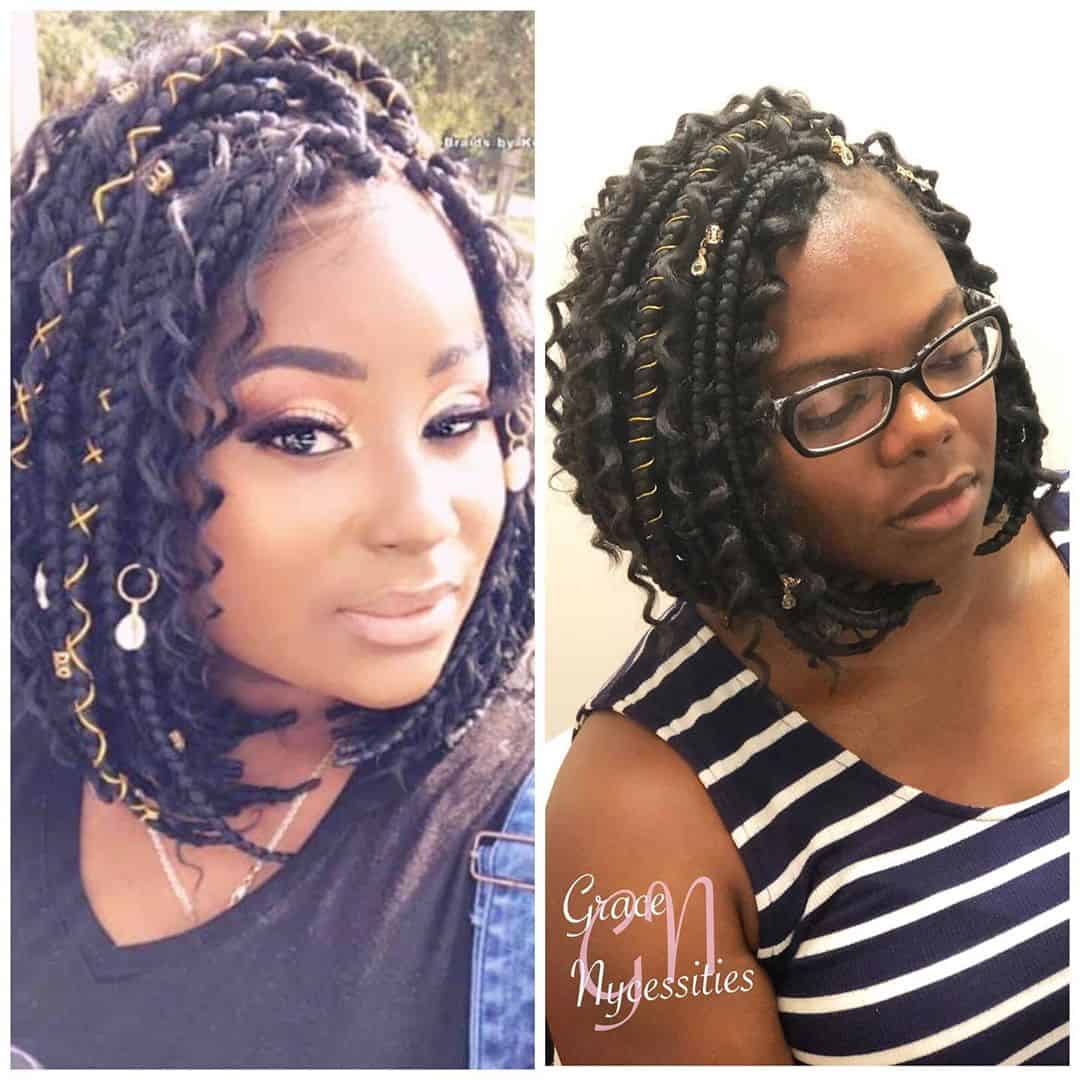 The bob might not fall into the boho category on its own. But when enriched with some braids and curls, it is a different story. Chic and sophisticated in the same time, the braided bob is definitely a hairstyle to keep in your arsenal.
7. Scarf Wrapped Braided Ponytail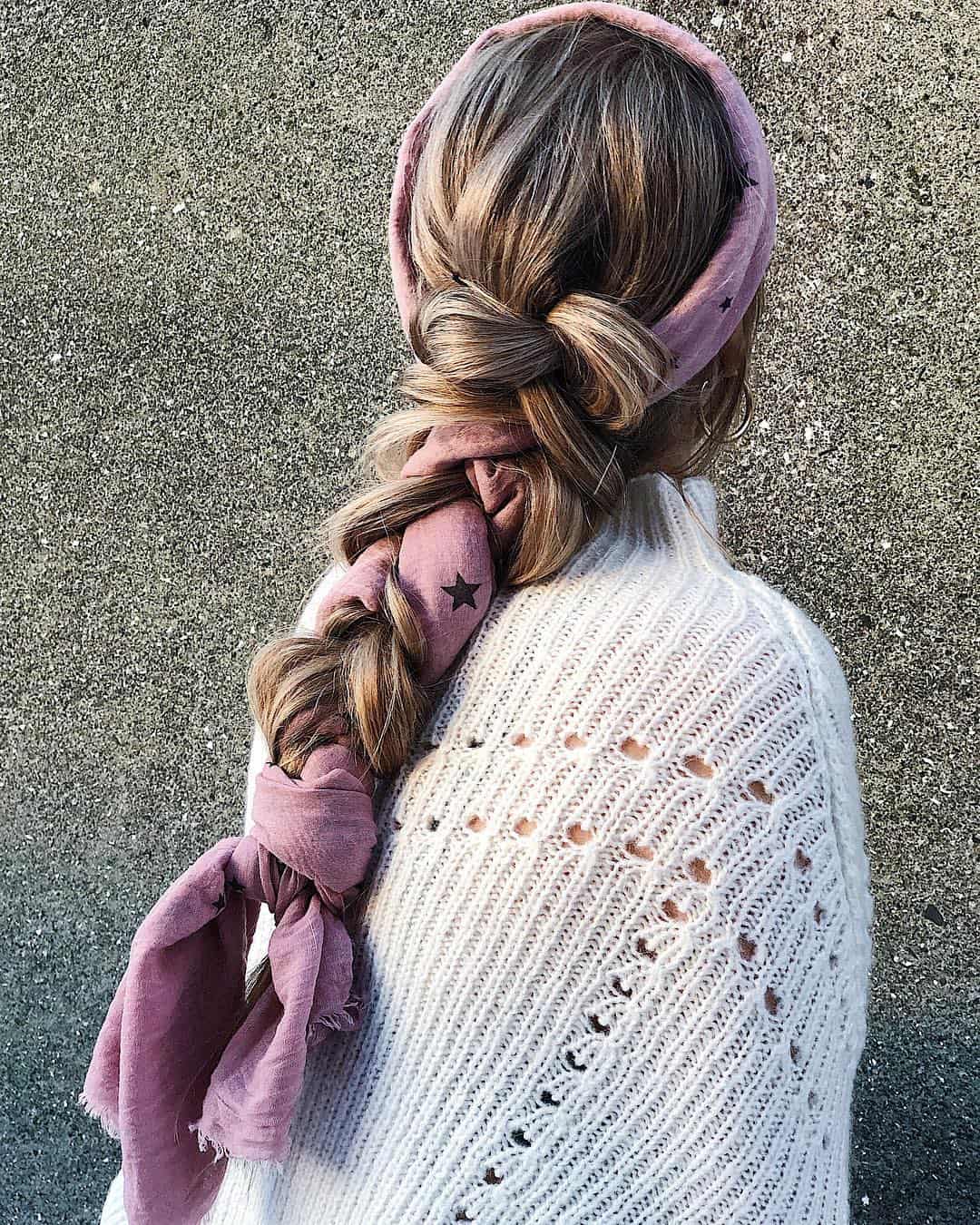 The boho style is a lot similar to the hippie period in the 1960s. You can see a lot of accessories in your hair, but not some elegant one. A scarf here and there is the way to go. Wrapping your pony in some cloth adds texture, color, and a unique factor to your hairstyle.
8. Top Cornrow With Wild Platinum Beach Waves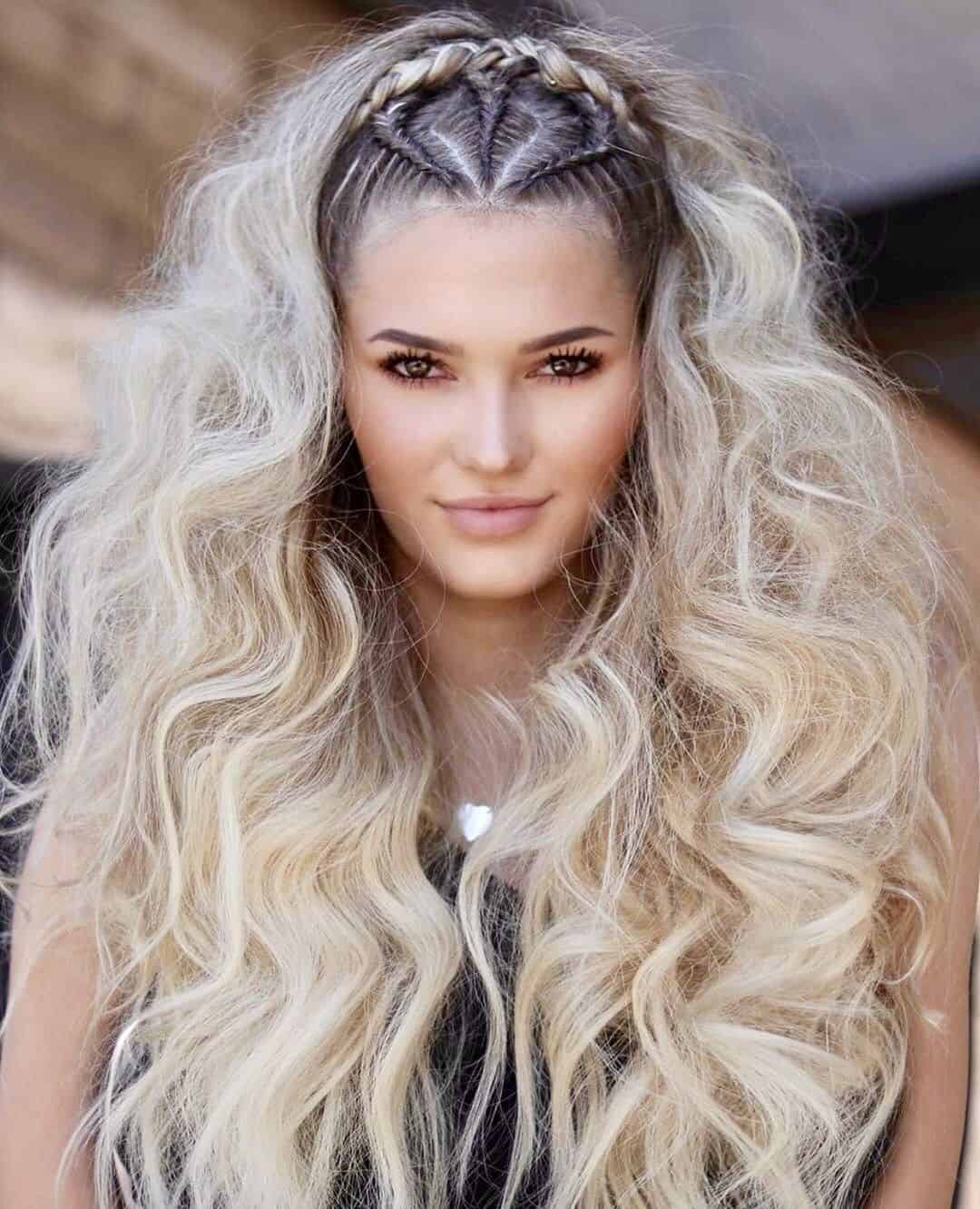 Beach waves is a classic hairstyle that a lot of women crave for. When it comes to giving it a bohemian touch, it is all about adding some braids or cornrows. Most of your hair is loose, but you just have to have a braid here and there.
9. Twisted Braided Top Knot With Loose Strand Braids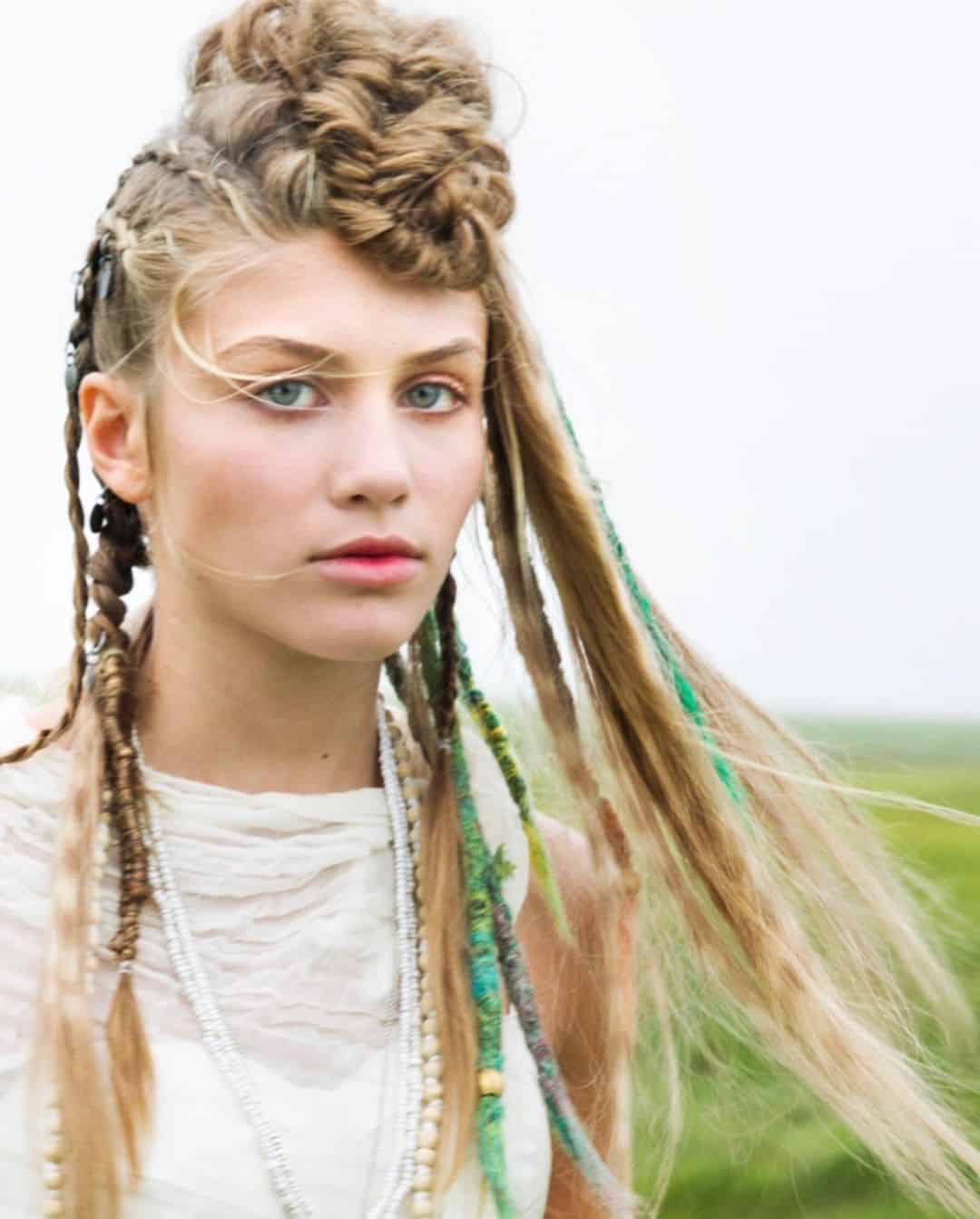 This hairstyle is perfect for women with large and beautiful eyes. It opens up your forehead and face, letting everyone to see your beautiful eyes. Let your hair loose on the side, so that there is nothing in front of your eyes.
10.  Side Swept Loose Multi Braids On Long Voluminous Blonde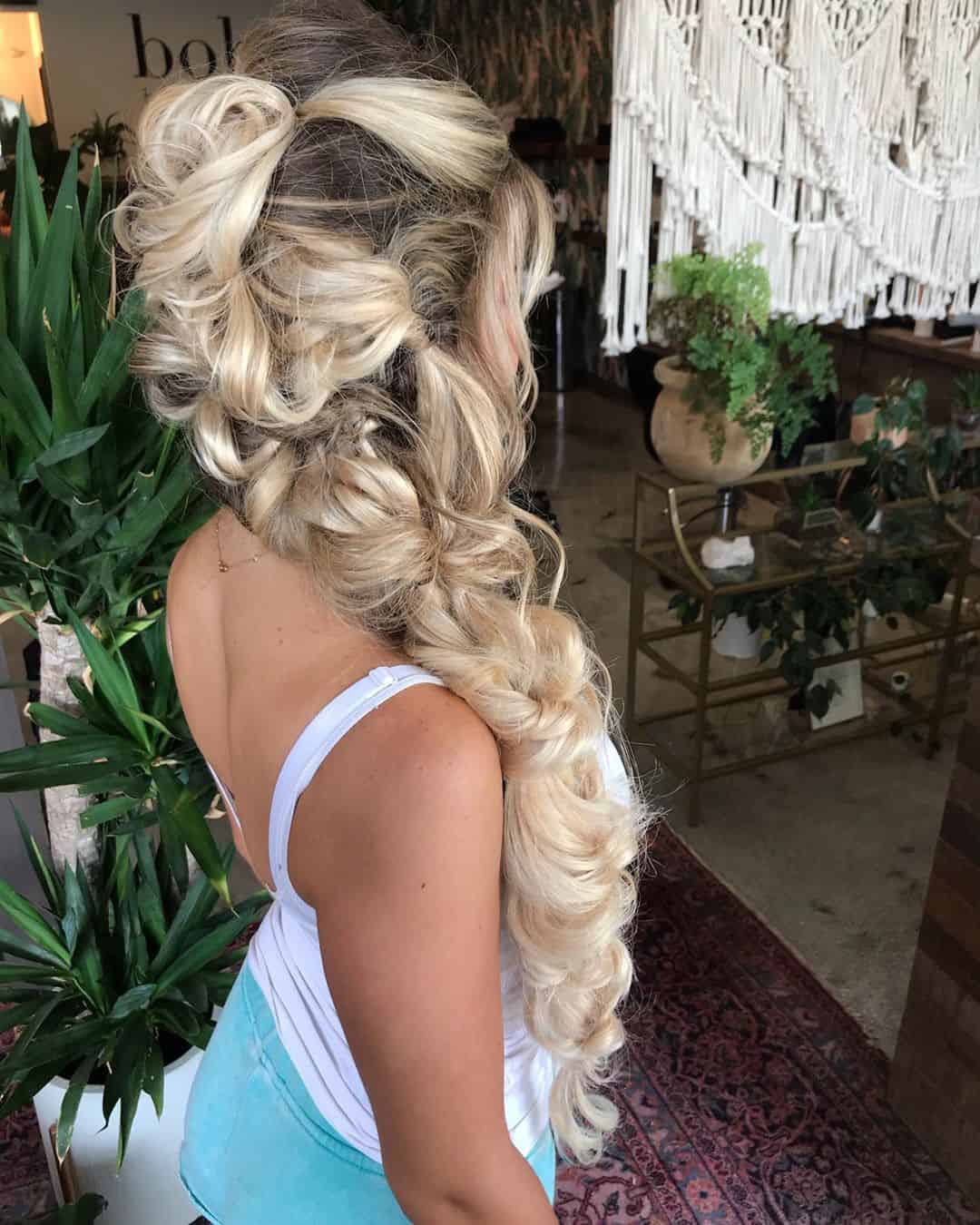 Some women will tell you it is hard to work with lots of hair. We all want extra volume, but sometimes, too much volume can be a challenge. Not for a boho hairstyle. Braid it in different ways, and you will get a playful and unique hairstyle.
11. Boho Frohawk Locks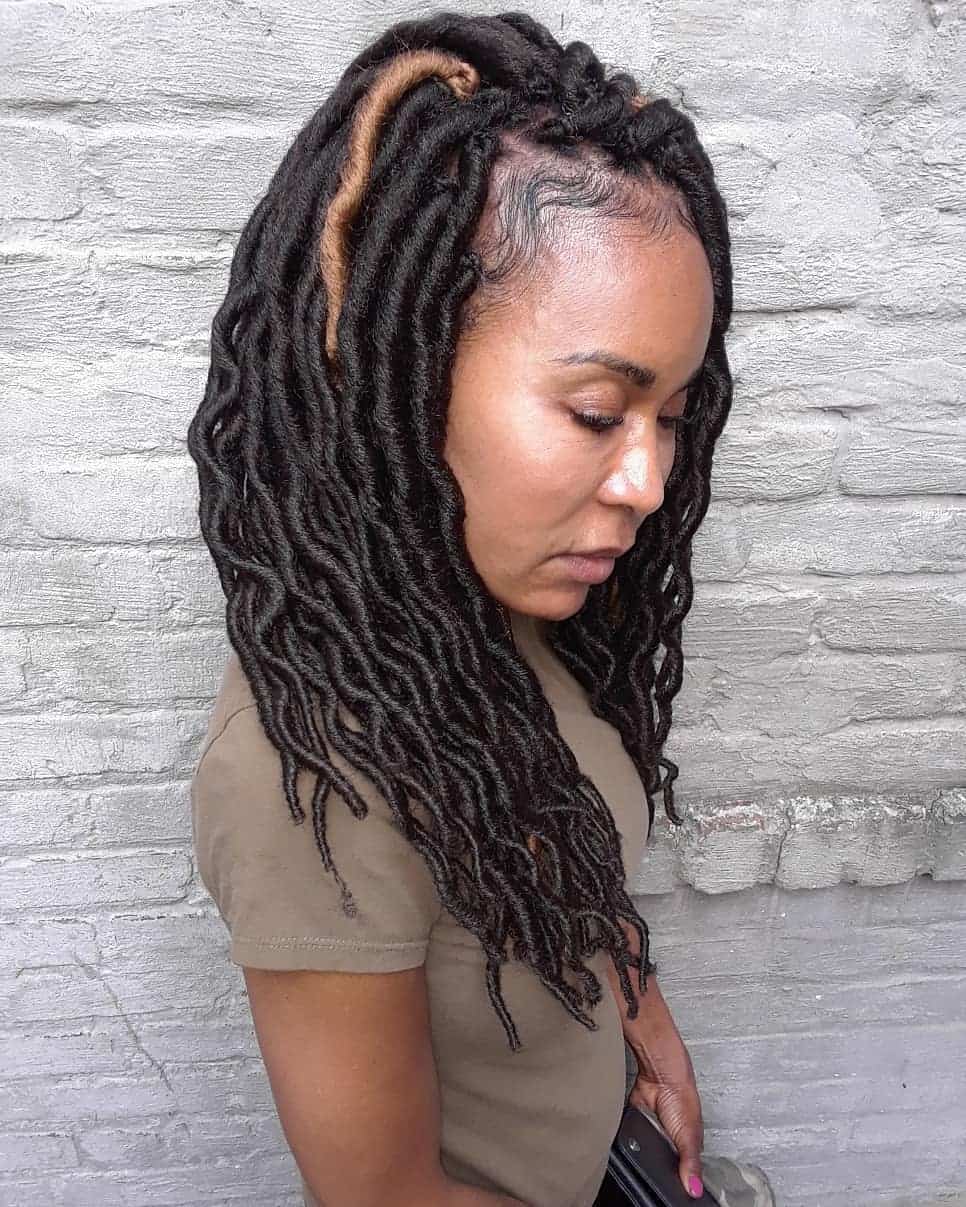 A frohawk is basically a Mohawk hairstyle worn by someone with afro-textured hair. In 2018, the frohawk was one of the most popular hairstyles for women. And its popularity is still high in 2019.
12. Rainbow Floral Crown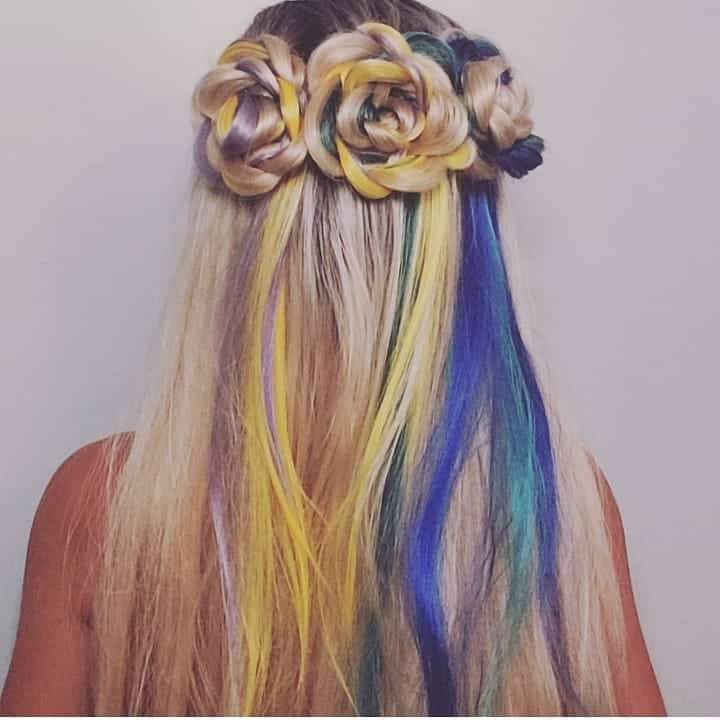 One thing you will notice in a bohemian style, there are a lot of colors. You just cannot ignore it. Just make sure the colors are close to the natural Earthy colors. That means green, yellow for the sun, brown for the soil, and so on. Stay away from pink, purple, and similar shades.
13. Tide back with Braid in The Middle And Green Hues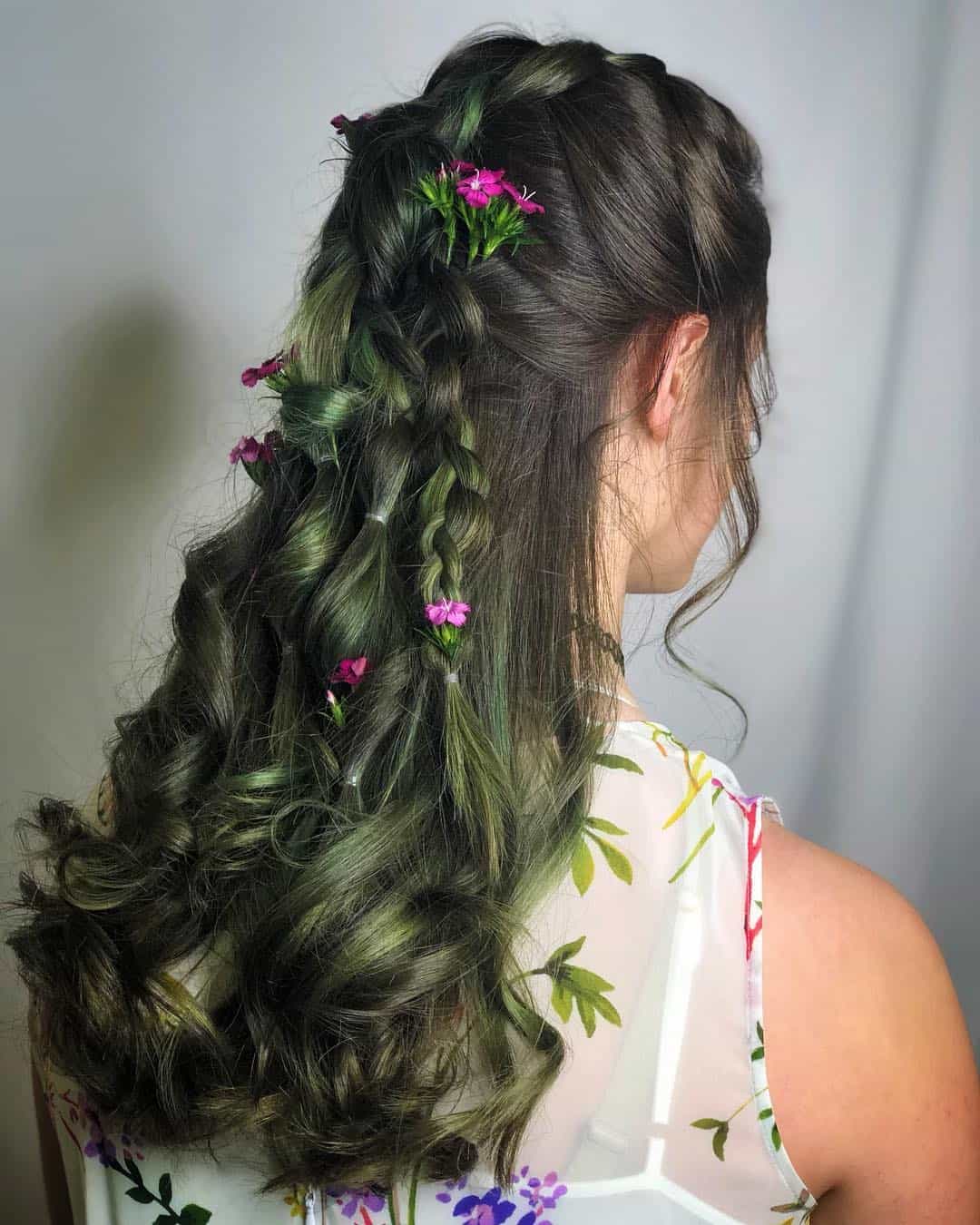 Speaking of earthy colors, is there anything better than green. Definitely the color of freshness and nature. And boho is all about being one with the nature. The flowers and green color make your hair as a field in nature.
14. Textured Curly Updo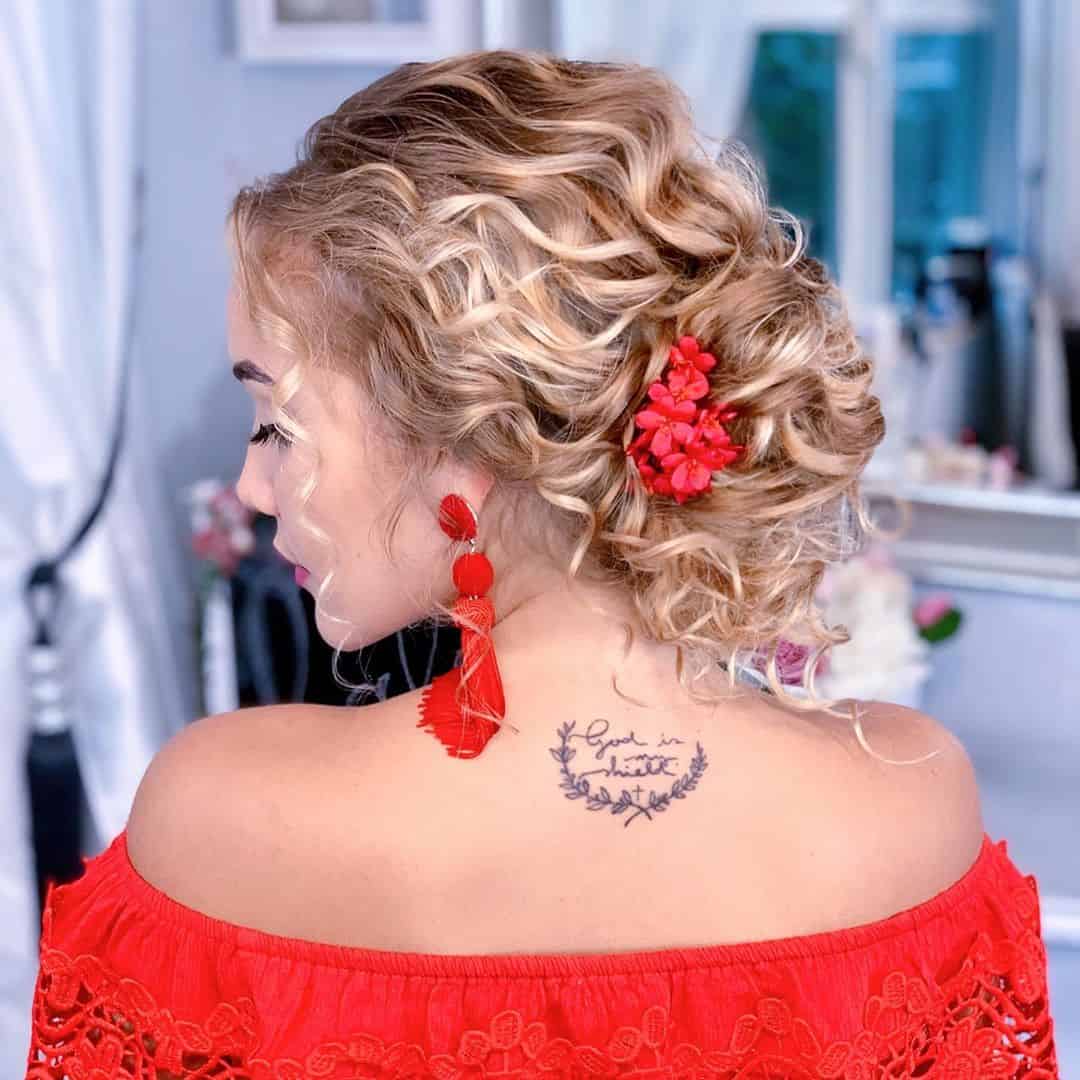 You can see by now that the goal of any boho hairstyle is to add texture to your hair. You can do that in a multitude of ways. One of our favorite is with curls. They make your hairstyle that much more playful. Add in an updo for some elegance, and you are ready to go.
15. Bubbled Updo With Floral Headband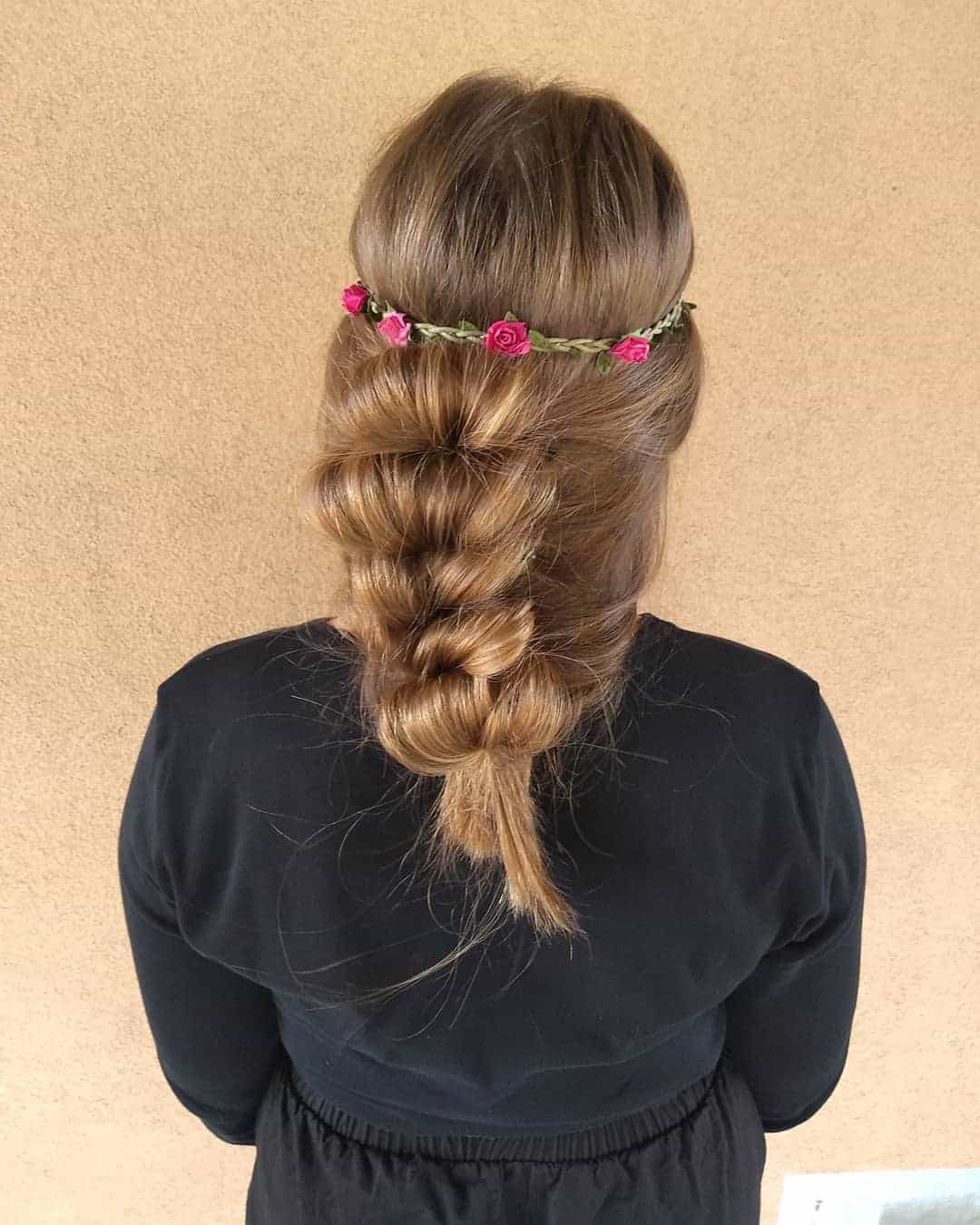 It is all about the floral elements. They are a constant in a bohemian style. You can never have enough floral accessories in your hair. And boho proves that.
16. Halfway Dreadlocks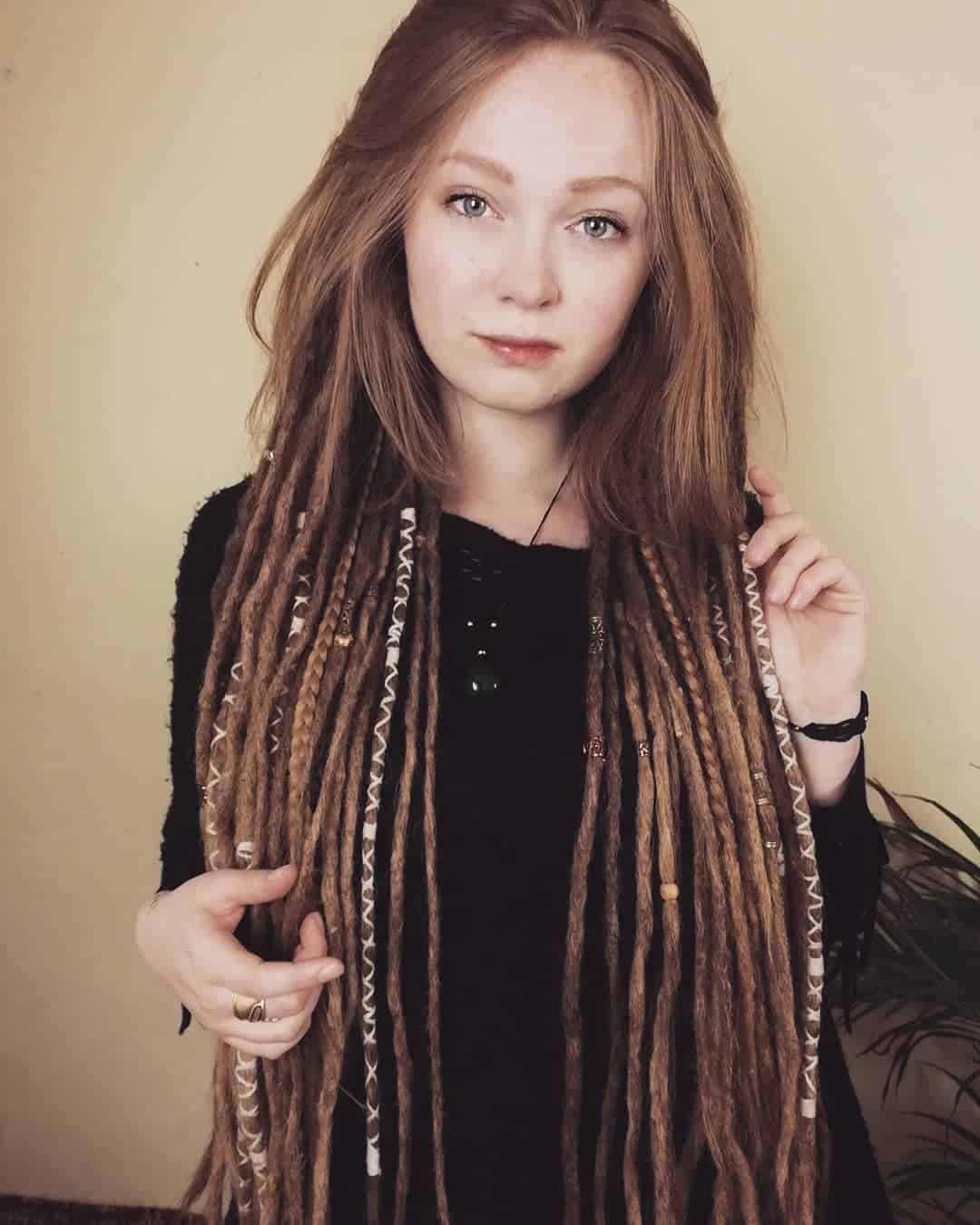 Dreadlocks are in a special category, as they are sort of a religious hairstyle. Followers say that dreads signify they had a dread, fear, or respect for God. Dreadlocks are common in the Hindu religion. Nowadays, however, dreadlocks are more of a bold hairstyle showing bravery and uniqueness.
17. Baby Pink Double Dutch Tieback Bubble Ponytail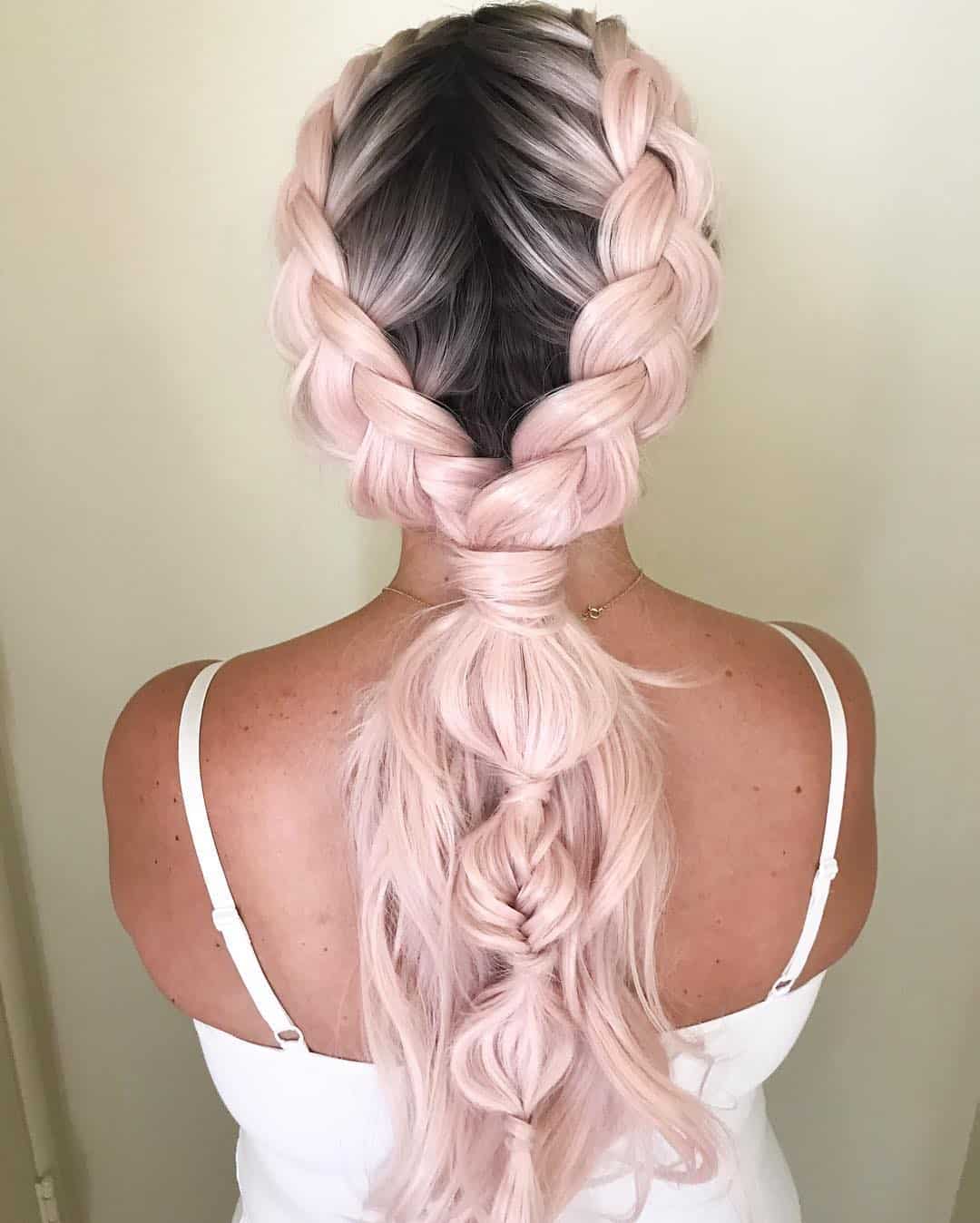 We said before that pink is usually not a color you find in a bohemian style. But that is not set in stone. As long as you can get something feminine, romantic, but still casual, you can go with pink.
18. Boho French Braid Crown Half-Updo On Straight Blonde
French braids are one of the most common braiding hairstyles. Basically, French braids are just a step more than classic braids. With that in mind, sometimes, the simplest things are the most beautiful.
19. Zig Zag Feed-In Cornrows With Long Loose Curls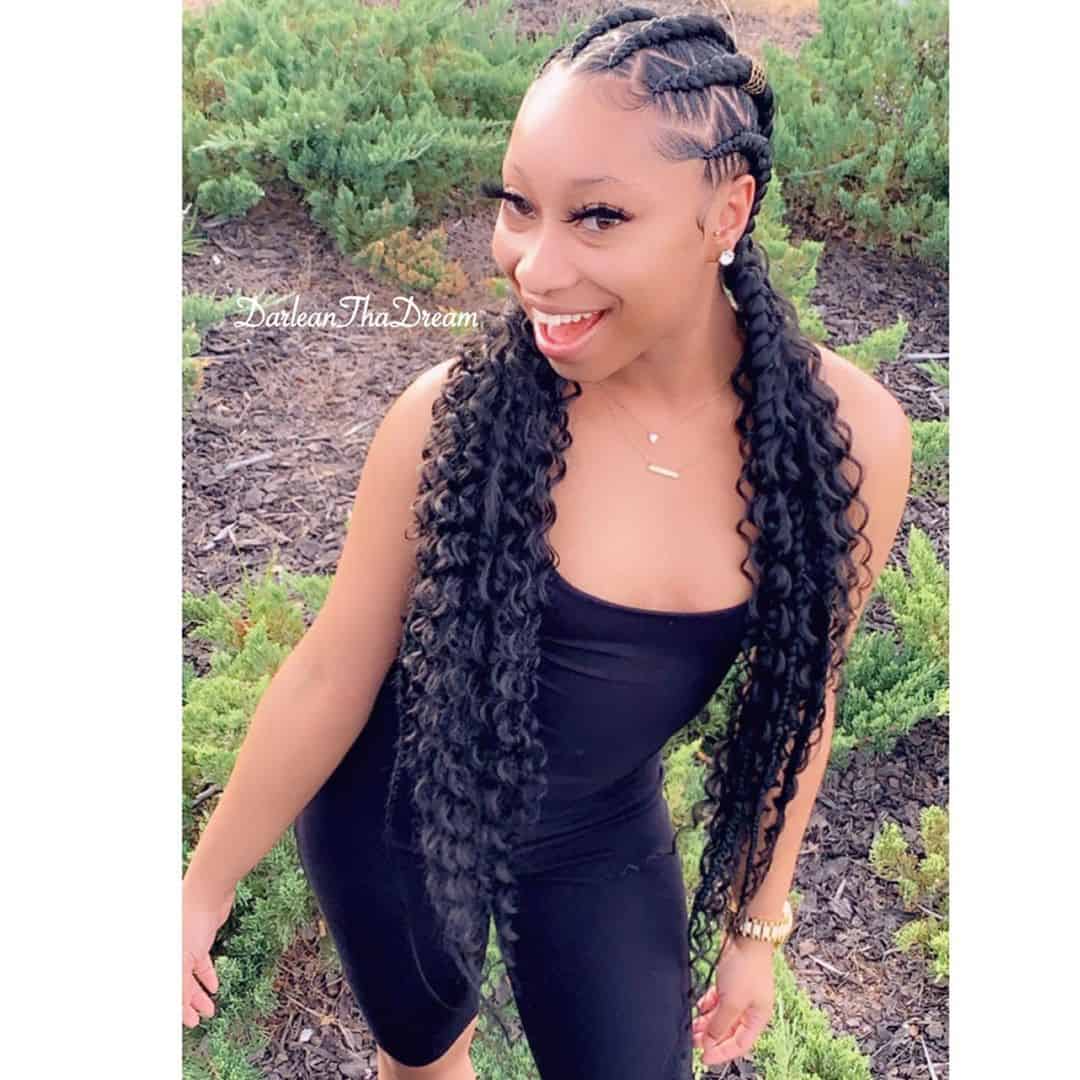 Cornrows are nowadays considered artistry hairstyle. And when you go for zig-zag cornrows, you are basically showing your artistic side. Add some flavor with accessories, and you have a perfect boho hairstyle.
20. Dutch Baid Tied Back Crown With Side Tied Tie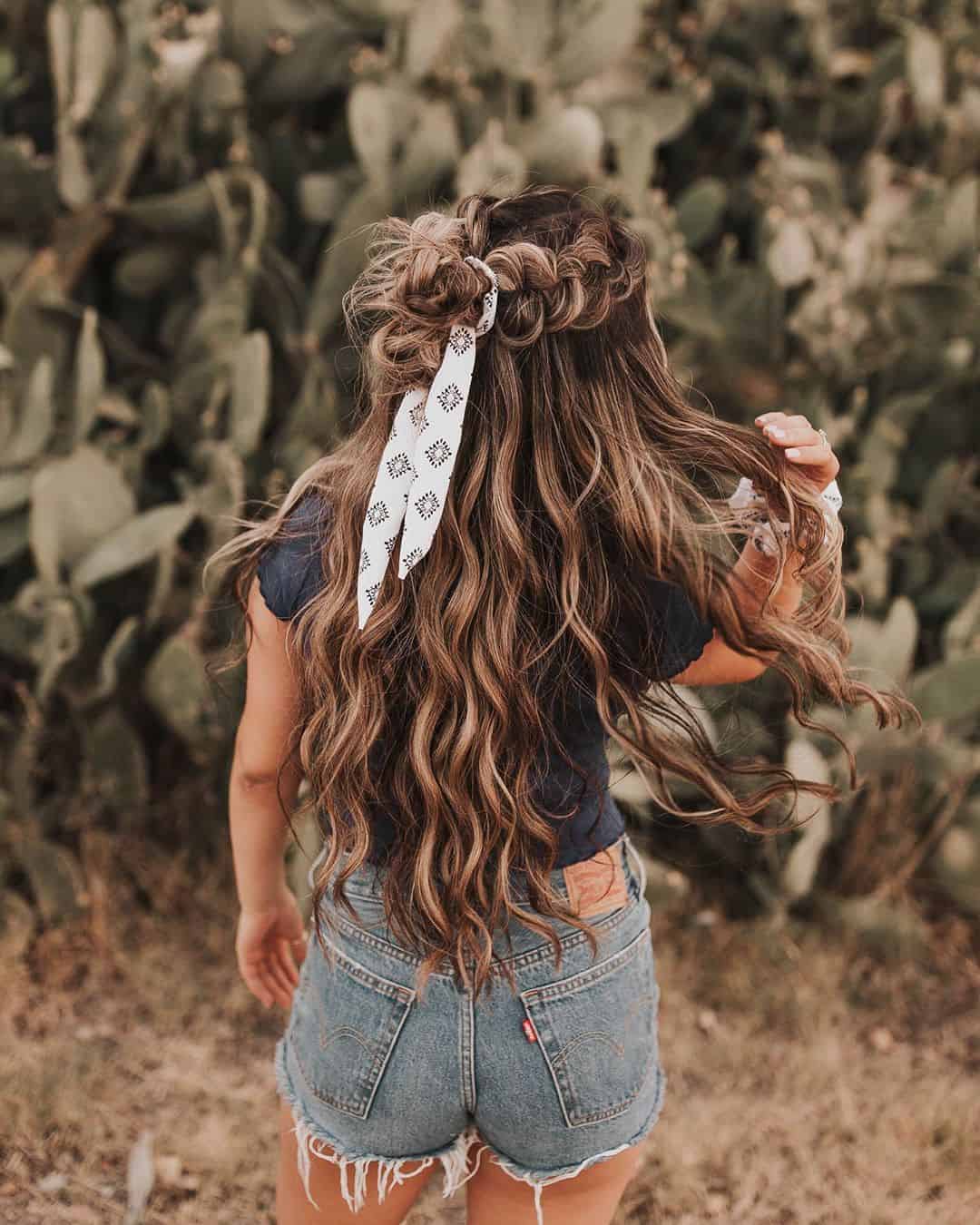 If French braids are the most popular, Dutch braids are not far behind. The sole difference between French and Dutch braids is the braiding. One go over, and the other goes under the strand. With that in mind, you just have to love this loose and casual hairstyle. Just look at how joyful it looks.
21. Rainbow Blonde Criss Crossed Braids With Messy Fishtail Ponytail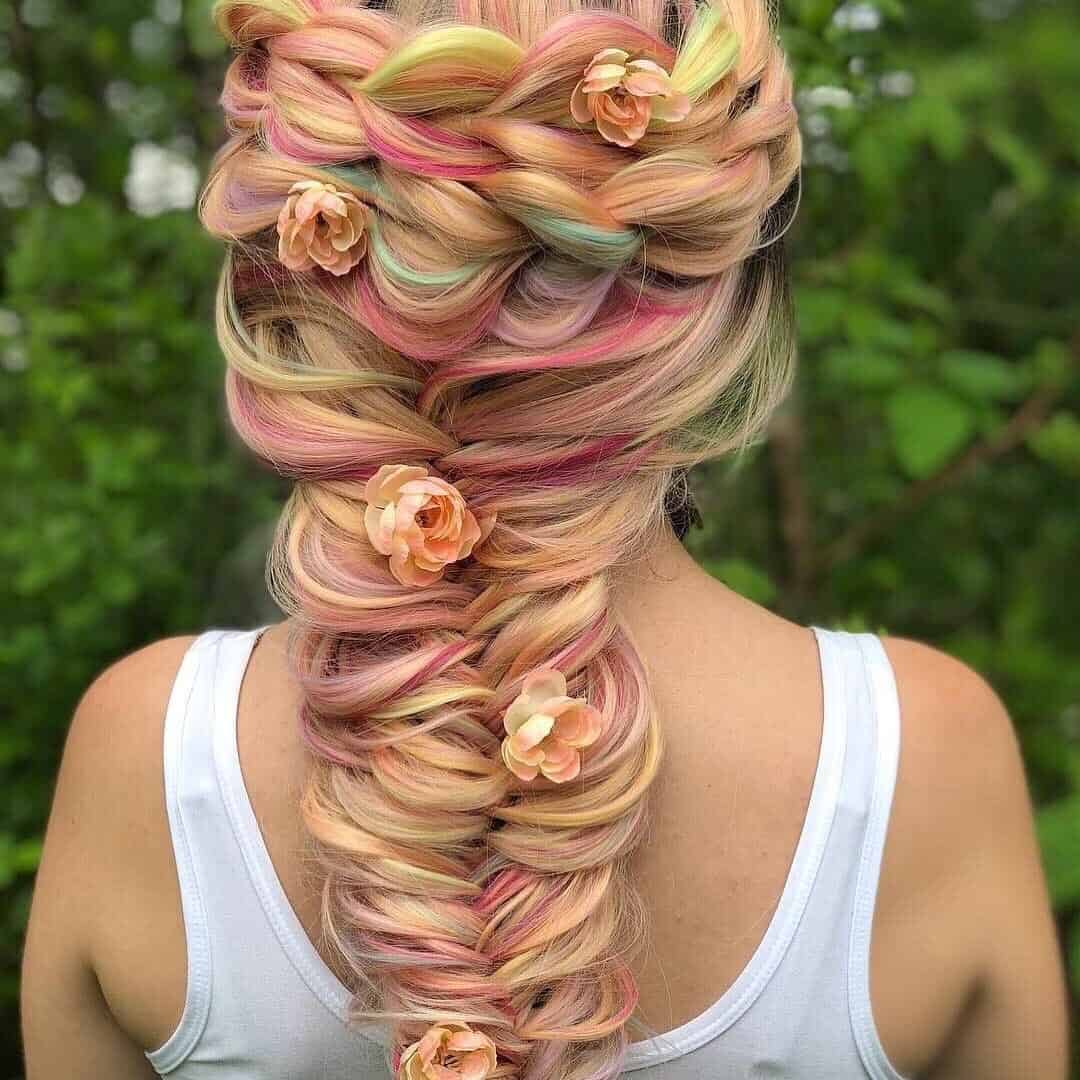 We said that colors and being one with nature is important for a boho hairstyle. Well, is there anything more visually appealing than the rainbow? Get your rainbow colors in a braid, and you have every possible boho element in your hair.
22. Tied Back Halo With Hanging Braids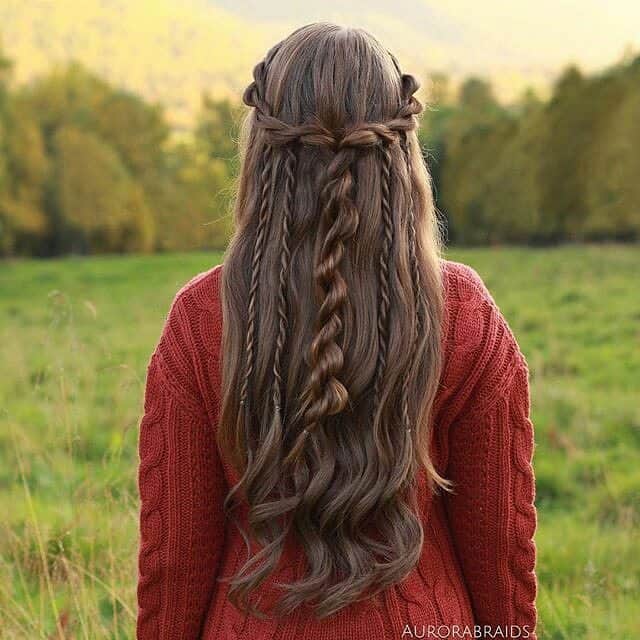 Halo braids burst with versatility. You can wear them in so different ways. You can wear halo braids for a casual outing, or for a more special occasion. Here, we go for a more casual look. Hell, it is a boho hairstyle.
23. Double Inverted Braids With Boho Space Buns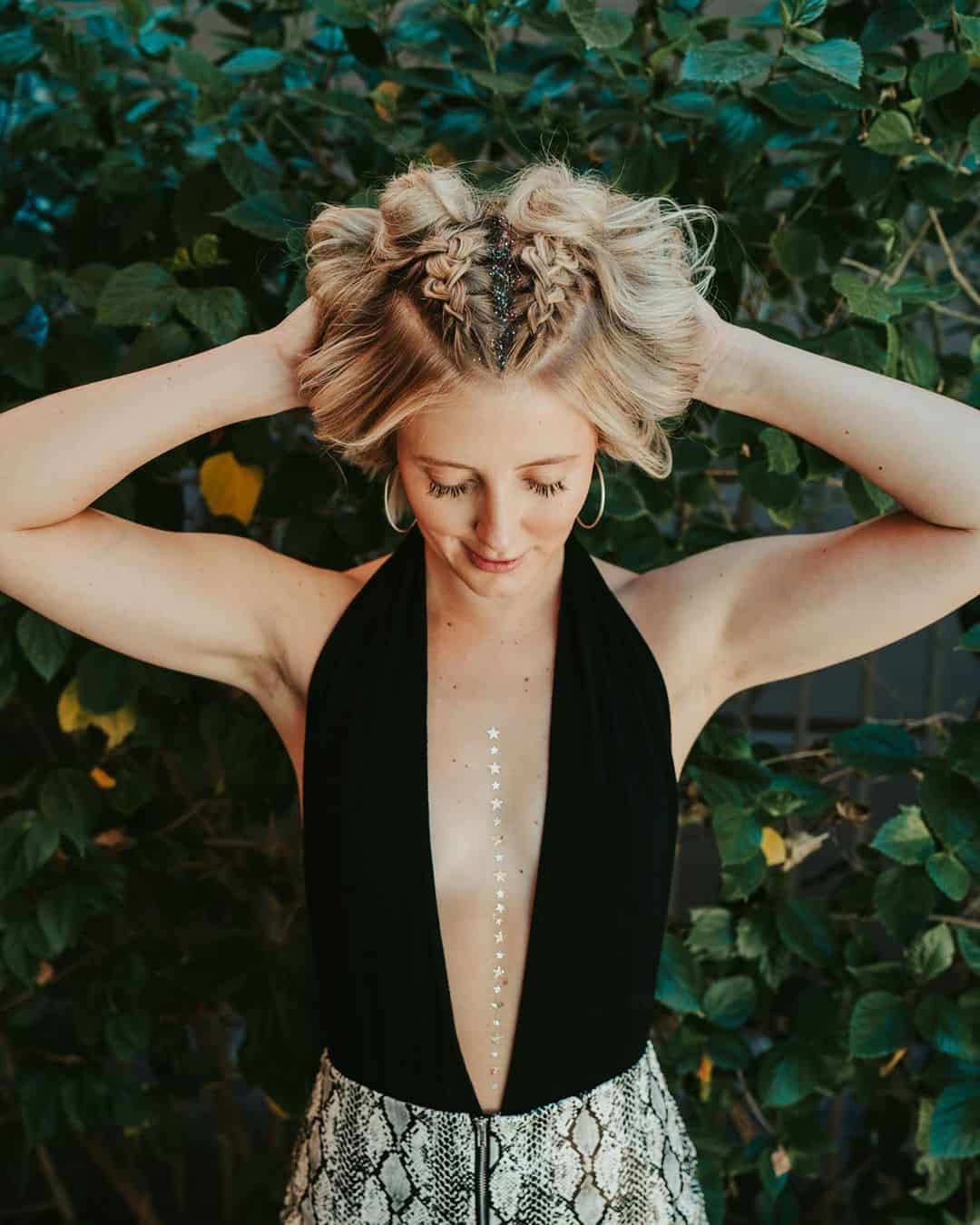 This picture looks like taken from a magazine. The hairstyle is definitely magazine-style worthy. And it is all thanks to the boho accessories in the middle. They steal the show.
24. Boho Infinity Braid Side Braid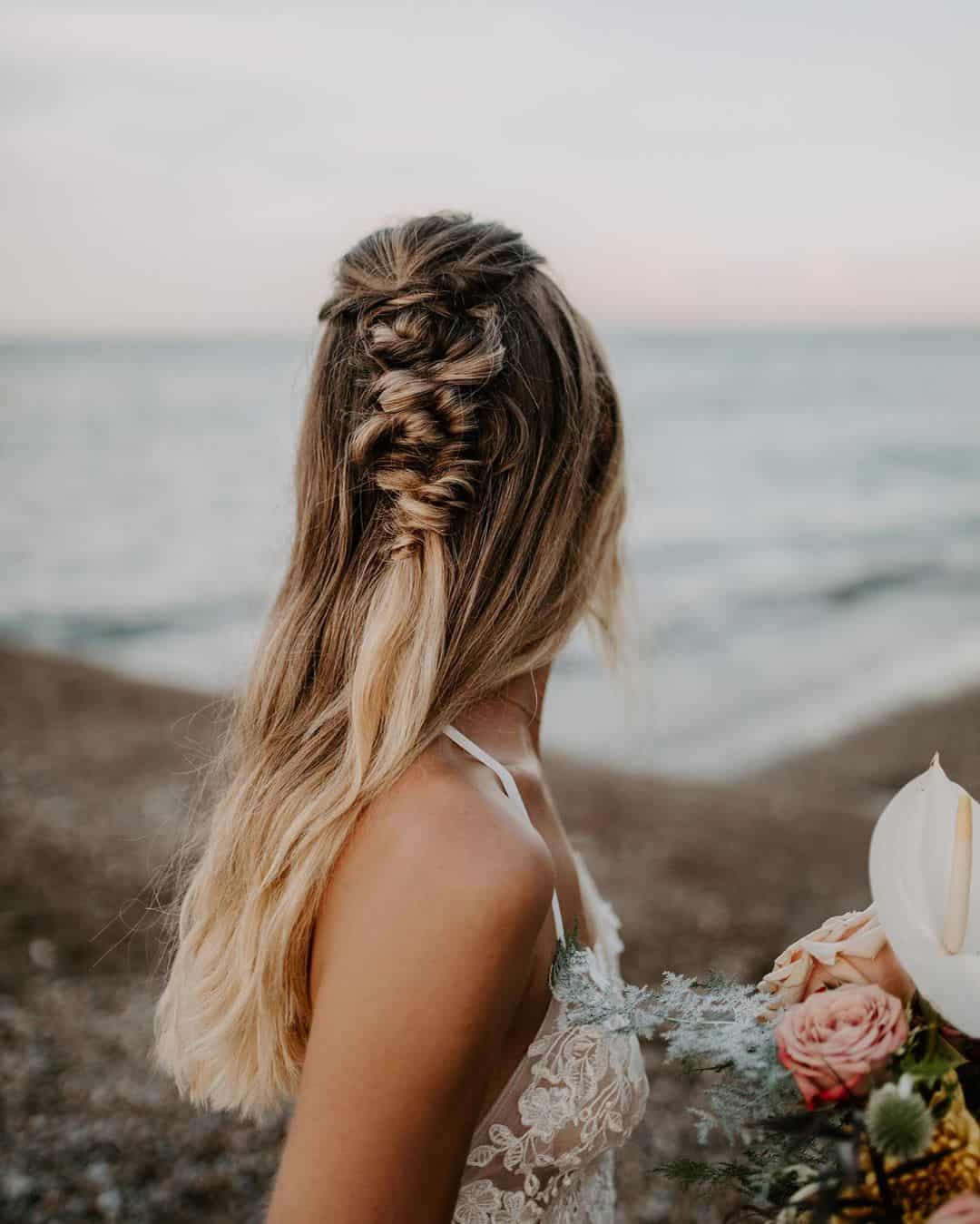 If you want to add a personal twist to the ponytail trend, the infinity braid is the way to go. What you get is a fresh look that is totally in line with the boho spirit. And all you need is just a small elastic to keep your hair tight.
25. Boho Boxx Braids/Passion Twist/Faux Locks
Some women just want to have as many elements in their hair as possible. There is nothing wrong in that. Just be careful not to over the top.
26. Braided Bangs With Side Braided Pony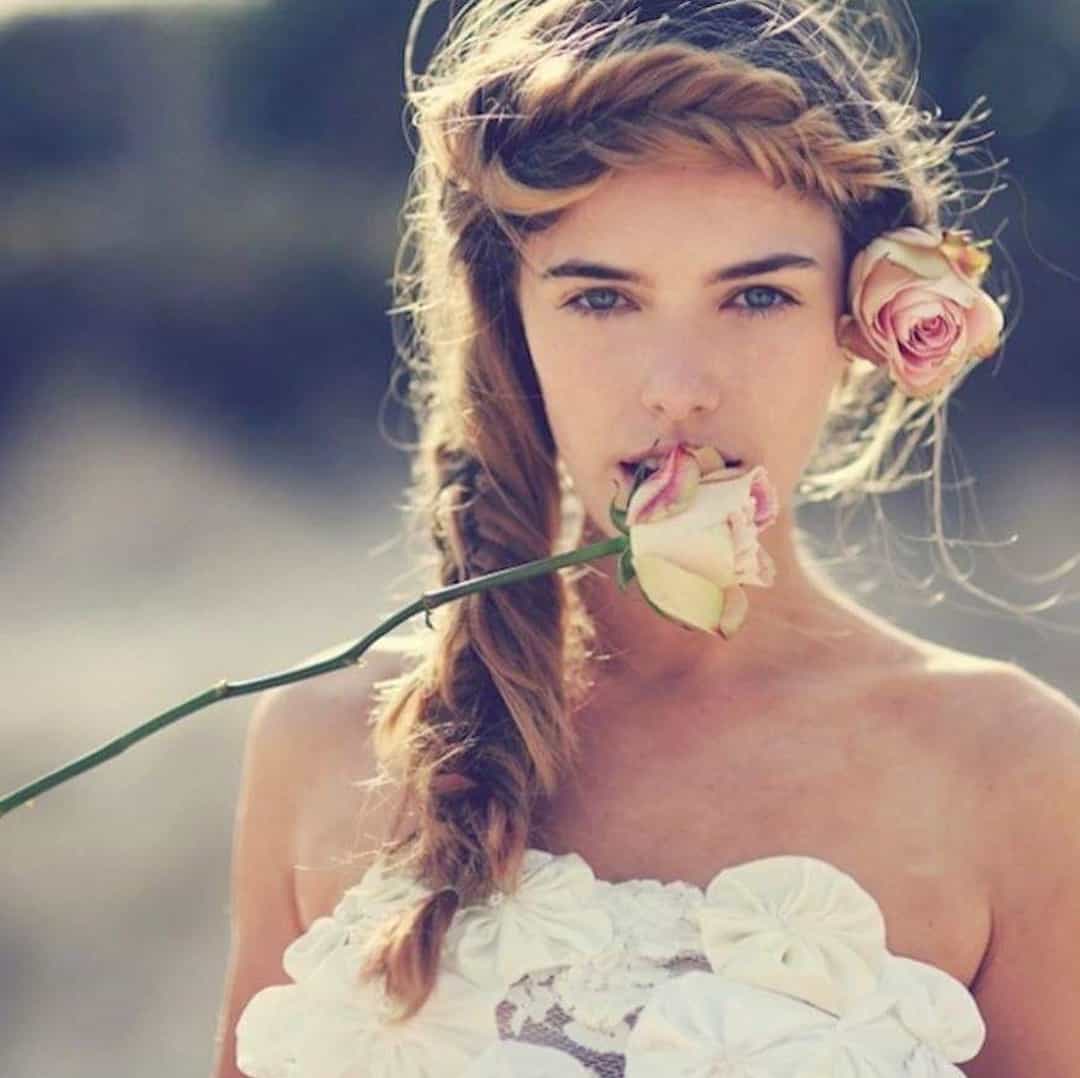 When you think of boho hairstyles, you rarely think of wedding-worthy hairstyles. That is why we finish off with a wedding-style hairstyle. Boho hairstyles are too versatile, but they are mainly worn for casual events.
With that in mind, we would love to see your ideas for a boho hairstyle.