To say that coconut oil sugar scrub is the latest trend in beauty skin care is an understatement. This is one of the simplest, easiest, and best ways you can take care of your skin.
Try this homemade sugar scrub, and you will see the results. We guarantee your skin will never feel as soft as it will after the treatment.
Now, this might sound like an advertisement for a product, but it is not. We try to tell you how good some homemade treatment is because we care for you. We love for everyone to have good and healthy skin.
With that in mind, let's list just a couple of reasons why you should try the scrub.
Your skin will feel soft, and smell delicious
Your skin will look, feel, and smell better than ever before
You save money on store-bought products
You know exactly what is in the treatment
A coconut oil sugar scrub is a four in one treatment. You can use for face wash, exfoliator, moisturizer, and makeup remover
Top 5 Homemade Recipes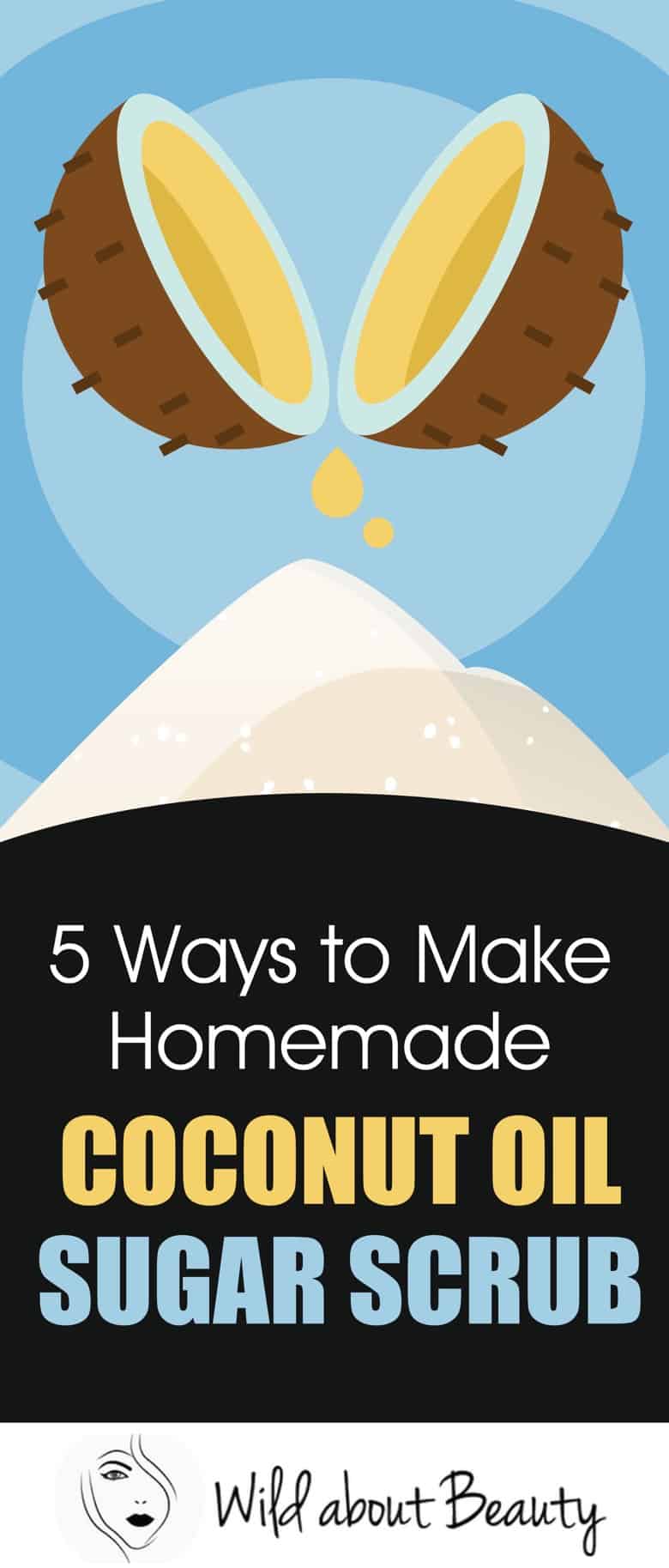 Simple coconut oil sugar scrub
You can say this is the OG recipe for the coconut oil scrub. It is the simplest, and usually most commonly known recipe.
Here is the recipe list:
¼ cup granulated sugar. If you want more sand-like texture, go for ½ a cup
½ cup of coconut oil, preferably organic coconut oil
1 tablespoon citrus fruit zest, you can use lemon, orange, or grapefruit
How to do it?
Combine all of the ingredients. There is no need to heat the coconut oil prior to mixing because if the oil is melted, it will dissolve the sugar
Apply on your skin, and gently massage in circular motion for one minute
Rinse and pat your skin dry
Vanilla coconut oil scrub
Vanilla gives your DIY sugar scrub a special and relaxing scent. You need just 3 ingredients, and you can easily use the scrub for exfoliating your skin.
Use it on your hands and feed before manicure/pedicure, or on your face when you want to get rid of dead skin cells clogging your pores.
Here is the ingredient list:
½ cup of organic coconut oil
1 cup of white sugar
10 drops of vanilla essential oil
How to do it?
Heat the coconut oil in a microwave for 30-45 seconds until it is fully melted. Give it 10 seconds to cool down a bit, and then transfer to a small mixing bowl
Stir in 1 cup of white sugar and mix the ingredients well. Add 10 drops of vanilla essential oil. If you like a stronger scent, add more. Mix again until the ingredients are combined
Store your sugar body scrub in a mason jar when you are done and use whenever you need
Rose oil and coconut oil
For a girly scrub, you can make this pink body scrub with rose extract. There is no sugar in this recipe, but you still get the exfoliating factor thanks to sea salt.
Bonus: this product smells amazing, and has some antibacterial properties. Your skin will not only be softer but also healthier than before. Isn't that great?
Ingredients:
1 tablespoon of coconut oil
3-4 drops of rose essential oil
2 tablespoons of Himalayan salt or sea salt
How to do it?
Whisk all three ingredients together using a fork
Once you have a ready-to-use scrub, apply on your hands, feet, legs, arms, face, or anywhere else where you want to make your skin softer
Store any leftover in an airtight container
Coffee coconut oil scrub
Dedicated to all coffee lovers out there. The main reason we add coffee is for extra benefits. If you didn't know, coffee can help you get rid of cellulite.
That is when applied topically, not by drinking in large amounts. Both coffee and coconut oil are rich in antioxidants, and we all know they are great for the skin. And you have an amazing coconut sugar scrub recipe.
Ingredients:
½ cup of coffee grounds
¼ cup of brown sugar
¼ cup of coconut oil
½ teaspoon of cinnamon (optional)
How to do it?
Start by melting the coconut oil and then allow it to cool. Be careful not to let it solidify
Mix all the ingredients together, and then store in an airtight container
Apply two times per week, and store any leftovers in the container
Coconut oil and essential oils
This is where you can express yourself. Basically, go little on the wild side. Choose any blend of essential oils that makes you happy and suits the purpose. You can make many different coconut oil sugar scrubs, depending on the essential.
For example, lavender can calm your sensitive skin, peppermint oil is great to invigorate, and citrus to inspire. You can choose whatever works for you. You can even mix a couple of essential oils into the same homemade coconut oil scrub.
With that in mind, here are some ideas about what to use.
For a citrus hand and body scrub, you need ½ cup of coconut oil, almost one cup of granulated sugar, 20 drops of sweet orange essential oil, and 10 drops of lemon essential oil.
If you want a peppermint foot scrub, instead of lemon and orange essential oils, add just 20 drops of peppermint essential oil.
How to use coconut oil scrubs?
We said that you can use the coconut oil sugar scrubs on any part of your body. But it is different when you use on your face, and on your feet.
With that in mind, here is the proper way to use coconut oil.
When using a DIY sugar scrub recipe on the face, apply the scrub while you are in the shower. Massage your face for 30 seconds, and then rinse your face. The oil will absorb immediately into your skin
When using coconut oil on the hands, massage hands and fingernails for 30 seconds, and then rinse and pat them dry
For your legs and feet, massage the oil while in the bath or while sitting on the side of the bathtub. Never use the scrub on your feet in the shower because it will make them slippery and you can fall
What is the shelf life of coconut oil sugar scrub?
How long will your scrub last depends on how frequently you use it, and how you store. Usually, a simple combination made with just oil, sugar, and citrus zest can last for about a year.
If you add other ingredients, the shelf life is shorter, since they do not last as long. But in most cases, your scrub will be spent before it runs out of shelf life.
If you like to be on the safe side, just make smaller batches. Remember, any ingredient with water content may perish sooner. With that in mind, there are three ways you can store coconut oil scrub.
Those are:
Glass jars
Plastic tubs
Plastic travel bottles