Bangs are strands or locks of hair long enough to fall over the front hairline of your face and cover the forehead. Usually, they are cut just above the eyebrows. Sometimes, however, they can even cover the eyes.
Bangs work best on oval face shape, and long face. Truth be told, bangs can flatter every face shape.
However, some styles are a little more flattering for some faces than others. Before you get bangs, it would be nice to consider the best styling techniques including how to blow dry your bangs.
You have to know that bangs are a high-maintenance hairstyle, as it requires constant care. With that in mind, bangs are perfect for a long face, as they can hide your big forehead.
Bangs can also make your face appear shorter. Consider these things before trying bangs.
Now, with that in mind, here are several bangs ideas you can try.
1.High Curly Ponytail With Choppy Bangs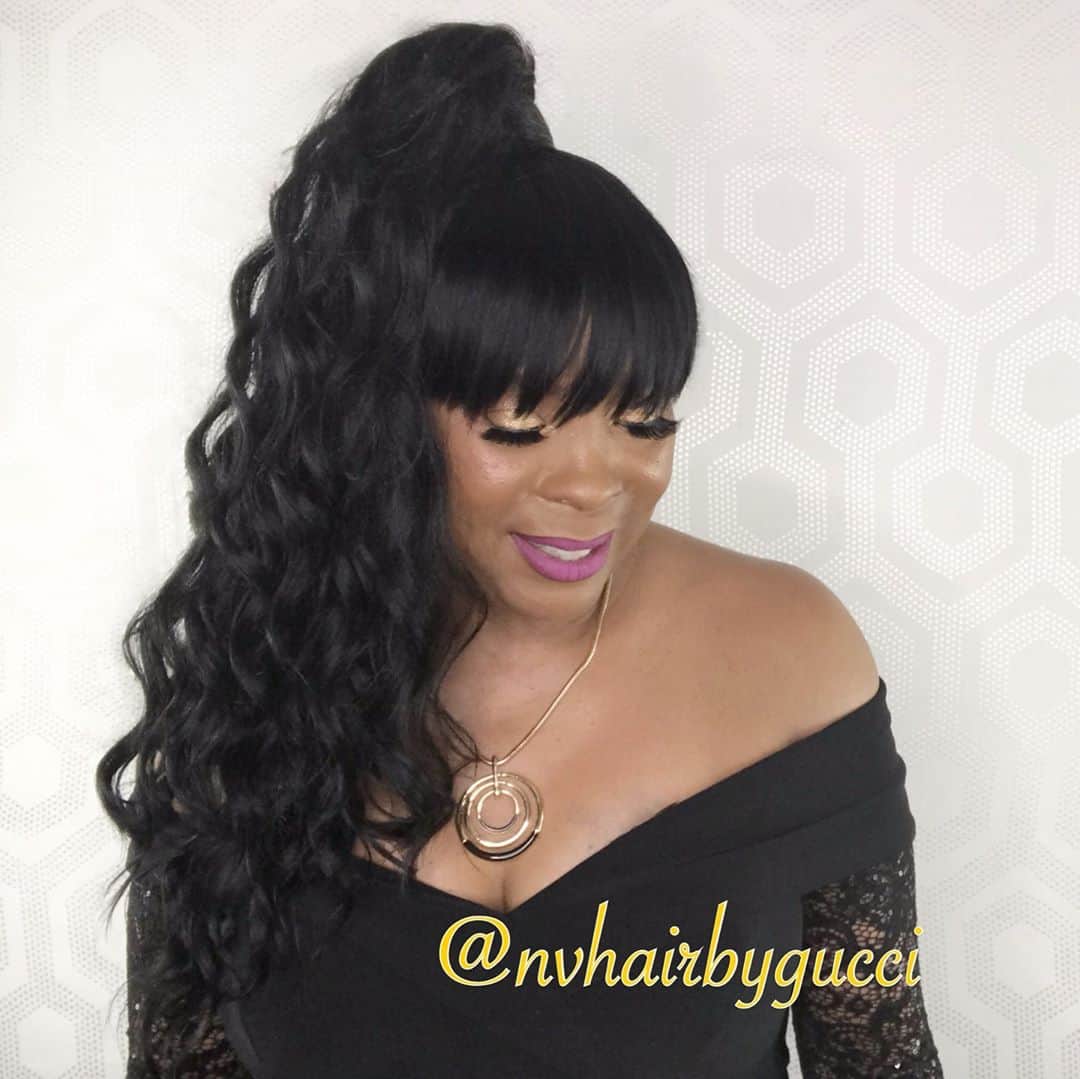 If you want to make a normal hairstyle pop,  here is a quick idea. We all know that ponytail is usually a boring and classic look. But add some bangs, and you have a winner.
2. Feathery Side Bangs On Faux Pixie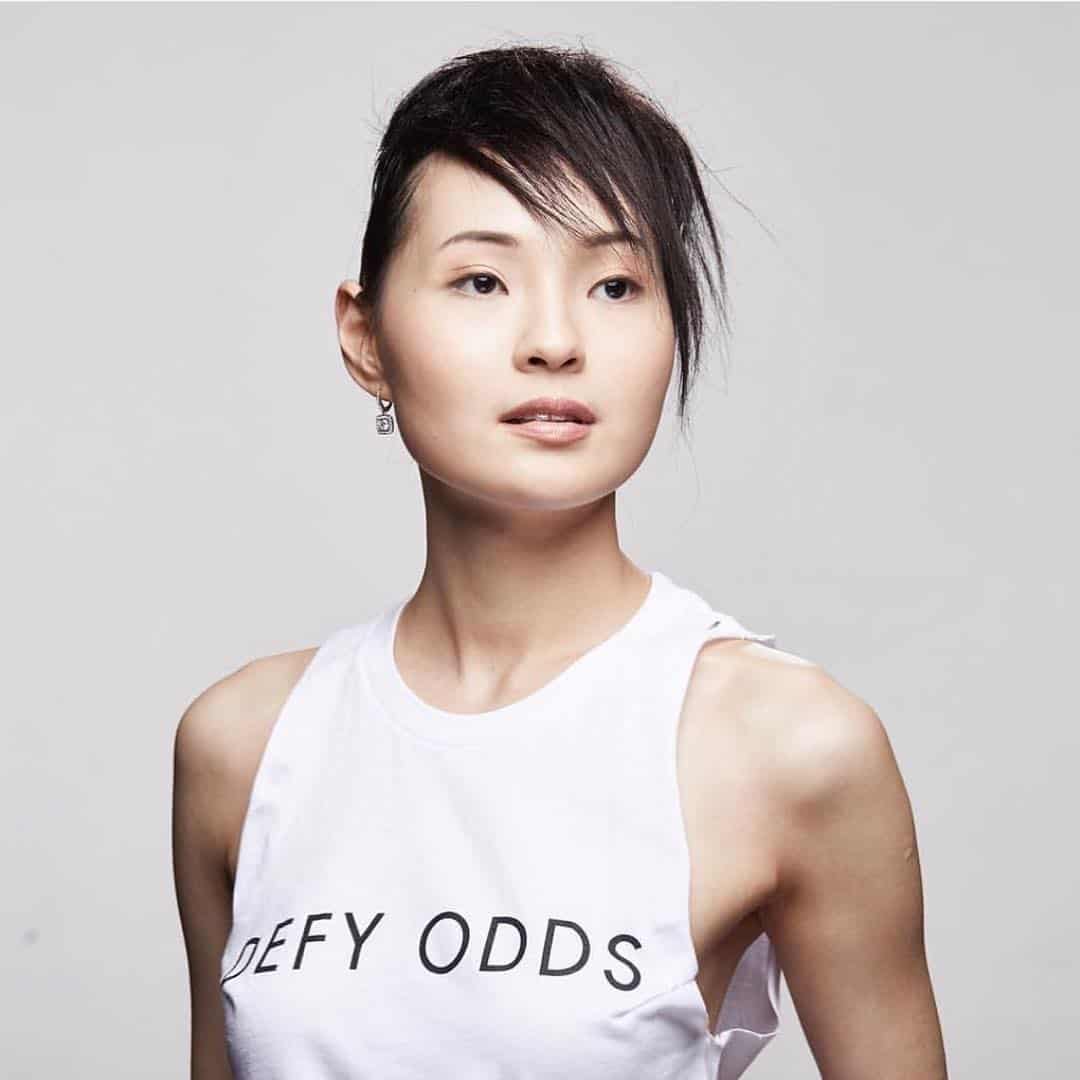 Actress Audrey Hepburn was the queen of the pixie. She found so many unique ways to wear a pixie. Often, she even experimented with bangs and pixie. Here is one idea you might not have seen her do it.
3. Wispy Bangs On Tied Back Long And Half-Up Half-Down Short Hair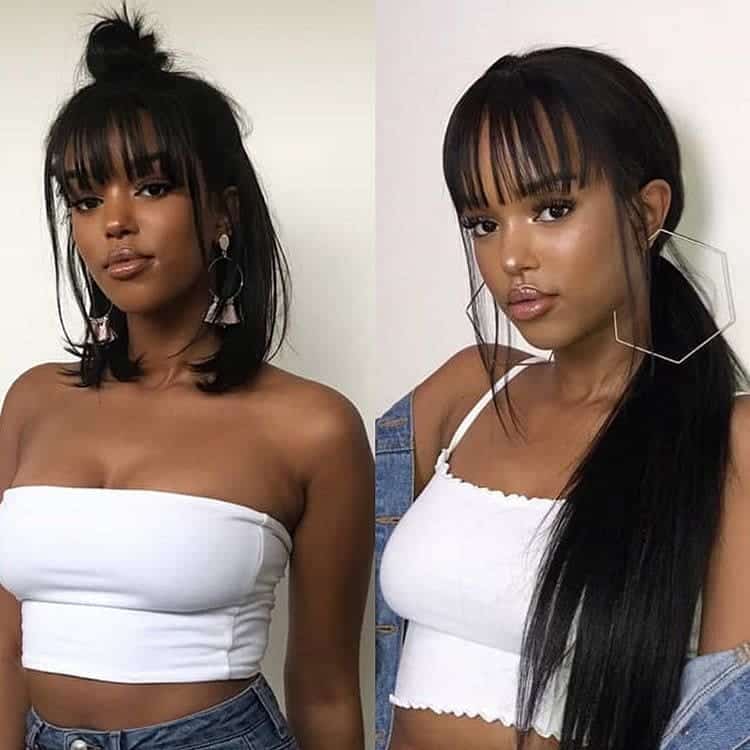 When you think about it, bangs can also help you add texture and volume to your hair. That is, if you combine them with the right hairstyle. An up-do certainly fits that bill. You can use it to make your short hair look longer and with more volume.
4. Heavy Slanted Micro Bangs On Medium Length Hair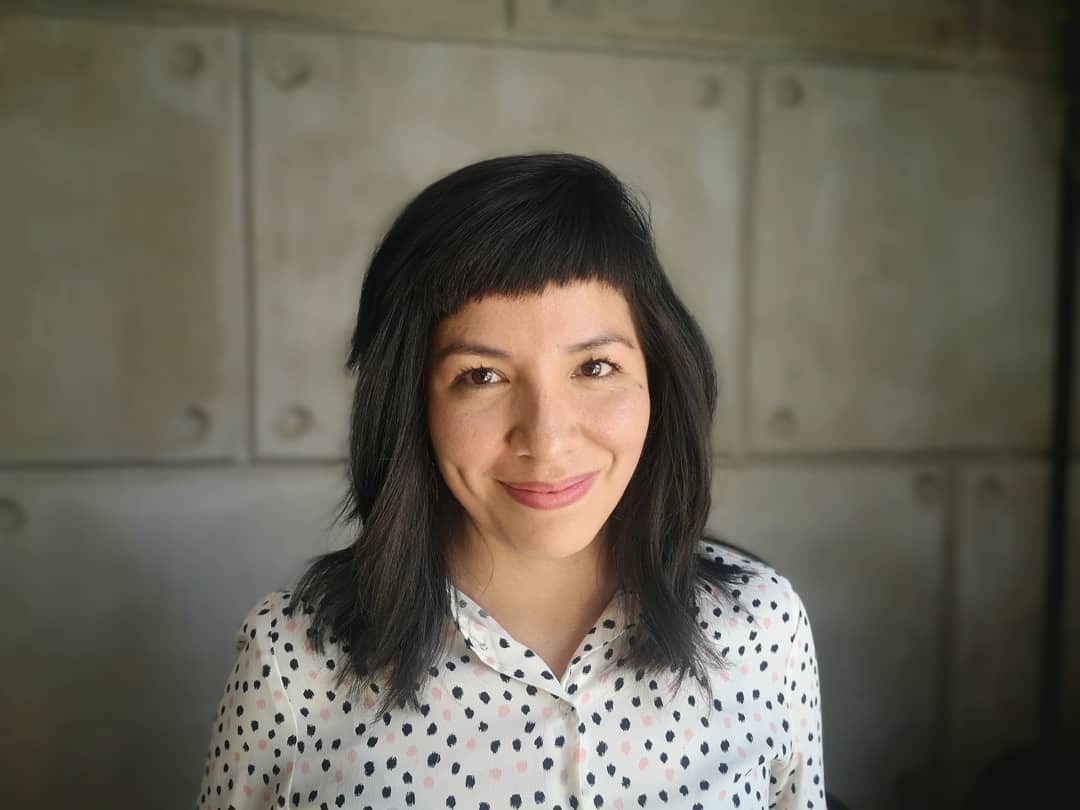 For the past few years, these bangs have been trending. Basically, the trick is to make your bangs looking like you've cut them yourself. Or, clumsy cut if you want to say it.
5. Feathery Light Bangs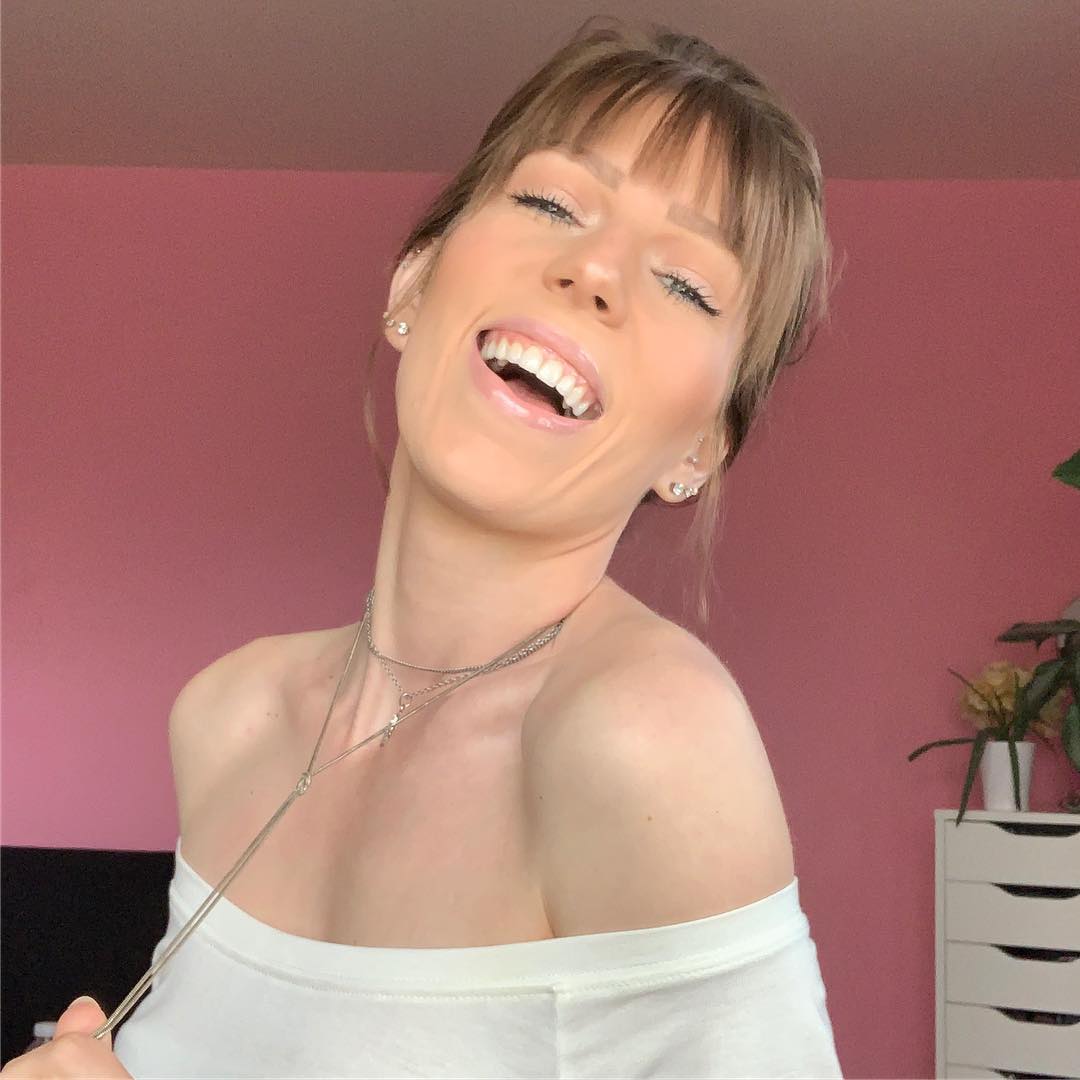 When you get bangs, you do not have to get on every inch of your hair. Light bangs can easily freshen your look.
6. Heavy Choppy Bangs On Red Ombre Wavy Hair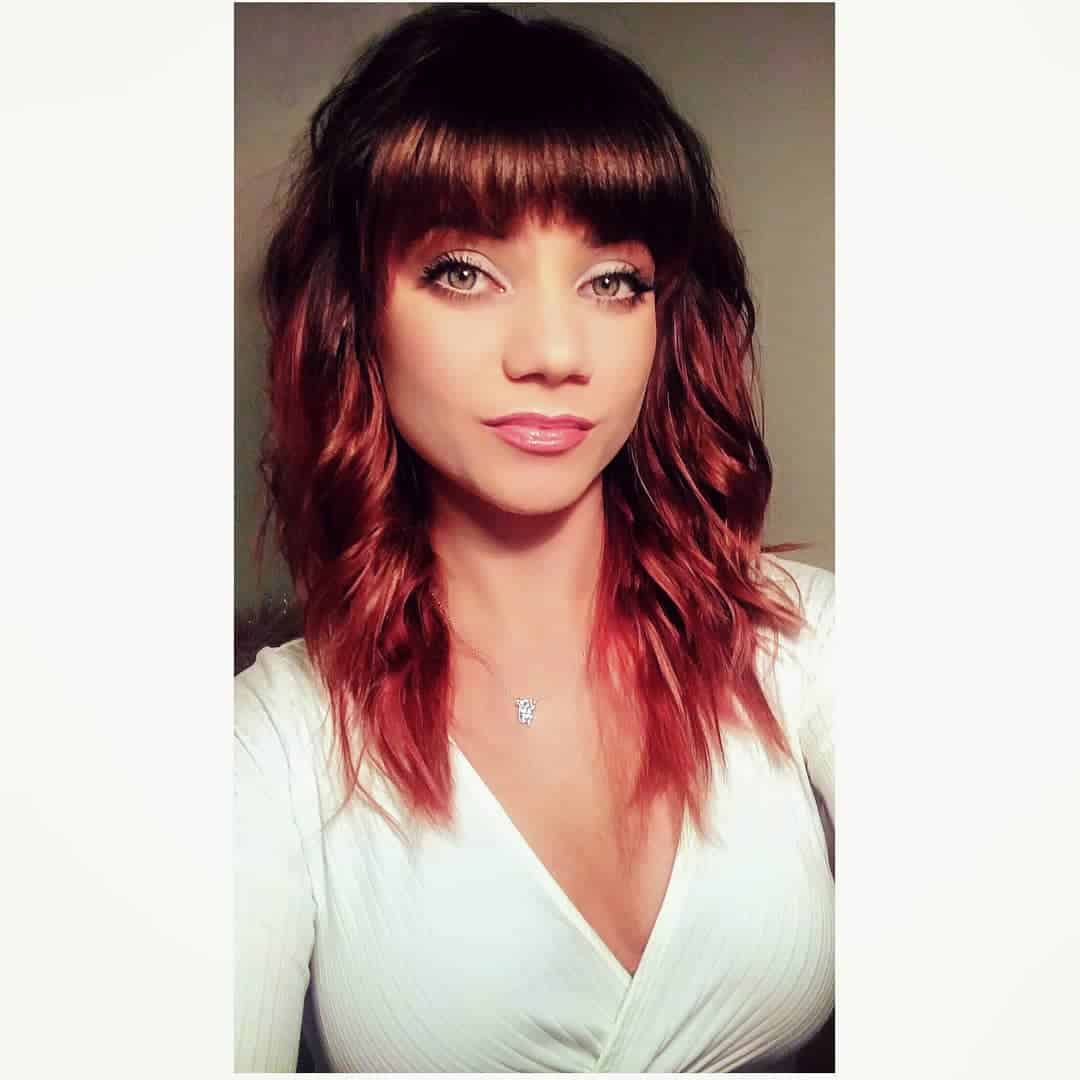 Choppy bangs are trending, and it is all because they are edgy. And if you want to take things to the next level, you can even dye your hair red. Definitely a bold look, but one you can easily pull off if you like.
7. Straight Heavy Bangs On Straight And Top Knot Hair
Straight bangs are a classic look, and you can easily tweak it with some updo or top knot. You can see how the top knot adds elegance and sophistication to your hairstyle.
8. Side Swept Bangs On Medium Brown Hair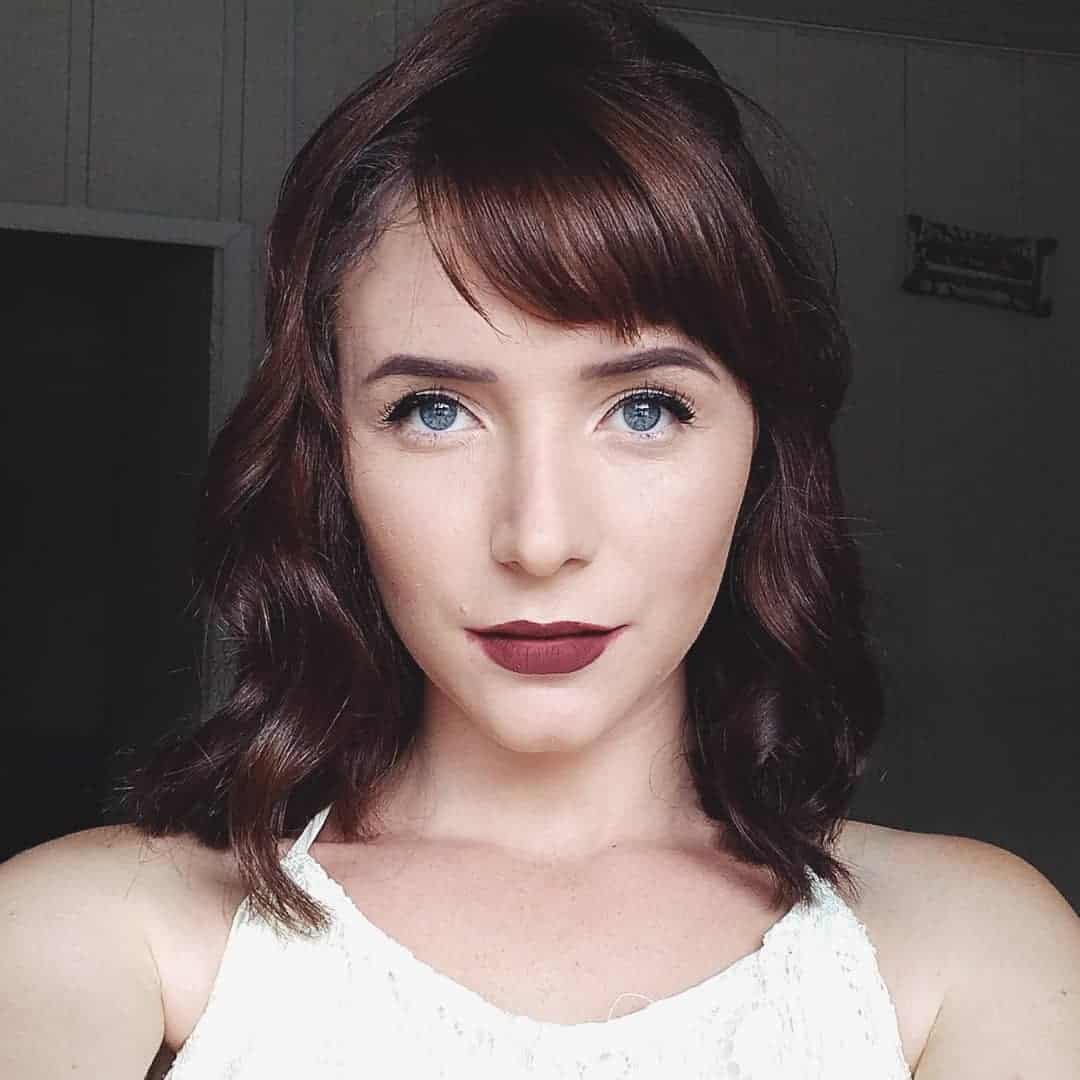 If you like bangs, but you do not like them to cover your entire face, side bangs are the solution. Wearing bangs swept to the side will you give a soft and relaxed look. In other words, casual look for an everyday coffee date.
9. Updo With Curved Heavy Bangs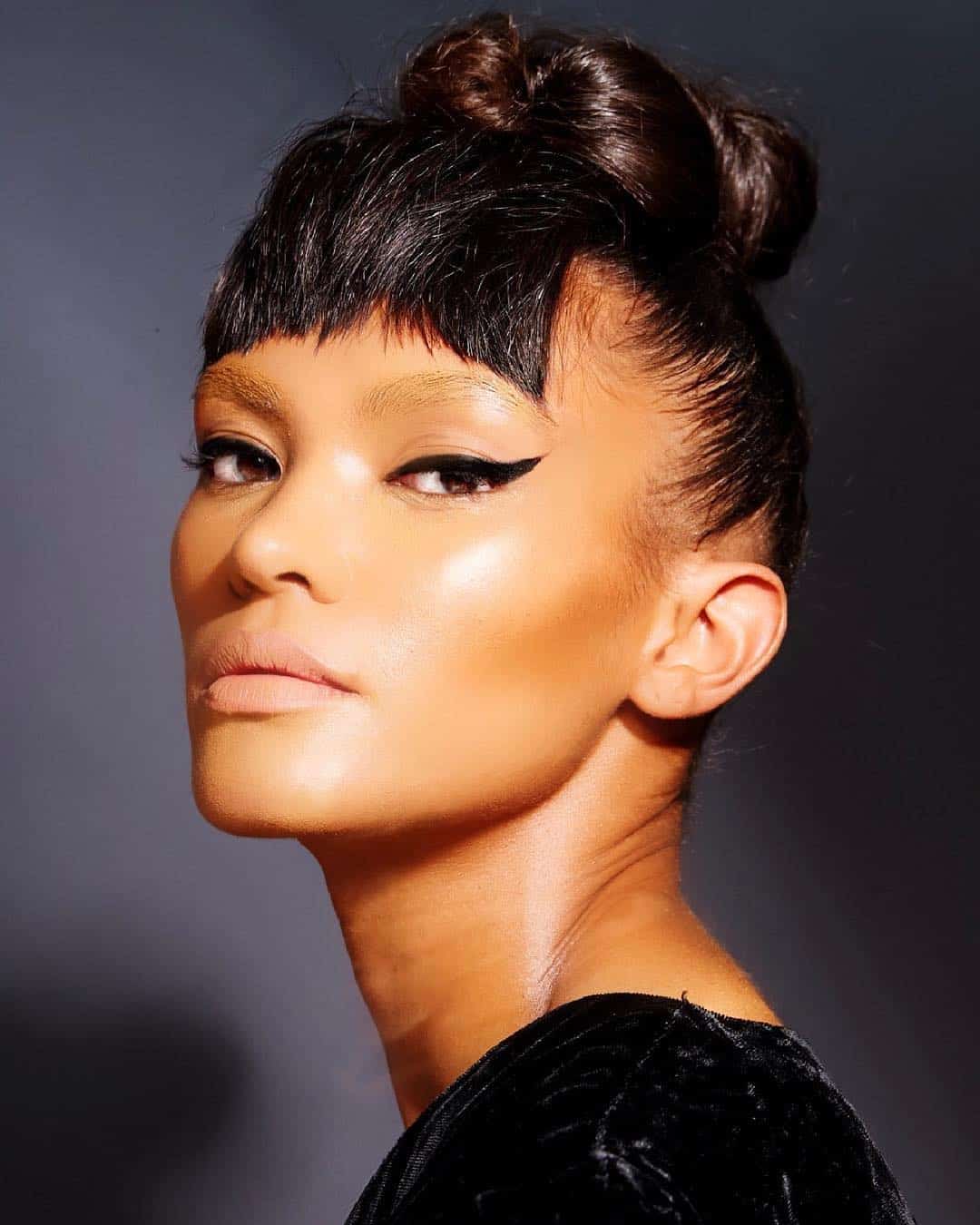 Even though bangs are short in length, you can add some curve to them. Just be careful with heavy bangs. They need to hit the sweet spot of your face. Otherwise, heavy bangs can easily overwhelm your look.
10. Straight Bangs On Asymmetrical Bob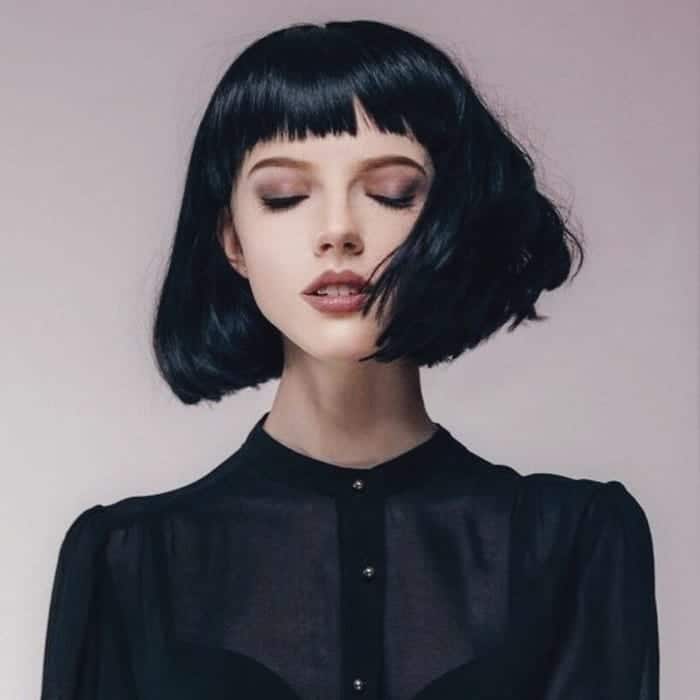 Playing with symmetry is one of the best ways to add playfulness to your hairstyle. And while asymmetry is perfect, there is always a need to add some calming factor. As in, straight bangs in the middle of your asymmetrical bob hairstyle.
11. Pink Wavy Hair On Long Feathery Bangs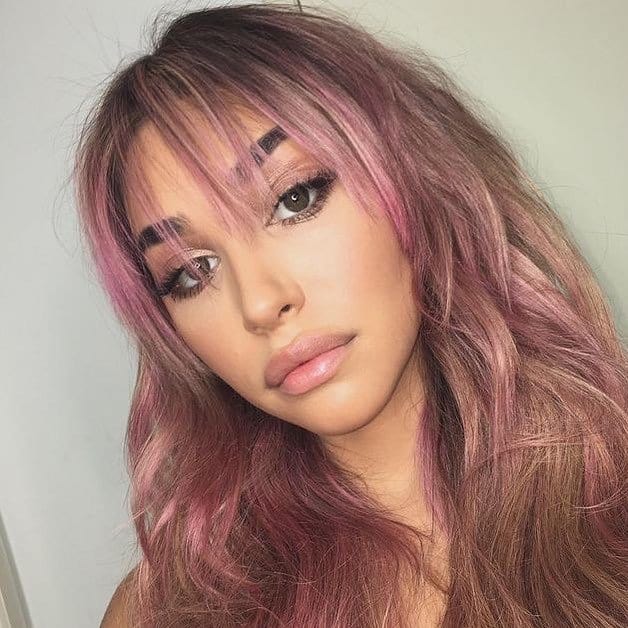 Feathered bangs are the new trend. And you will be surprised how easy are they to make. In some cases, you do not even need to go to the salon for hair treatment. However, if you want some pink hair color, you are better off not experimenting at home.
12. Ombre Ginger On Micro Heavy Bangs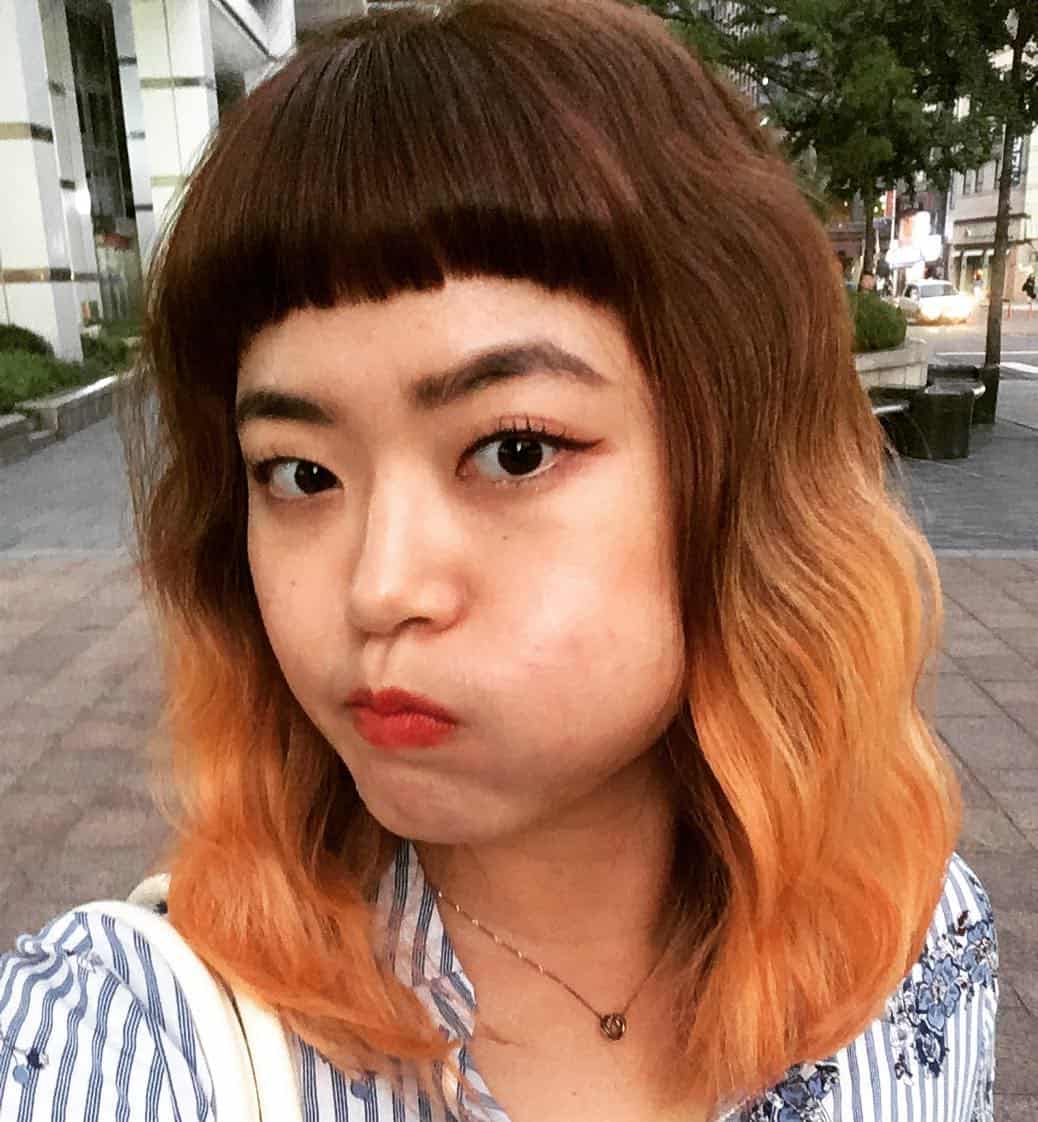 You can implement a couple of trends in your hairstyle. For starters, you go ombre, and then you try some micro bangs. To top it off, try ginger, a color that is unique and unconventional.
13. Long Wispy Fringe On Choppy Bob
Do you want the hottest look at the moment? That is a choppy hairstyle. Choppy looks are fun, and easy to achieve. And you can try it on short, medium, or long hair. It doesn't matter.
14. Choppy Bangs On Long Color Melt Blonde Hair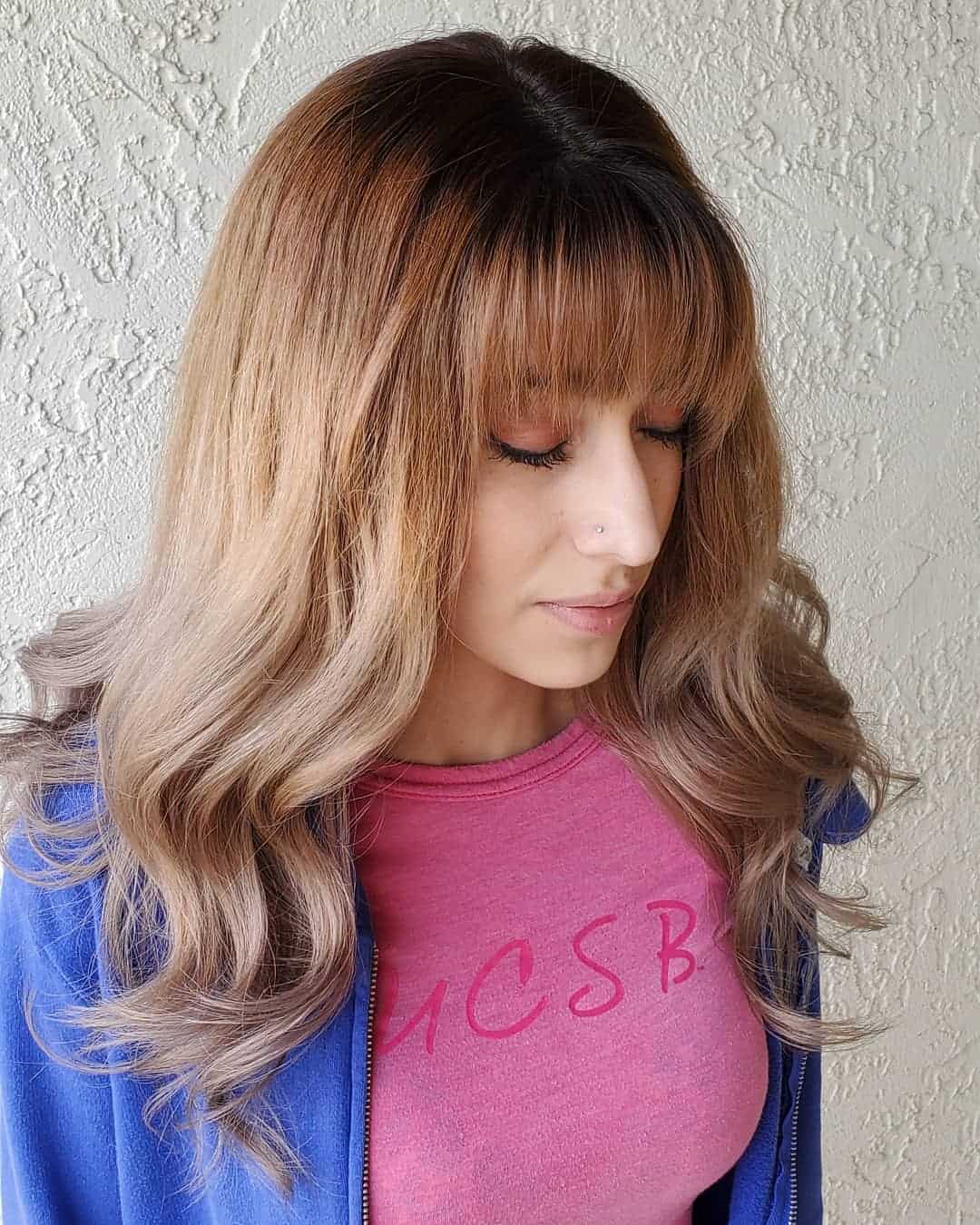 Speaking of choppy layers, here is another hairstyle that will add volume, definition, and movement in your hair. Stylists usually cut large chunks of hair in defined, yet uneven proportions. The goal is to get a blunt and edgy look.
15. Pixie With Micro Zig-Zag Bangs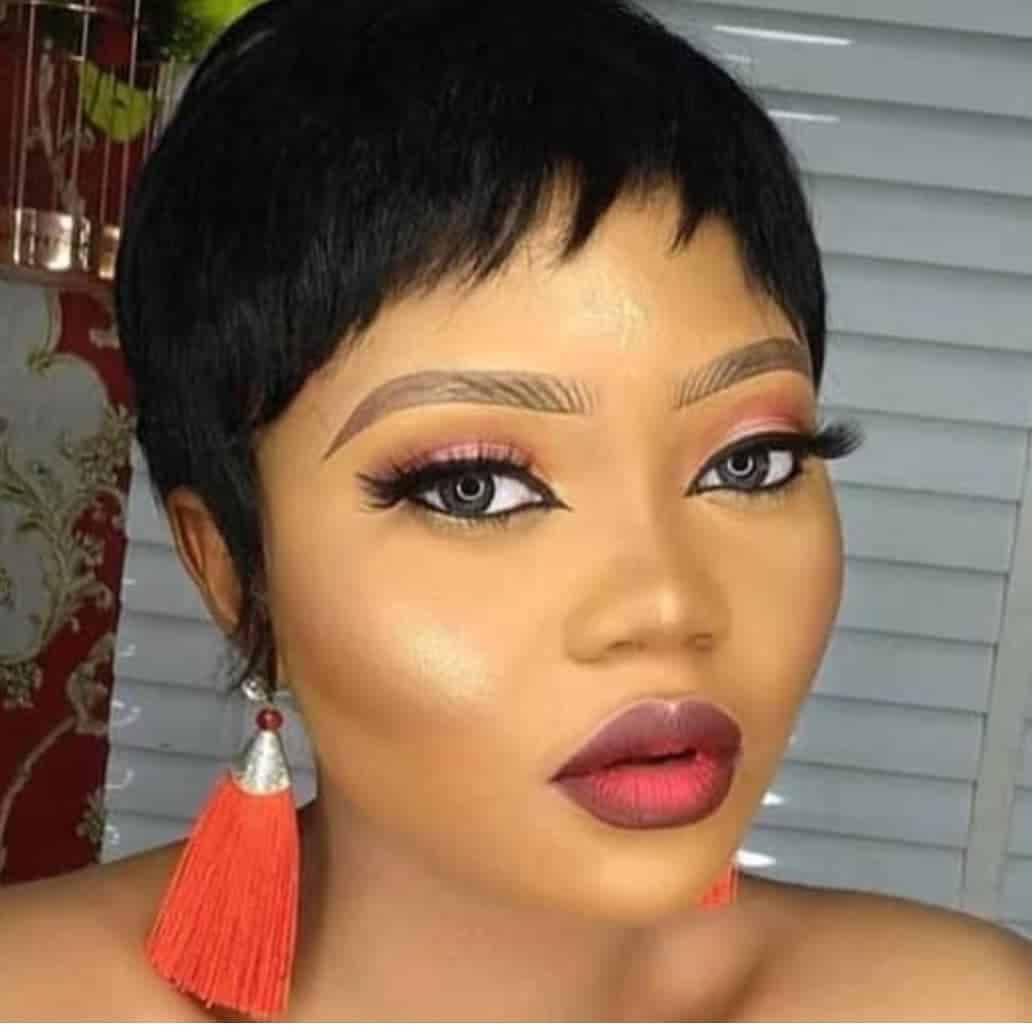 If you remember, Rihanna once wore this hairstyle. Truth be told, she experiments with her hair on a constant basis. And she can pull off almost everything. But you can try it as well.
16. Parted Bangs On Long Ginger Sectioned Hair
Bangs can follow your hairstyle anyway you like it. If you like parted hairstyle, you can make bangs that follow your hairstyle. Some women opt for straight bangs, but others go for parted.
17. Sectioned Straight Lob With Micro Braids And Blue Hues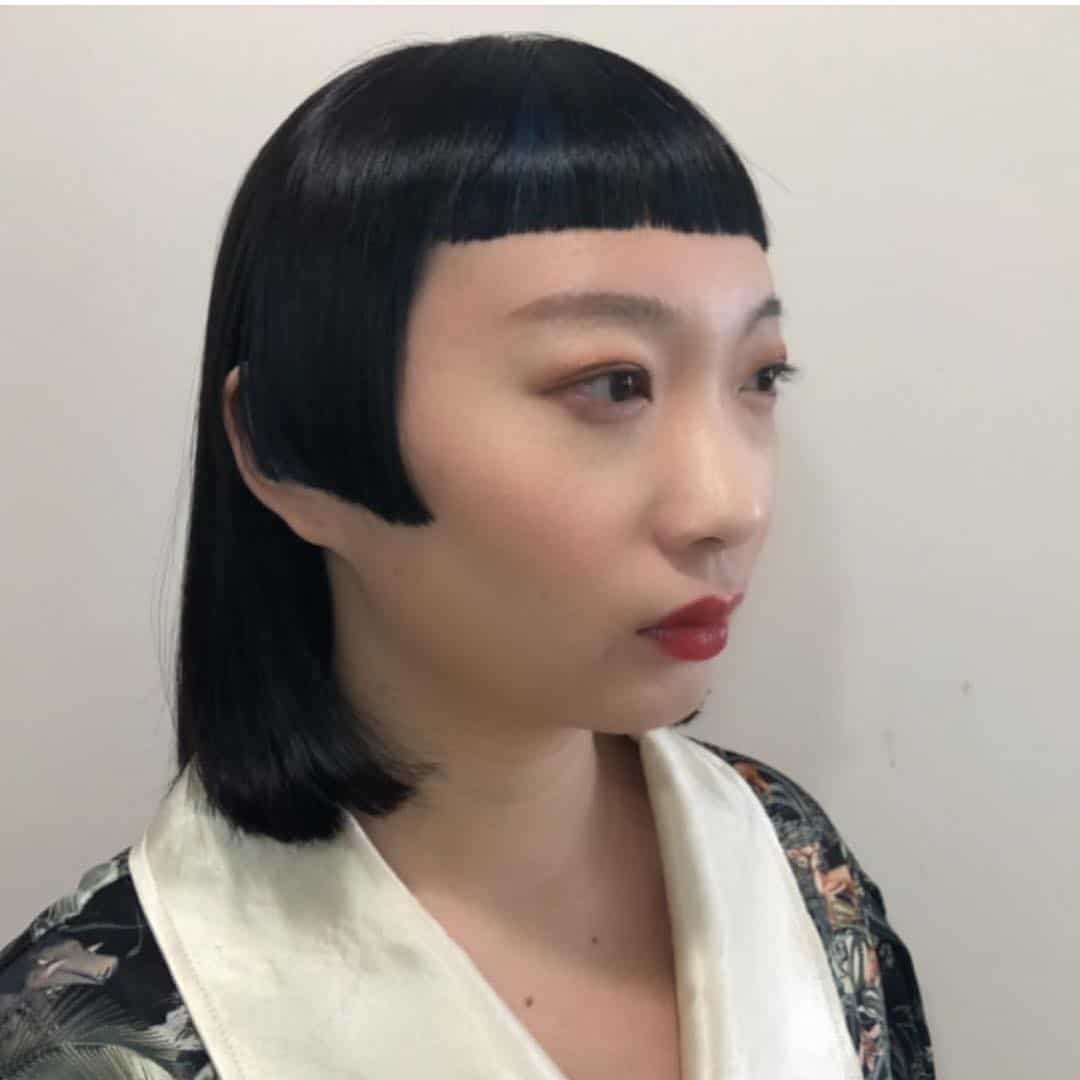 You either love micro bangs or hate them. It is a bit of a retro hairstyle. Essentially, micro bangs are just wispy or blunt bangs that start a couple of inches above your eyebrows. And as micro fringe is having a moment, we give you a couple of ideas to try.
18. Long Brunette With Soft Curls And Side Swept Fringe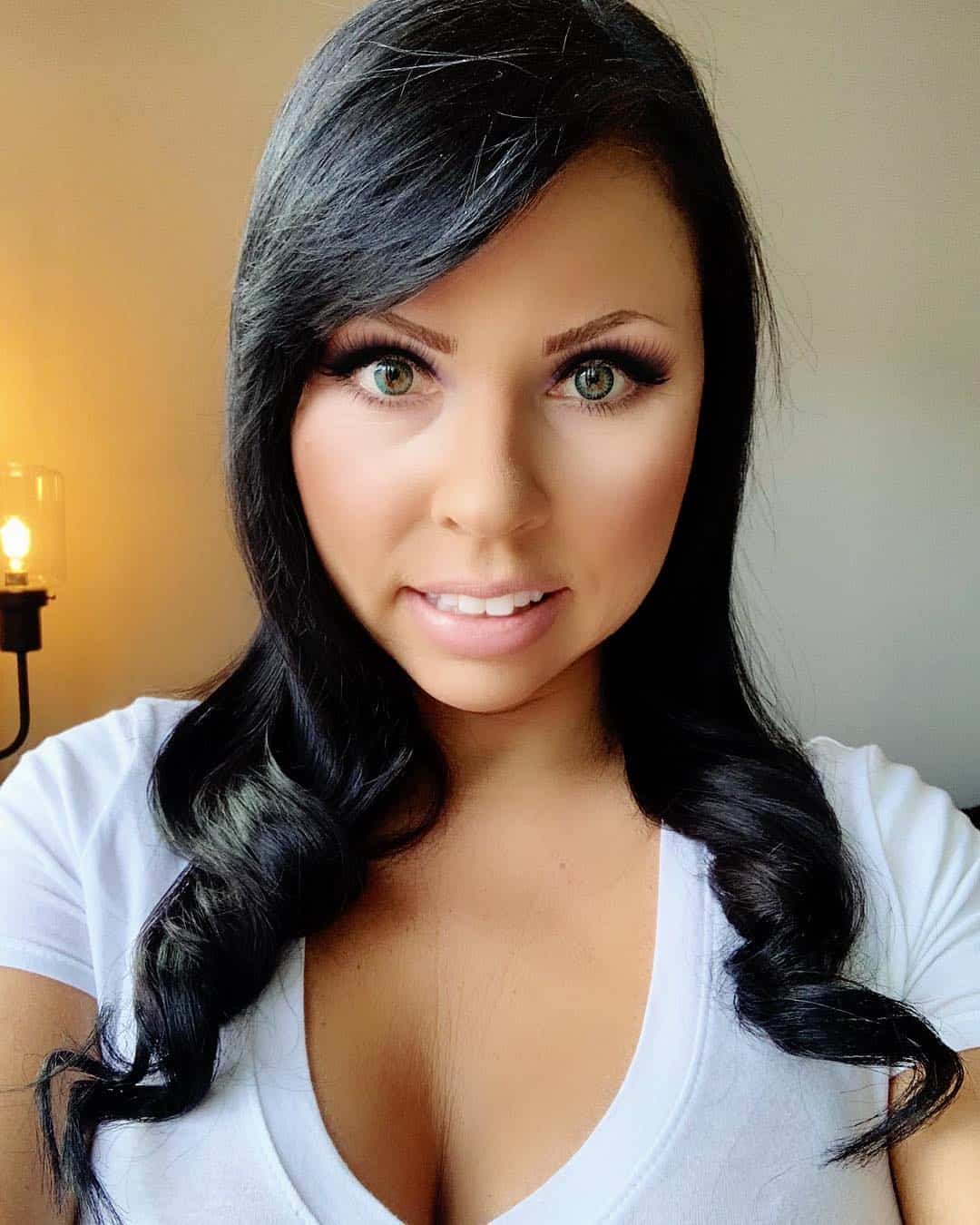 We mentioned previously how side swept bangs can help you show off your face, while getting bangs. The beauty of side fringe is that your hair will grow in the same direction. So, if you get tired of the bangs, just let your hair grow.
19. Natural Curly Long Pixie With Framing Bangs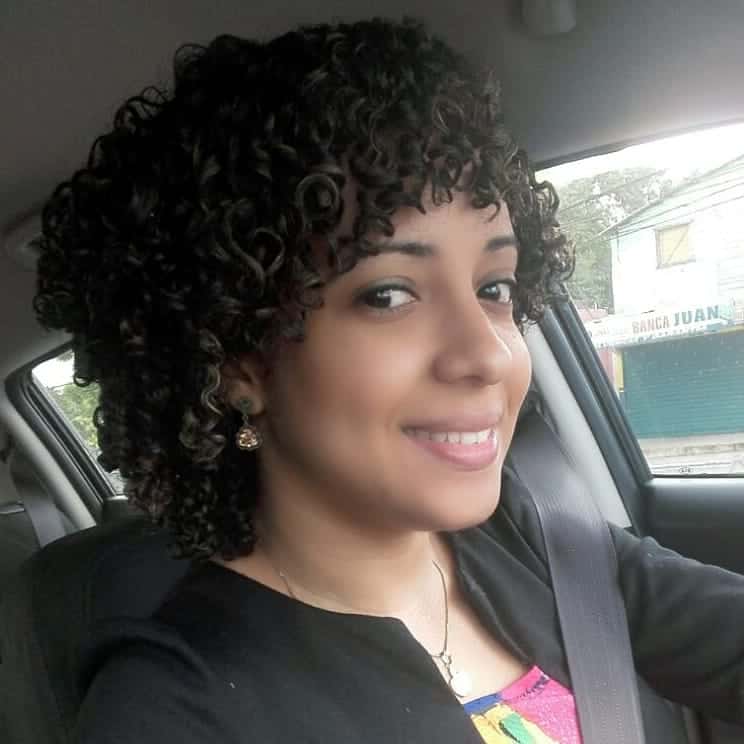 Curly hair is one of the blessings of the universe. Women that have naturally curly hair love it. And women with straight hair often try to get that look. With bangs, you can easily frame your face.
SEE ALSO: 26 Stunning Long Pixie Haircuts For The Hot Season
20. Choppy Highlighted Bangs On Voluminous Pixie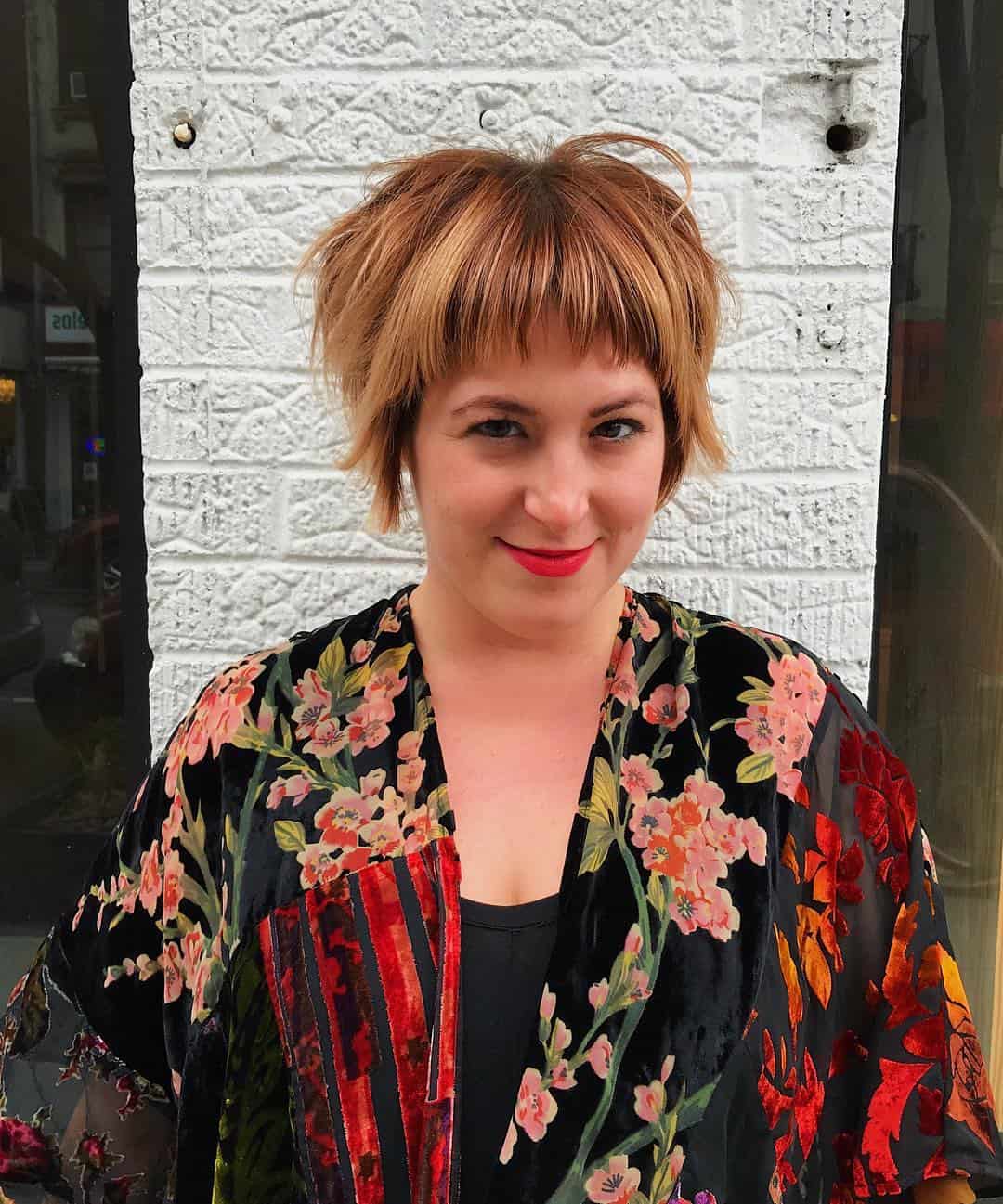 Pixie hairstyles are not known for their volume. But every now and then, you can add more volume to the pixie.
The choppy cut is definitely one of the ways to achieve it. As we mentioned previously, a choppy cut is great for adding definition and texture.
21. Slanted Choppy Bangs On Long Wispy Hair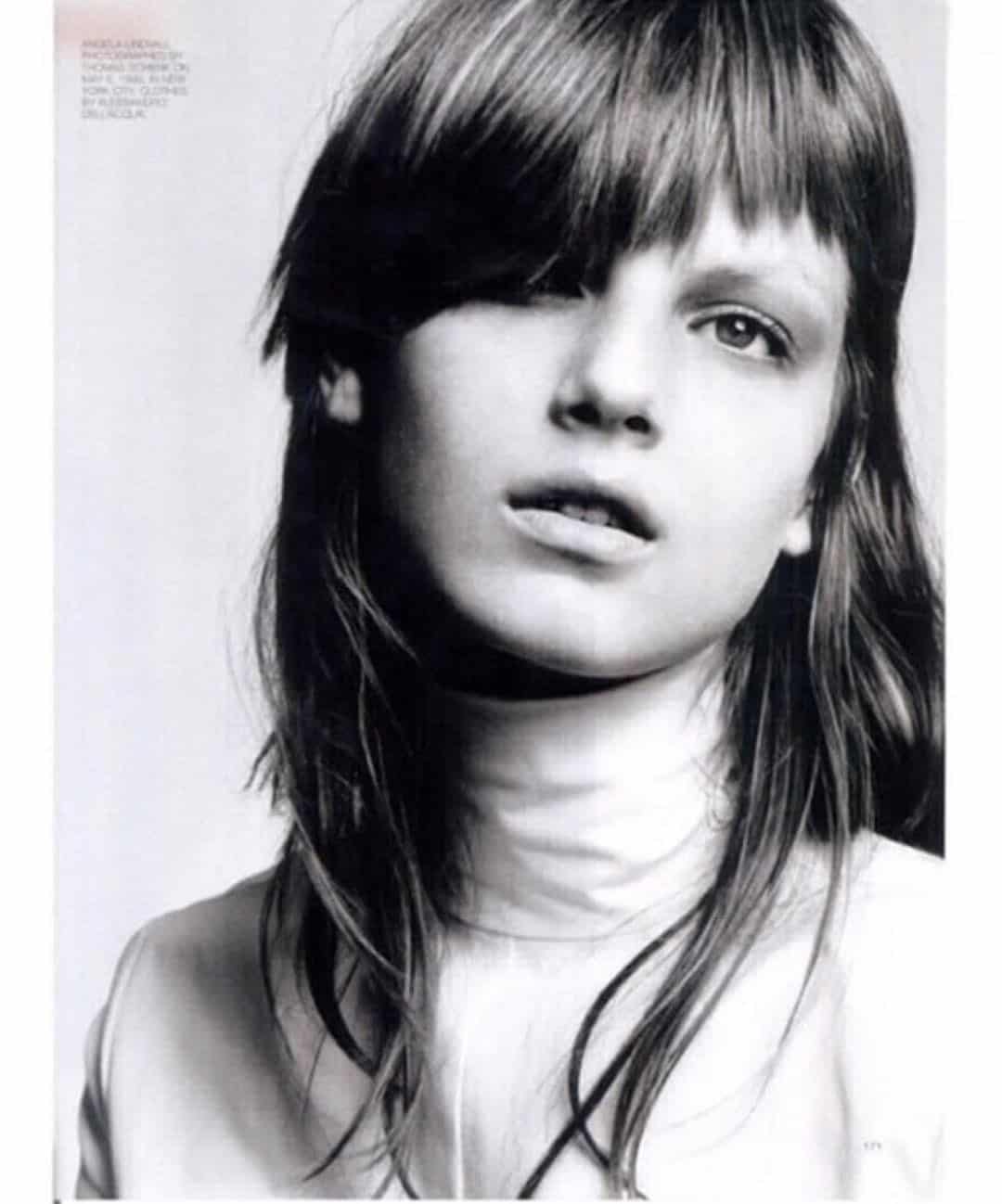 Angled bangs can help you create a cute and flirty style at the same time. If you want, we suggest opting for softer angled bang style. It is sweet, cute, adorable, flirty, and elegant at the same time. Not many hairstyles can achieve all that.
22. Long Side Swept Bangs On Ash Blonde Bob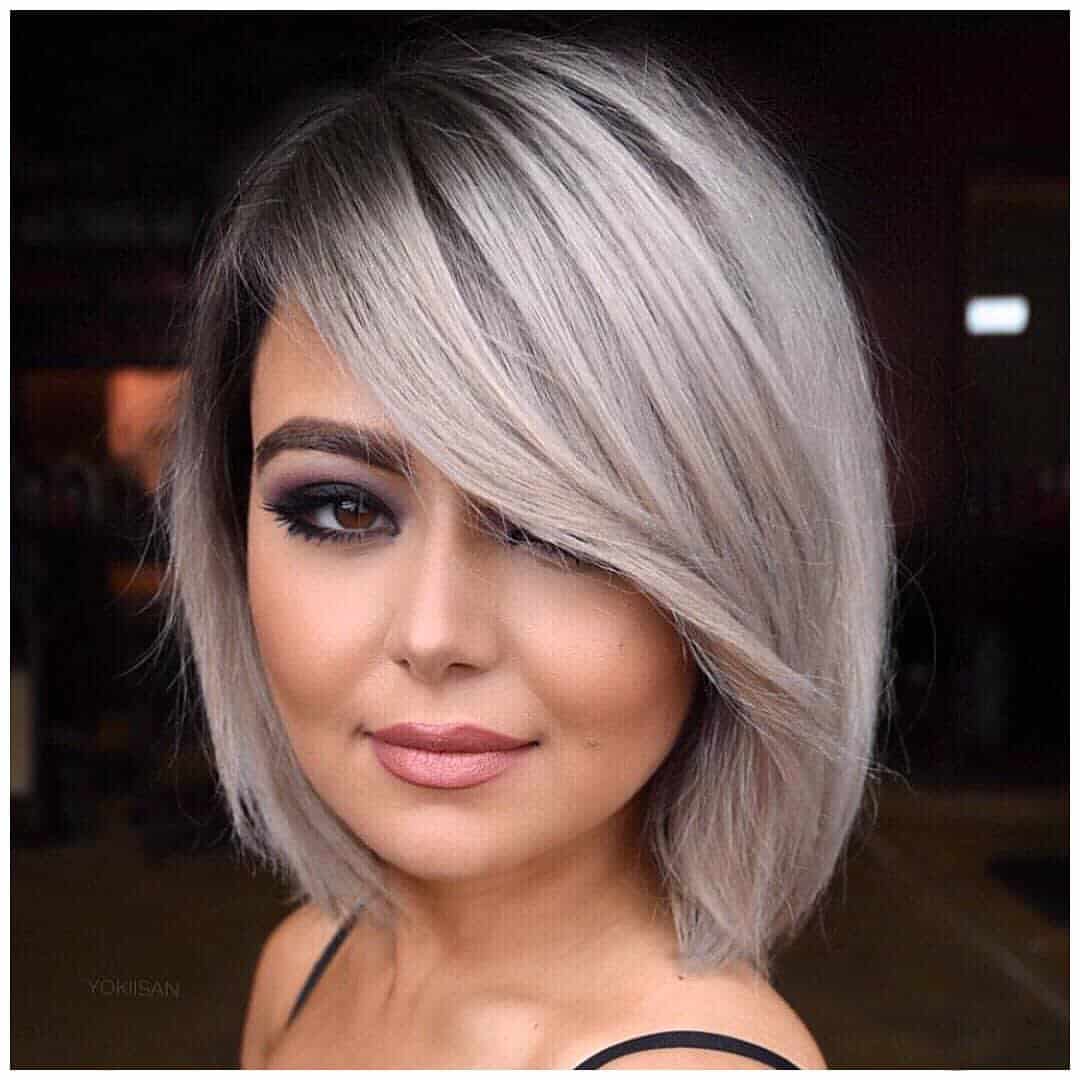 We know ash blonde is the trending hair color for the past few years. And the bob is making a comeback. Given that many women go for the classic bob, this is one idea you can try to be unique.
23. Long Curls With Side Outward Curled Bangs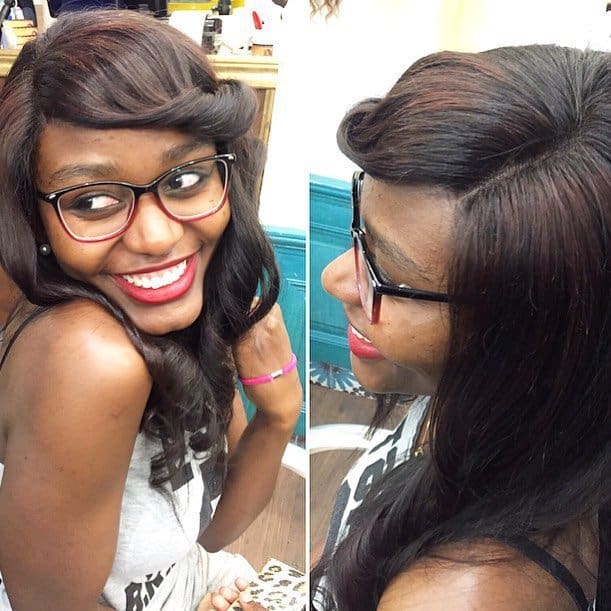 Curled bangs are so 90s. But the good news is that the 90s are making a comeback. Retro looks are more and more popular. So, do not hesitate to try one.
24. Straight Blue Hair With Sectioned V-shaped Bangs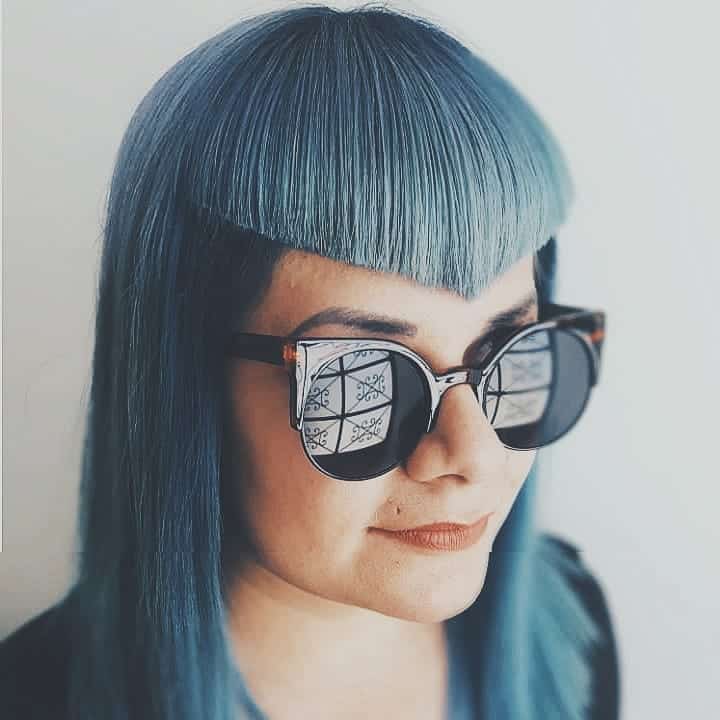 Now here is one futuristic looking hairstyle you can try. These are the hairstyles you usually see at Haute Couture shows. But who says you cannot try it? We live in the digital era, and this hairstyle is a tribute to that.
25. Slanted Heavy Bangs On Inverted Bob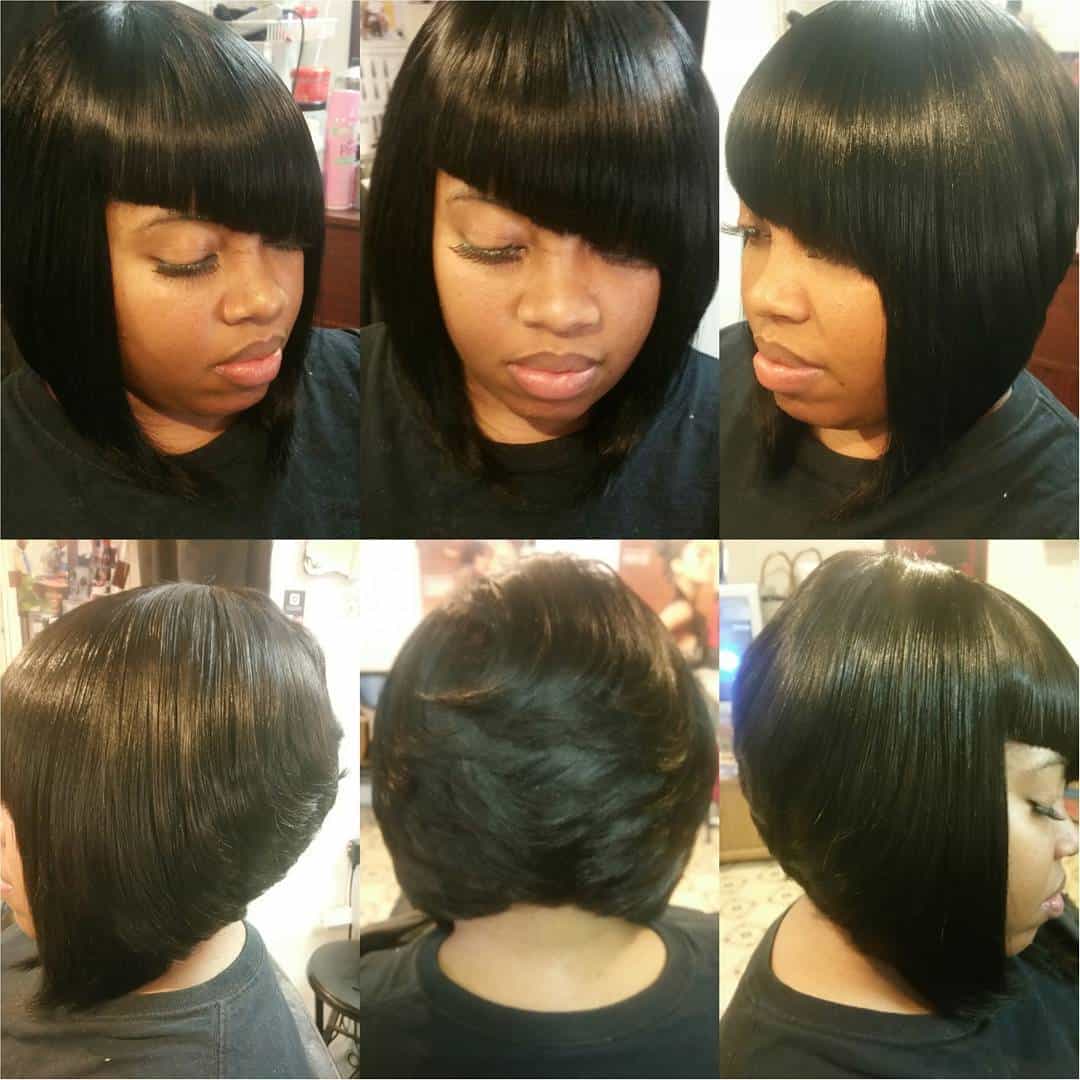 We said bob is making a comeback, but in the same time, the regular bob can be boring. So, try the inverted one. Basically, your hair is cut short at the back, and longer at the front. And to frame it all, get some bangs.
26. Red Crochet With Side Bangs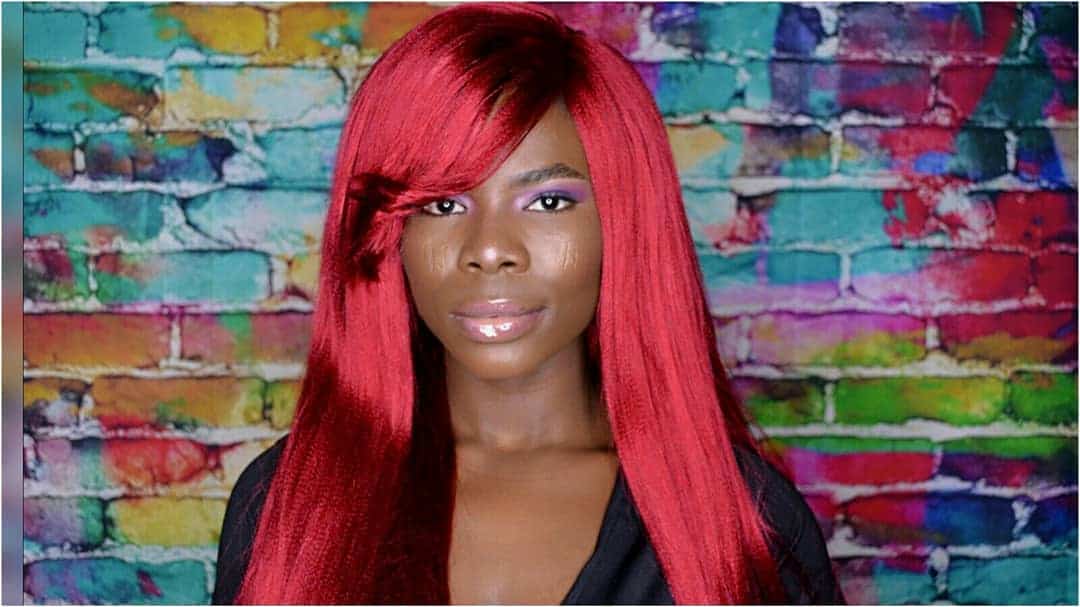 It is all about the color here. Not many women can pull off red. We have to warn you about that.
Red is a bold color, and one that you go when you want to make a statement. So, think carefully, are you ready to try it?
27. Bitten Up Bangs On Baby Bob With Purple Tips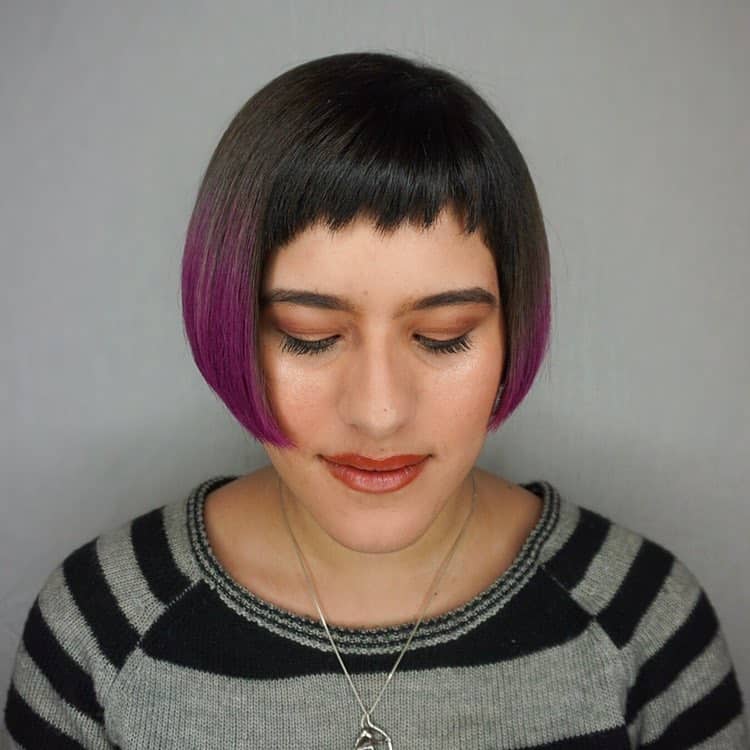 We said previously that there is a trend lately to make your bangs look like you've cut them yourself. Some people call them clumsy looking, but that is far from the truth. The reality is that organized chaos is the hardest to achieve.
28. Asymmetrical A-Line With Curved V-Shaped Bangs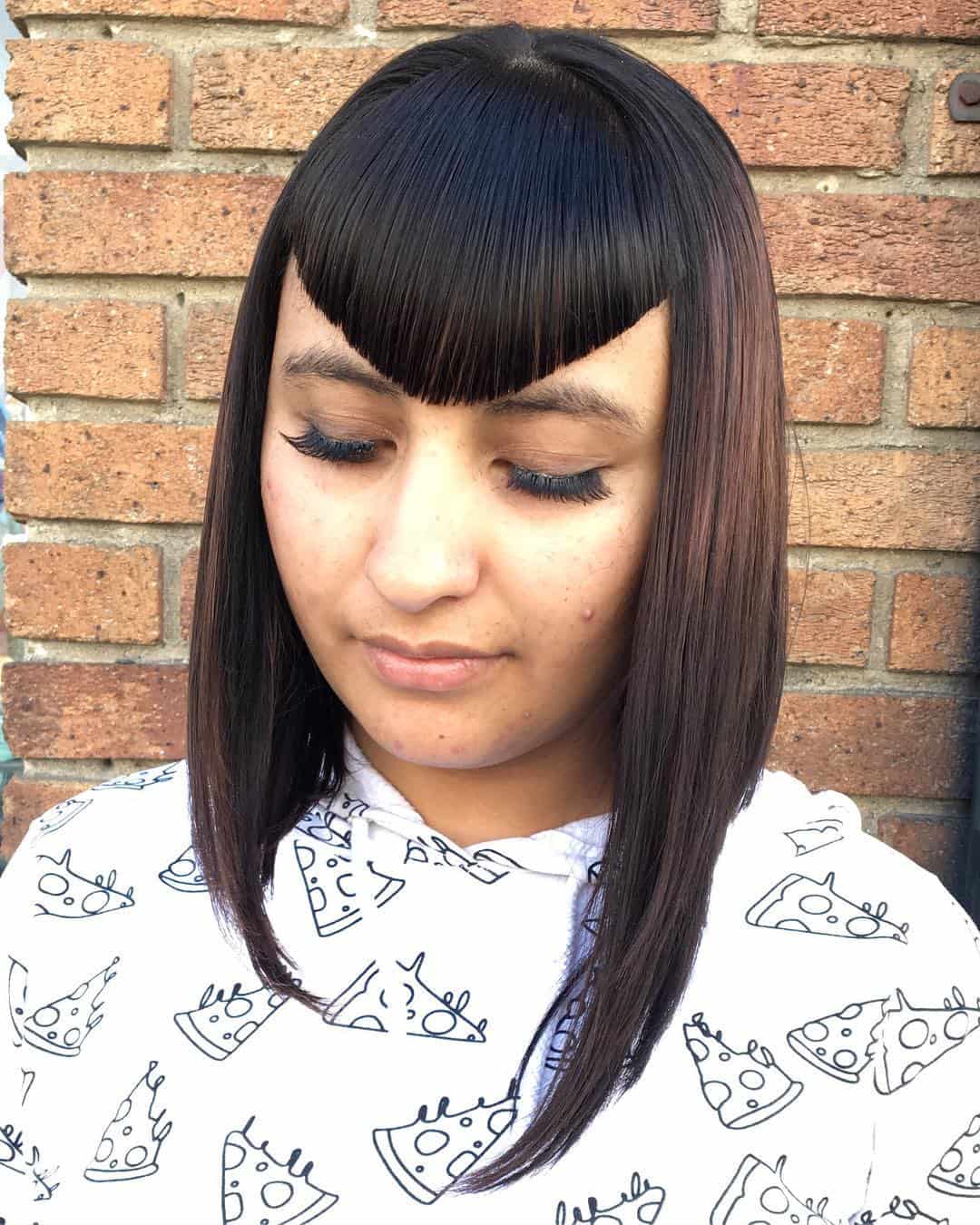 Another hairstyle that is often seen on Haute Couture shows. High fashion always experiments with hairstyles, as a way to put even more emphasis on the models. And this hairstyle will definitely steal some looks.
29. Coral Shaggy Pixie With Side Swept Micro Bangs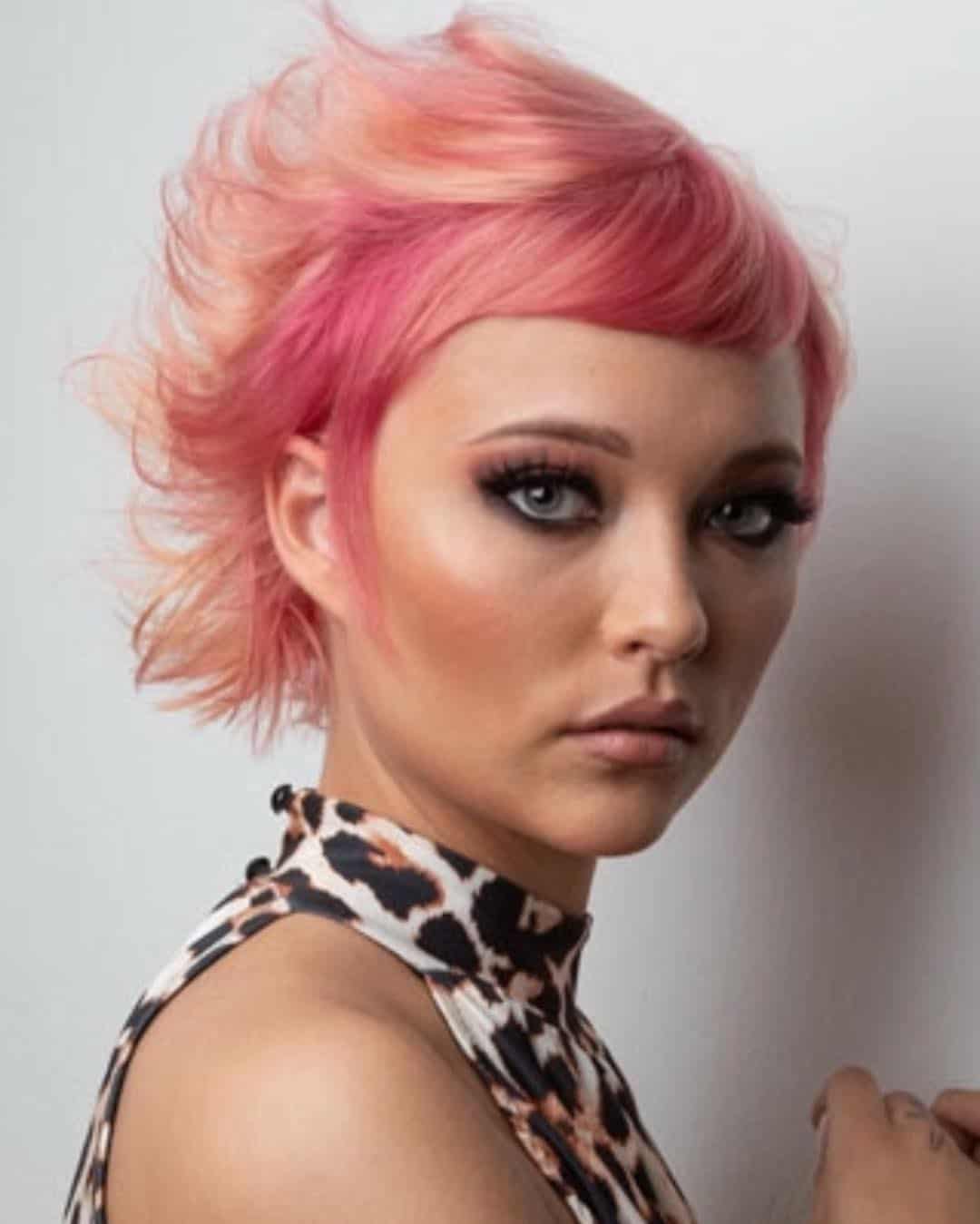 We had a couple of pixie hairstyle bangs, but this one is definitely taking to the next level. Pink hair color? Well, if you feel rebellious, go for it.
30. Caramel Perm With Straight Slick Side Bangs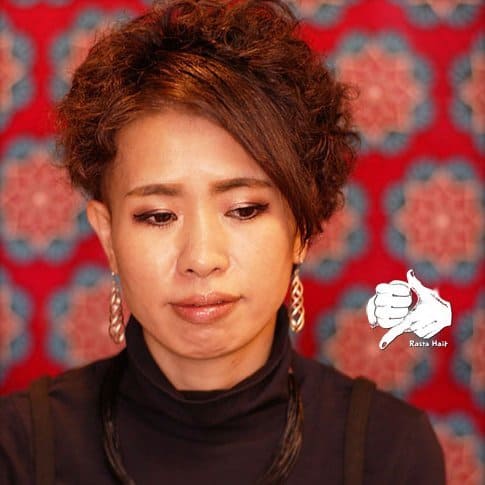 We finish off with a hairstyle that is a bit unconventional. After all, when you go bangs, you want them loose and free. But slick bangs is one way to keep them out of your face.
So, with that in mind, we hope we inspired you to try some of the latest trends in bangs.