For many years, a hair straightener has been a staple in a woman's closet.
In the same time, a hair straightener is your worst enemy.
The heat of the straightener can be harsh and damaging to your hair.
Not to mention, it leaves behind a burning smell, and you might get burnt while holding the device.
This prompts the question, is it possible to get straight hair without a straightener?
Well, that is what we are here to discuss.
We will talk about some natural hair straightening methods, as well as tips and tricks.
Not all women are blessed with silky straight hair.
Some have curly or wavy.
And while it is manageable, sometimes we want a straight here.
Most of these remedies can help you achieve that, without running to the salon.
Why don't use hair straightener?
Before we get to the natural hair straightening techniques, we have to stress how damaging a hair straightener is.
Here are a couple of reasons you want to try a natural way, not the straightener way.
The hair straightener can dry your hair due to the heat making your hair lose moisture
Straightening your hair with heat can cause frizziness and split ends
Over time, a hair straightener will weaken your hair, which will result in thinning and hair loss
Straightening your hair with hair straightener makes you lose hair shine and lustre of the hair, in the end losing your natural gloss, deep color, and finish
9 ways to straighten your hair using natural remedies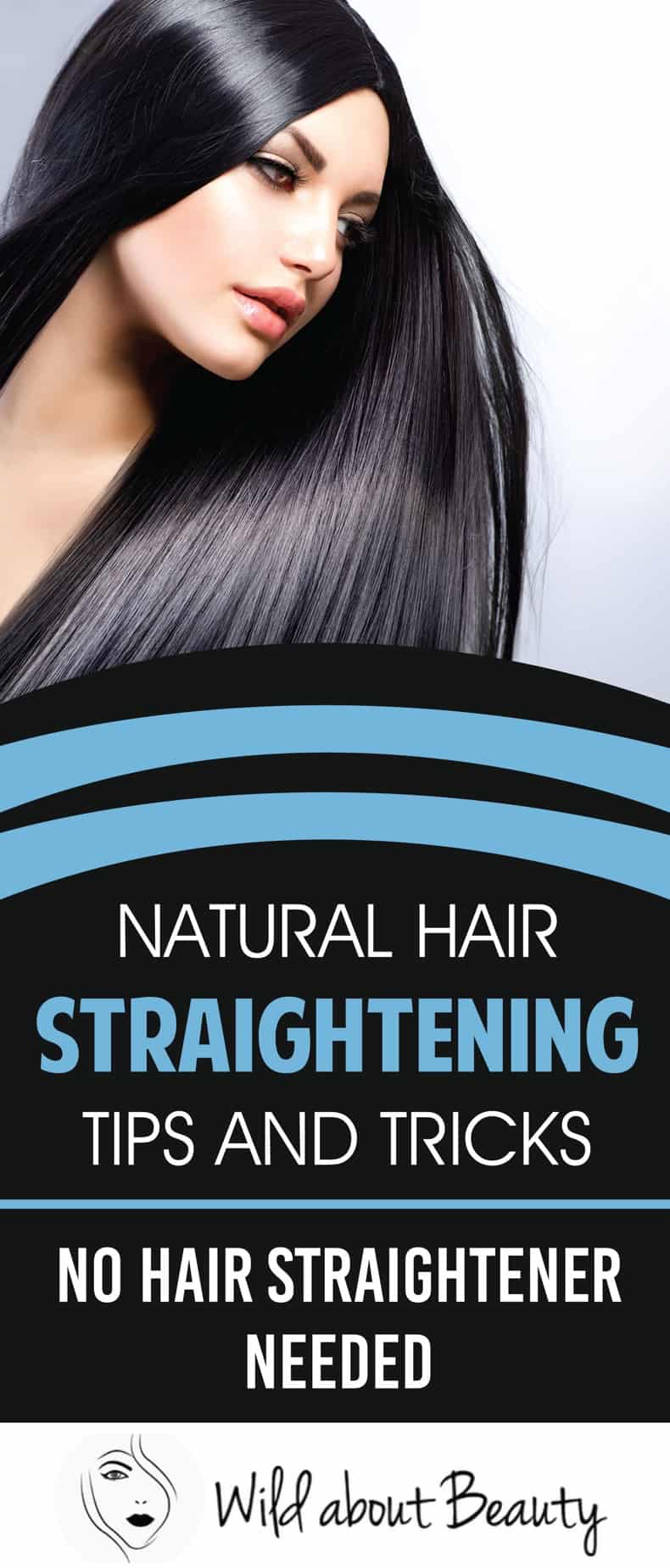 Here are a couple of ways you can achieve straight hair using natural remedies.
1. Whole milk and eggs
Eggs are some of the healthiest ingredients you can put on your hair.
This mask can be a bit smelly, but once you squeeze out the excess mask and rinse it off, you are good to go.
Instructions:
Mix one cup of milk and 2 eggs. Whip it slowly for one minute
Dip your hair in the mix for 10 minutes. This is where the smelly part comes
Squeeze out the mix from your hair, tie in a bun, and cover for one hour
Wash with a mild shampoo
2. Eggs and olive oil
As eggs are rich in nutrients like protein that will nourish your hair while straightening, you will find a couple of egg masks on this list.
Olive oil is another nourishing product for your hair that will make it strong.
Here is how to combine these two potent ingredients into a natural hair straightening mask.
Instructions:
Mix 2 eggs and 1 tablespoon of olive oil
Apply on your scalp, and leave it to stay there for 1 hour
Wash off the mask
3. Eggs and rice flour
This mask will eliminate buildup in your hair and leave it feeling smooth and clean.
In the same time, the ingredients will nourish your hair and repair damage done by heat hair products.
What you end up with is a clean, healthy, and straight look of your hair.
Instructions:
Combine 1 egg white, 5 tablespoons of rice flour, 1 cup of Fuller's earth, and ¼ cup of milk. Combine until you get a smooth mixture. If the mixture is too thick, add more milk. And if it is too thin, add more Fuller's earth
Apply the mask all over your hair, and then leave it to stay there for 1 hour
Rinse with a mild sulfate-free shampoo and water. Repeat once per week
4. Coconut milk and lime juice
Coconut milk is extremely nourishing for the hair.
Lime juice is nourishing as well.
And while most people use lemons for vitamin C, lime works better in this combination.
Instructions:
Mix 1 cup of coconut milk, 2 tablespoons of olive oil, juice from a half lime, and 2 teaspoons of cornstarch
Heat the mix for a few minutes, and then let it cool down
Apply to your hair, and leave the solution to work its magic for one hour
Wash your hair with a mild shampoo
5. Milk, honey, and strawberries
Now, it might seem like a waste to use good strawberries on your hair.
But, you want straight hair, and that is the price you have to pay.
After all, you should enjoy this delicious mask.
Milk is one of the best natural straighteners as it is rich in protein.
Instructions:
Mix 2 tablespoons of honey and ½ cup of milk. Add fresh and crushed strawberries
Apply the mask on your hair, and then wrap a towel around it
Leave the mask to work for 3 hours, and then wash it off with a mild shampoo
6. Castor oil
Castor oil is one of the most beneficial things you can put on your hair.
It helps your hair gets nourishment, but also provides a fresh and clean look.
And you do not need any other ingredient for this remedy to work.
Instructions:
Warm some castor oil and then massage it into your hair
Get a warm and damp towel, and then wrap it around your hair
Leave the towel for 30 minutes, and then wash your hair with a mild shampoo
7. Vinegar
This is one of the simplest ways to add sleekness and shine to your hair.
Vinegar is an absolute must-have in any beauty cabinet.
Instructions:
Wash your hair with a regular shampoo, and then rinse with conditioner
Add drops of vinegar into a cup of cold water. Rinse your hair with vinegar
8. Banana, curd, honey, and olive oil
With so many healthy ingredients, you cannot doubt this mask.
If it doesn't straighten your hair, it will definitely make it look healthy and fresh.
Instructions:
Mix 2 overripe bananas, 2 tablespoons of honey, 2 tablespoons of olive oil, and some curd
Once you get a fine paste, coat your hair with the mask. Cover with a shower cap, and leave it to stay for 30 to 60 minutes
Rinse off
9. Banana, honey, and yogurt
Another mask you can make with banana and honey.
What is different is the last ingredient.
Instead of curd, you use yogurt.
Instructions:
Mash one banana, ½ cup of yogurt, 2 tablespoons of honey, and 2 tablespoons of olive oil
Apply the mask on your hair, and then wrap a towel around it. Leave it for one hour
Wash with water and allow your hair to dry naturally
Bonus Tips to reduce waves of your hair
Before you go to sleep, make two ponytails on either side. Take one part and tie a rubber band close to the scalp. Tie another one inch apart. Continue until you get to the end. Take them off in the morning
Wash your hair, and while it is still damp, twist it really tight and roll into a bun. Let the bun sit at the bottom of your neck, and leave it as long as you can. Preferably, until your hair dries out completely naturally
Put 1 cup of milk in a spray bottle. One hour before you go to the shower, or at least 30 minutes, spray the hair with milk. Repeat every time before you wash your hair. After a few washes, your hair will be wave-free
How to get straight hair in the morning
This might sound unconventional, but a lot of celebrities actually practice this trick.
If done correctly, you can get straight hair without the use of any flat iron.
Comb your hair to one side until every strand is detangled.
Take small sections of your hair, and wrap around your head.
Secure with bobby pins.
Repeat until all your hair is wrapped around your head.
In the morning, remove the wrapped hair, and enjoy your frizz-free hair