Today, we will talk about one of the hottest hair trends in 2019. Yes, shaggy hair, we are talking about you. This fresh trend is suitable for everyone. No matter if you have long hair or short hair, shaggy hairstyles can be sexy and really easy to maintain.
The typical features of the shaggy hairstyle include choppy ends, layers around the crown, and lots of texture.
The beauty of shaggy hairstyle is that it can be cut to produce any fashion style you want. Versatile style that works with virtually any type, there is a lot to like about shaggy haircuts.
1. Long Wavy Shag
We start off with a classic and common hairstyle. After all, most shaggy cuts are for long hair. Let's move down the list.
2. Short Voluminous Shaggy Cut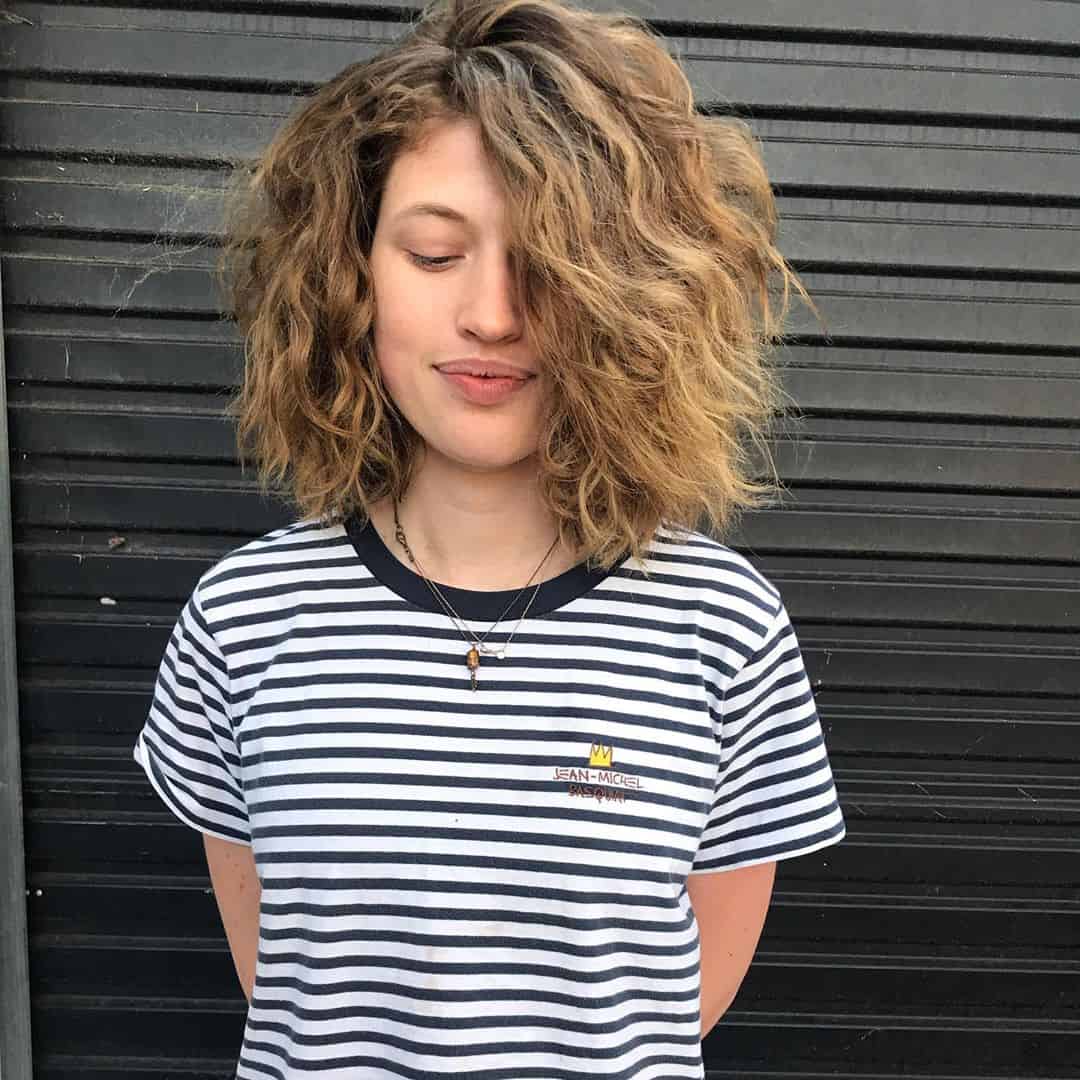 One of the main advantages of shaggy cut is that the hairstyle adds volume and texture. And a lot of it. When you have short hair, and you desperately need some extra volume, the shaggy cut is an ideal solution.
3. Shaggy Brown Waves With White Streak And Micro Bangs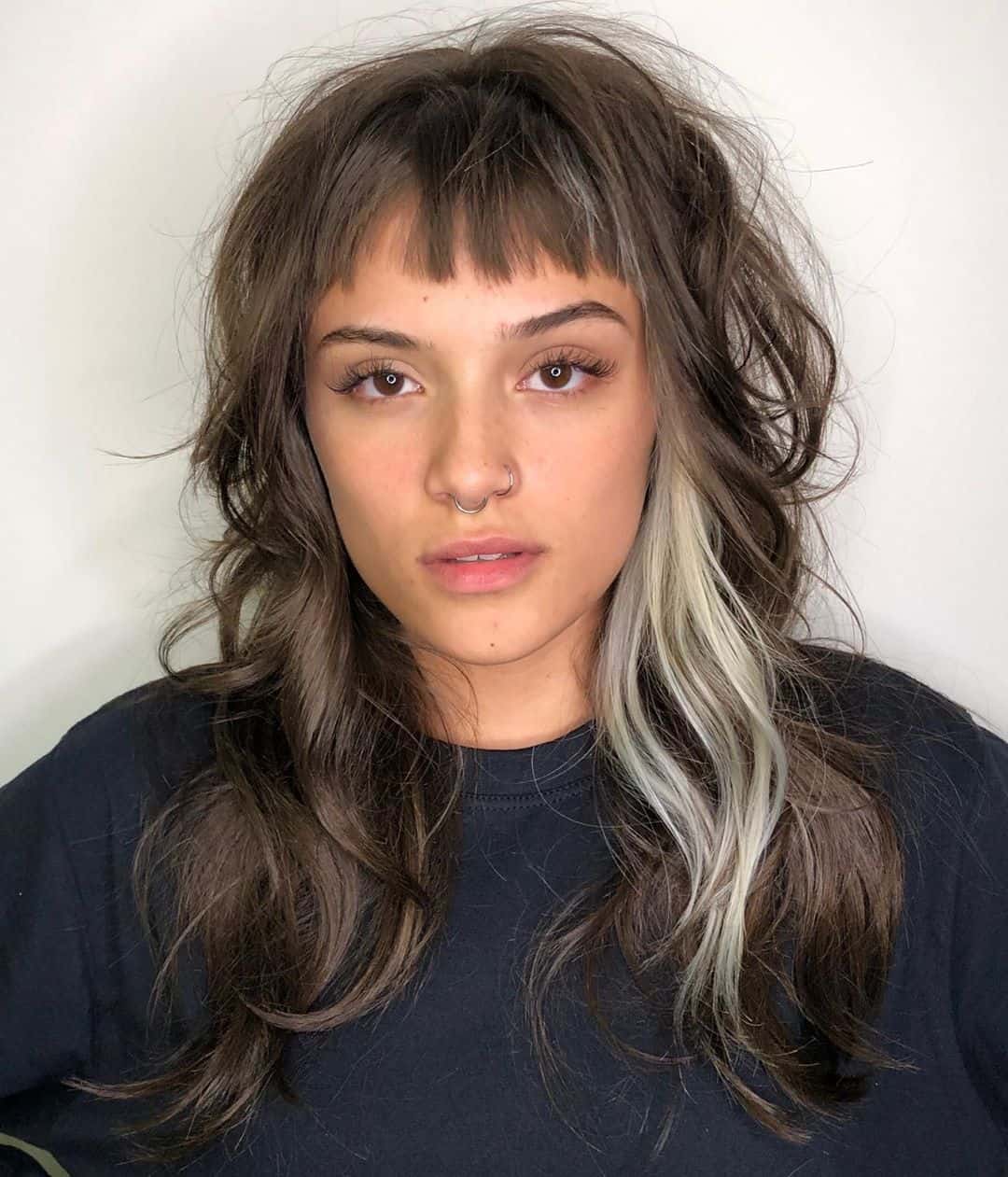 This might be too limiting for some people, especially if you want to display your face. But the main goal of shaggy hairstyle is to flatten your face, and it does exactly that. Some white highlights are perfect flavorful addition.
4. Uneven Shaggy Bob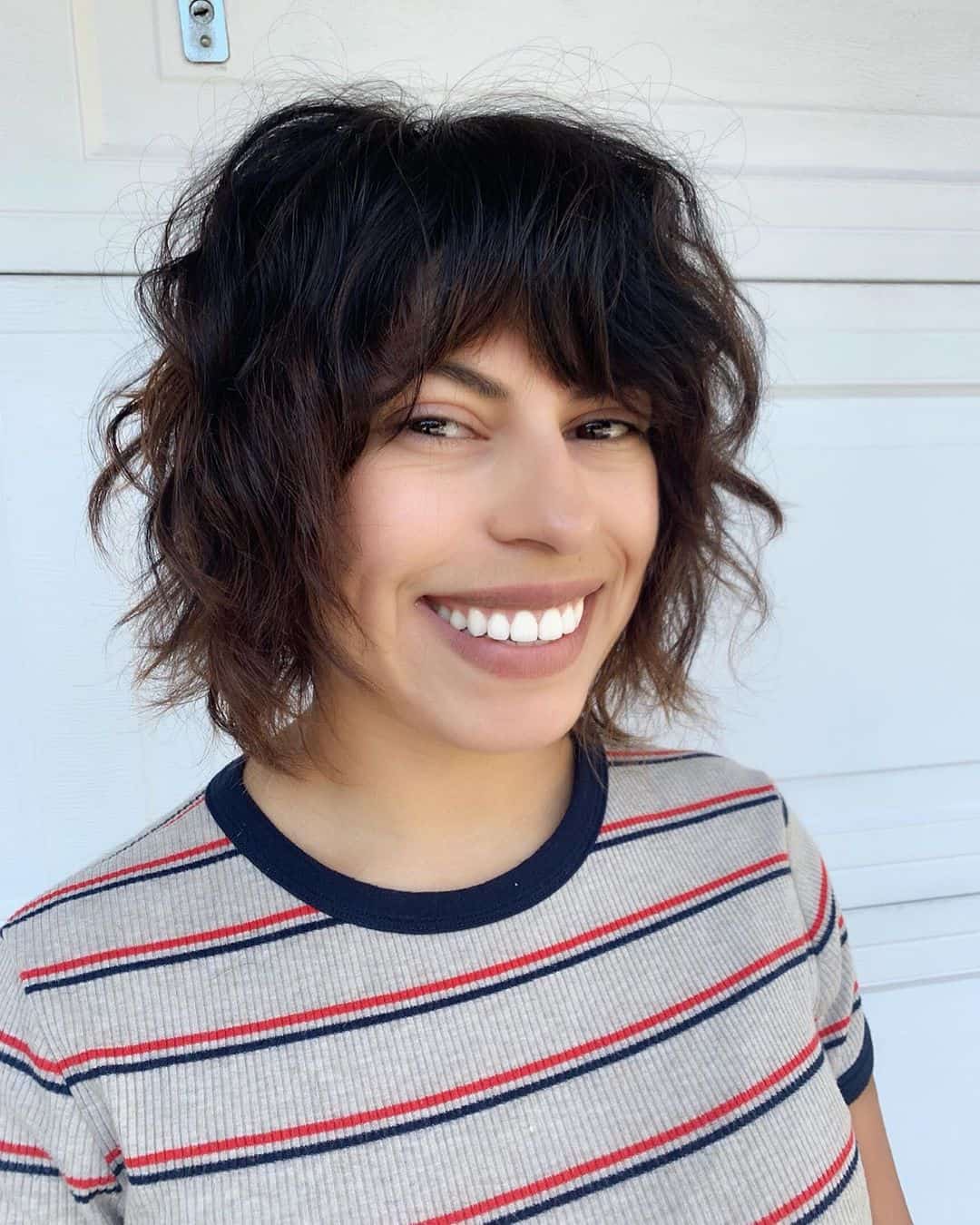 Short and shaggy bob is perfect when you want to balance your round face. The result is hot, and fashionable look. Shaggy hairstyles are always fashionable, and give you a more youthful look. And the best part they can be adjusted to flatter all face shapes.
5. Rounded Shaggy Layers On Tight Curls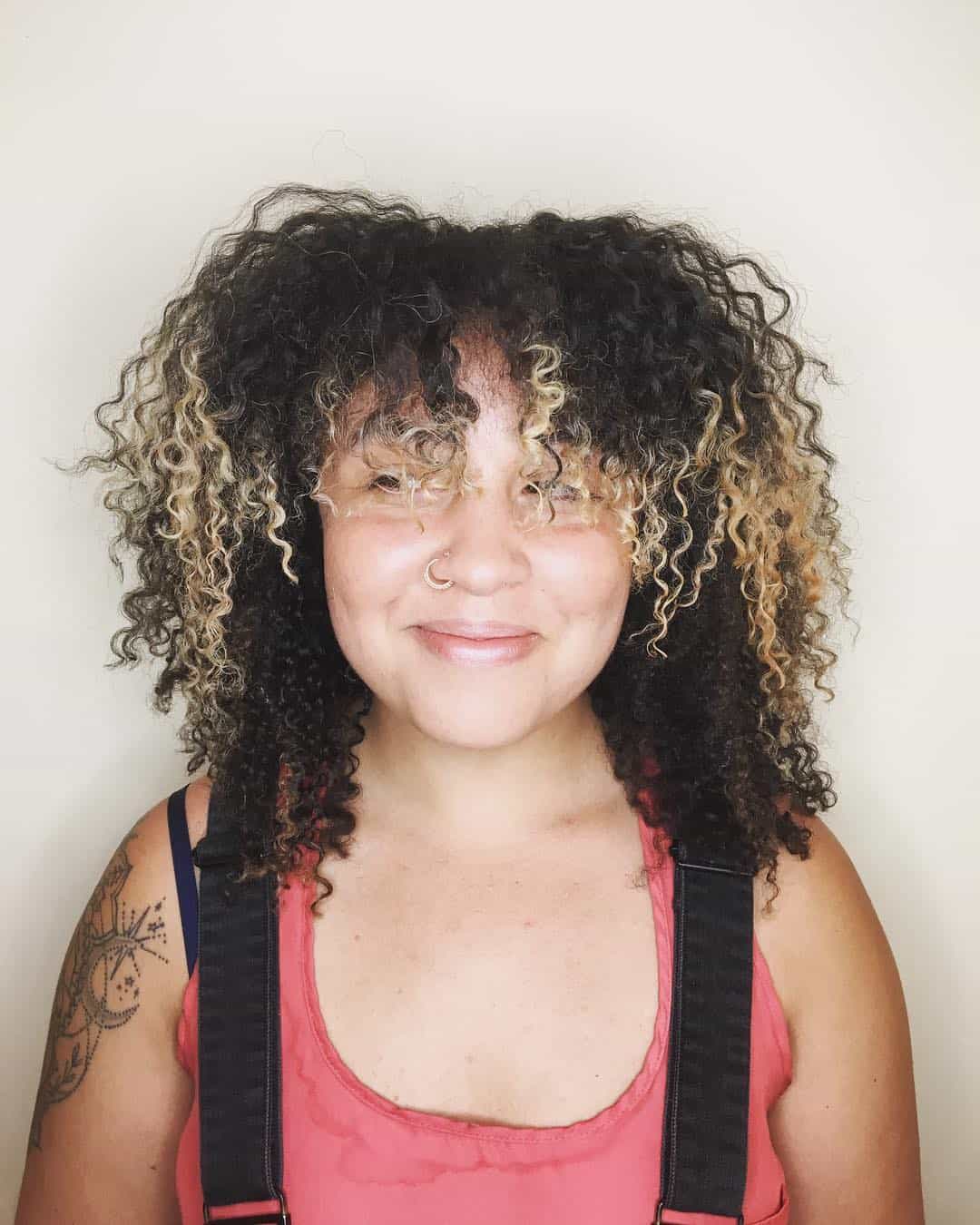 Just look at this girl, and how her entire face is rounded and flatten. It is like you almost get a perfect geometrical shape and form. That is the beauty of the shaggy hairstyle.
6. Tame Shaggy Layers With Choppy Bangs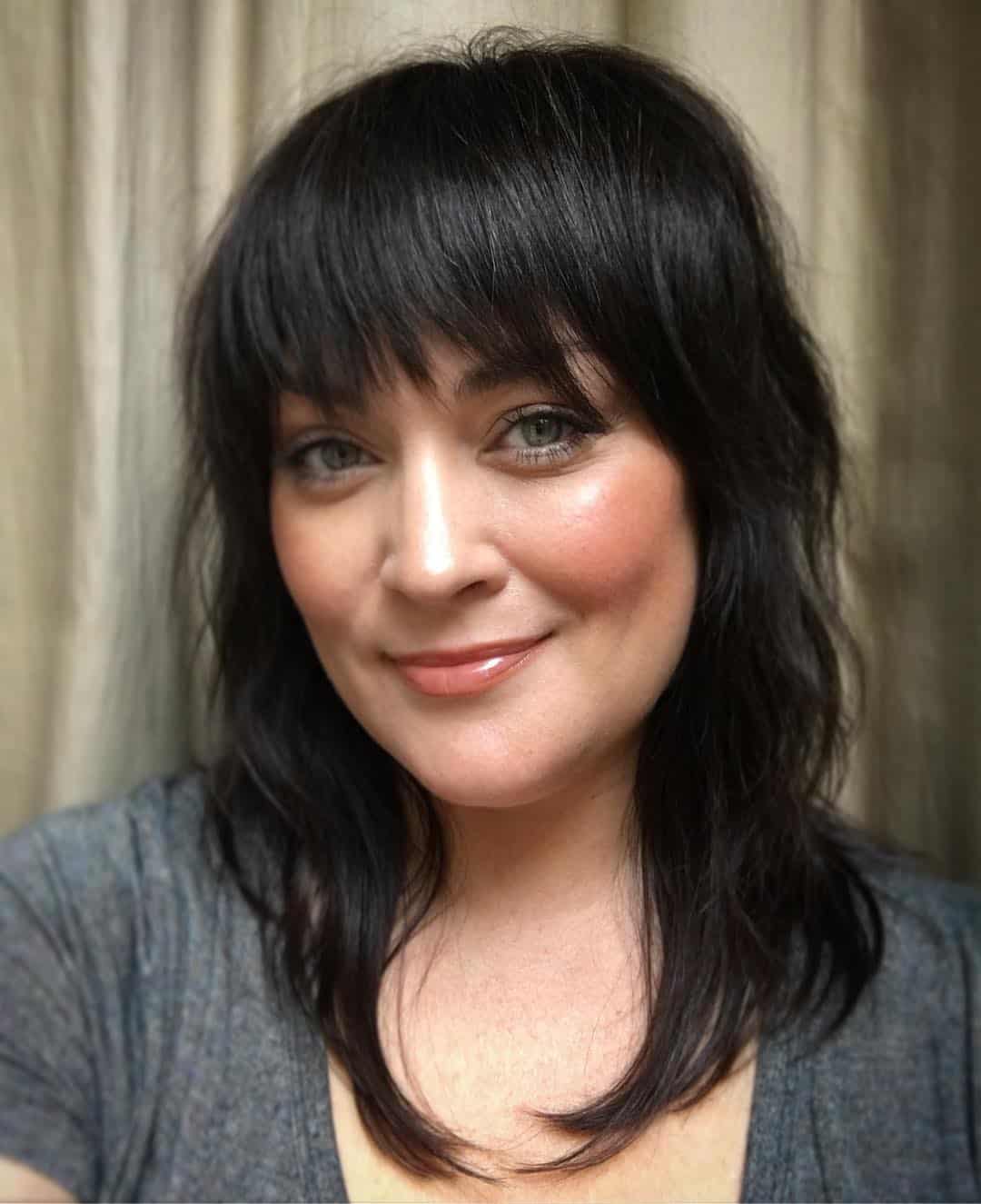 Choppy bangs are perfect for when you want to make your short forehead appear longer. It is like an optical illusion. Couple with a shaggy hairstyle, you get an ideal shape and form of your face and hair.
7. Nice Shaggy Layers With Soft Waves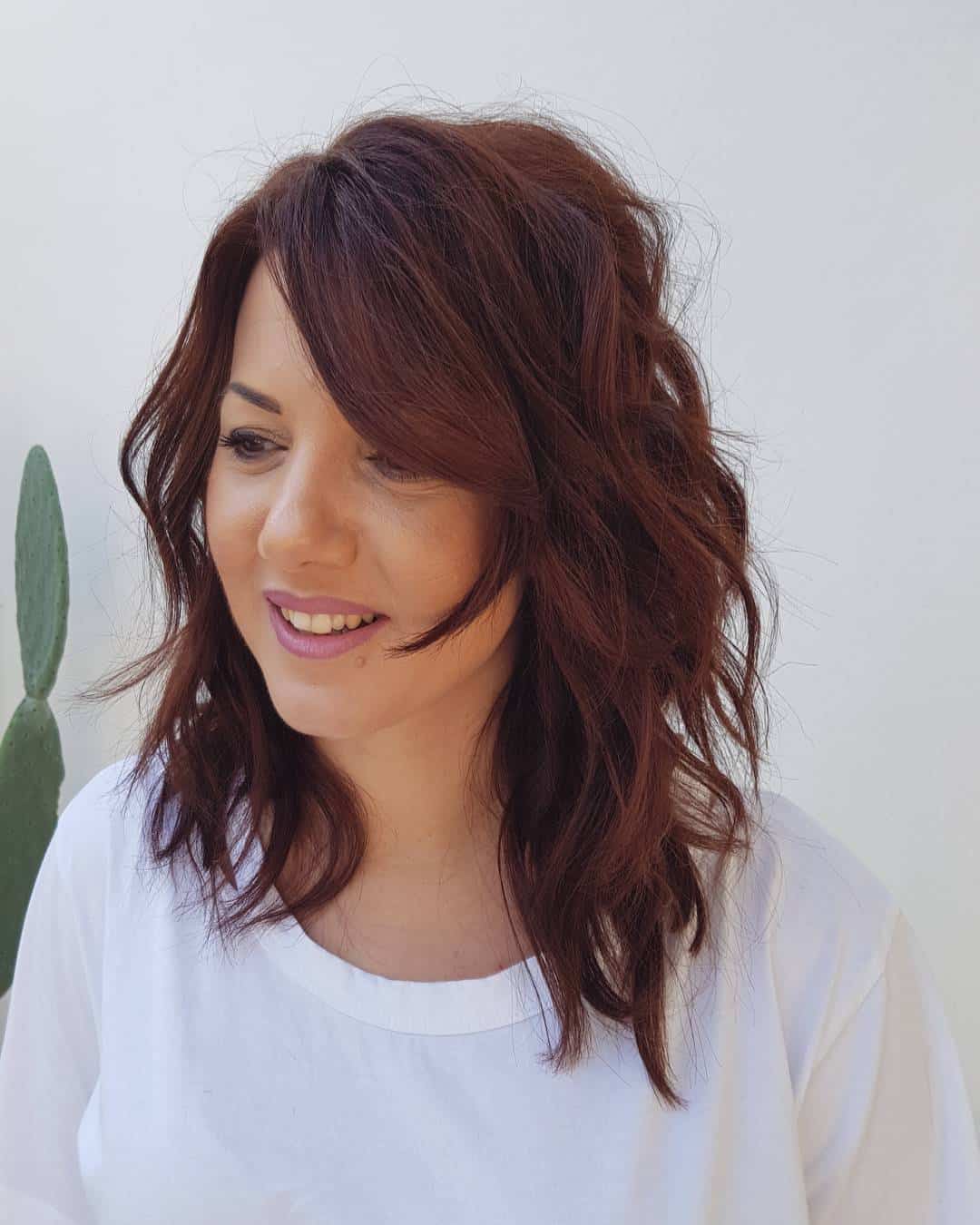 Shaggy hairstyles look wonderfully with waves. They are not the same size and length, which adds playfulness to your hairstyle. Layering is just ideal for shaggy cut.
8. Balayage Neat Shaggy Cut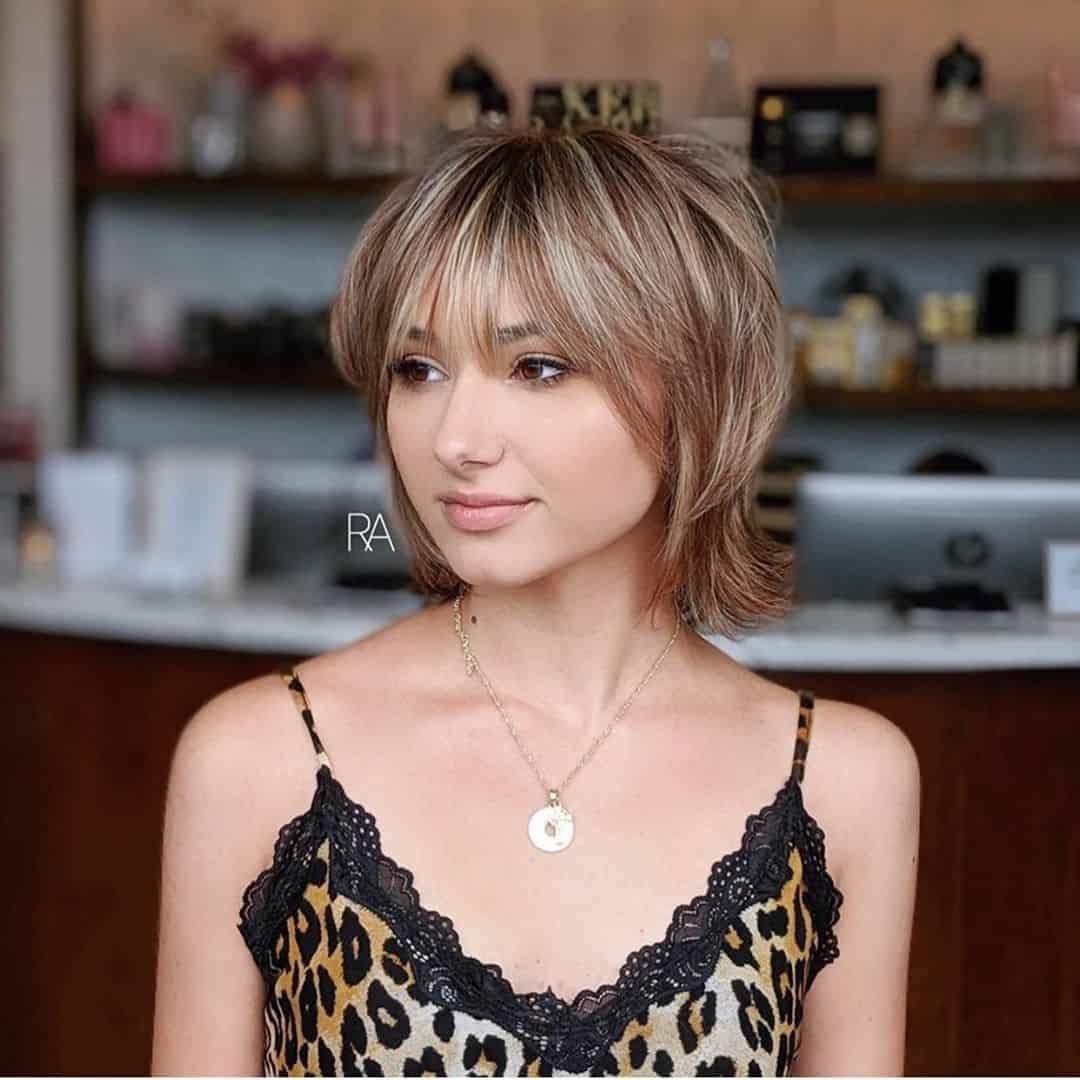 We mentioned at the beginning that shaggy cut works for all hair lengths. Be it short or long, you can make it work. And while most shaggy cuts look messy, you can tailor it for your neat and elegant style. The balayage coloring is just the cherry on the top.
9. Long Shaggy Layered Cut With Magenta Highlights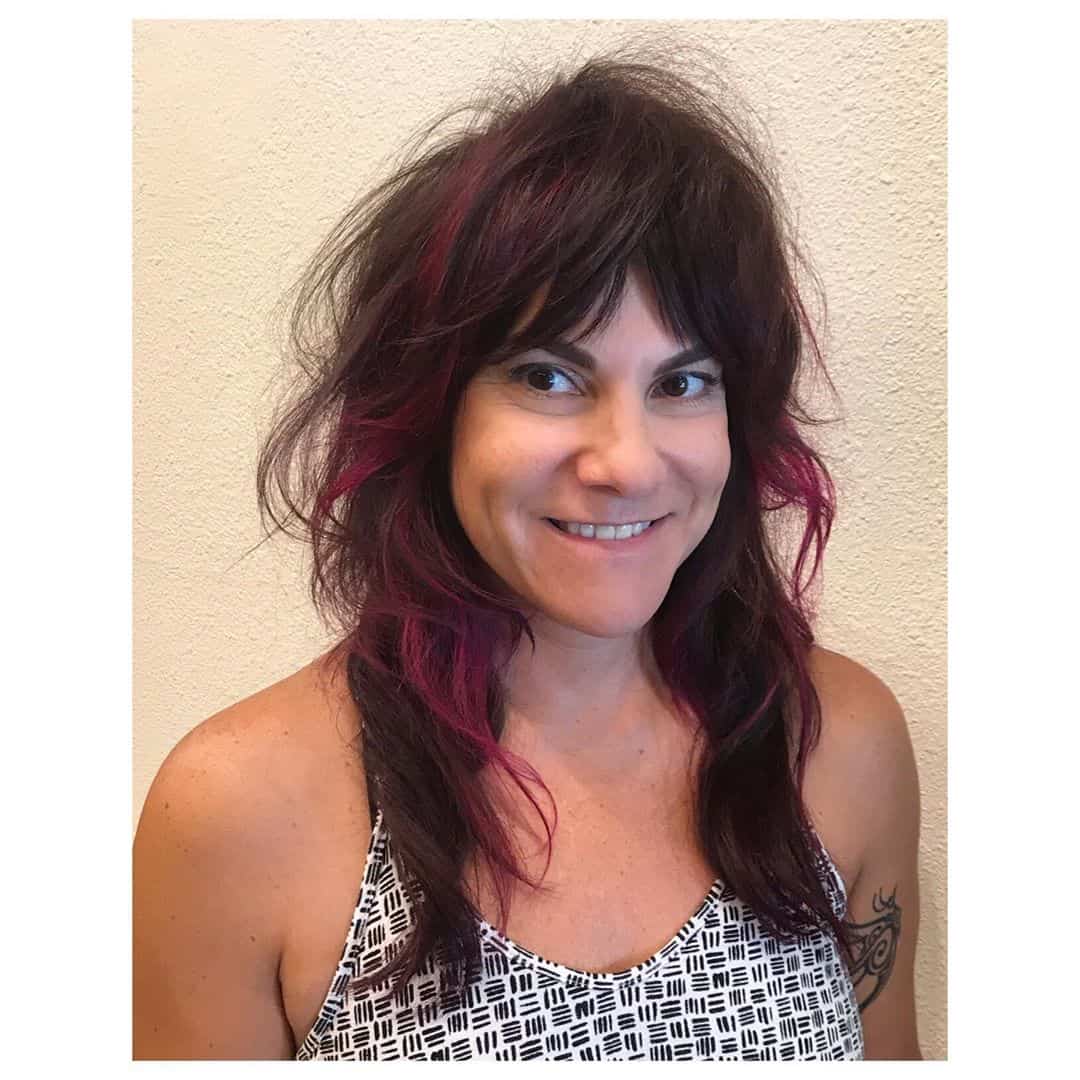 Shaggy layers and waves are already playful. However, some women want to take things to the next level. And there are few better ways to do that than with some highlights. Go for a unique color like magenta, or something else you have in mind.
10. Long Shaggy Subtle Mullet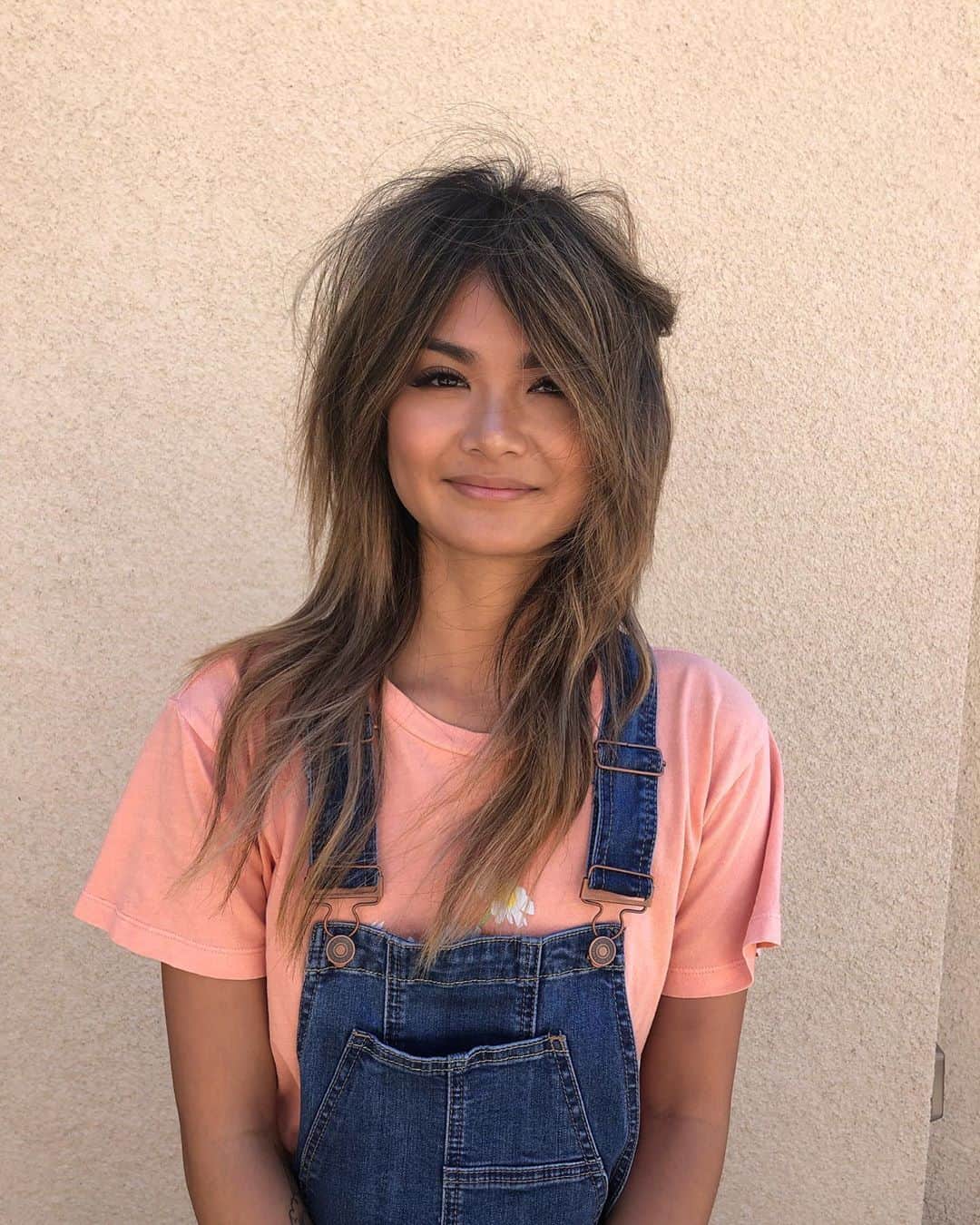 In the 1990s, the mullet was one of the most popular hairstyle worn by men. Soccer players were some of the trend setters. Nowadays, however, the mullet is a universal hairstyle, worn by many women. The goal is to have the hair short on front and sides, and extremely long on the back.
11. Long Wavy Shaggy Cut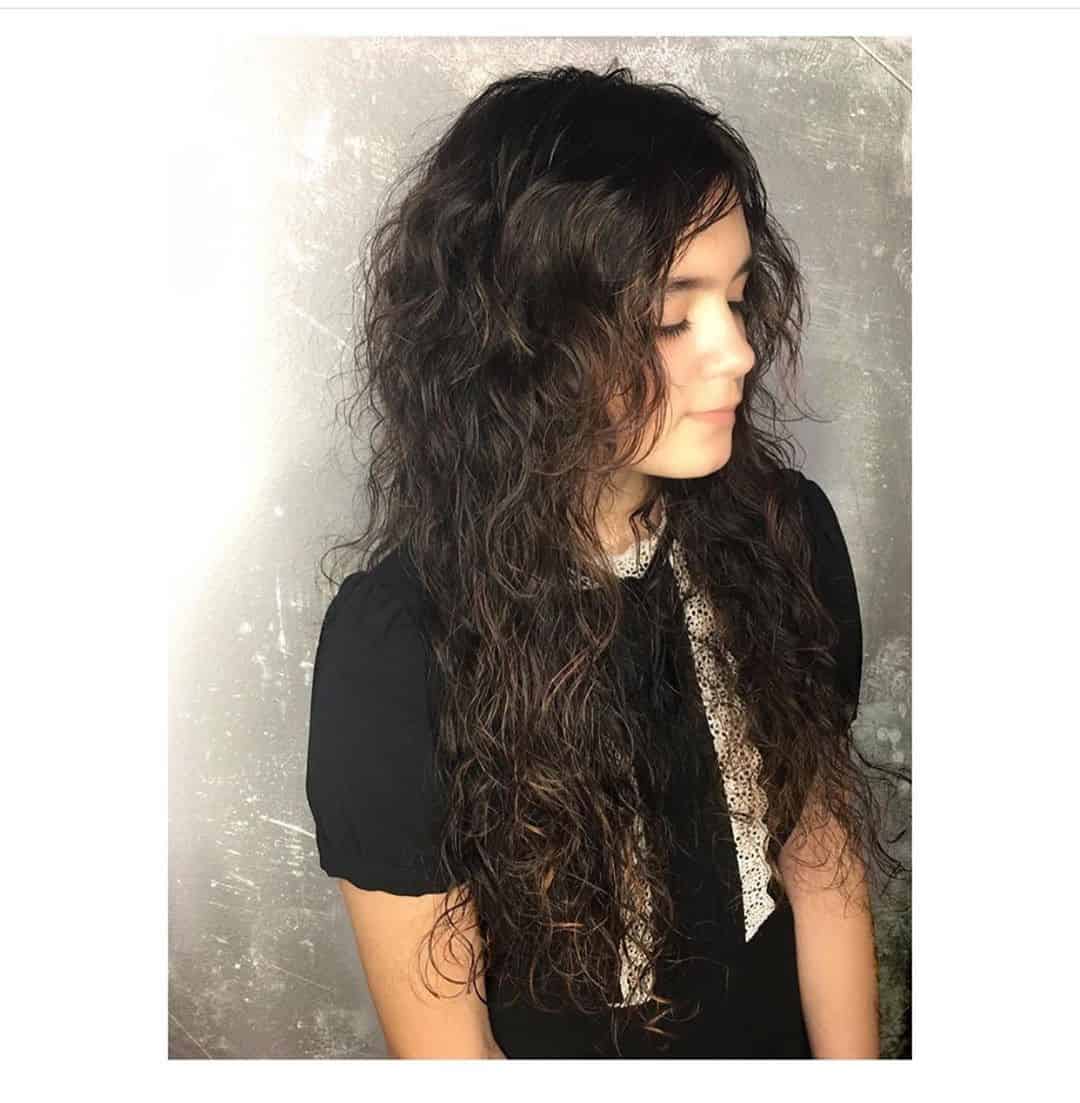 Speaking of hairstyles that were popular in the 1990s, Meg Ryan made the shaggy wavy cut one of the most popular styles back then. And now, almost 30 years later, the style is making a comeback. All hail Meg Ryan!
12. Ginger To Blonde Ombre Shaggy Layers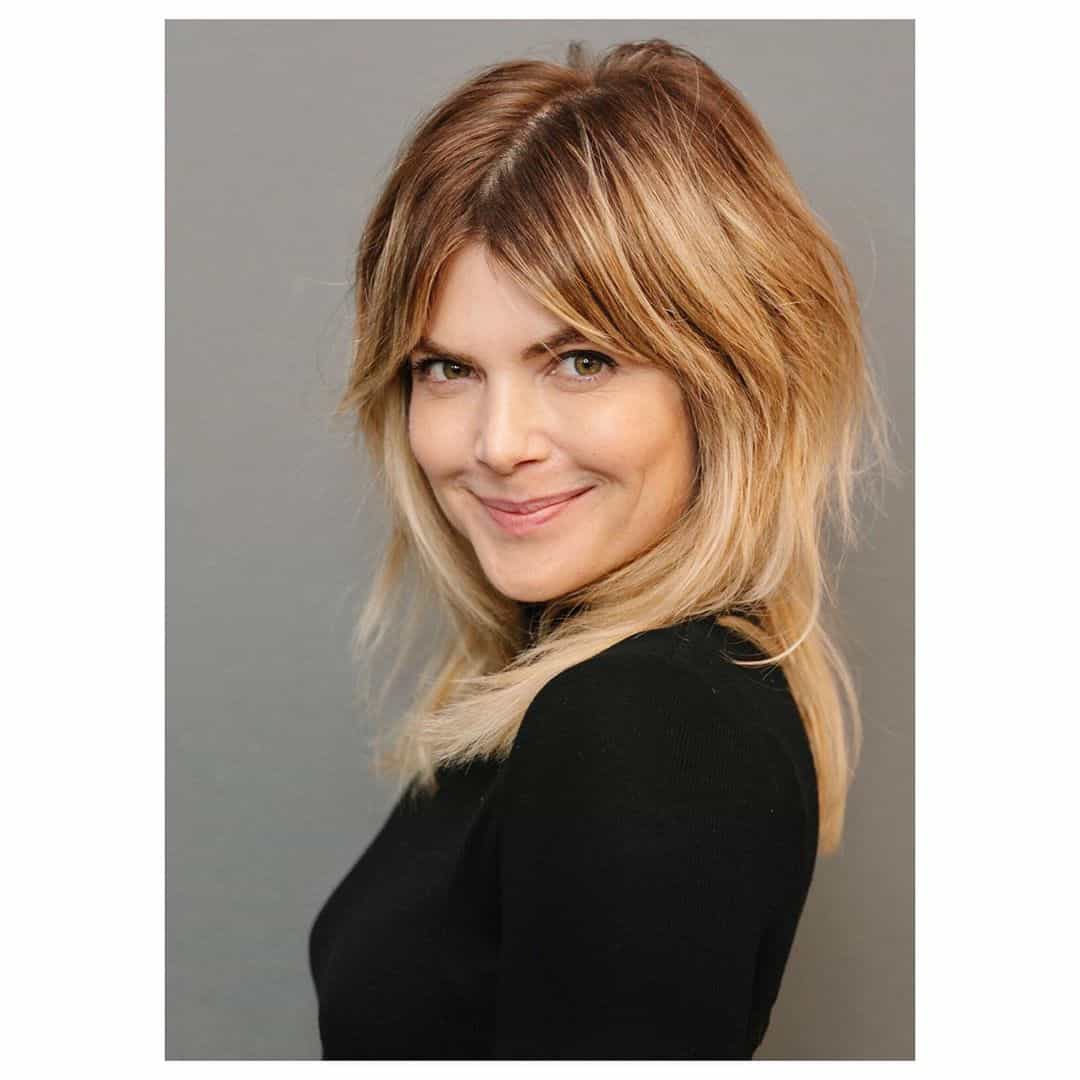 When you want to make your highlights and hair color more prominent and emphasized, use a shaggy cut. Your highlights are already the star of the show, but with a unique hairstyle, people are gazing at you even more.
13. Shaggy Cut With Straight Bangs And Highlighted Tips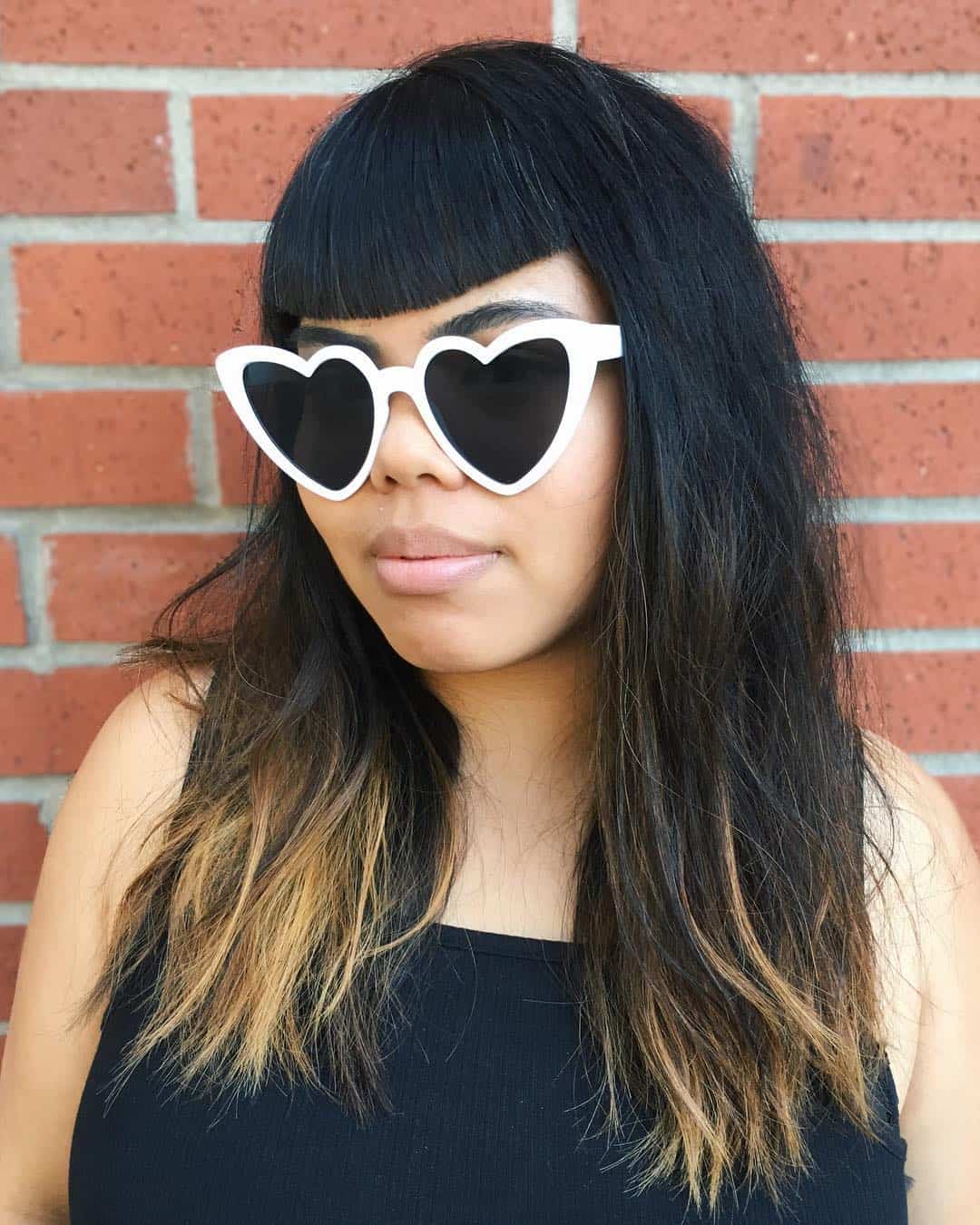 This is one of the modern and futuristic looks women go for more and more. Sophisticated, it is a look for the urban women. Micro bangs are bold and fearless, and if your character is in the same line and spirit, go for it.
14. Straightened Shaggy Cut With Honey Highlights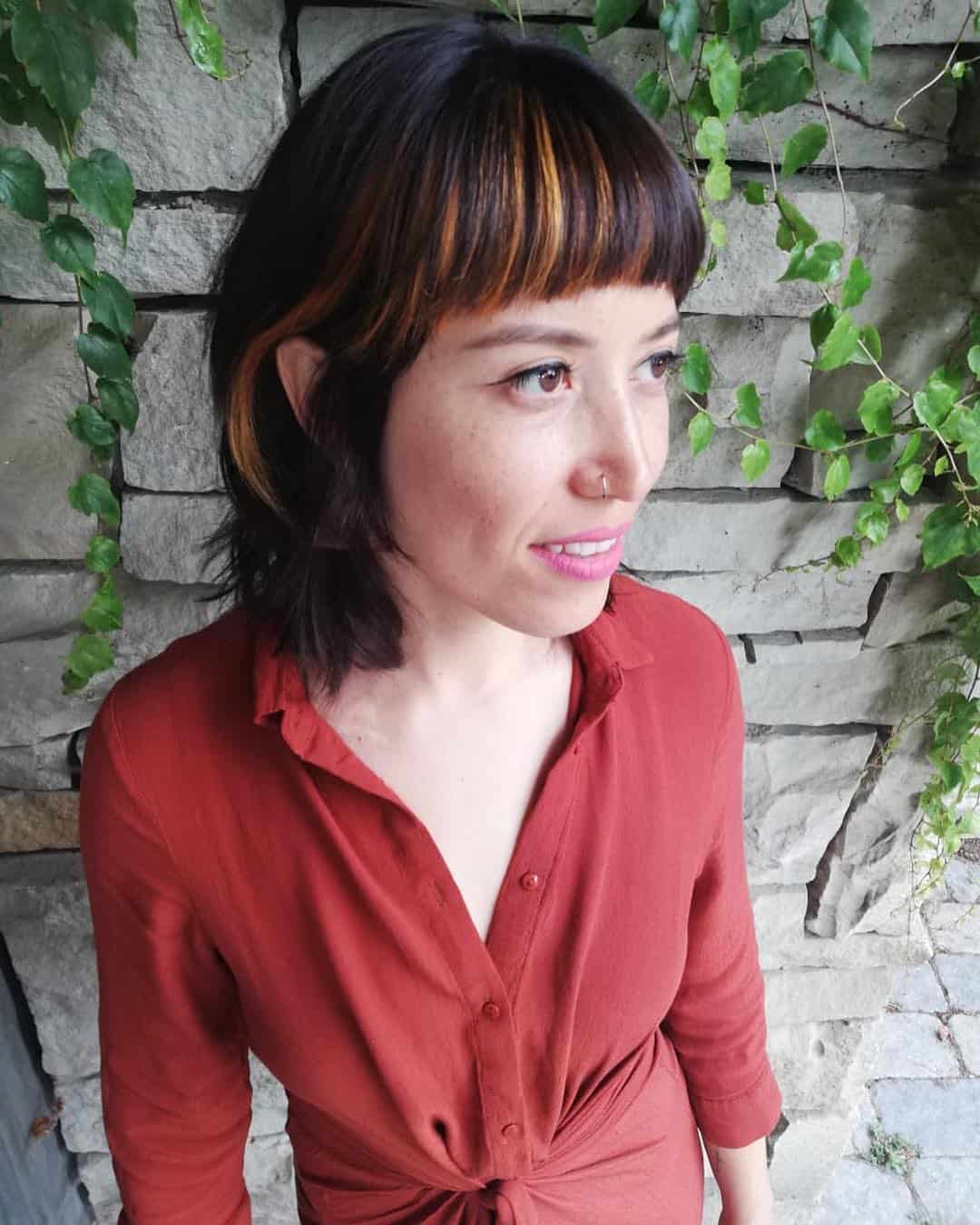 Honey highlights are some of the most popular highlights at the moment. Why? Because they are neither blonde, nor brown. They give you a perfect honey gold color that you can wear with almost any outfit.
15. Cute Shiny Shaggy Ginger Curls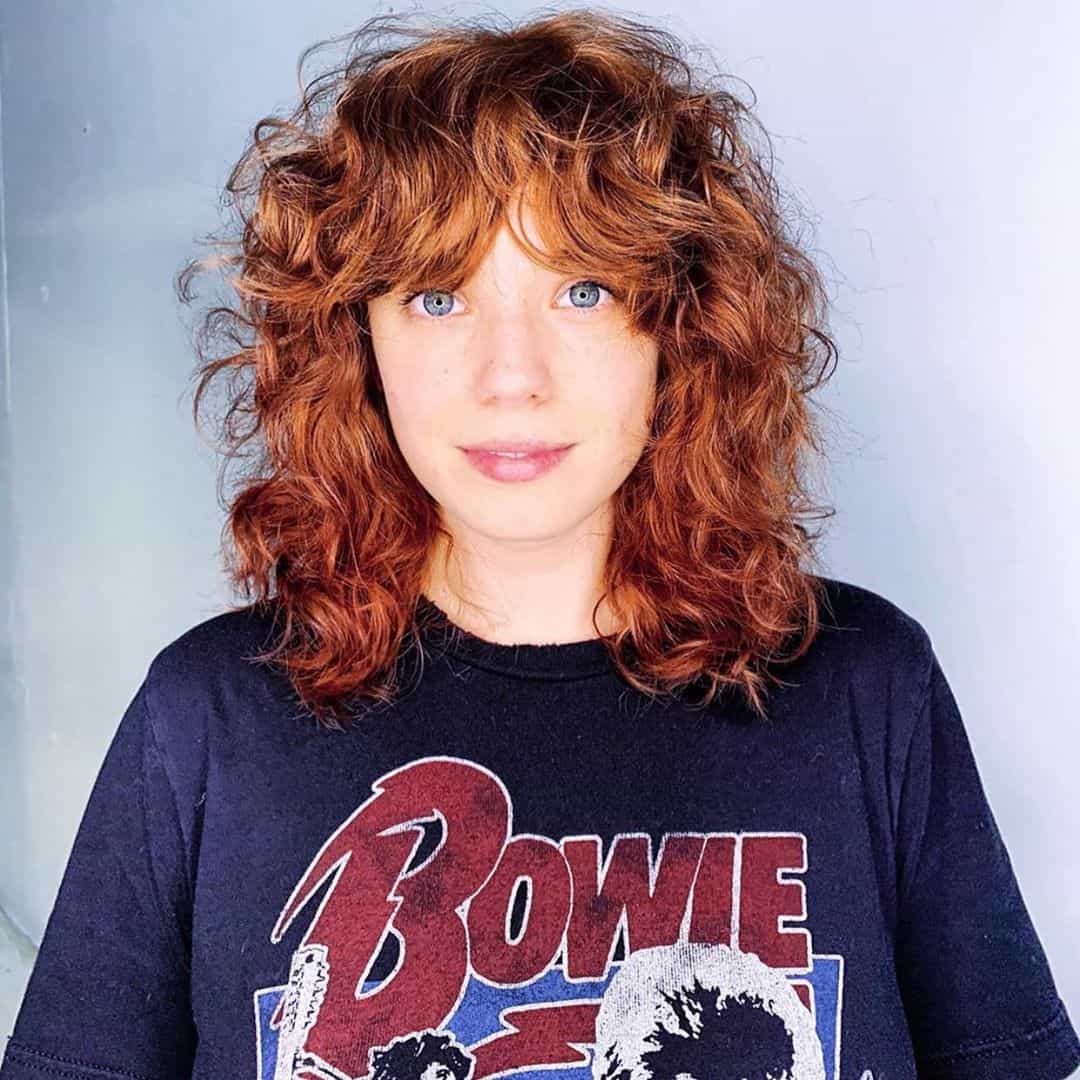 If there is one color that looks adorable and sexy on curls at the same time, that is ginger. There is no way around it. And the good news is, gingers are making a comeback. We have forgotten about gingers for a while, since Ron Weasley appeared in the last Harry Potter movie in 2011. But now, the ginger color is again rising.
16. Rainbow Shaggy Layered Straight Shoulder Length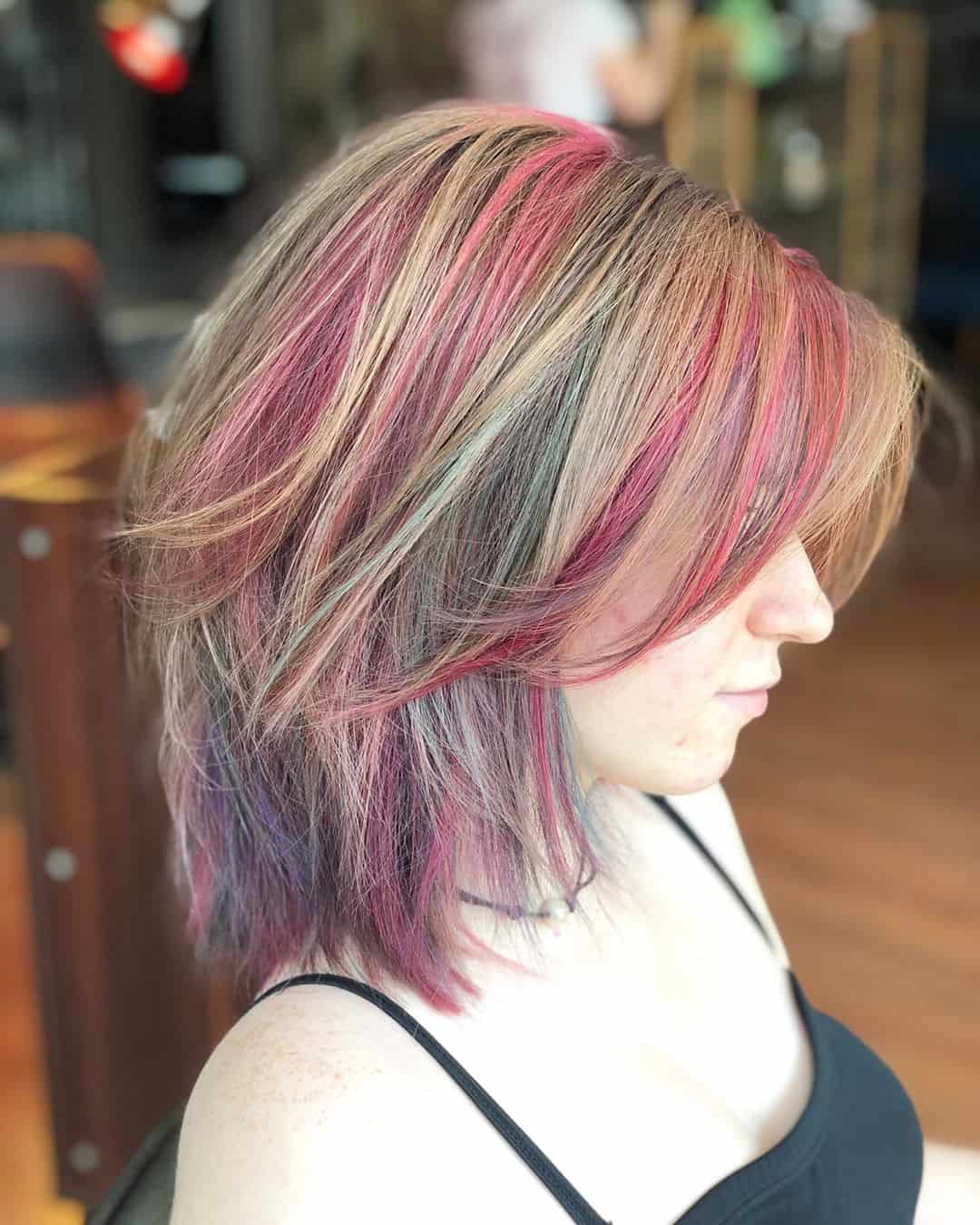 Another hair color or hair dye trend that is popular right now is the rainbow color. We live in the year when women want to make their colors as vibrant and lively as possible. Therefore, rainbow colors. Not to mention, the LGBT movement is strong now.
17. Short Shaggy Layered Waves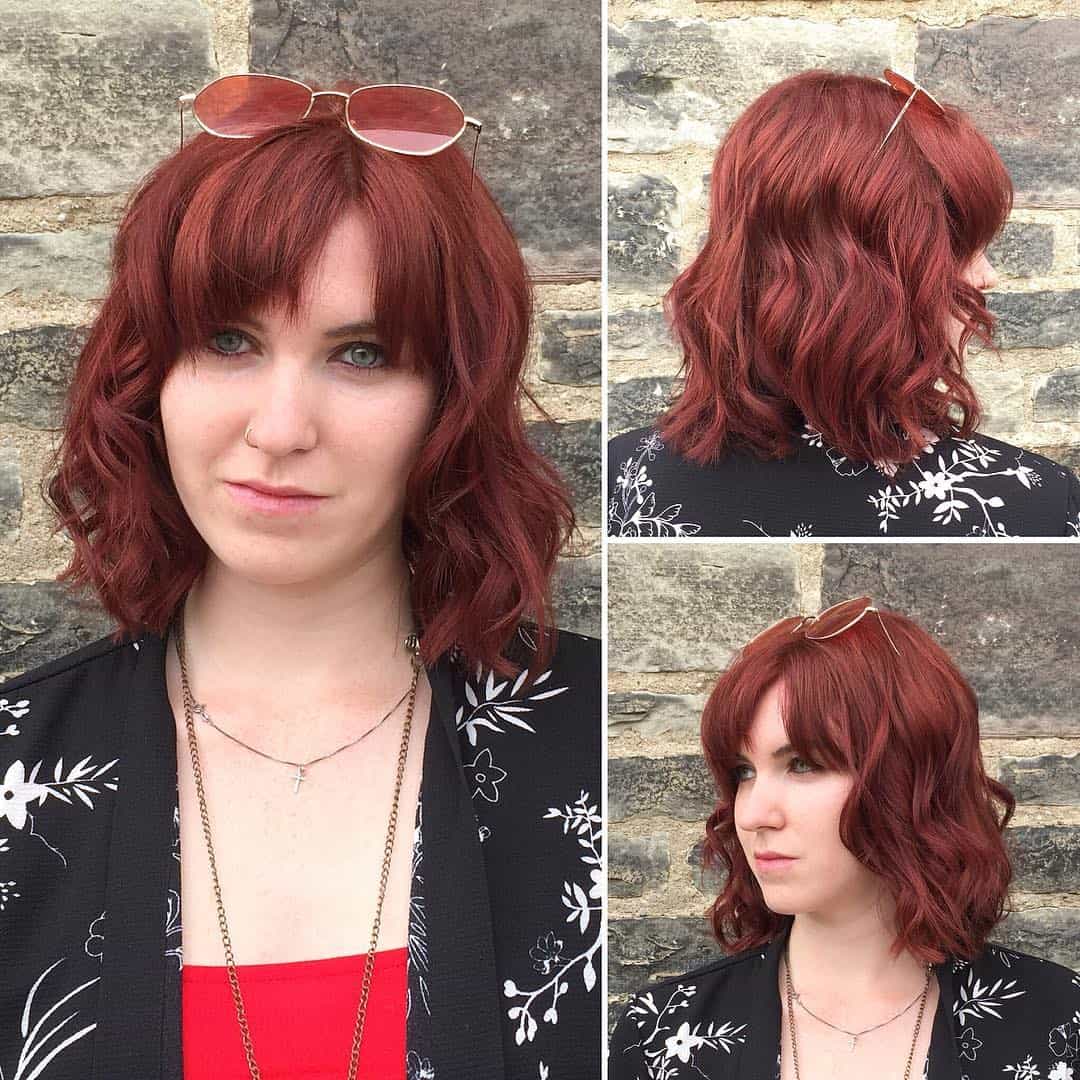 Short shaggy hairstyles are ideal for women who are young in spirit. It is the perfect hairstyle to show youthful look and rebellious spirit. Even if you are a bit older, the short shaggy hairstyle will cut off a few years from your resume.
18. Choppy Shaggy A-Line Bob With Wispy Bangs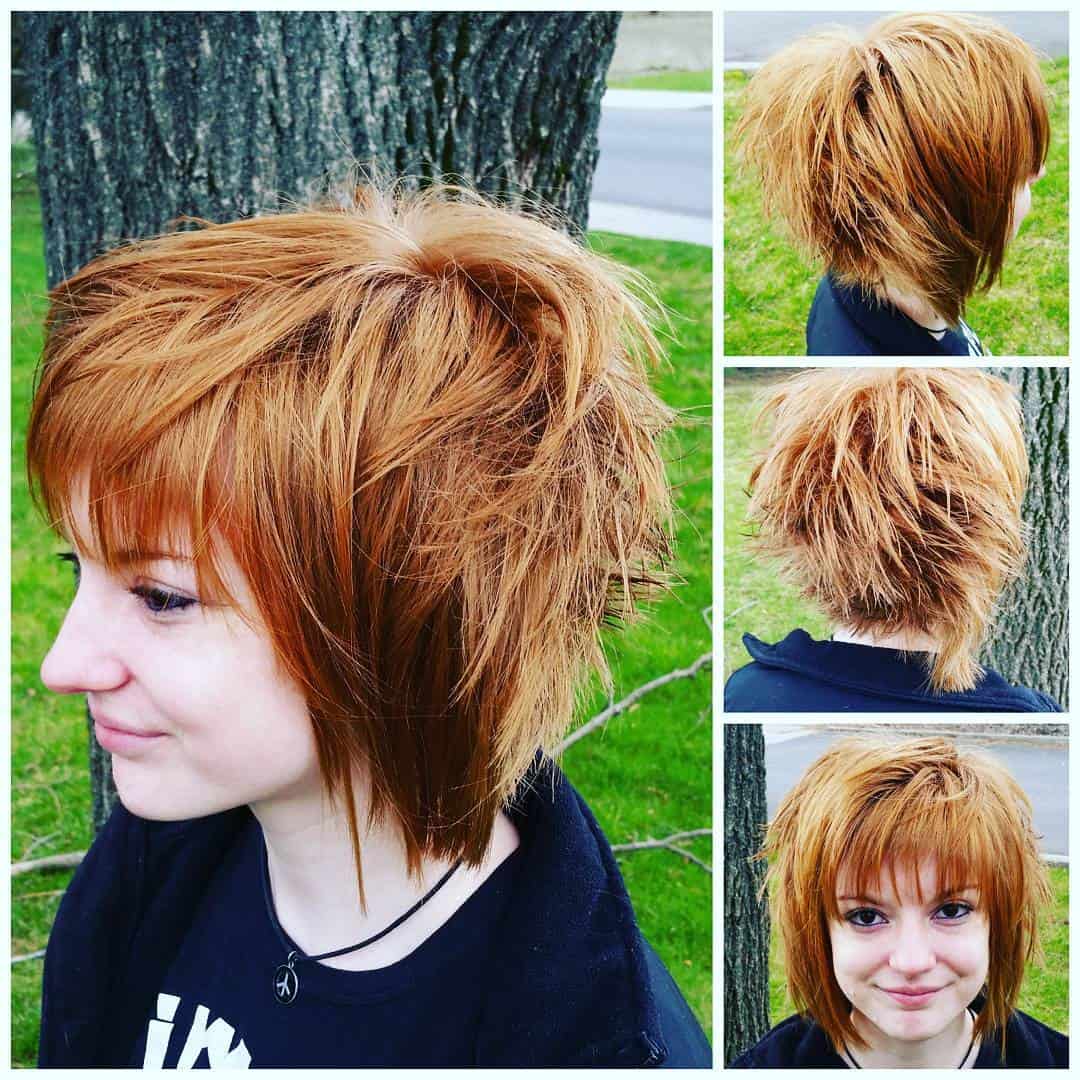 The A-line bob is a hairstyle that is shorter in the back and gradually gets longer towards the front. The goal is to give your hairstyle a bit more sharp and edgy look. And with the shaggy cut, you also add some playfulness and spirit.
19. White Shaggy Razor Cut With Black Undertones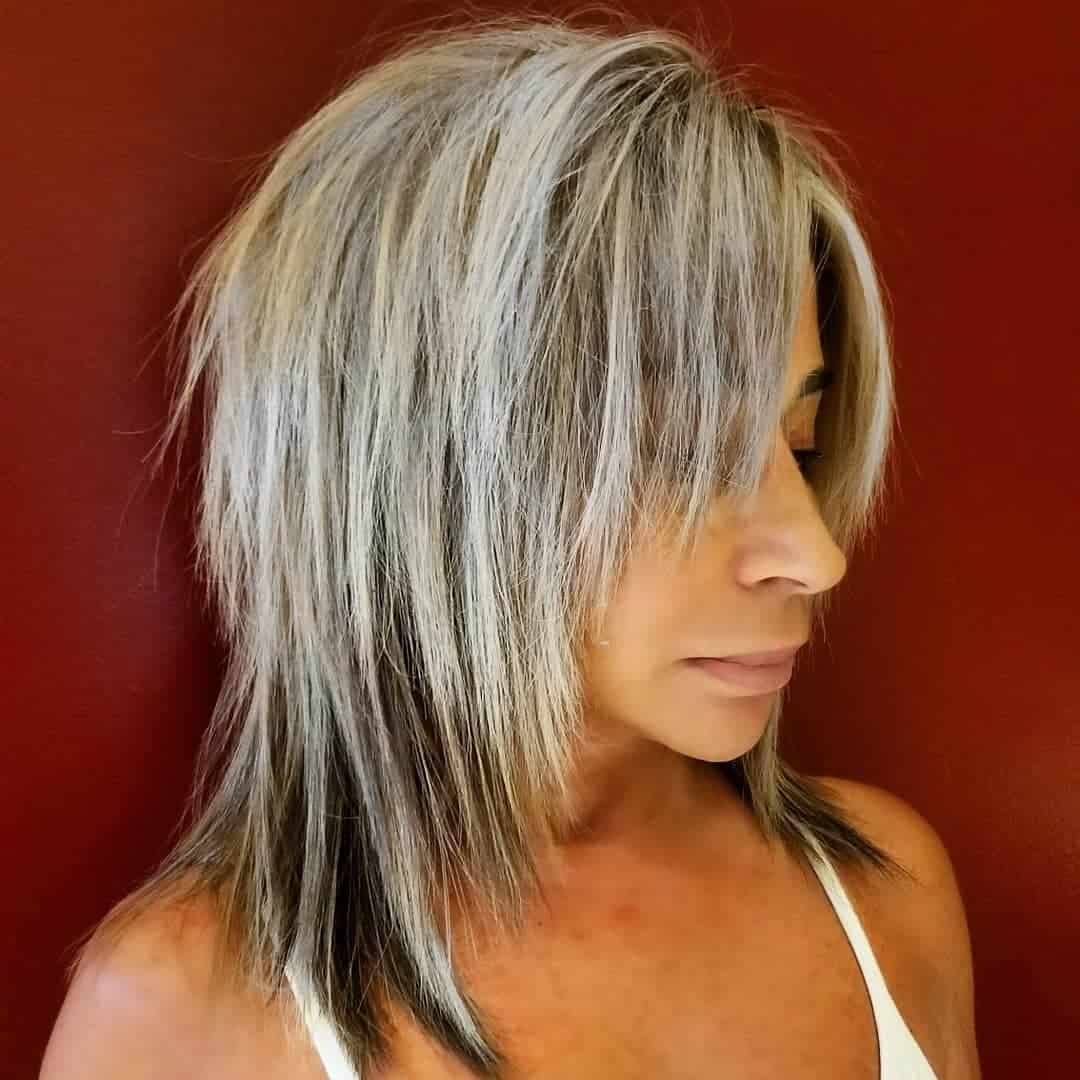 Now if this is not a hairstyle that screams young and wild, nothing is. The razor cut is a popular style done with a straight edge razor blade. The result is wispy strands with thinner ends. Edgy and timeless.
20. Peachy Shaggy Layers With Parted Bangs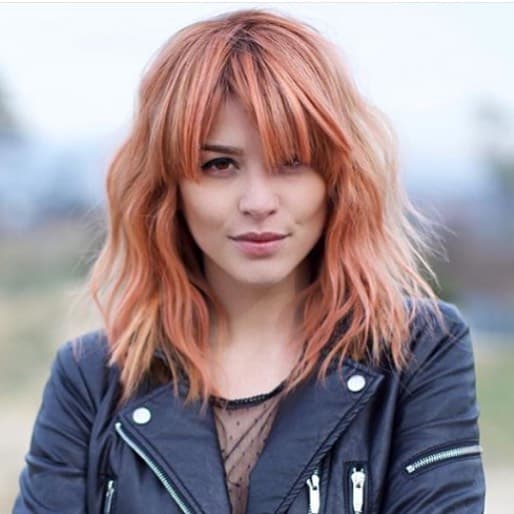 Designed to add definition to your face, the parted fringe is often referred as the Bardog fringe. Bangs are parted usually in the middle of your forehead, and each side is swept away from the face. But you can part them at any other part of the forehead as well.
21. Shaggy Asymmetrical Uneven Lob With Green Splotches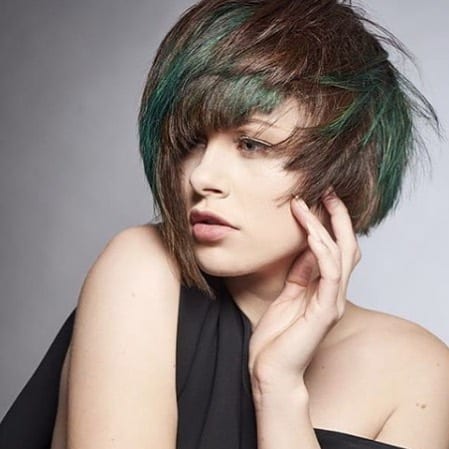 When it comes to the bob hairstyle, usually it is clear, even, and with strict lines. But then there are exceptions, designed to give you a more edgy and bold look. The green touches work wonderfully with the spirited hairstyle.
22. Light Raw Mauve Shaggy Uneven Cut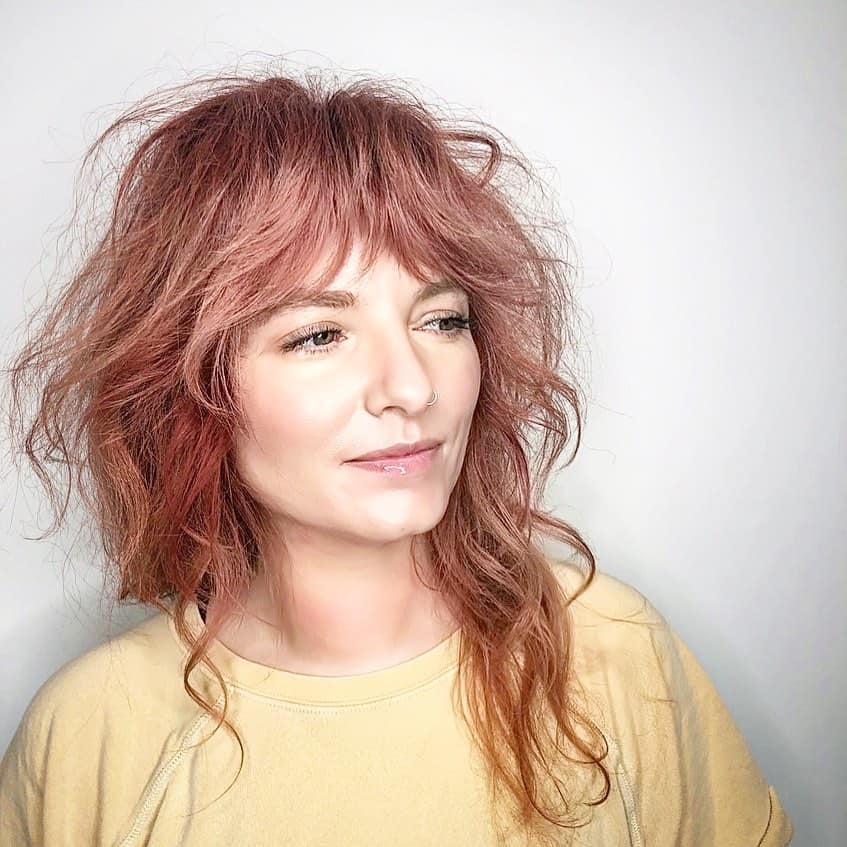 The trick with uneven cut is to make it look elegant and like it was done intentionally. In some cases, an uneven cut might look like you've gotten a bad haircut. And that can be disappointing. But here, that is definitely not the case.
23. Wispy Short Shaggy Cut With Straight Bangs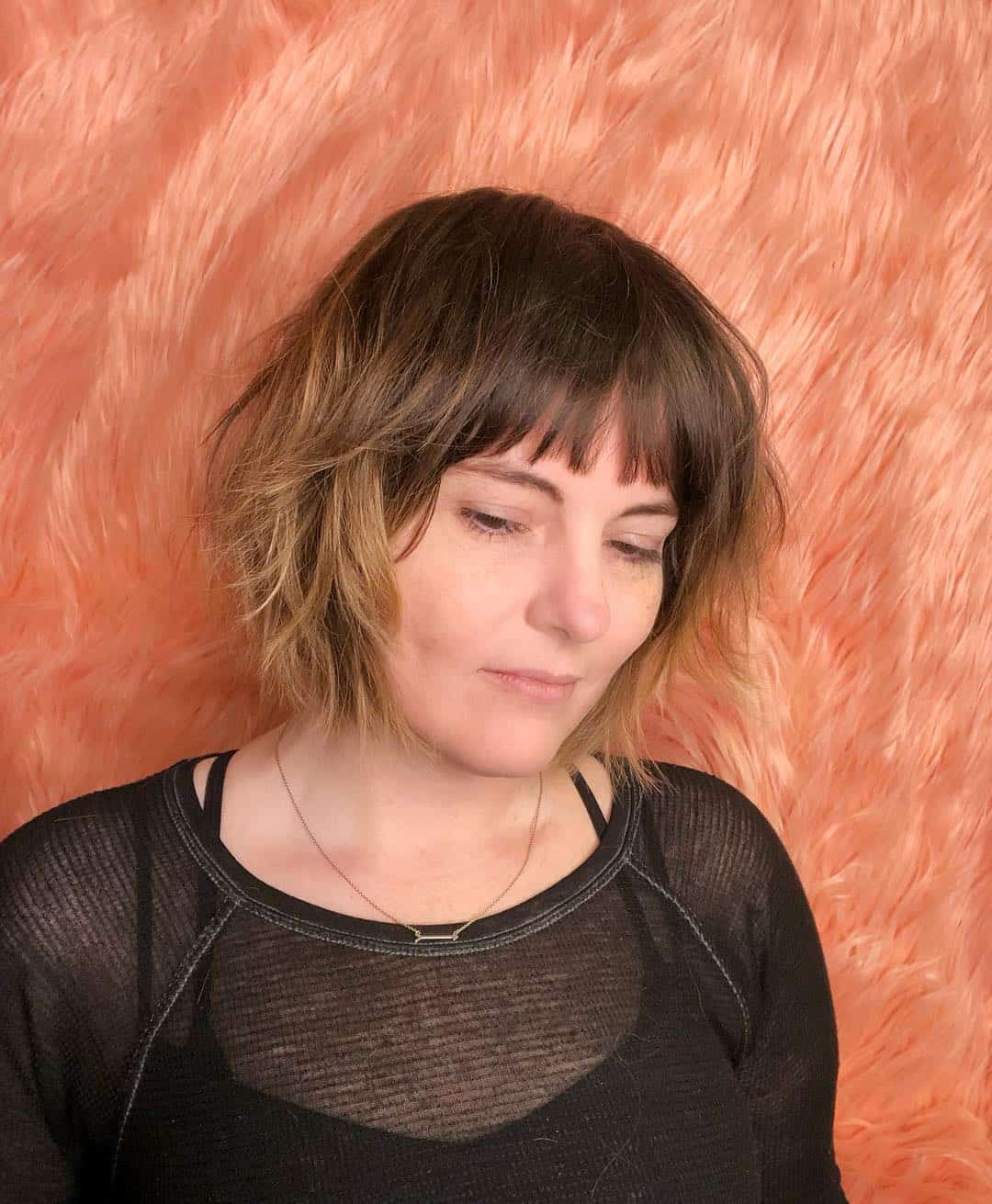 Straight bangs are the most common fringe style. Hair is combed straight down with no interference, which is totally opposite to the side-swept style. If you are looking for a timeless classic, you can not go wrong with the straight bangs.
24. Asymmetric Shaggy Lob With Side Bangs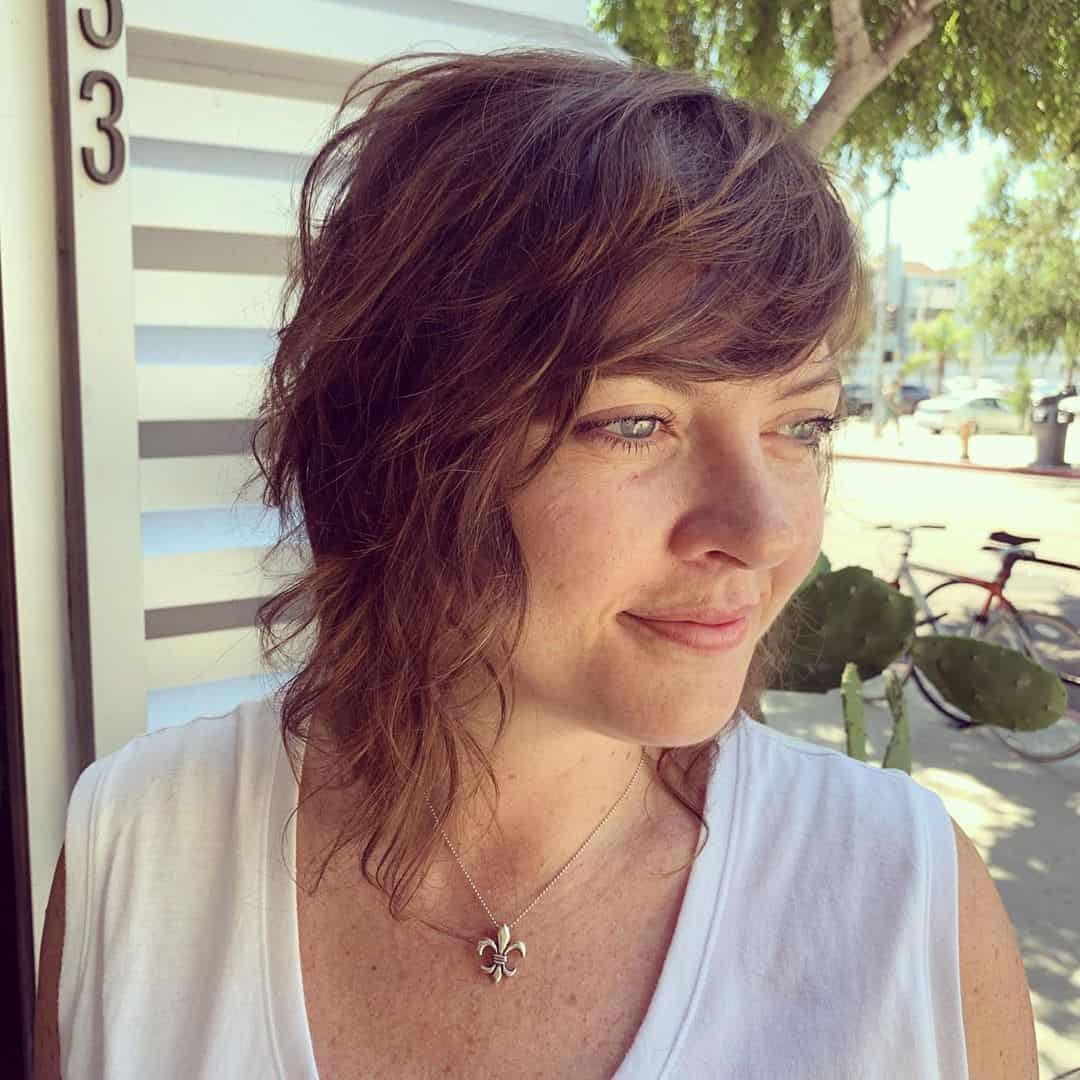 Speaking of side bangs, here they are. Some women might be hesitant to get side bangs, because they believe it limits the options for styling. But side bangs are popular, and they give you a soft and relaxed look. In the same time, they flatten your face.
25. Shaggy Layered Mullet With Red Tips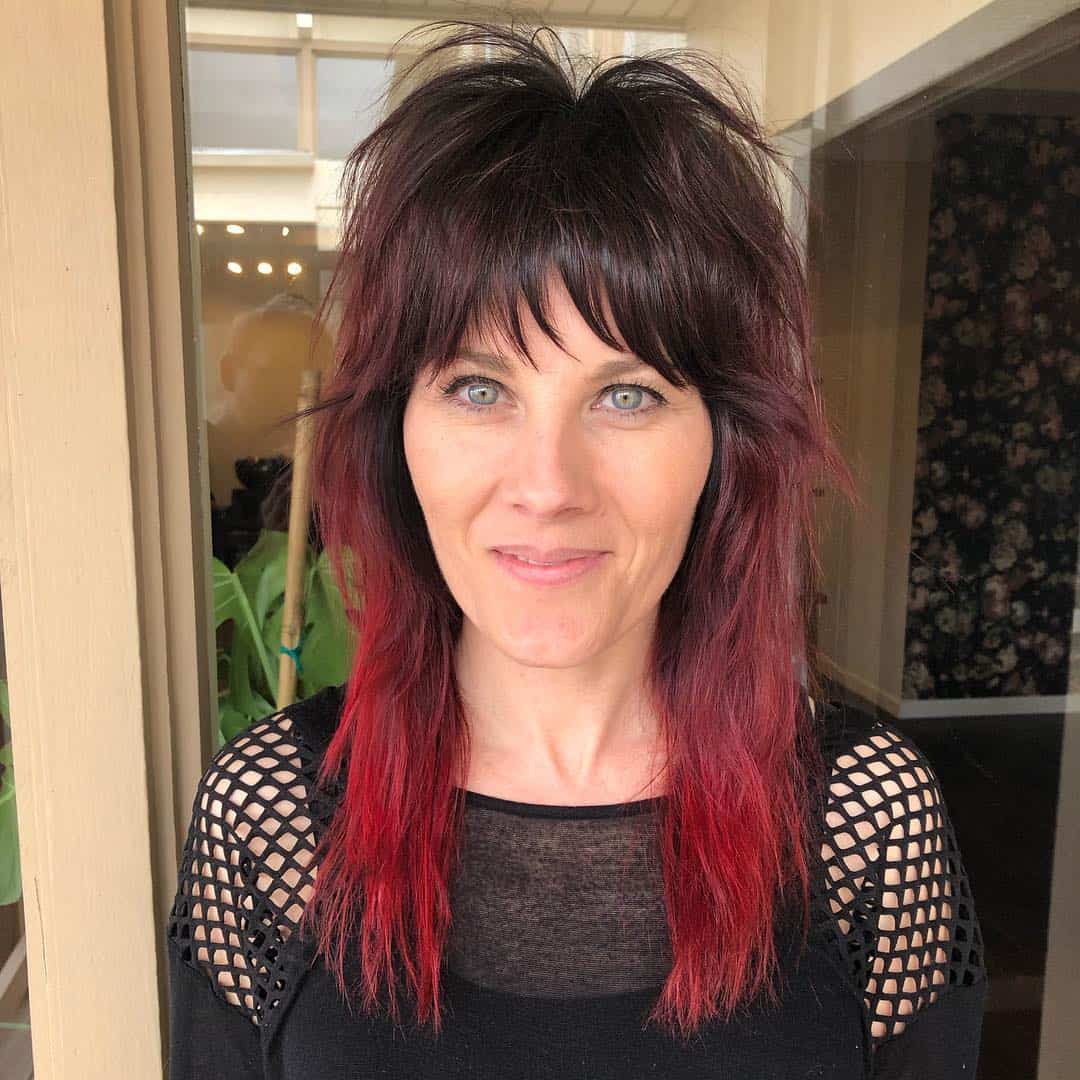 We had the shaggy mullet before, and now we give it a subtle twist. As in, look at those messy red tips on the top.
26. Shaggy Layered And Rooted Balayage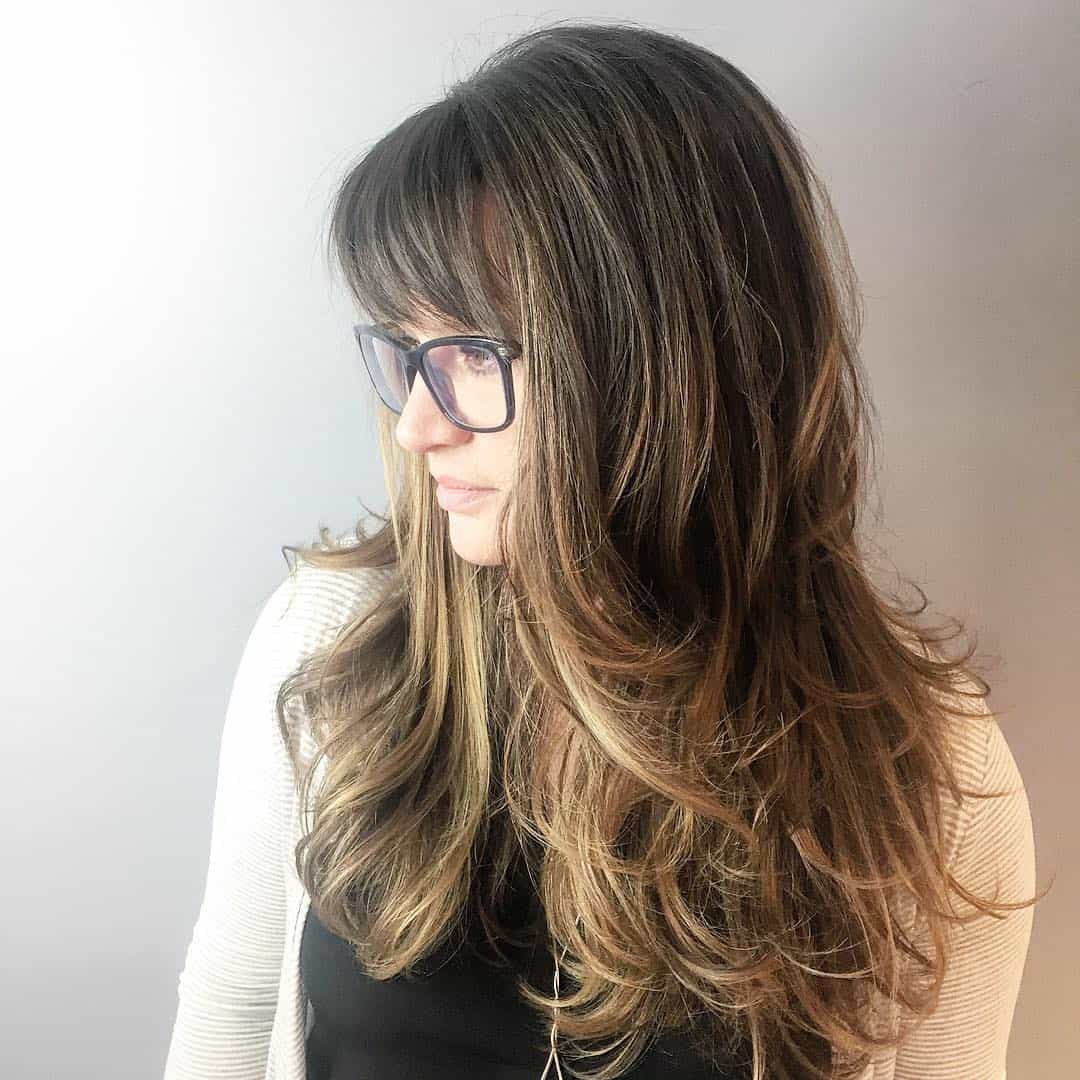 Some women just want to stick to something common, yet popular, and simple in the same time. The shaggy balayage look checks all those boxes.
27. Gorgeous Blonde Shaggy Curls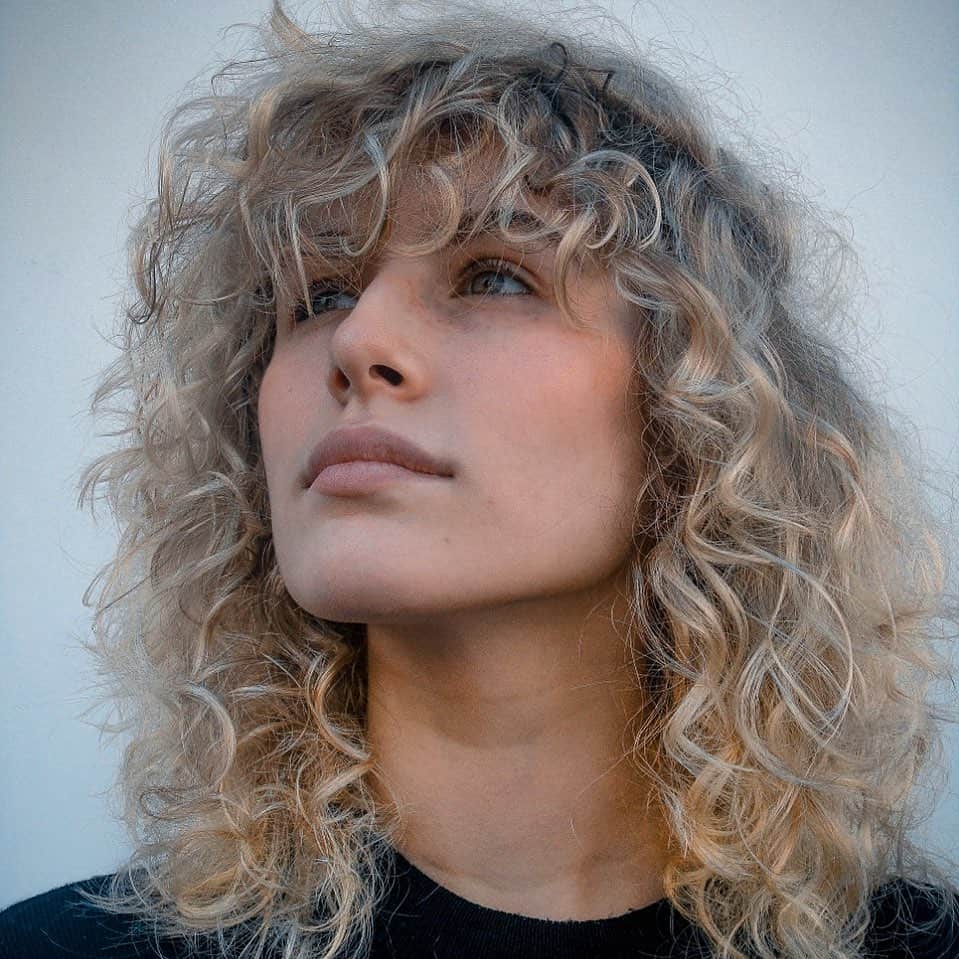 Shaggy curls look sexy, and trendy in the same time. Which is why we chose them as the final hairstyle in our shaggy cut looks.
With that in mind, if you have any other ideas for a shaggy hairstyle, feel free to share them.