You have probably heard of turmeric before. This is that orange/yellowish spice that gives just enough hot flavor to your dishes.
In the past few years, turmeric has entered the Western world, and we reap the benefits. Besides in the kitchen, this Indian spice has so many other uses and benefits to offer.
For example, one of them is the treatment known as turmeric hair removal.
If you are looking to get rid of hair on your face, you can use turmeric.
Yes, that might sound strange and weird, but wait a bit. Your initial reaction might be a pained cringe. And you are not the only one in thinking so.
But just think about this for a second. Why spend countless dollars on different procedures for hair removal, when you can use turmeric?
Women all over the world spend billions of dollars on facial hair removal treatments.
With that in mind, we want to introduce a common herb that is quite effective in removing facial hair. And no, it is not a sticky condiment.
Yes, that Indian spice that gives your dishes delicious flavor can take care of facial hair as well.
What is turmeric?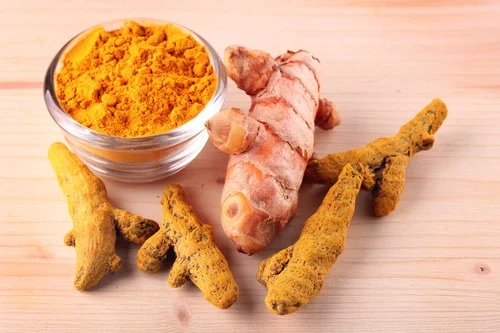 Turmeric is a yellow spice commonly used for cooking. Turmeric is a cousin of ginger, and it is a spice that gives yellow curry its color.
It might seem like a strange ingredient for beauty treatments, but it has helped women and people all around the world in a number of ways.
And the turmeric hair removal method is quite popular among Indian women. Some parts of the spice help remove unwanted hair and inhibit the re-growth of hair.
How do they use turmeric? They turn it into a paste.
How does turmeric hair removal work?
The turmeric facial hair removal mask might just work. And yes, it won't work on anybody. But what do you have to lose to try it?
Turmeric works in two ways, one is the natural chemicals in turmeric help to stop or slow hair growth. And the second is the mask weakens the hair roots, and mechanically pulls out part of the skin along with the hair.
When turmeric paste is applied to the skin, it will stick to the skin like a mild glue. And when you scrub it, pull it off, or wipe it off, the hair will come off along with the skin.
Usually, the hair comes out from the roots.
Repeat the process regularly, and you can reduce hair growth over time on your face. More importantly, turmeric will make the hair that grows to be finer.
Benefits of turmeric hair removal
Let's talk about why you should try this method. For starters, it is cheap, much cheaper than waxing, epilating, or other facial hair removal methods. But there are other benefits as well.
Here is a quick breakdown:
Turmeric face mask for hair removal is non-irritating, safe, and natural ways to get smoother skin. There are no side effects or skin irritation and can be used even on sensitive skin
Using the facial mask can also brighten the skin and even out skin complexion
Turmeric has antimicrobial, antiviral, antifungal, and antibacterial properties, preventing skin conditions on your face as it removes facial hair
You can also use the mask to gently exfoliate the face and remove any dead skin cells
Best turmeric facial hair removal masks
Turmeric, milk, and flour
This is the most commonly used turmeric mask for hair removal. Simple, yet effective, it will take you just a few minutes to get it done.
Ingredients:
2 tablespoons of turmeric powder
½ cup of flour
½ cup of milk
1 teaspoon of salt
How to do it?
Stir the mixture up until you get a smooth paste. If your mixture is runny, make sure to add just a little bit more of turmeric
Apply the paste on your face where you want to remove hair. Rub the paste on the area in a circular motion for five to ten minutes
Let the paste dry on its own for 10 to 15 minutes, and then wash with warm water. Repeat until you fully remove facial hair
Turmeric, sugar, and lemon
This mask will help you remove unwanted facial hair, but also provide exfoliation for your face. And the lemon extract will provide some nourishment thanks to vitamin C. Last, but not least, it will make your face look brighter.
Ingredients:
½ bowl of sugar
2 tablespoons of turmeric powder
2 tablespoon of lemon extract
1 cup of water
How to do it?
Start by boiling the water. Add the sugar and let it boil with the water. Once you get sticky sugary syrup, take it off heat
Let the syrup cool down a bit, and then add lemon extract and turmeric powder. Stir until you get a smooth paste
Apply on the area you want to remove facial hair, scrub in a circular motion, and let it dry. Wait for 10 minutes, and then use a washcloth to remove the mask by rubbing in the opposite direction
Repeat the treatment three times per week
Turmeric, aloe vera
This is one of the simpler turmeric face masks. But if you like, you can enhance it.
Ingredients:
2 tablespoons of turmeric powder
2 tablespoons of water
1 teaspoon of aloe vera
Few drops of rose water, optional for scent
How to do it?
Mix all of the ingredients, and if the paste is runny, add more aloe vera gel for thickness. Aloe vera will also soothe your skin
Apply to the troubled area, and let it dry for 10 to 15 minutes
Scrub the mask off
Turmeric and milk
If you want to keep things simple and easy, there is no need to add any more ingredients. You can experiment with the ratio, but the best one is 3:1, at least according to many experts.
How to do it?
Mix the two ingredients, and then spread the paste on the skin. Apply in the same direction as the hair growth, and allow the mask to dry for 20 minutes
Get a dry washcloth, and scrub your skin in a circular motion to remove the mask
Repeat every 2 days to get the best results
Nourishing turmeric mask
This mask helps you get rid of unwanted facial hair, but also get nourishment for the skin.
Ingredients:
½ cup of milk
1 cup of chickpea flour
½ tablespoon of turmeric
How to do it?
Add chickpea flour to a mixing bowl. Then add turmeric, and stir for a few seconds. Last, add the milk, and continue stirring until you get a smooth paste
Apply a thin layer of the mixture on the troubled area, applying in the direction of hair growth
Let the mixture dry for 20 minutes, and then using a washcloth, rub the area in the opposite direction. If there is any residue, remove with warm water. Finish off with a moisturizer for smooth and silky skin