Thanks to all the nail products and nail polishes, our nails have become canvases for amazing nail art. While it is fun to try out different designs and patterns, doing them of different "canvases" can be even more exciting.
There are a few popular nail shapes we are all familiar with, and some less so, like the edge nails. Edge nails are the offspring of stiletto and square nails. Not as aggressive as the stiletto, not as dull as the square, these acrylic nails have a ridge in the middle, almost like a rooftop ending in a not-so-sharp point.
It is quite the unusual shape, to be sure, but that's what makes it flashy. French manicure is the most common designs chosen for these nails, but there's a variety of other ways to paint them and look absolutely fabulous.
Here are some wicked edge nail designs that are bound to make you a fan of this underrated nail shape.
#1. White French With Gold Shells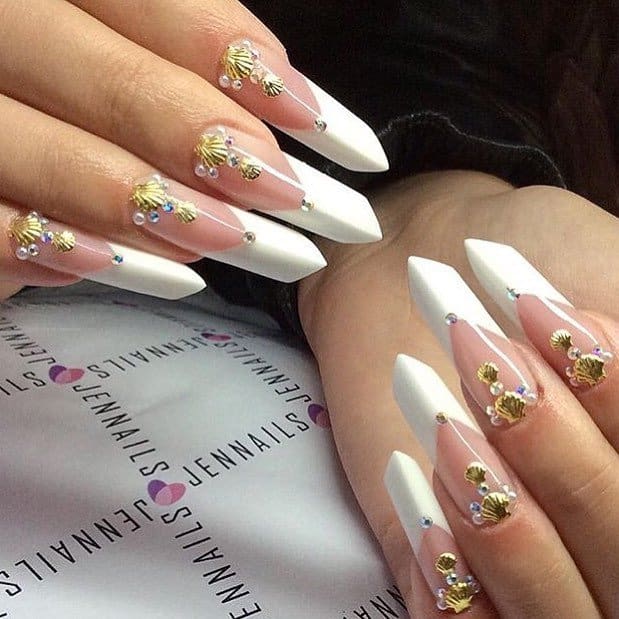 A French manicure never looked so elegant and edgy at the same time.
In this mani the blinding white edged tips are adorned with golden shells and pearls. Such a lovely mermaid vibes.
#2. Galaxy Tipped Nails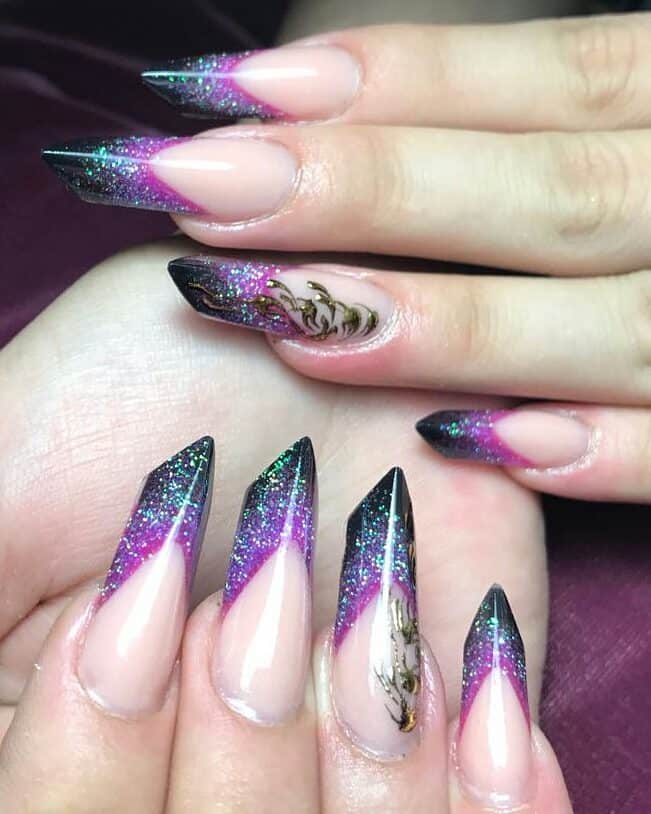 Care to have the universe at your fingertips, or should we say the tips of your nails?
Then try this nail design. Black and purple ombre tips sprinkled with glittery sparkles over clear nude nails, with a touch of dark gold lines to tie it all up.
#3. Beige And Brown Rhinestones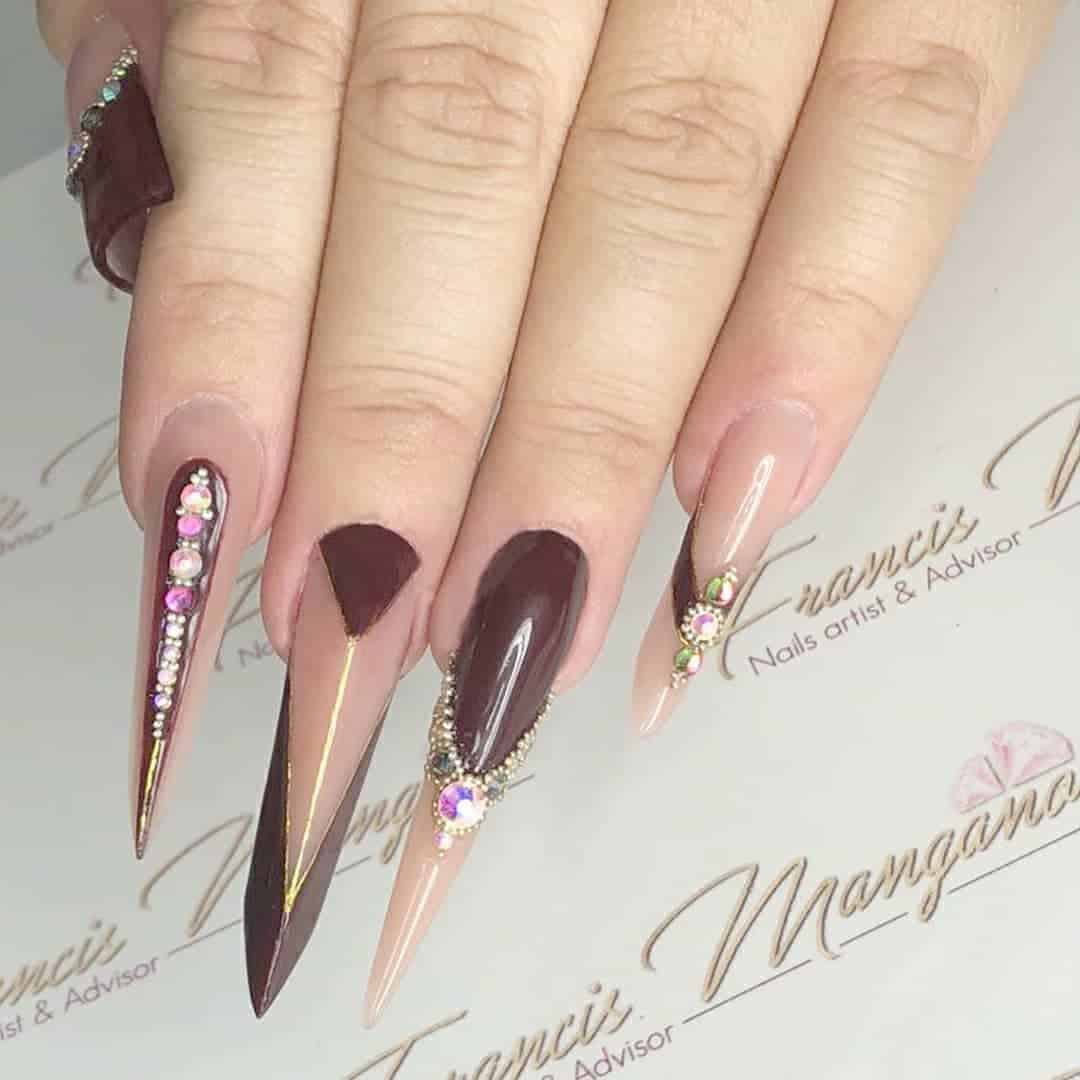 Stiletto meets edge nails. Here is a manicure for those who love really long nails different from the norm.
Polished in earthy beige and brown design, and accessorized with white and pink rhinestones, this is a stunning combo for special occasions.
#4. Matted Accent With Almond Black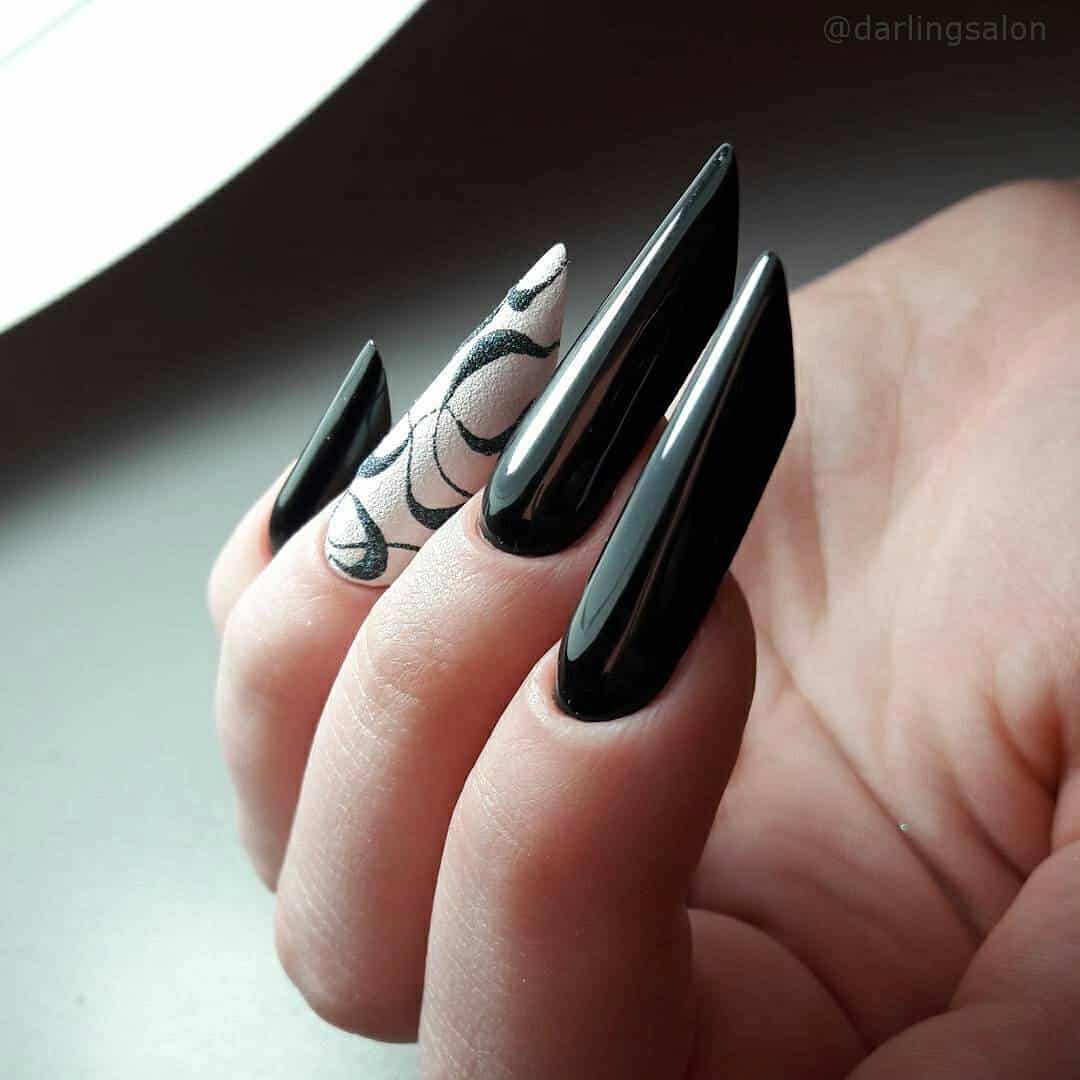 Long glossy black nails are very popular during Halloween, however, they can be made suitable for more classy occasions as well.
Like this lovely example of black edge nails with an accent nail design, done in white glitter matte with curved black lines.
#5. Pink Glitter With Floral Accent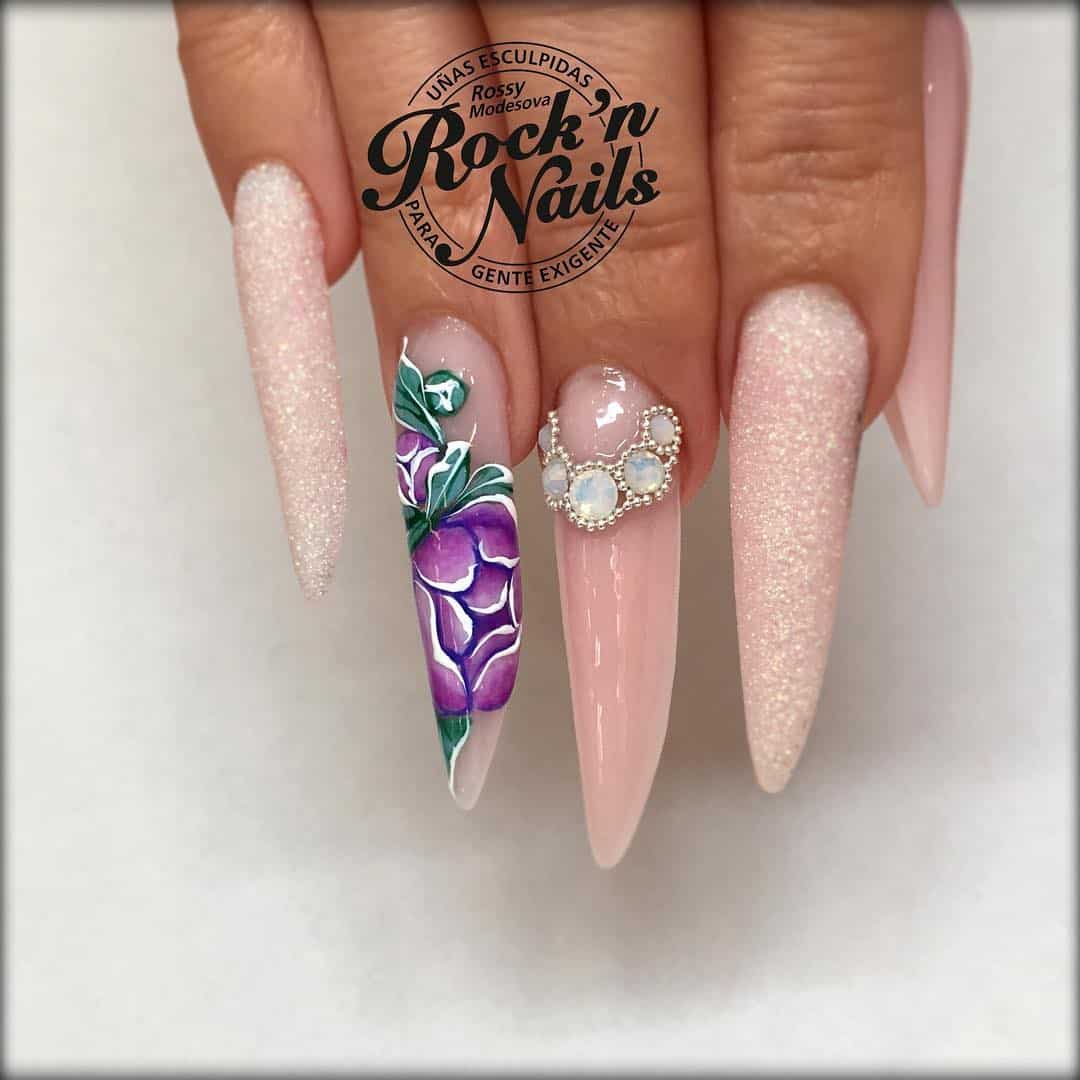 Baby pink is a cute, soft color choice begging to be glammed up.
With a bit of glitter, pearly half moon and a purple floral accent, this manicure adds a dazzling allure to your nails without taking away the pink tenderness
#6. Fire holographic clear nails
Diamonds or crystalline ice, this manicure has both.
The clear acrylic nails are shaped into clear diamond-like tips with a nude base. The rhinestone adornment isn't particularly necessary for these amazing nails but sure complete the look.
#7. Purple Glitter And Chandelier Nails
There a royal elegance to a dangling chandelier, and if you're fond of decorating your nails with rhinestones, this manicure is one you must try,
On a purple glitter polished nail create a pattern of lines of rhinestones connected to a larger one at the base. Glam at its best.
#8. Brown Tipped 3D Flowers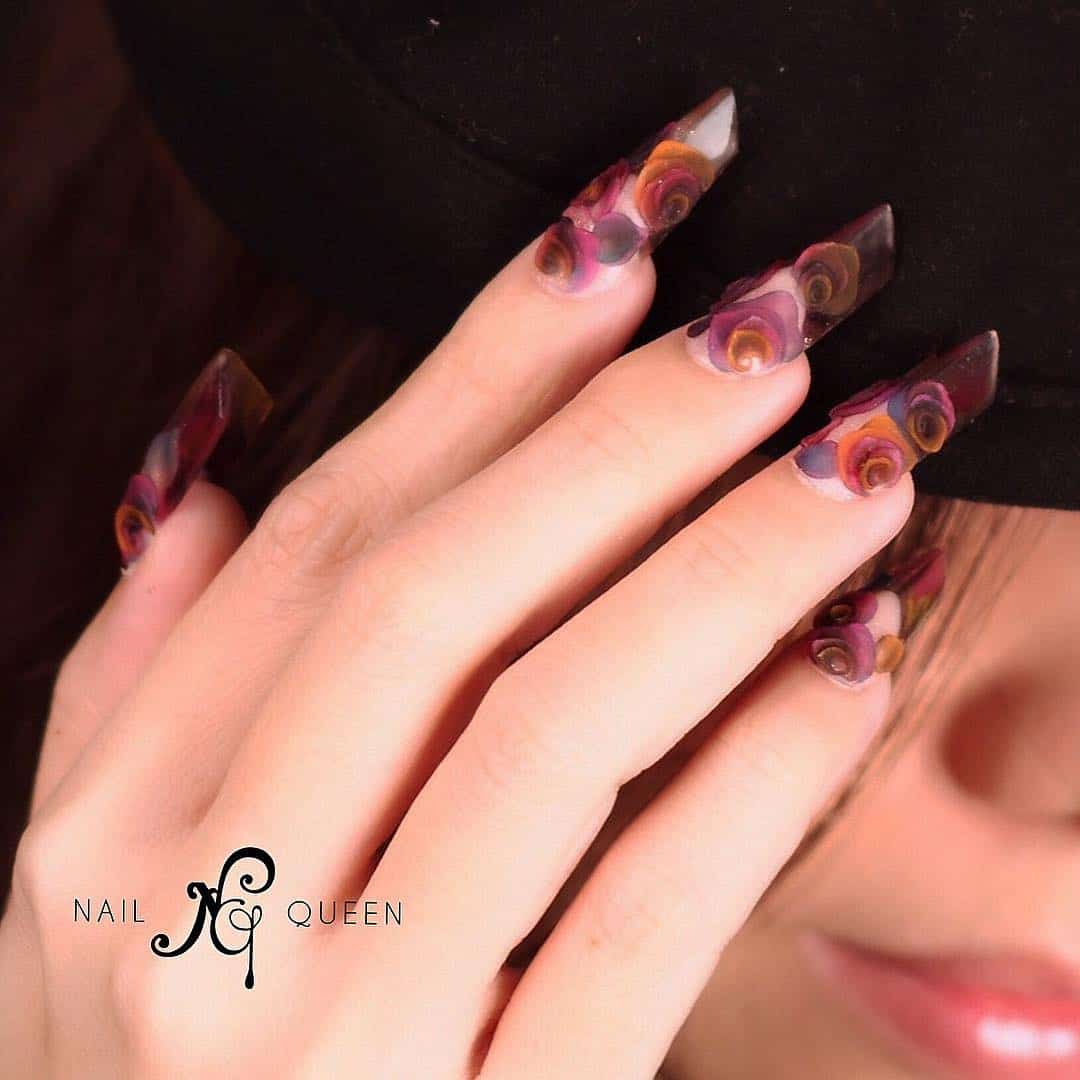 The 3D flowers go up and over the nail, seen only if you turn the fingers. It is the beauty of the edge nails.
And the dark flowers are a nice choice for all seasons, and these are full of dimension and texture.
#9. French Nude With Vines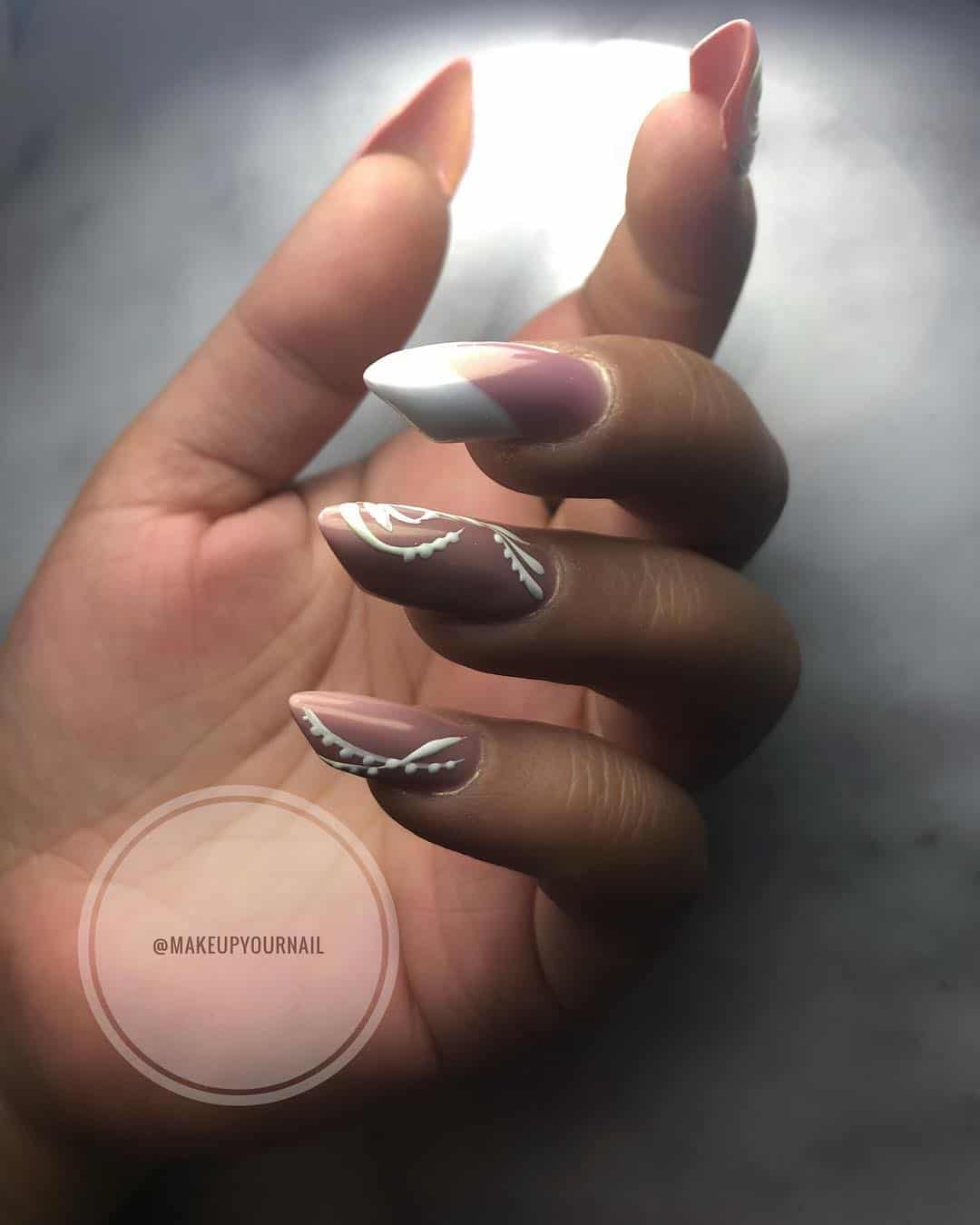 Skin toned nail polish is the alternative to plain clear polish if you want a neutral manicure.
A few gentle white lines mimicking vines is all the adornment this classy mani needs.
#10. Short Pink French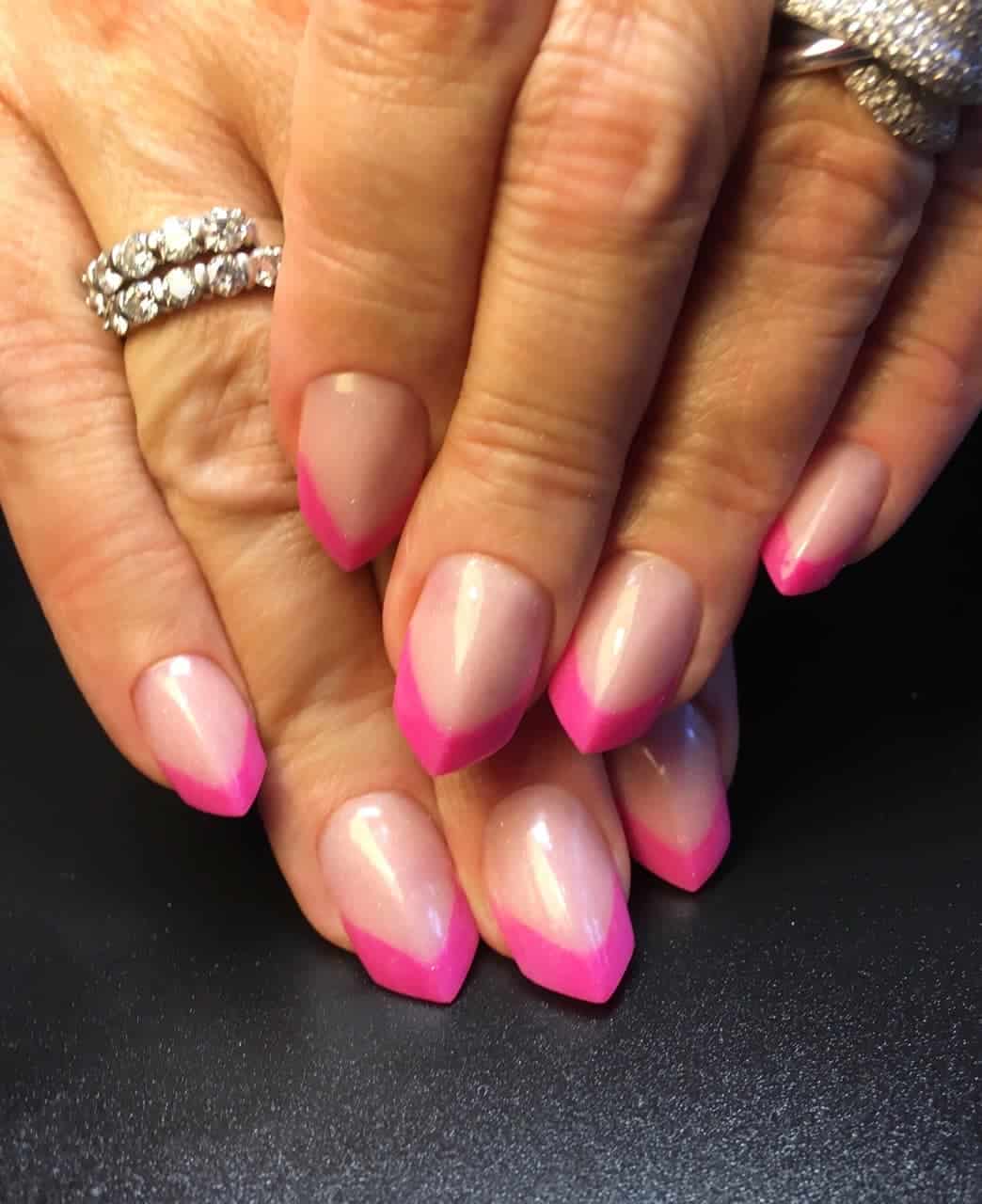 Less is more sometimes, and a bit of color can go a long way.
Seeing that edge nails look wonderful on short nails too, coloring the tips neon pink and leaving the base clear is a great color choice when trying new nail shapes for the first time.
#11. Lace Accent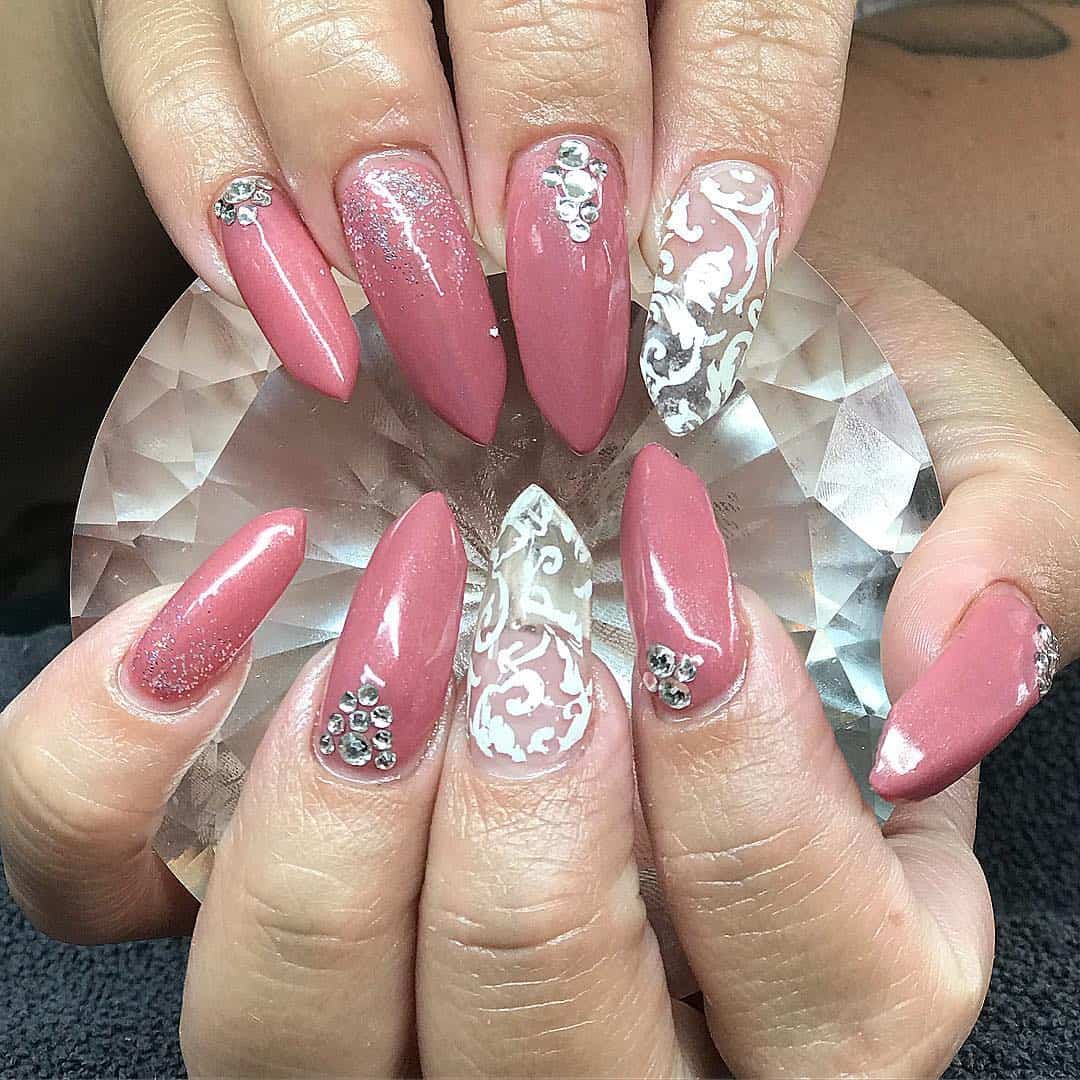 Crystal and rose pink can be combined to form a wonderful manicure.
Instead of leaving the crystal-like accent nails clear, these are decorated with white curvy lines tying together the classy rhinestones and glitter on the rest of the nails.
#12.  Obelisk Black Nails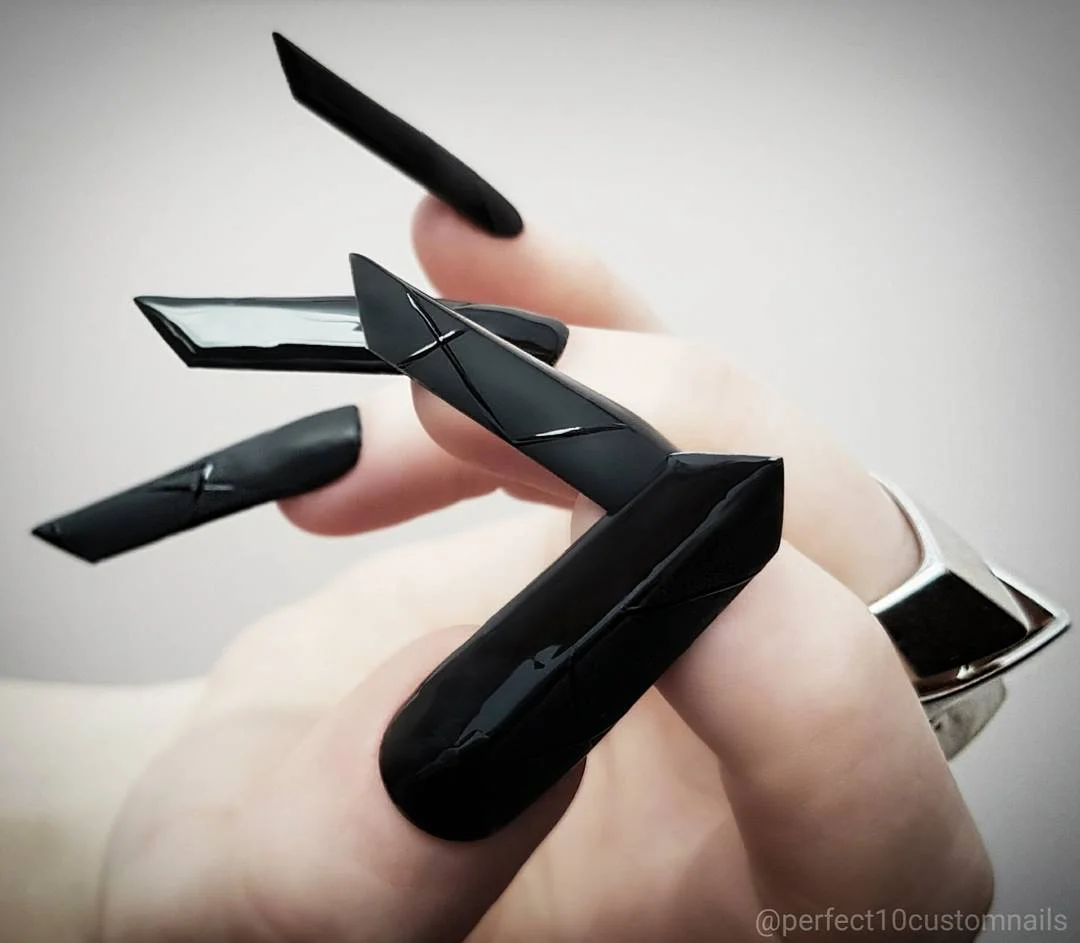 There is something alluring about black obelisks we are all drawn to.
With the edge nails and the right black pattern, you can enjoy a very majestic and mystique obelisk mani like this one.
#13. Red Marbled Tips With 3D Flowers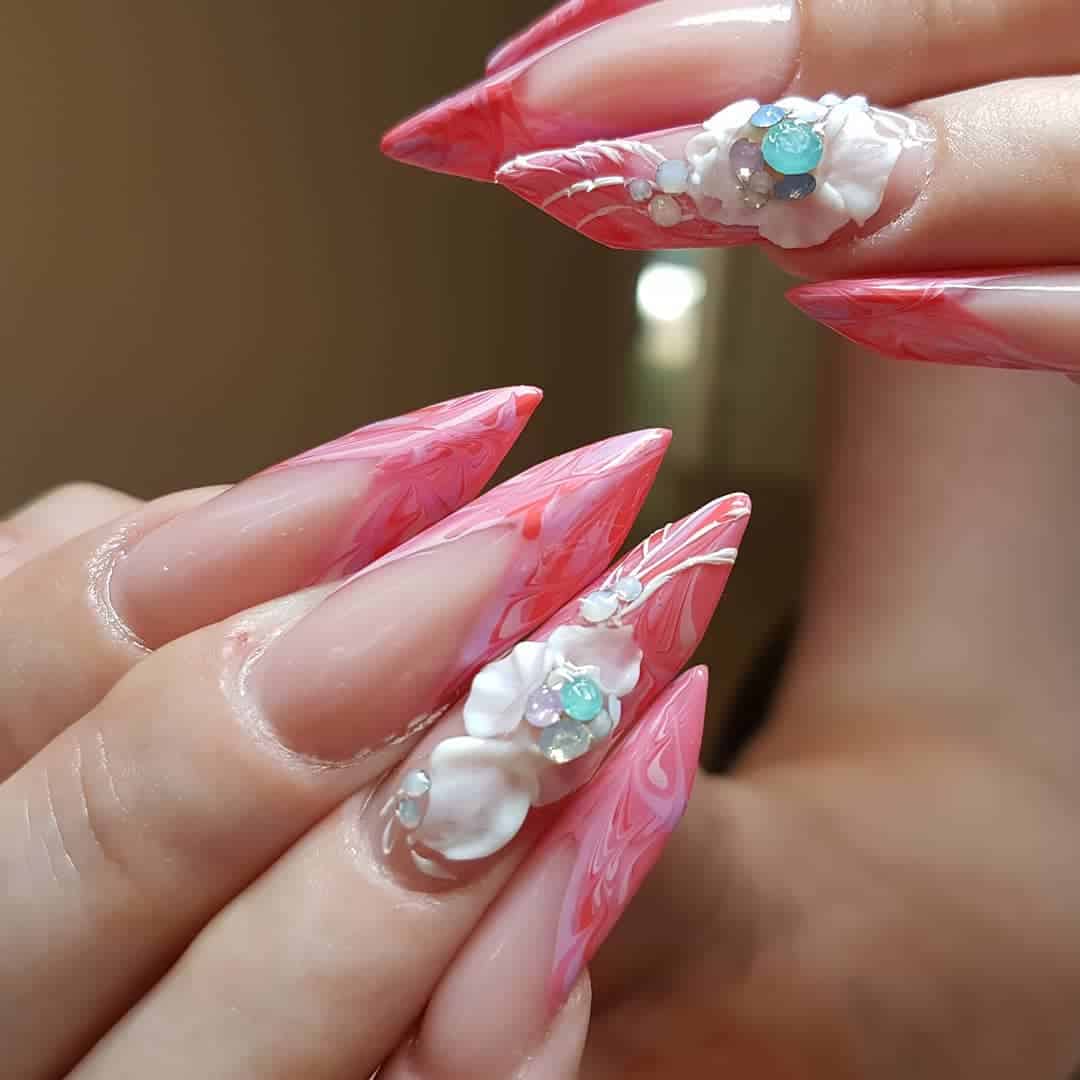 Marbled nails look complex but are actually quite easy to do. Marbling just the tips is a bit trickier, but the end result is fabulous.
These lovely red, white and pink marbled nails are really great, made even more special with a flourishing 3D accent flower.
#14. Chevron Edge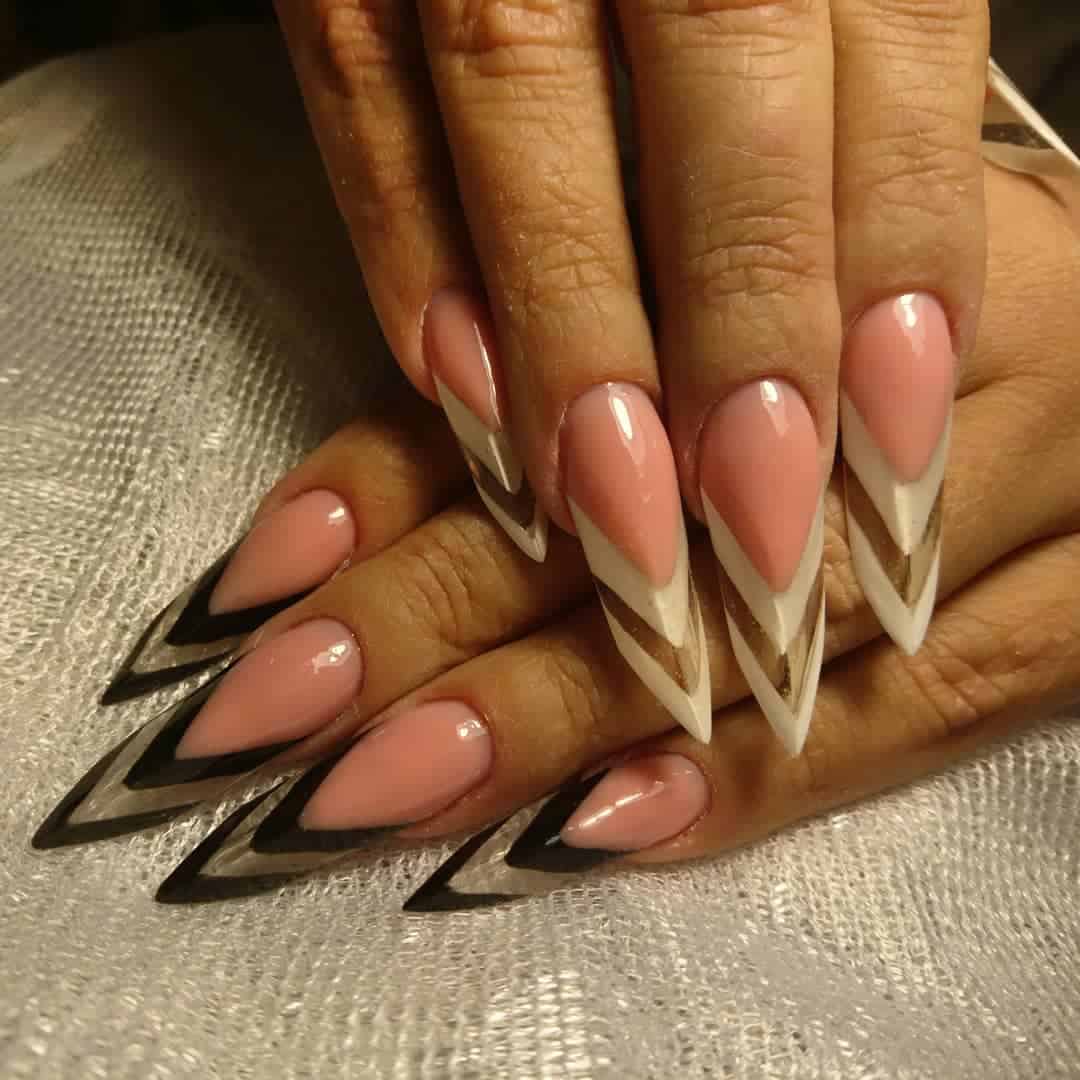 You have to admit that chevron takes a whole new dimension when done on edge nails.
Simple lines give a clear acrylic manicure so much depth and dimension, it begs to be tried at least once.
#15. Blood Red Nails WIth Gold Pigment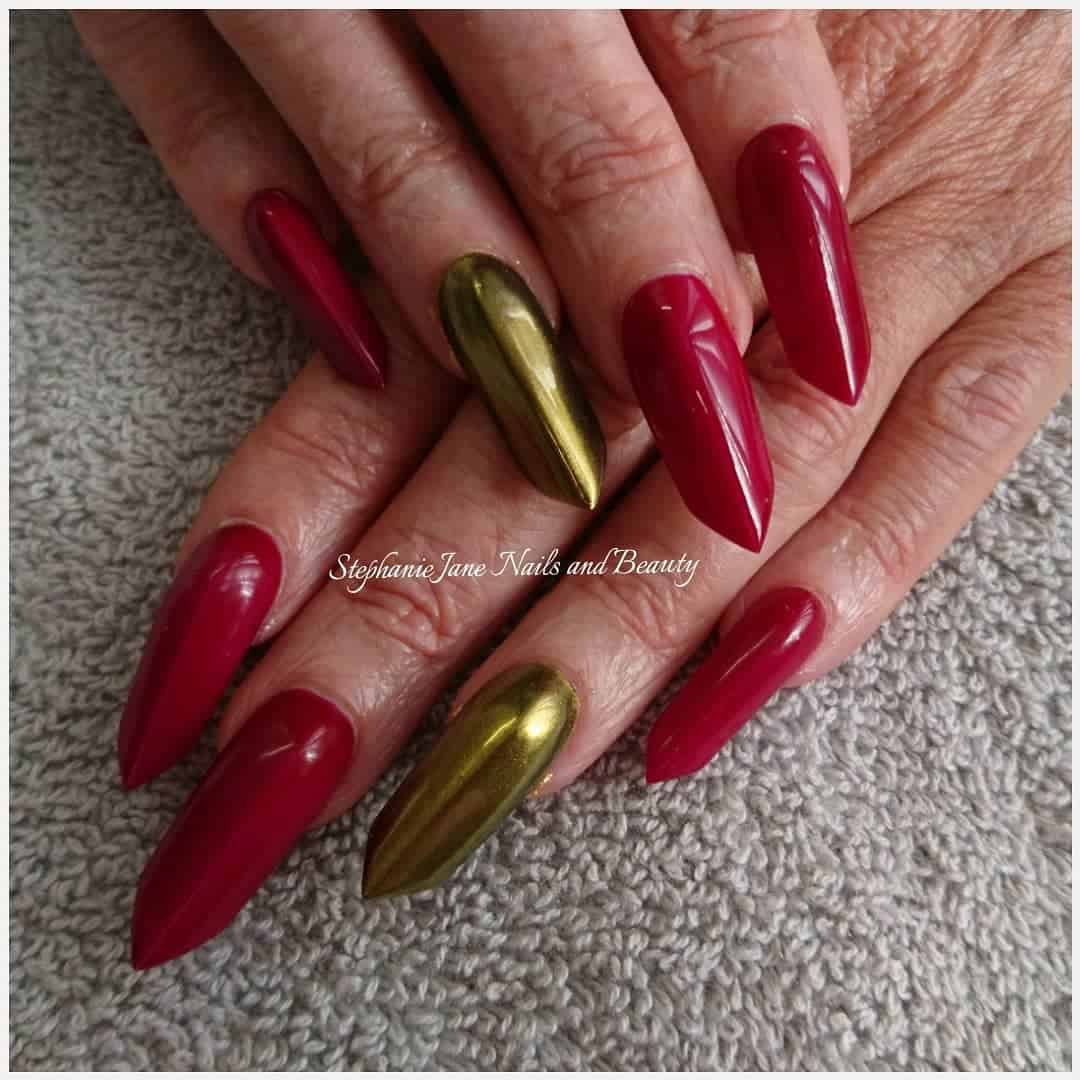 Sometimes less is more and nothing says sexy and regal as a red and gold combination.
without any decoration just the basic color, accent gold, and the shape of the nails to stir things up, these nails may look plain, but there's nothing plain about them.
#16. Burgundy Red With Faded Rose Gold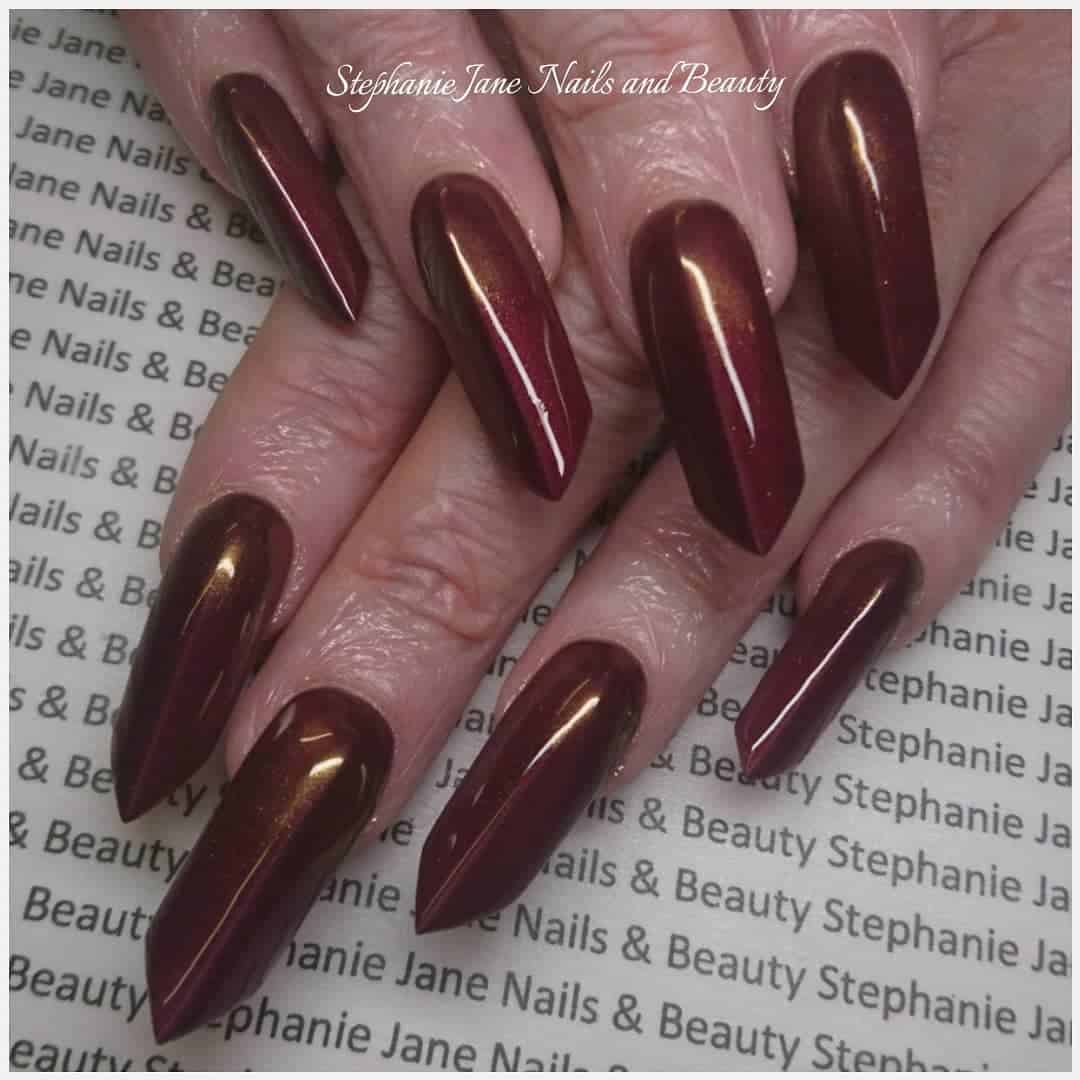 Like the red and gold nail design, but think it's too bold for you?
This burgundy with rose gold is a great toned down version of it, not so loud, but with just as much flare.
#17. Matte Goth Nails
Wake up the inner witch with this bewitching black mani.
Medium length edge nails in matte pitch black are the perfect manicure to complete your Halloween costume or just get in touch with your goth side.
#18.  Mint Abstract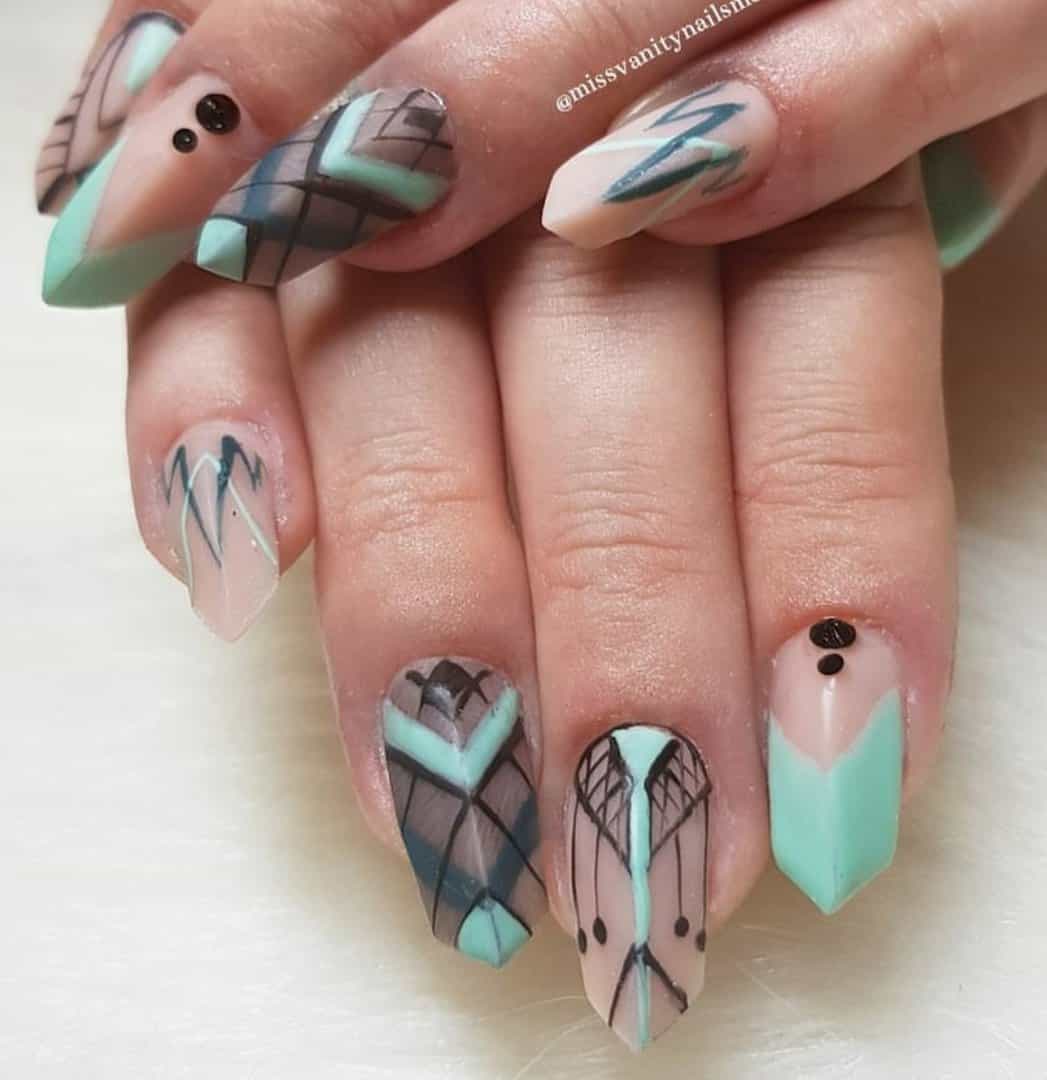 Here's another great idea for shorter edge nails.
Abstract shapes are done in two colors with all the shades in between, creating a colorful manicure with minimal color.
#19. Gold Flakes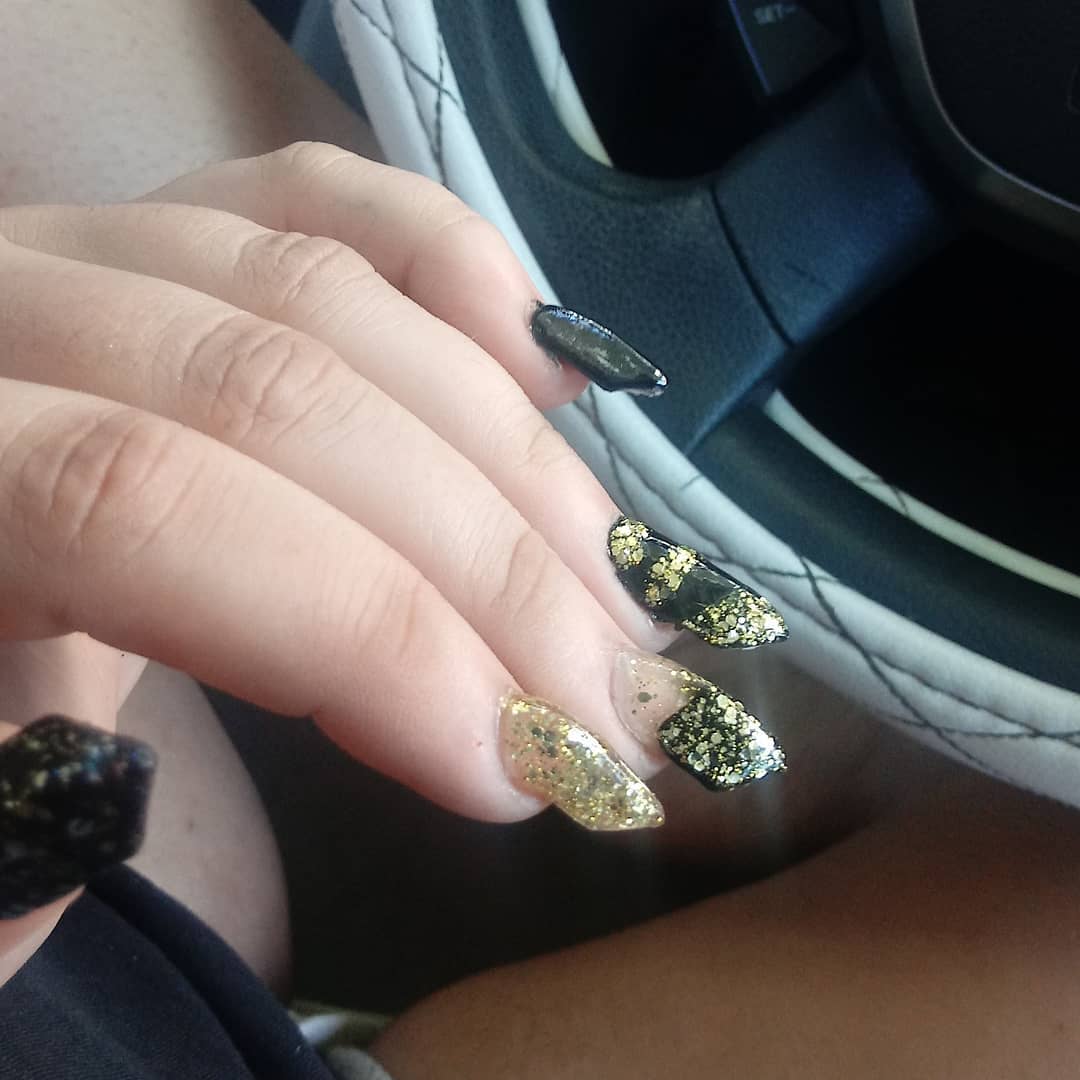 Turn a drab clear and black manicure into a dazzling one the easy way, with some gold flake.
Cover the entire nail or do some glam lines, the ani you'll end up with will surely be fabulous.
#20. Blue 3D Nails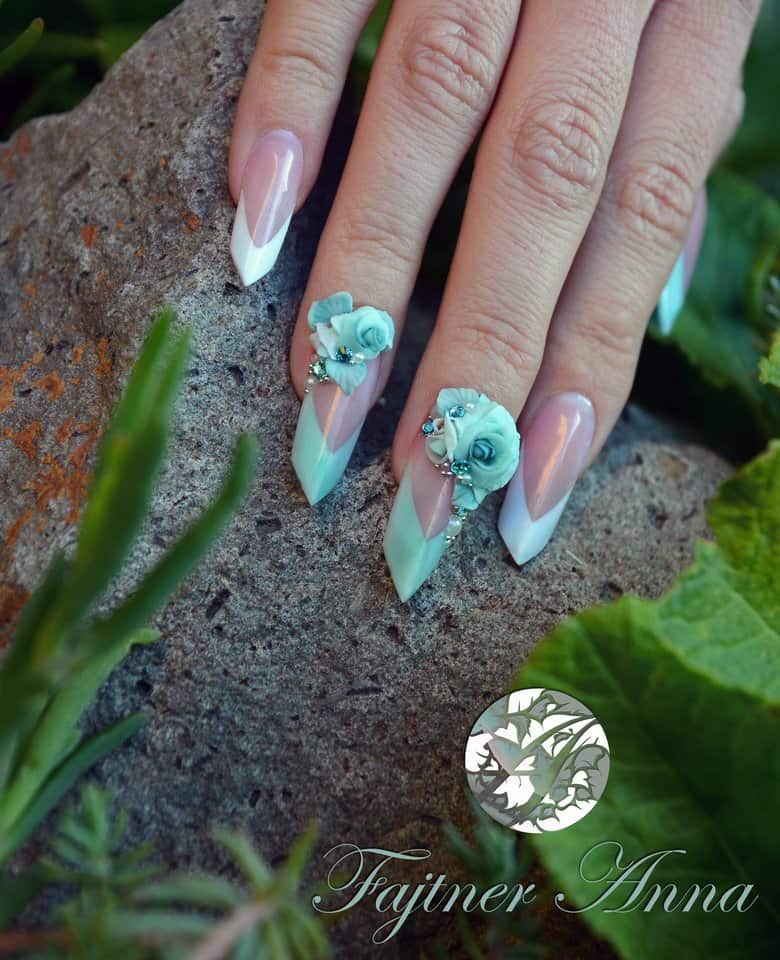 Not exactly a convenient manicure for your day-to-day activities, however, it would be perfect for a wedding.
For a bride, a bridesmaid or even a guest, the large acrylic flowers on a baby blue french mani is certainly a nail design any woman would say "yes" to.
#21. Black Chrome With Blue Pigment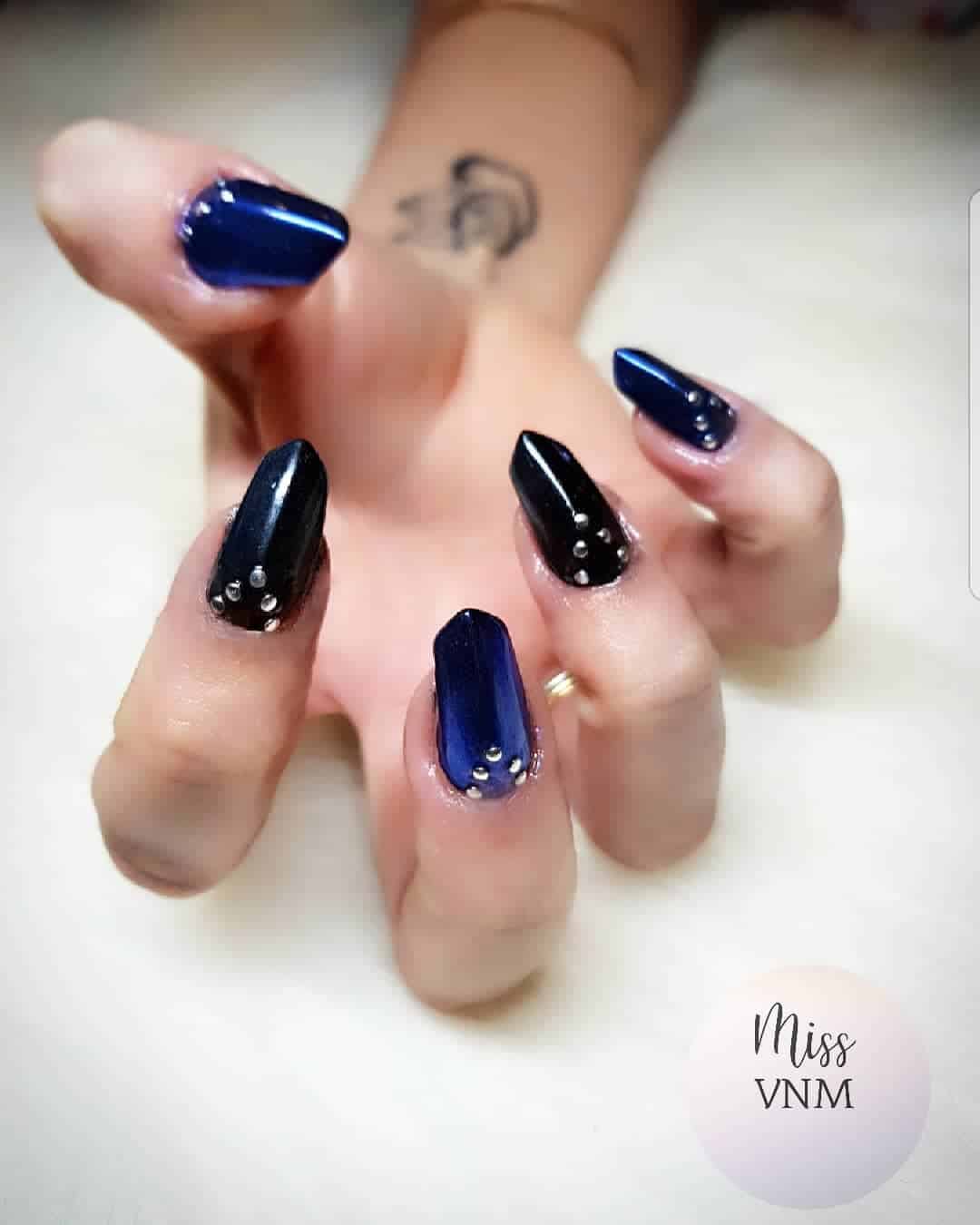 We just can't get over how good black nails look on this edge shape.
This is an obsidian black and blue mani for shorter nails, with a dash of small rhinestones, creating a midnight sky at your fingers.
#22. Acrylic Pink With Flowers And rhinestones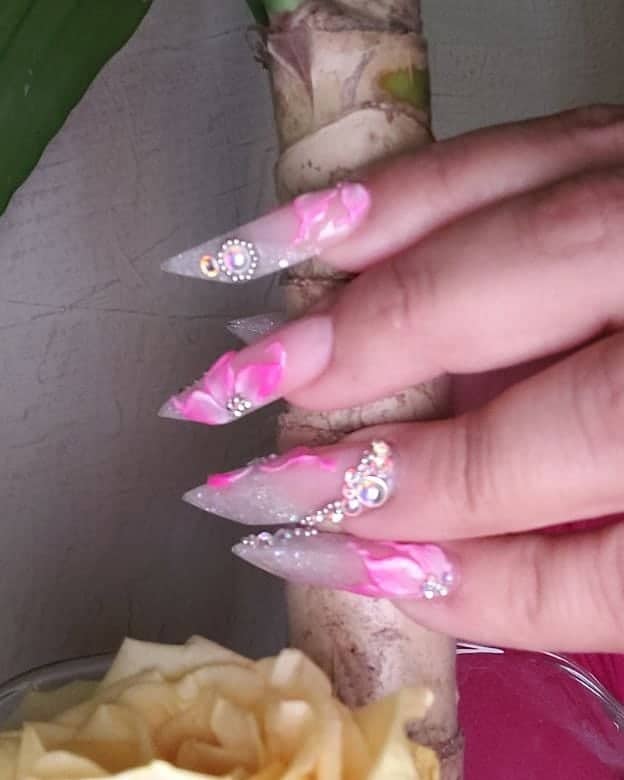 To end our list on a more cheerful note, here is a pink nail design that will lighten anyone's mood.
Gentle pink flowers over a clear base artfully adorned with rhinestones on the side have the right amount of style and glam to make you feel like a star.