Shaping our nails to add to their allure is a must when going to the nail salon. From all the shapes available we often go for the safe choice, like the square, oval or stiletto. From time to time, we all get in the mood for a more dramatic and eye-catching manicure. That's when lipstick nail designs come into play.
The name says it all. Lipstick nails have a soft diagonal slant, reminiscent of the shape of a new sweet lipstick. Done on nails, this shape seems quite exquisite, elegant, and even a bit dangerous.
Like with most long nails, don't expect be able to do everything you normally do without damaging the nails, snatching the edge on various things. So a bit of caution is advised, but then again, if you are used to having long nails, going about your daily routine with lipstick nails, shouldn't be a problem.
Yet, after seeing just how good these artificial nails look done in various designs, being a bit more careful doesn't seem like much of a trouble if you get to show off some fine lipstick nails.
Nowadays, there are many different nail shapes, but the lipstick nail shape is definitely worth giving a try.
#1. Red Hot And Sexy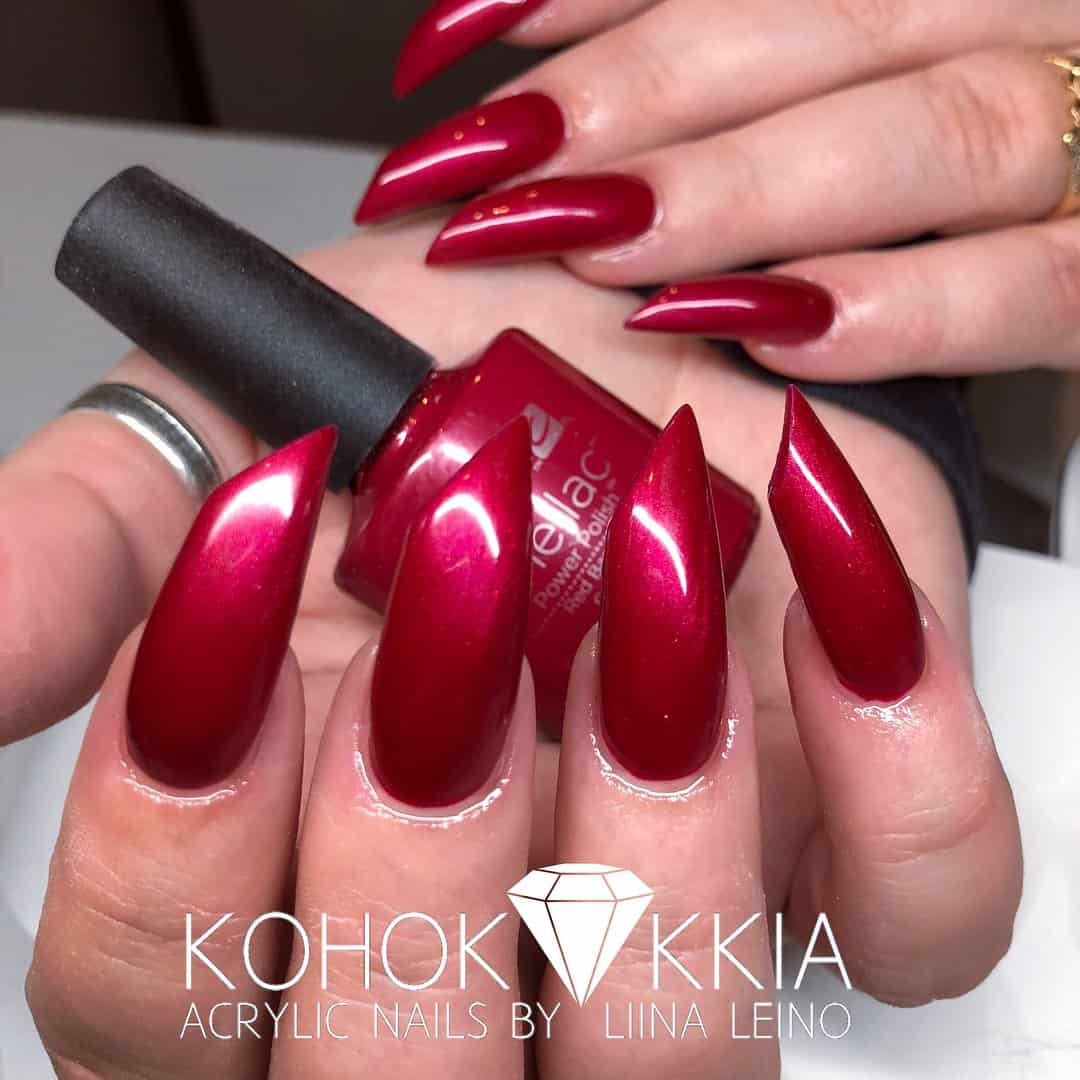 Red hot nails shaped like lipsticks give a modern new twist to this foxy all time favorite.
It is a timeless classic nail design, one needing no additional accessories, unless you want some.
And when we talk about lipstick nail designs, we have to start with one looking like red lipstick, right?
#2. Lavender With Glitter Accent And Floral Lace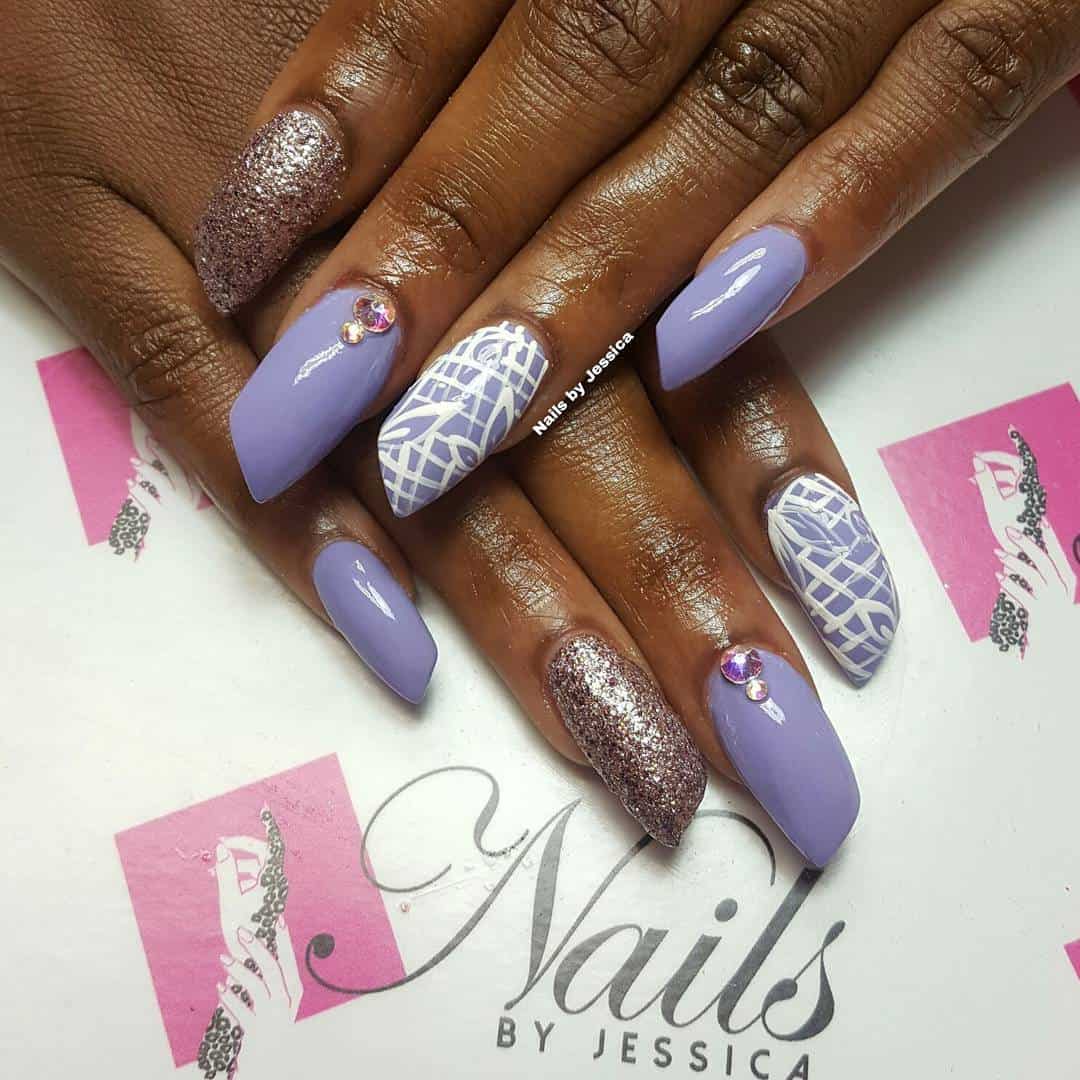 Velvety lavender is a calming nail polish you can play around with.
Golden glitter accent and a white grid with floral hints is one fine way to sparkle up purple nails.
#3. Skin Tone Red Glitter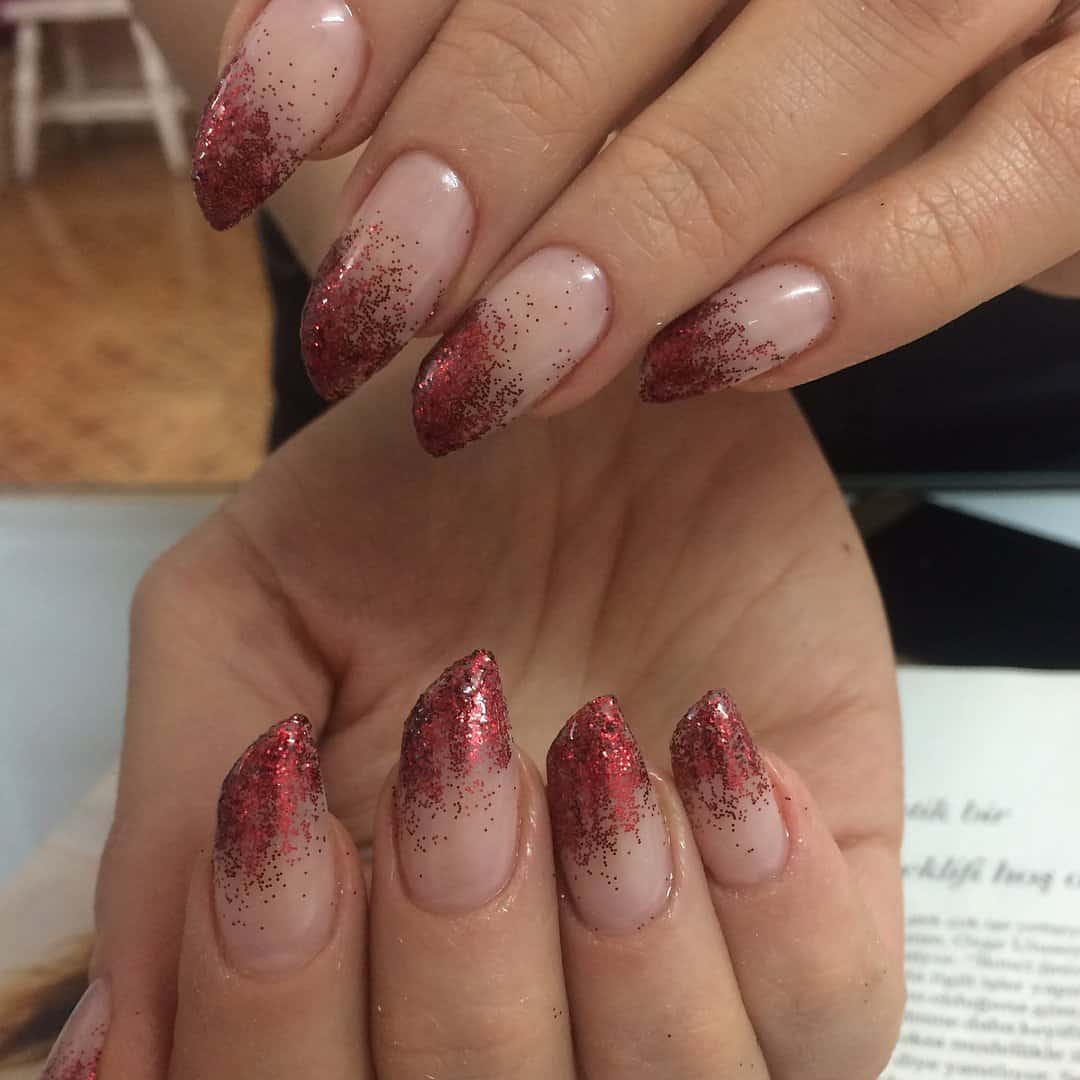 Halloween comes around you want to try some gory mani, yet one that doesn't seem like part of a costume.
This is a nice example of that. Glitter red tips going down nude nails. Gives the effect of dripping blood, but a bit more sparkly.
Lipstick nail designs might not scream Halloween, but these fake nails will turn some heads for sure.
#4. Summer Rave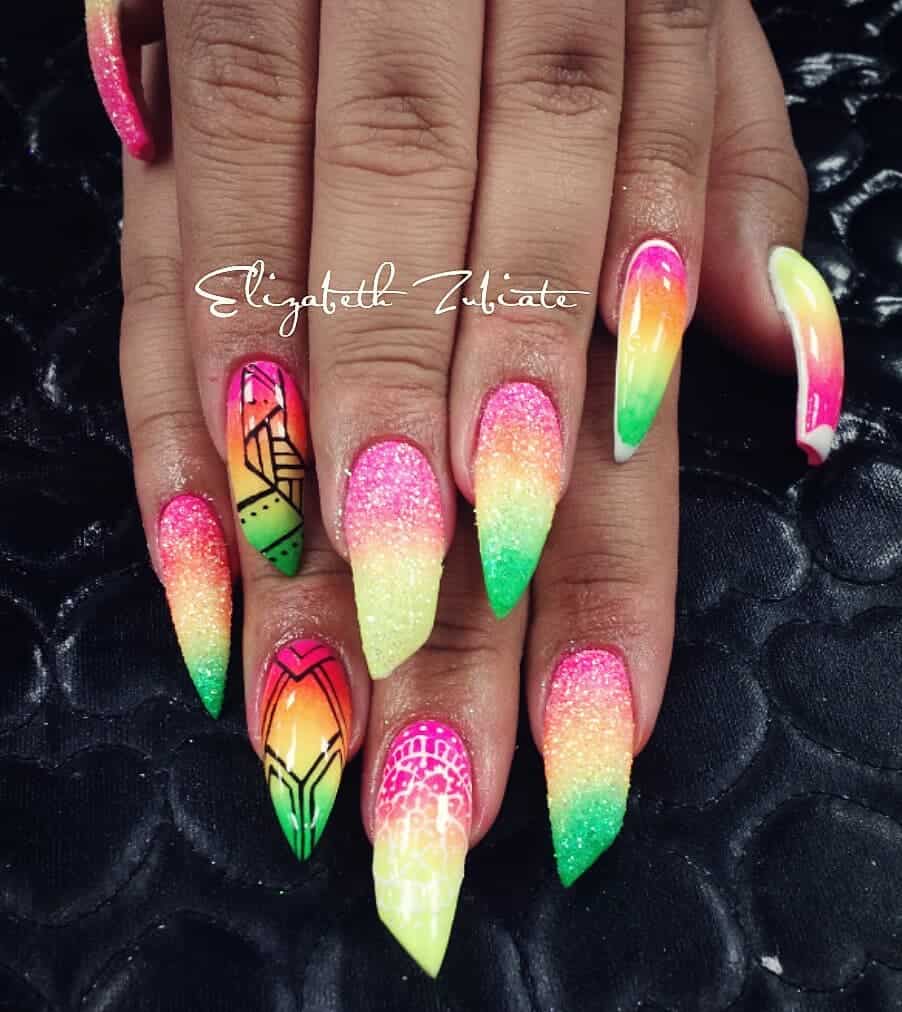 Raves might not be everyone's cup of tea, but this mani sure might be.
Absolutely colorful, with different shapes and patterns on each nail, it is a manicure that will go hand in hand with your sparkly fun-loving personality.
#5. Pasta Nails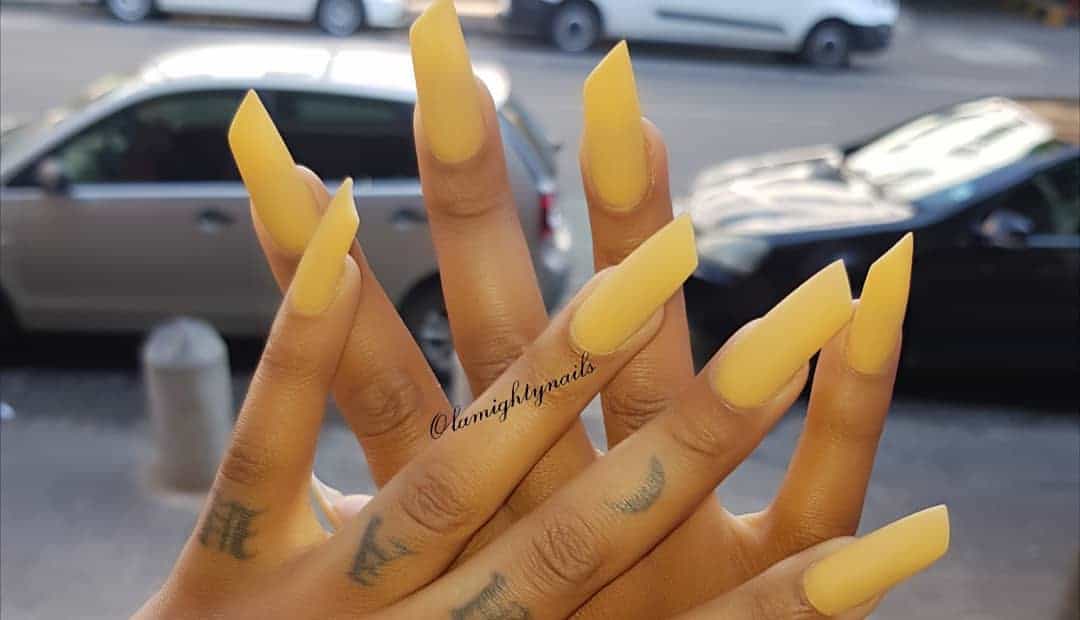 Here is a manicure for all passionate pasta lovers. You get lipstick nail shape that looks like Italian pasta.
Done in matte yellow polish, much like uncooked pasta, the lipstick shape gives it additional authentic pasta look. True, it might look like you have actual pasta on your fingers, but, hey, that's half the fun of it.
#6.Red Kiss Red And Black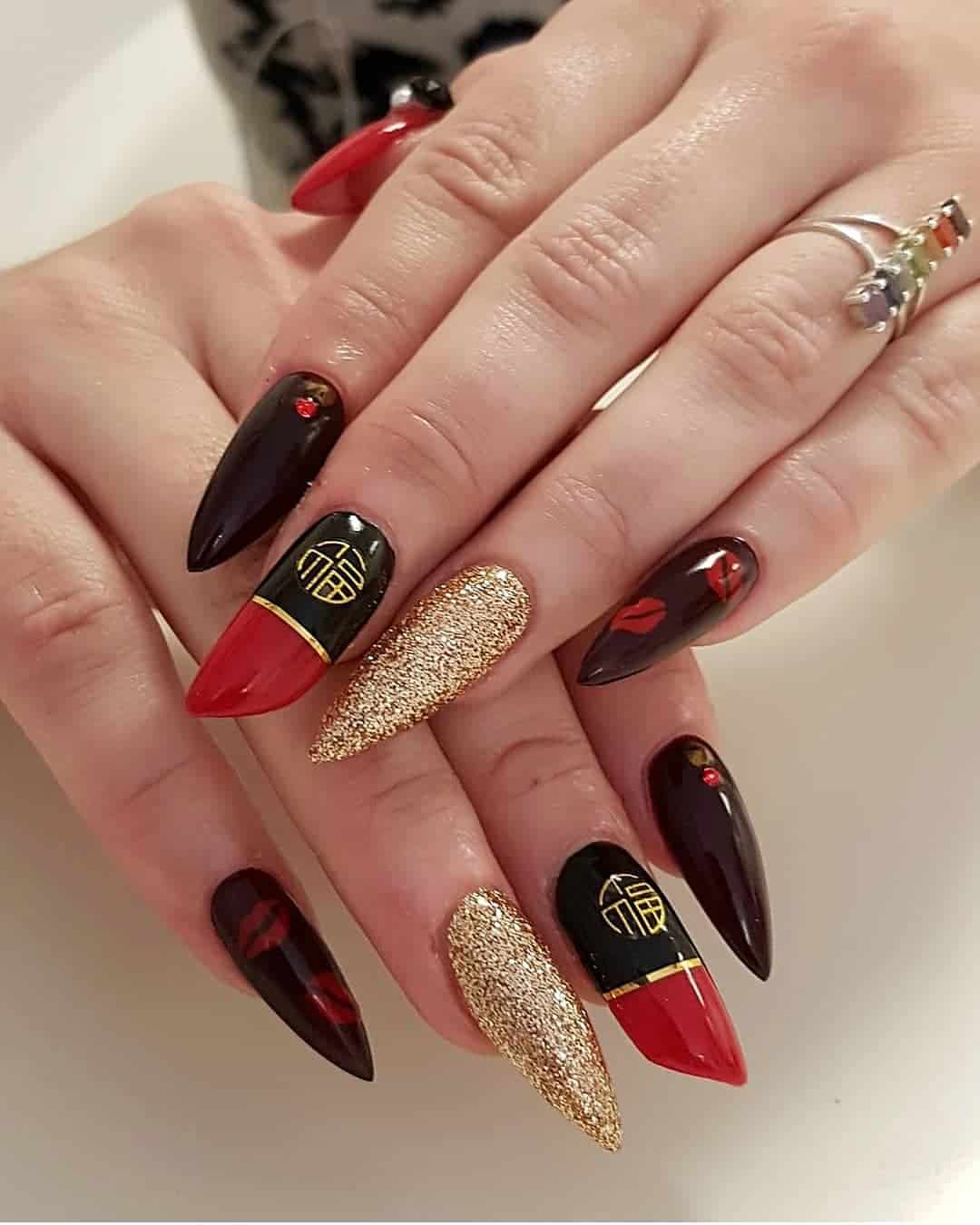 Black, red and gold, a gorgeous femme fatal combination that is becoming very popular on these lipstick shaped nails.
Stiletto gold glittery accent, a cute kiss-kiss covered nail, plain dark red, and the real kicker, the lipstick shaped black and red nail divided with a gold strap and a cute logo. An overall stunning mani.
#7. Purple Glitter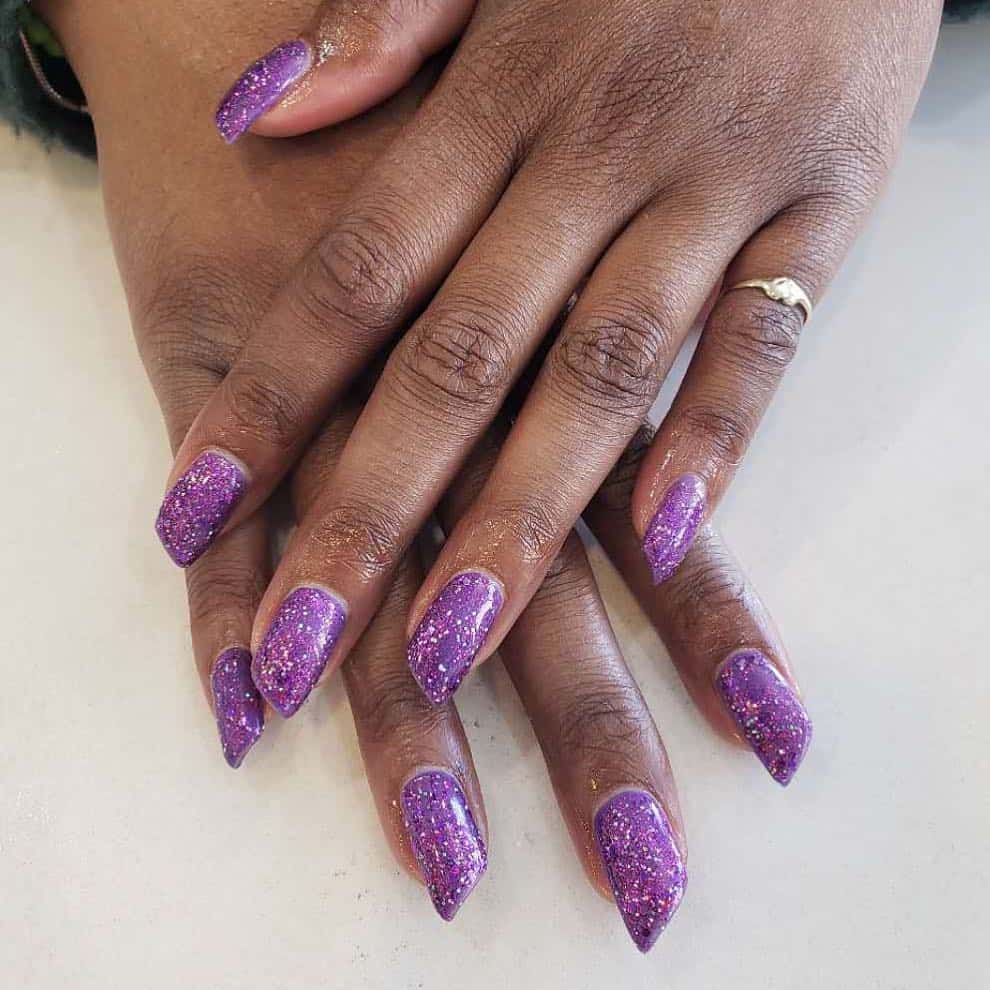 Plain purple is not always enough to feel special, and when you're not in the mood for complex designs, go glittery.
With lipstick shape and some multicolored glitter, purple nails can transform into lovely light universe nails.
#8. Diamond Mix Shapes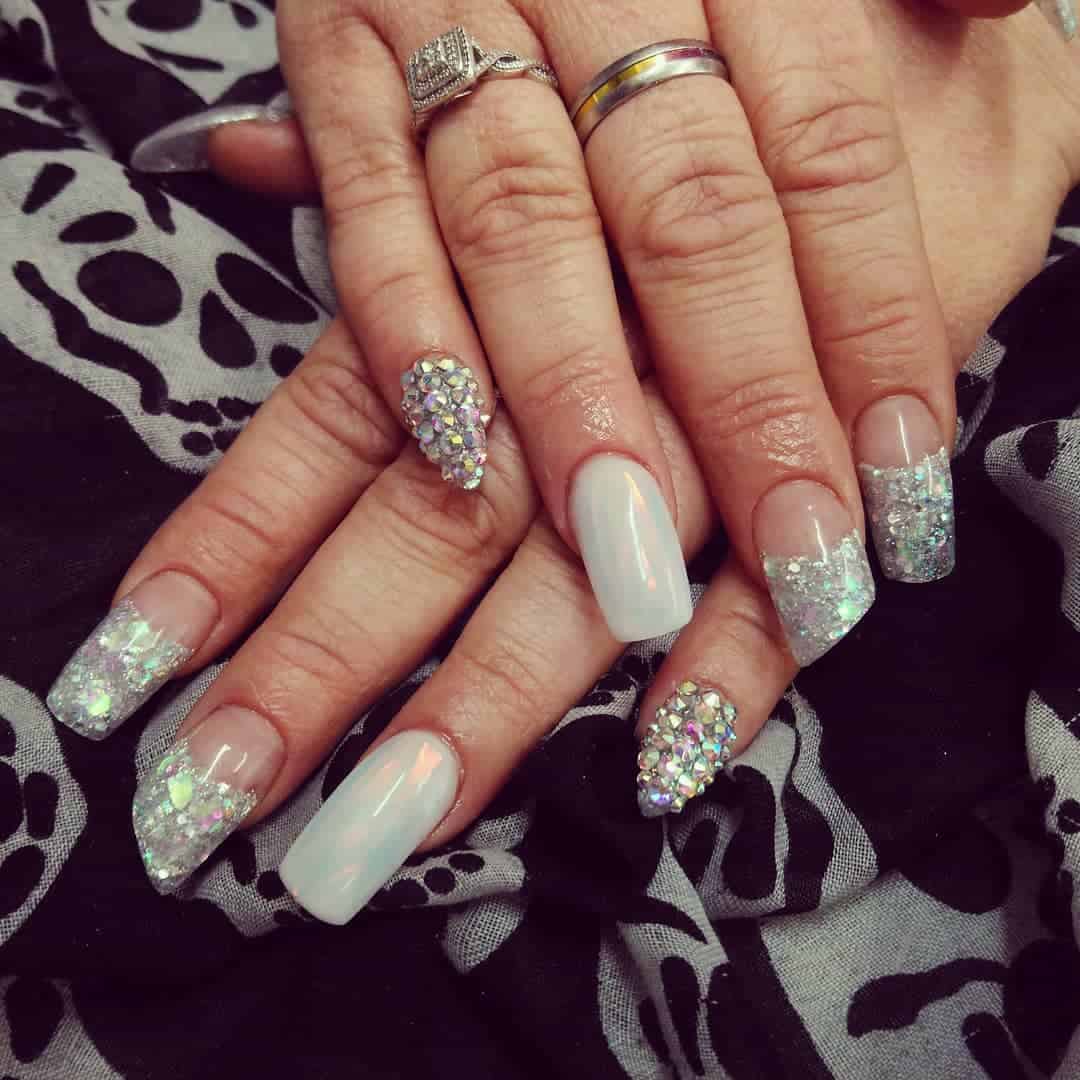 Diamonds are always a good choice when you want to shine for a special event.
This manicure offers you a few ideas on how to go about combining crystals and diamond glitter on nails to look like a true gem.
#9. White With Black Line And Rhinestones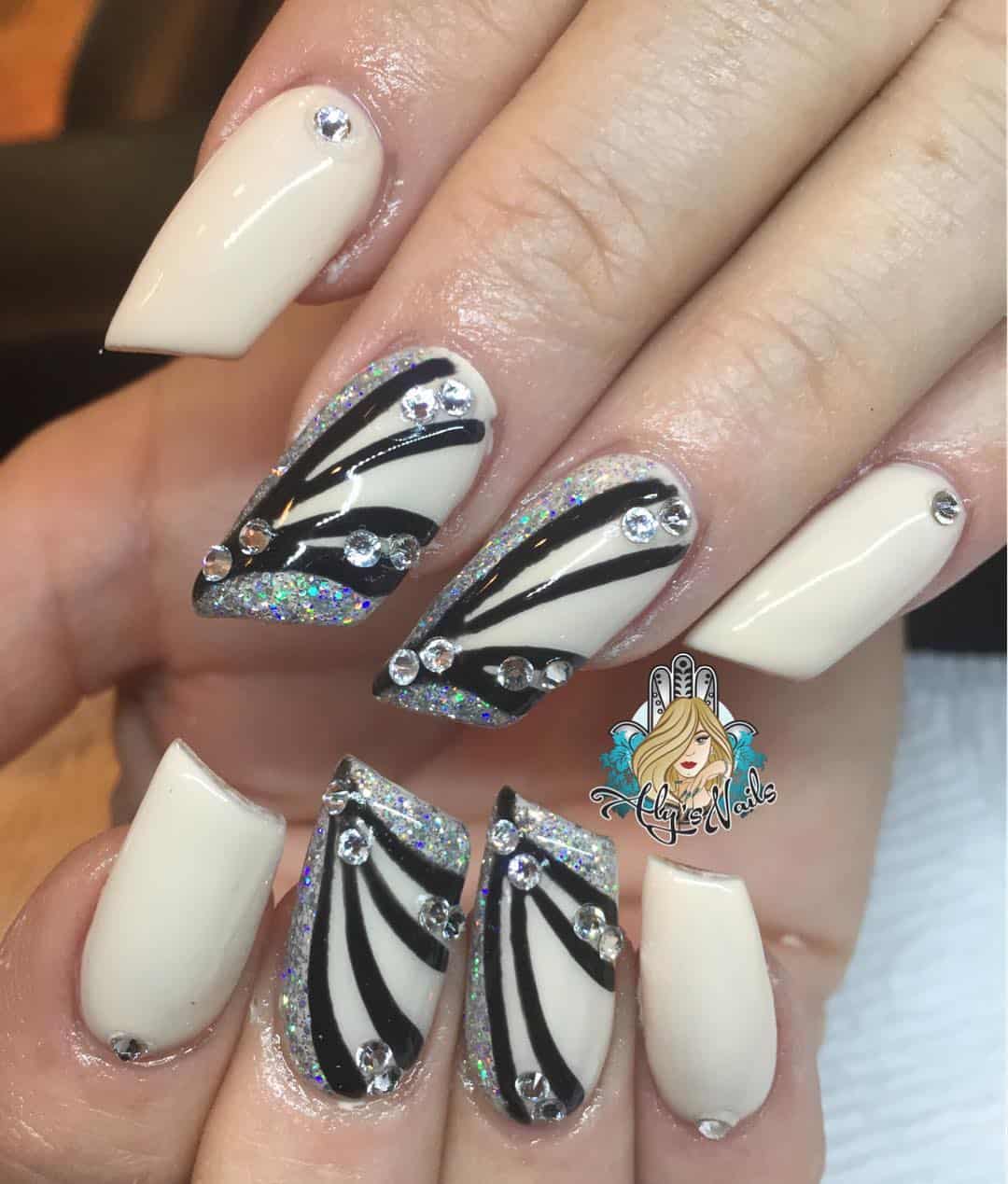 Black and white is a time-honored combo, which while suitable for any situation it can get a bit dull.
With some silver glitter and delicate clear rhinestones on curved black lines, and you can turn a plain black and white mani into a brilliant one.
#10. Beige, Brown And Bling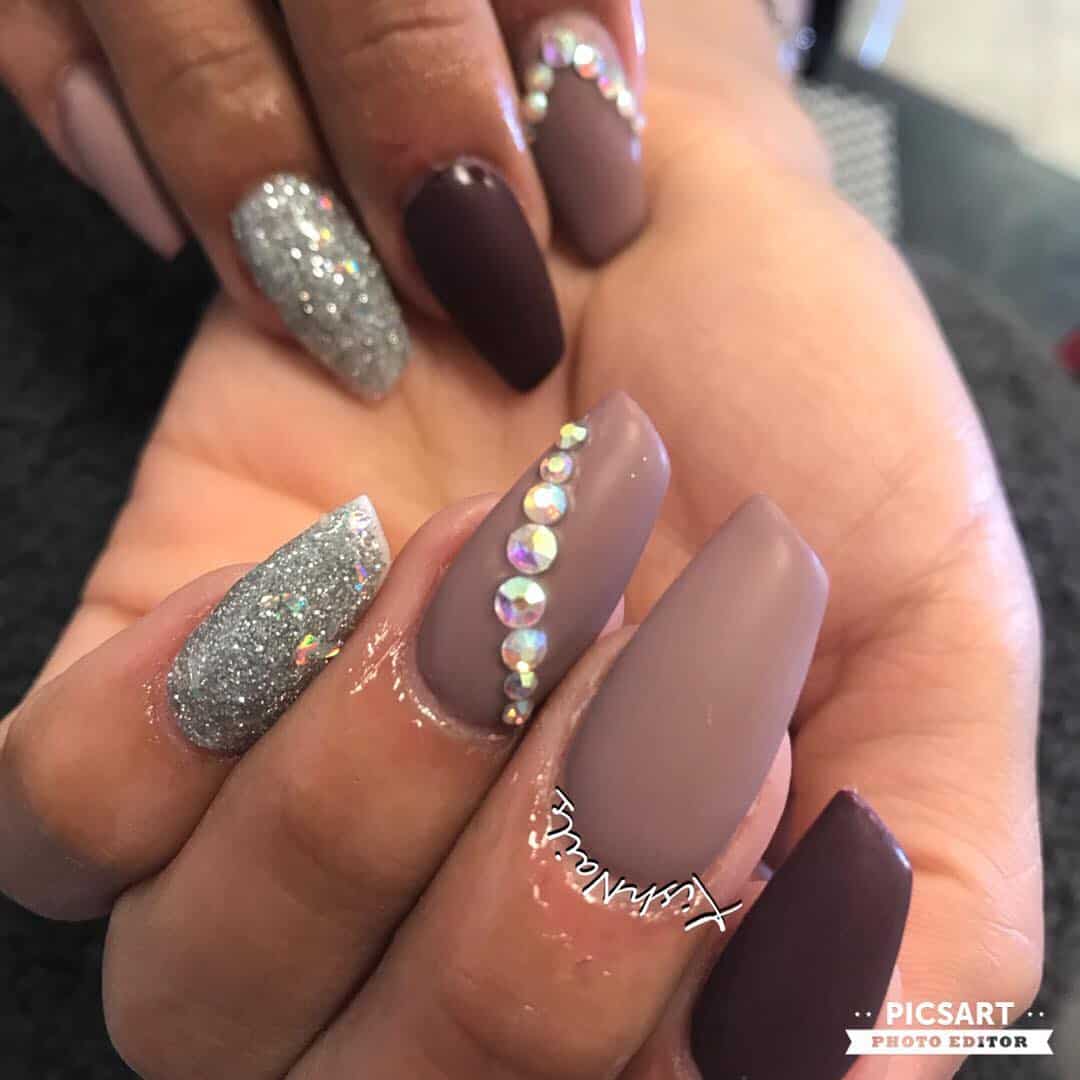 For an effortless elegance beige and lighter brown nail polish is a safe and easy choice.
Creating an ombre effect by coloring each nail in a slightly different shade, leaving one accent nail full of glitter, and adding a diagonal line of rhinestones on another, you get a brilliant beige mani.
#11. Wedding Nails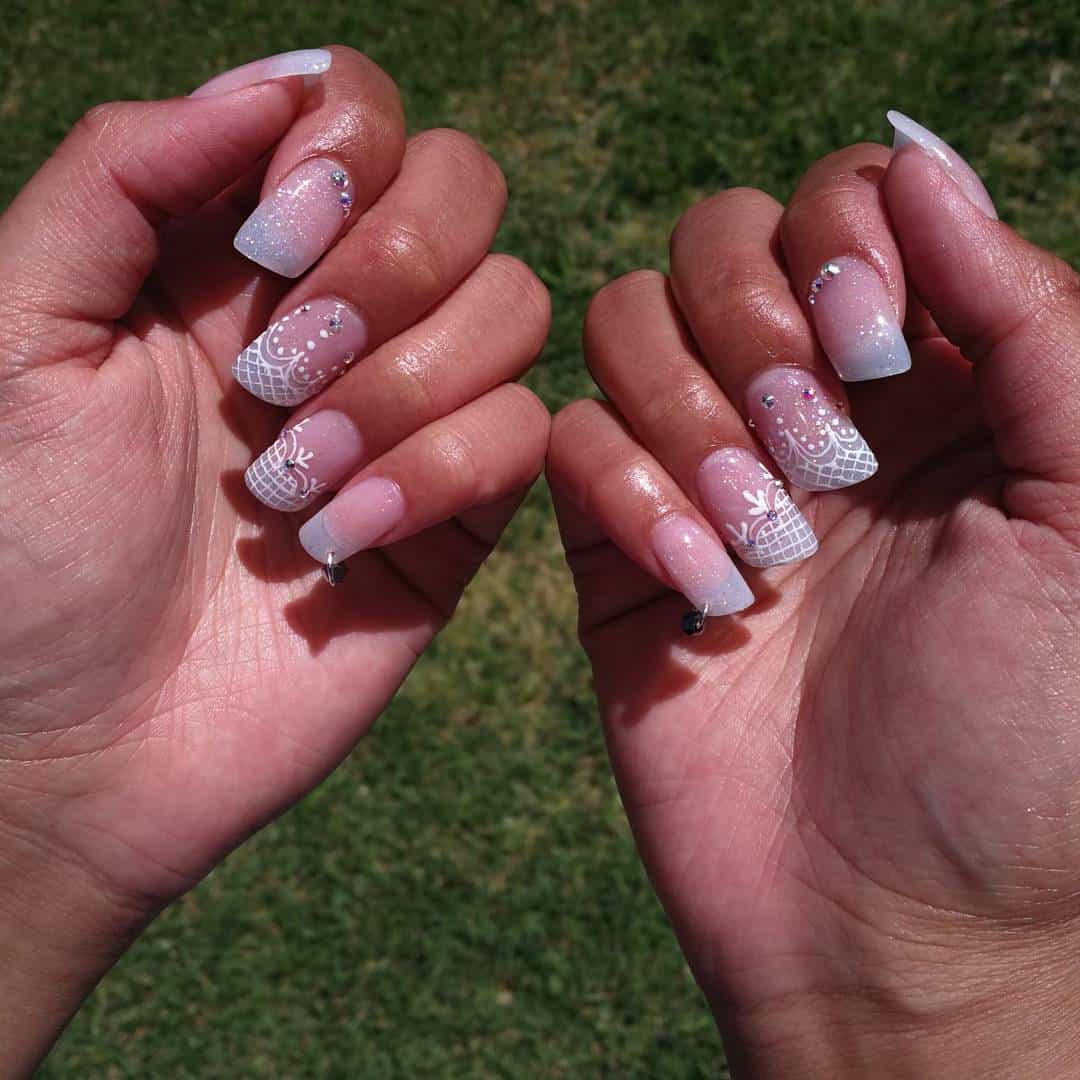 Wedding nail should reflect the purity, softness, and beauty of the bride.
This wedding mani has all of that. Delicate white lace on clear sparkly acrylic, with a few small rhinestones scattered around. Sometimes less is more.
#12. Red And Black With Leaves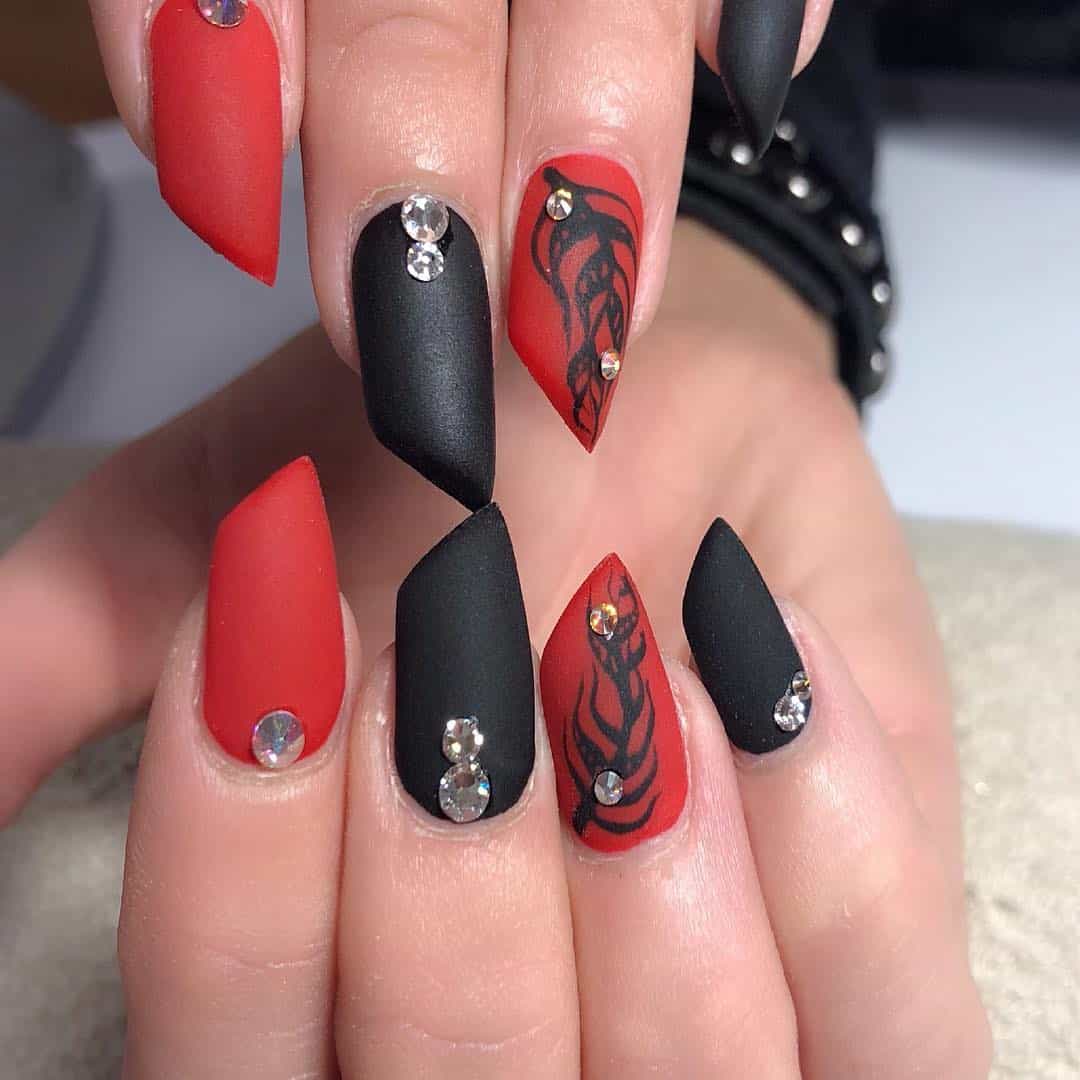 On lipstick nails red and black look so good there's no need for additional accessorizing.
Which doesn't mean you can't have some. This is a darling red and black mani with a few rhinestones at the bottom, and a delicately contoured leaf design on one nail.
#13. French Mani Patterns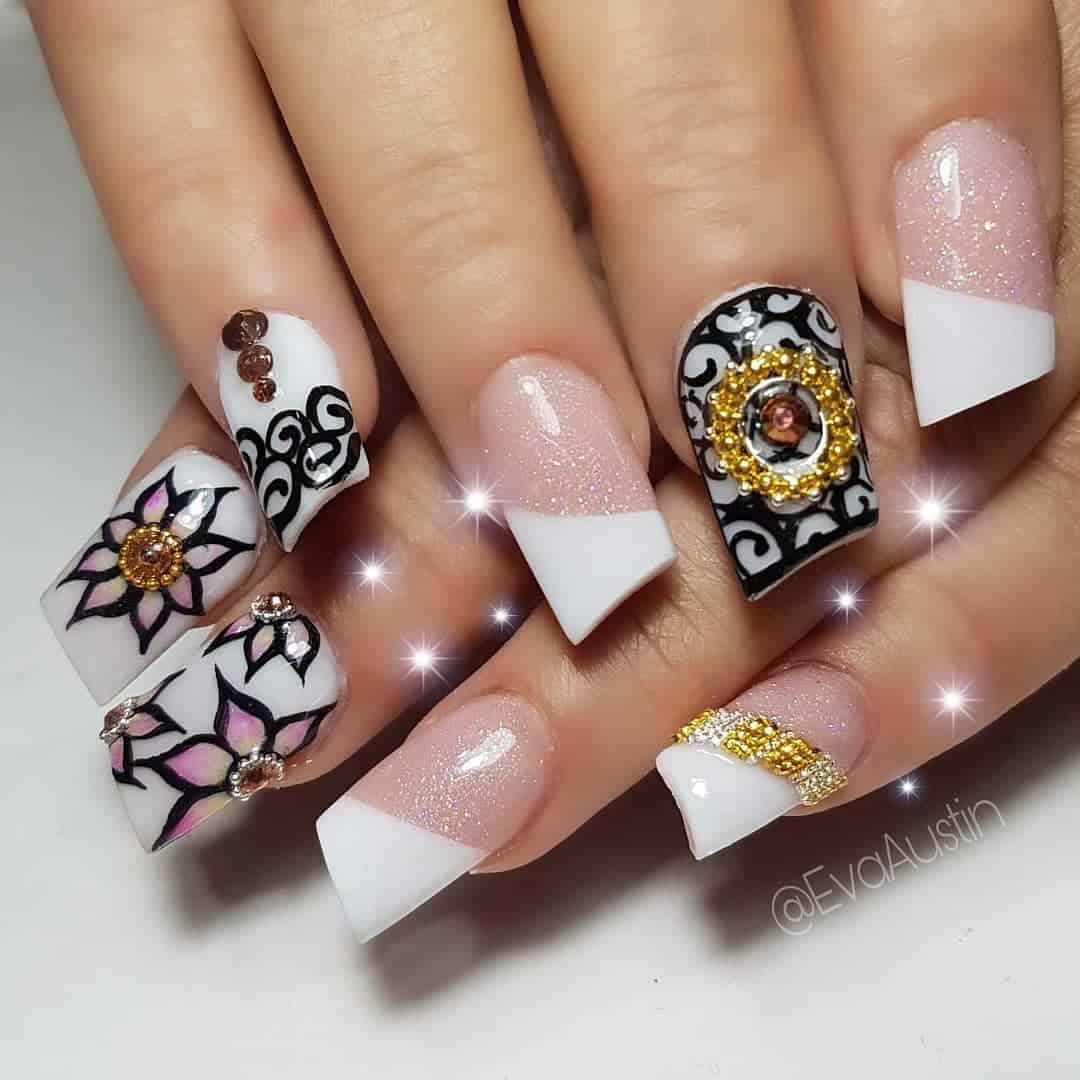 A slanted white French manicure on lipstick nails looks really good, elongating already long beautiful nails.
To make the design even more royal, you can try this black and pink wavy pattern with gold accessories.
#14. Pink Variety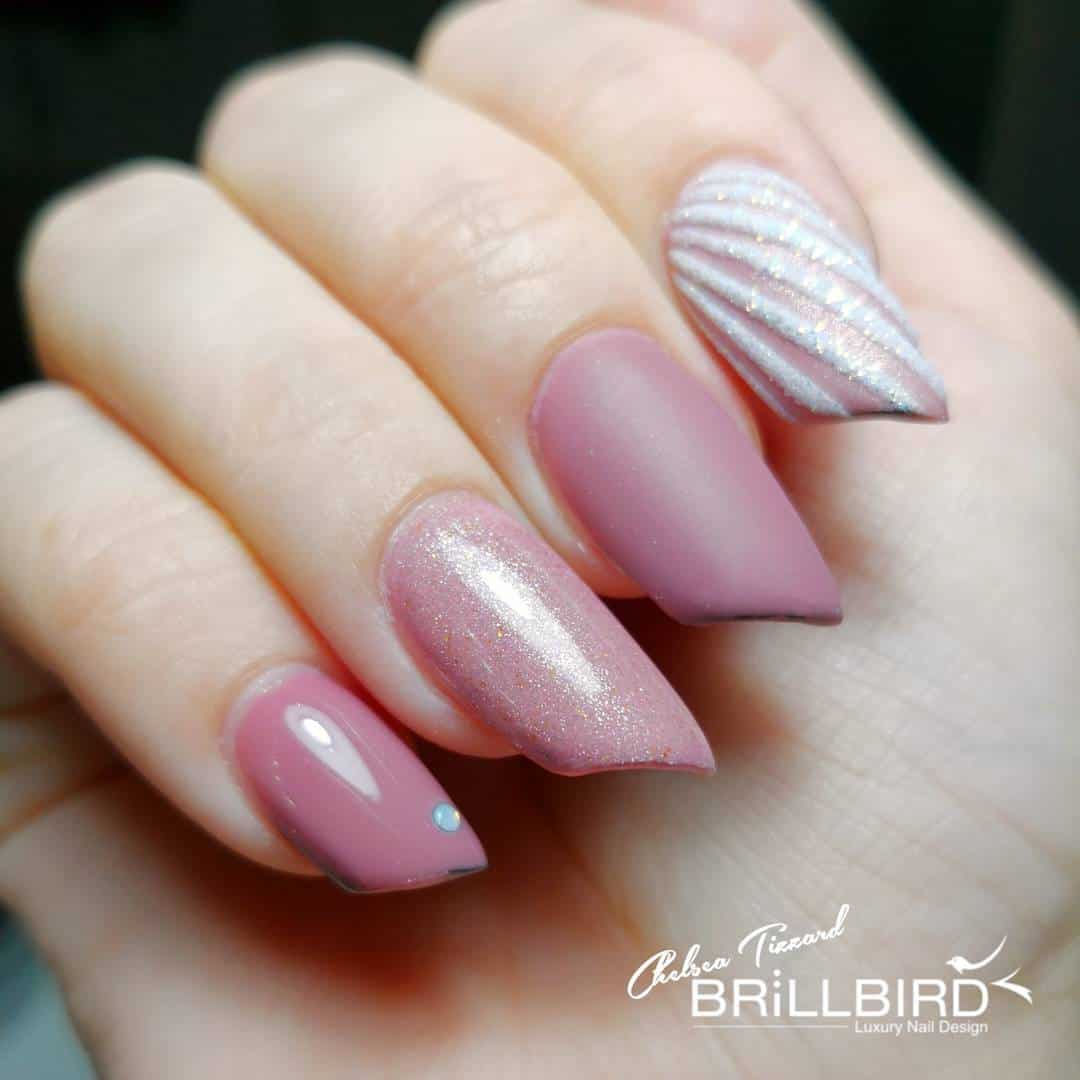 Can't choose which pink nails polish will look good on lipstick shaped nails?
Try them all. Shiny, matte and glittery, all put together look amazing. And for some added variety, one accent nails with glitter ridges to create a shell-like pattern.
#15. Earthly Green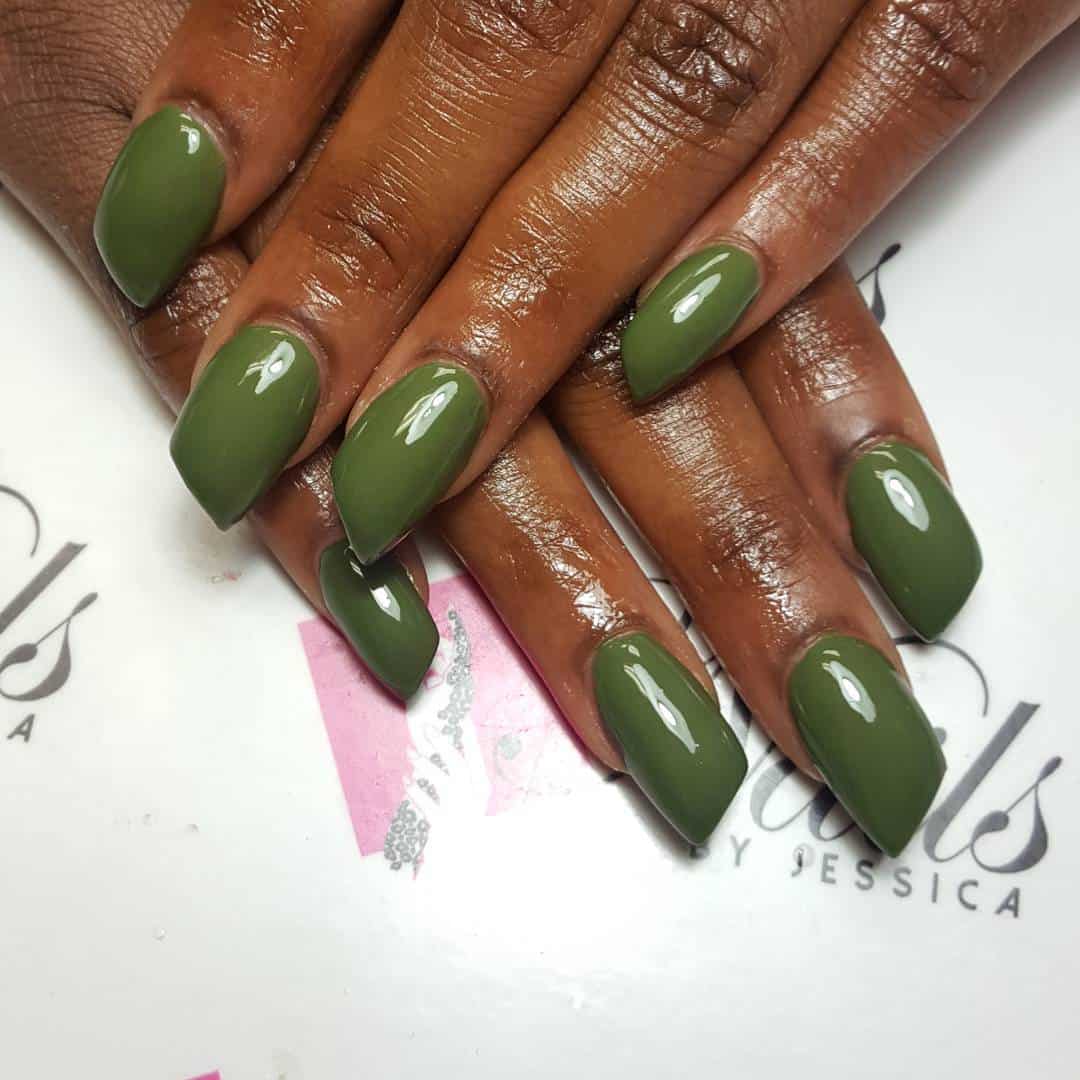 Celebrating autumn or spring doesn't have to be flashy or intricate.
A clean earthy green nails polish is enough to send your message across that you're happy for the season.
This is a great example of how you can get lipstick shape on shorter nails.
#16. Matte Dark Brown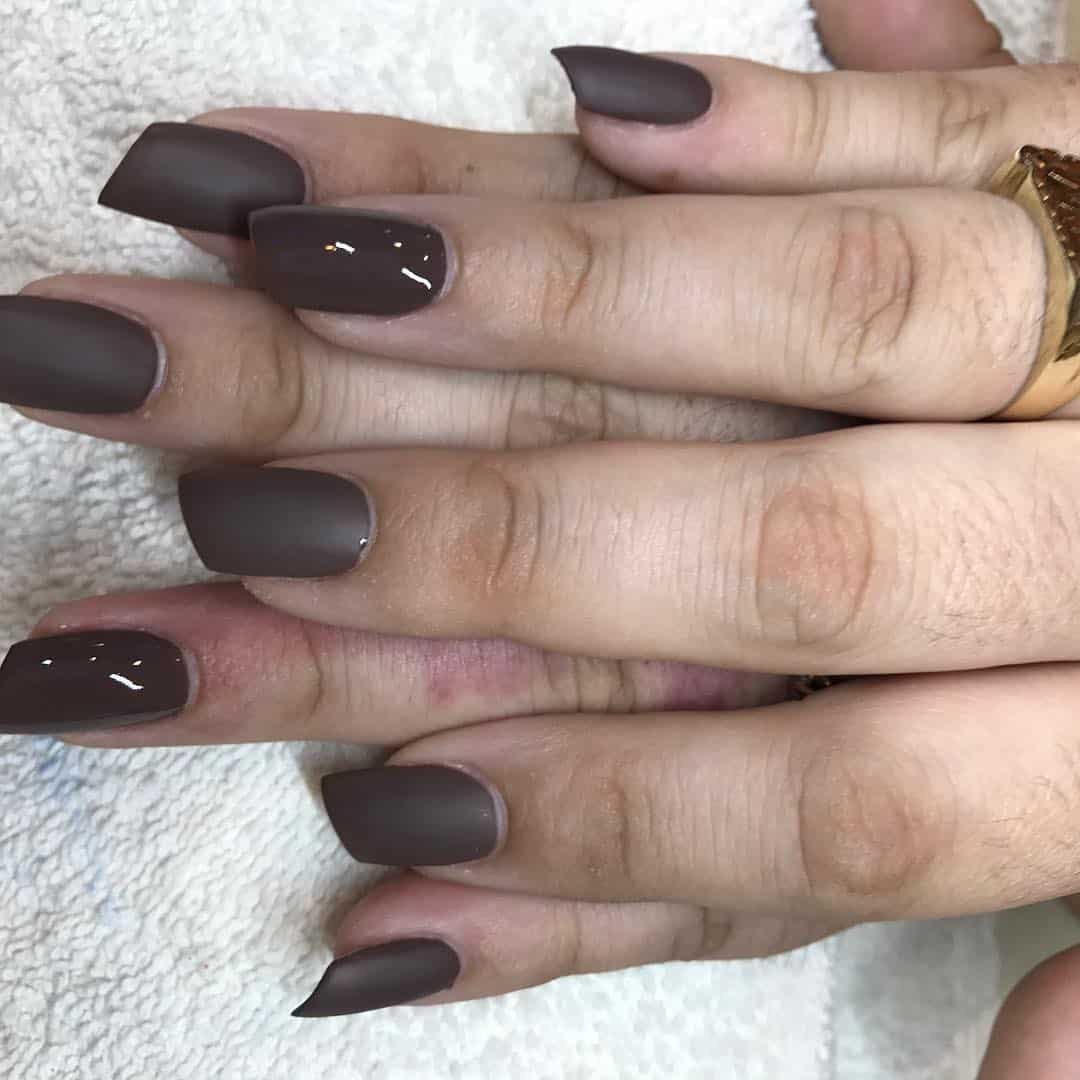 Not everyone likes black nails, but when you're in the mood for some really dark nails, you can go with a matte dark brown shade.
With a few gold flakes sprinkled on one nail, you get a perfect toned down dark mani.
#17.  Metallic Blue With Wildflower Design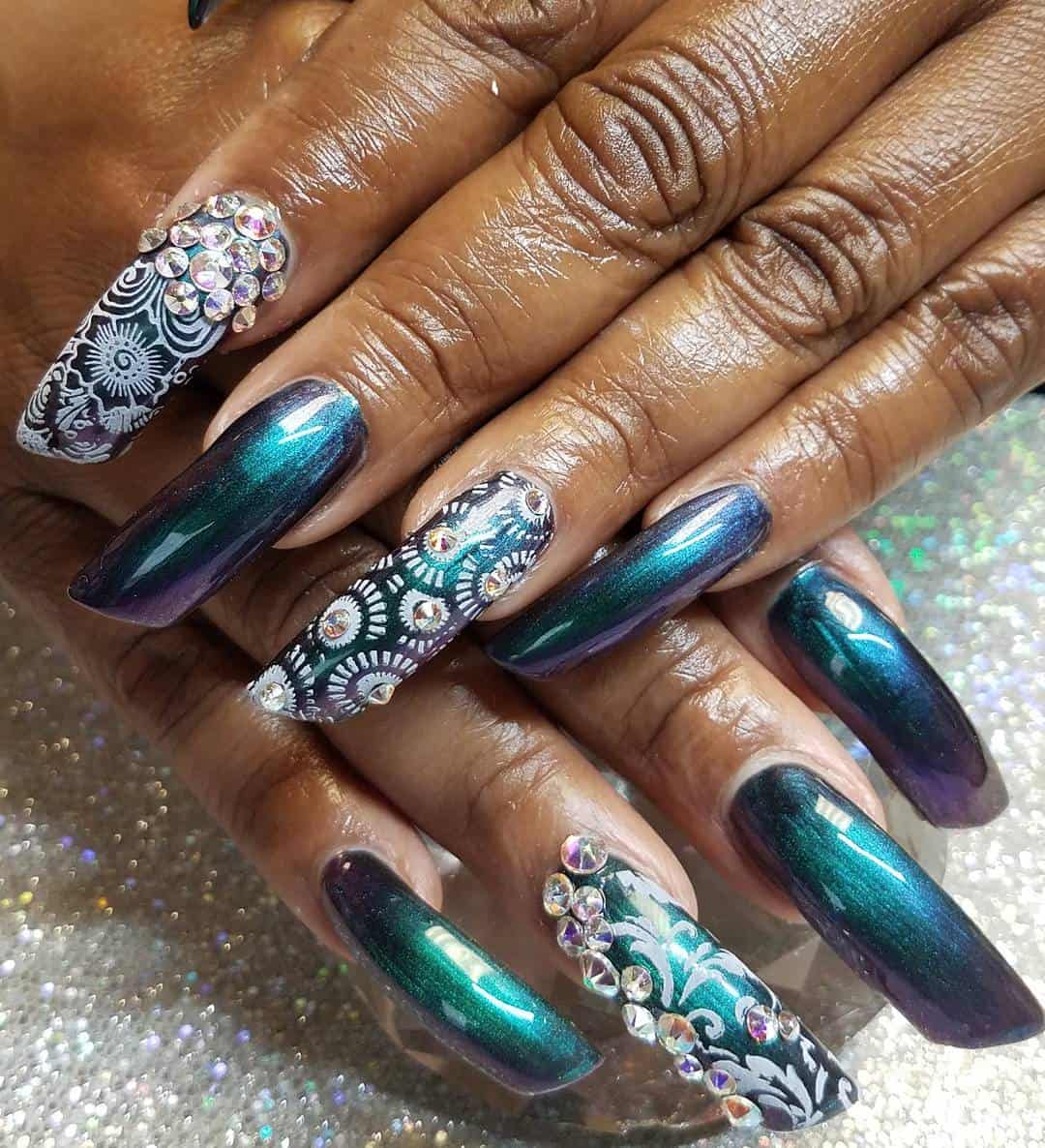 Metallic holo nail polishes are the best when you fancy something unordinary.
These turquoise with purple shine nails are a gem, adorned with white lined floral design and artfully arranged rhinestones.
#18. Skin Toned With White Flowers And Green Leaves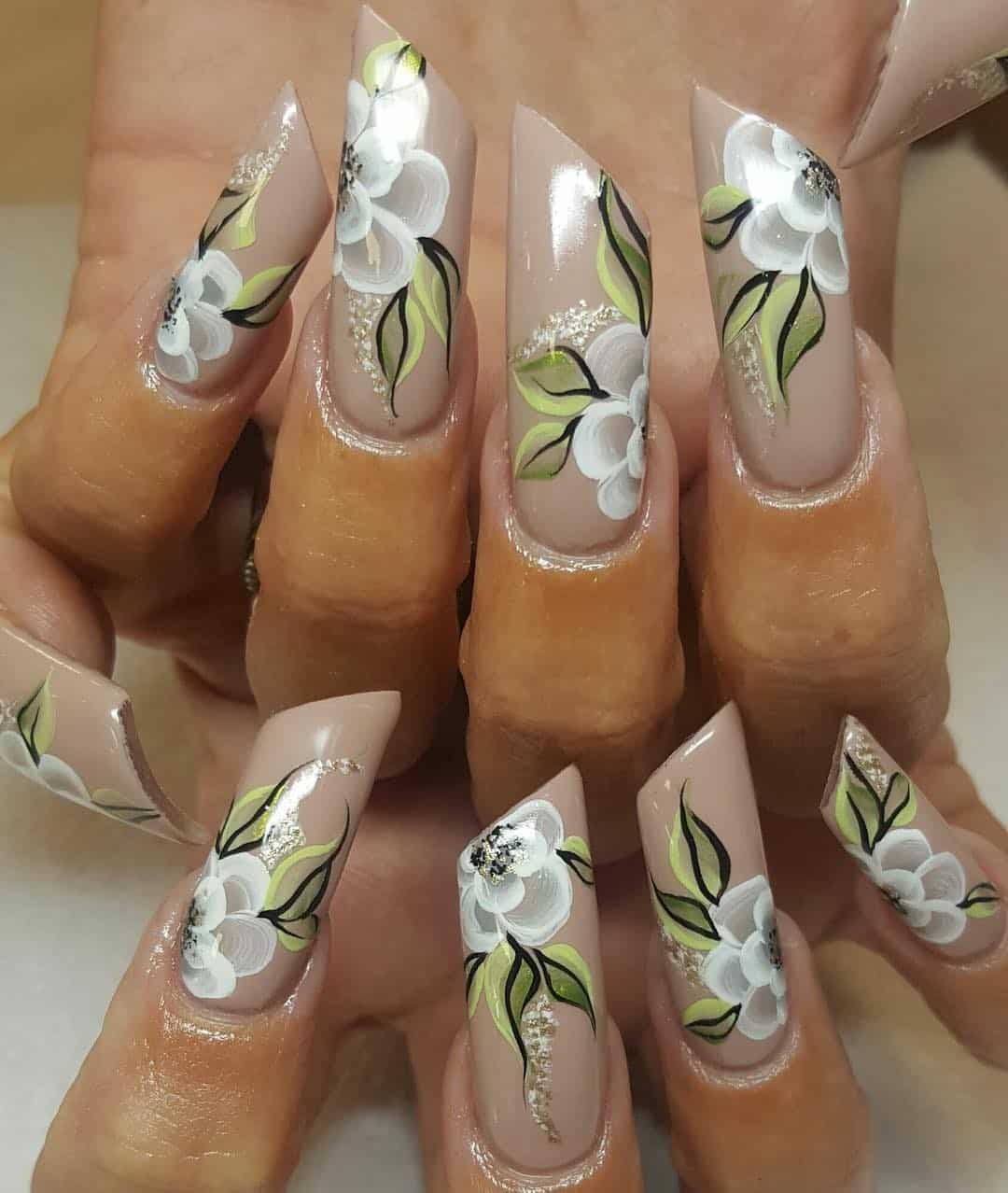 Here's a prime example of chic floral nails on a nude base.
Half white artfully drawn flowers with two-toned green leaves and gold glitter lines, it is a floral nail art design anyone would like.
#19. Neon Pink Bling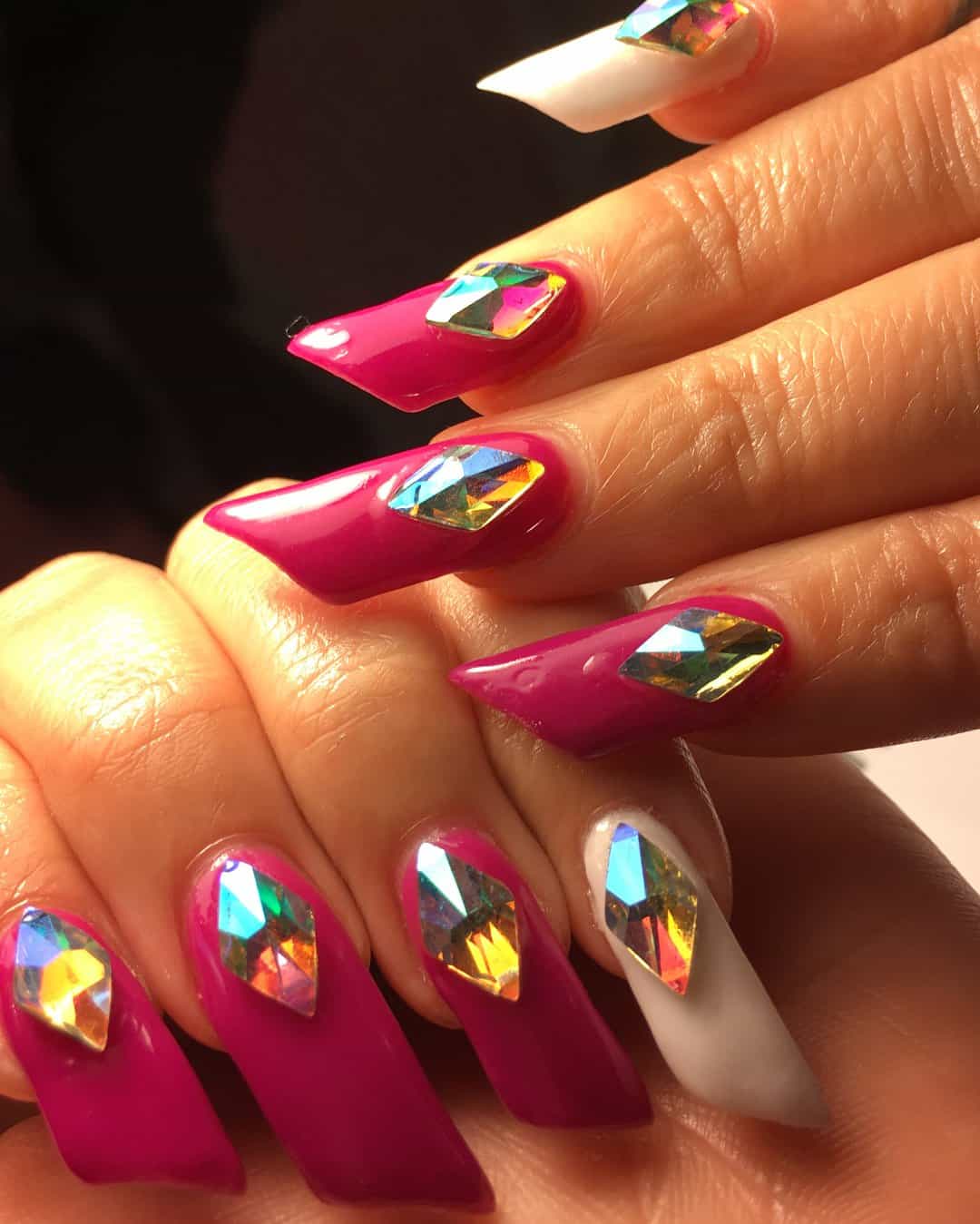 Neon pink with creamy white accent nail is pretty swanky, but don't stop at that alone.
Large diamond shaped rhinestones on each nail is the minimal way to jazz up an already noticeable mani.
#20. Baby Pink With Purple Marble Accent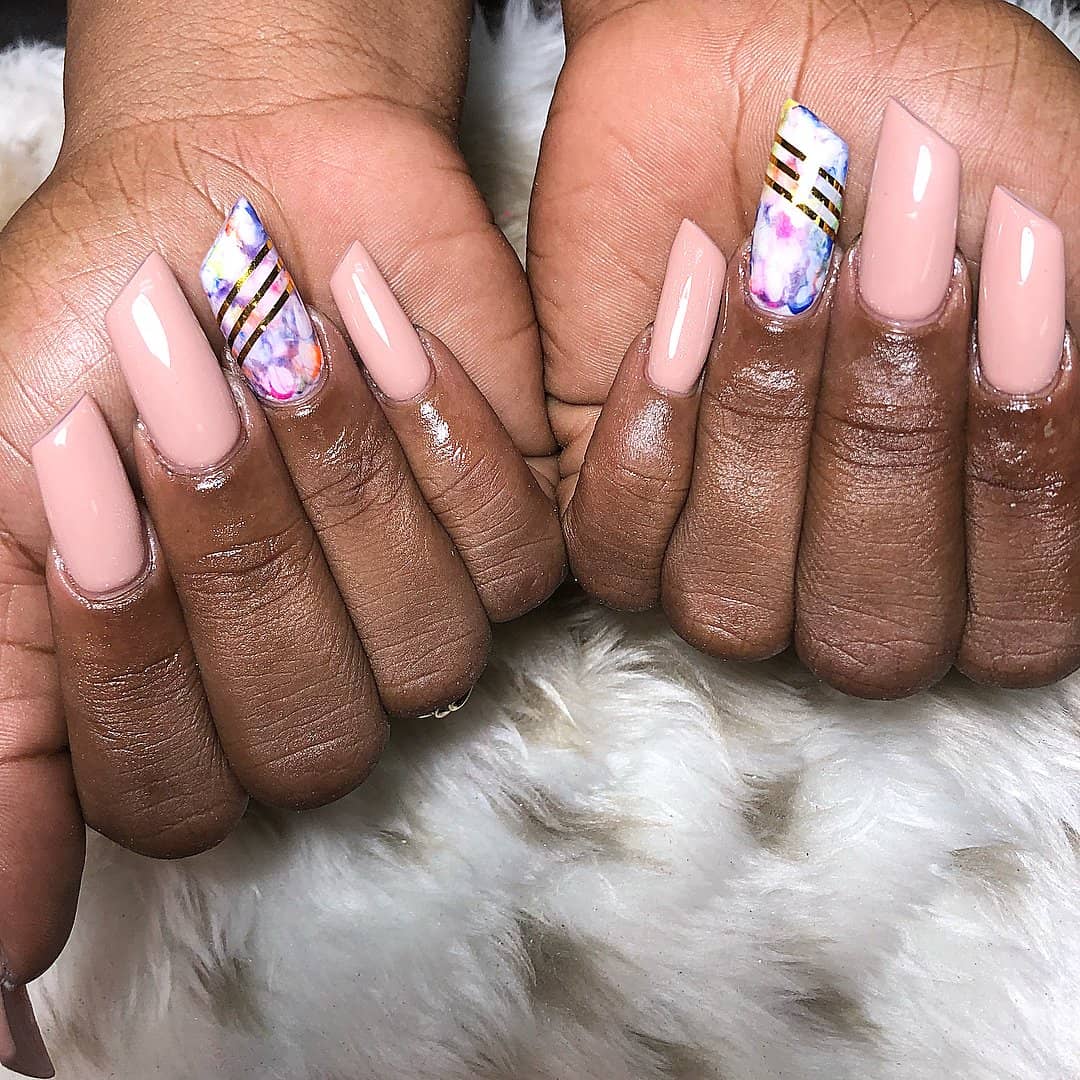 Baby pink is a gentle and sophisticated color, needing something to spice it up.
Clashing with the pink softness, white and pink marbled accent nail with golden stripes will do the trick nicely.
#21. Colorful Mountain Peack With Lipstick Accent
The lipstick shaped can be used as an accent nail on any other shape.
This groovy neon pattern done on mountain peak nails shows just how good shapes and colors can go together.
#22. Orange With Glitter Accent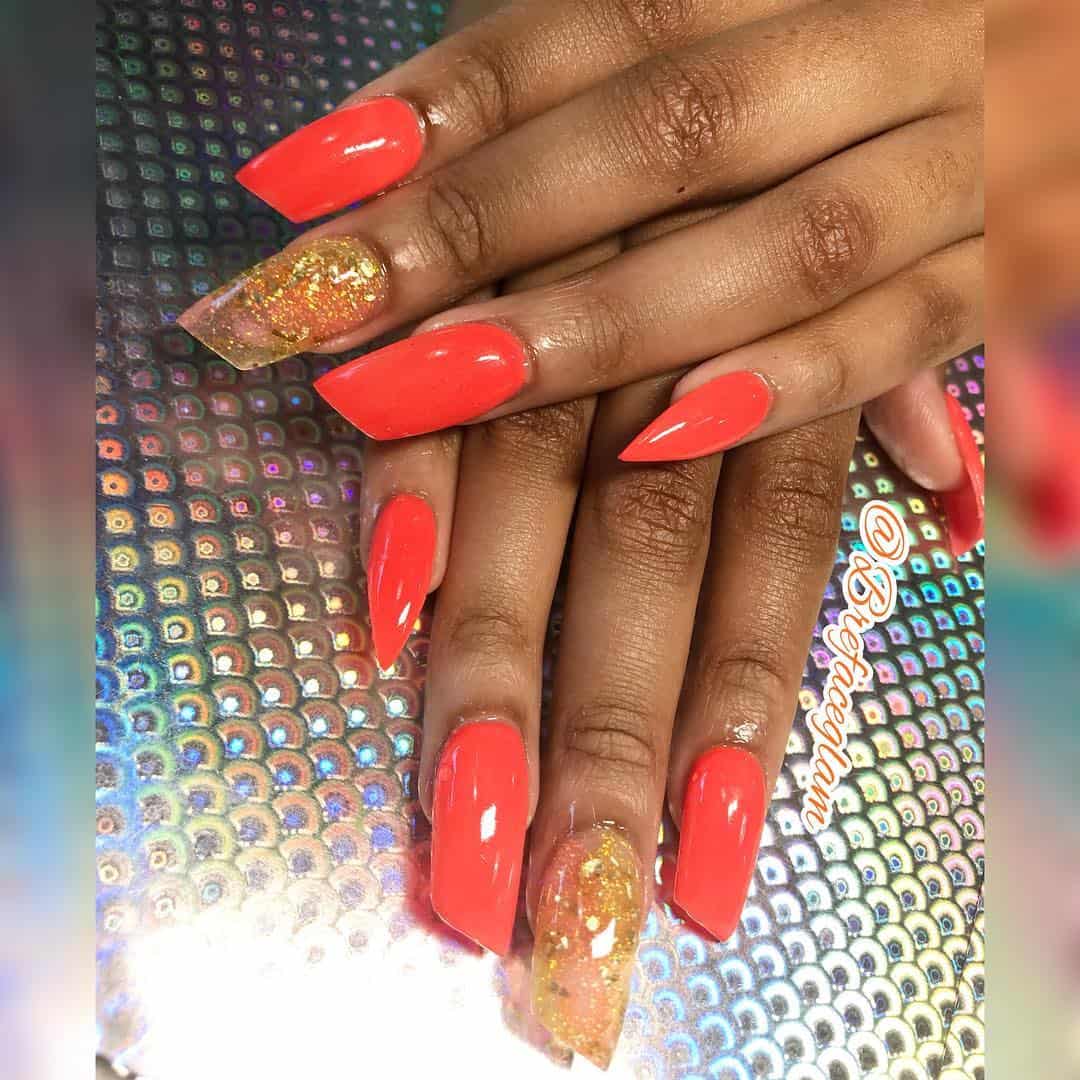 Orange nails carry more of a summer vibe, but they're just as good for the colder seasons too.
With a gold glitter accent on a clear acrylic nail a darker orange shade, and you have a pretty cool orange mani.
#23. Channel Nails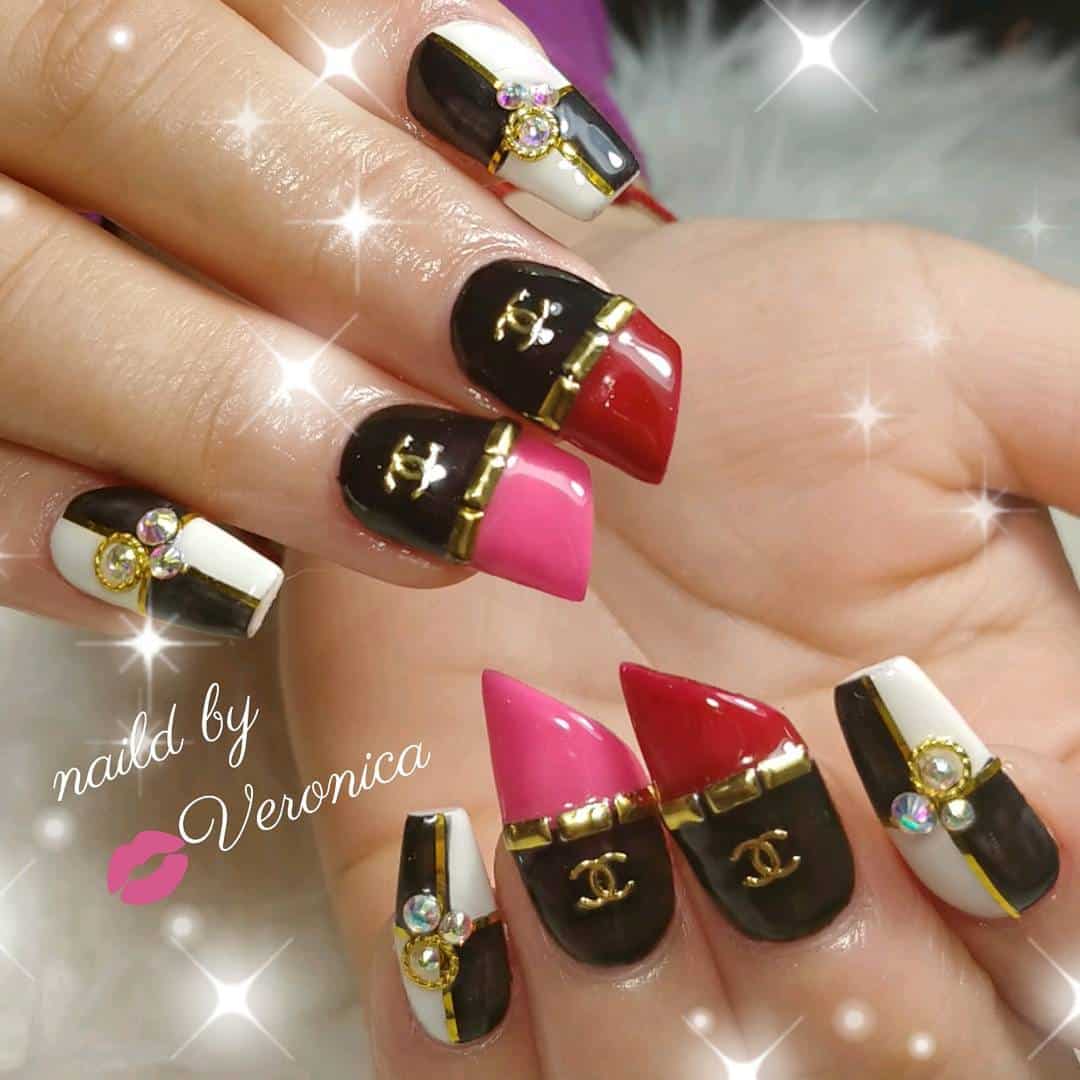 Channel nails. Do we need to say more? This mani is just wow.
Pink and red tips on the lipstick nails with the golden Channel logo on the lower black half, and chess patter on coffin nails. Talk about fashionable.
#24. Navy Blue Glitter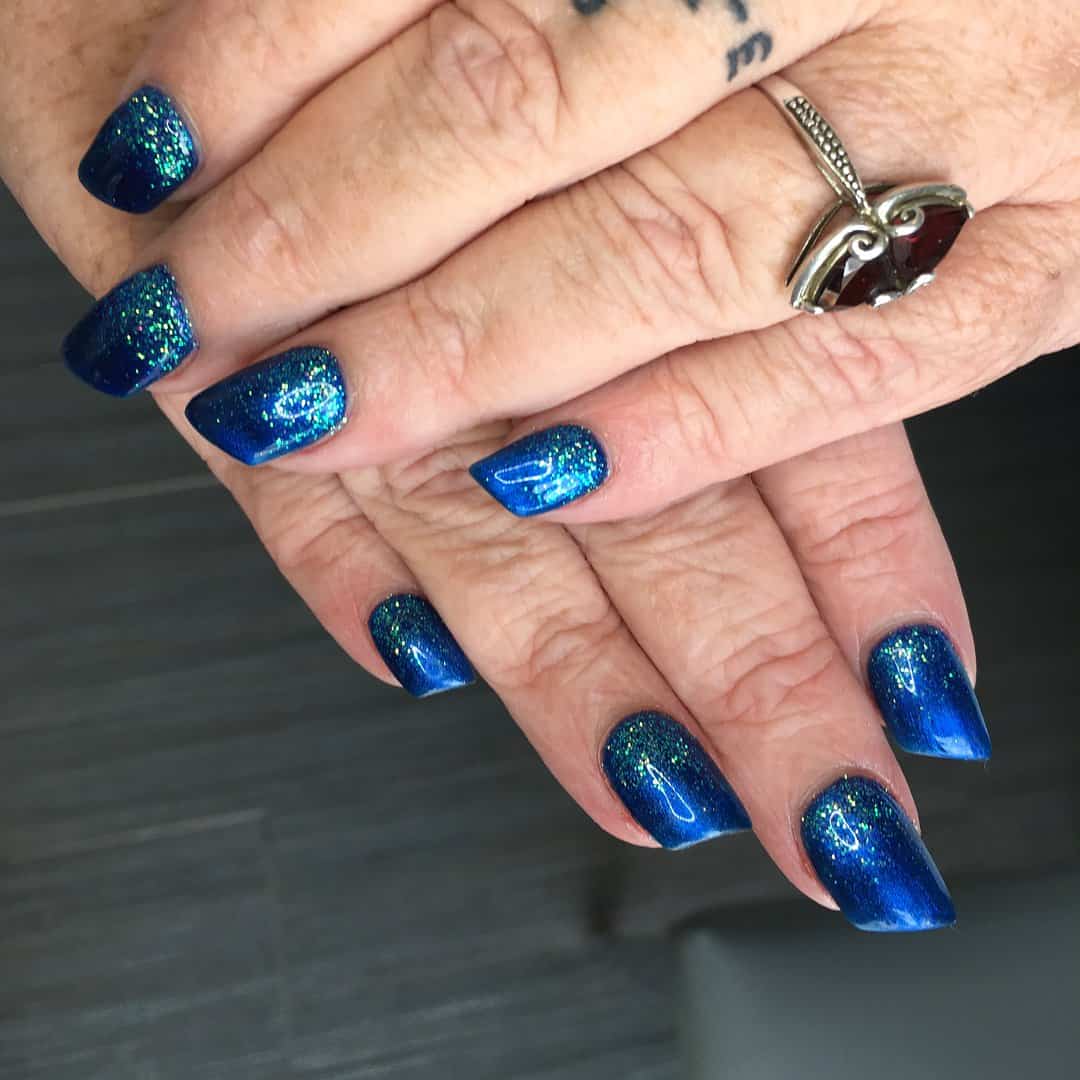 As we mentioned, lipstick works great on short nails too.
This navy blue mani is like diving into the depth of the ocean, with brilliant glitter shining through the waves.
#25. Bubblegum French Mni With Rhinestones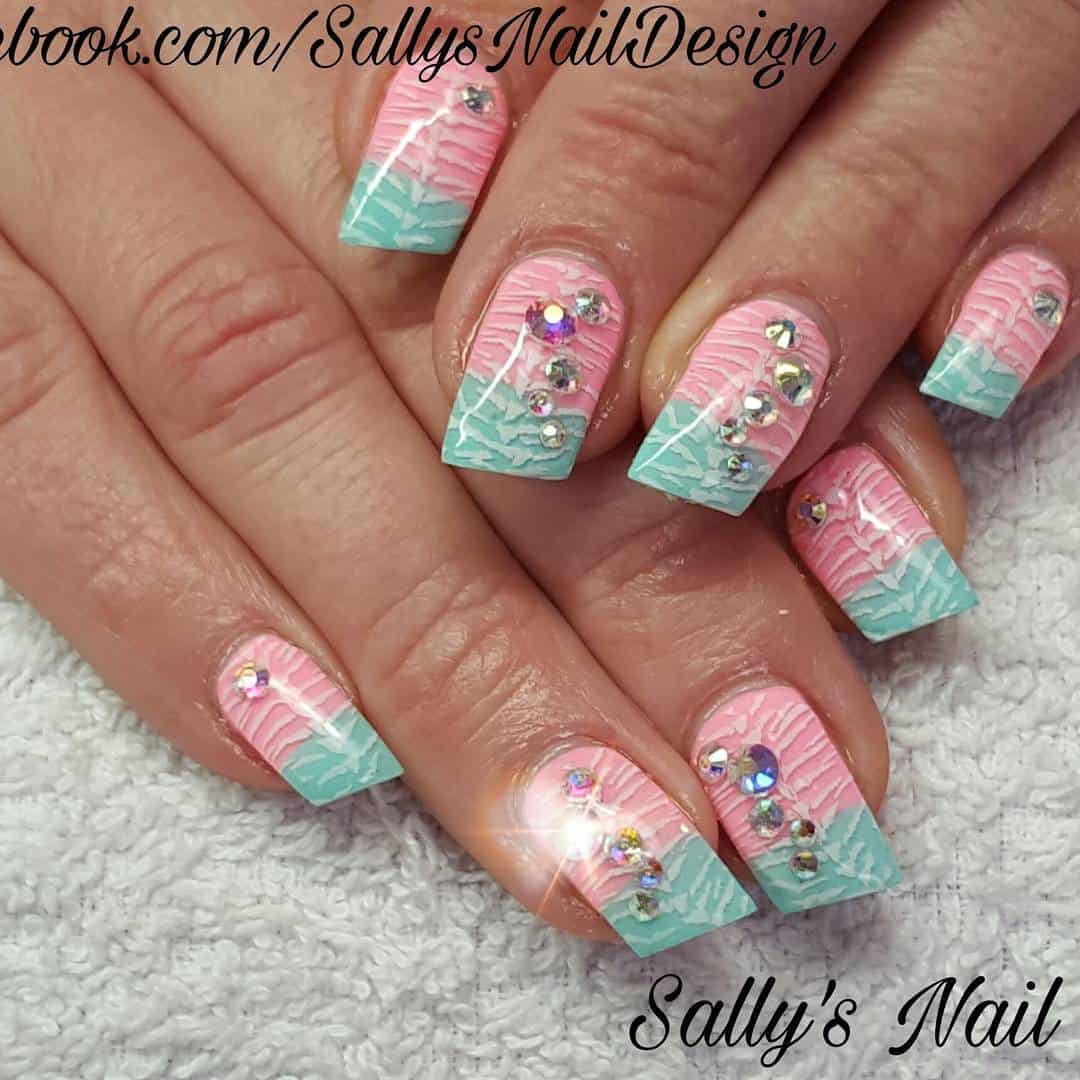 Ending with a more cheerful design, this bubblegum pink and turquoise mani is full of fun.
The color combo is fetching and with the shadowy fishbone pattern and shiny rhinestones, this is a manicure bubbling with cheer.