Rose gold is becoming one of the more popular colors in the color palette. Just think of this for a second, Apple uses the color as one of the options on their iPhone.
So, if it is good enough for Apple, it surely is good enough for your nails, right? Rose gold offers a wide palette, from high shine to roses in literal gold. And rose gold is more than just a color. It is basically a lifestyle, from your hair to your makeup, and to many other lifestyle choices.
Are you in a desperate need of a rose-gold manicure? We've got you covered with a couple of rose gold nail design ideas.
1.  Plain rose gold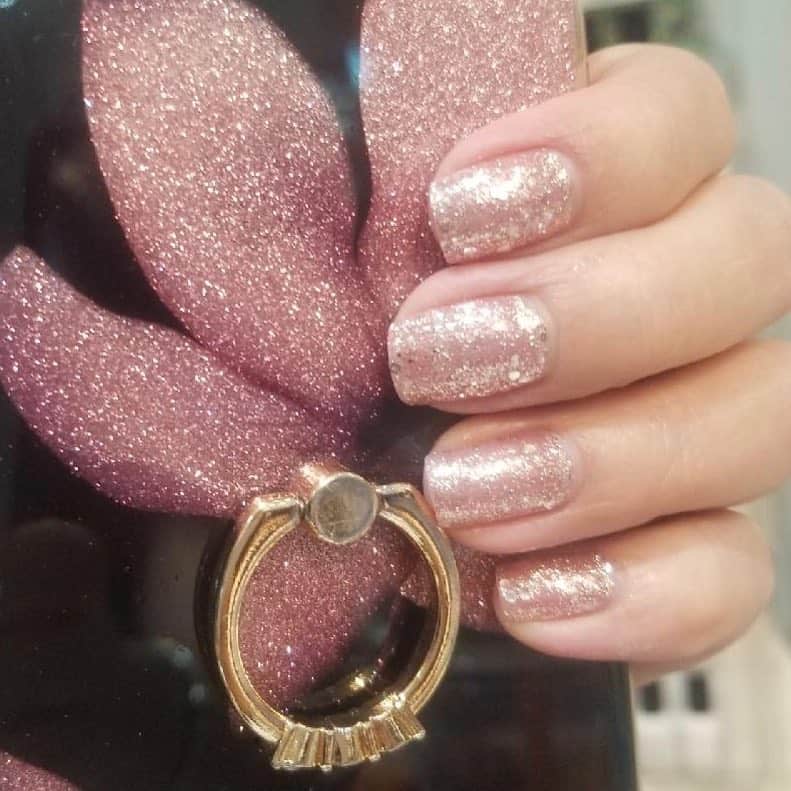 We start off with the classic rose gold manicure. The color is pale and rather subtle. But that is why you add some glitter, and your nails will shine.
2. Short Oval Glitter
Not all ladies want long nails. Some of us stick with short nails. When you have short nails, one of the simplest ways to make them pop is add some glitter. And you can play with different types of glitter. In this case, we have different glitter pattern on every nail.
3. Lecente ombre acrylic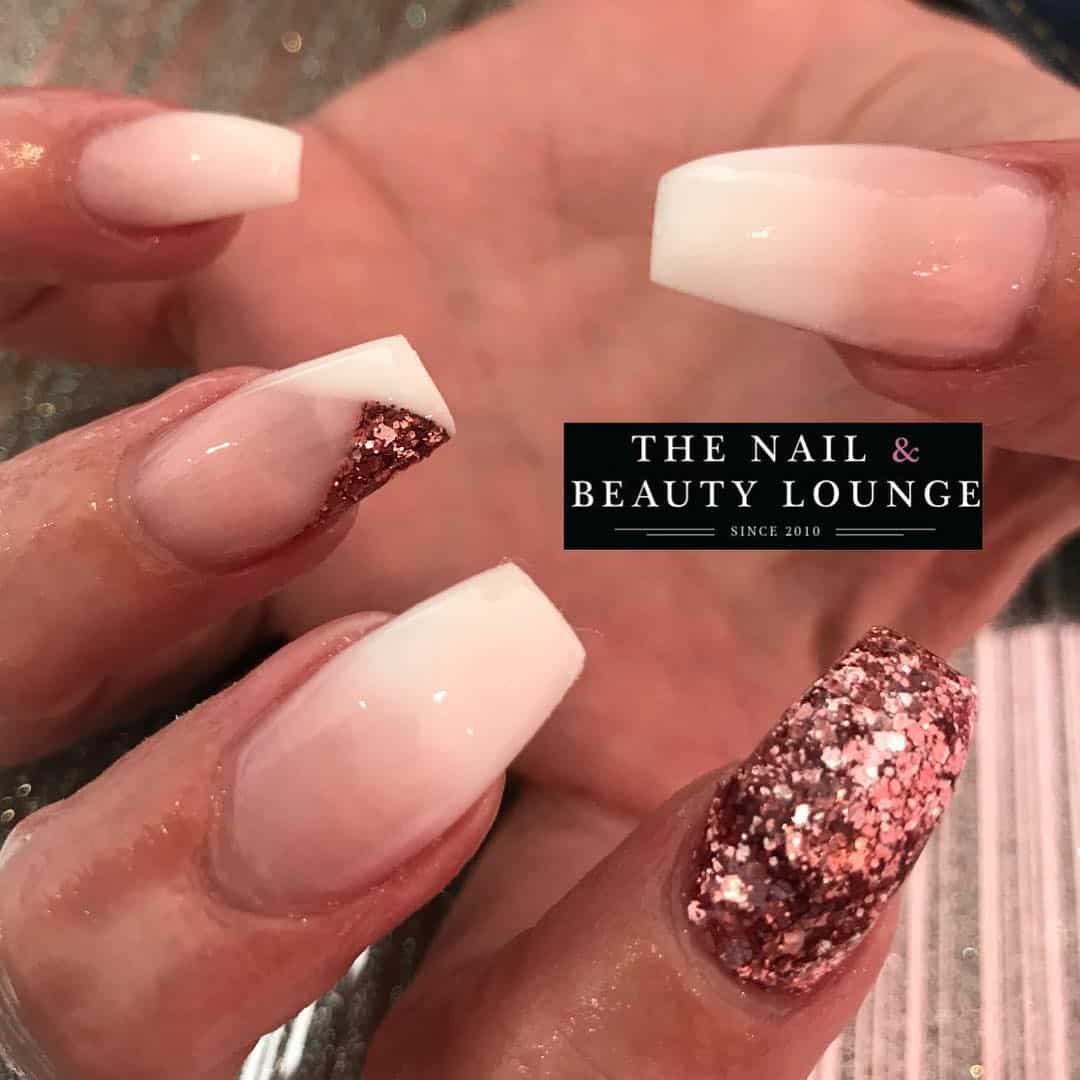 You thought ombre is a technique only used for hair coloring? Wrong. Ombre is a technique you can use in many other niches. For example, we see ombre making an intro into the world of interior design. And you can also use the ombre technique for your rose gold nails.
4. Arrowhead nails marble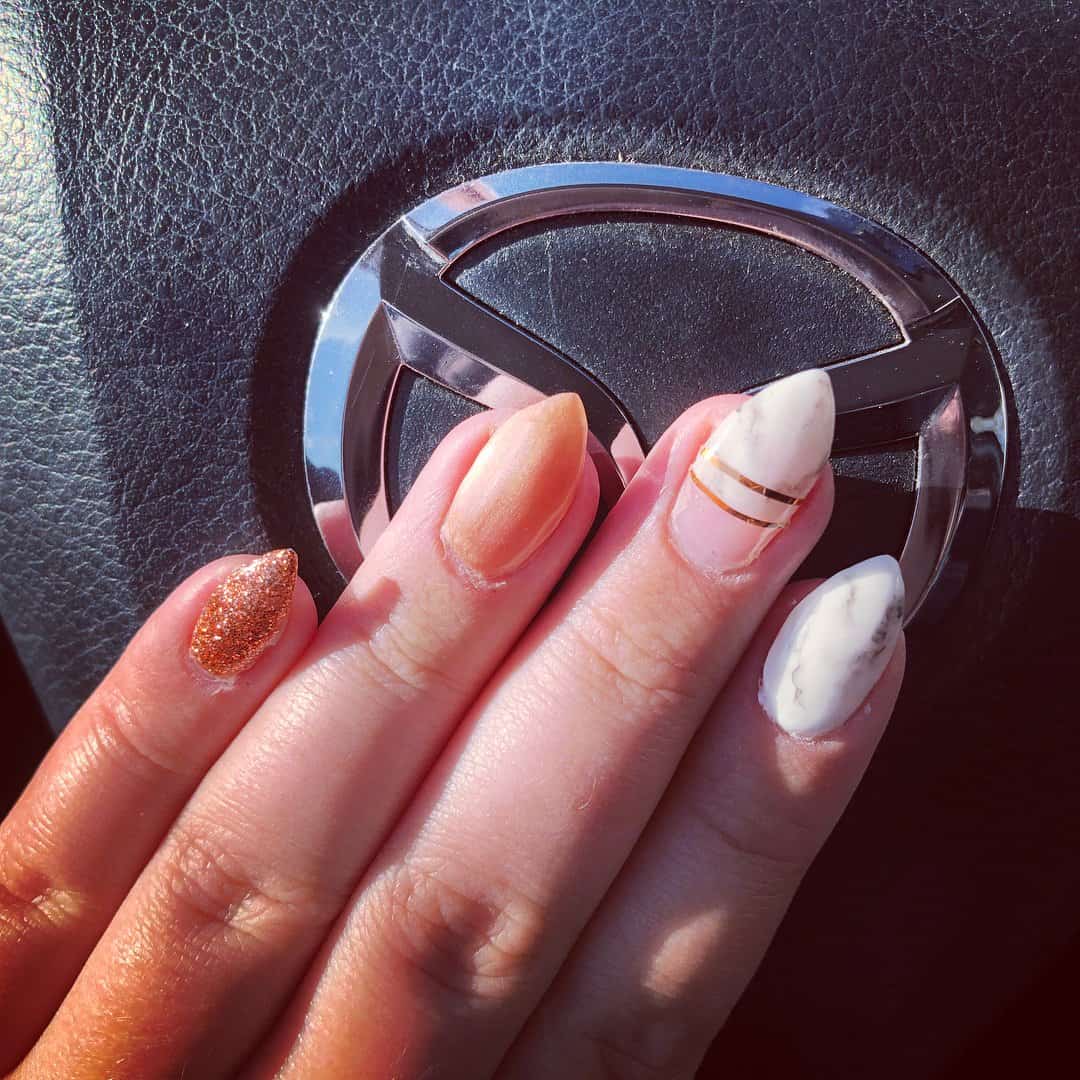 There are different shapes of nails. And when it comes to nail shapes, you can say they determine your character. For example, these arrowhead nails show a woman who is not afraid of taking any risks. A strong-minded woman who wants to do things her way. Are you that type of a woman?
5. Glitter gloss short coffin nails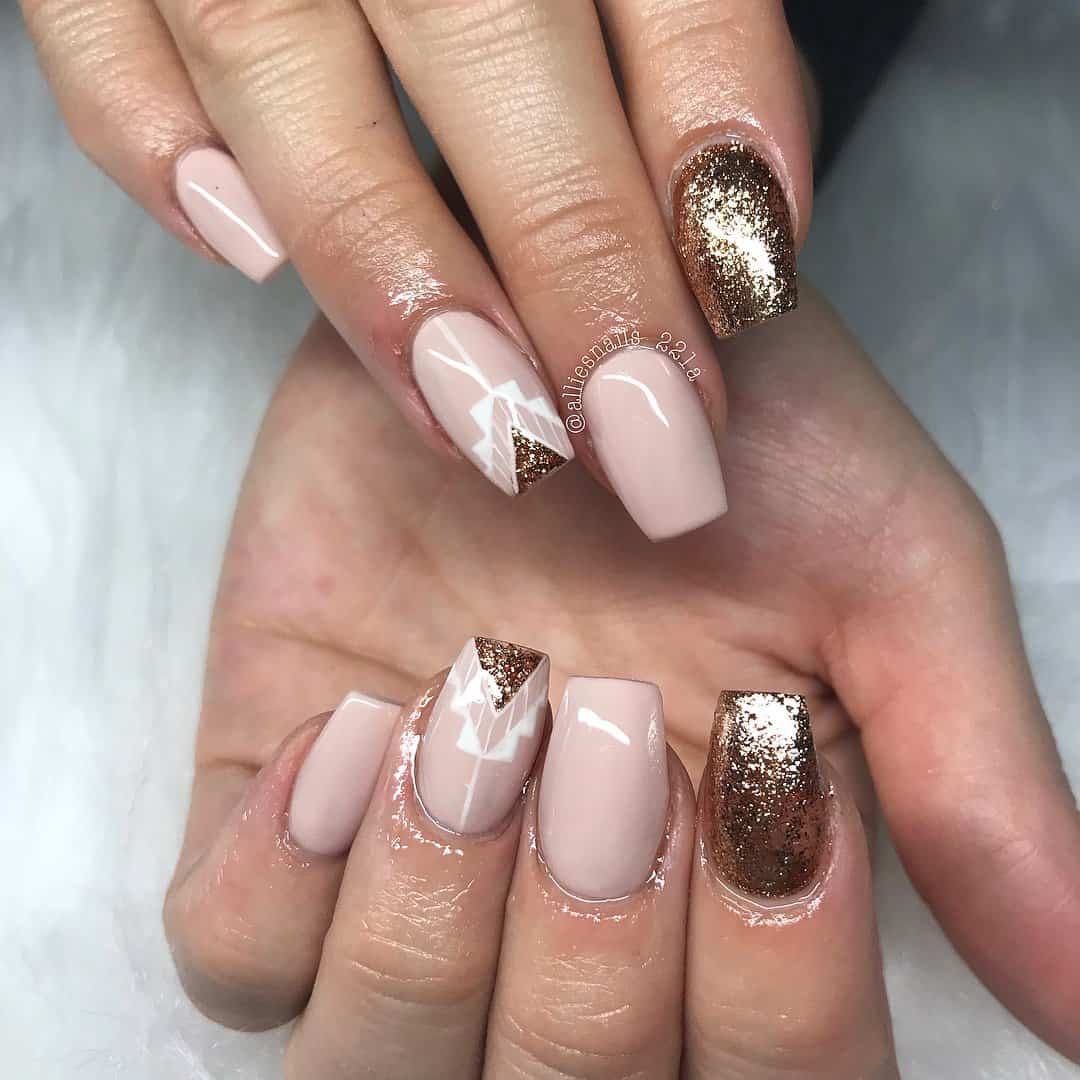 Coffin shape is one of the more popular shape and length nowadays. While it might be morbid for some people, because it is basically a coffin on your nails, you can say the shape is perfect. Your nails are neither too long, nor too short. With such subtle, yet effective length, any color you choose looks good. And a nice tweak on the rose gold manicure is adding gold glitter on a single nail.
6. Swarovski nails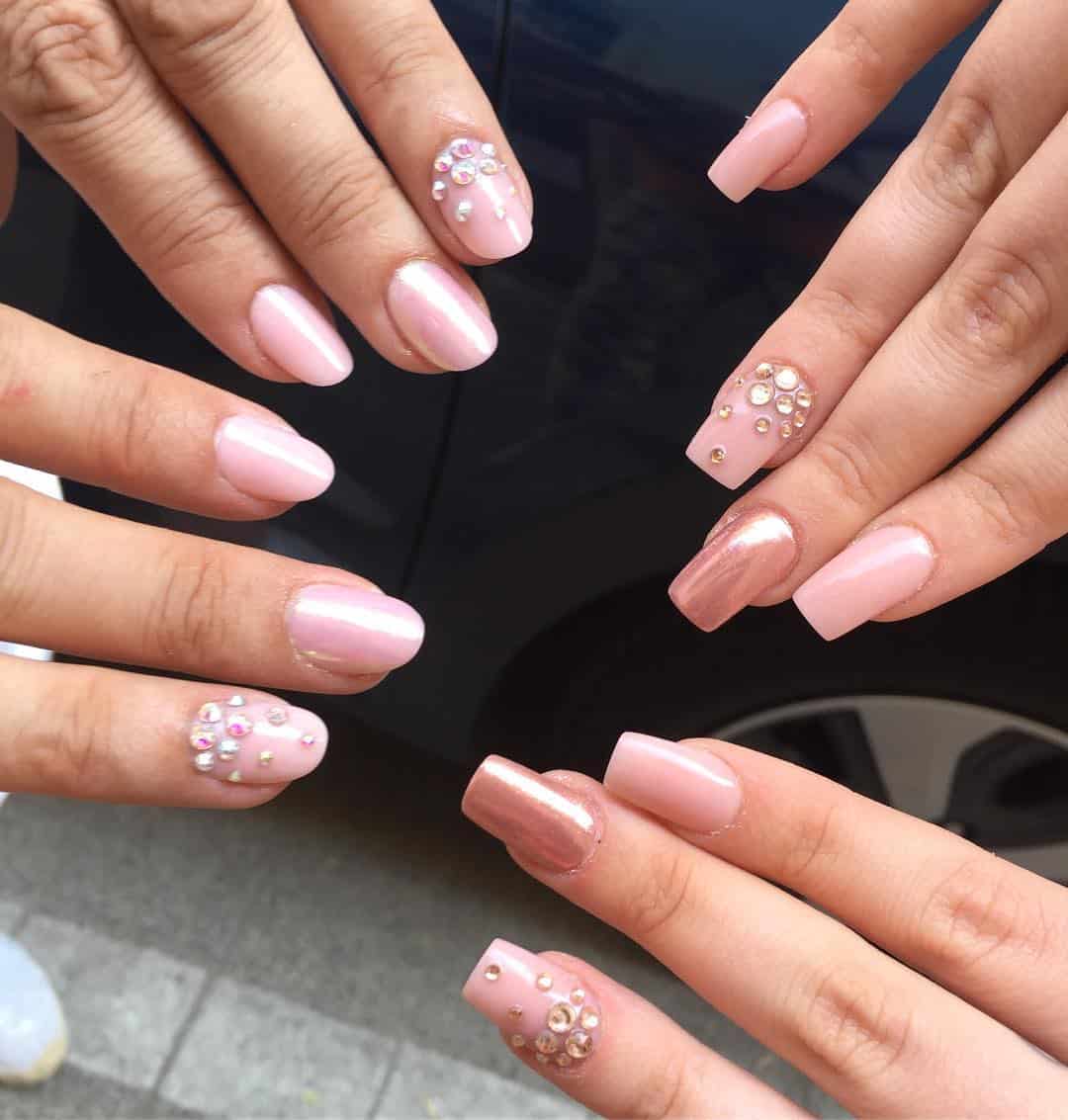 You want to make your nails look more luxurious? Enter Swarovski crystals. Subtle, yet elegant and sophisticated in the same time. Perfect for ladies working in an office.
7. Confetti gold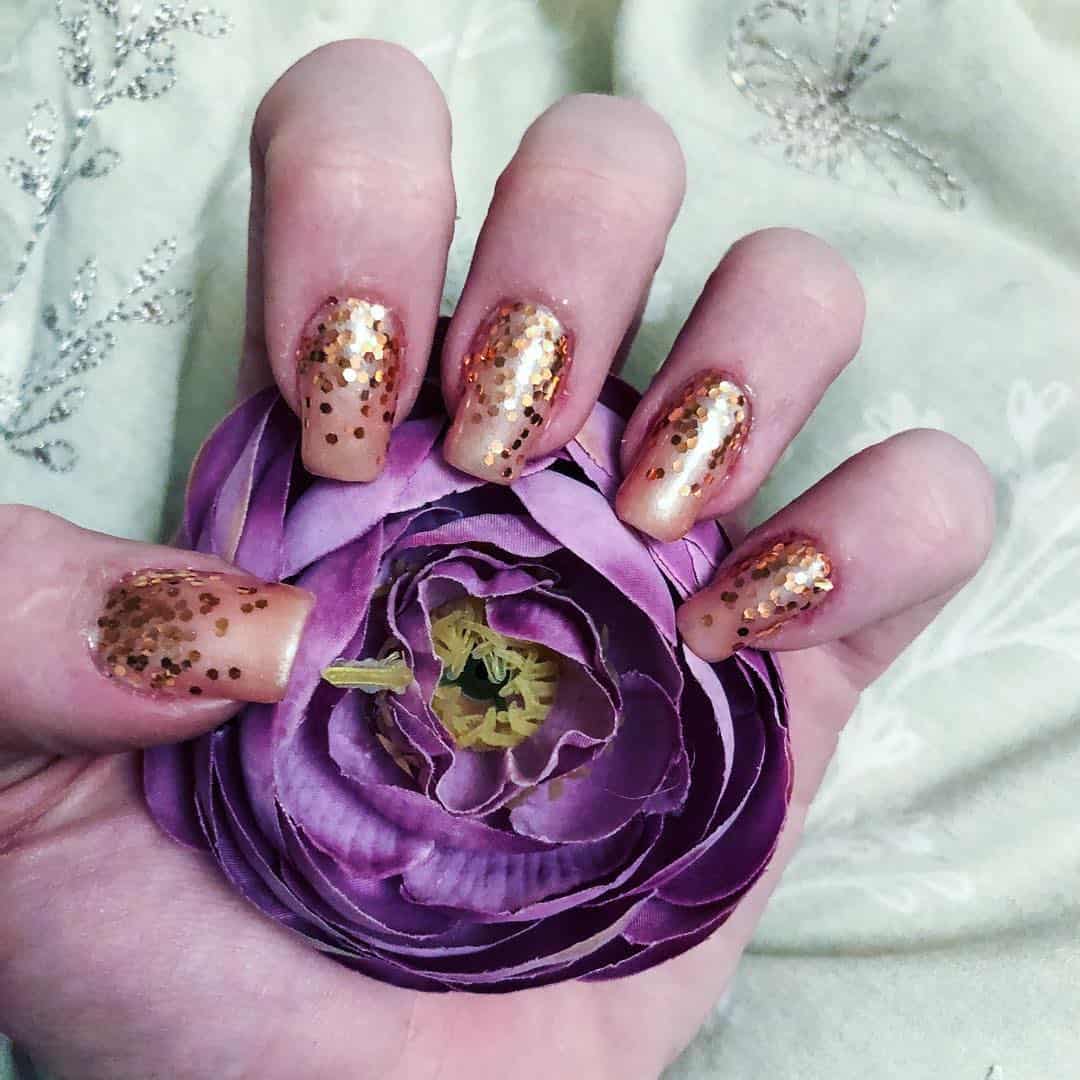 When you look at rose gold nails, they are usually pale and subtle. But you can make them pop. And you can make them look dramatic as well. Here is one way to do it, add some confetti.
8. Diamond pattern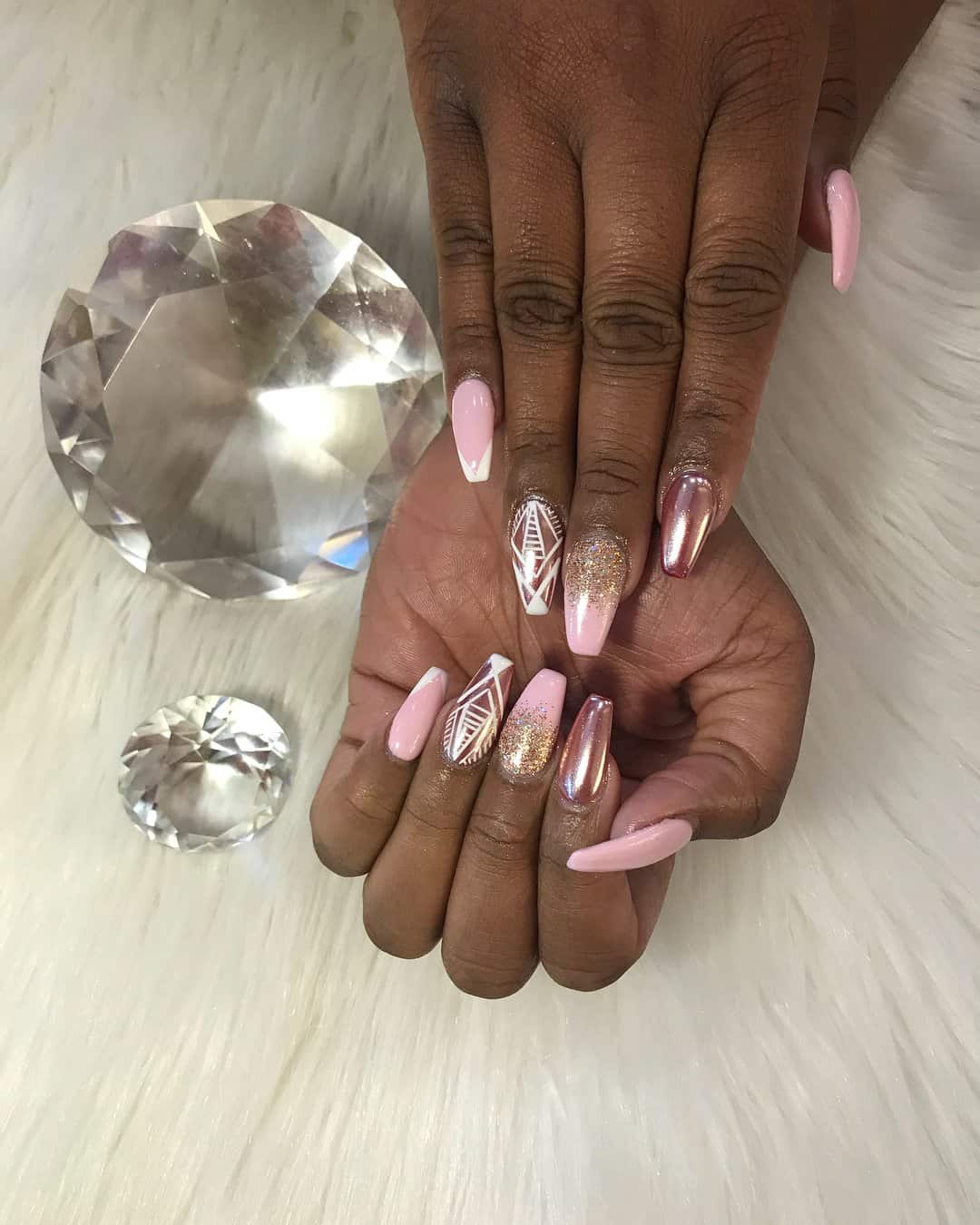 Diamonds are a woman's best friend, right? Madonna sang that years ago, and the saying still goes. While we all cannot have diamonds, they are expensive, we can get a diamond shape and pattern on our nails.
9. Ombre gold tipped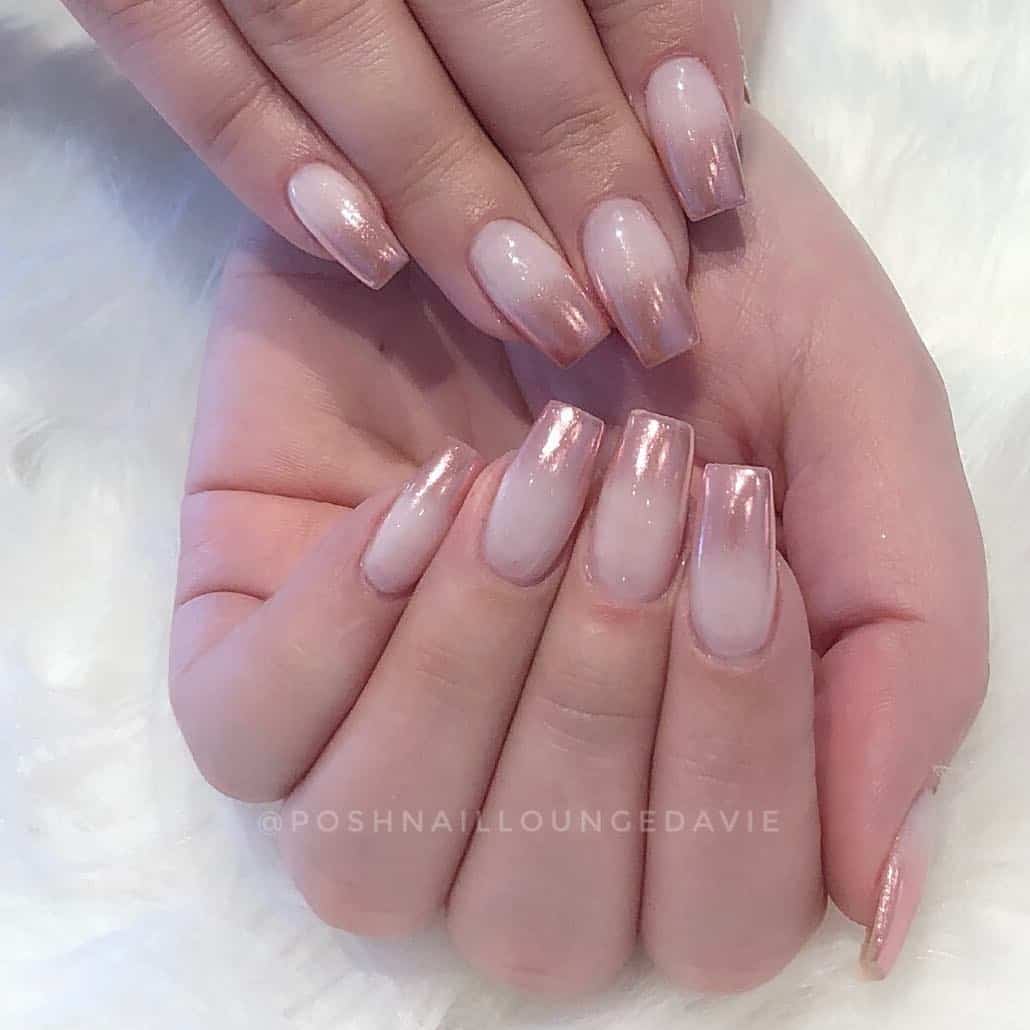 One of the main features of rose gold nail design manicure is that you can make it almost unnoticeable, yet very elegant. Take this gold ombre for example. Your nails are just dipped in some rose color, and it requires a strong eye to notice.
10. Marble and glitter accents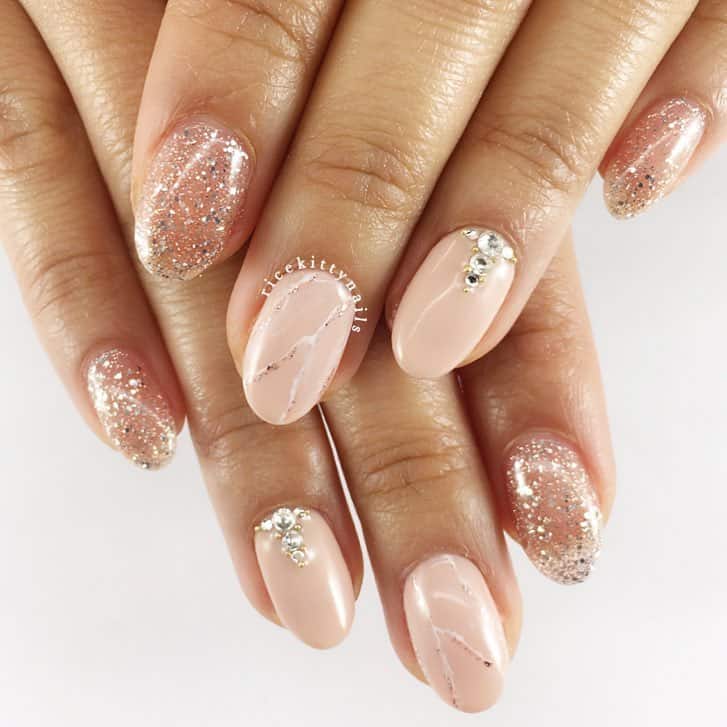 Because rose gold is a neutral color, you can add almost any accessory to your nails, and it won't be too much. Even with so much glitter and marble accents, your nails still look subtle. Now isn't that great?
11. Coffin metallic accent rhinestones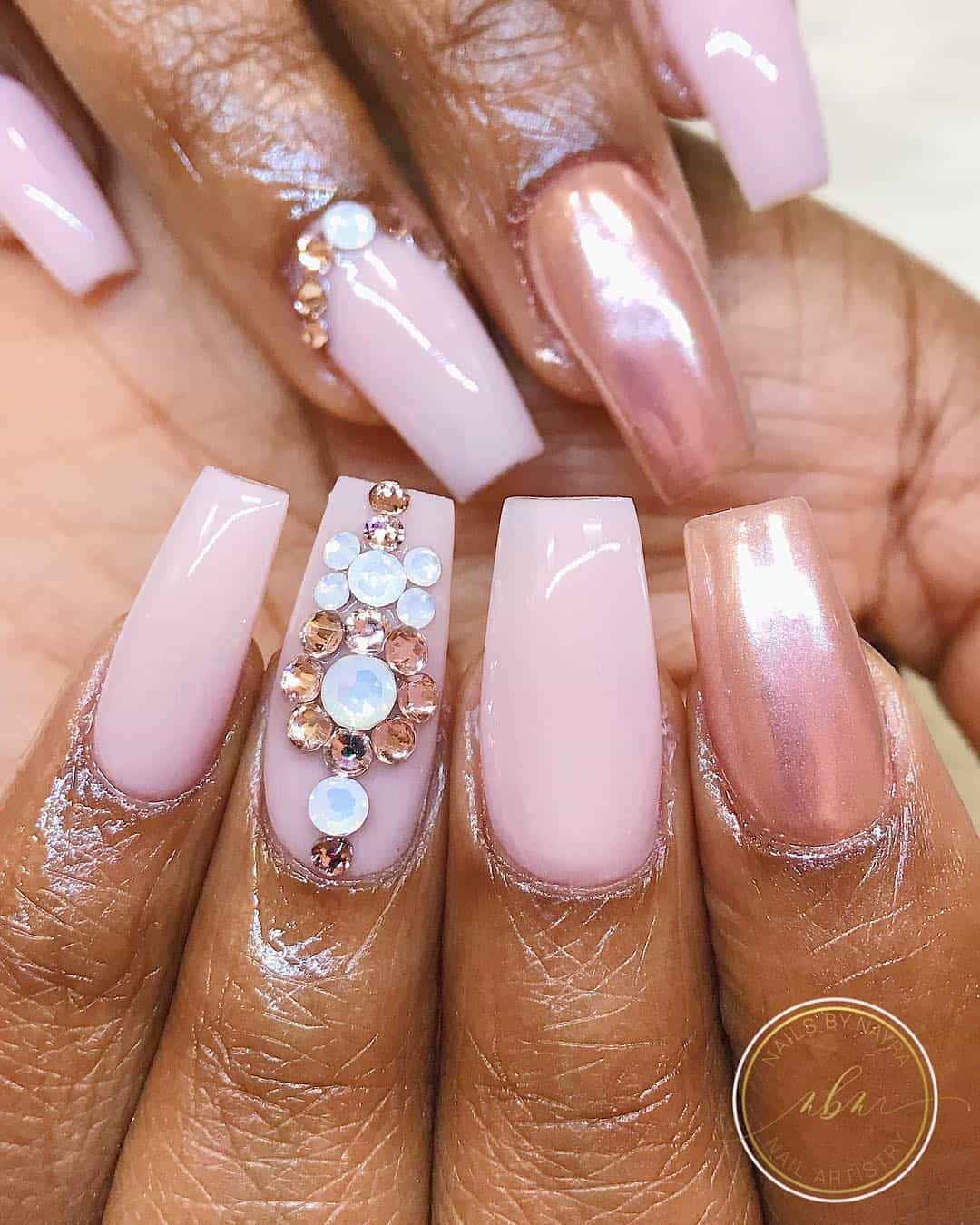 Some women want matte finish, while others go for a more metallic finish. If you fall into the latter category, these acrylic nails are the perfect choice for you.
12. Matte metallic and shine accents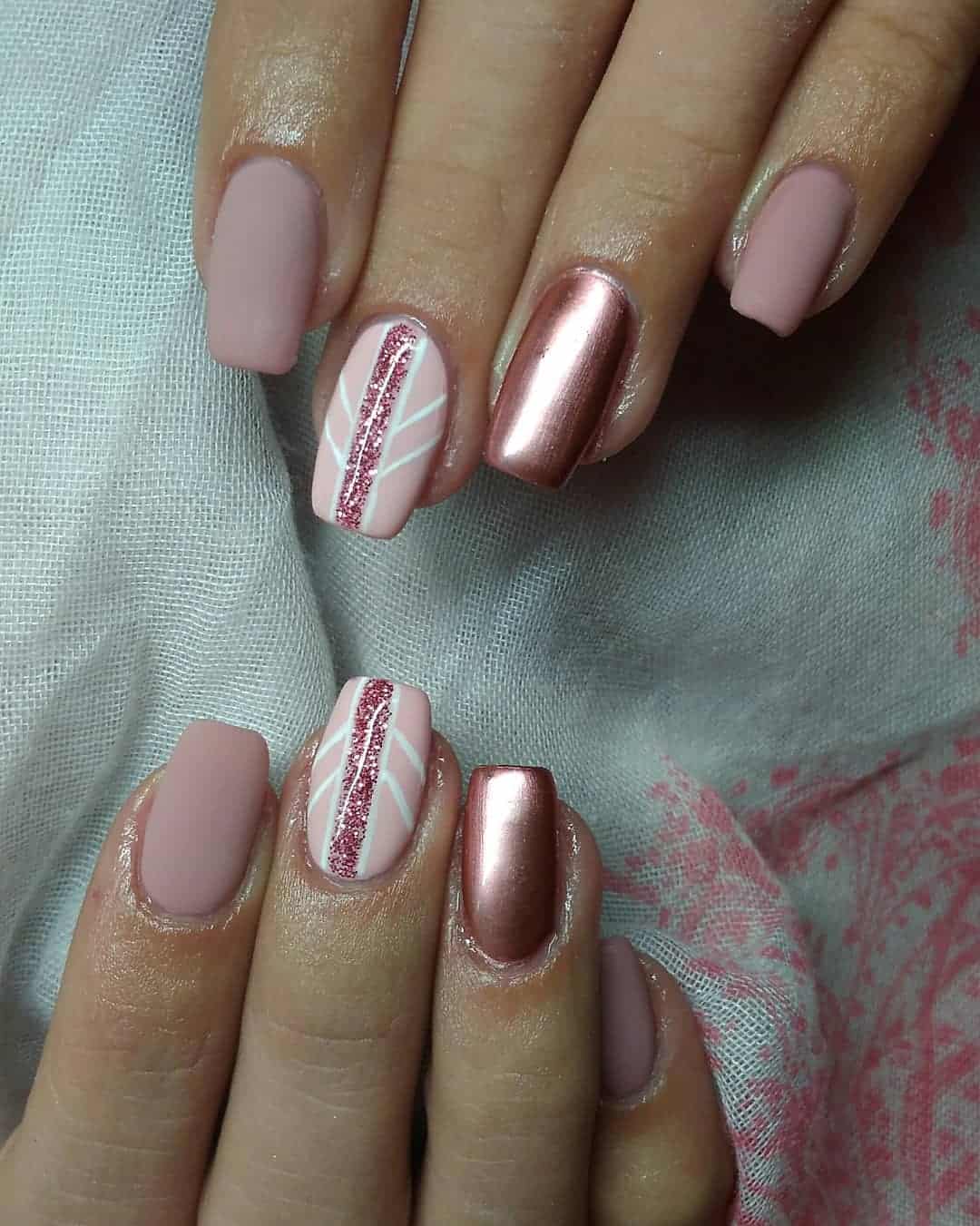 A big trend in manicure is to add an accent nail. The same nail polish on all nails, except on one on your hand. This is one such idea. This idea originated in bathroom interior design, where people add just one line of different tiles. And it looks spectacular on your nails as well.
13. Rose gold leaf
We said that some rose gold manicure employs literal gold roses, right? Well, here is one with gold leaves. If you have no problems wearing such lengthy nails, these will make you the star of the night.
14. Gold glitter accent coffin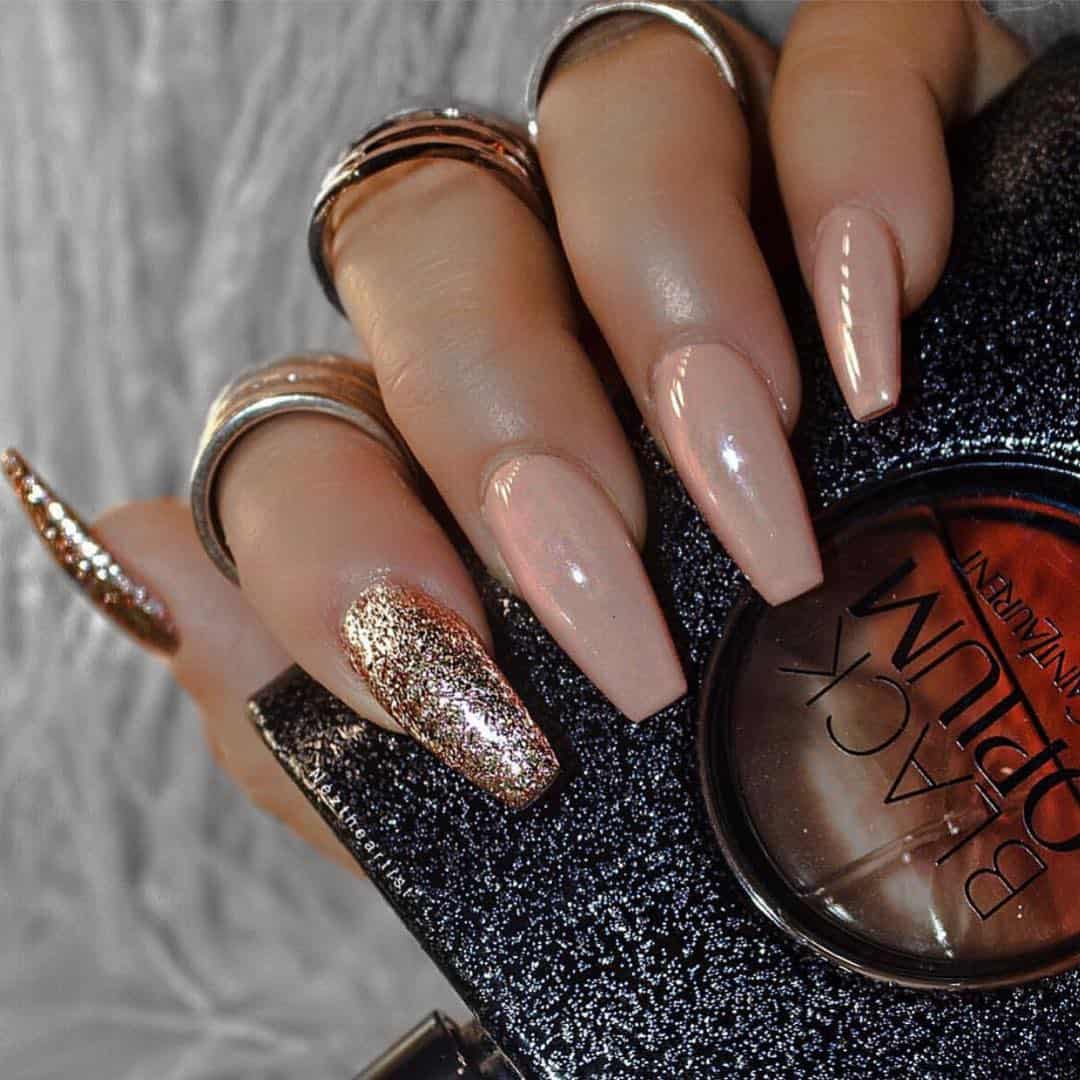 Being that we talk about rose gold manicure, it is only logical that we have nail art where one nail is completely covered in gold. Now, that is not real gold. It is just gold glitter. But it is close enough.
15. Rose gold French mani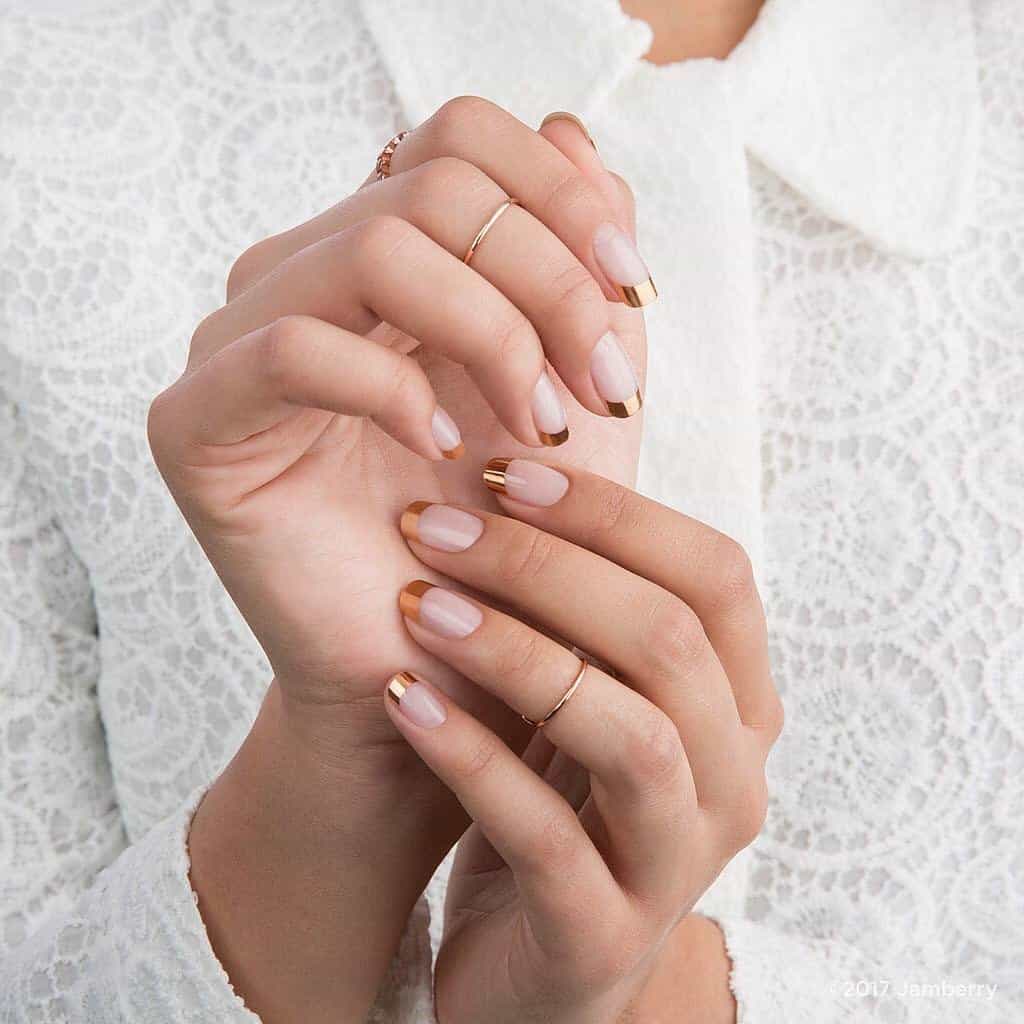 Any manicure and design can benefit from a touch of French, right? Rose gold is great when done the French manicure way. And it is your choice what you want on your tips.
16. Straight metallic rose gold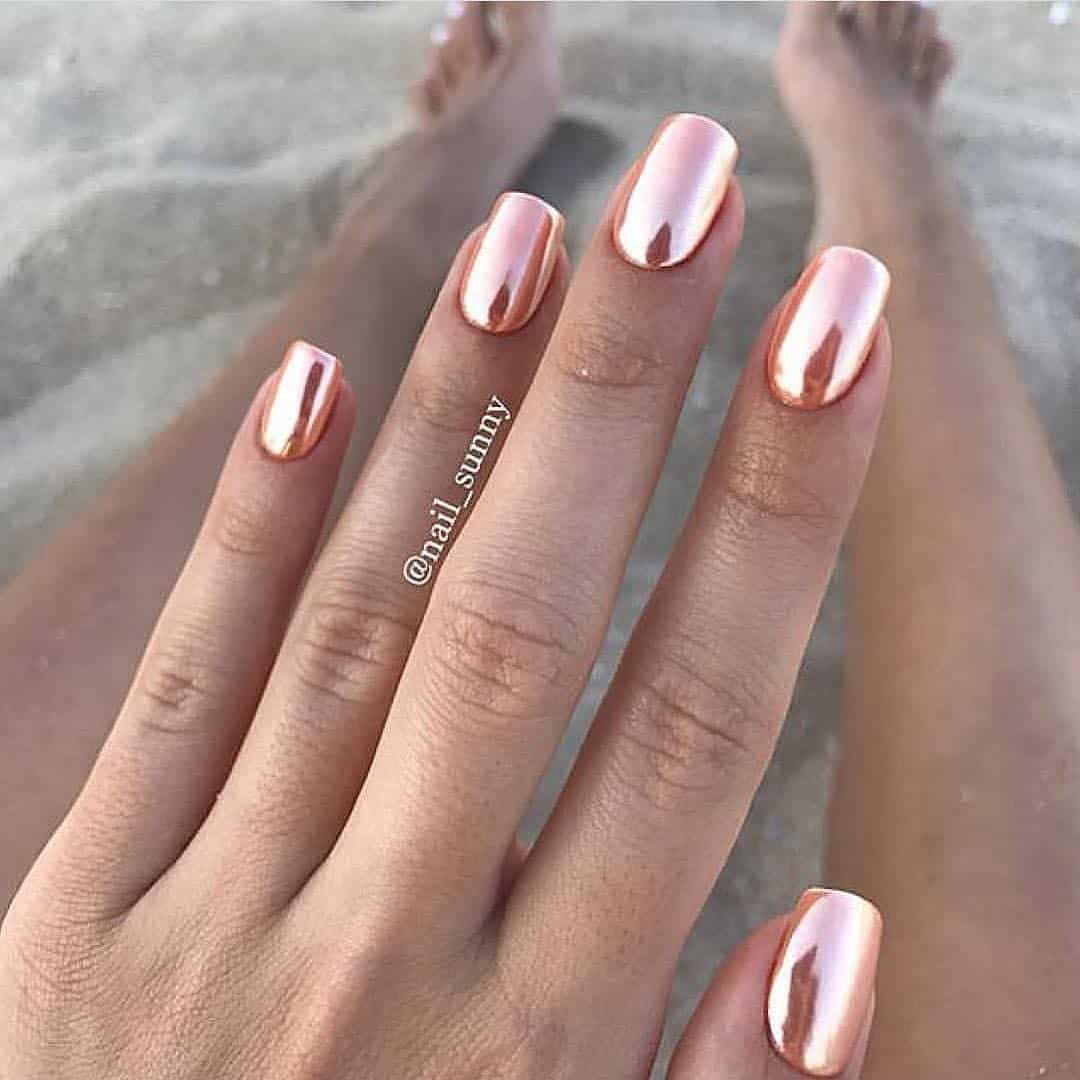 This nail color might look like one taken directly from the palette of automobile companies. But it is a girly manicure, and you should be wearing it with pride. Every woman wants to feel girly every now and then, and this manicure can help you do that.
17. Stiletto glitter and rhinestones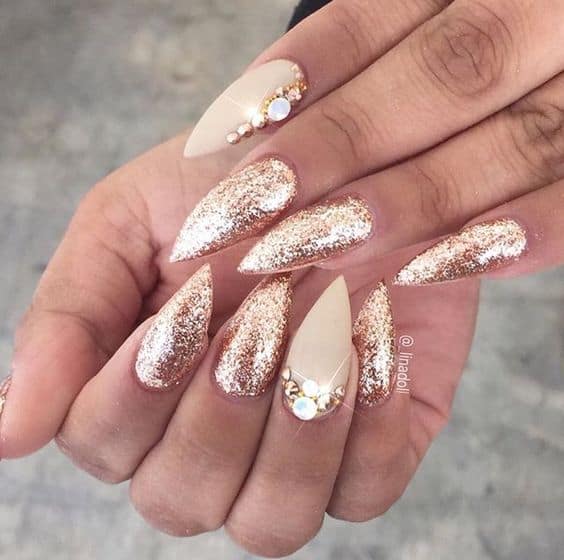 We had coffin nails, and now we have stiletto shaped nails. The latter is designed especially for women who want to make a statement. Think of bold and courageous women. Or in some cases, teenagers that can wear long nails.
PS: the beauty of rose gold nail art design is that it works on any longer shape, be it stilleto nails, almond nails, coffin nails, or something in between.
18. French black mani rose gold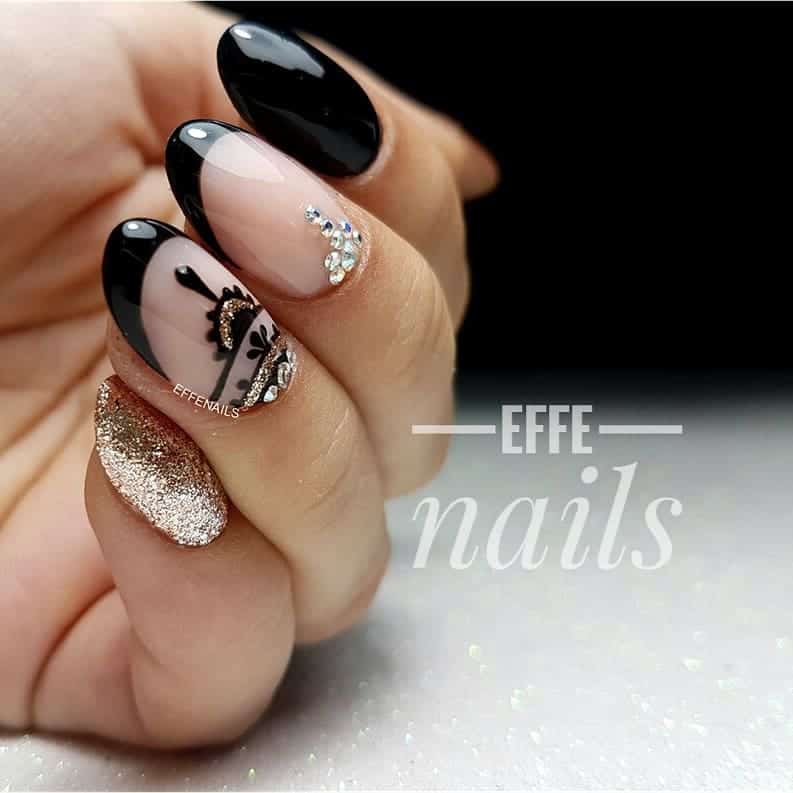 Yes, you can add other colors to your rose gold manicure. But the nail color palette is not that wide. Black works in any combination, and it adds some drama to your French manicure. If that is your goal, absolutely go for it.
19. Different shapes rose pattern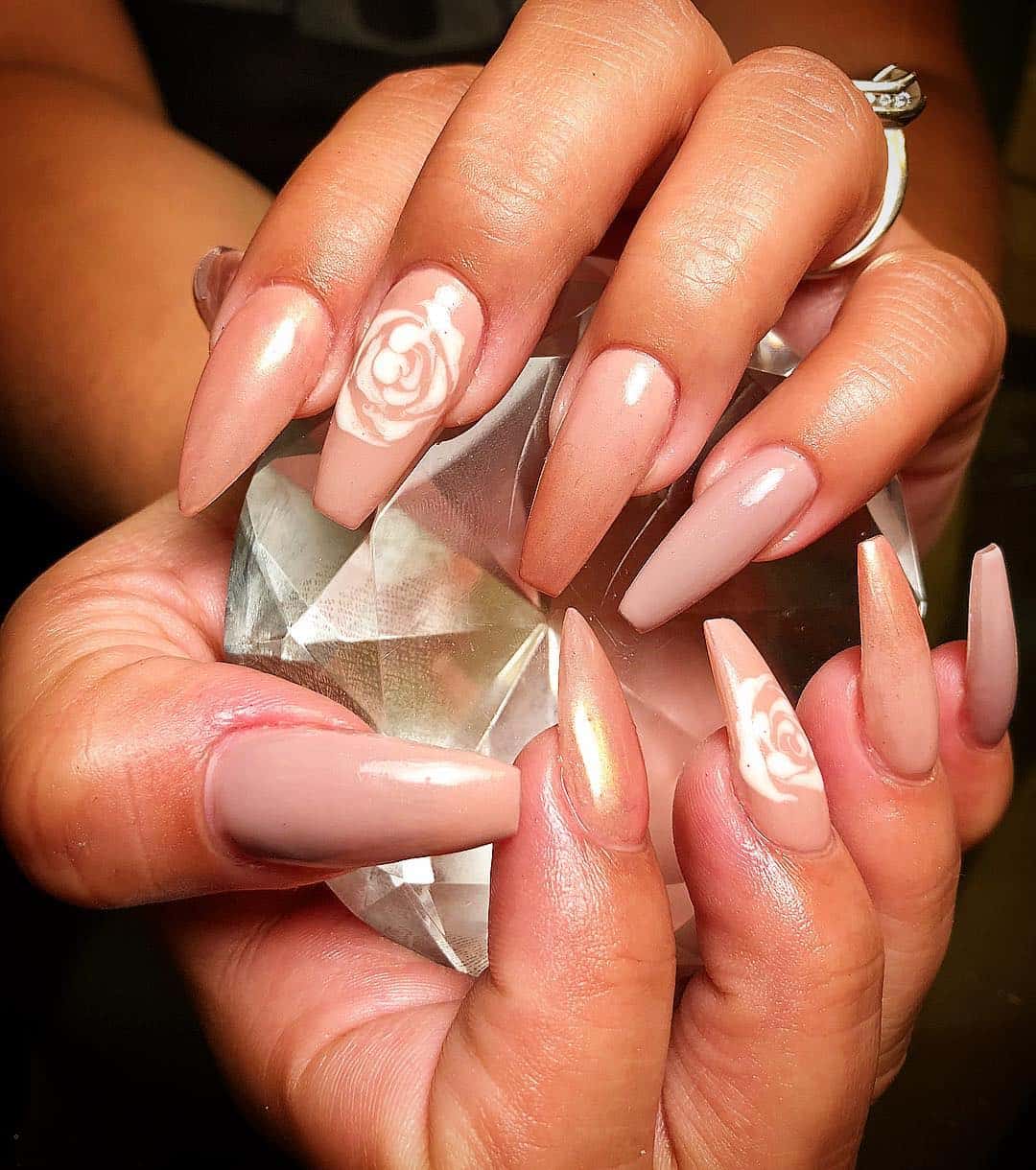 Why settle for one shape, when you can try more? That is the thinking here, as we have a different shape for every nail. In the same way, we can have a different design for each nail, we can have a different shape as well.
20. Clear rose gold with gold flakes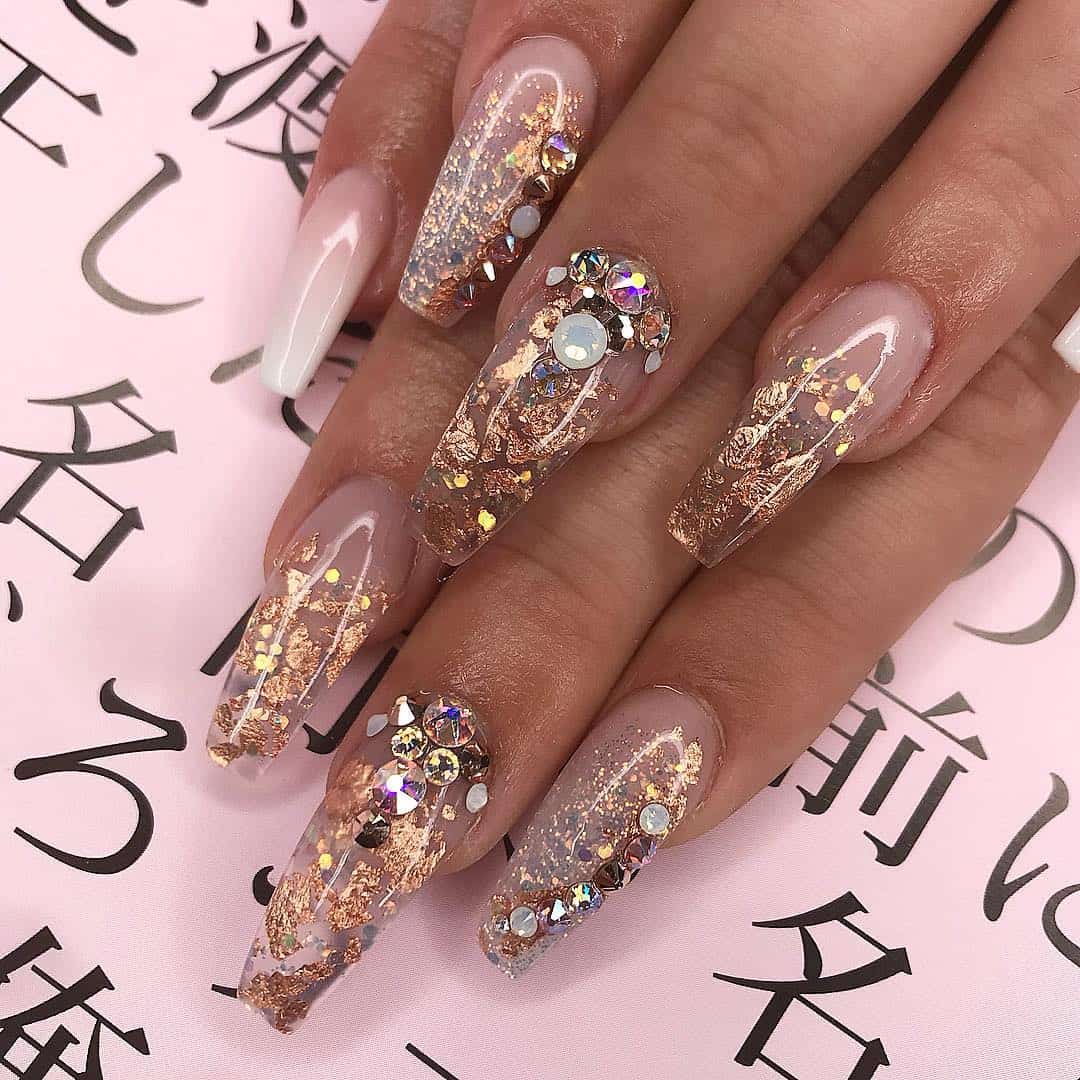 You might say these nails look a bit too much. But some would also say they are chic. It all depends on the perspective, and what you consider too flashy or not. Just remember, little glitter never hurt anybody.
21. Matte with glitter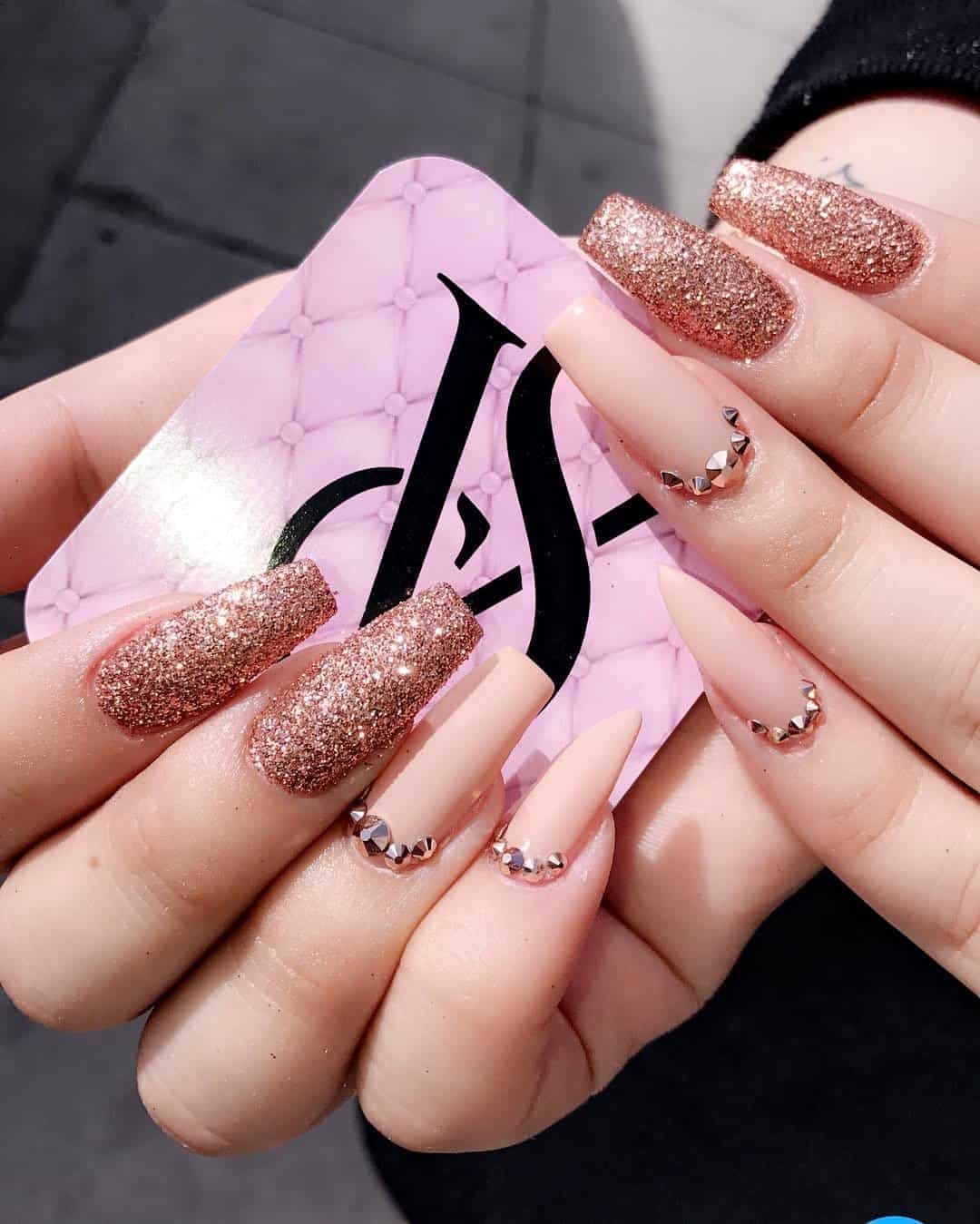 We talked that some women appreciate matte finish to their manicure. And there is absolutely no reason not to add some glitter to the matte finish. As we can see by now, glitter works in any situation. Matte finish makes your nails look more elegant.
22. Holographic oval with confetti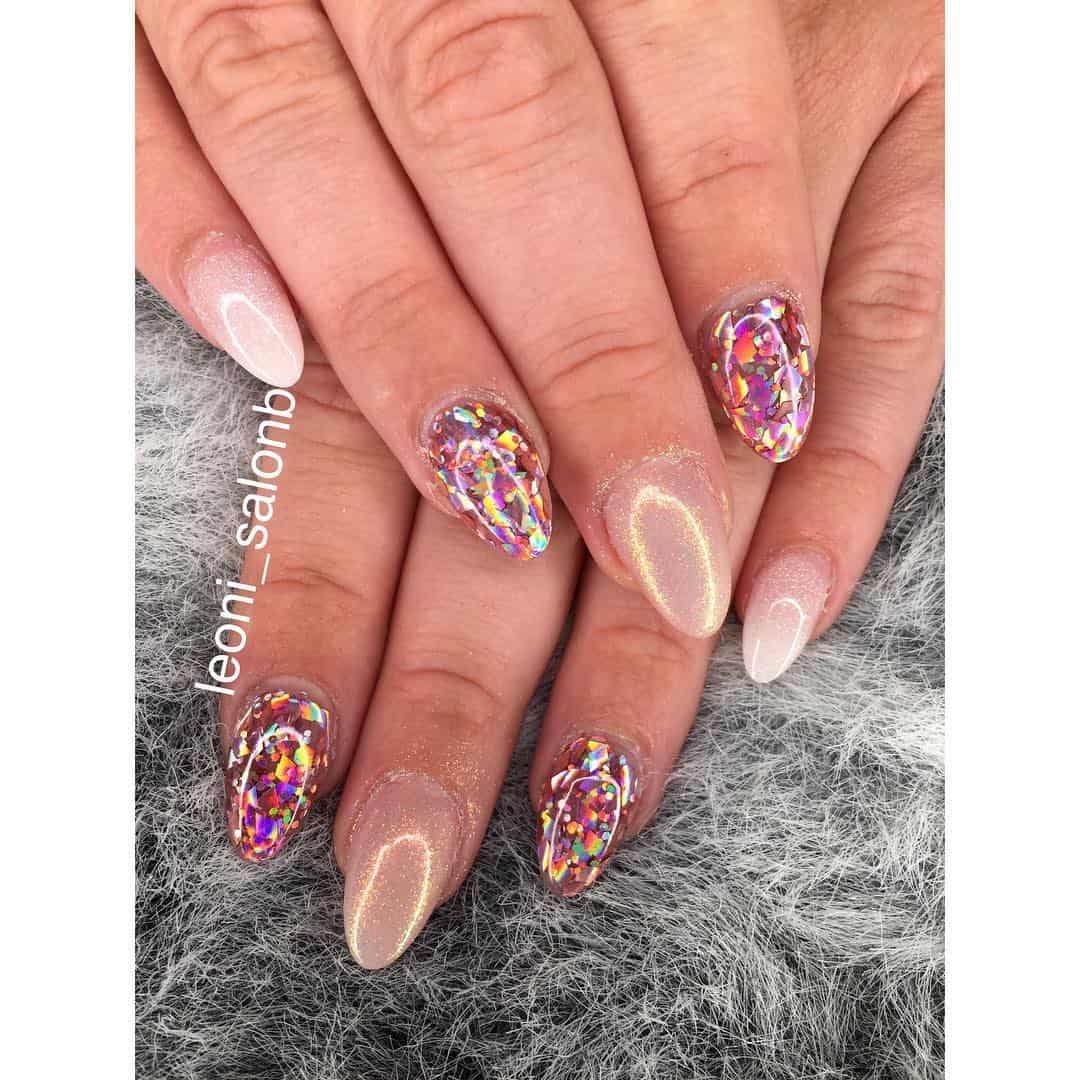 One trend in manicure in the past few years is space nails. Now, this is not completely a space nails design. But it is close. You can play with many trends with rose nails manicure.
23. Short rose gold with floral accent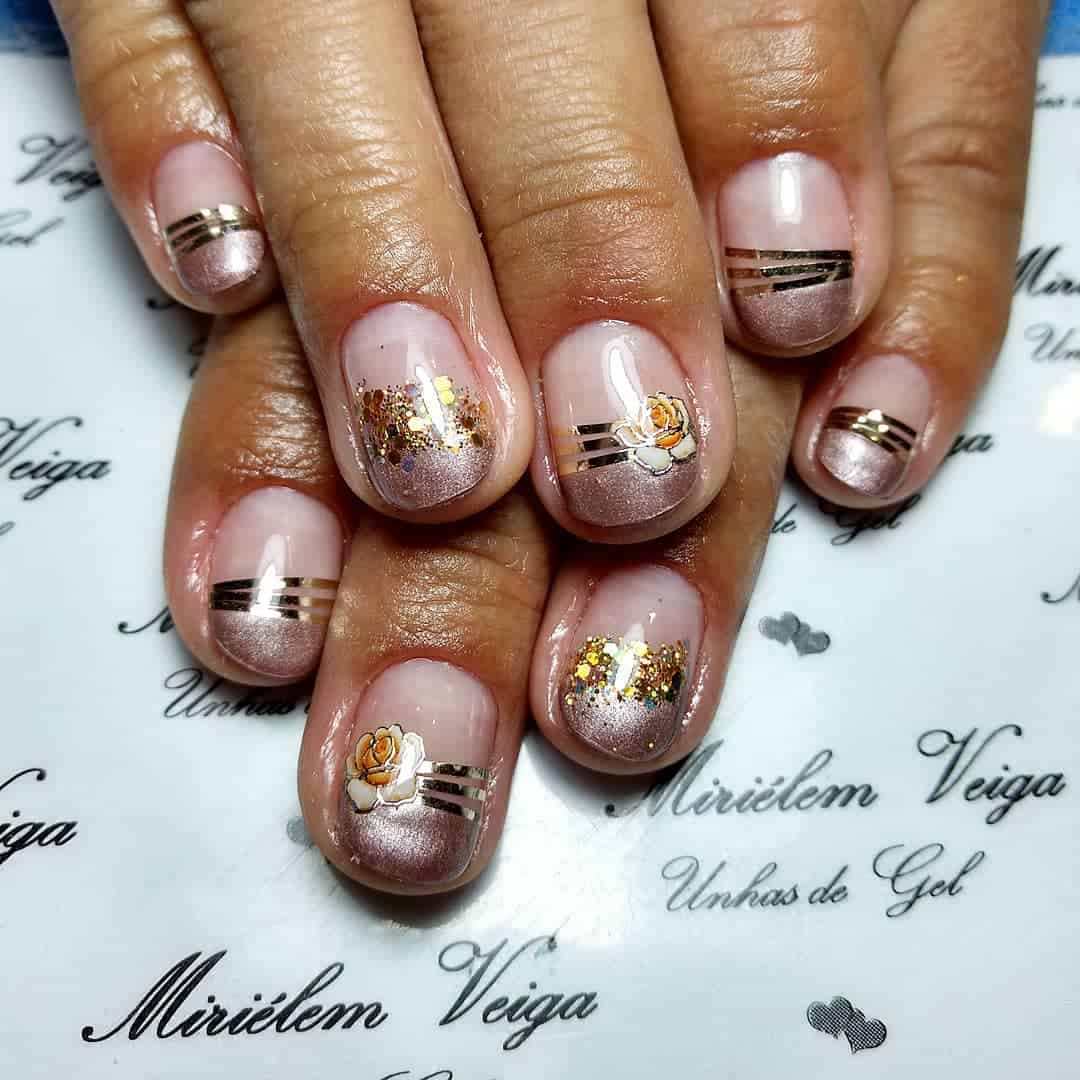 Rose is the colors of flowers. Flowers are feminine, and flowers are sexy. Add some flowers to your manicure, no matter if that is a rose design, or any other flowers.
24. Rose gold coffin with ref flaming ombre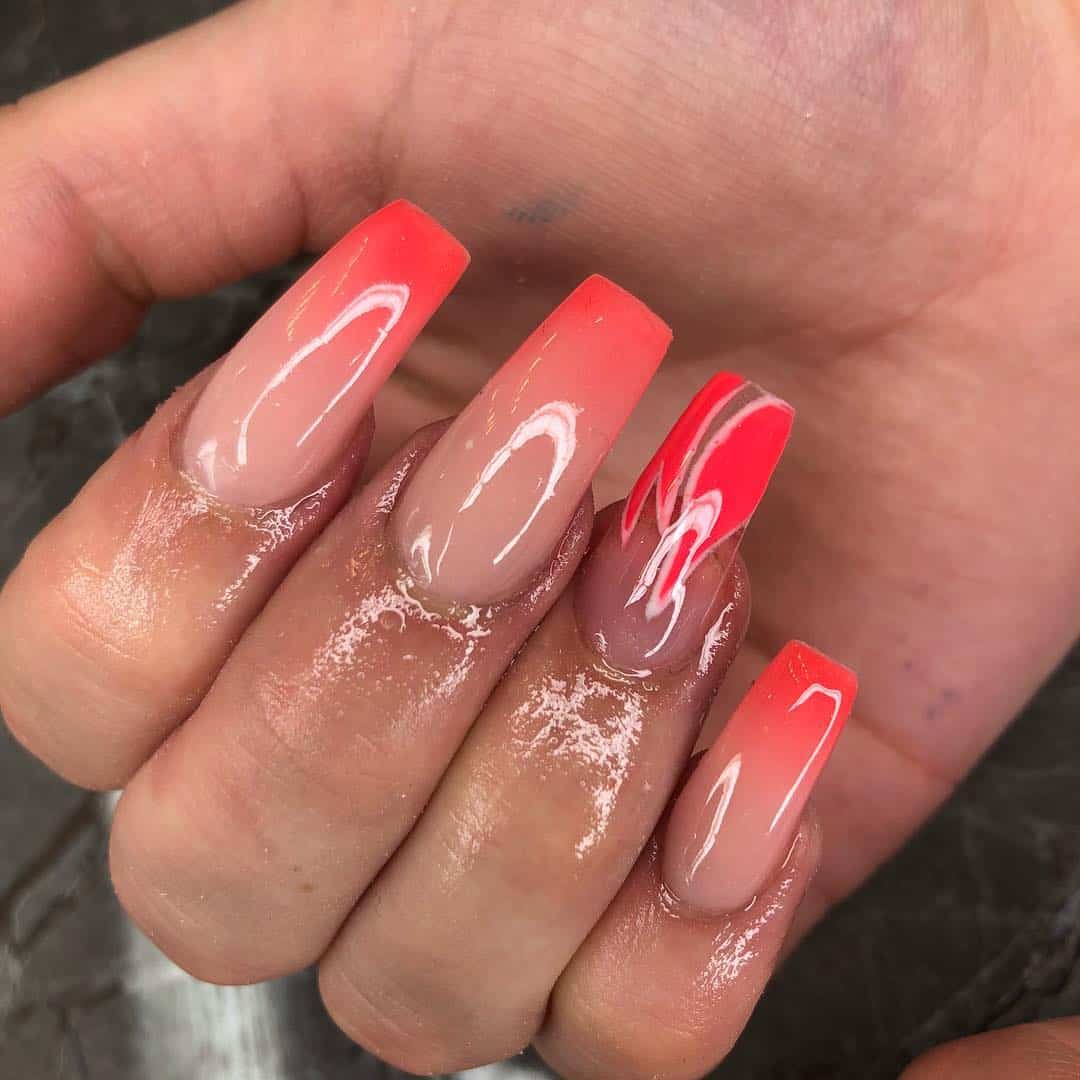 We saw rose gold combined with black for some dramatic finish, but this is even more dramatic. Red is a vivid and lively color, and it definitely makes your nails pop even more.
25. Rose gold with white and glitter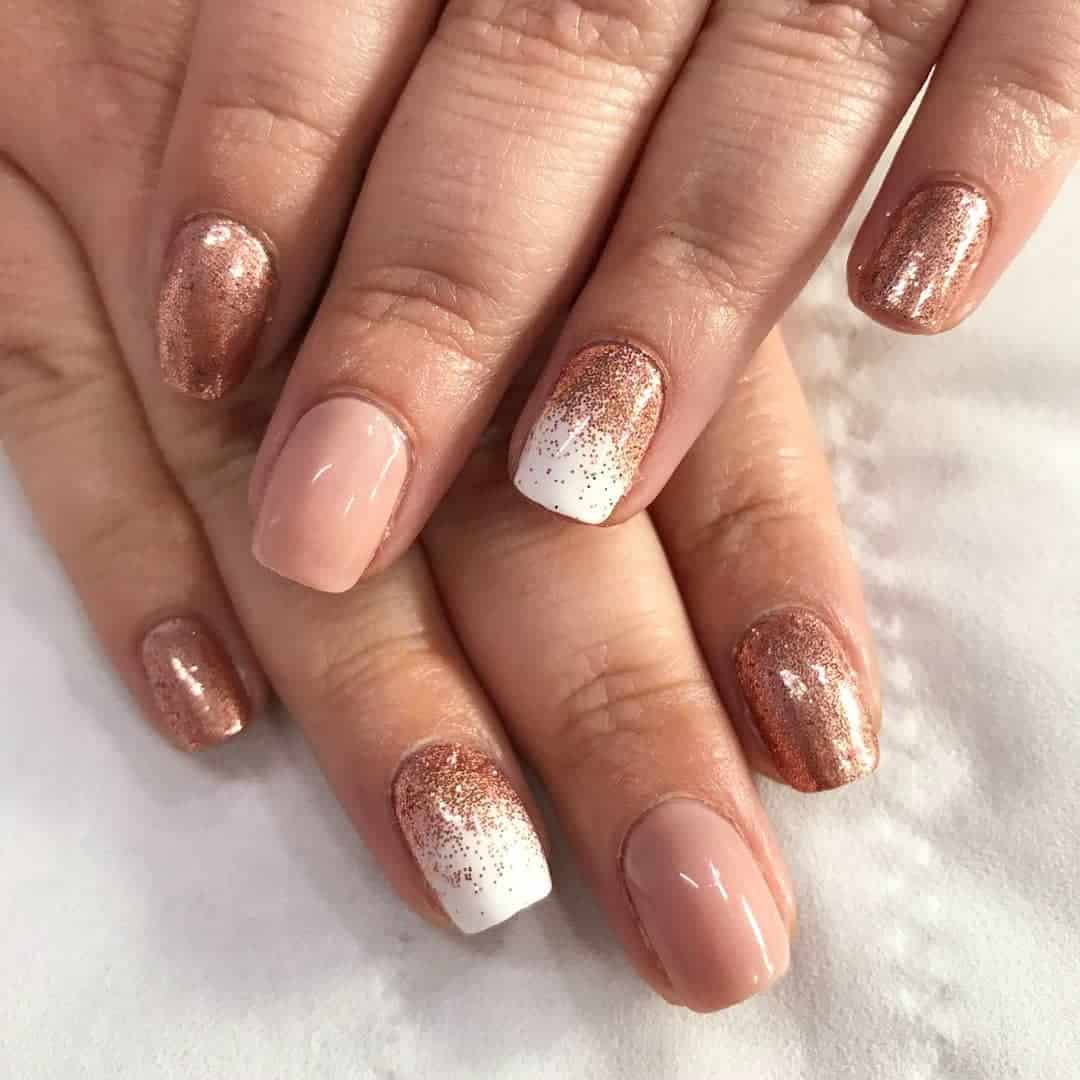 White is another neutral color that works and blends perfectly with rose gold. Add a touch of glitter, and you have elegant finish you can wear on a regular day basis.
26. Pink and rose gold grid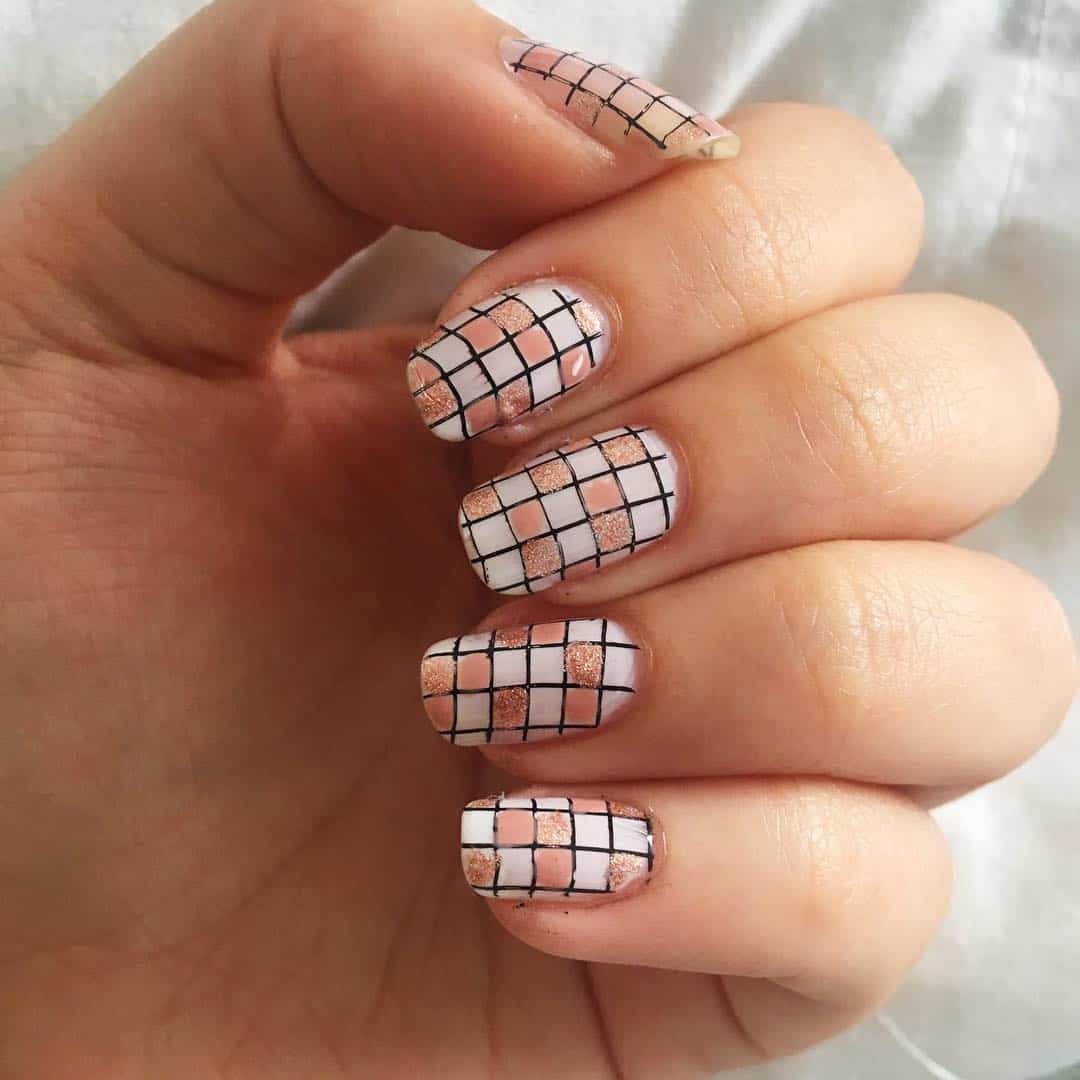 Grid nails are the "IT" manicure for the fall. But you can wear them all year long. It might be a bit more complicated to create them, as they require a lot of precision. However, once you are done with the grid, you are left with one unique manicure.
27. Rose gold lipstick nails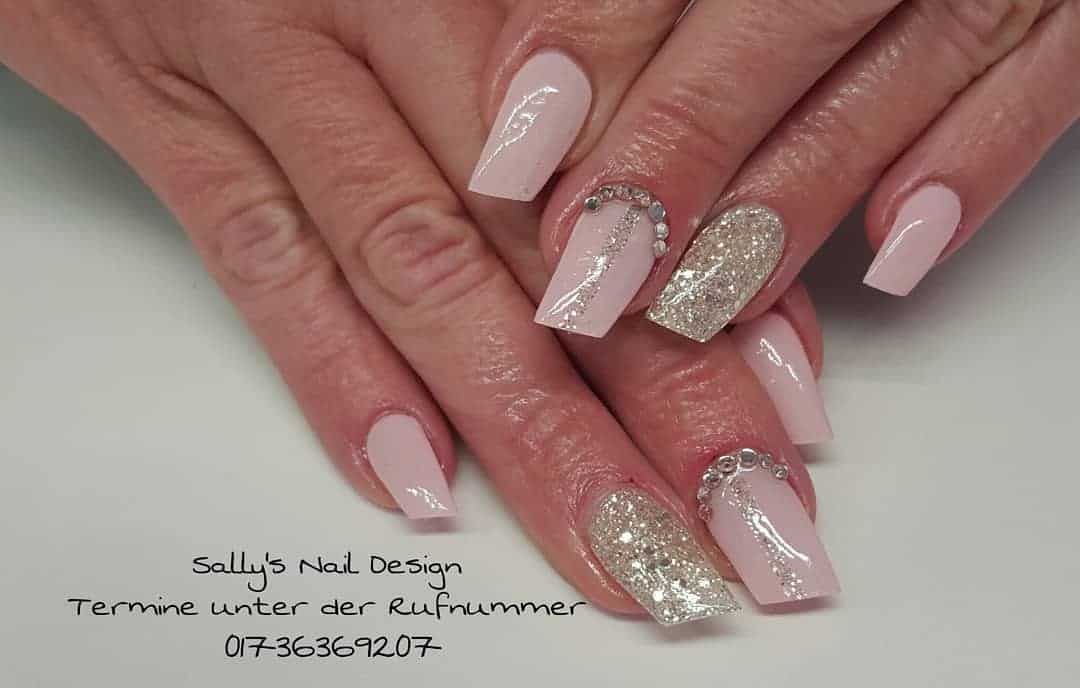 Rose gold and some silver glitter? Sign us up for it! Silver matches perfectly with gold, and with rose as well. We are just as surprised as you are of this design.
28. Rose gold glitter and crystal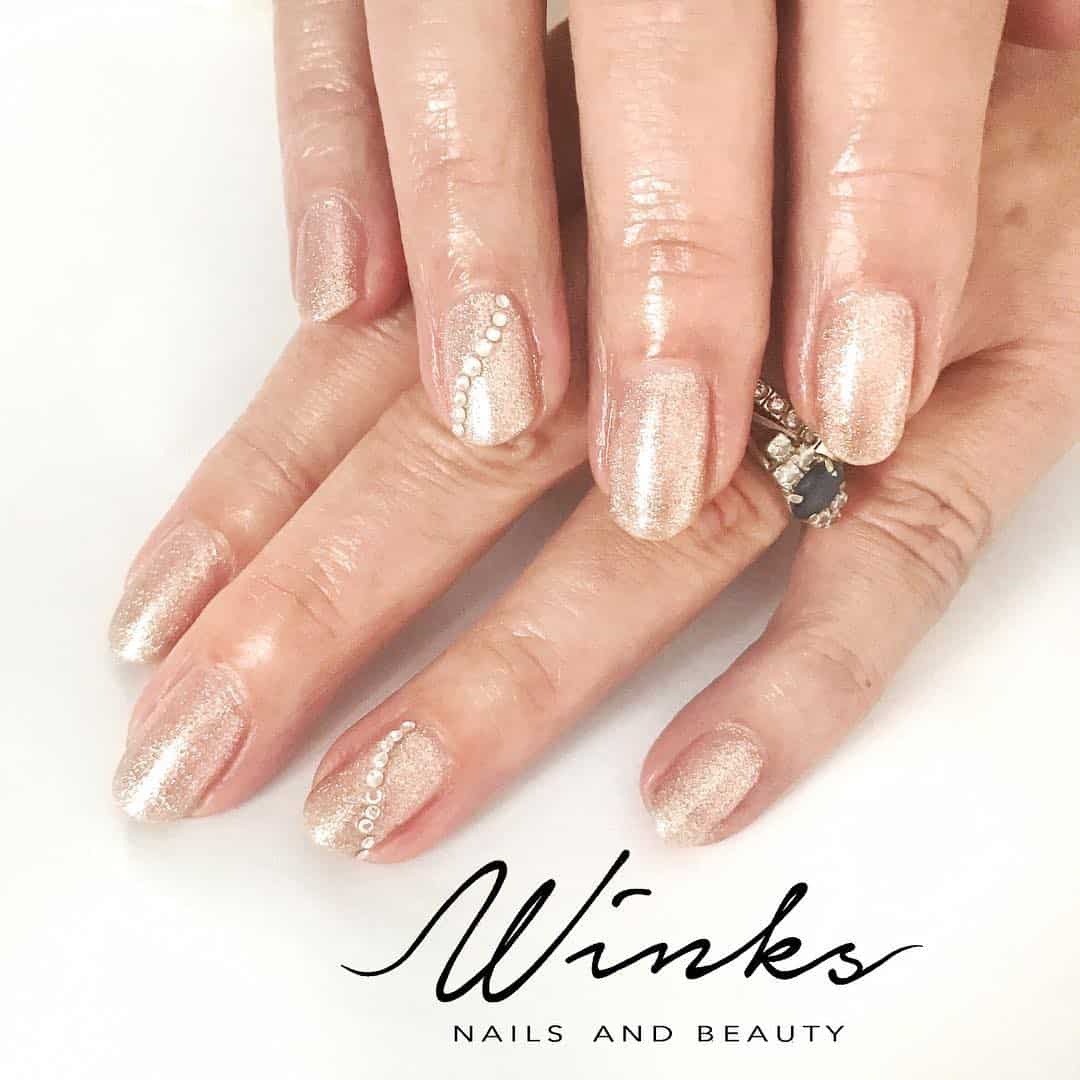 This might not be the Swarovski crystals, but they are still crystals. Adding crystals to your nails is one of the best ways to get sophisticated manicure look. Perfect for formal evening events. That would be all for now, and we hope you found your dream scenario manicure.