When it comes to short thick hairstyles, one of the best options is a stacked bob. These stacked layers allow your thick hair to look bulky, and also adds shape and volume to your appearance.
But as we move down the list, you will see that a bob hairstyle is not the only haircut you can try for short hair and thick hair. There are many other options you can try, including variations of the bob.
And no matter if you have straight, curly, coarse, or texturized thick hair, rest assured there is a short haircut and style for your hair. Thick hair means the volume on top of your head comes naturally.
So, with that in mind, here are some ideas for short haircuts for thick hair. Get the hot look you crave, as we show you the best looks for thick hair.
How to approach thick hair?
Any woman with thick hair will tell you, one of the first objectives for a new haircut is to decrease the potential for poof. If you have thick hair, you have a high density of strands per square inch of your scalp. And if you have thicker individual strands, there is even more bulk.
Volume is never an issue for women with thick hair. But volume can be a challenge to manage, even more depending on your face shape. Thick hair is a hair type that needs some work.
The good news is you have a lot of hair texture to work with. It is more about how you cut the hair, resulting in a hair style that is easy to manage afterward.
Luckily, we have some short thick hairstyles to try along with some styling tips for you.
1. Colorful Shaggy Long Pixie With Side Bangs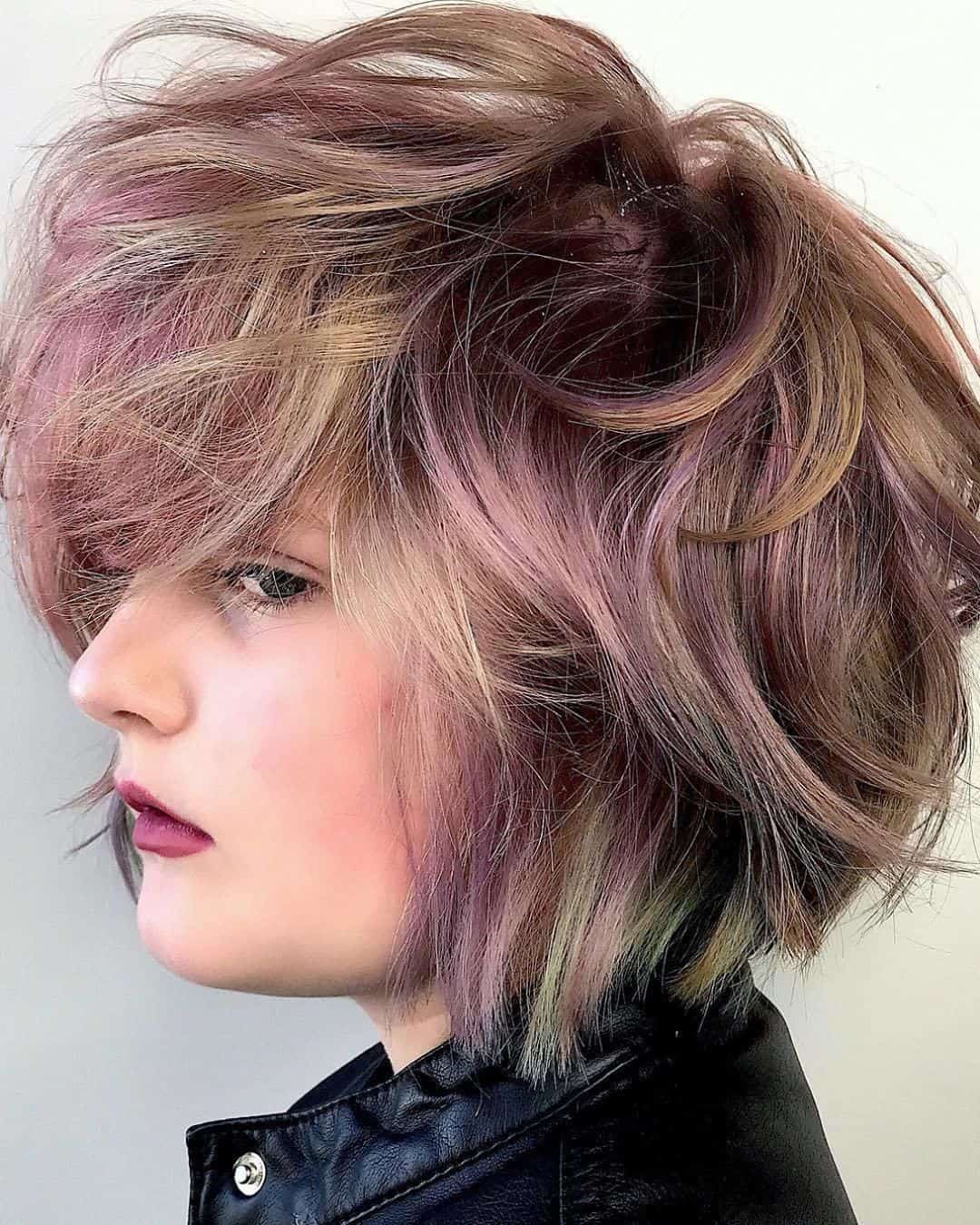 Let's start off with a shaggy cut. Shaggy short hairstyles are gorgeous, and they allow you to cut your hair in different lengths and layers. And whether you opt for a long shaggy cut, or a bob, it is up to you. With some colors on top, you add even more layers to your hair.
2. Textured Pixie With Longer Bangs And Babylights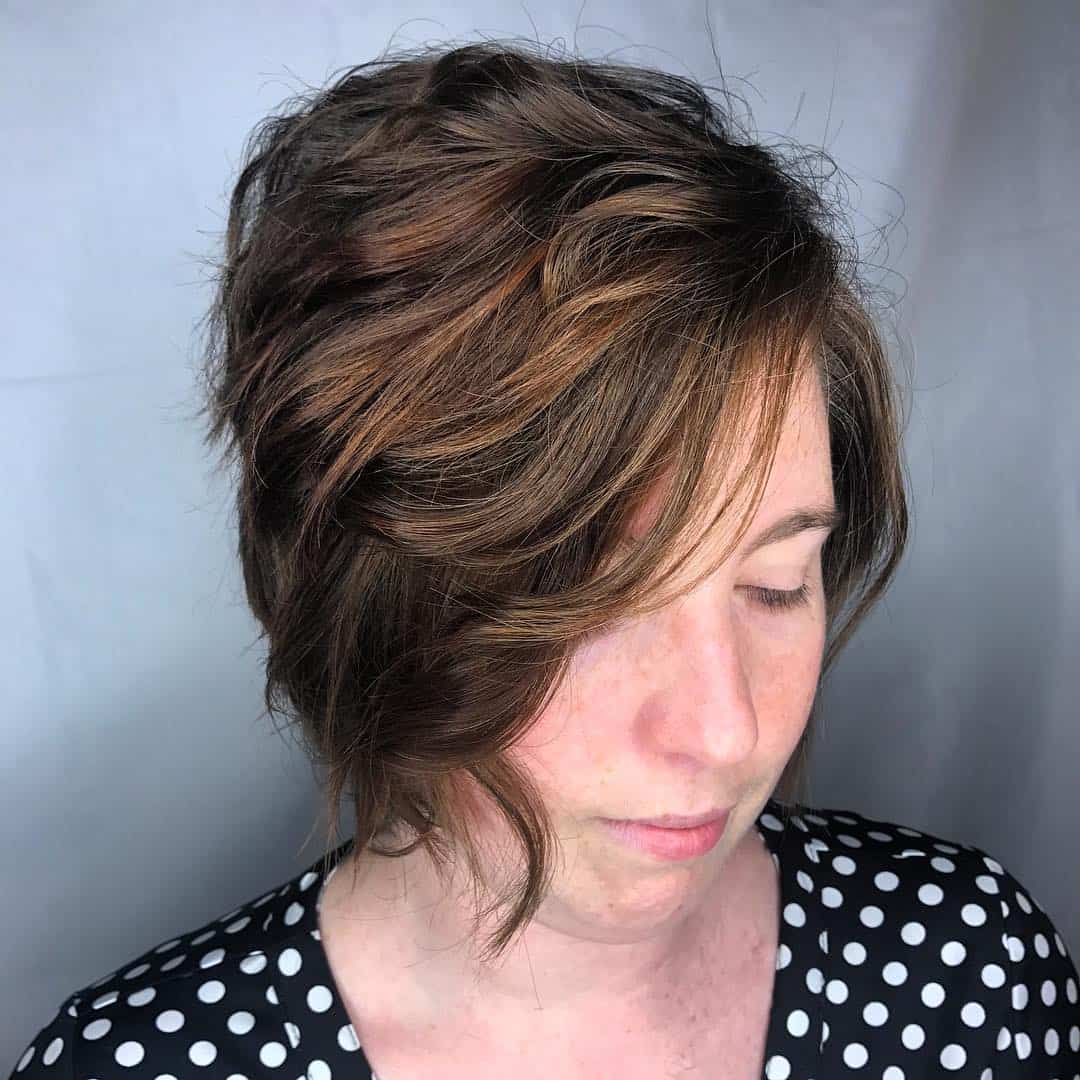 The pixie cut is tailor made for women with thick hair. Your hair already has the volume and texture you need for a pixie, you just need to style it properly. With baby highlights, you add some playfulness to your hair.
3. Buzzed Pixie With Soft Curled Top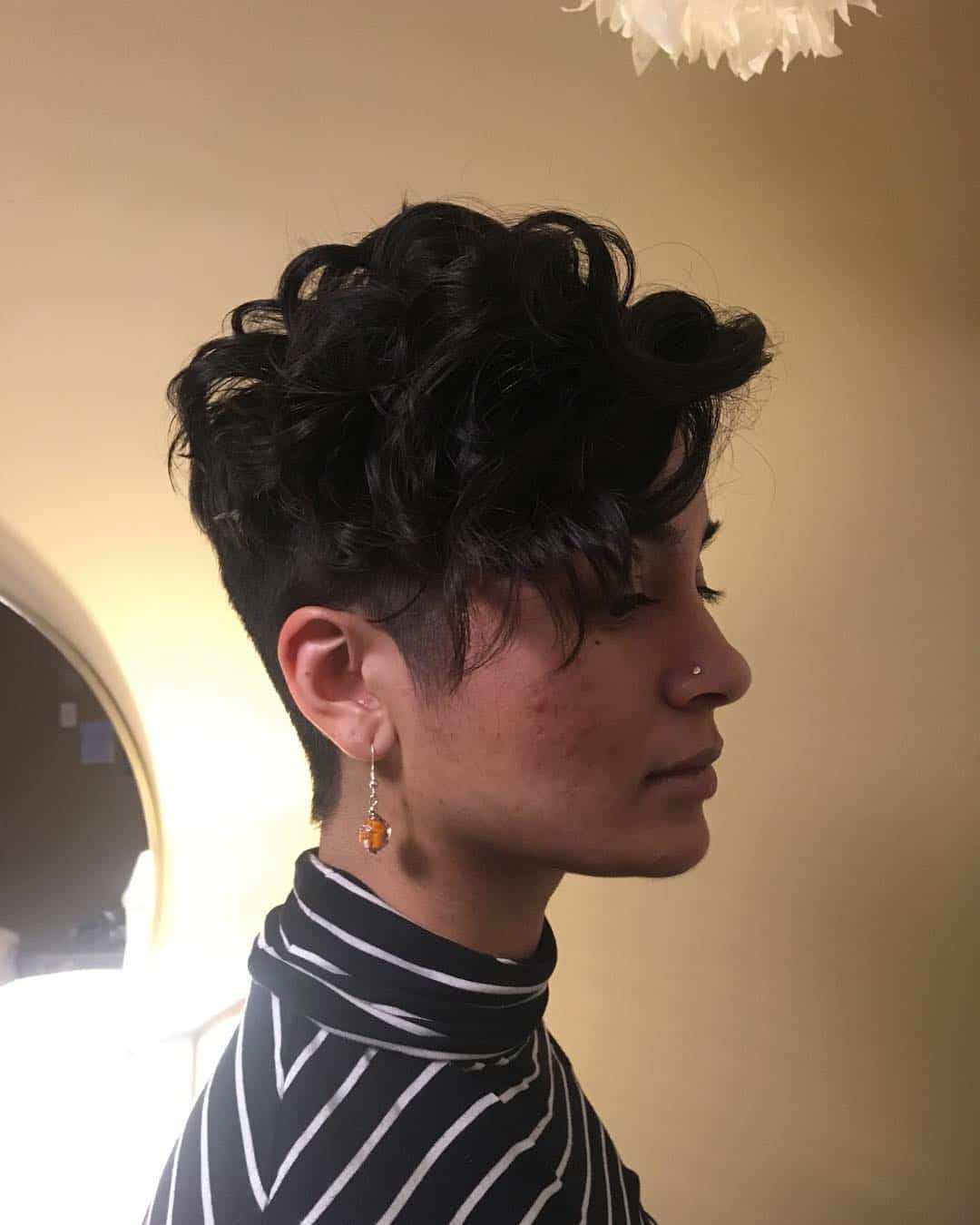 We said previously that it doesn't matter if you have curly or coarse hair, there is a short haircut for you. Curly pixie looks even more gorgeous, and we recommend getting an undercut as well. This will help you put emphasize on the pixie on top.
4. Purple A-Line Bob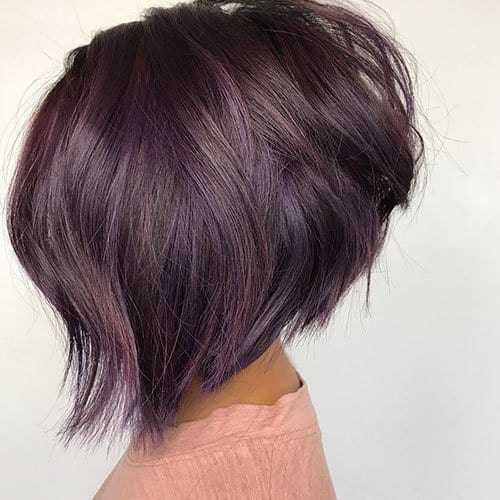 There are so many variations of the short bob. And we said that the bob haircut is best suited for short and thick hair.Best part about A-line bob? It works on all hair shapes and hair types.
5. Wavy Brown Lob With Honey Blond Highlights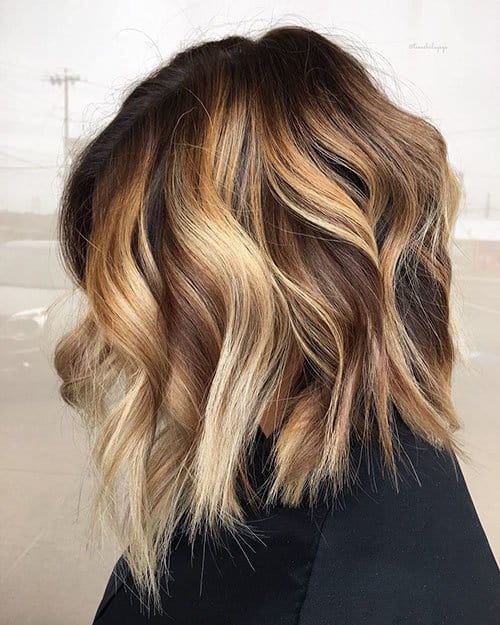 Lob is basically a bob for a longer length hair. With that in mind, if you want to let your thick wavy hair grow a tad longer, up to shoulder length, you can still get a bob.
6. Sectioned Bob With Juicy Curls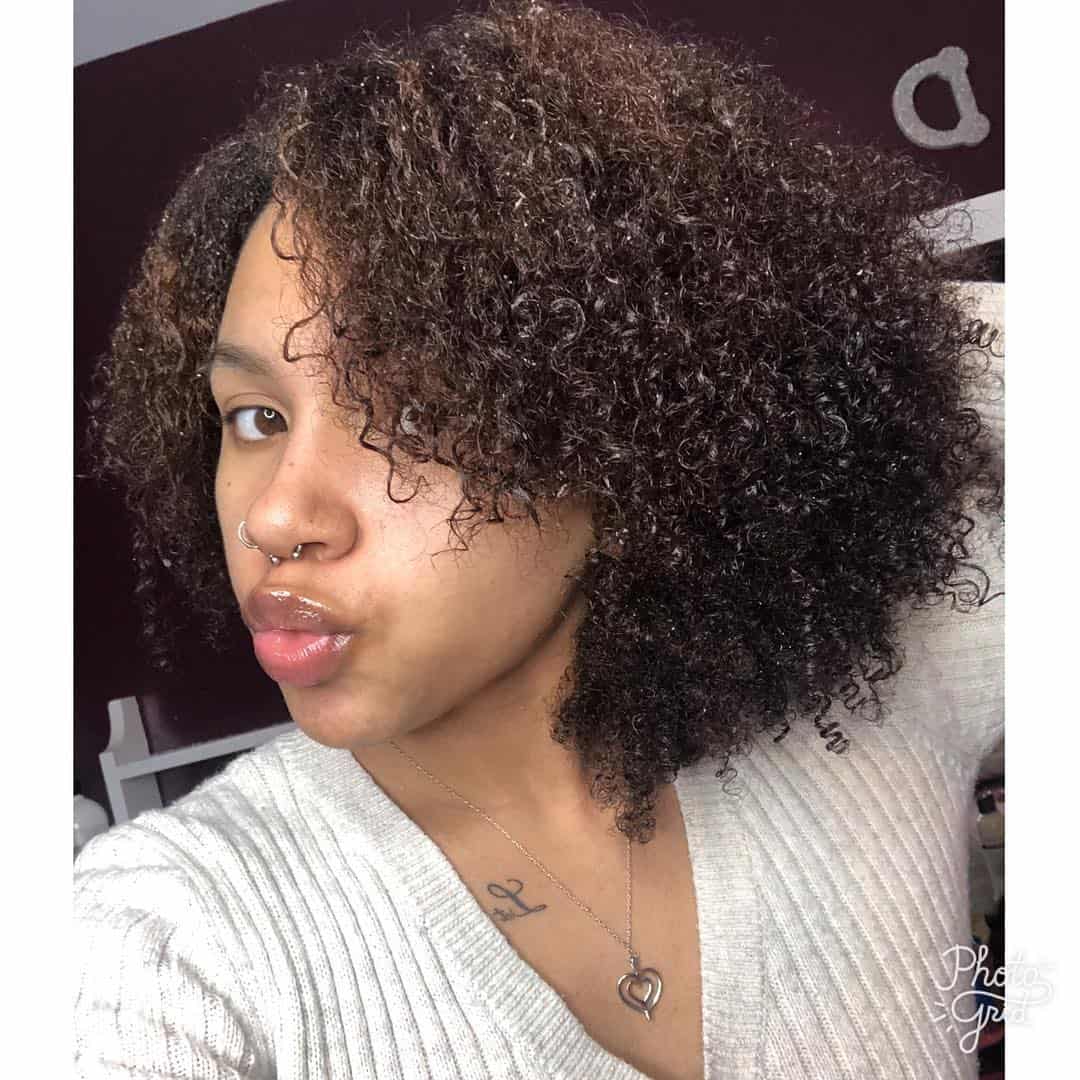 Sectioned hairstyles allow you to get a blended look. Sectioning is the key to achieving some of the hottest hairstyle trends. Once you master the technique, you can try something unique. Your curly hair is perfect for a long bob.
7. Shoulder Length Textured Highlighted Blond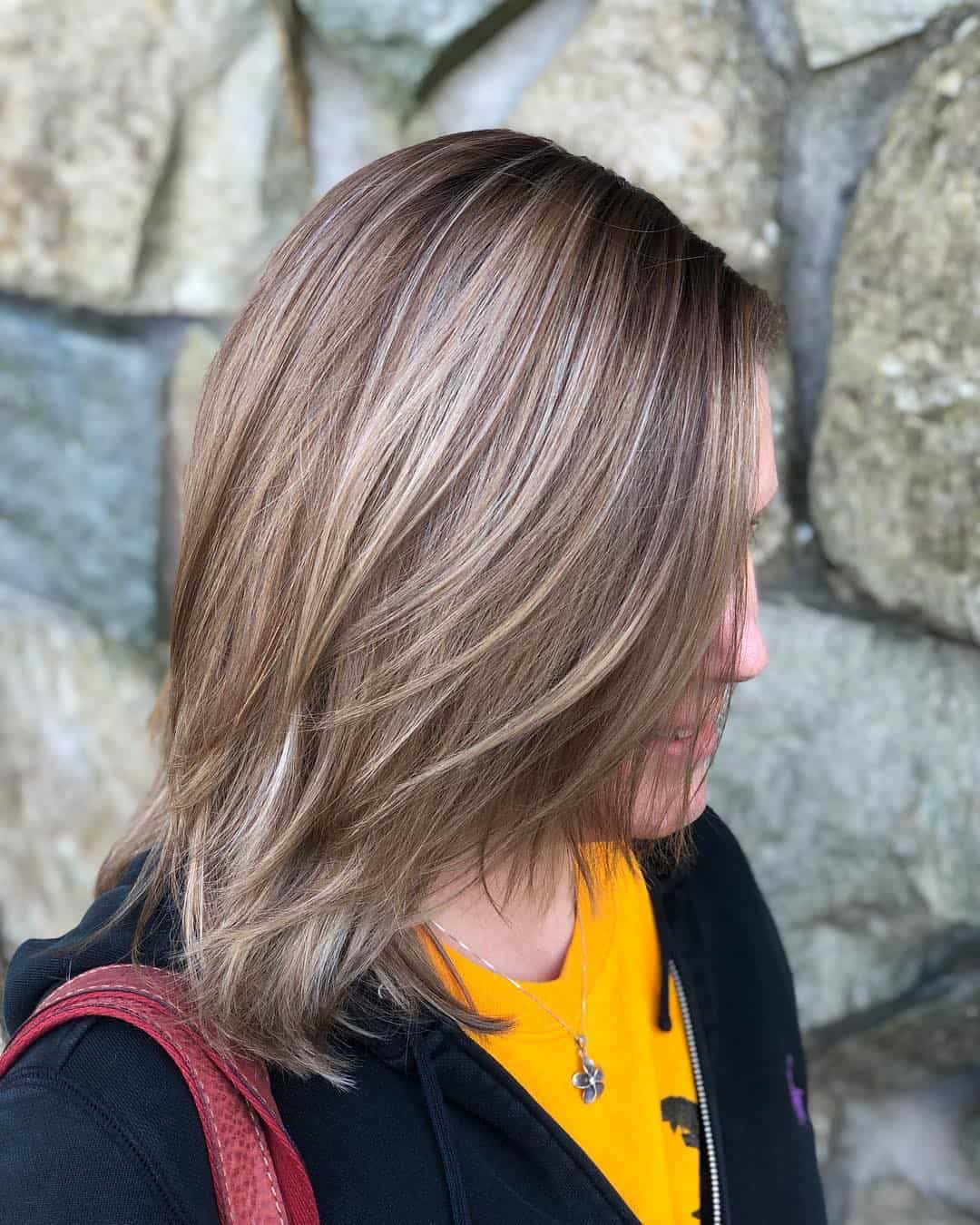 Simple, yet elegant and beautiful. In some cases, you do not need to experiment a lot. Just let your hair fall down naturally, and get some highlights to stand out.
8. Long Pixie And Razor Cut Textures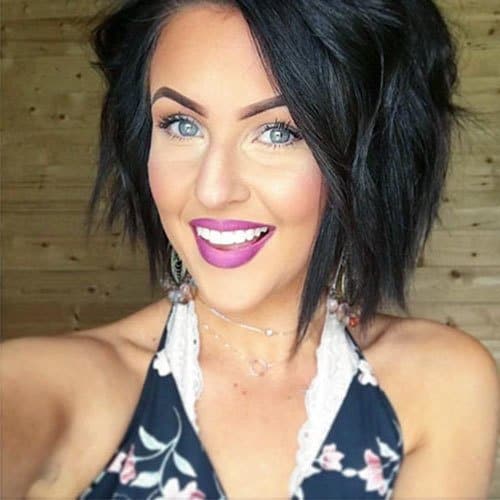 Some women want to add some edginess to their hairstyles. You can do that with razor cut textures. They give you a sharp look, and ensure you look fearsome. Long pixie cut is an easy hairstyle that will look amazing on your thick hair.
9. Black Curled Pixie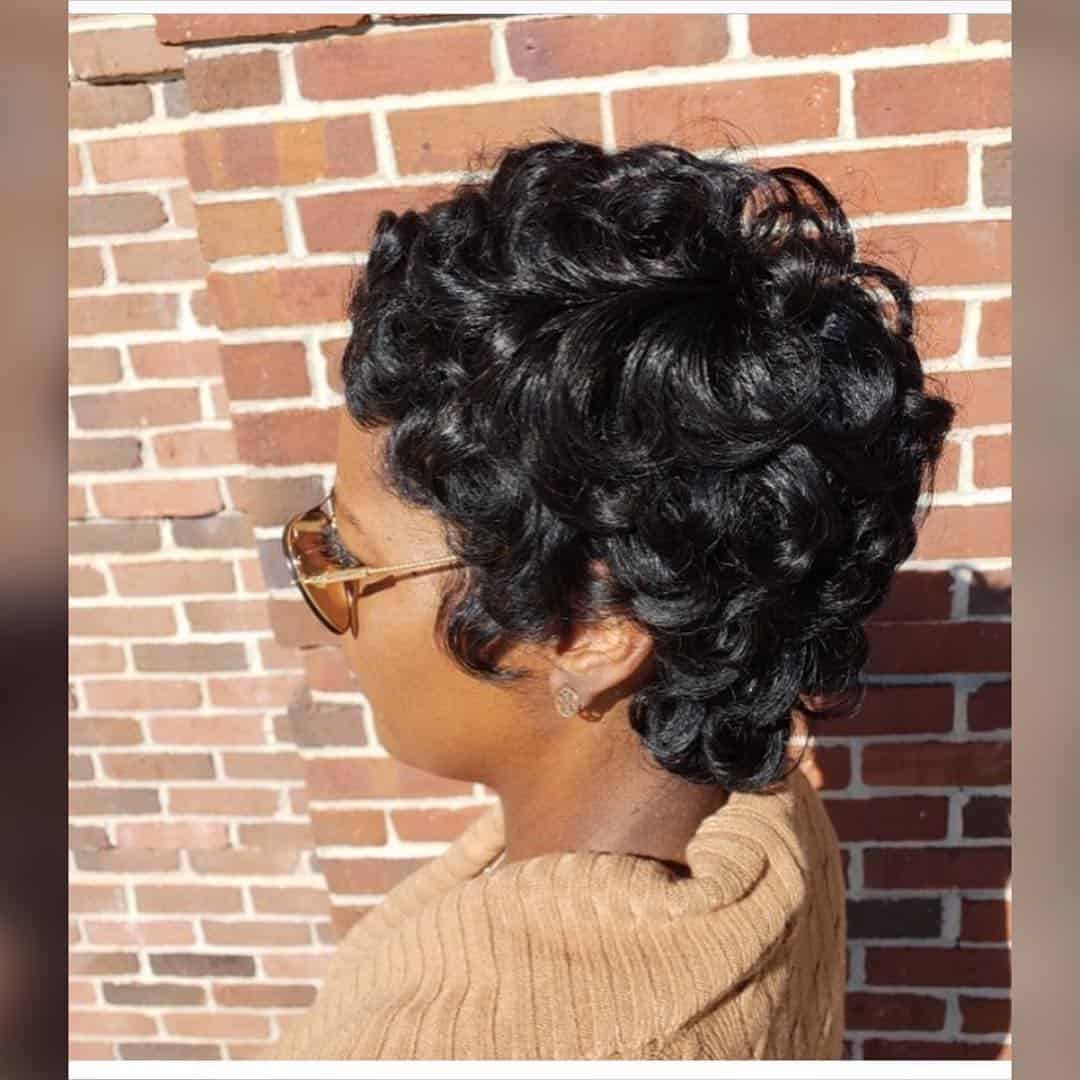 Probably one of the iconic hairstyles. Several years ago, this curled pixie haircut was reserved only for African-American women. But no longer. This iconic Harlem short style haircut has entered the mainstream hair trends.
10. Layered Bob With Highlighted Long Bangs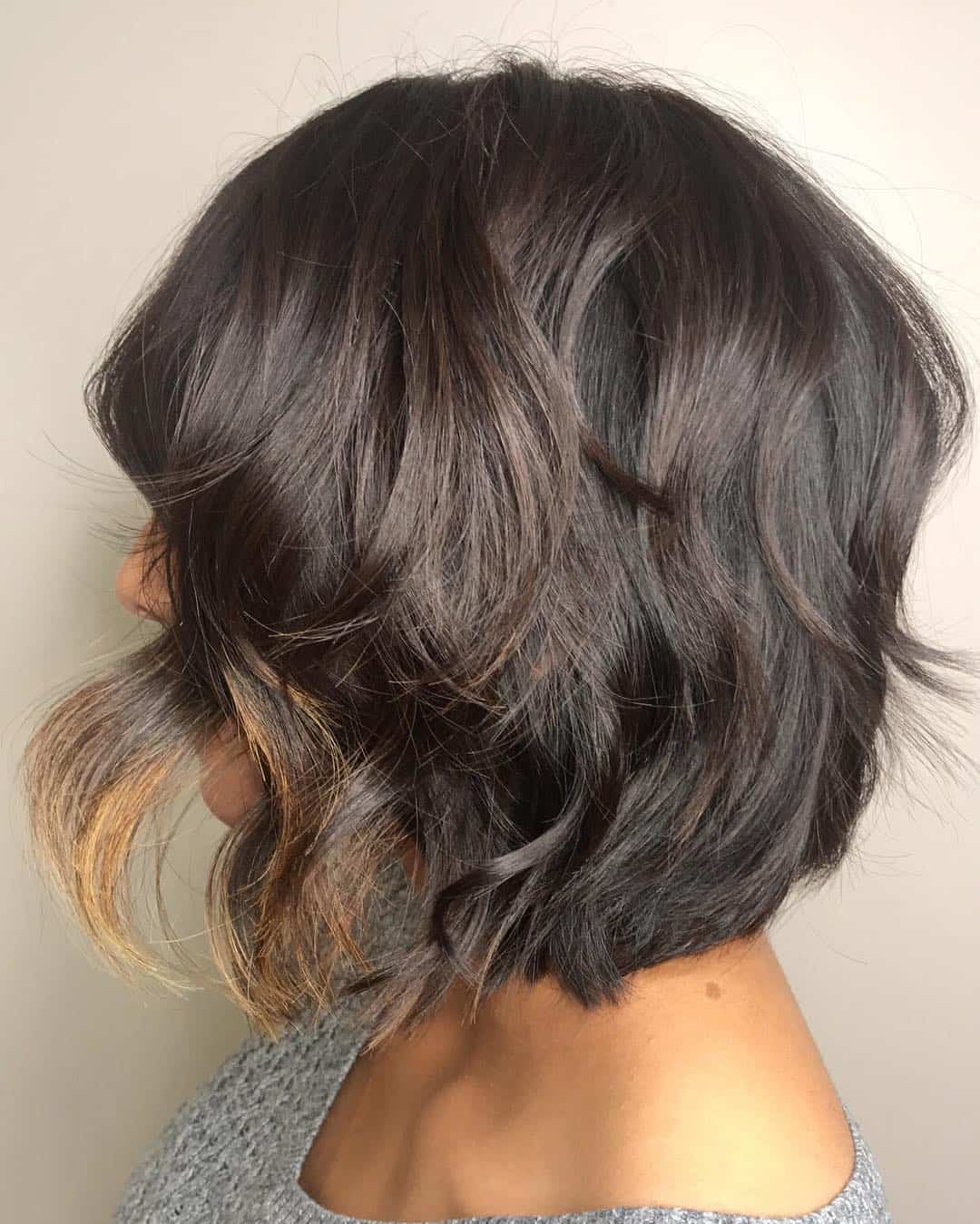 Layers are a perfect technique for taking care of thick locks. Your hair already has the volume you need, it is just a matter of styling it properly. Layered bob cut hairstyles are universal, and you can wear them for almost every occasion.
11. Silverfox Bob With Darker Undertones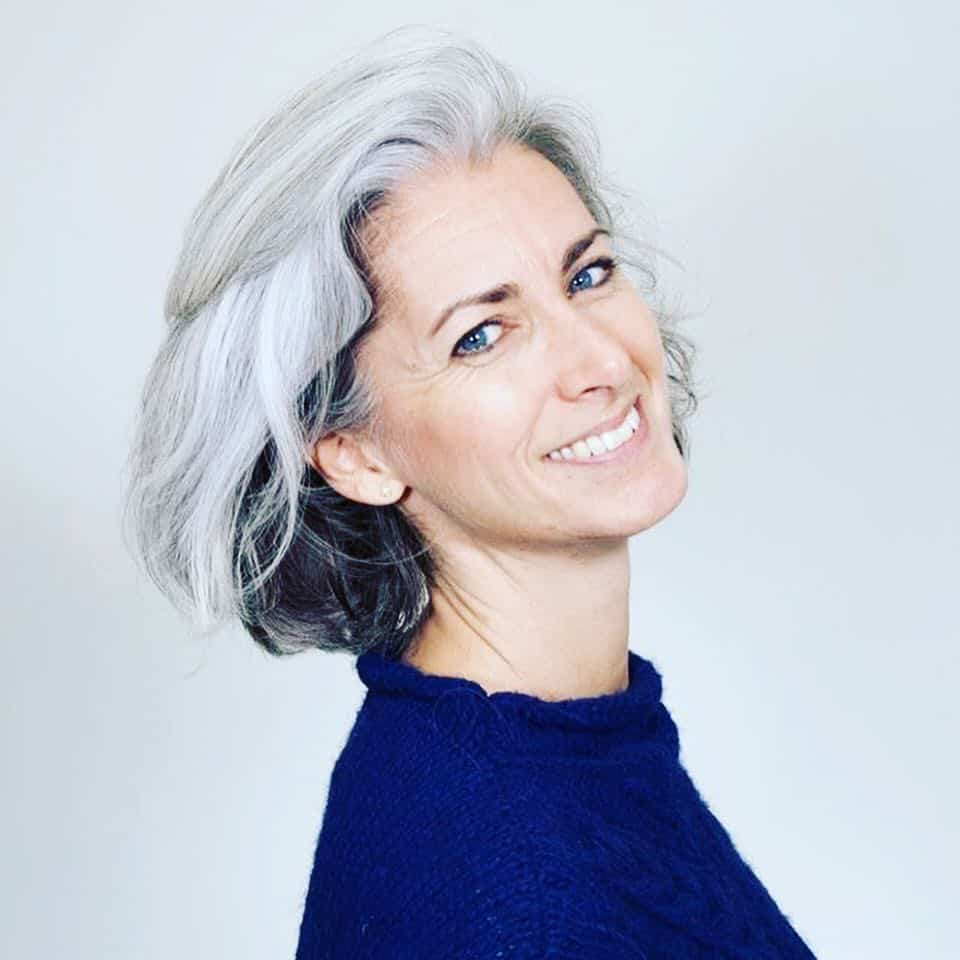 It is just a matter of time when your hair starts turning gray. There is no escaping it. What you can do is embrace it, and get the best-looking gray hairstyle possible.
12. Shaggy Long Pixie With Side Swept Bangs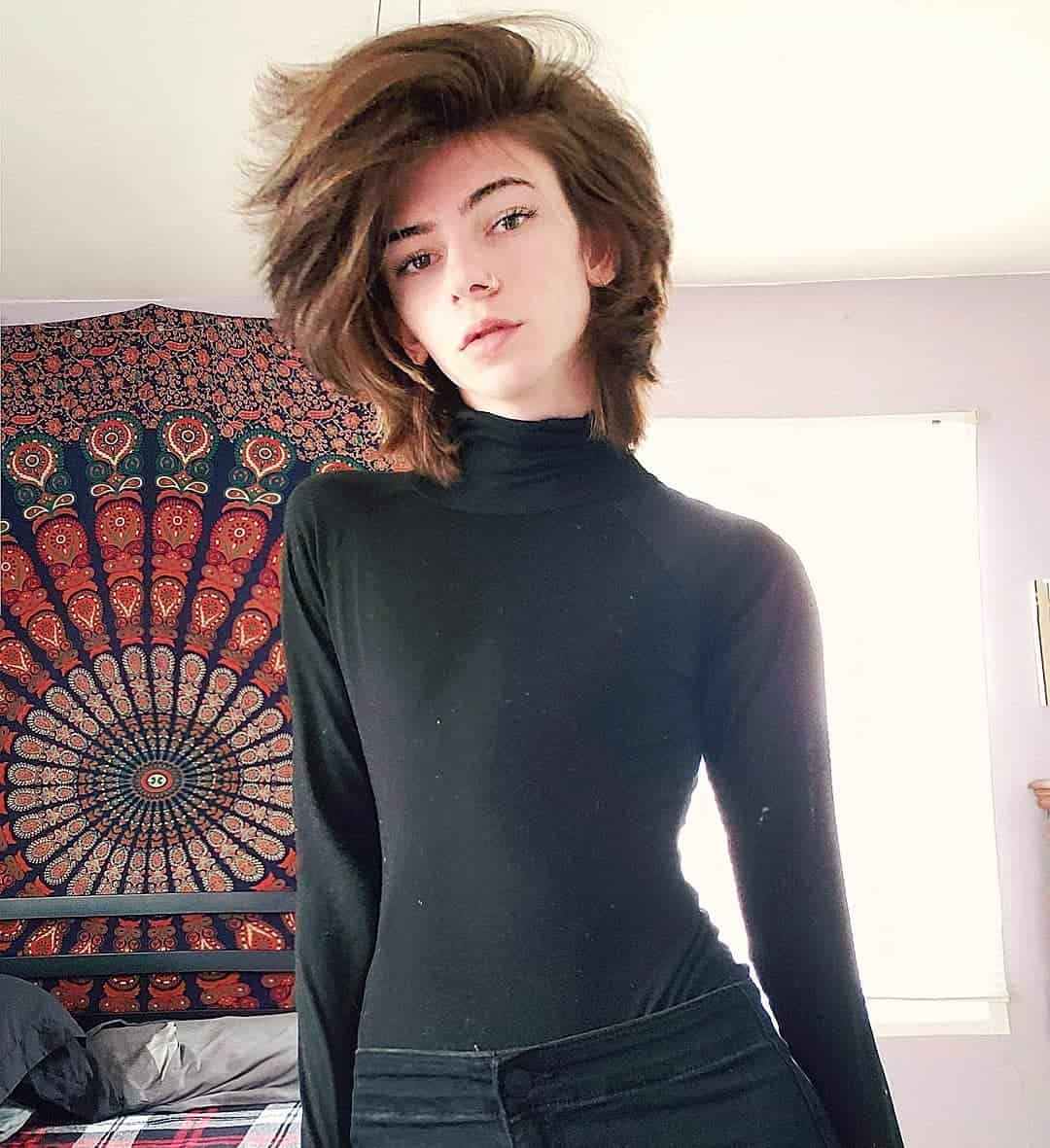 There are so many different ways you can try a shaggy haircut. Side bangs, bangs, or no bangs at all. It all comes down to your preference. Side bangs allow you to emphasize your good side.
And you can try a pixie haircut to emphasize your long hair.
13. Honey Blonde Sectioned Shoulder Length With Styled Flicks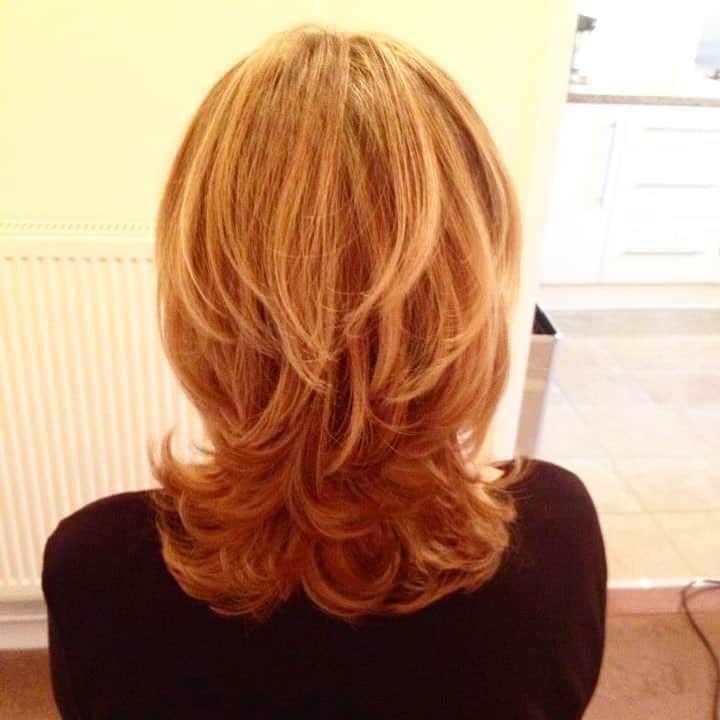 For those with a bit longer hair, and tired of the updo, flicks are the next best thing. They are one of the most easily recognizable hairstyles.
14. Natural Curled Waves On Short Bob With Lemon Braids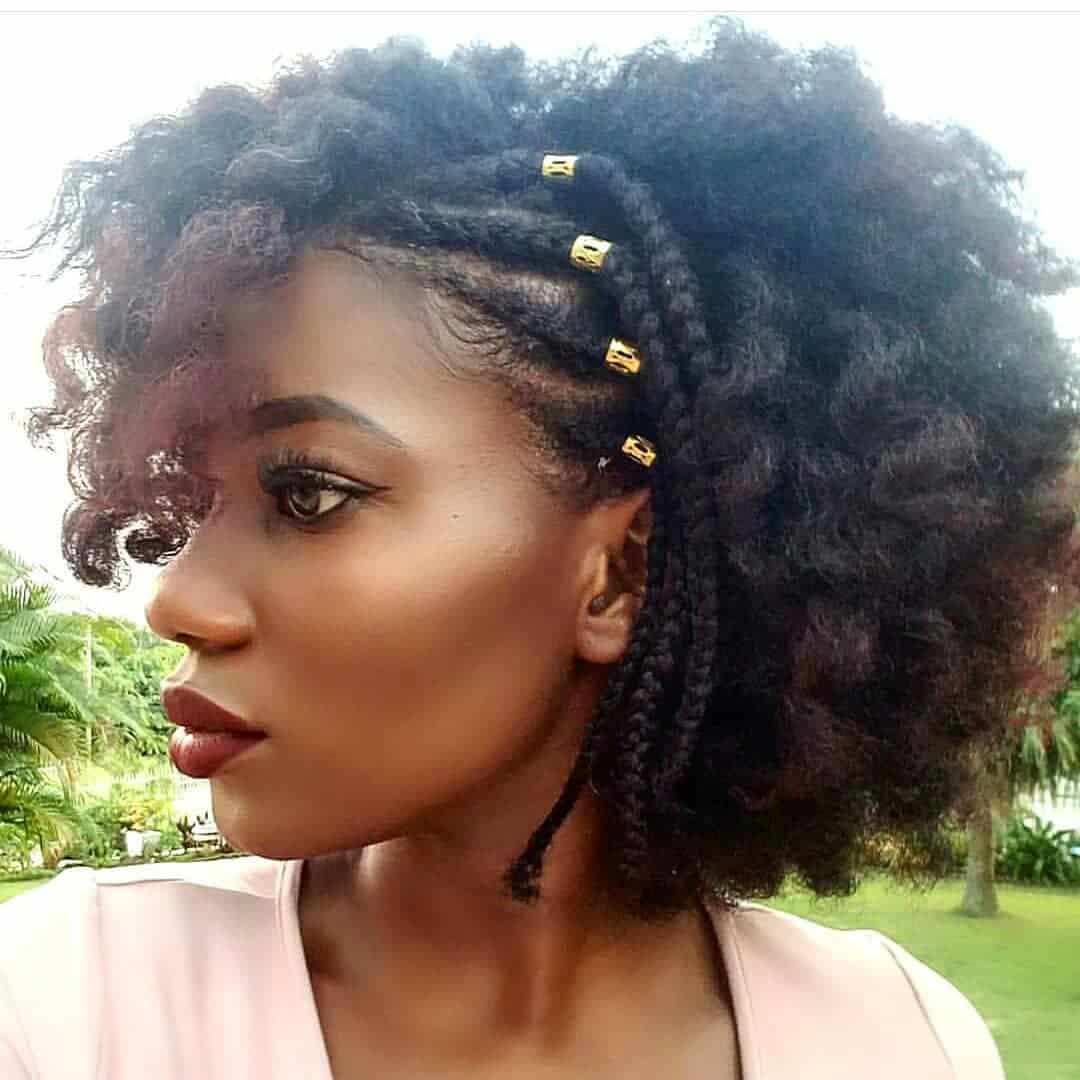 Braids are a protective hairstyle that you have to try at least once in your life. There is no running away from that. What type of braids you choose is up to you. But when it comes to short thick hairstyles, braids are a logical choice.
A wavy hairstyle might require a bit more hair care, but it is worth it.
15. Slick Black Pixie With Undercut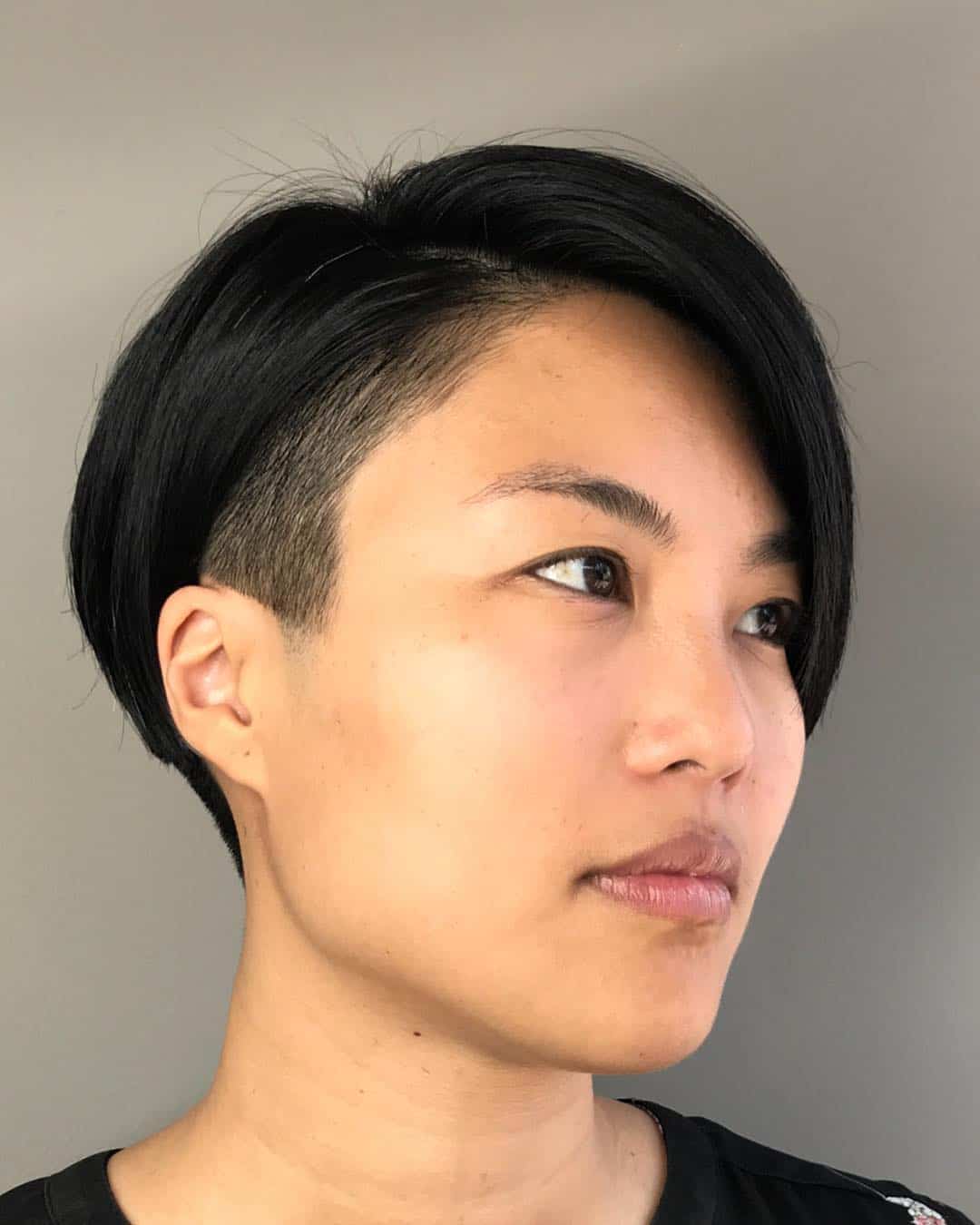 This short hairstyle might look a more masculine than feminine, but some women love that. Classy, elegant, and sophisticated, it is definitely an empowering hairstyle. Try it.
16. Long Layers Hair Cut With Voluminous Blow Dry Style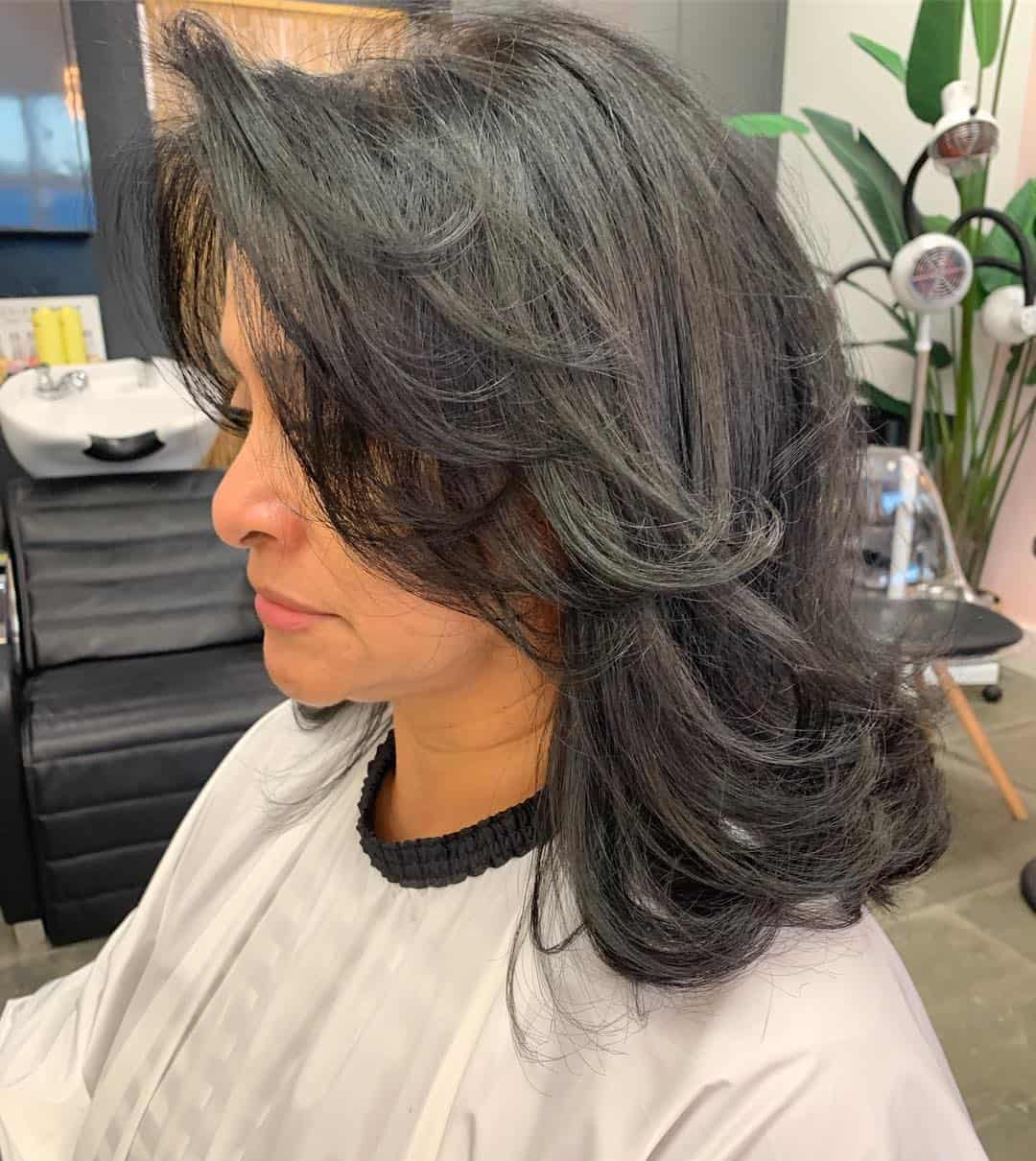 When you are in need of some volume, there is no better way than to blow dry your hair. Simple, and easy to do at home, you can get more volume in a matter of minutes. And if you have different layers and lengths, it looks that much more interesting.
17. Pixie Blonde Coiled Curls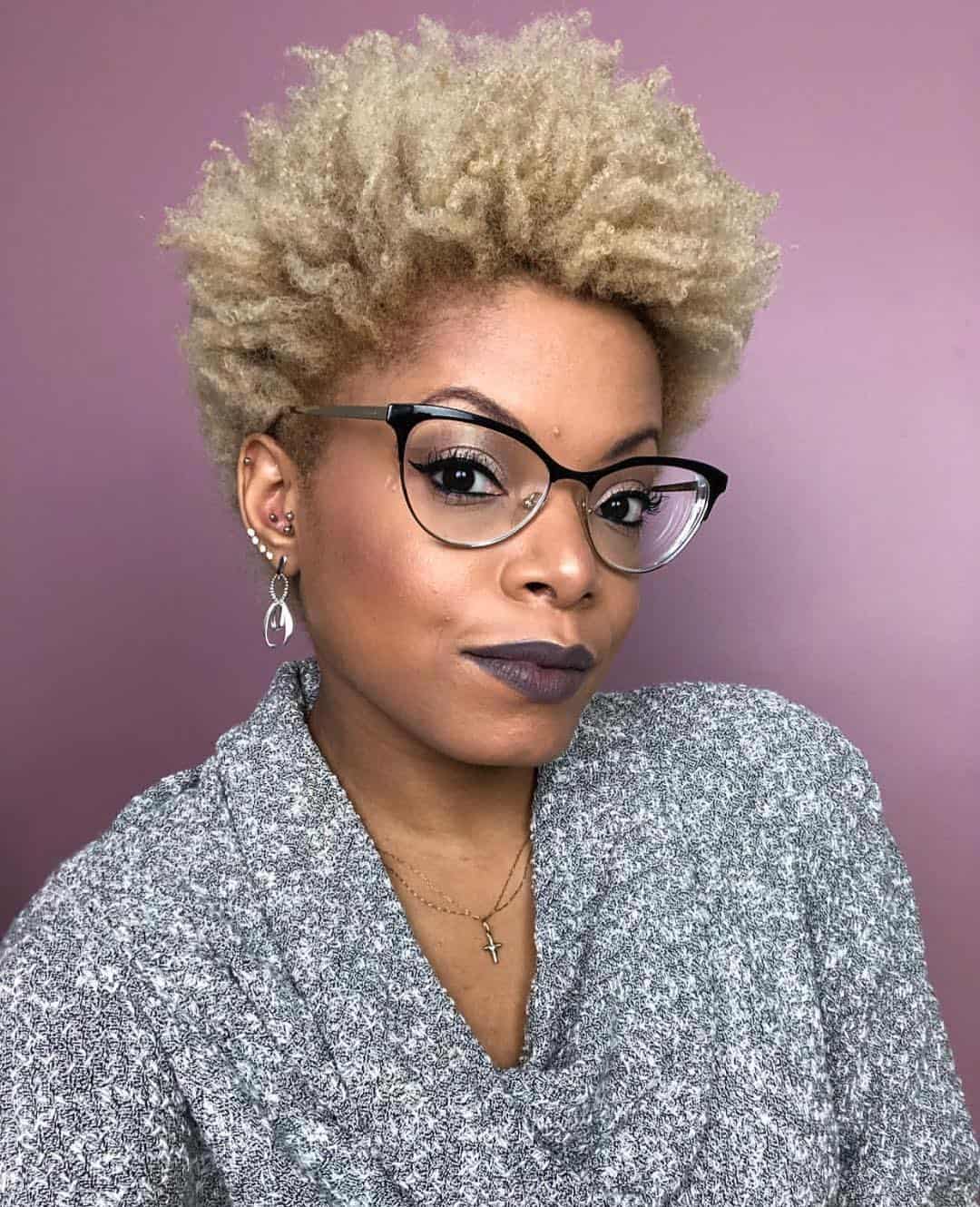 This is another iconic African American hairstyle. It is a great retro look, if you are going to a 90s party. Think Spice Girls and Mel-B type hairstyle. Vintage is making a comeback, and it is time to jump on the trend. Make sure your short thick hair is ready for the party.
18. Layered Highlighted Pixie With Stacked Nape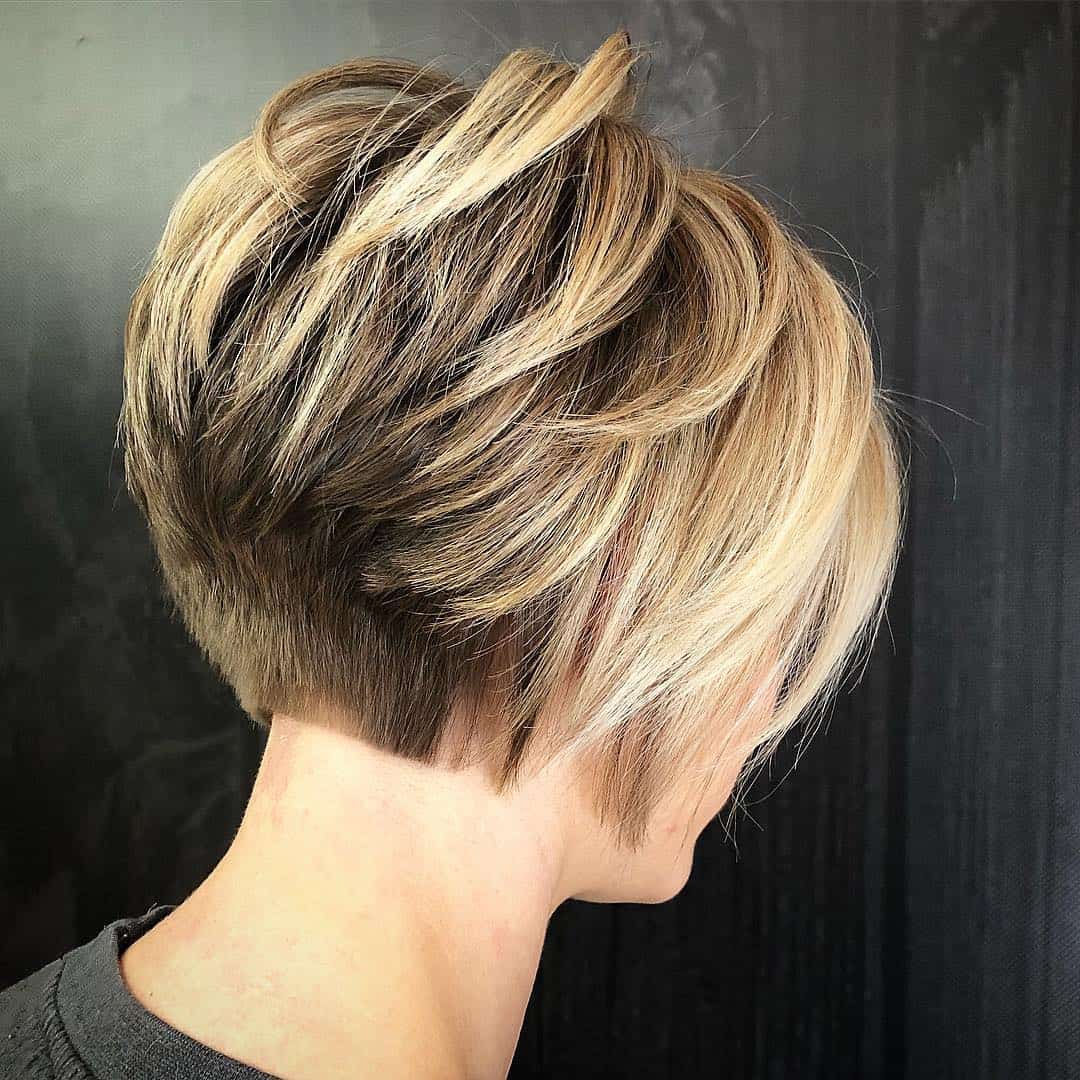 The pixie is the second most popular short style for short thick hairstyles. The first one is the bob, but the pixie works as good. And there are many variations of the pixie. Try the layered pixie for more texture and volume to your hair.
19. Long Asymmetrical Pixie With Soft Highlights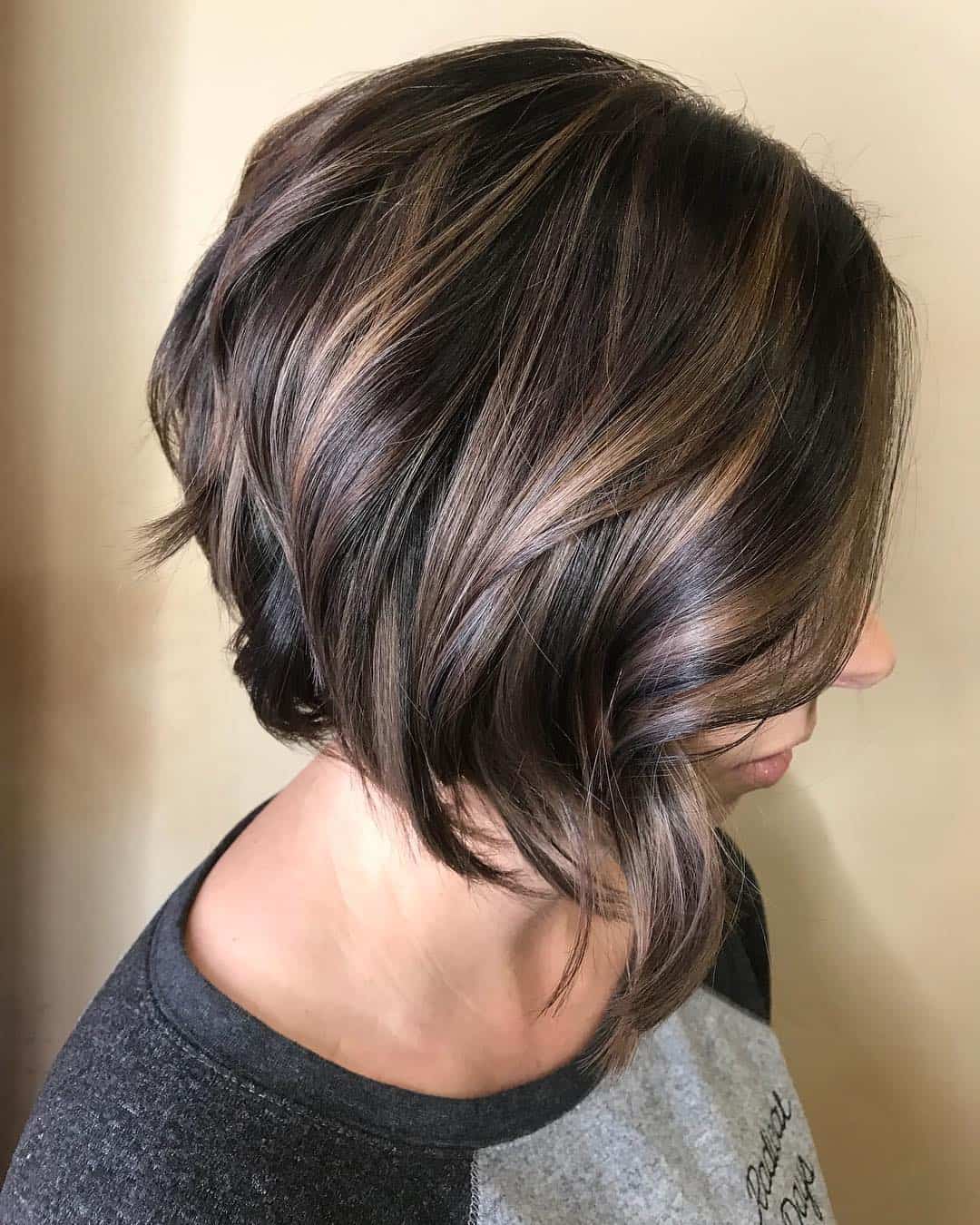 In the past few years, we've seen a couple of asymmetrical hairstyles. The asymmetrical bob started the trend, but we got some other good ideas as well. Like the asymmetrical pixie, for example.
If you have longer hair, there is no reason to waste it. Use it to the maximum.
20. Rose Gold Bob With Magenta Peek-A-Boo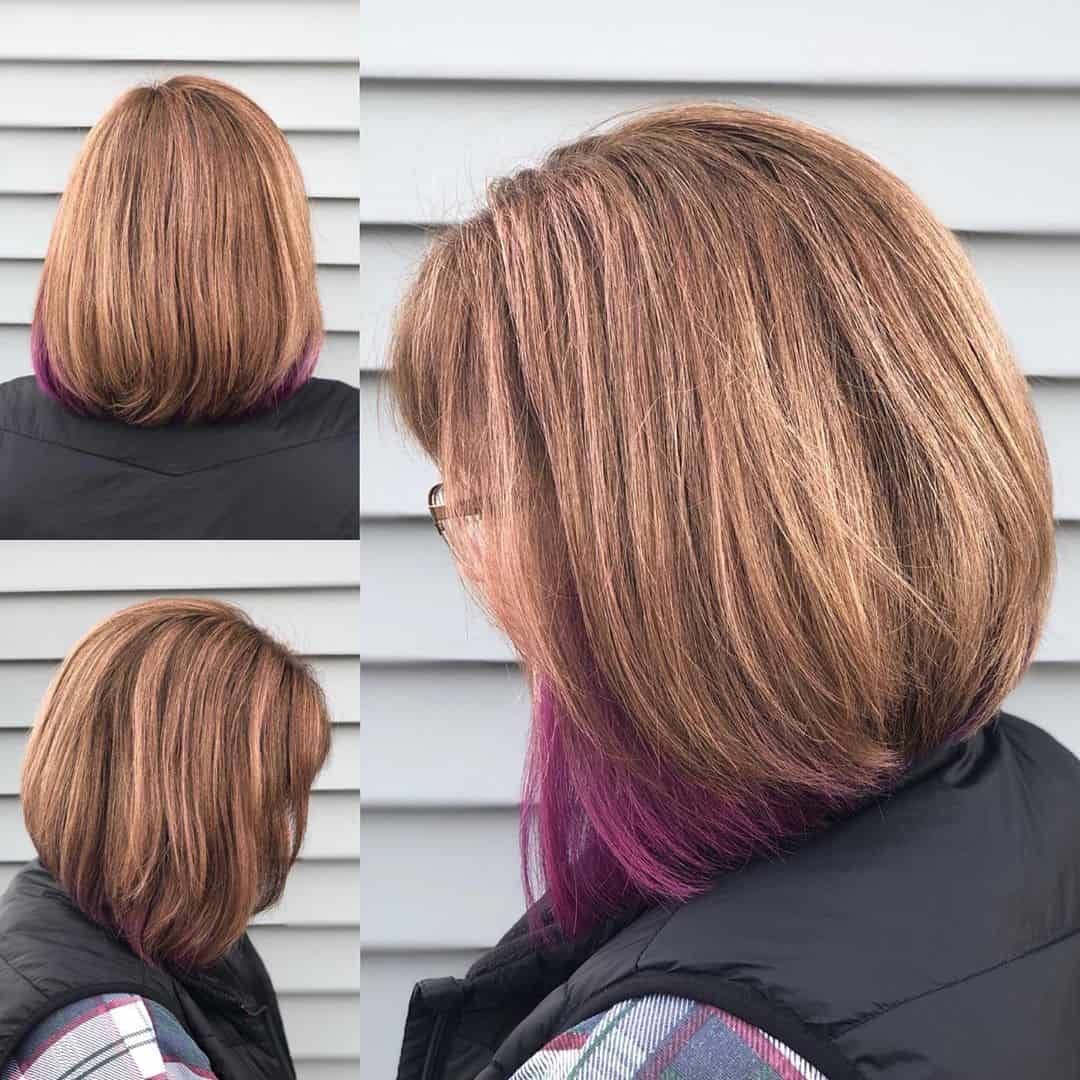 It is all about the hair coloring here. Peek-a-boo hair coloring is a nice and interesting trend. The trick is to get a color that pops instantly.
21. Voluminous Pixie In Natural Curls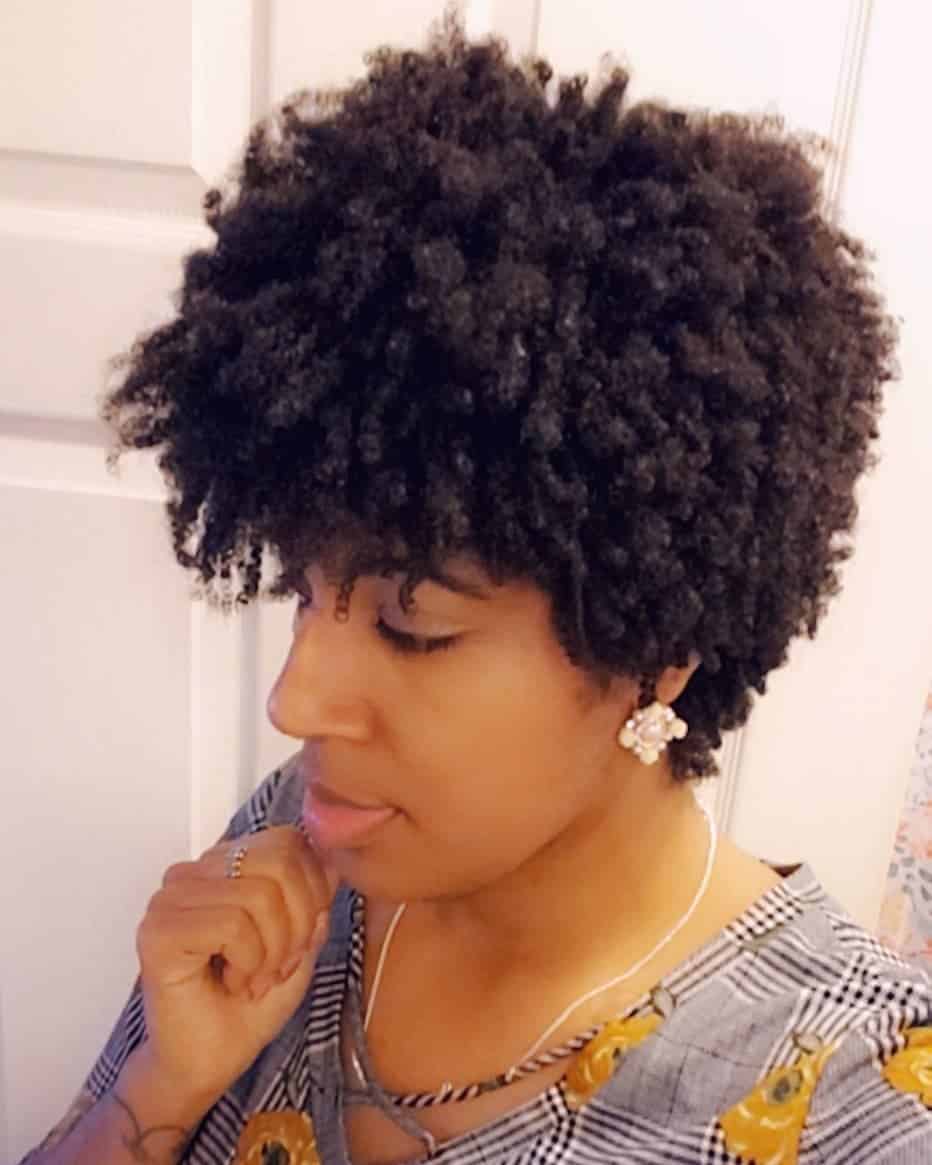 We had some similar pixie curls, but this is an iconic look. The curly pixie cuts down on your styling time. And it the same time, makes your curly hair easier to maintain and behave.
22. Uneven Black Pixie With Modern Undercut And White Streaks
Definitely edgy and urban look. Chic and modern, this is a messy hairstyle tailor made for a young and independent woman. Don't think of the gray highlights as a sign of growing old. Instead, it is a way to fight off aging.
23. Brown With Caramel Highlights On Layered Blown-Out Bob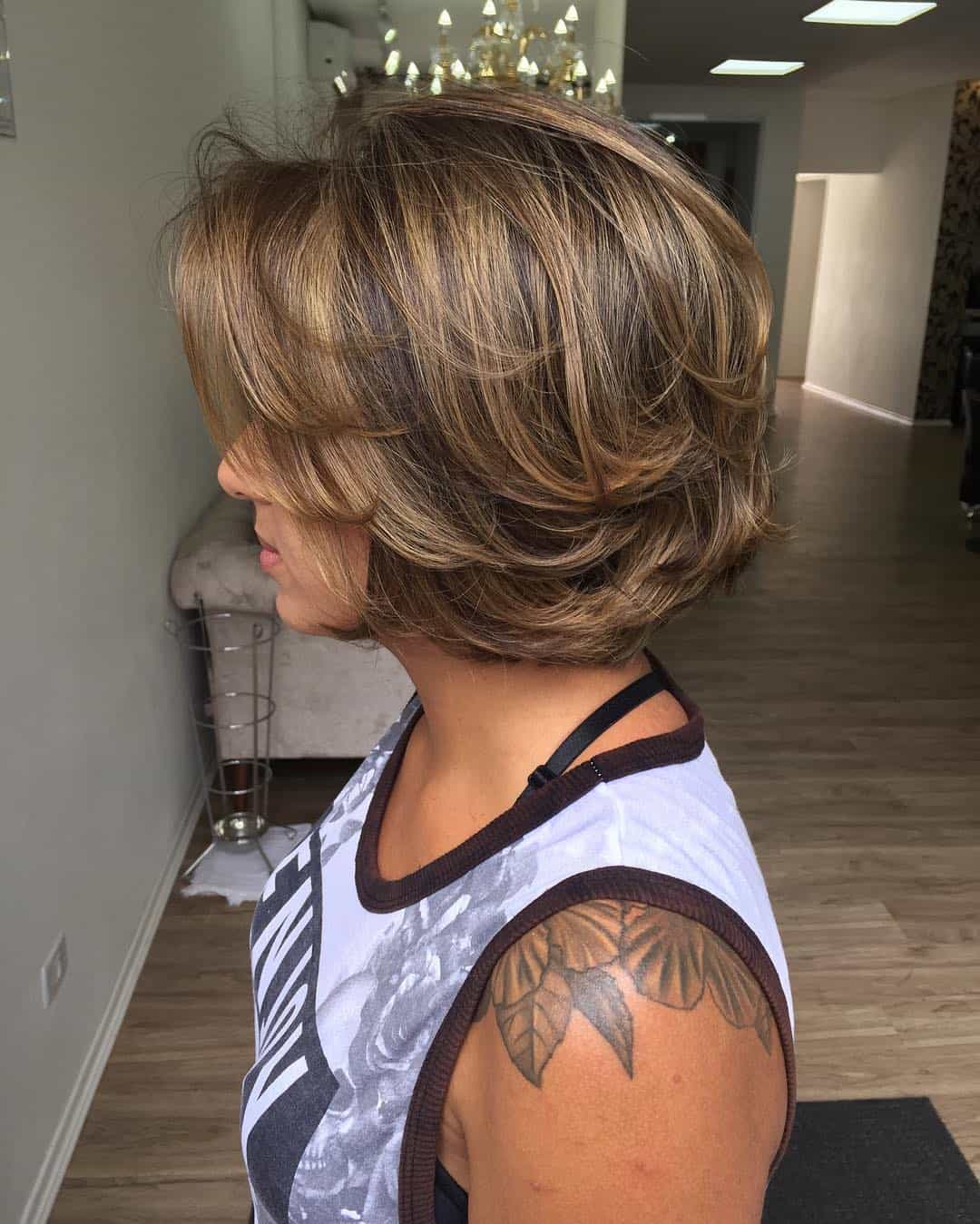 Blow drying definitely brings out the best of your layered hairstyle. Just look at how emphasized the layers are. And it will take you only a couple of minutes at home.
24. Wavy Red Lob With Side Swept Bangs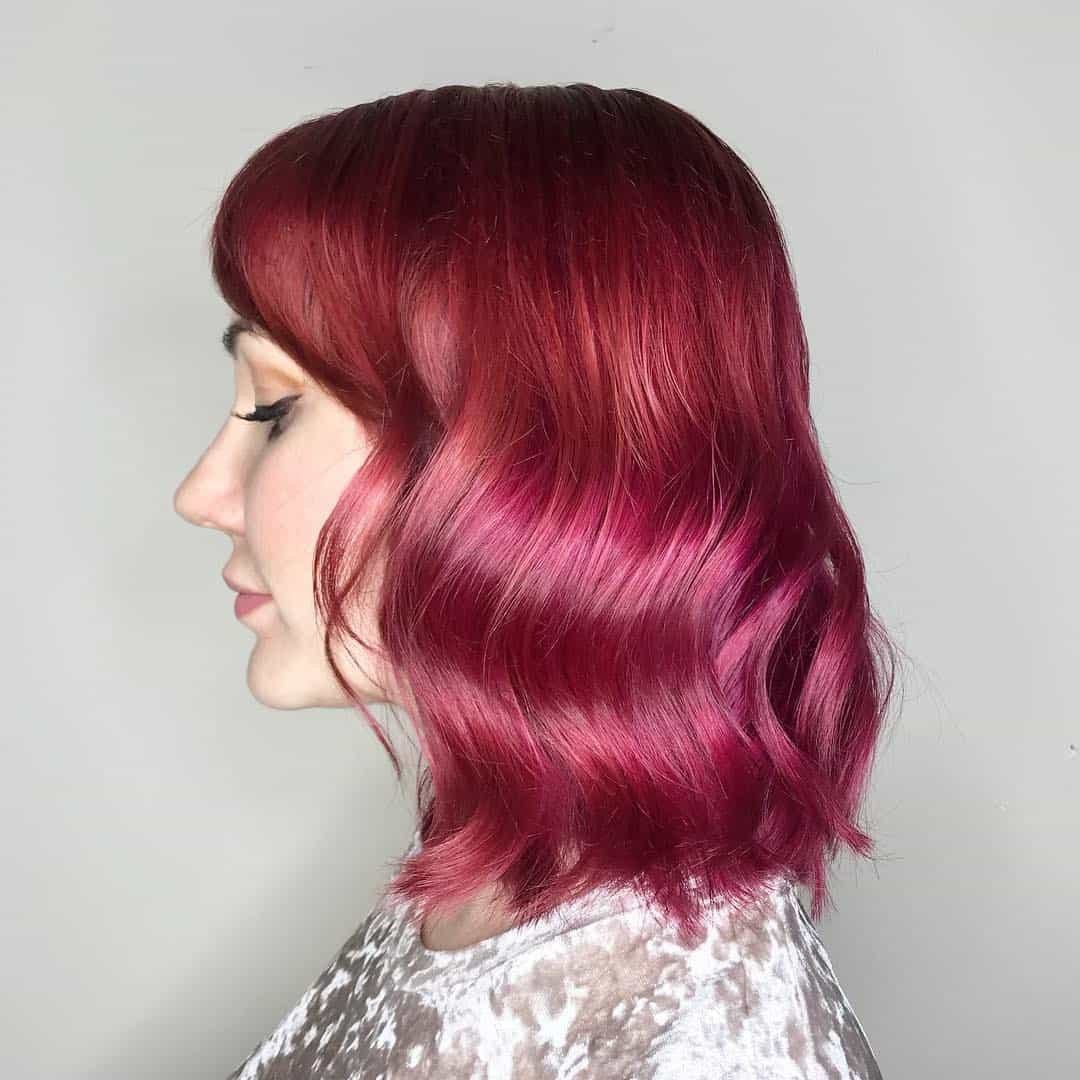 Again, it is all about the hair color. Not many women are bold enough to try red. But if you can wear it with pride, red is absolutely one of the sexiest looks. And if you want a long hairstyle that pops, red and wavy is the way to go.
25. Longer Layered Pixie With Side Bangs And Waves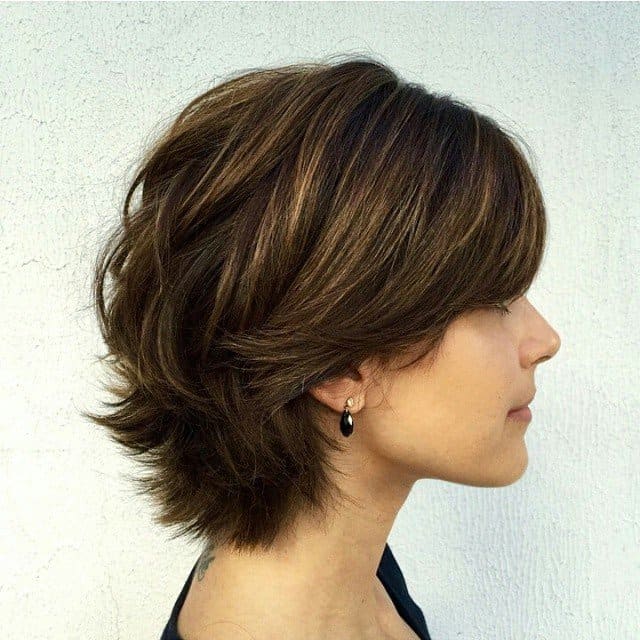 In most cases, women go either for waves or bangs. But every now and then, you can get everything. Or, in this case, both waves and bangs for a modern and sophisticated look.
26. Platinum Blonde A-Line Bob With Unicorn Peek-A-Boo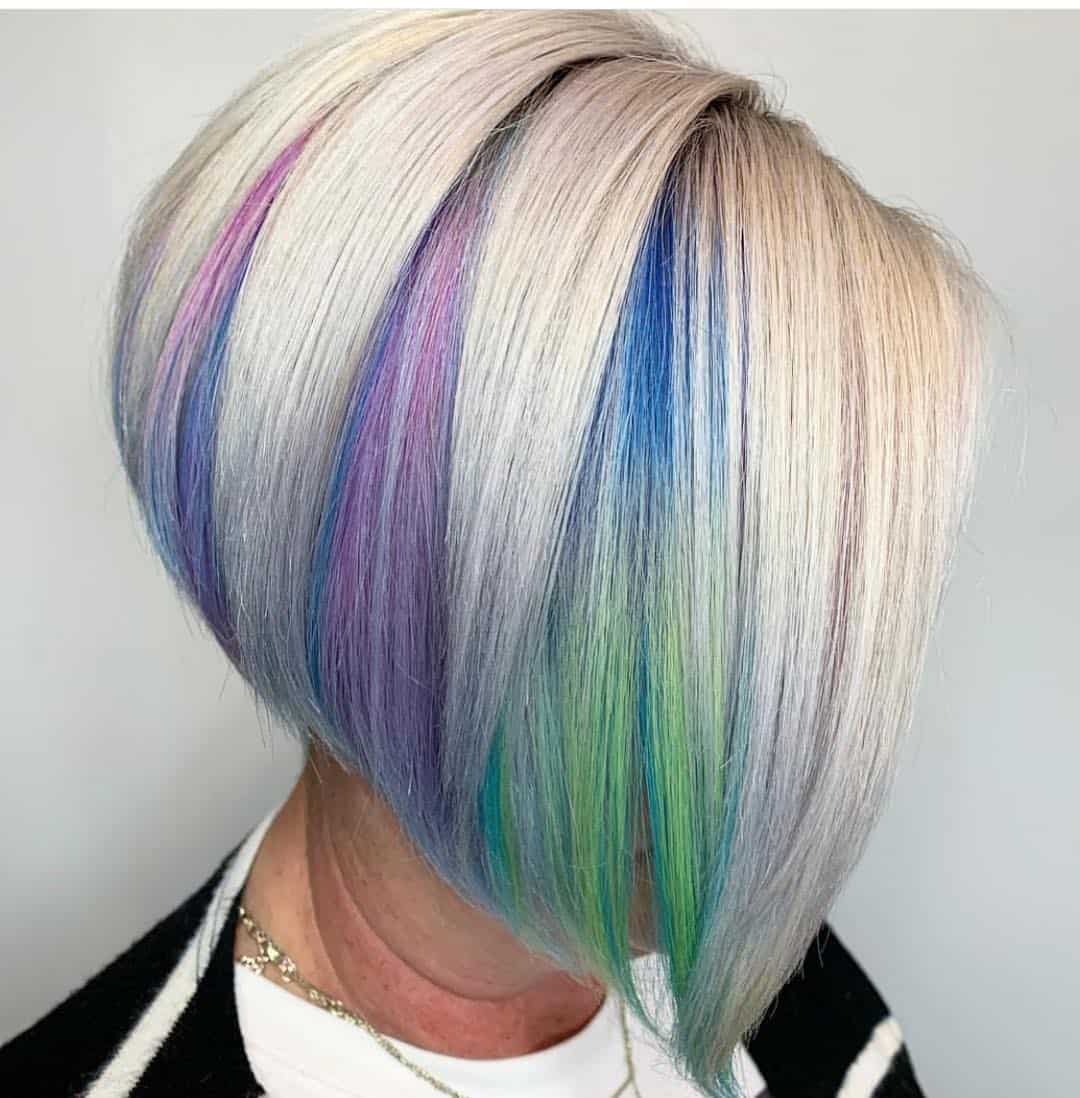 We talked about the peek-a-boo trend before. And we said the trick is to get a hair color that pops instantly. Well, is there anything better than the rainbow? Not one, but all the colors of the rainbow.
27. Textured A-Line Pixie With Undercut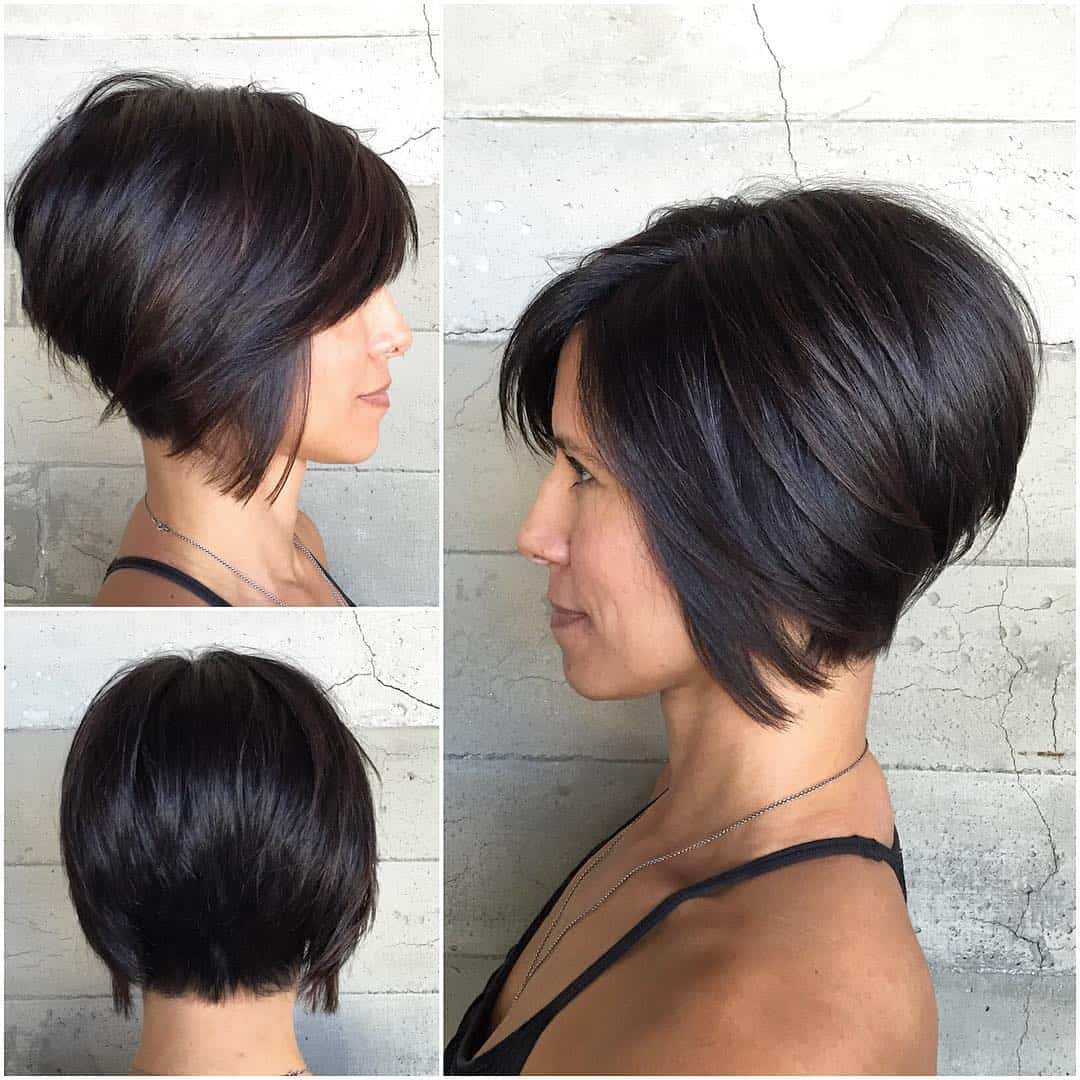 If your goal is to emphasize the thickness, texture, and volume of your hair, this hairstyle is perfect. The undercut is not noticeable thanks to the texture and volume of your hair. And there is a lot of hair to work with.
28. Shaggy Blonde Bob With Multi-Colored Streak And Feathery Bangs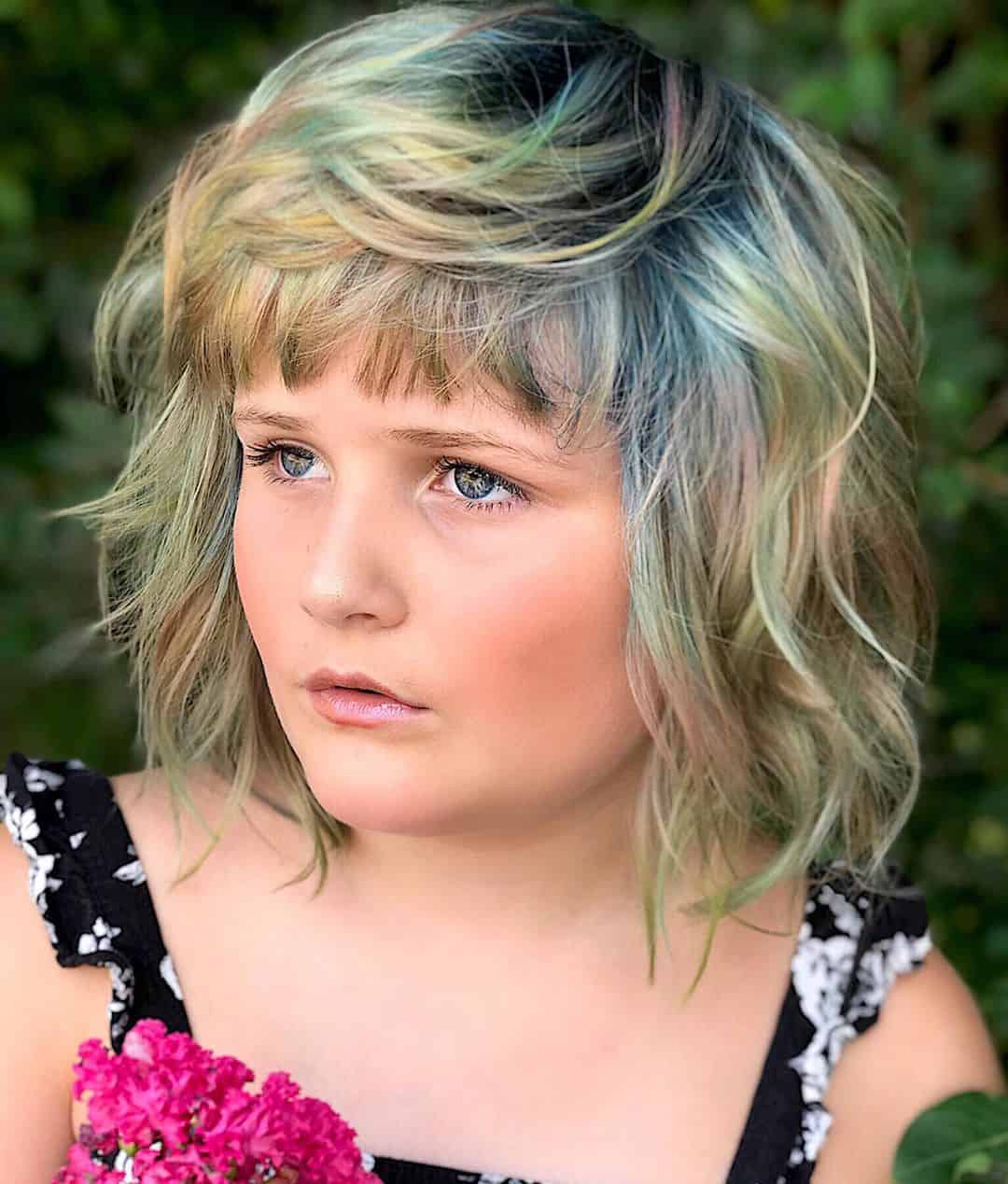 The best part about the shaggy bob is that it can suit women of all ages. And you can adjust it to any fashionable messy hairstyle you want to achieve.
29. Balayaged Blunt Lob With Soft Waves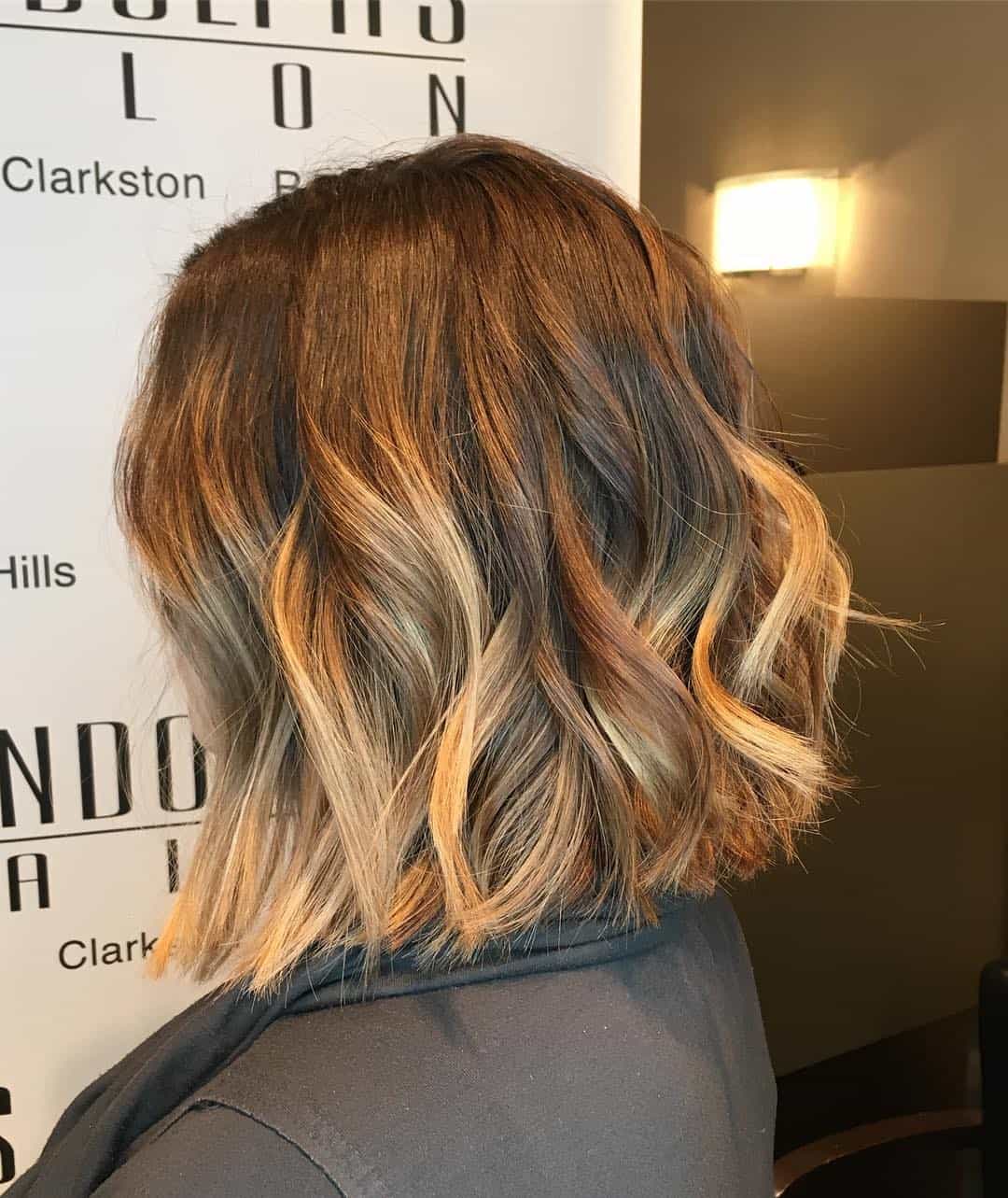 We would like to finish the list of short hairstyles for thick hair with a classic, and still good enough look. The balayage technique was at the peak of its popularity some few years ago. But it is still a nice option.
Try some of the ideas above, and share how you like it. Or, you can share some other ideas for thick and short hair.