In the world of makeup and beauty, eye makeup is the holy grail. Simply put, without good eye makeup, your look is not complete. And you cannot even start thinking about how your face will look until you sort of the eye makeup.
Nowadays, there are a lot of eye makeup tutorial videos and guides.
If you didn't know by now, experimenting with eye makeup is the hot new trend. With that in mind, the problem is finding the right and perfect eyeshadow look.
What we want to do is help you find the best look for you. Learn how to apply eyeshadow according to experts and tutorials. We will help you simplify eye makeup application and learn how to do it properly.
From lashes to your brows, we can help you get gorgeous eyes that steal looks.
1. Natural Eye Makeup Tutorial

When you are in a hurry, you need something easy to make, but still looking fresh and natural. This tutorial will help you learn how to get your eye makeup in a hurry, and still look natural. Let your true beauty shine through.
What you need?
light eyeshadow, white or cream preferable
angled shadow brush
golden coral eyeshadow
pointed shadow brush
matte hazelnut brown color
chocolate brown shadow
black eyeshadow
mascara
Instructions:
Get your light eyeshadow, white or cream, and apply on the inner lid. Try to use the lightest eyeshadow you have in your arsenal
Get your angled shadow brush, and apply the golden coral eyeshadow above the crease, moving from the middle to the outer lid
Now use your pointed shadow to pull a matte hazelnut brown eyeshadow through the crease of the lid
Blend the three colors, and then line the upper lash line with a chocolate brown shadow. Use a fine point line brush for this step
Using the same dark brown shadow (chocolate), smudge the outer upper lid to get a definition of your eye
Now line the outer lower lash line with the fine point liner brush
Smudge the upper lash line with black shadow to get a more dramatic look. Of course, in the end, apply some mascara and you are ready to go
2. How To Tightline Eyes

Tightening is technique also known as "invisible eyeliner". The goal is to add subtle definition to your peepers. This technique does not try to make your eyes look bigger. Instead, it focuses on making your eyelashes appear thicker and fuller. You can use it for both formal and casual occasions. The best part is it is easy to master.
What you need?
Any black eyeliner pencil
Instructions:
Wash your hands before you start. With your clean hands, gently lift the lashes upward using your fingers. There will be tiny gaps between the lash hairs. You will fill these with your eyeliner
Using any black eyeliner pencil, just dap in between each individual lash and try to get as close to the root as possible
Technically, that is all you need. If you like to intensify the look, you can use the same technique on the bottom lash line as well. Gently lift the lower lashes downwards, and then fill in the gaps
3. Smokey Eye Summer Moss Makeup Tutorial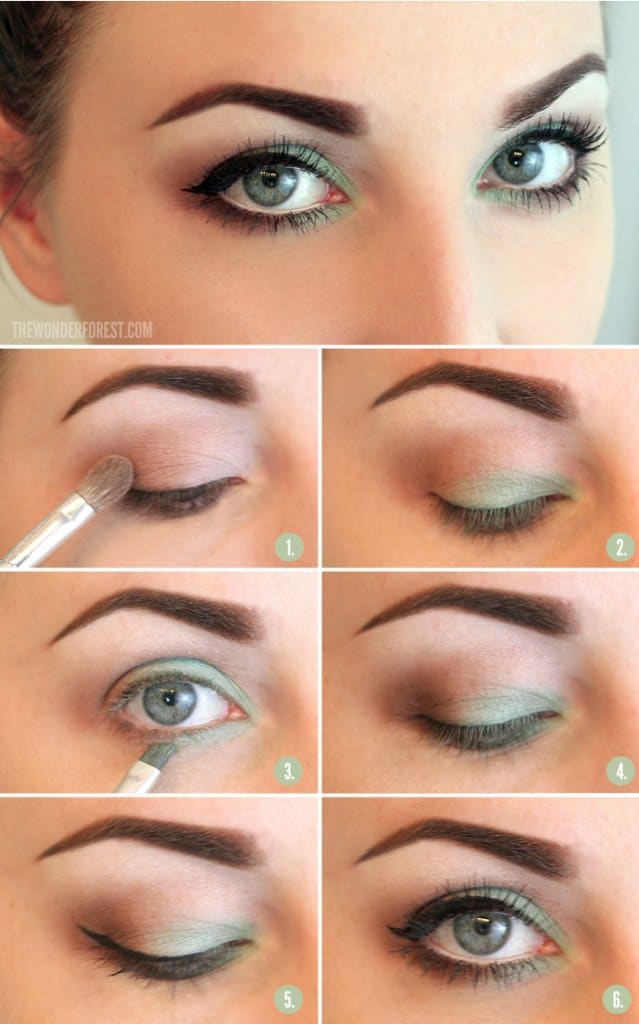 We long pass the black and brown smokey eyes makeup look. Nowadays, women are trying new and unique colors for a smokey eyes look. With that in mind, we want to give you one fresh-looking makeup look with a summer vibe. With vibrant colors being trendy, it is now the perfect time to try some new smokey eyes tutorial.
What you need?
Medium brown shade eyeshadow
Green eyeshadow
Deep brown eyeshadow
White or nude eyeliner
Mascara
Instructions:
Start by brushing medium brown shade onto the outer half of your lid and into the crease. Continue brushing onto the bottom outer half as well
Get your green eyeshadow, and brush it onto the middle of the lid. Extend to the inner corner
Use the same green eyeshadow under eye, halfway
Apply a deep brown shade on top of the medium brown to darken outer corners
Line your upper lids, and then line your waterline with white or nude eyeliner. Finish off with some mascara
4. Simple & Natural "Cat-Eye" Makeup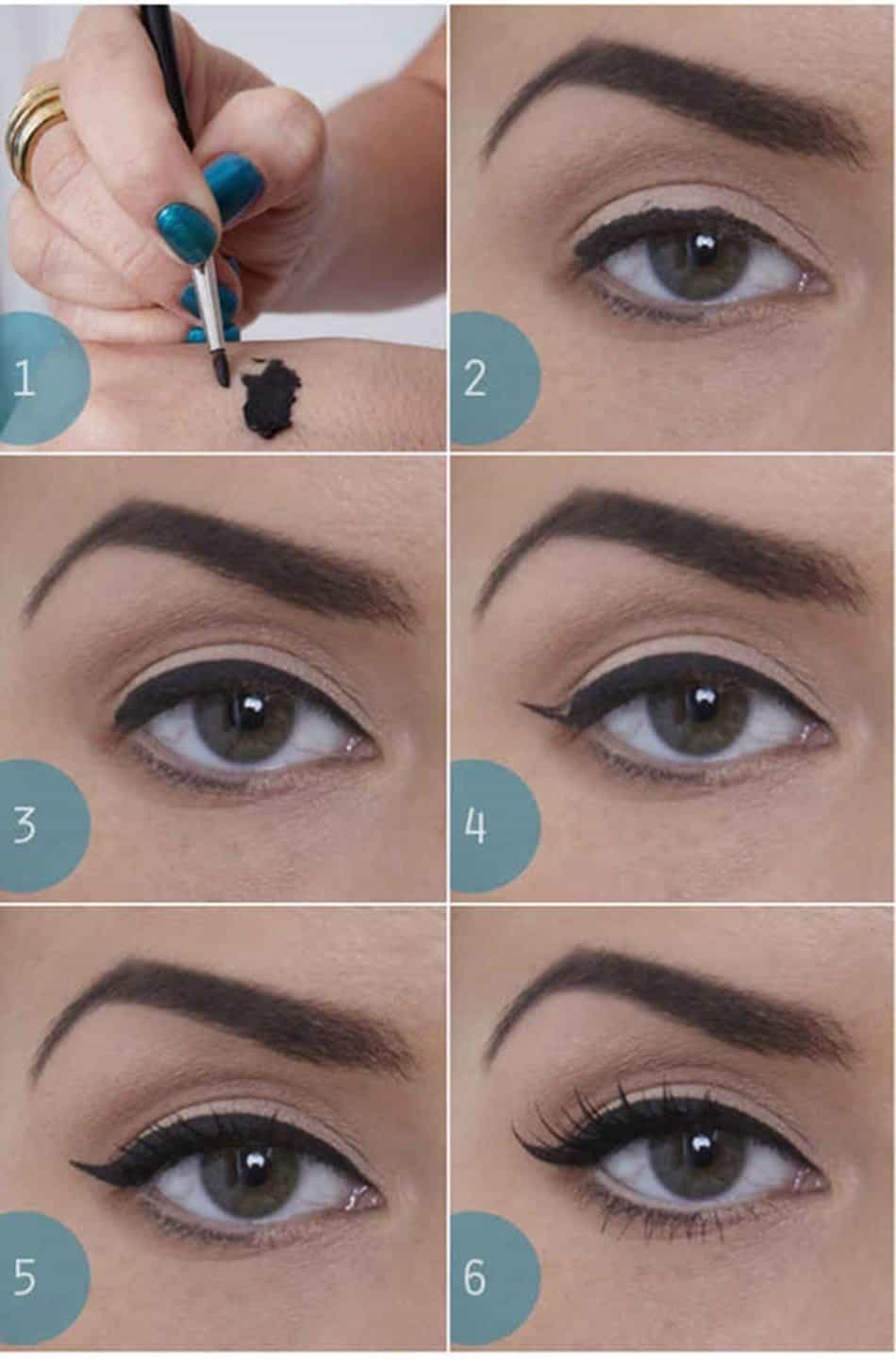 In the past few years, cat eye makeup has become one of the hottest trends. There is something about those feline eyes, especially about that slender shape and outline. And it is not like we are seeing cat eye makeup for the first time. Cleopatra used the same makeup look. And she is widely considered one of the most beautiful women in history.
What you need?
Instructions:
Using small strokes, line the upper lash line. Go slowly, you do not want to rush too quickly and mess it up
Because you are going with small strokes, gradually increase the thickness of your look
Find the right angle by following the natural shape of your eyes to guide you where your flick would be. Best way to find the angle is to imagine that your lower lash line is extended
Create the flick by using small dots to help you figure out what the final shape should be
Join the dots and fill it in to connect the line you've drawn previously
You can finish off with a concealer to cover and correct any mistake
5. Gold and Brown Eye Makeup Tutorial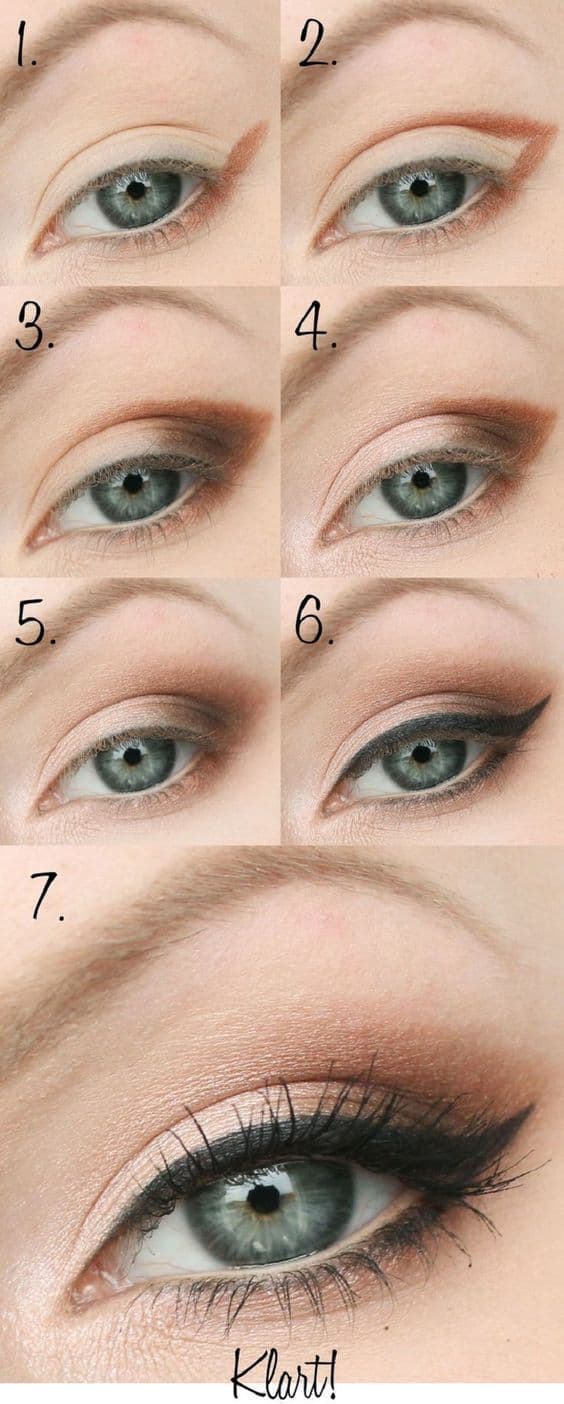 If you want a soft eyeshadow look, this tutorial is perfect for you. Blending is the key here. This subtle, yet festive look is perfect when you want to look natural, but elegant.
What you need:
Brown eyeshadow
Gold eyeshadow
Thin brush
Flat brush
Mascara
Instructions:
Apply an eye makeup primer to prepare your face for the makeup
Get the thin brush, and apply brown shadow on the inner and outer corner of the eye
Get the flat brush, and apply gold eyeshadow at the center
Go back to the thin brush, and enhance your lower lash line with brown and gold
Get a brush for blending, and blend the eyeshadows properly
Apply eyeliner on the upper lash line
Swipe on some mascara, and your look is ready
6. The Quick & Easy Eye Makeup Look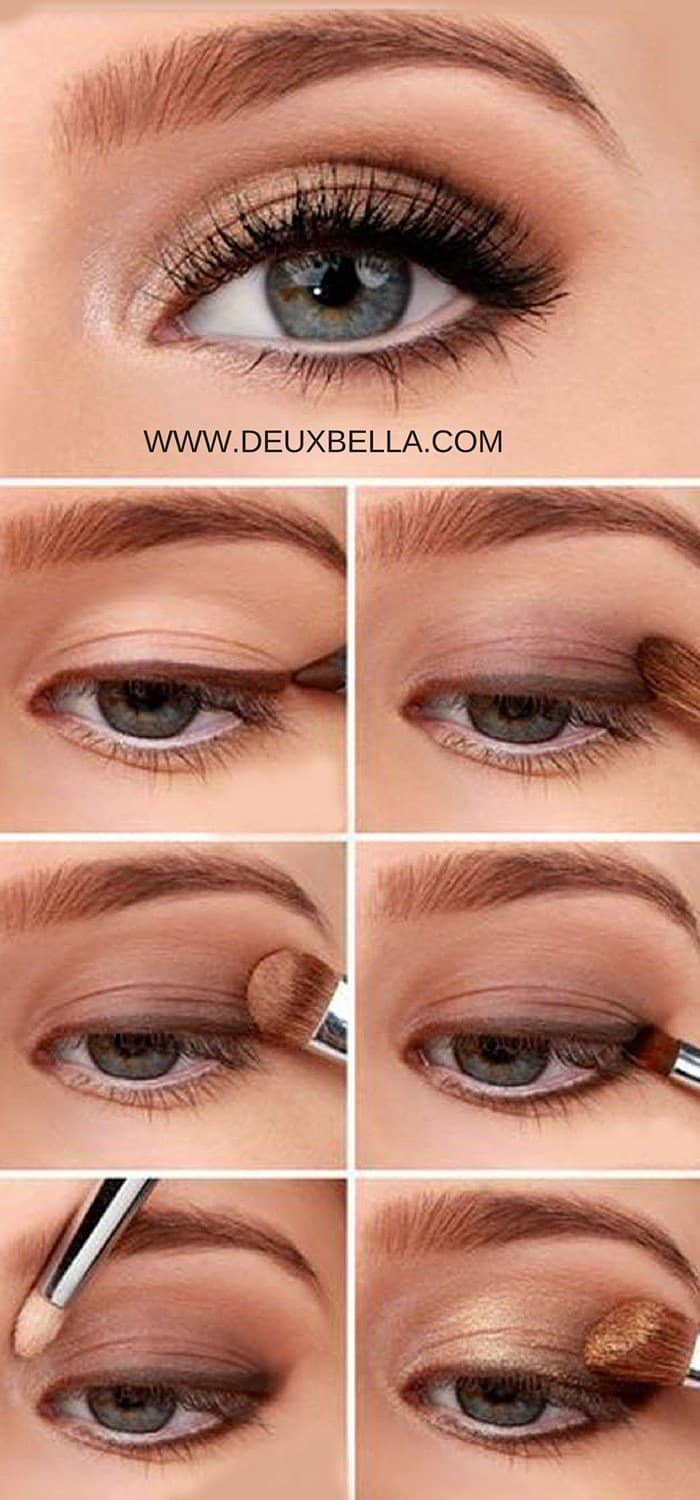 This is one of the easiest, yet hardest looks for a woman to achieve. Basically, you want to look like you didn't try hard to get ready. It is a small upgrade to the no-makeup look. It is quick and easy to prepare.
In the end, you will look sexy, but casual at the same time. Because the shadowing is soft, you will not overpower your eyelids, but still get that smokey eye effect. The best part is you can wear this look both as a daytime casual, or for a date night in the evening.
What you need?
Natural beige eyeshadow
Soft beige/brown eyeshadow
Dark brown eyeshadow
Black eyeshadow
Soft eyeshadow brush
Blending brush
Black eyeliner
Instructions:
Prime your lid by patting on a small amount of primer. It will serve as the base for your makeup look
Use a soft kohl pencil to line your lower lid above the eyelash line. If you want softer look, go for a dark brown pencil. Use black for darker eyes. If you can, create a small flick at the corner of your eye
Take a light-medium brown powder, and apply a stroke of it to the crease of the outer part of the eyelid. Apply it gently, and not too much. Blend as much as possible. Use a slightly darker brown eyeshadow to sweep a tiny bit of it over the corners of the lower lid. With a soft blending brush, ensure that the colors look natural. Blend them together
Gently sweep black eyeshadow across the line you just created. Be careful not to apply too much shadow. You want just a subtle smokey eye effect on the lash line. Optionally, you can add a gold shimmer to add more glamour and make the look more suitable for a formal evening look
Apply natural false eyelashes, or a coat of mascara to define your lashes
7. 5 Minute Everyday Makeup Routine
Every woman needs a five-minute makeup routine that prepares her for the day ahead. This routine is so easy, it can be completed in less than five minutes. And you can complete it by using drugstore makeup, which means it costs less.
It might seem like there are a lot of steps (10 to be precise), but you can skip some of them. And once you master it, you will be doing it in less than five minutes.
What you need?
Oil-free moisturizer
BB cream
Concealer
Powder
Bronzer
Bronzing powder
Taupe pencil
Neutral colors eyeshadow
Instructions:
The first step is applying oil-free moisturizer to keep your face hydrated all day long. Try to get one that also has an SPF factor. Apply on your face and neck
Apply BB cream, which is better for an everyday look than foundation. Try to get one that is lightweight and apply it over your face with your fingers
It is now time to cover some of the problems on your face. Apply cream concealer under your eyes, between browns, and above any other discolored area or blemishes
This is the crucial step. Once you have applied wet products, it is time to set them with some powder. Apply over your face and neck
This step will take your look to a new level. Dust bronzer around the perimeter of your face, down your neck, and on the décolletage
It is now time to define your look. Use a contouring blush and some bronzing powder to contour your nose and cheekbones
Fill in your eyebrows using a taupe pencil
Apply neutral eyeshadow colors
Make your eyes pop by applying mascara
Finish off with your lips. Apply a butter balm for an everyday look, or some butter gloss for an evening look
8. Holiday Shimmer Eye Tutorial

During the summer, you want to shine with some bright eyeshadow. We chose charming champagne for this look. This look works great with any glittery gown or sparkly sweater. Here is how to achieve it.
What you need?
Light champagne shimmery eyeshadow
Shimmery gold eyeshadow
Neutral brown eyeshadow
Light brown eyeshadow
Black eyeliner
Instructions:
Start by applying light champagne shimmery eyeshadow on the inner half of the eyelid
Sweep some shimmery gold across the outer half of the lid
Add neutral brown eyeshadow in the crease (or any other darker eyeshadow). If you want to match your holiday dress, add a pop of color. This will help you add depth to the look
With a light brown eyeshadow, blend the dark shadow to soften the line within the crease
Bring the same color around the outer corner of the lower lash line
Get a black eyeliner and line the upper lash line
Finish off with some mascara
9. Perfect Cut Crease Tutorial
Cut crease eye makeup is another trend dominating social media. This technique enhances and defines the crease of the eye. It is a total opposite of smokey eyes.
Unlike smokey eyes, the technique uses contrasting shade and a little blending. The result is your eyes look bigger thanks to the separation between the eye and the upper eye area.
What you need?
Light eyeshadow
Dark eyeshadow
Instructions:
What colors you choose are up to you. In any case, you need to start with an eyeshadow that is a few shades lighter than the darkest. Work the light eyeshadow into the socket, but avoid the lid. Keep the lid area clean and light
Apply a dark shadow, usually deep brown or black, and work into the lighter shade but concentrate on the crease. Keep the lower edge sharp
Finish off the cut crease by adding a dash of glitter along the crease
10. Mermaid Eyeshadow Makeup Tutorial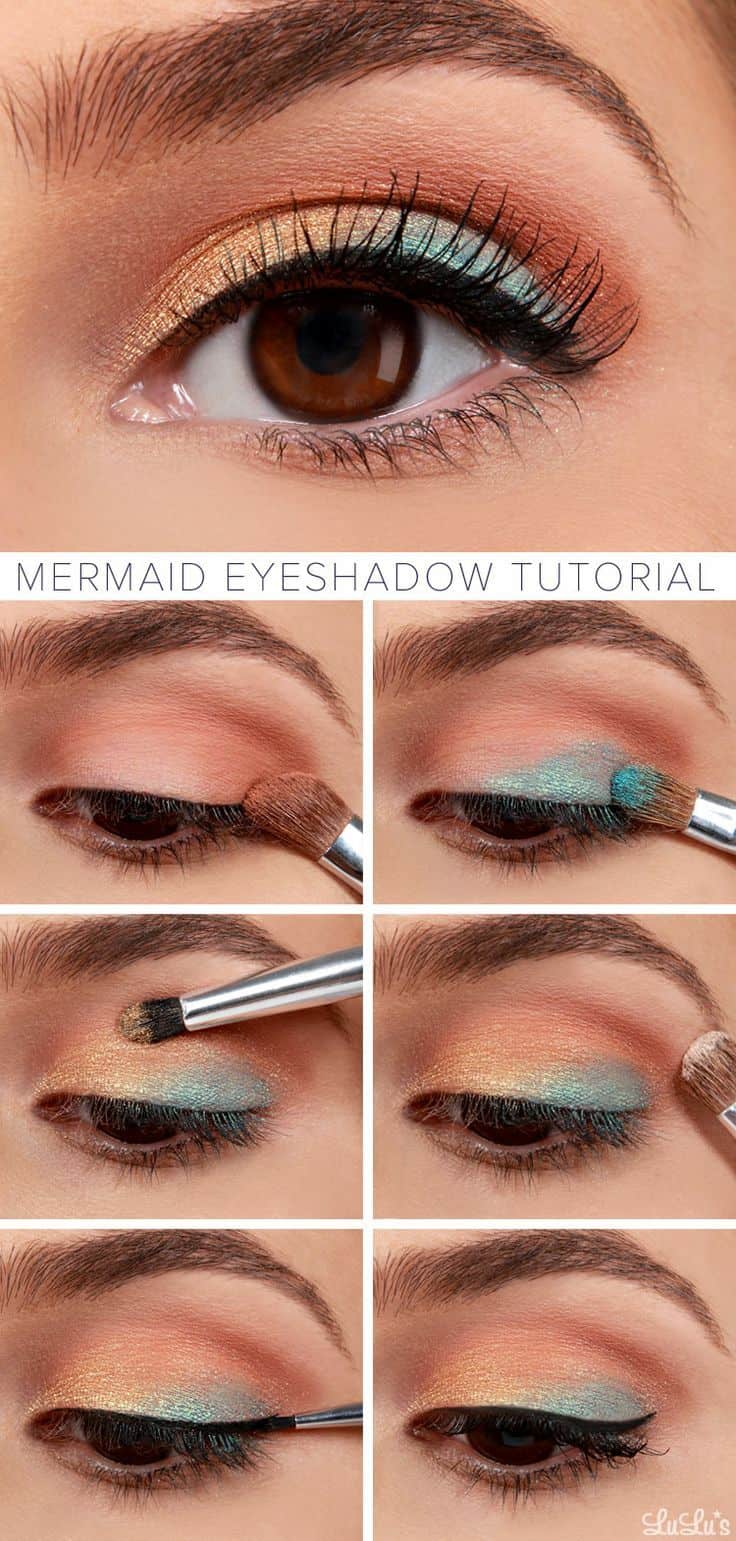 Mermaids might not be real, but you can get a makeup looking like one. Inspired by the ocean and its rich colors, this makeup will help you channel your inner-Ariel. Perfect for playing with your summer makeup.
What you need?
Matte nude colored eyeshadow
Shimmery turquoise eyeshadow
Shimmery gold eyeshadow
Matte beige eyeshadow
Black cream eyeliner
Mascara
Instructions:
You need to create a base to start off. Do this by using matte nude colored eyeshadow within the crease of the lid and the outer corner
Follow up by applying shimmery turquoise eyeshadow. Focus only on the outer corner of the lid
Place shimmery gold eyeshadow on the inner half of the lid, and into the crease. Blend it slightly with the turquoise color
Apply matte beige eyeshadow to the brow bone
Apply black cream eyeliner on the upper lash line
Finish off with a coat of mascara