There is no reason not to look stylish while working out. Why go to the gym all messy?
If you have just a couple of minutes to prepare before going to the gym, you can look quite stylish while exercising.
The trick with workout hairstyles is to get something that will stay in place and interfere with your exercise. Therefore, most buns, updos, hairdos, and similar styles are acceptable. And you can prepare any of that in just a couple of minutes. Here are some ideas to try.
1. Cornrows Centered Into A Top Braided Bun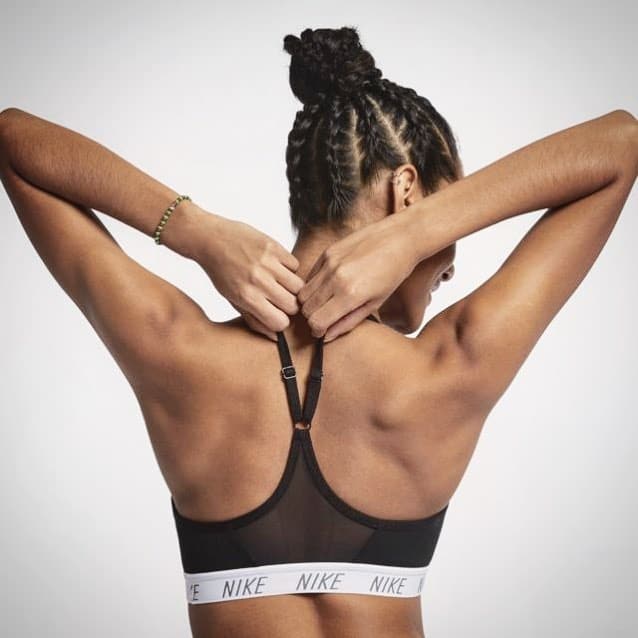 The beauty of cornrows is that your hair is already gathered up. There is no loose hair to mess up your exercise. All you have to do is get a stylish top bun, and you are ready to hit the gym.
2. Shoulder Length With Slanted Top Braid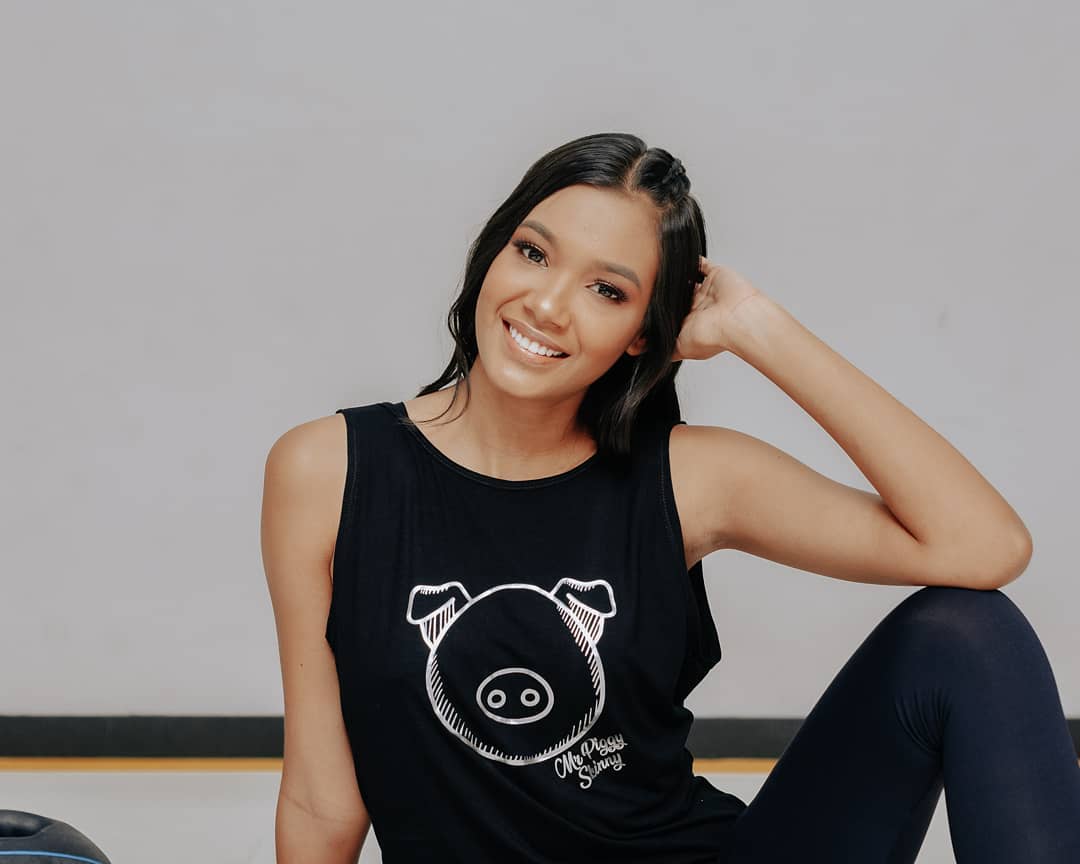 If you have ever watched women sports, be it handball, volleyball, basketball, or anything else, you've noticed girls use a lot of braids. And that is just normal. Braids are the perfect athletic hairstyle. Here is one simple, and easy to do idea.
3. Criss Cross Twists Into Double Buns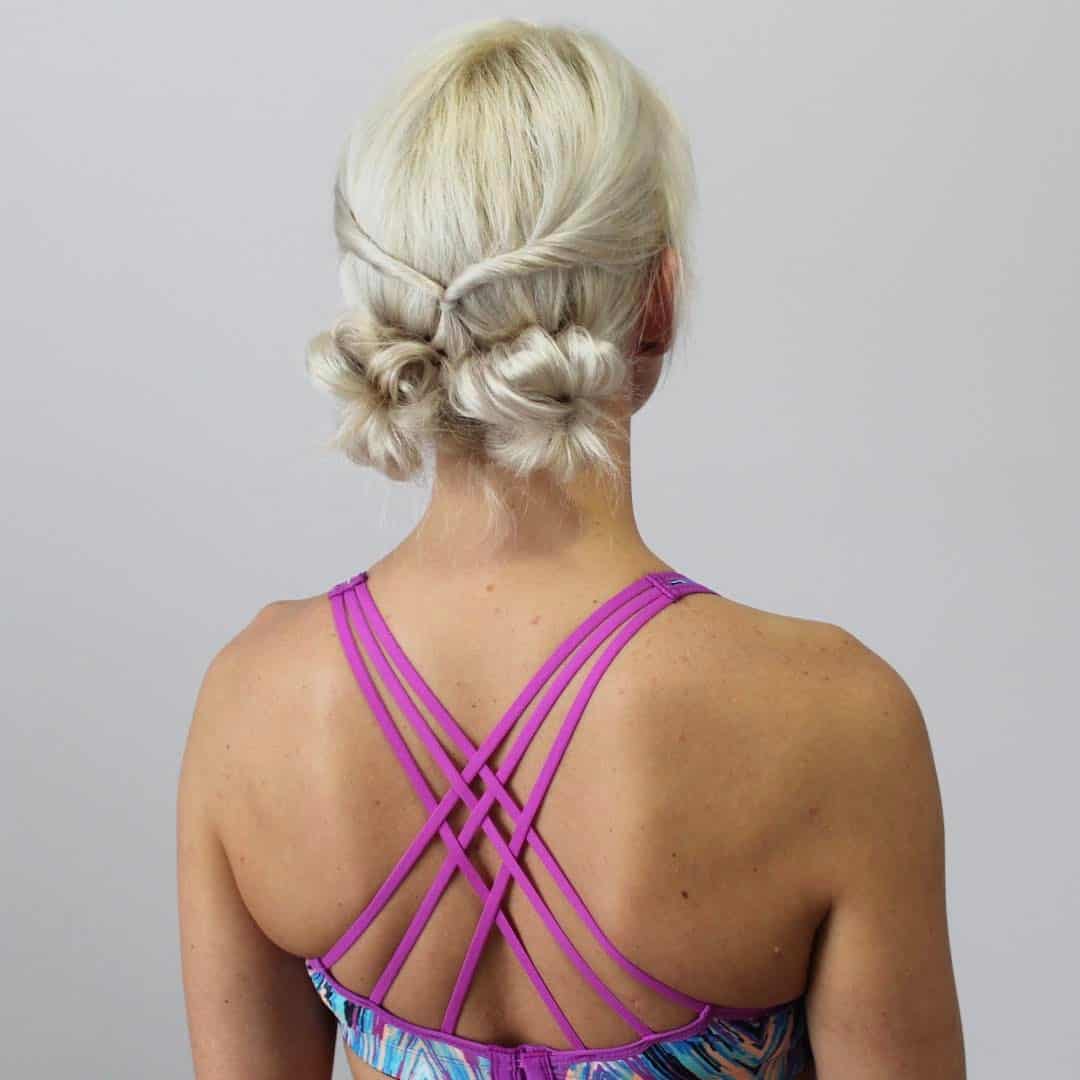 As mentioned previously, the goal is to gather your hair in a bun, updo, or anything similar. And it can be quite fun and playful. For example, this criss-cross hairstyle gives your hair texture, but also adds a dimension you didn't have before.
4. Bubble Fauxhawk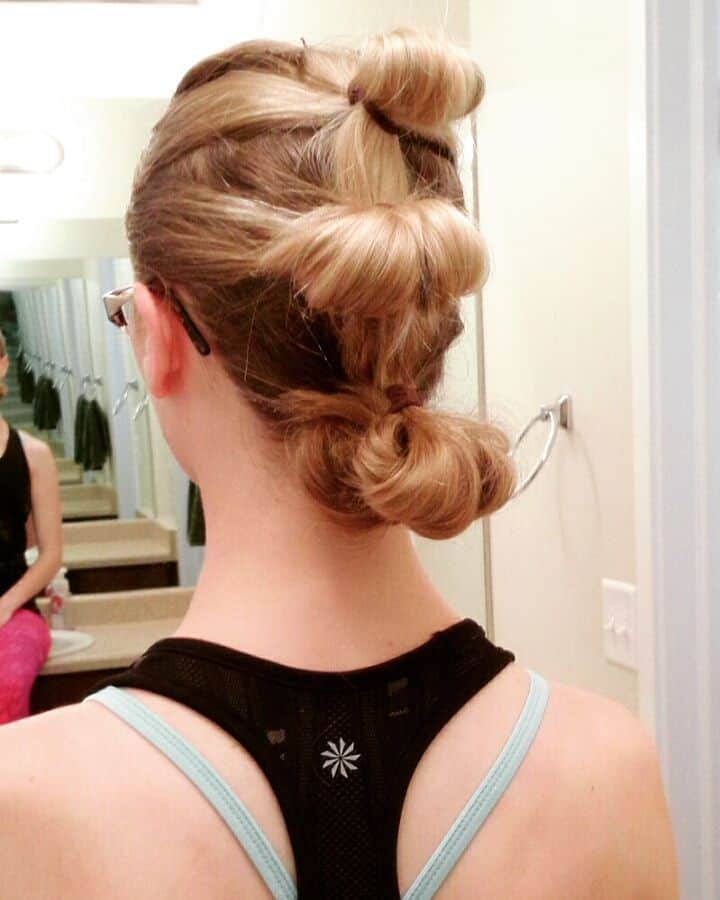 Fauxhawk hairstyles look messy, but they are quite elegant. And they are perfect for the gym. Your hair is gathered up in a stylish way. And you can arrive and leave the gym with the same hairstyle. You will still look perfect.
5. Messy Top Knot With Low Pigtail Braids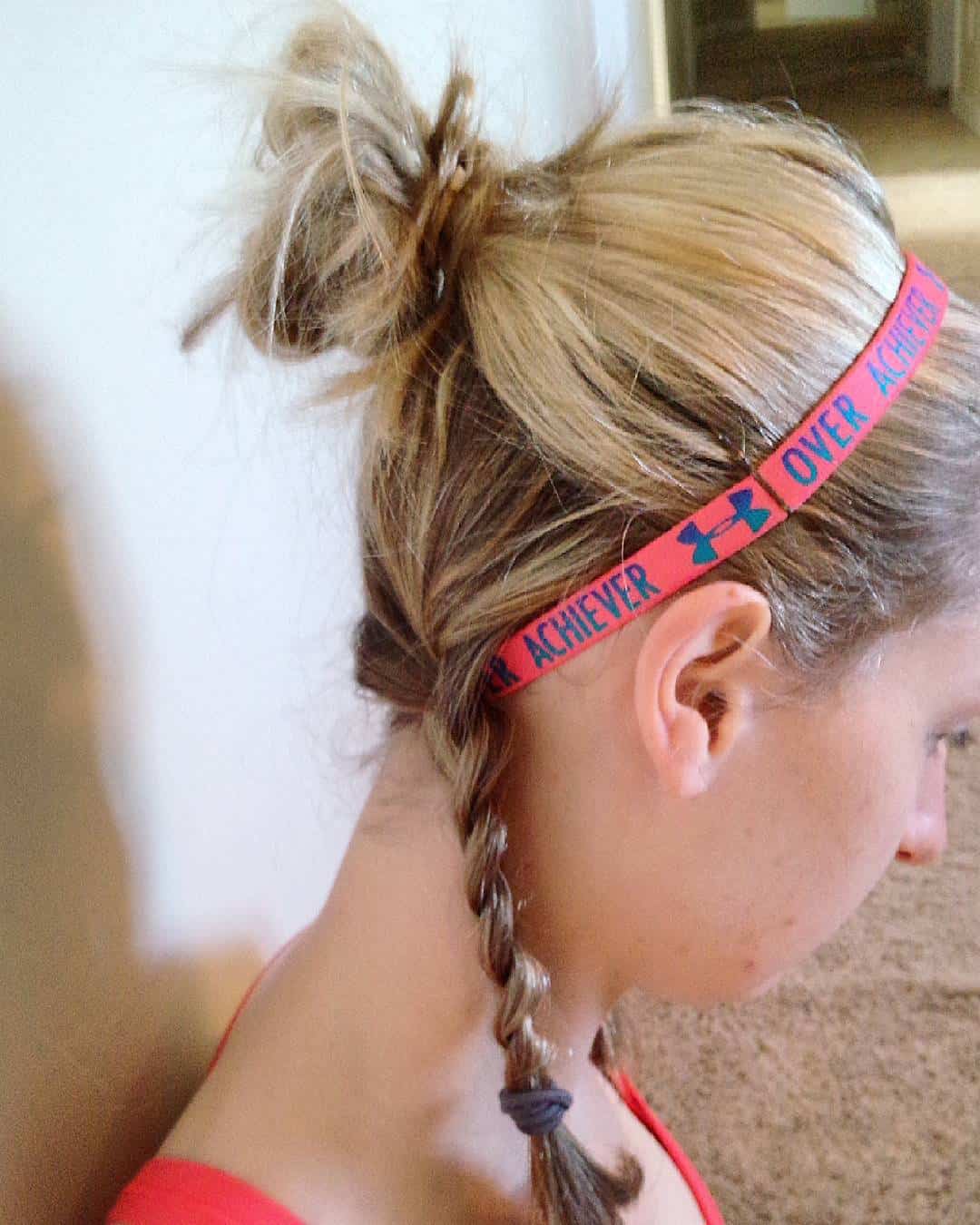 Fun fact: women actually love to look messy. Yes, we want to look messy, like we spent 30 seconds to get out hair done. But that is easier said than done. If you crave some messy look, just get your excess hair in braids, and you are ready to go.
6. Double Dutch Braids Into Fishtail
Here is a hairstyle that is good enough for a sports brand commercial. You can even model for Nike, Adidas, Under Armour, or any other brand with this hairstyle. Stylish, elegant, and most importantly, practical. At the end of the day, we love to look beautiful.
7. Mohawk Braided Pony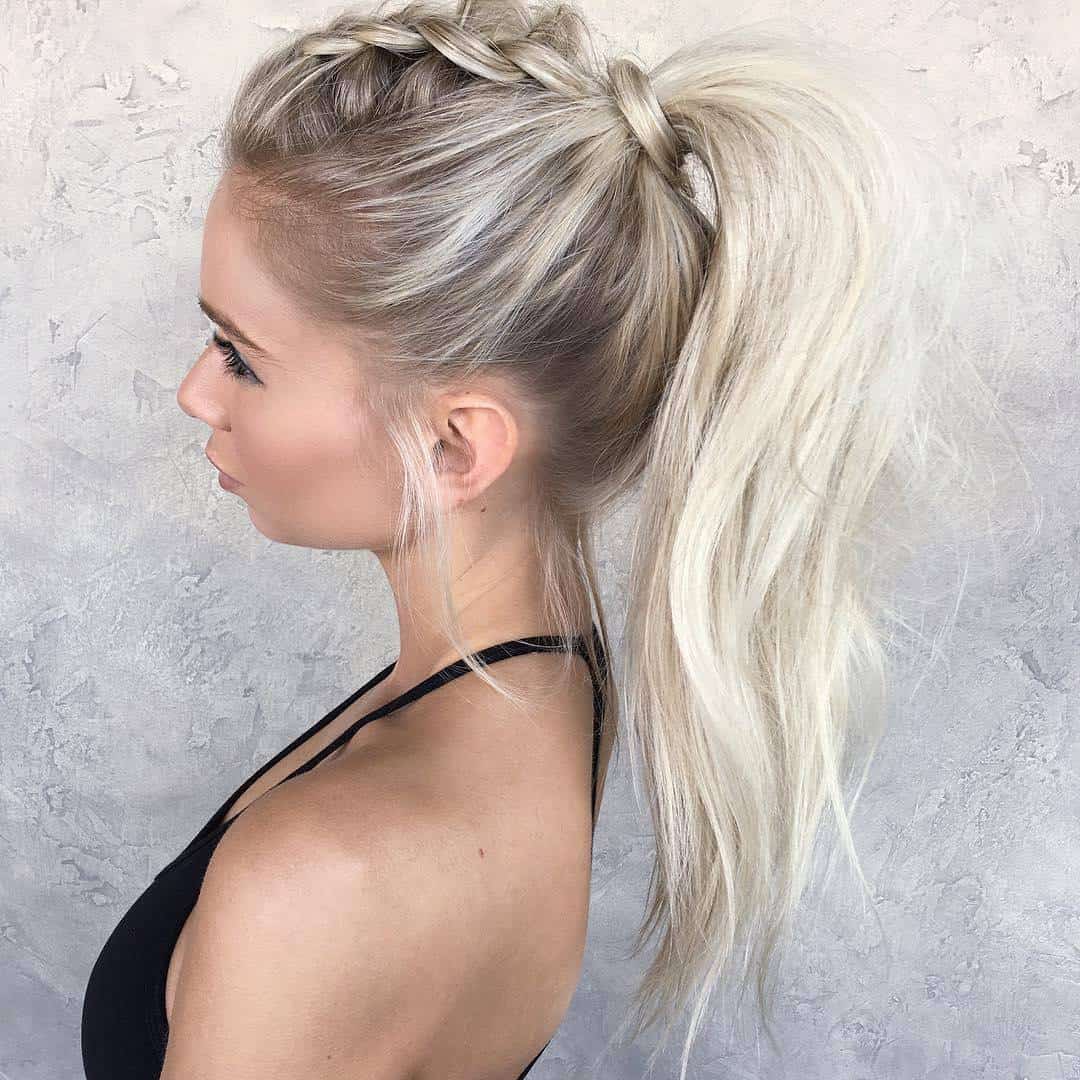 After braids, pony is arguably the most common athletic and workout hairstyle. There are just too many benefits to ignore the pony. Your hair is finely gathered at the back of your head, and there is not a loose hair to mess up and interfere with your workout. Nothing to fall down in your eyes and distract you.
8. Loose French With Unbraided Ends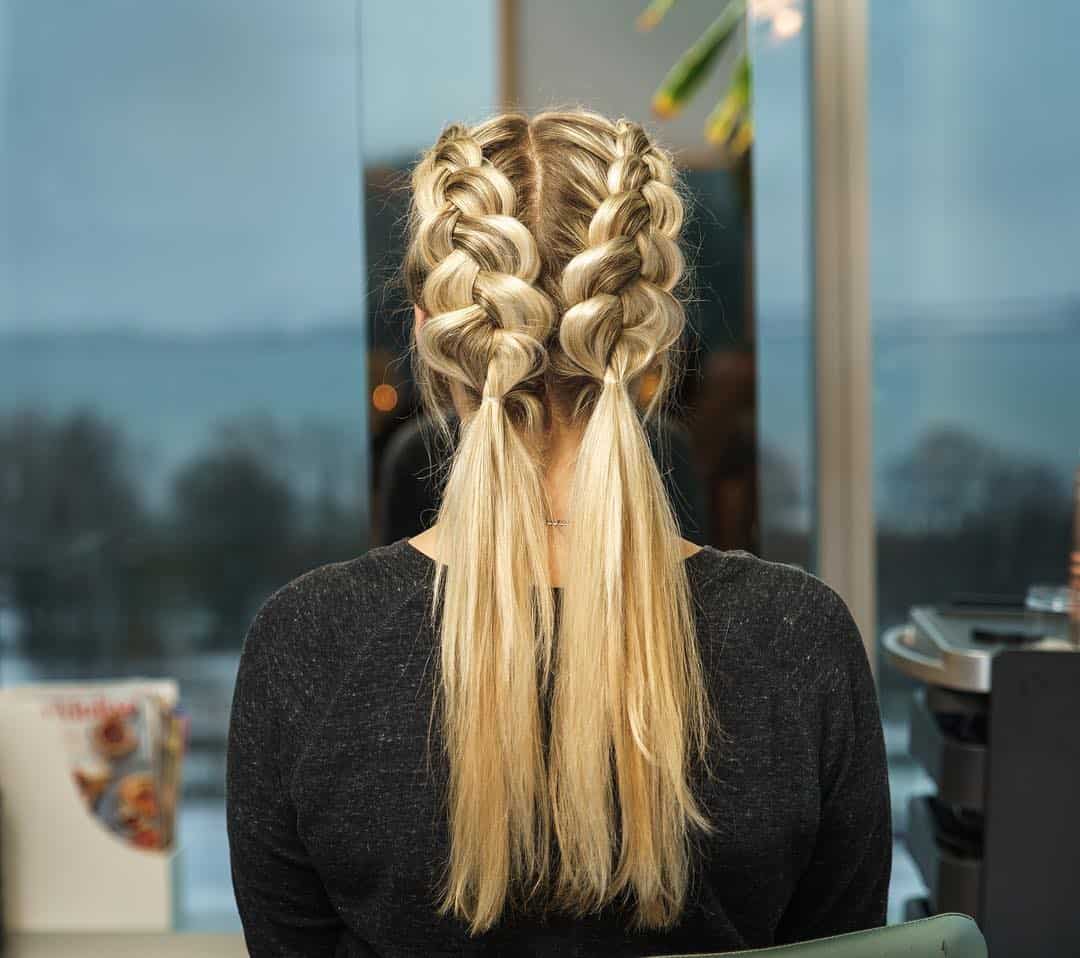 When it comes to braids, French braids are definitely one of the most popular. As a basic braid, but with a bit more flair, French braids are one of the easiest to make. And sine you need your hair braided only at the top, you can leave some loose hair at the ends.
9. Double Dutch Into Twisted Braided Buns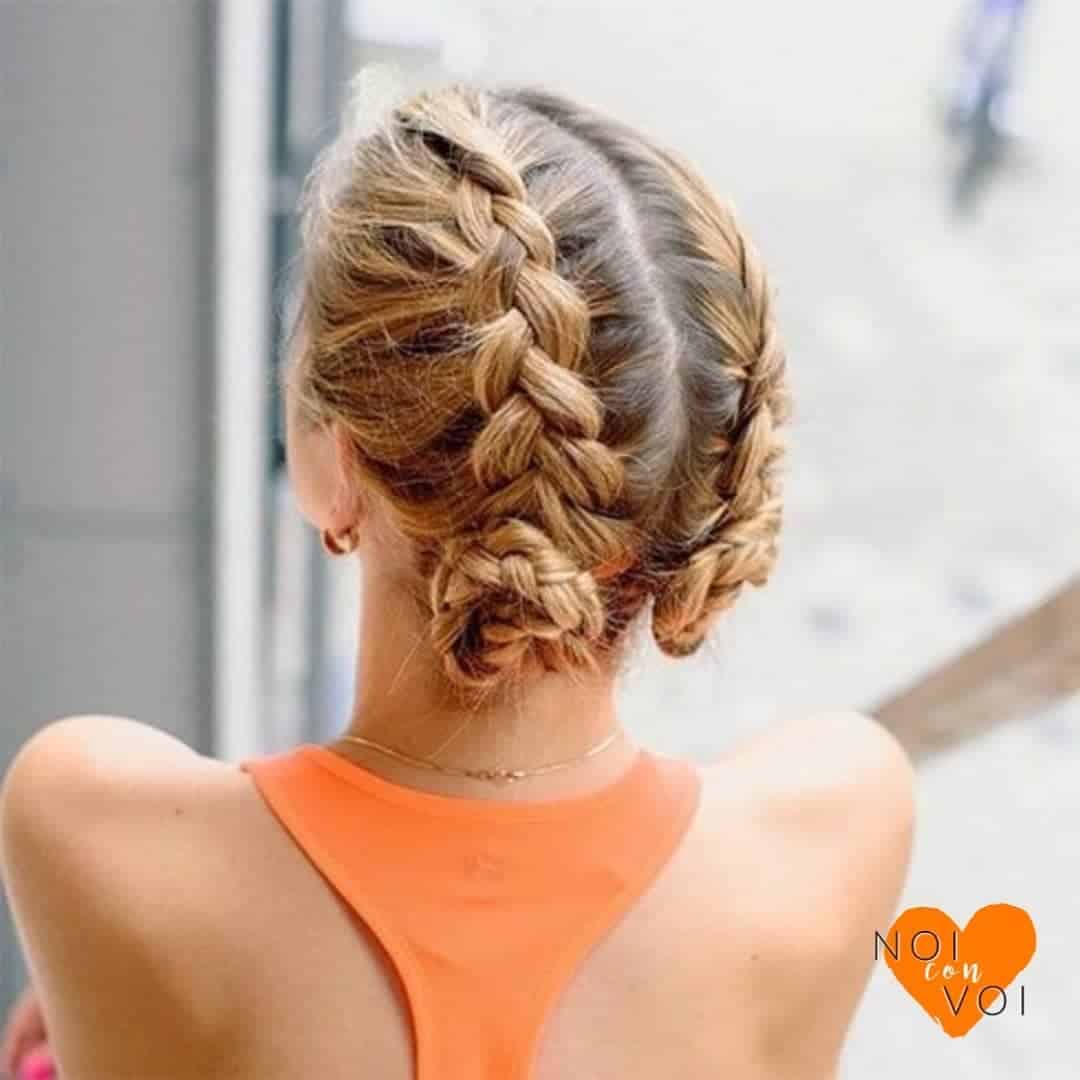 Speaking of popular and basic braids, the Dutch is right there at the list. The sole difference between French and Dutch braids is that you cross the strands under instead of over. Some even call it the reverse French braids. That being said, Dutch braid gives you an elegant texture as well.
10. Warrior Braided Ponytail On Long Hair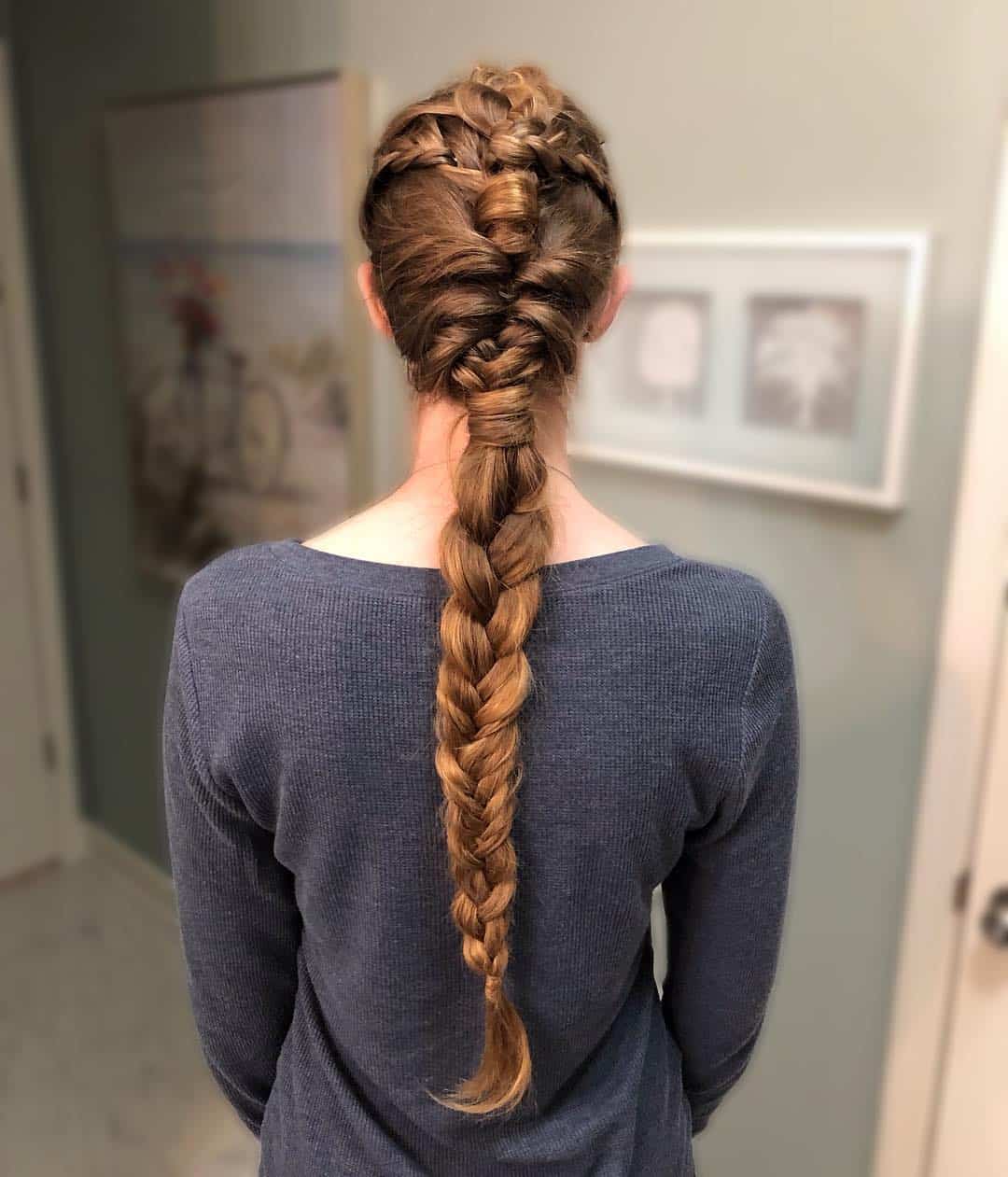 Even if you have longer hair, you can easily get it together in a braid. Warrior braids are for those women who want to look a bit more fearful, ferocious, and at the same time, elegant. Think woman warriors in movies, or even woman leaders. For example, Dany in Game of Thrones.
11. Double Zipper Braids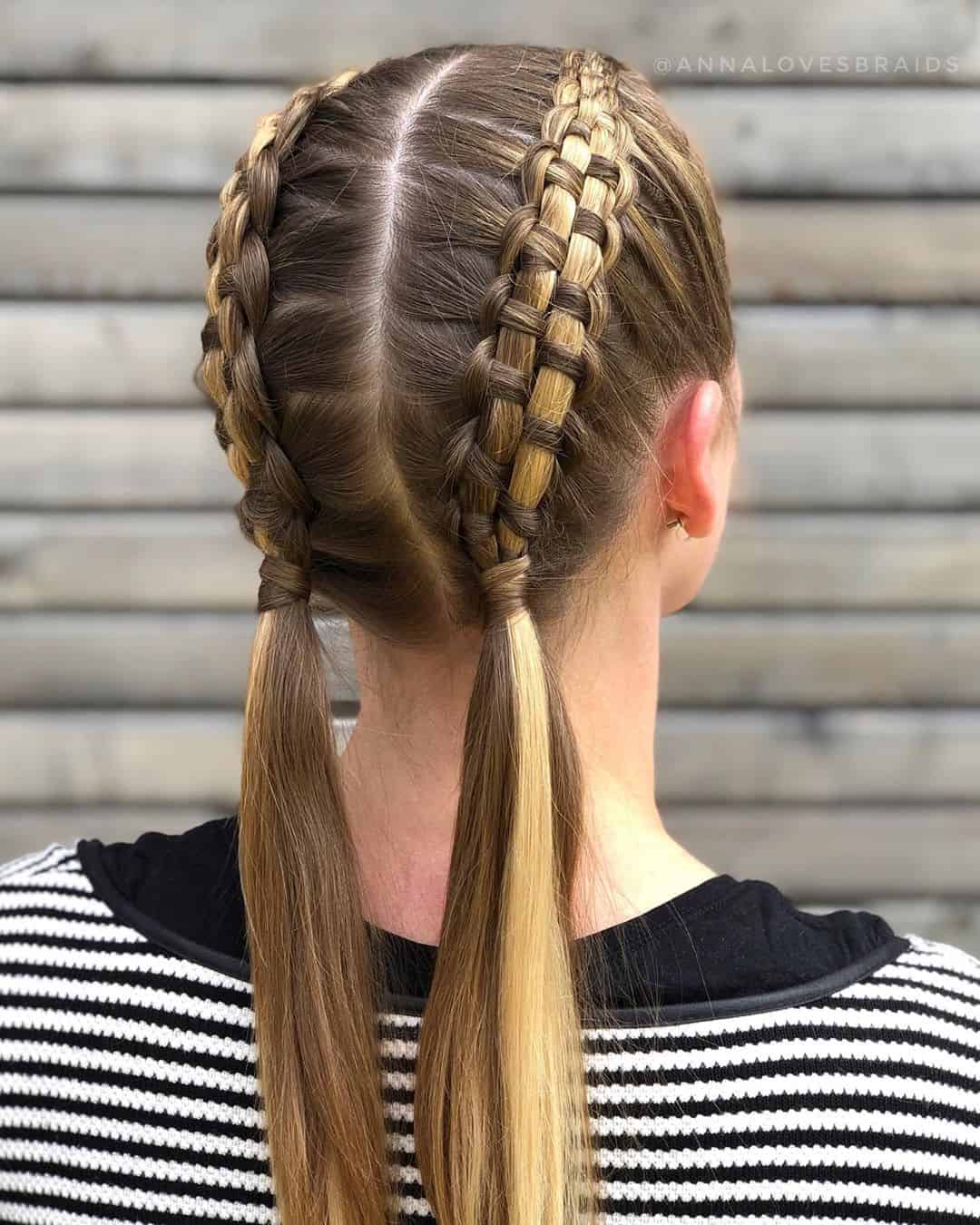 Zipper braids are a lot more popular among younger girls. You can even say zipper braids are some of the first braids a mother does for her daughter. But that is no reason not to wear them. You can look adult-like with zipper braids as well. And after all, this is a workout hairstyle you wear for the gym.
12. Cornrow Dutch In High Ponytail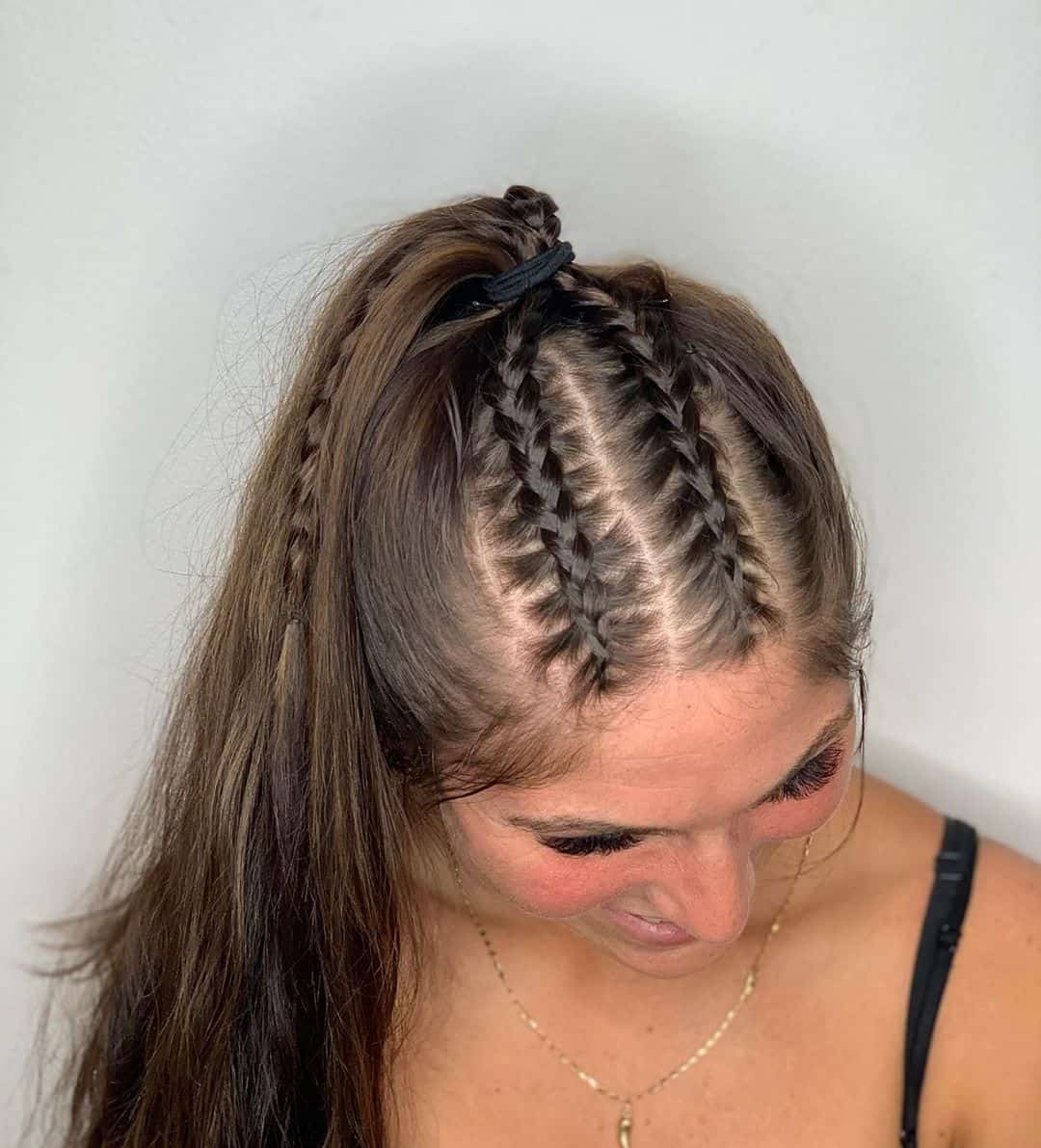 Cornrows and Dutch braids work perfectly together. They give your hair a contrast you cannot achieve with some other braiding techniques. And as a cherry on the icing, add a ponytail.
13. Top Braid Into Two Braids Stacked Into A Ponytail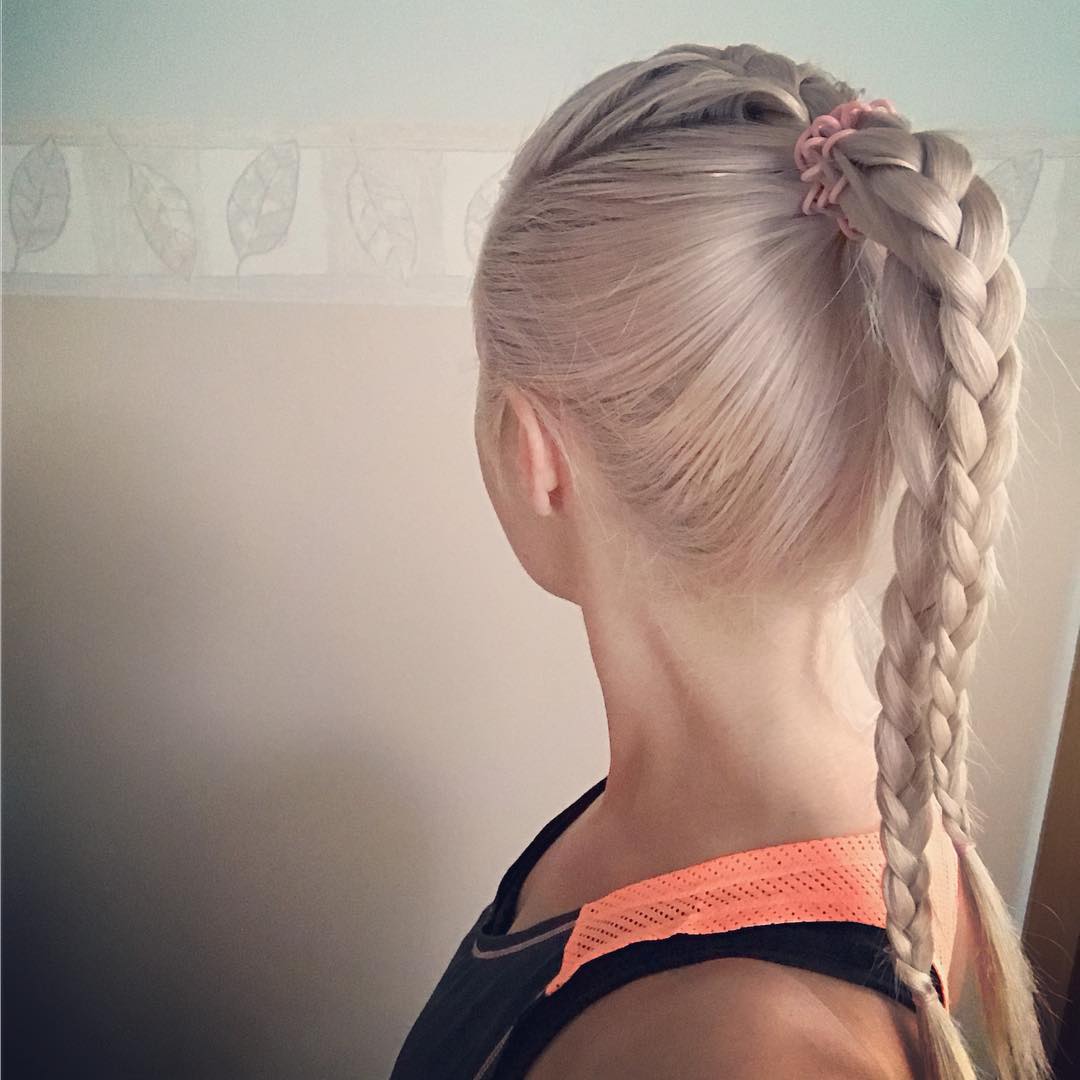 We said before that ponytail braid is one of the most elegant hairstyles you can wear to the gym. It is also one of the most common in athletic commercials. Therefore, what is good for the people at Nike, should be good enough for you as well. Right?
14. Pigtail Fishtail All-Around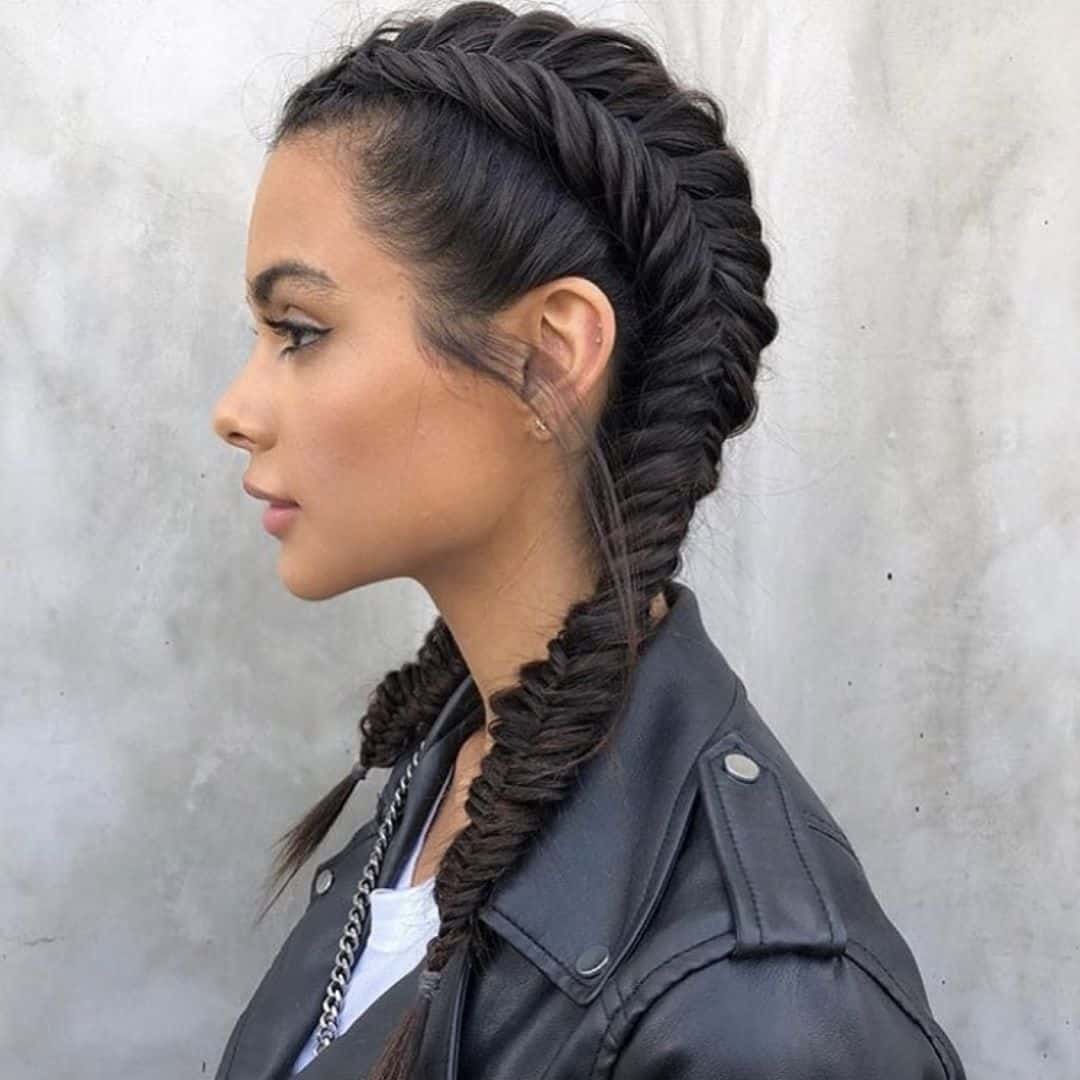 With this hairstyle, you will look amazing on your way to the gym, and on your way out. Simply put, this is more of an elegant hairstyle you wear to a date than to the gym. But who says you shouldn't look amazing while working out?
15. Two Tiny Topknots On Short Hair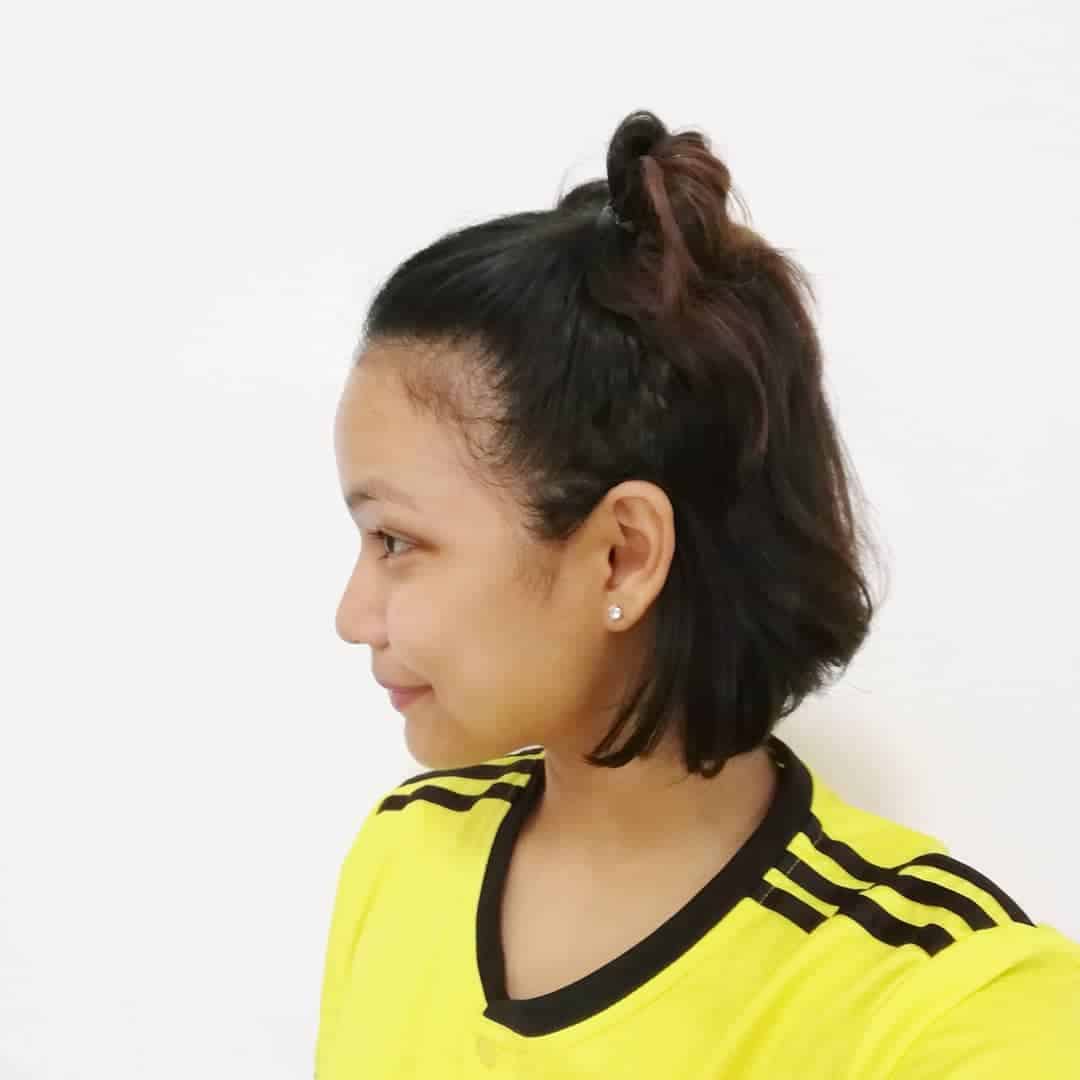 You can say that short hair is the biggest challenge when it comes to workout hairstyles. You might think you have less hair. But that also means there is less hair for making a pony, braid, updo, or anything similar. You will have a hard time getting your short hair gathered up. Luckily for you, we are here to help you.
16. Infinity Braid on a Pancaked French Braid Into a Pony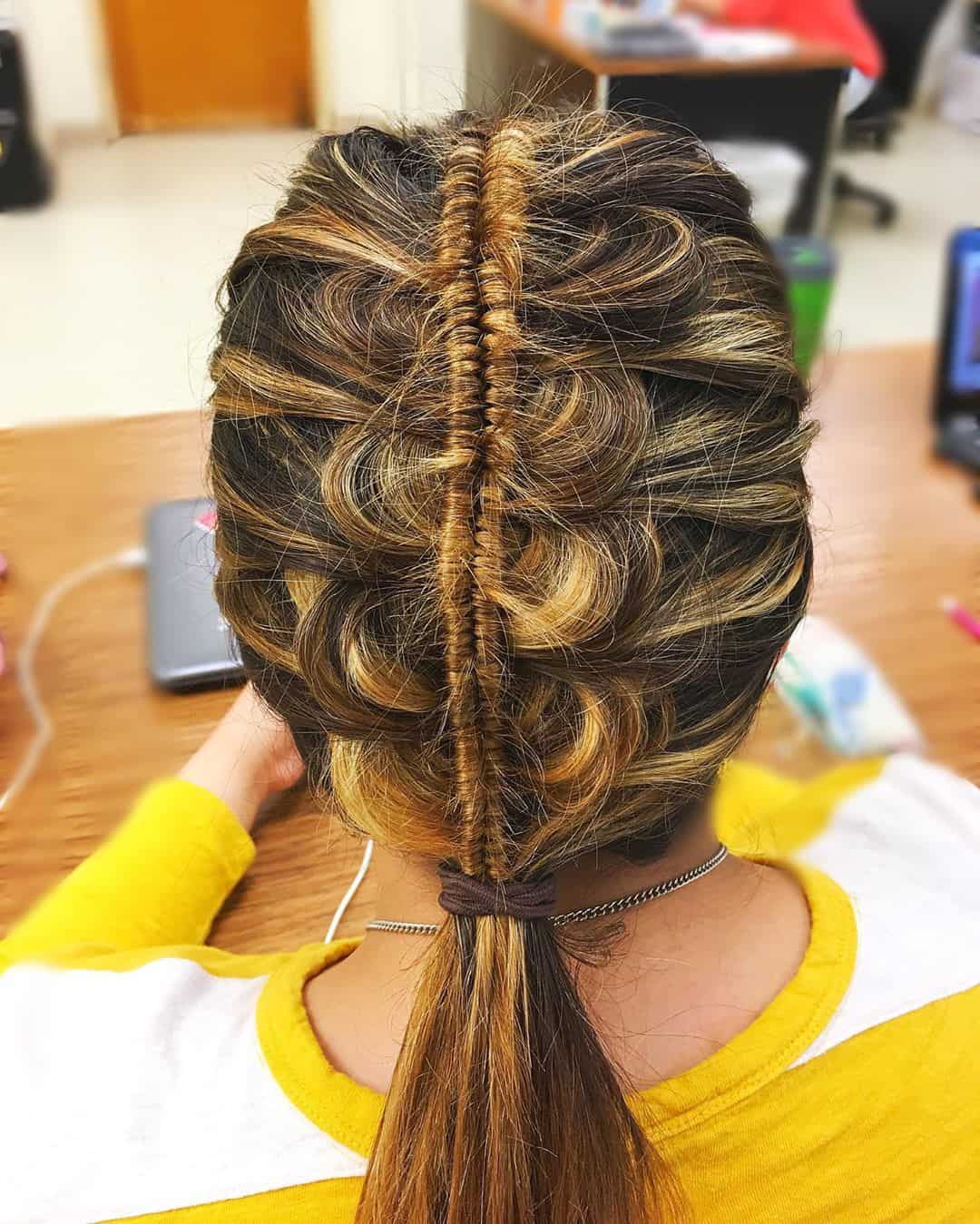 We said at the beginning that for most of these hairstyles, you won't have to spend more than five to ten minutes. Well, there are also hairstyles that require a bit more effort and time. This is one of those.
17. Braided Piggy Buns
Piggy buns are some of the most versatile hairstyles. You can rock them on almost any hair length, type, texture, or color. And as the saying goes, two is better than one. And that applies to buns as well.
18. Figure 8 Dutch In Low Ponytail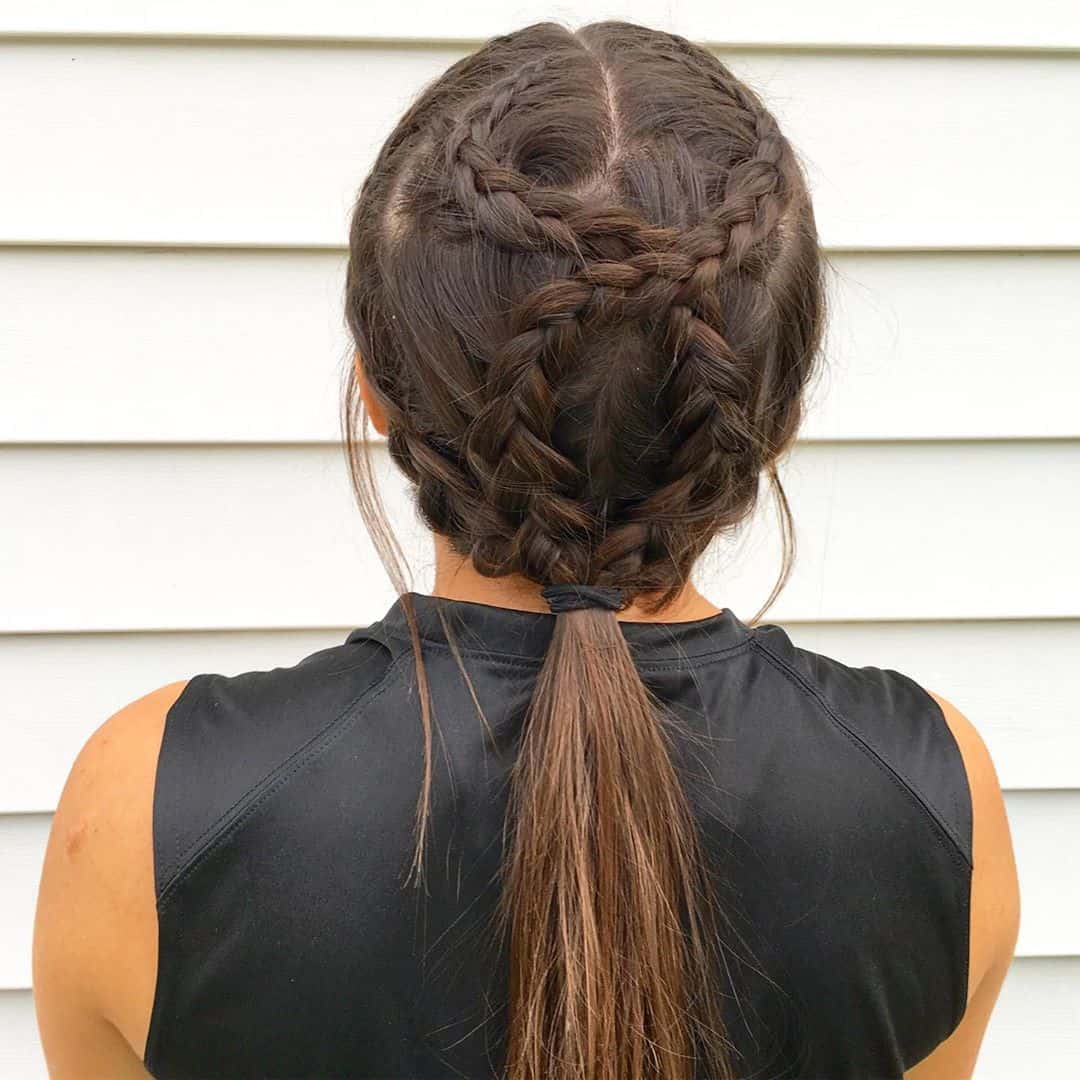 When you are looking for a good workout hairstyle, it is enough that your hair is tight at the top of the head and forehead. On your back, you can easily let your hair loose. This gives you a more relaxed and casual look.
19. Tight Braided Halo Bang Braids And Mohawk Braid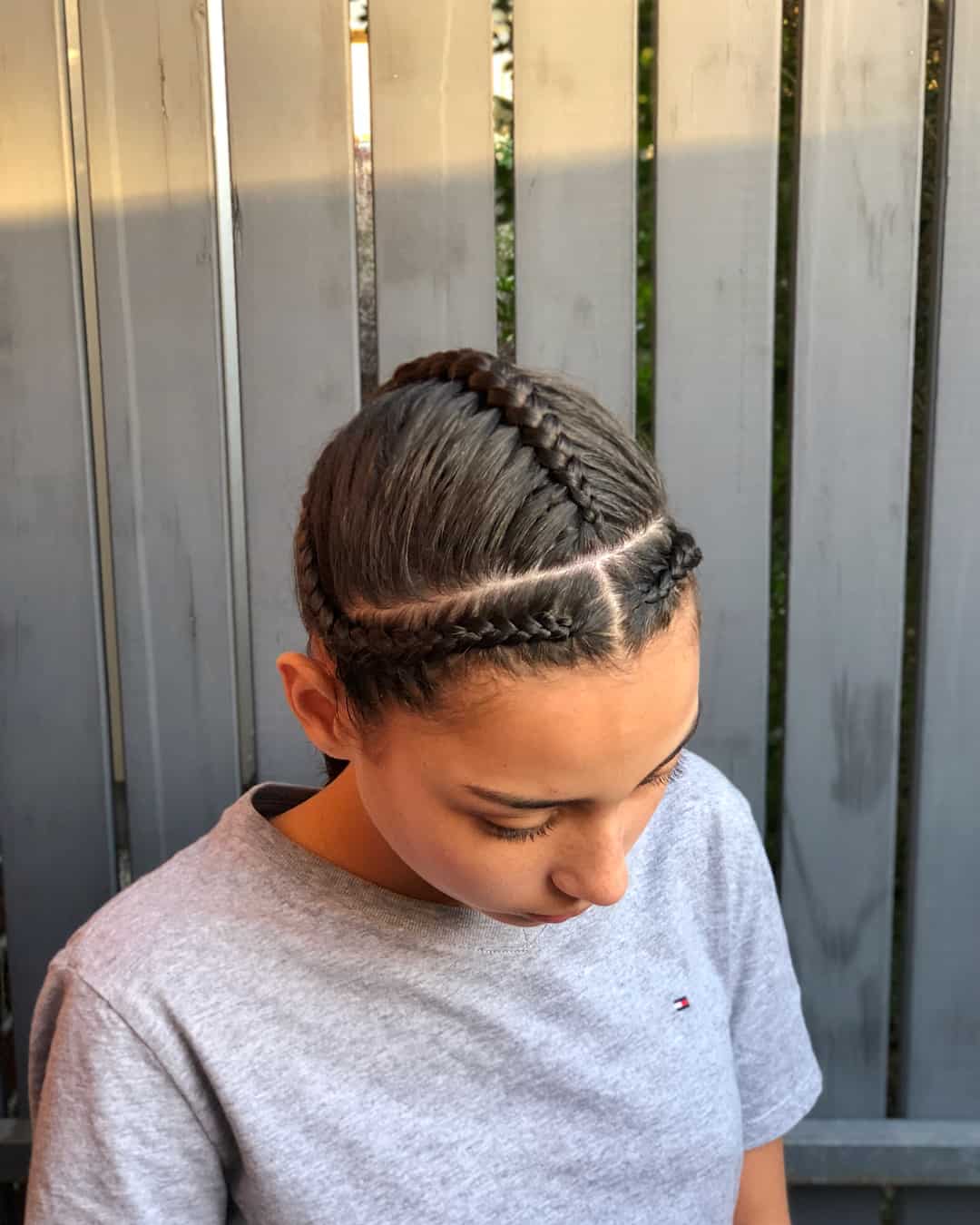 We said before that some hairstyles require a bit more time and effort. But the result is worth it. Here, for example, you get a hairstyle that will prevent sweating, and leave your hair looking amazing even after an hour of exercising. Isn't that worth spending some extra minutes for preparation?
20. Twists And Cornrows Into Twisted Pointy Ponytail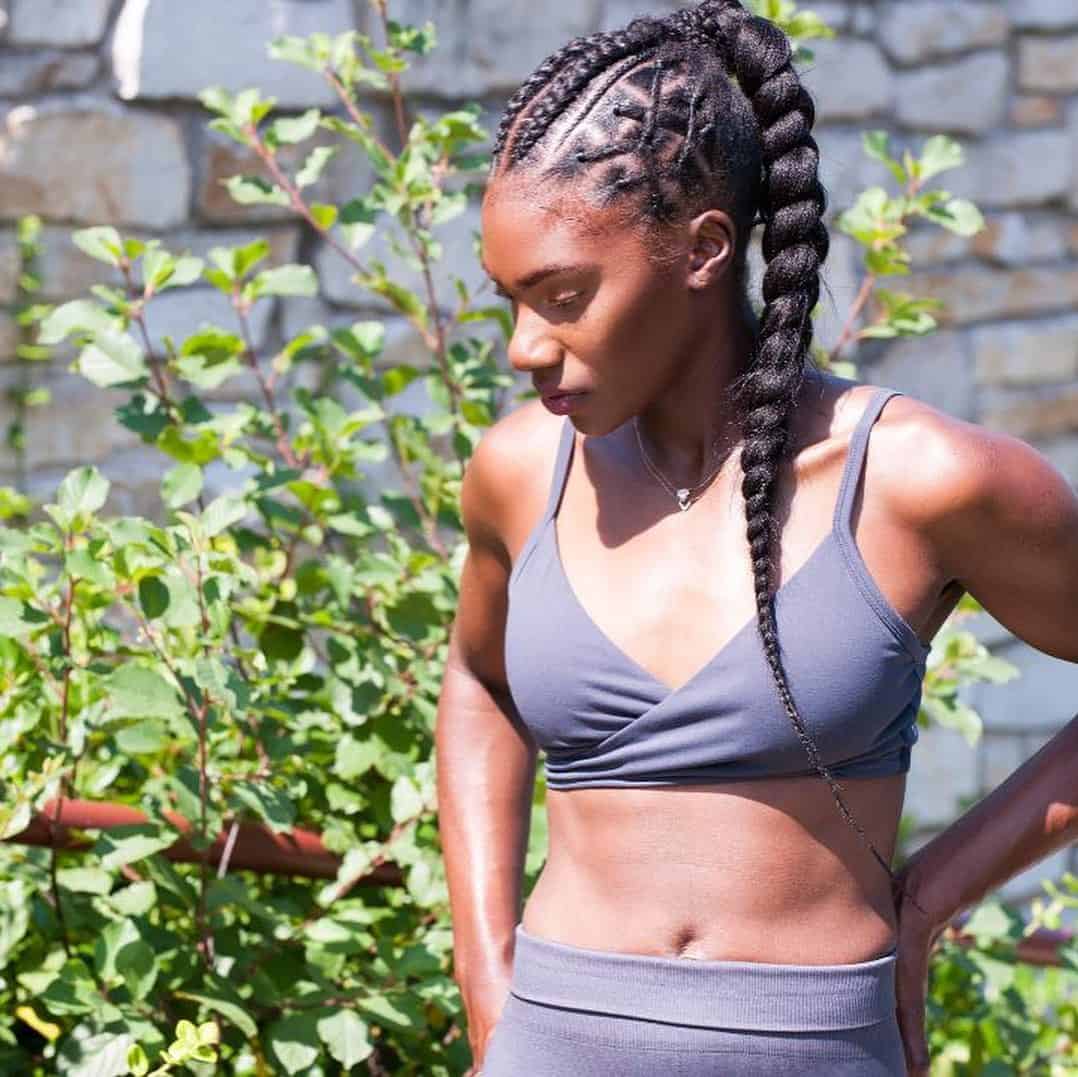 We said before, cornrows are perfect for workout hairstyles. Your hair is already braided and tight, all you have to do is give it some shape and form. And with cornrows, you can get any shape you want.
21. 3 Dutch Braids Flipped Around Into A High Bun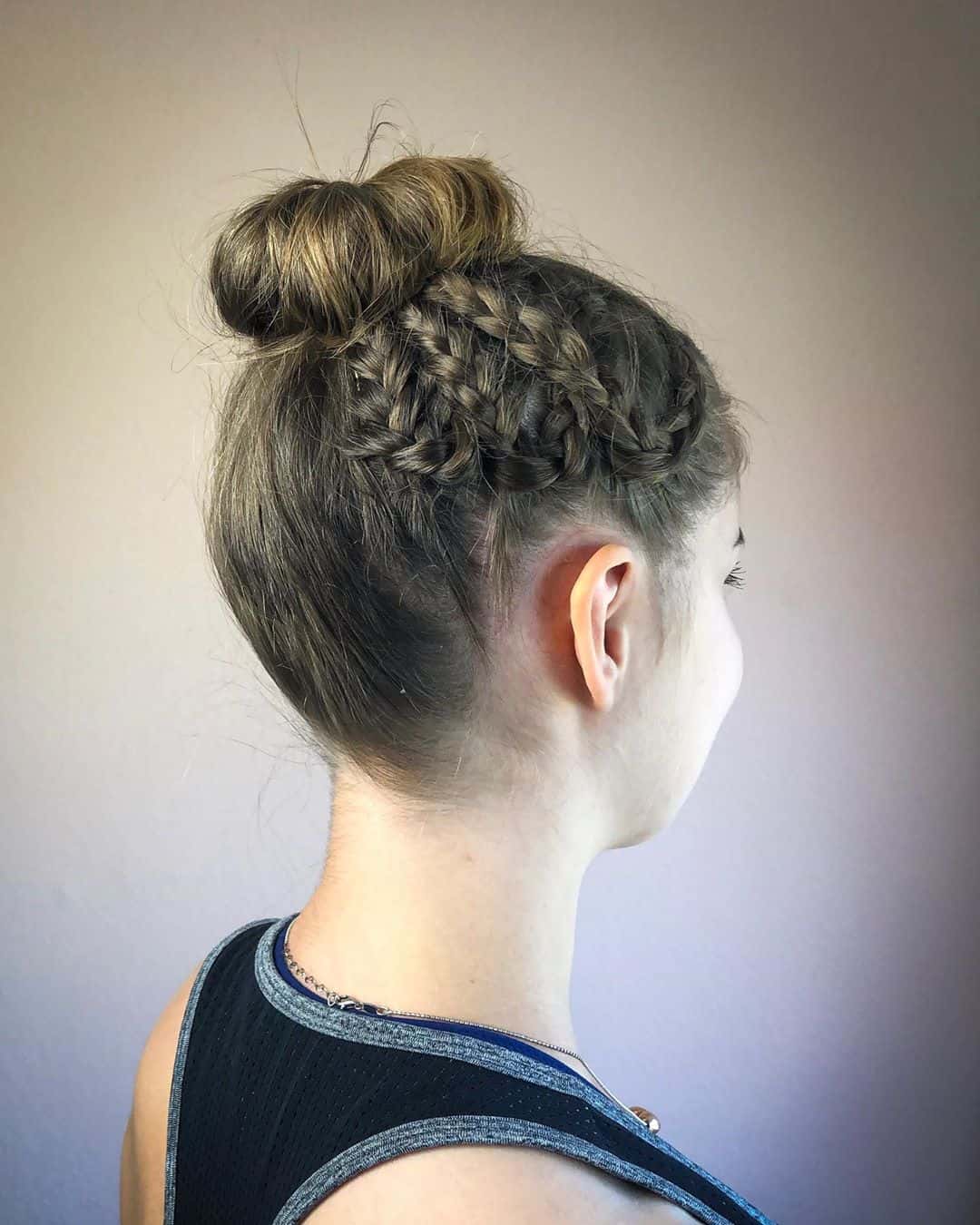 Probably one of the simplest and easiest to make workout hairstyles. Just braid your hair, and then gather all of the braids in a bun. Perfect for ladies with medium length hair.
22. Bubble Fouxhawk And Side Bubble Ponytail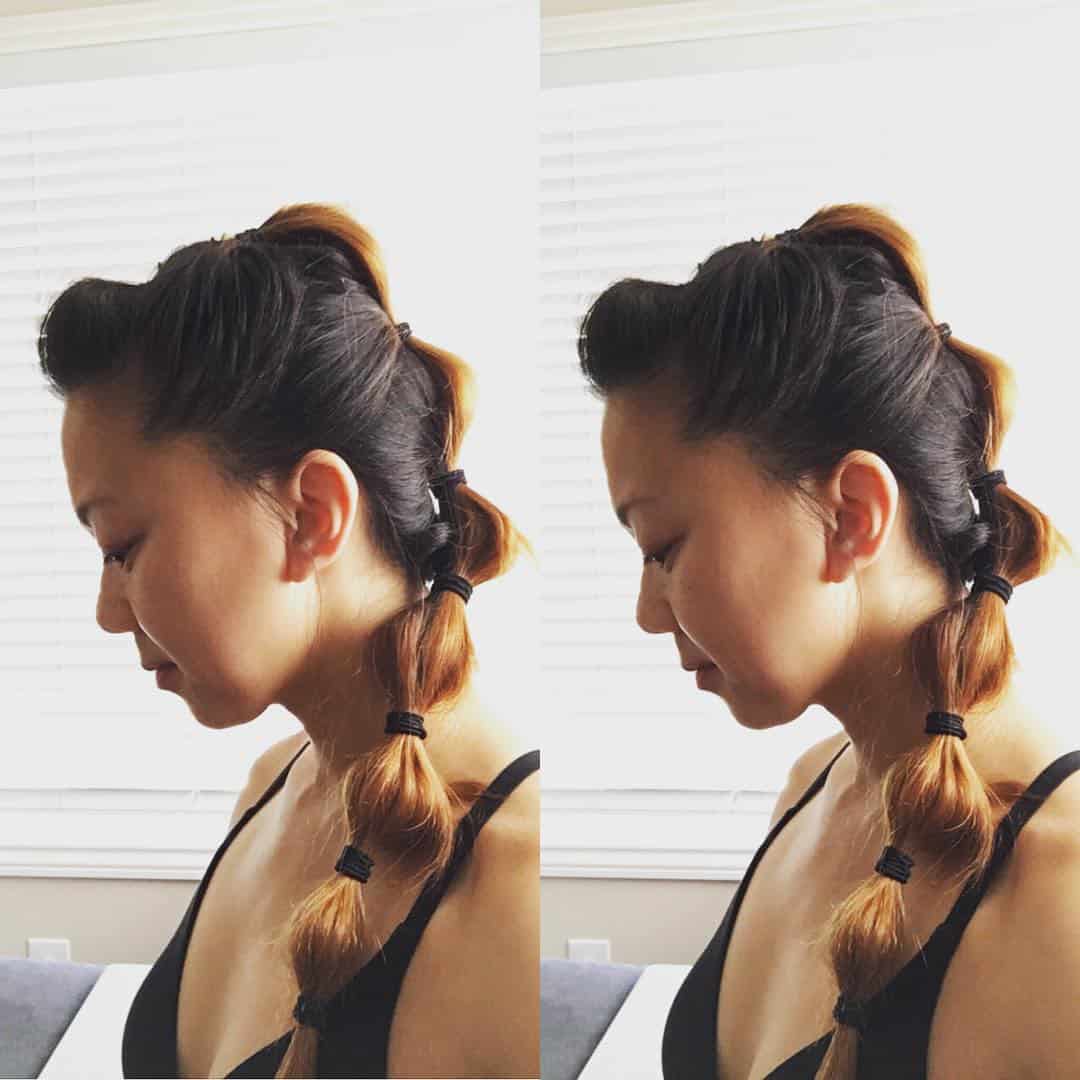 The fauxhawk is arguably one of the prettiest workout hairstyles. Sharp, edgy, and bold, it is more than just a hairstyle you wear to the gym. At the same time, it is a hairstyle you rock on your date and evening meetings.
23. Three Cornrows Into Half Pipe Braid And Loose Ponytail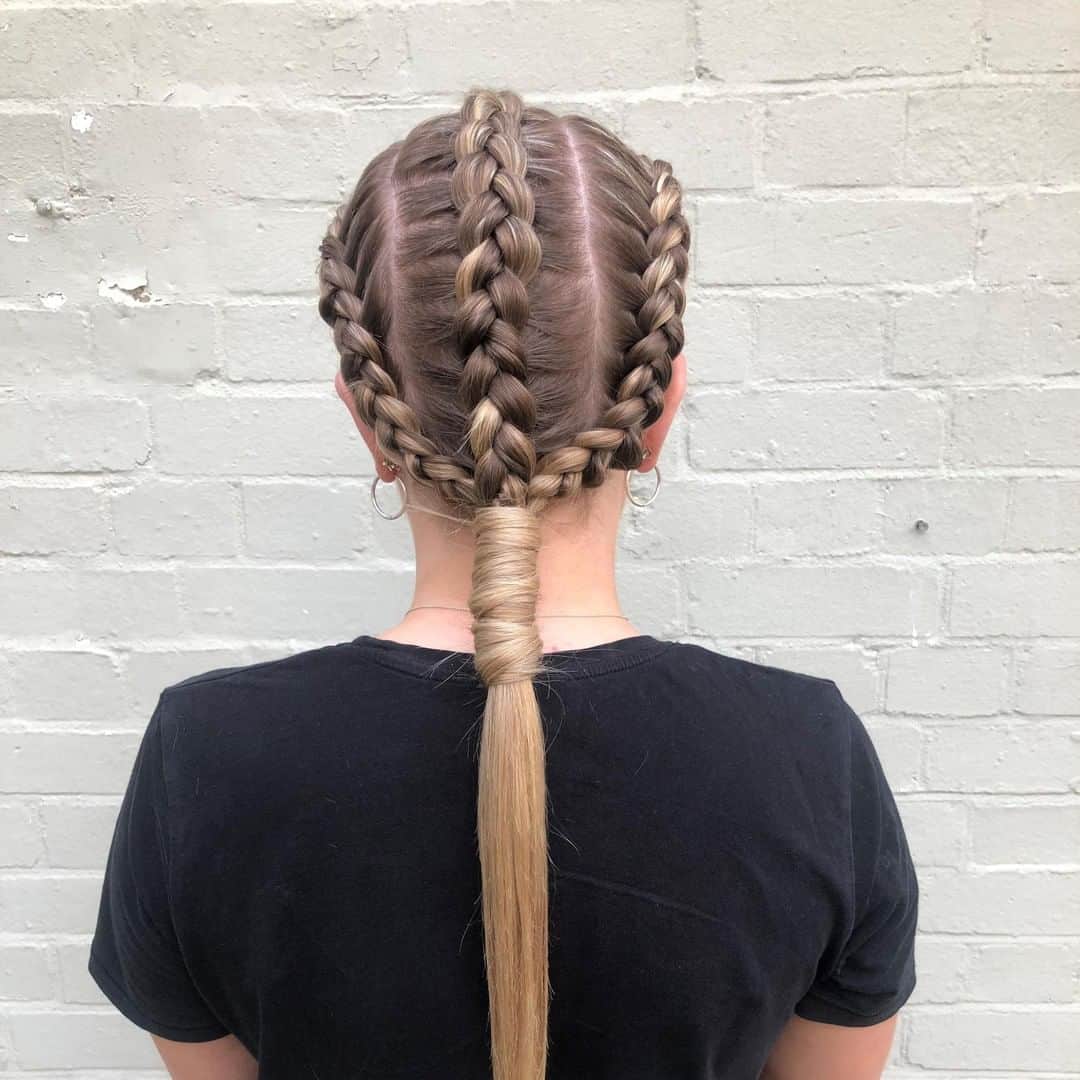 We had cornrows into a ponytail before. But here we are working with extremely long hair. Therefore, it is best that you let your hair loose at your neck. There is just no reason to braid it all the way down.
24. High Messy Braided Pigtails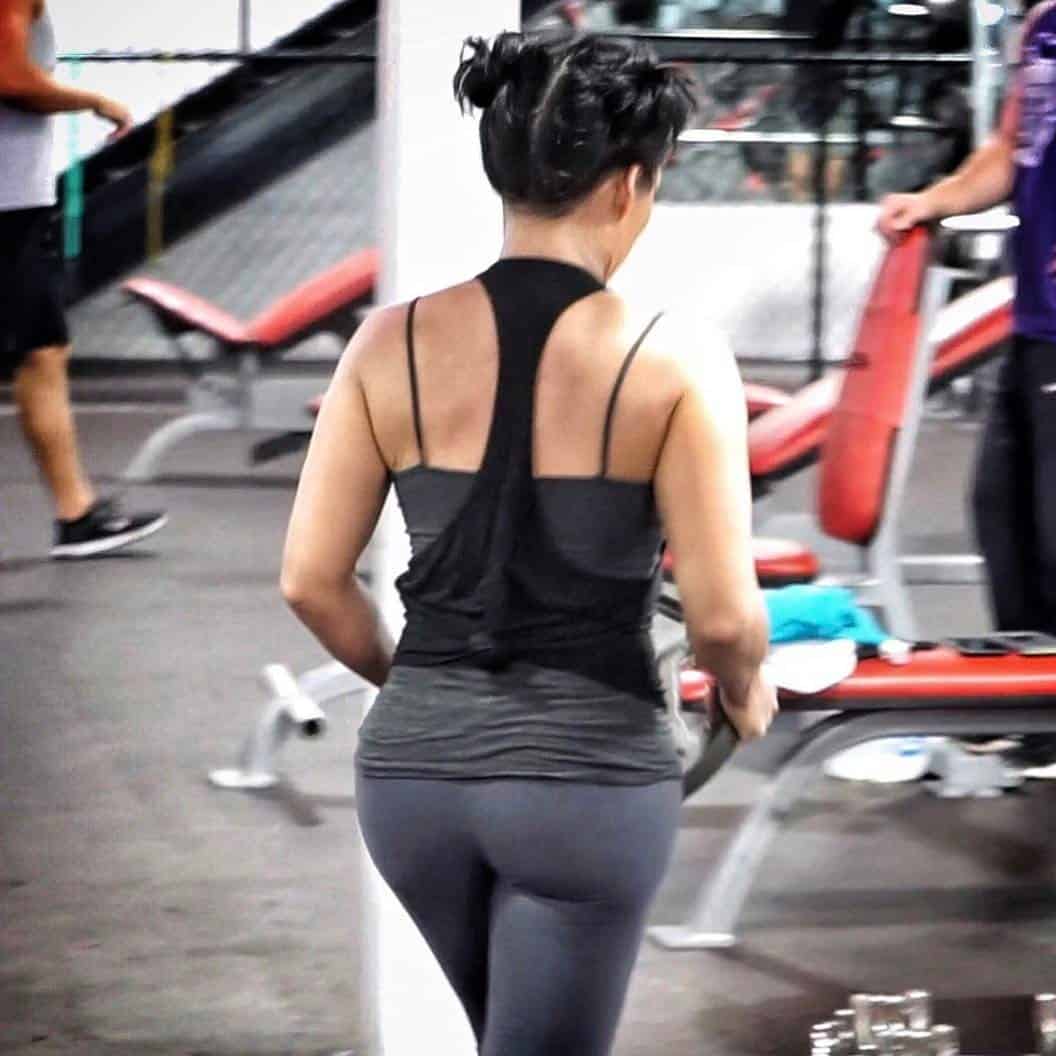 Pigtails are the workout hairstyle for women with short length hair. Being that you have less hair to work with, something simple like a pigtail is ideal. You still get some shape and texture, just with less hair.
25. Messy Topknot With Wide Headband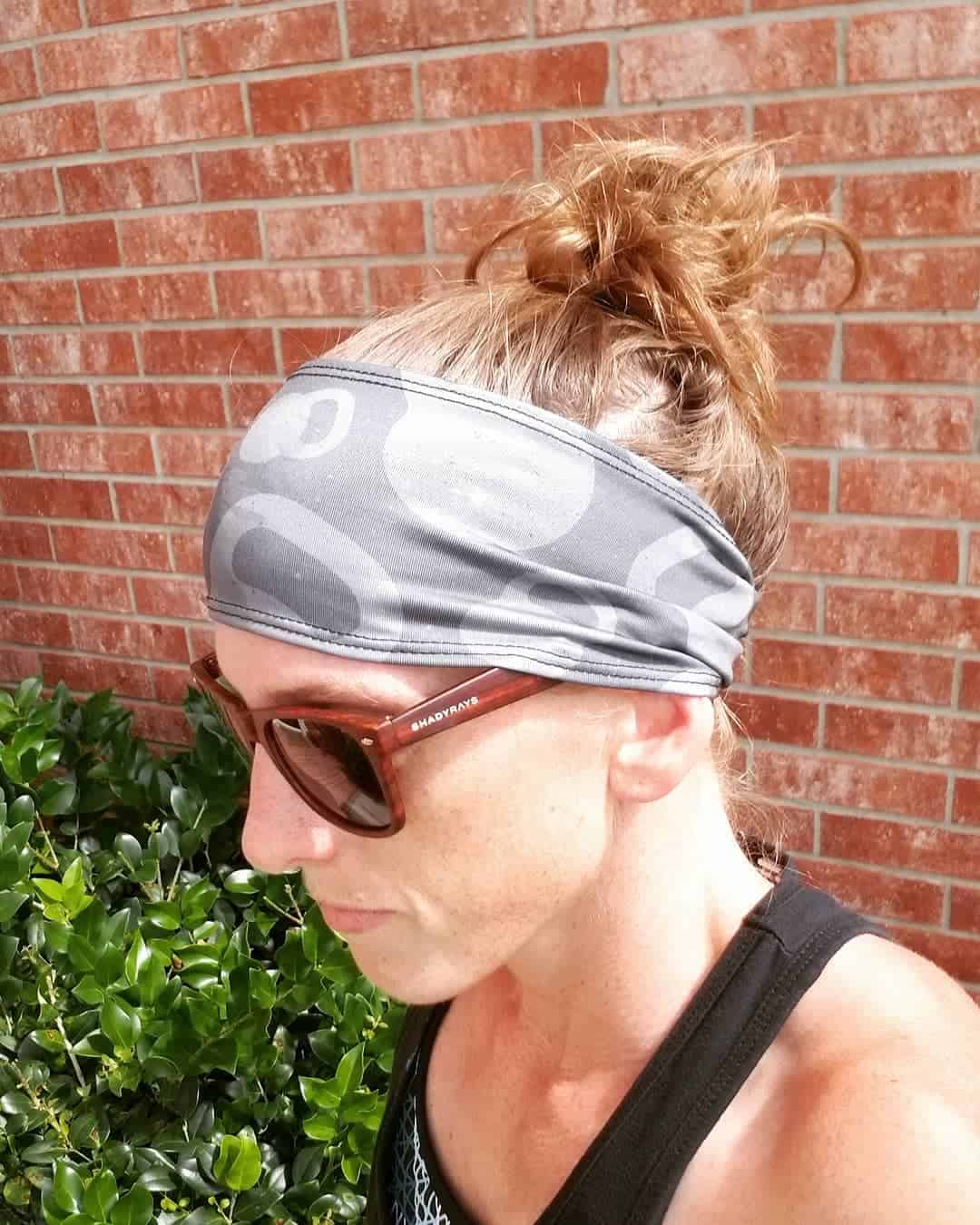 If you truly want to prevent sweat from your hair on your face, get a headband. Even the best workout hairstyle might result in some sweating. But with a headband, you prevent sweat from touching your face. And that means less acne, and other skin issues.
26. Goddess Knot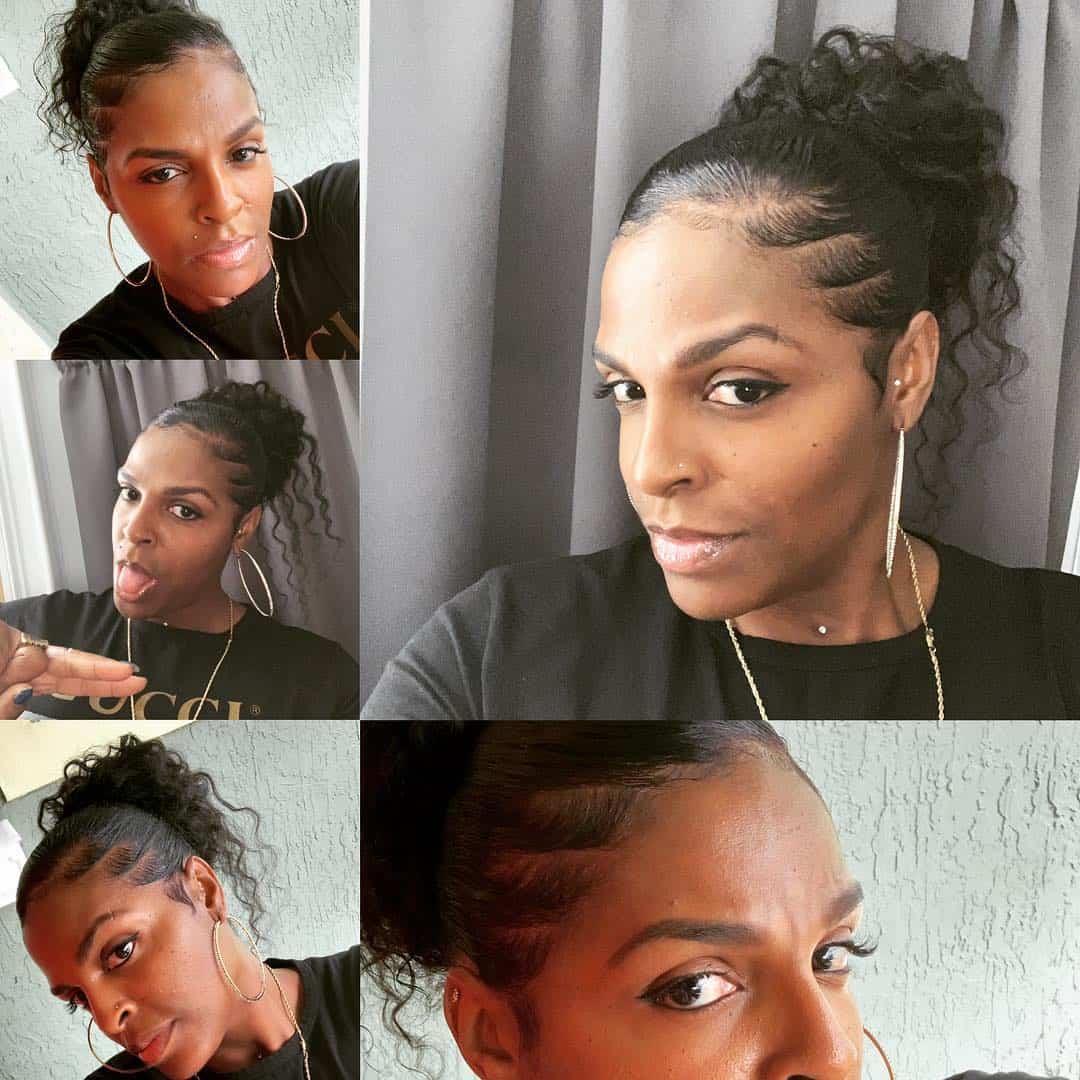 The knot is a go-to hairstyle for many women. Be it short hair, medium hair, or long hair, the top knot will get the job done. And in the process, you will look amazing.
27. Front To Side Dutch Braid And Messy Bun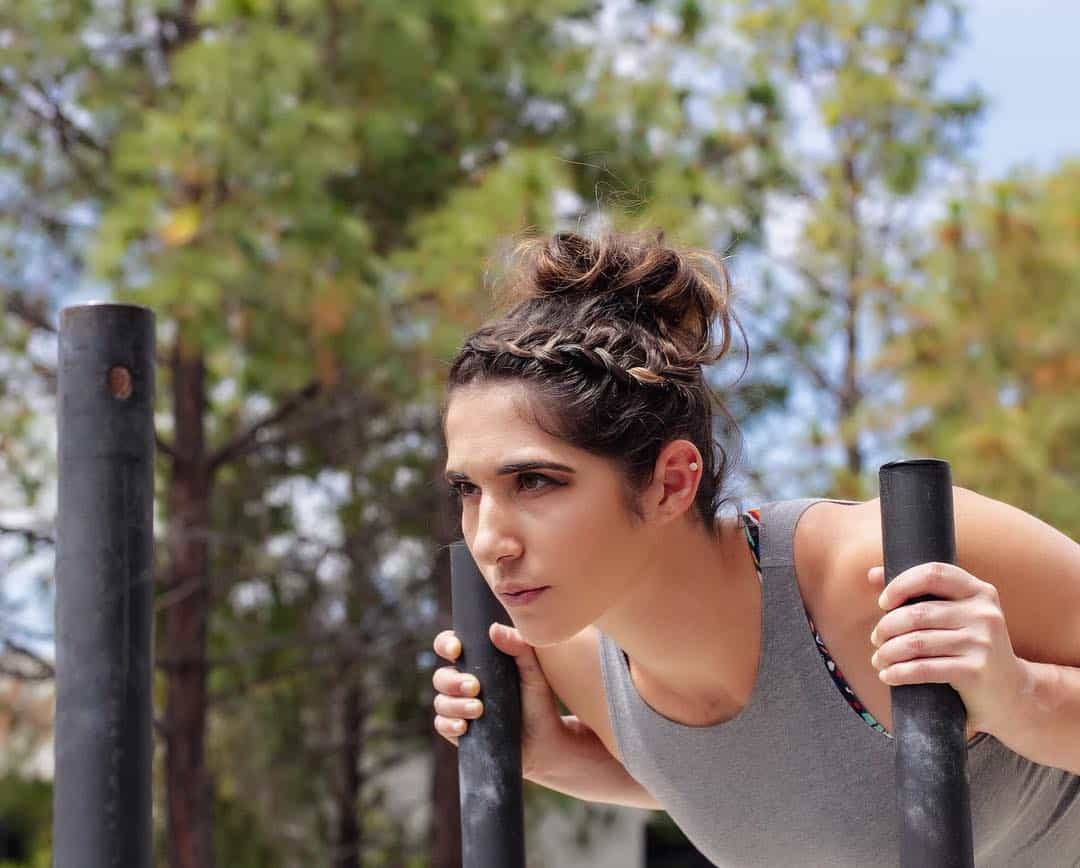 Let's finish off the list of workout hairstyles with a common and popular idea, the Dutch braid. But we want to leave some hair loose, just so it suits your athletic outfit and look.
Feel free to share your ideas for workout hairstyles. Us women have to stick together.