Some several years ago, women were all about being romantic, sensual, and sensitive. But things are changing. More and more women have independent, strong personalities, and they want something like warrior braid hairstyles that will follow that personality.
Enter warrior braids, hairstyles that can transform your hairstyle into an elaborate and intricate hairstyle.
One thing we have to note at the beginning. Warriors braids might not be easy to do, but they are very much possible. The trick is to braid your head when it is a bit dirty. Skip the shower to make the braids easier, and make sure to keep control of several sections of hair.
With that in mind, here are a couple of ideas you can try.
Why warrior braids?
In the past several years, warrior braid hairstyles have taken over because they can turn heads, literally. Thanks to shows like Vikings, Game of Thrones, and similar showing strong women with braids, the trend has taken over.
They look even more intricate and elaborate than regular braided hair. They might not be easy to do, but with a bit of practice, you can get there.
Luckily, we have some tips and guides for how to get your Viking style braid hairstyle. This Viking hair option includes big chunky plaits or a number of smaller plaits along with imperfect structures.
There are endless options, and we have couple to get you interested in the trend.
Prepare your hair for warrior braids
Because warrior braid hairstyles are a bit more challenging and hard to do, you have to prepare your natural hair. Here are some tips.
Braided hair style works best on not entirely clean hair, so skip the shower to make it easier
Add texture to your locks to help braids and plaits hold better. You can get away with texturizing spray
Section off pieces of natural hair before you start. It is easier to take control of sections when they are divided
1. Green Mermaid Trinity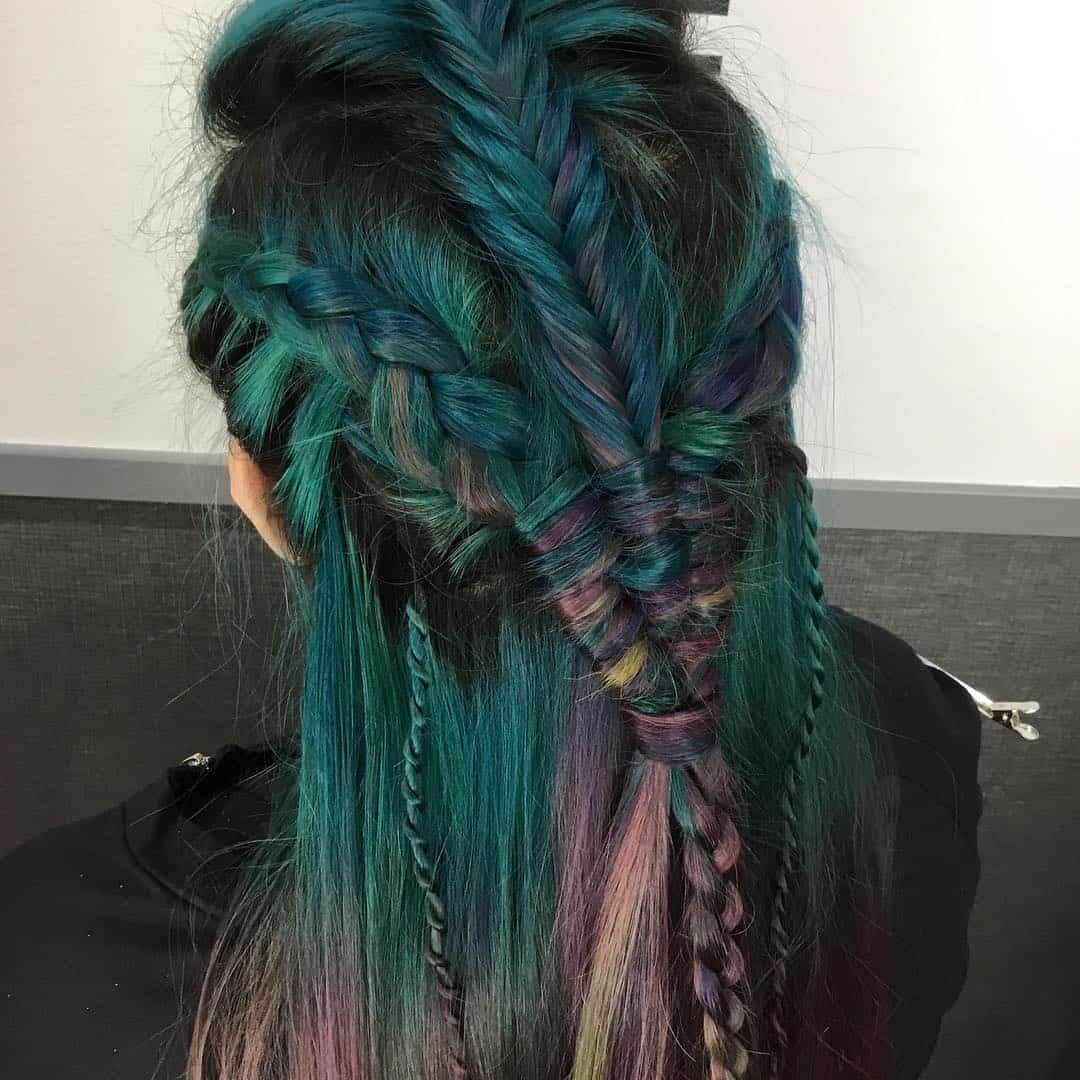 Let's start off with something out of the box. Although, one might say that colorful braids and fairytale looking braids are more mainstream than ever. With that in mind, this hairstyle displays the holy trinity, of the mind, body, and soul. The hairstyle will give you strong, but also peaceful and calming look.
2. Messy Jumbo And Micro Braid Mash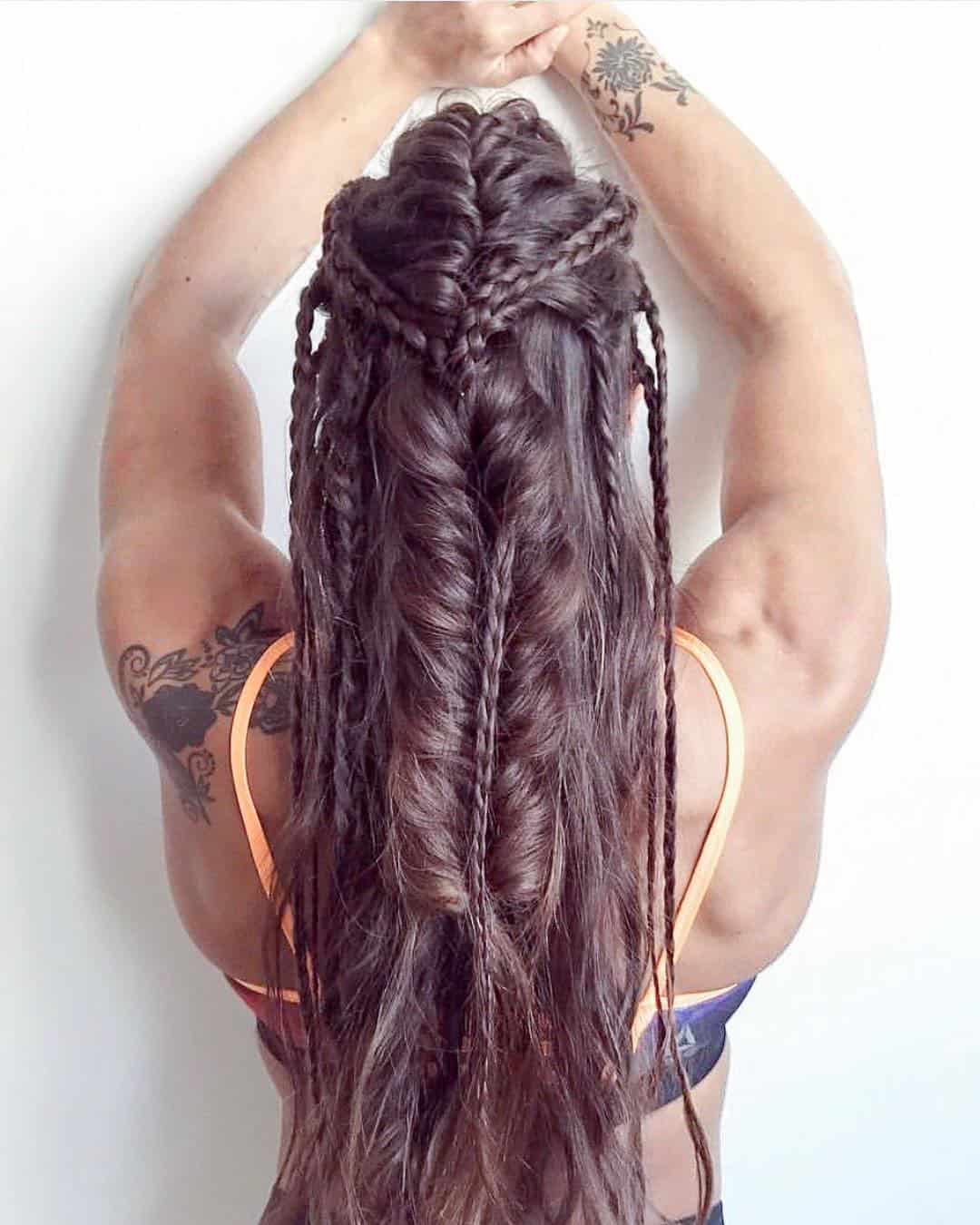 The hardest look to achieve is messy, but good looking. We have to admit, getting this messy micro and macro braids hairstyle will be a challenging task. However, with a bit of practice, and patience, you will get there. And once you are there, you have a hairstyle everyone will envy you about.
3. Criss-Cross Fishtail Braids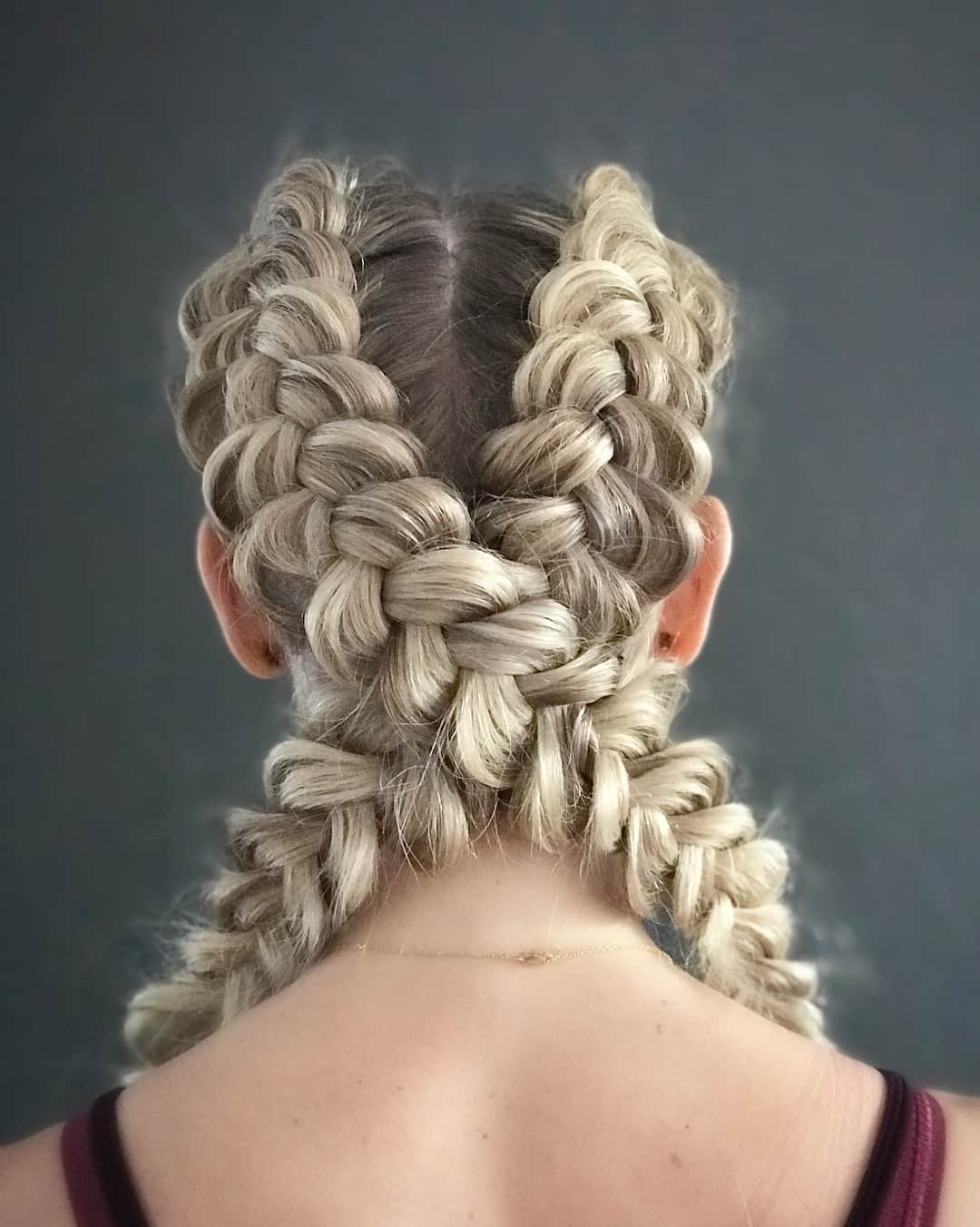 Fishtail intricate braids are perfect for women that want a bit more texture and volume out of their braids. Not quite the macro braids, but still, good enough.
4. Snakey Coiled Braids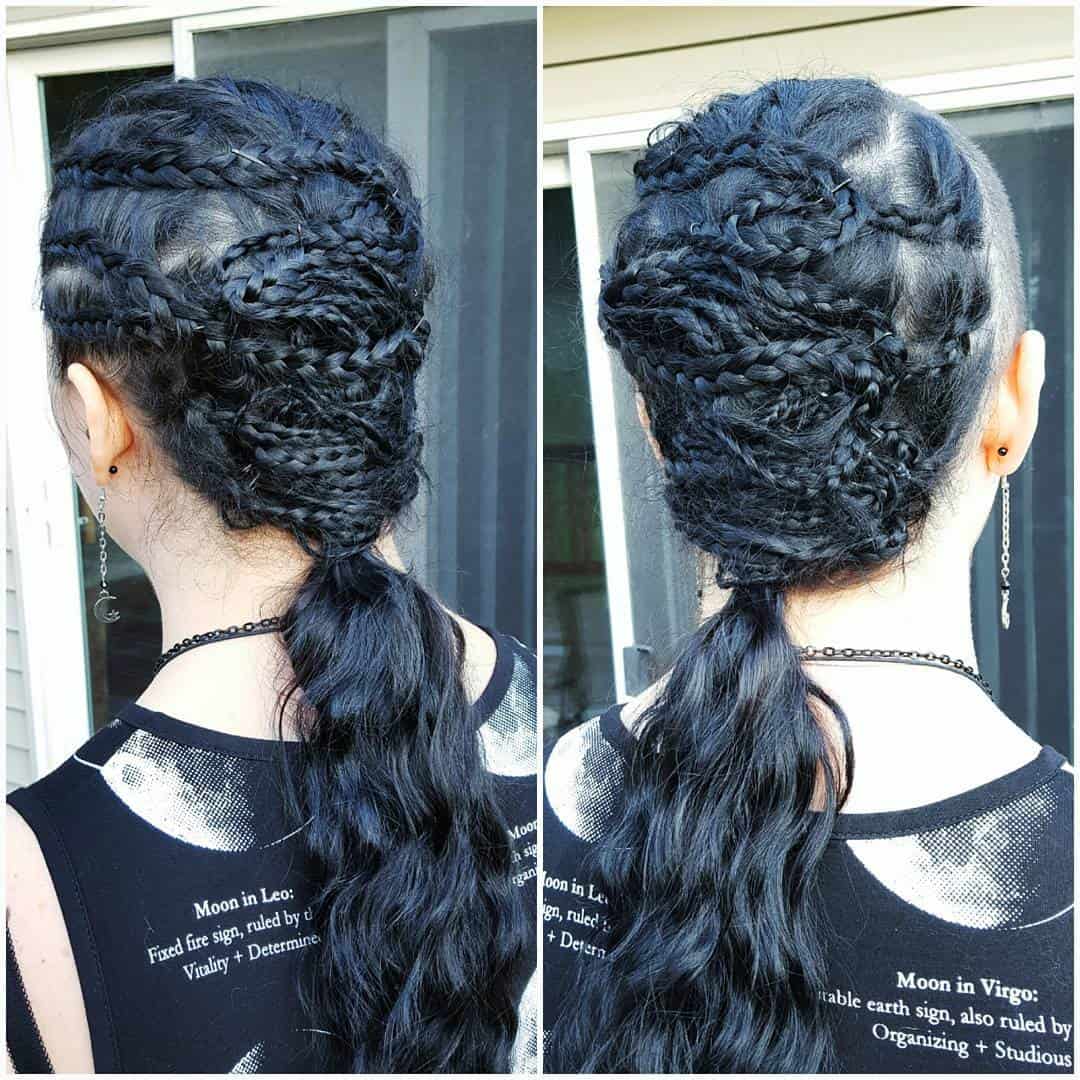 If you want a braided style that is more African-America, then the coiled braids are your go-to move. There are countless of variations you can try, and this is just one example. If you have the length, you can easily make coiled braids, and if not, extensions are an option.
5. Five To One Braided Ponytail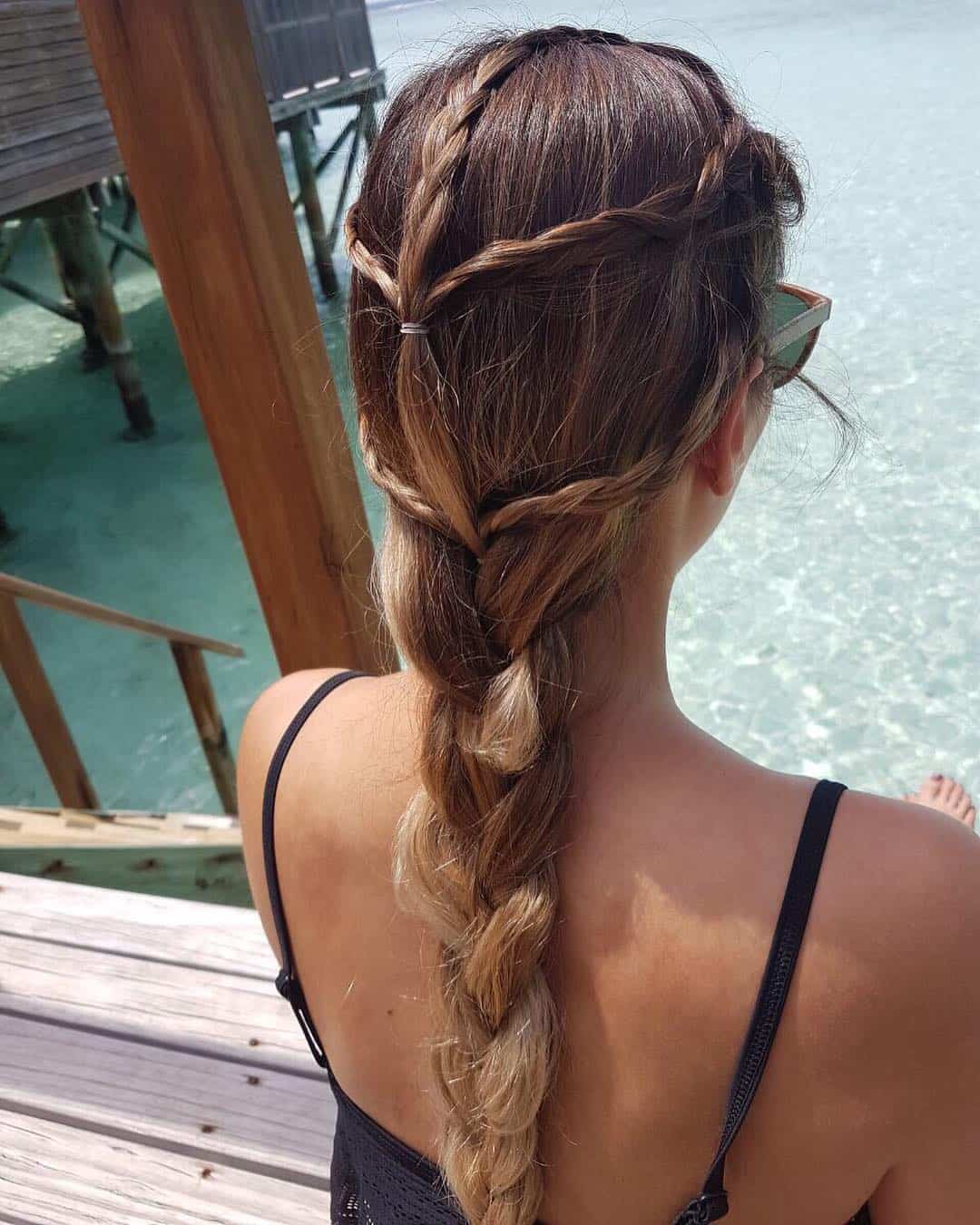 Feels like your hair is a maze. And that is what turns the rather simple ponytail hairstyle into a unique and beautiful-looking hairstyle. The pony is probably the first braiding technique you learn as a child. And now it is time to take it to the next level.
6. Messy Twisty Crown With Fishtail And Micro French Braids
We have another messy hairstyle. And in this case, it is all about mixing and matching different braiding techniques. Now that is a challenge on its own. But, we believe you can make it. After all, you can always call a friend to help you.
7. Crossed And Hanging French Braids With Jumbo Braid
This is the movie-style braids you are probably obsessed with. The reason why more and more women love warrior braids are movies. Nowadays, Hollywood makes more and more fiction movies, where we see women with braids like this one. Or think television series and Dany in Game of Thrones.
Long hair has seen its rise in popularity.
8. Bundle Of Braids Ponytail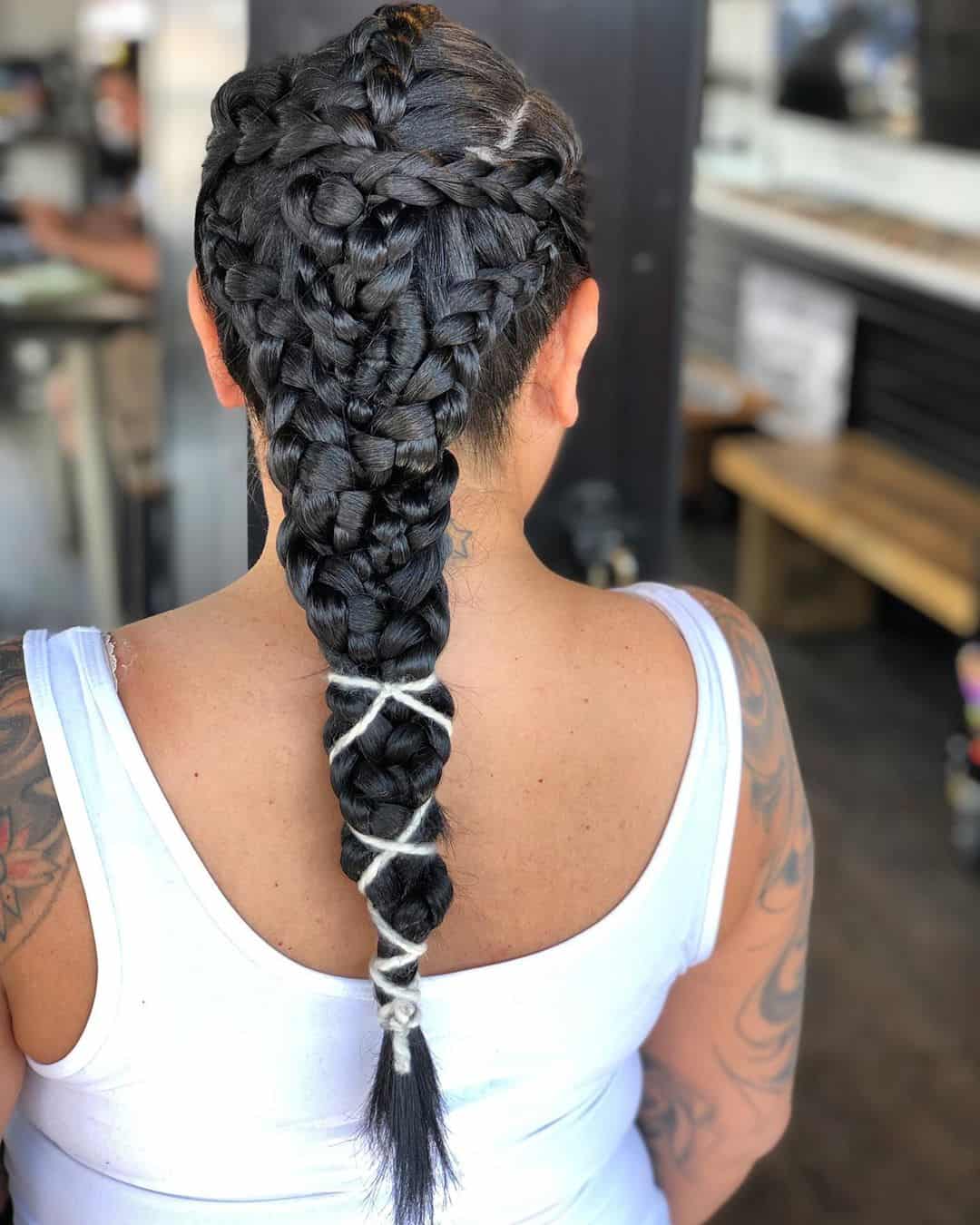 We had a five in one ponytail, and now we get a bundle of braids into just one pony. This gives your pony a ton of texture and volume, and makes your hair look healthier.
9. Bubble Braid Fauxhawk With Side Braids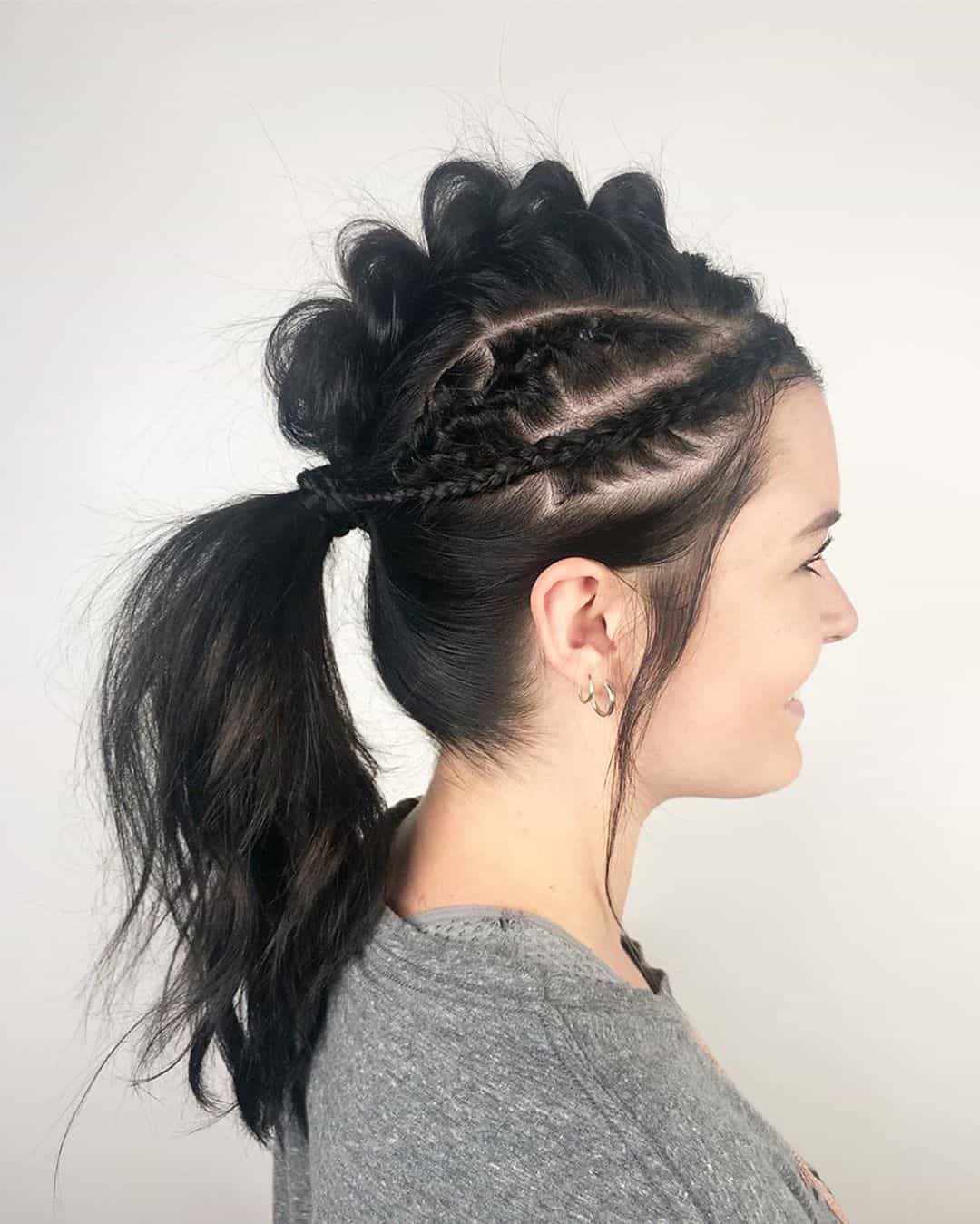 The Mohawk and the faux hawk are two of the more hairstyles for strong women. And now you can make them with braids. It is quite easy to be fair. And it gives your hawk a bit of more texture, and style.
10. Five Woven French Braid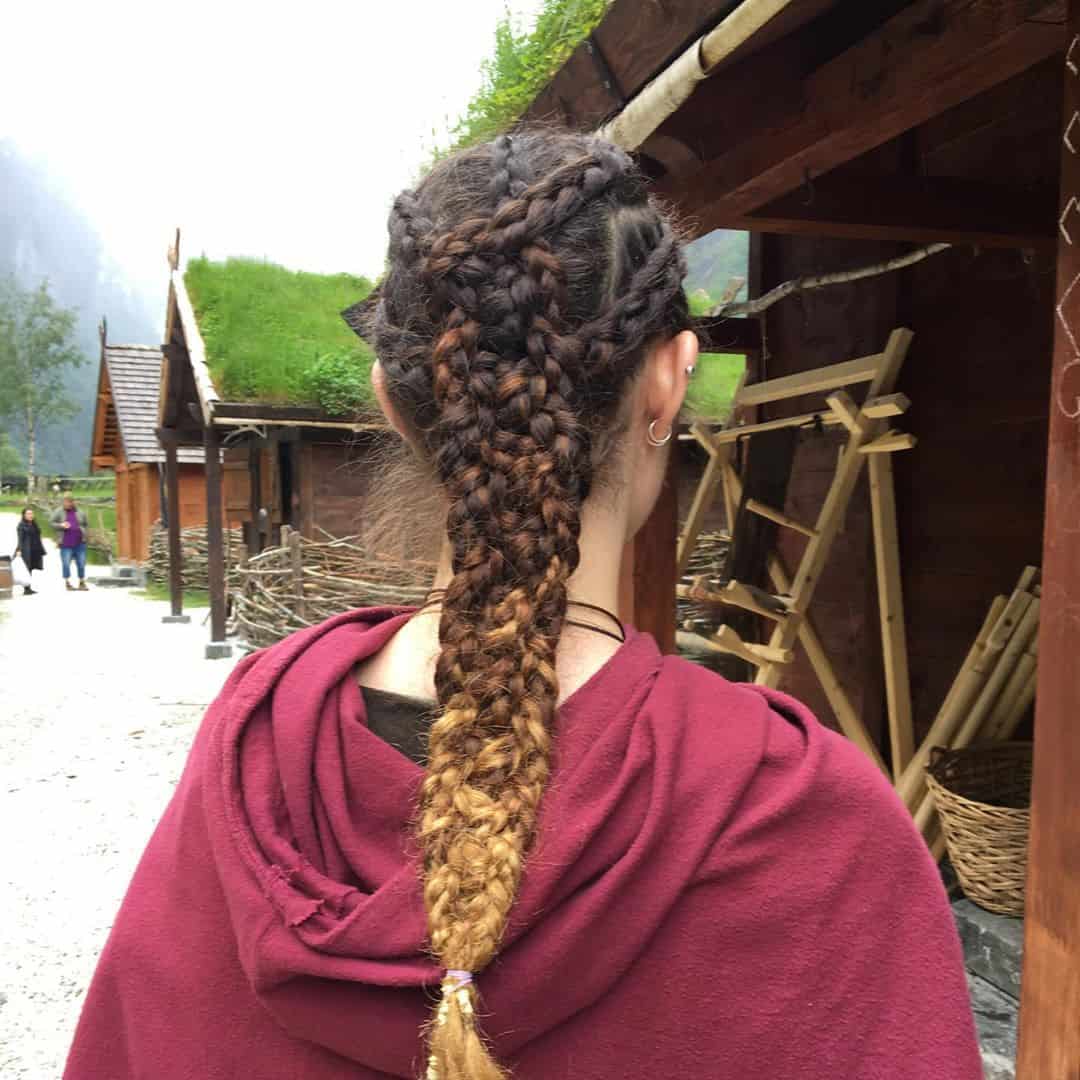 If you have time to spare, and patience, this is a hairstyle that will attract your attention. On first glance, it looks like nothing special. But women that understand how time-consuming can braiding be, will understand. And applaud your efforts.
11. Loose Blue Bubble Braid Vibes With Side French
It is all about color. If you want to vibe some strong woman feelings, add some bold color to your braids. It sounds simple, and really is. Any bold color can instantly transform your hairstyle. No matter what you wear.
12. Rose Top Know With Side Braid And Loose Ponytail
We love it when women combine a couple of different braiding techniques into one. And the pony is probably the most versatile of them all. You can wear a pony with any other braiding technique. Best of all, the pony gives you a great elegant vs casual contrast.
13. Multi Heart Braids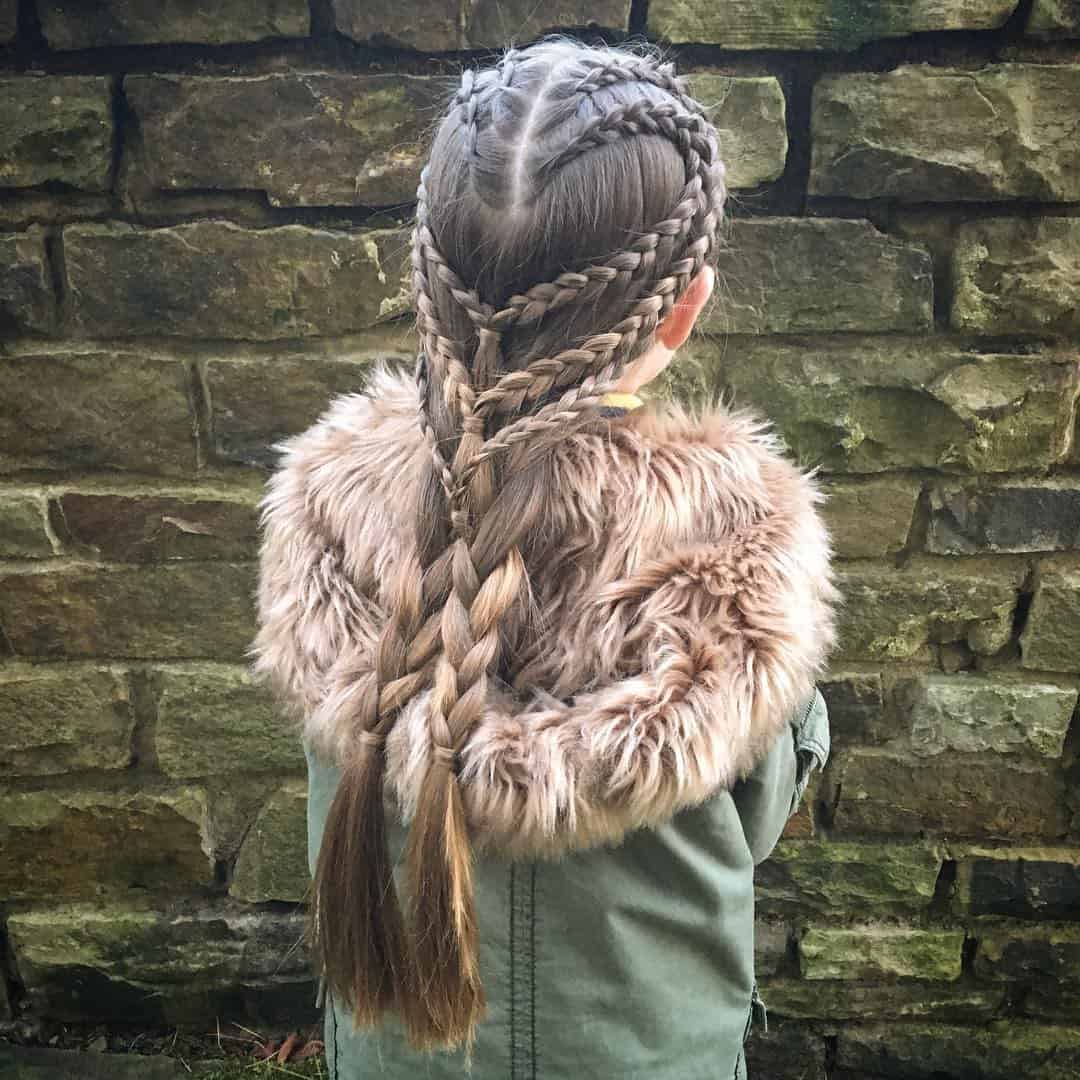 We are now in the section when braids are not enough. Instead, you need an object, or something else in your hair. Well, a heart works wonderfully, since it gives you a touch of sensual woman to your strong and independent side.
14. Halo Wrap Around Fauxhawk And Undercut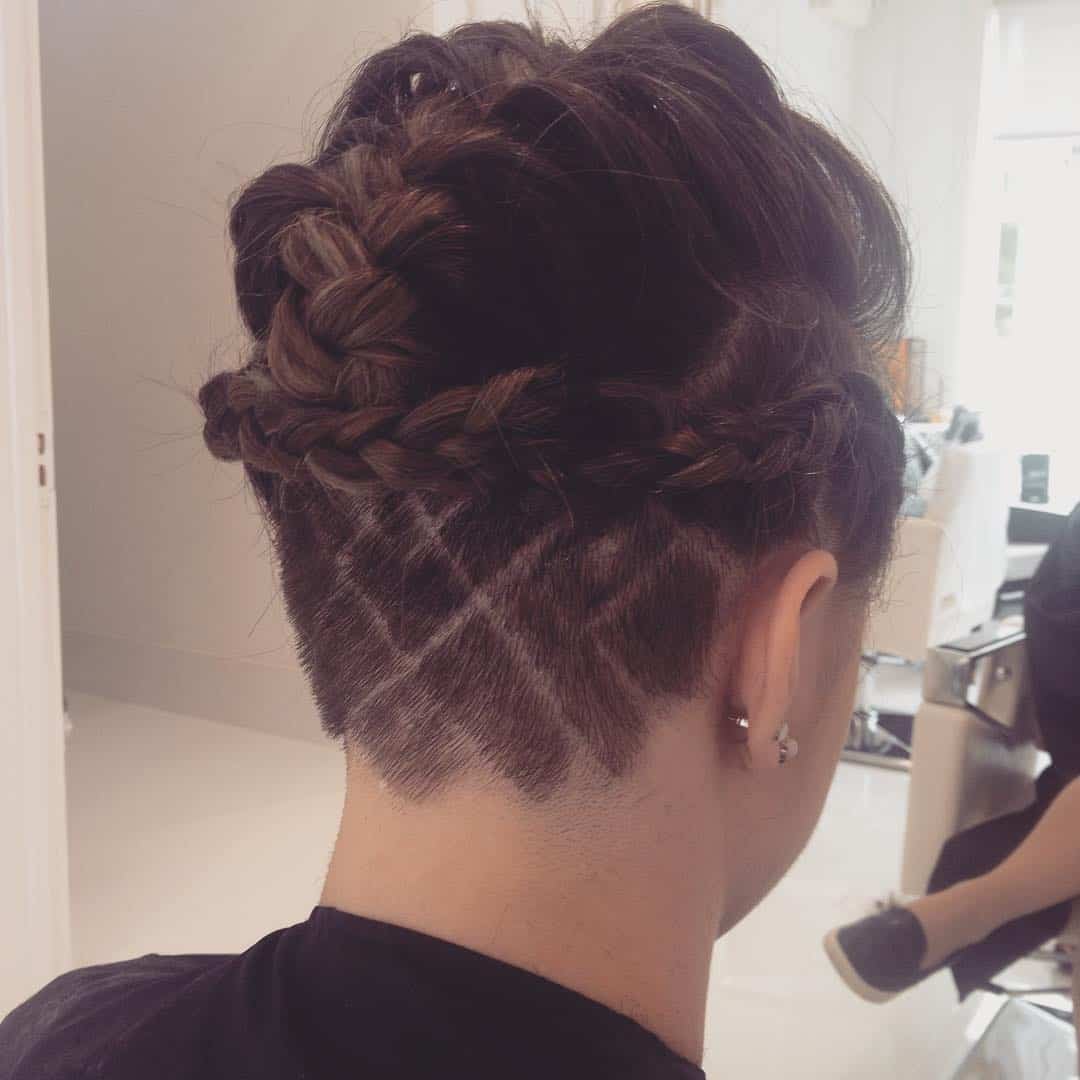 The biggest challenge here is mixing and matching all of the different hairstyles. And they are all in the spirit of a strong woman. Fauxhawk, undercut, all of that is just a way to show the world "I am here, and I can do it on my own".
15. Long Silver Cornrows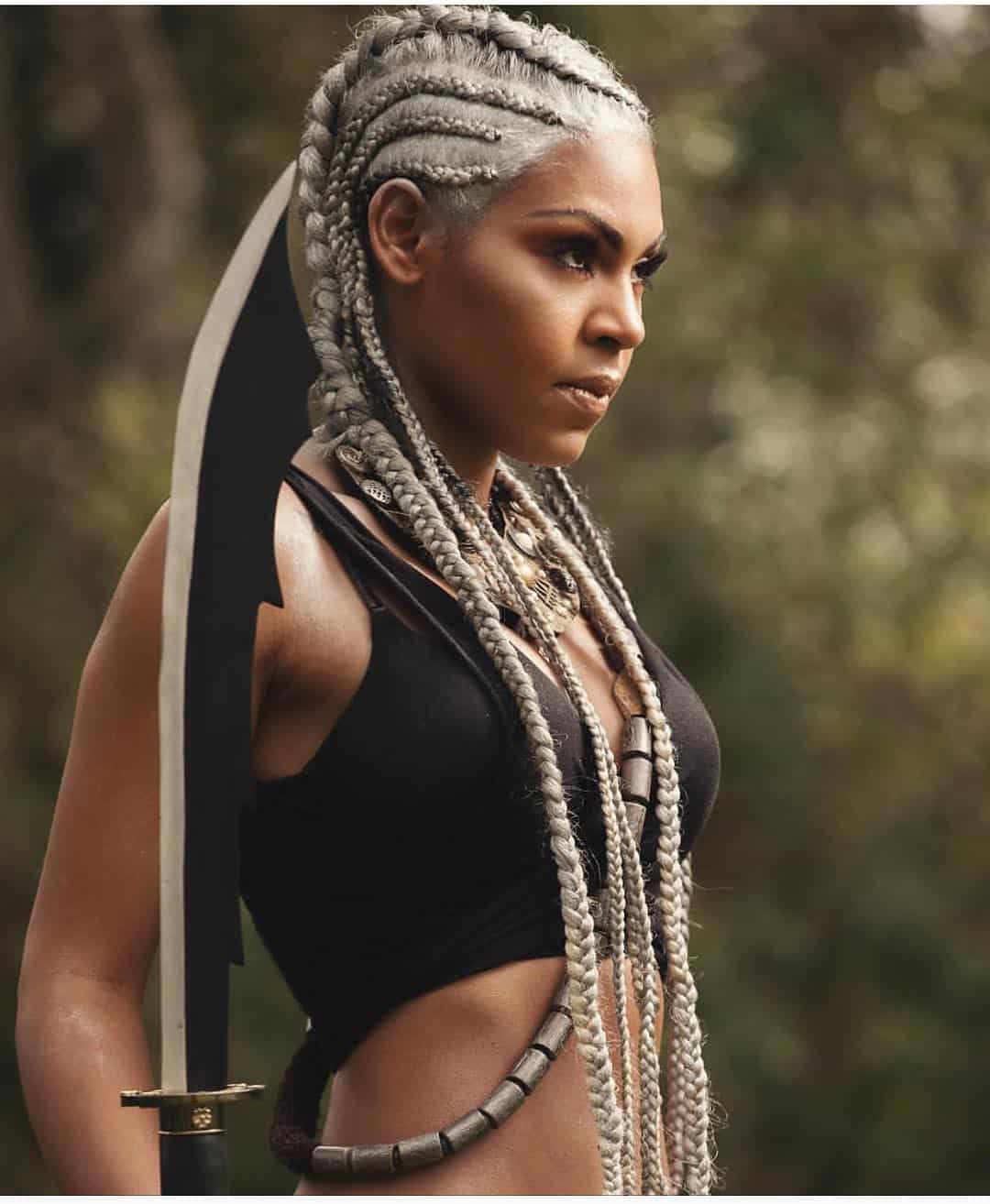 The Amazonian hairstyle, if you like to call it that way. The movie Wonder Woman helped bring the Amazonians closer to the mainstream. And now, as a result, we have more and more similar huntress hairstyles.
If you have messy long hair, this braided hairstyle will be welcomed.
16. Side Pulled Back Braids With Gentle Curled Ponytail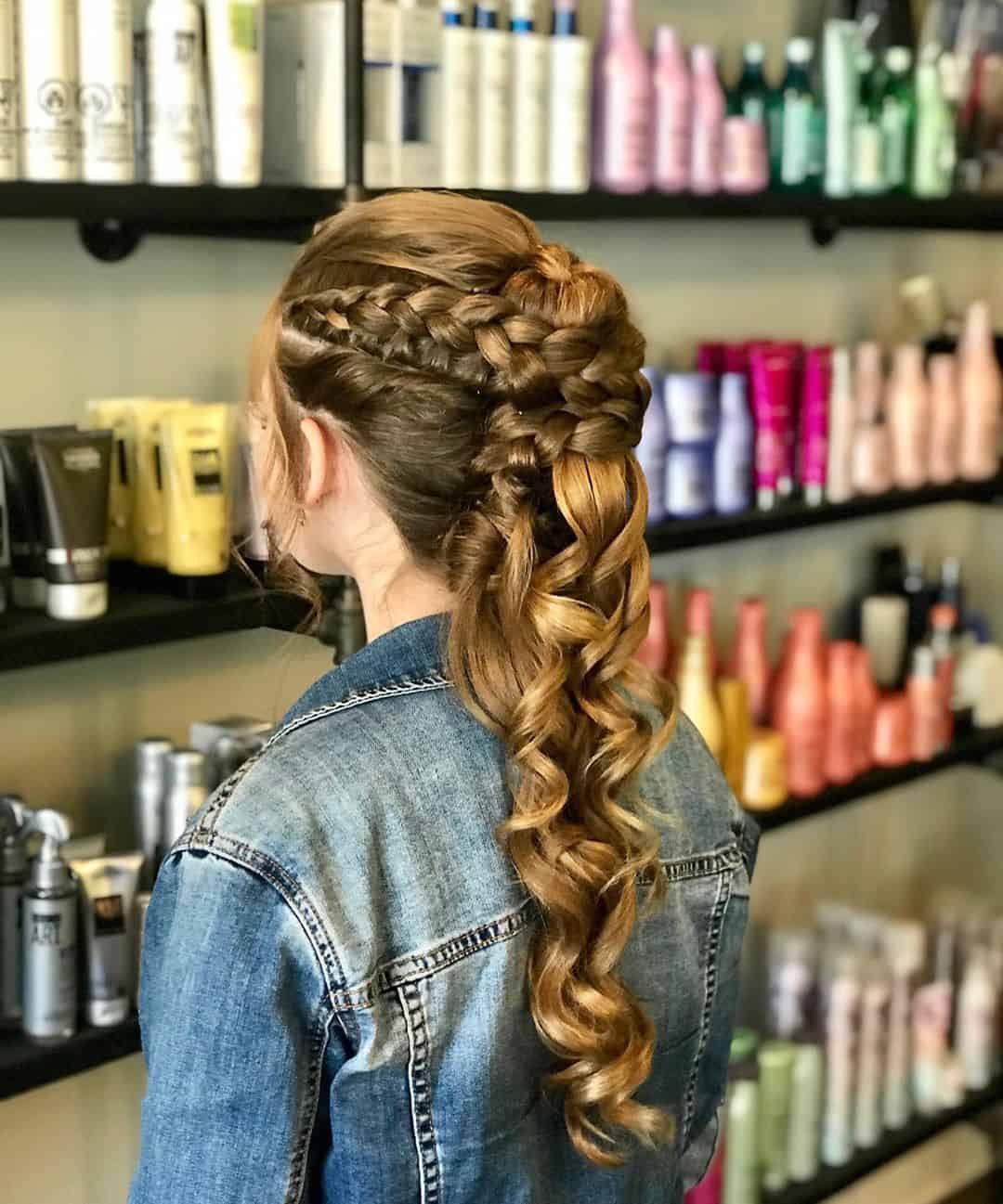 The side braids are the ultimate effortless look. Combine it with a pony, and you have two hairstyles that scream "I look amazing, and it took me just two minutes to get ready". No matter what type of side braid you are going for, chances are you will have one that feel very pulled together.
17. Side Waterfall Fishtail Braid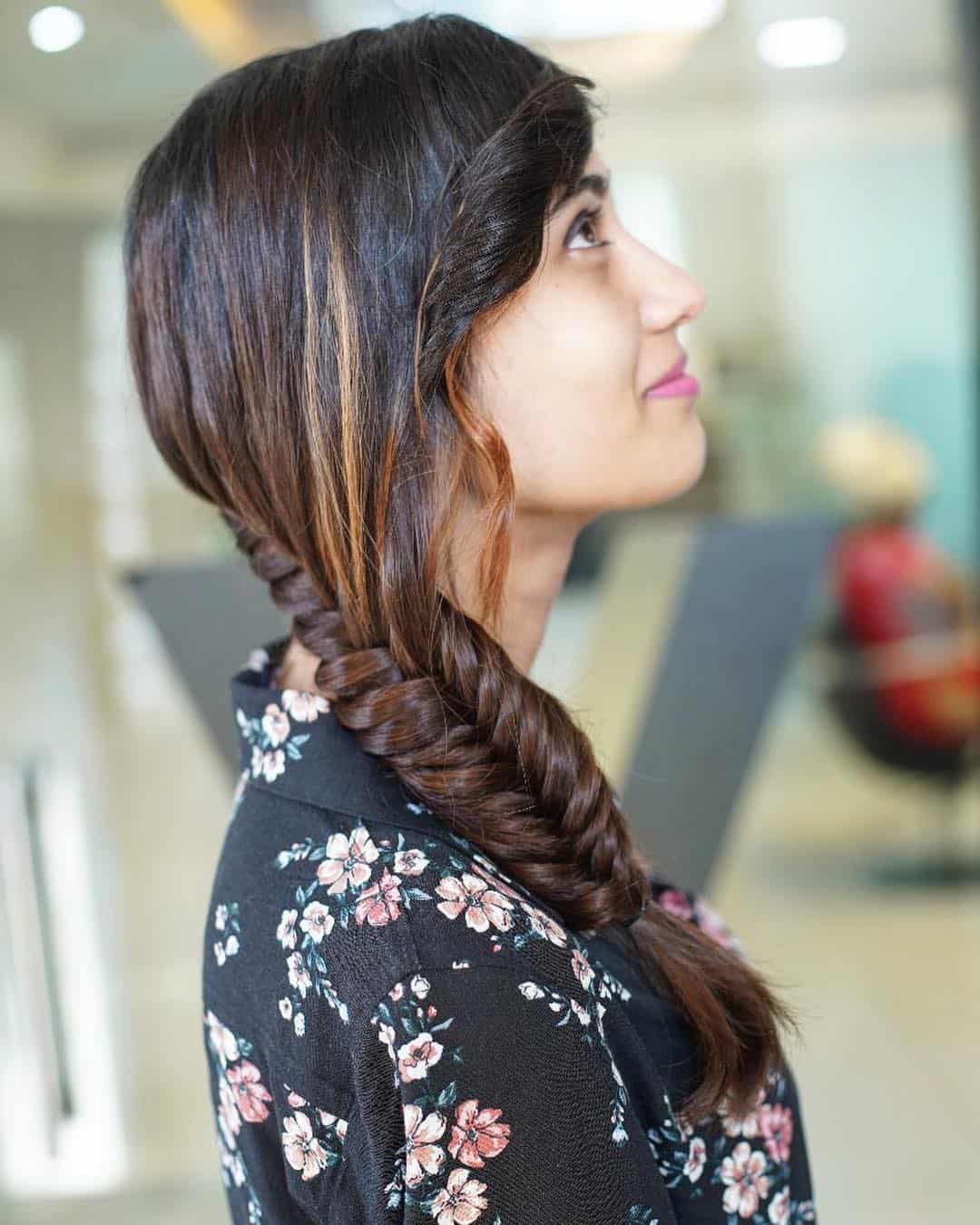 The beauty of waterfall braids is the cascading part. Or in other words, the part of the hair that is left to cascade down. Waterfall braids are a perfect middle ground between elegant and casual look.
18. Twisted And Woven Pulled Back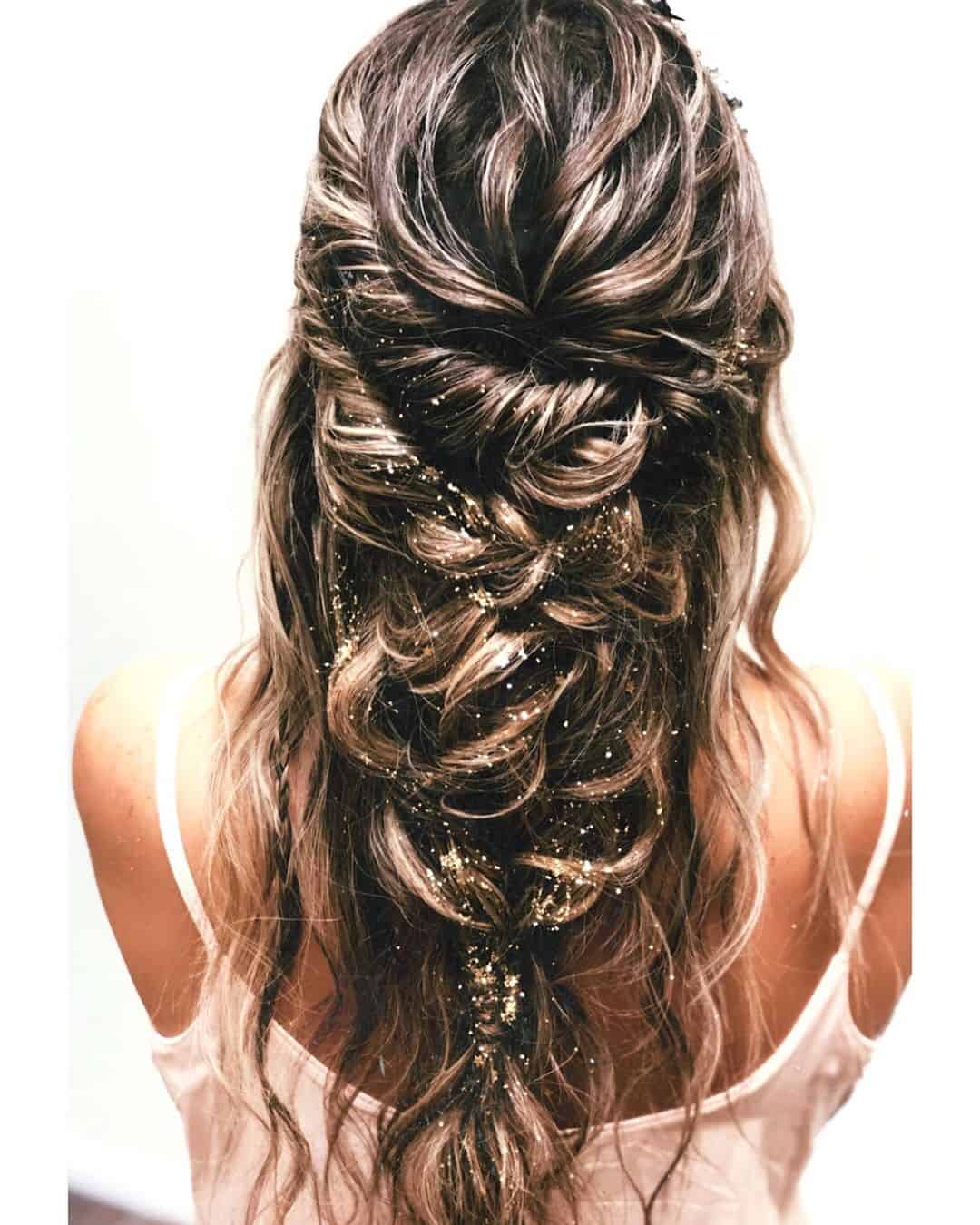 The beauty here is that you cannot tell where one part begins, and where it ends. And that is the beauty of twisted and round braids. You just play with your hair, and the result is astonishing.
19. Blue And Purple Ombre Braided Macrame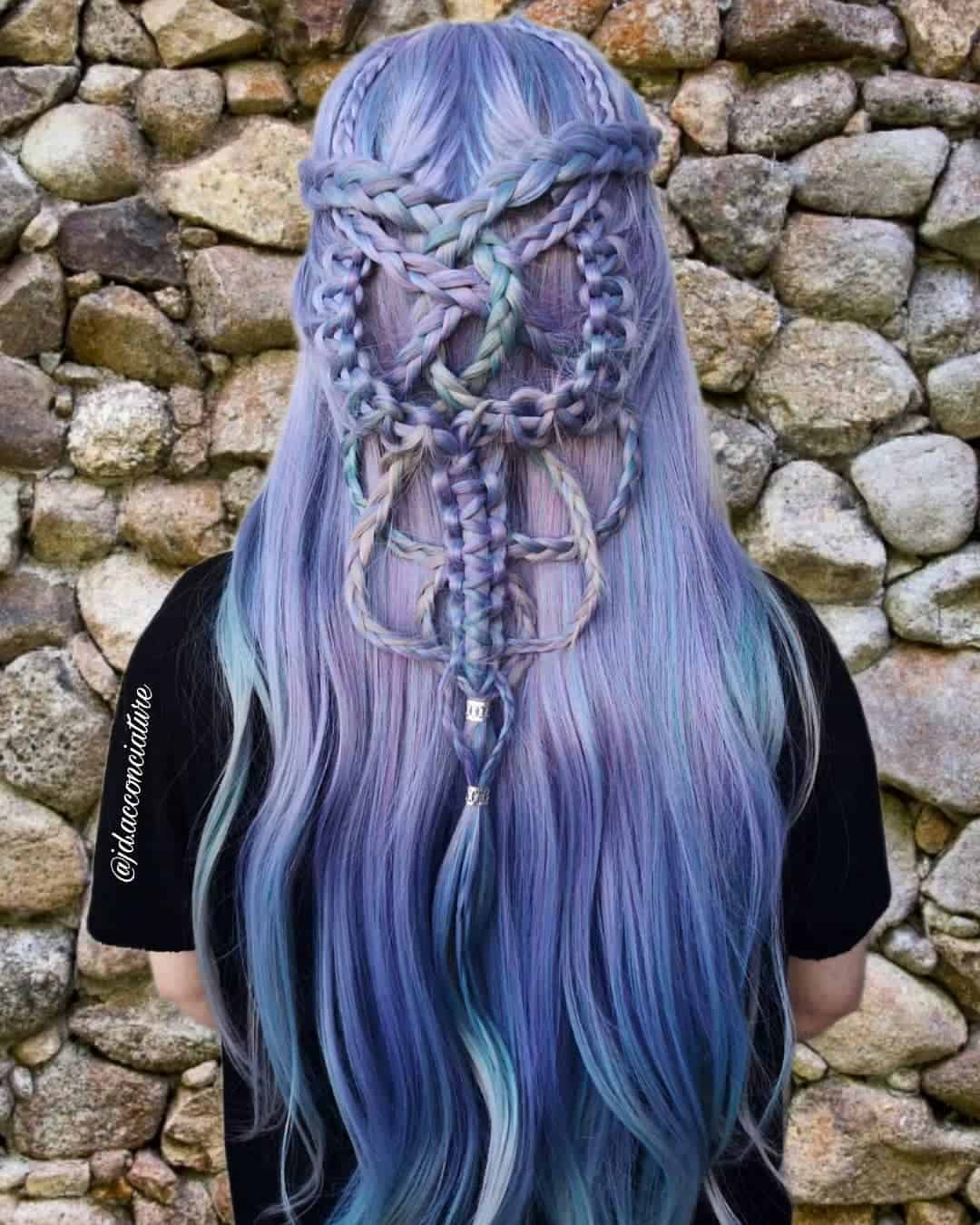 We mentioned previously that it is all about adding some color. In this case, the color is more sensual, romantic, and feminine. And that is good, since you want a bit of contrast to the strong warrior aspect. After all, women should be romantic, right?
20. Half-Up Crown And Five Strand And Infinity Braids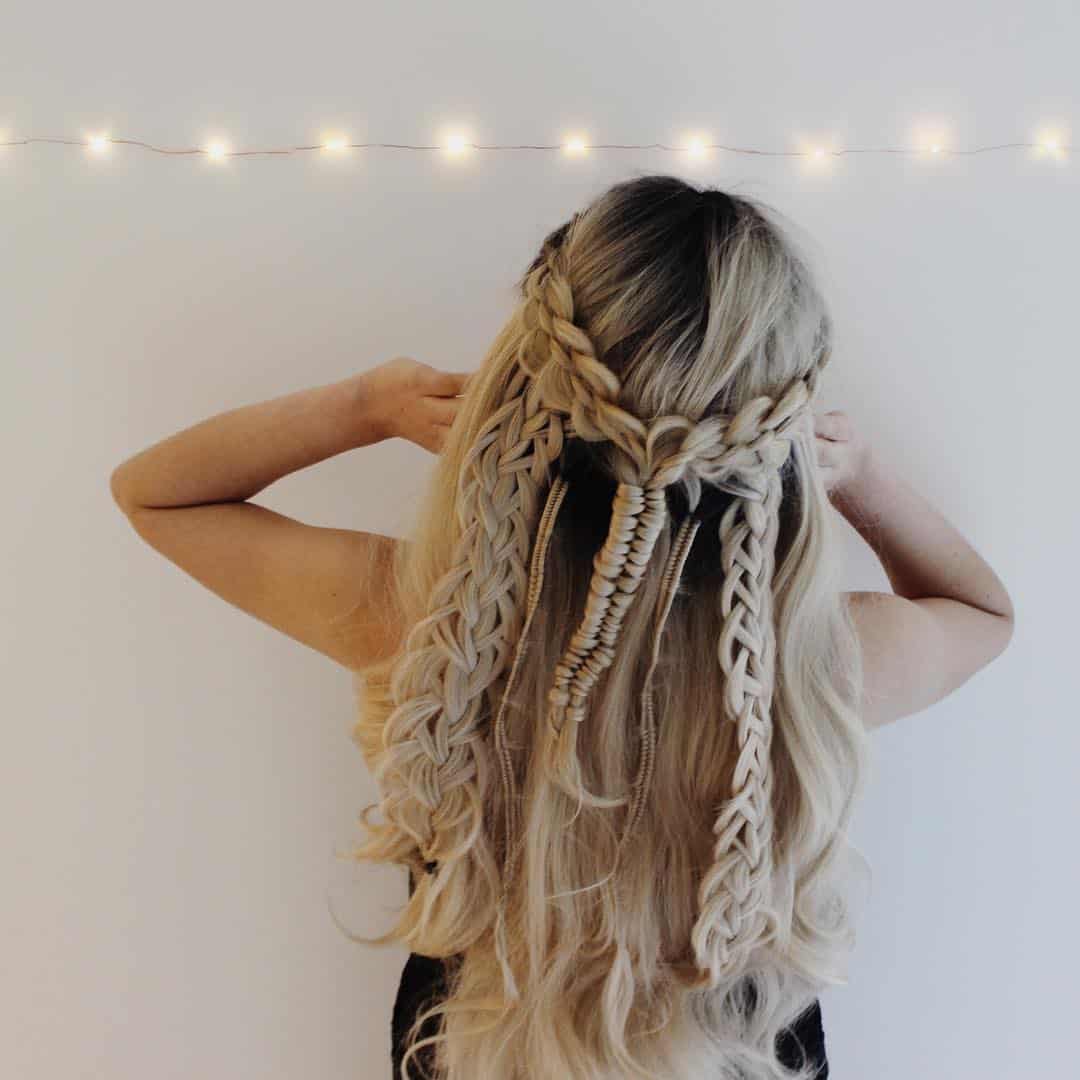 We said it before, and we will say it again. Mixing and matching is just amazing when it comes to braids. You have to applaud a woman that can combine several techniques into one.
21. Black And Blonde Warrior Princess Braids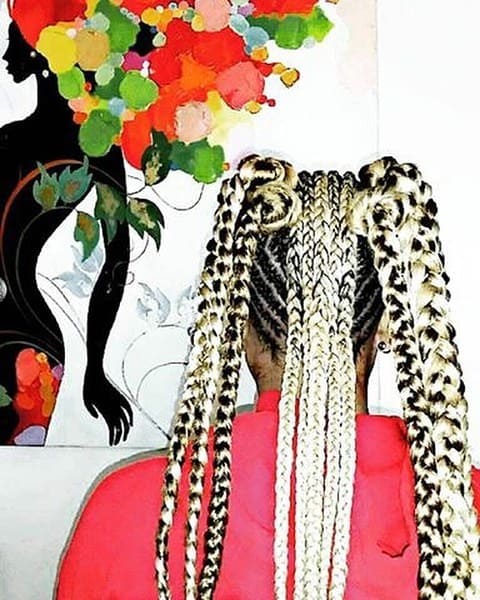 We've seen it in the movies as well. Some warrior women just want to be princesses as well. There is nothing wrong in that. After all, you can look strong, and feminine in the same time. This is a hairstyle that will help you achieve that middle ground.
22. Red Half Up DNA Braids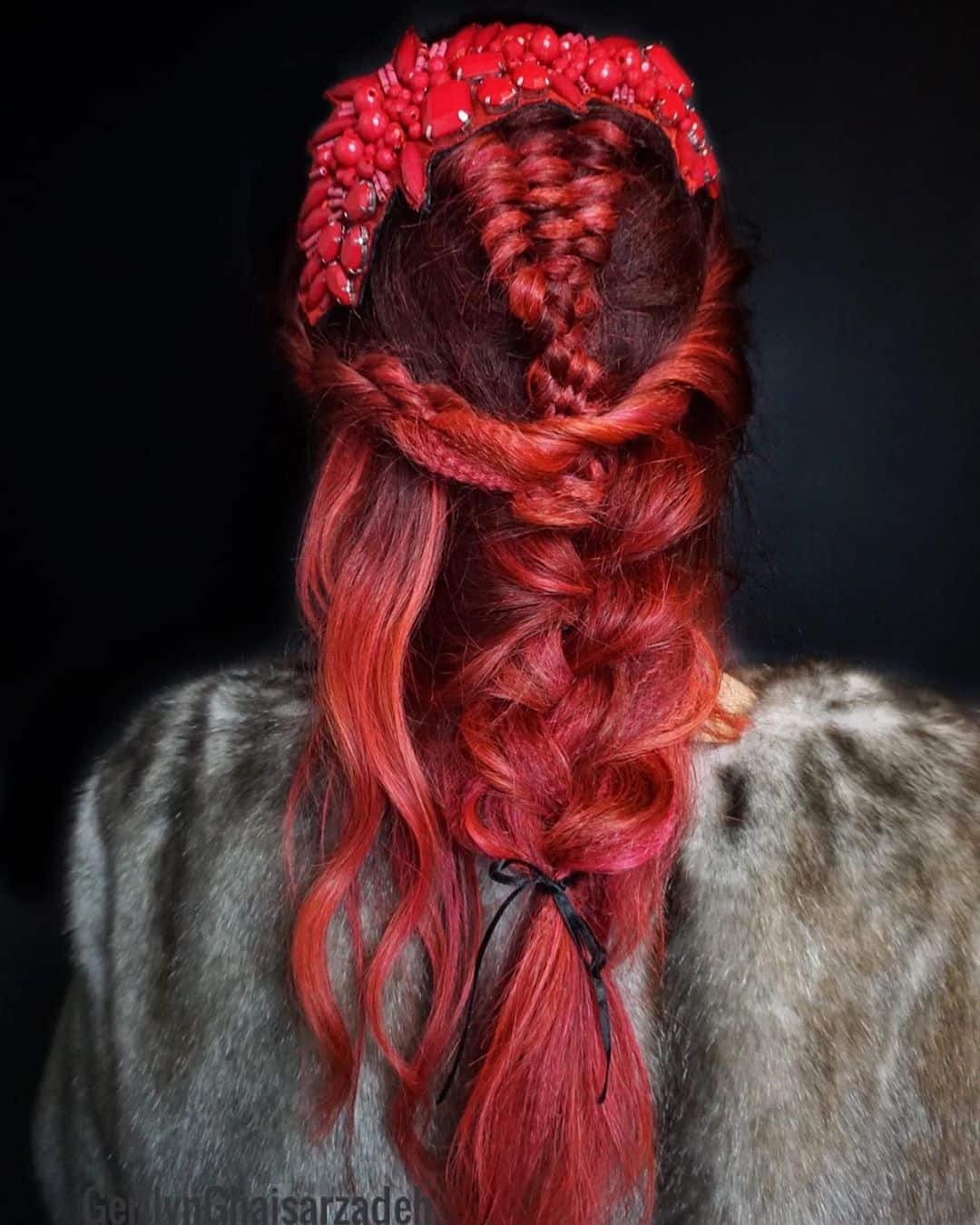 When it comes to bold colors, nothing beats red. After all, red is dramatic, bold, and definitely not for everyone. But if you can pull it off, all women around you will envy you. You are the woman they crave to be, but they might not be confident enough to become.
23. Crown Puff With Side Braids Side Fishtail Braid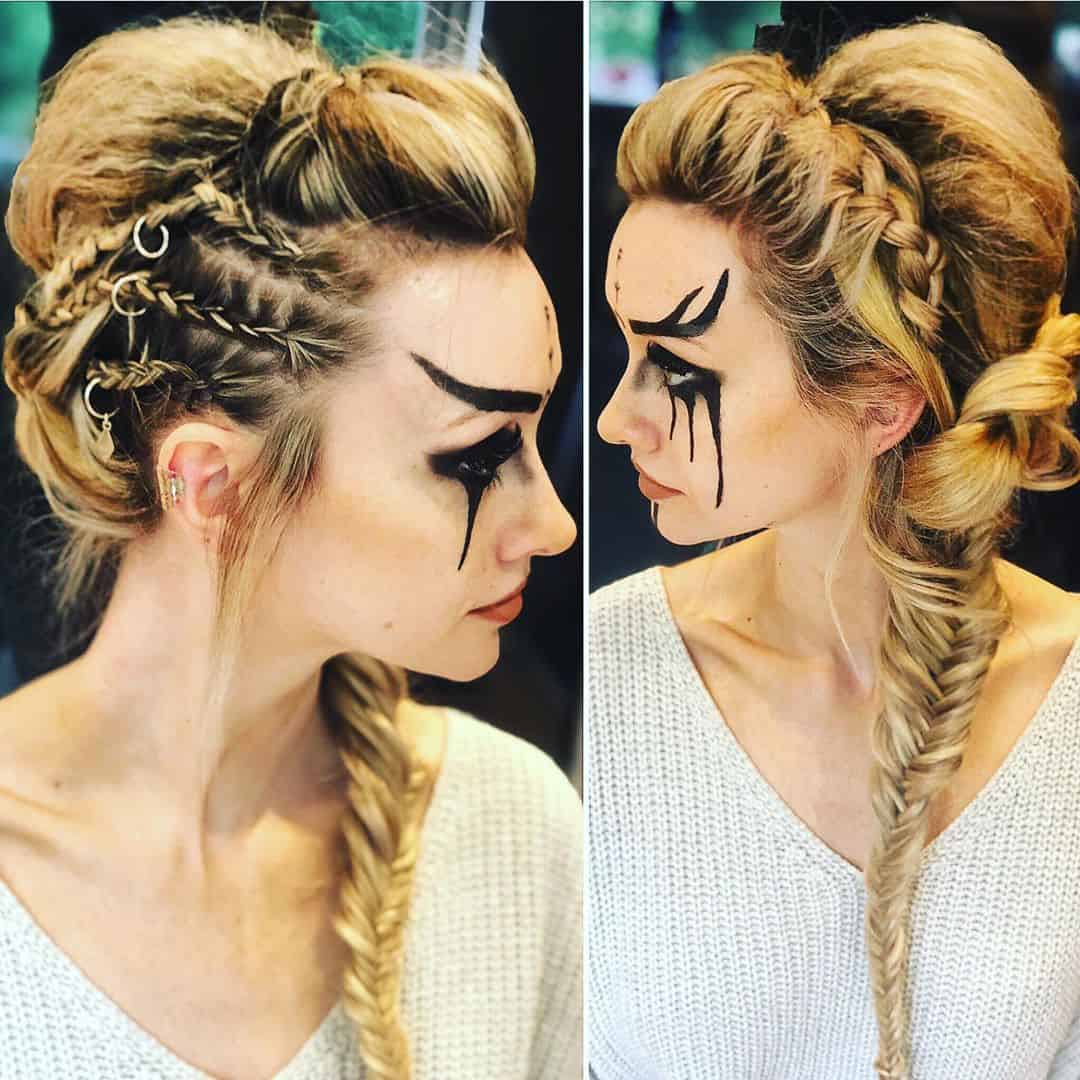 This hairstyle might look like something for a masquerade or a festival. But do not worry, it is something you can wear on a daily basis as well. It is a bit more elegant for an everyday hairstyle, but who cares, right?
24. Pull-Through Fauxhawk With Side Braids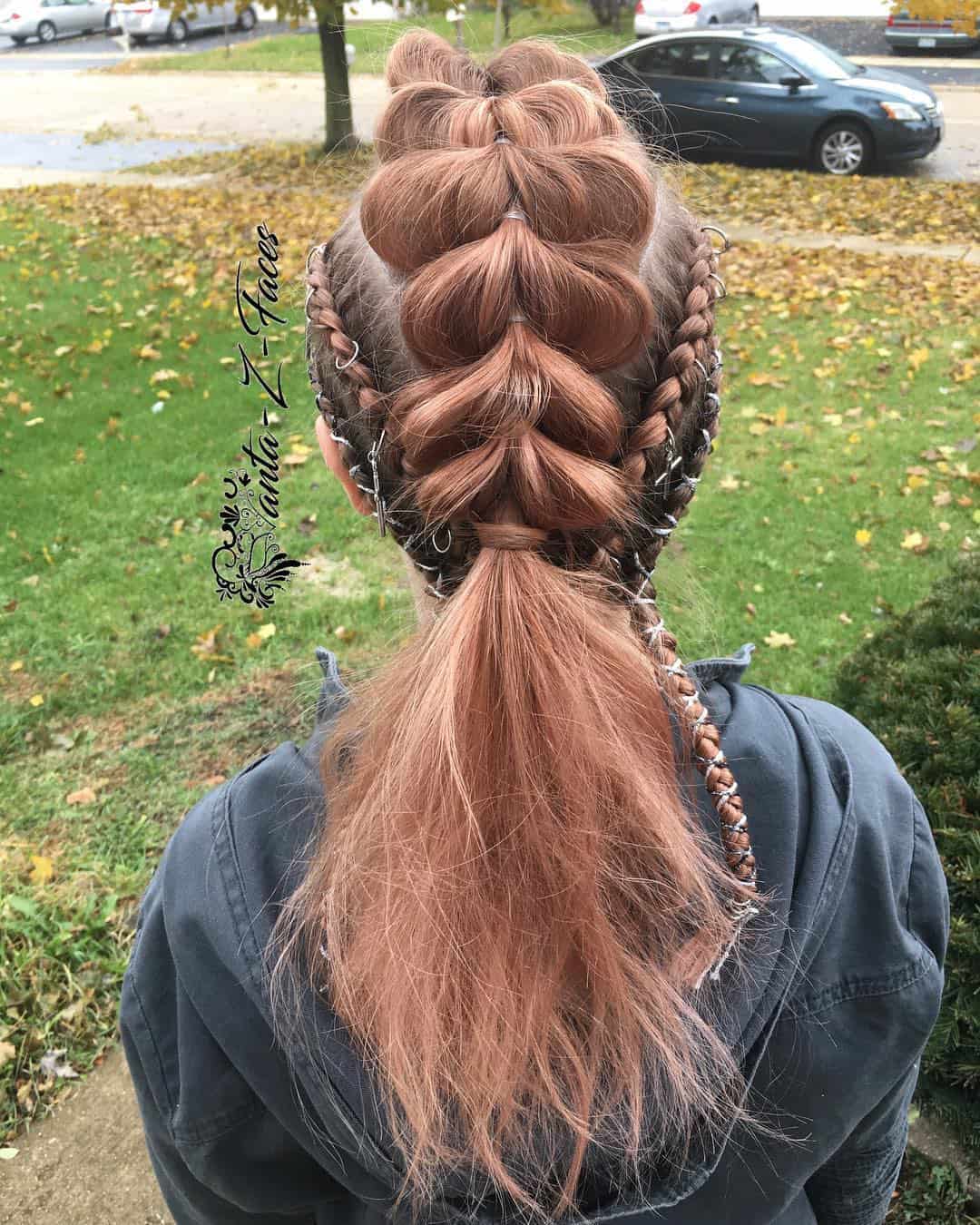 Being that the fauxhawk requires a bit more effort, we love to combine it with something effortless. And we mentioned previously, the side braids are the ultimate effortless hairstyle. Perfect contrast, if you like.
25. Lace Braided Half Ponytail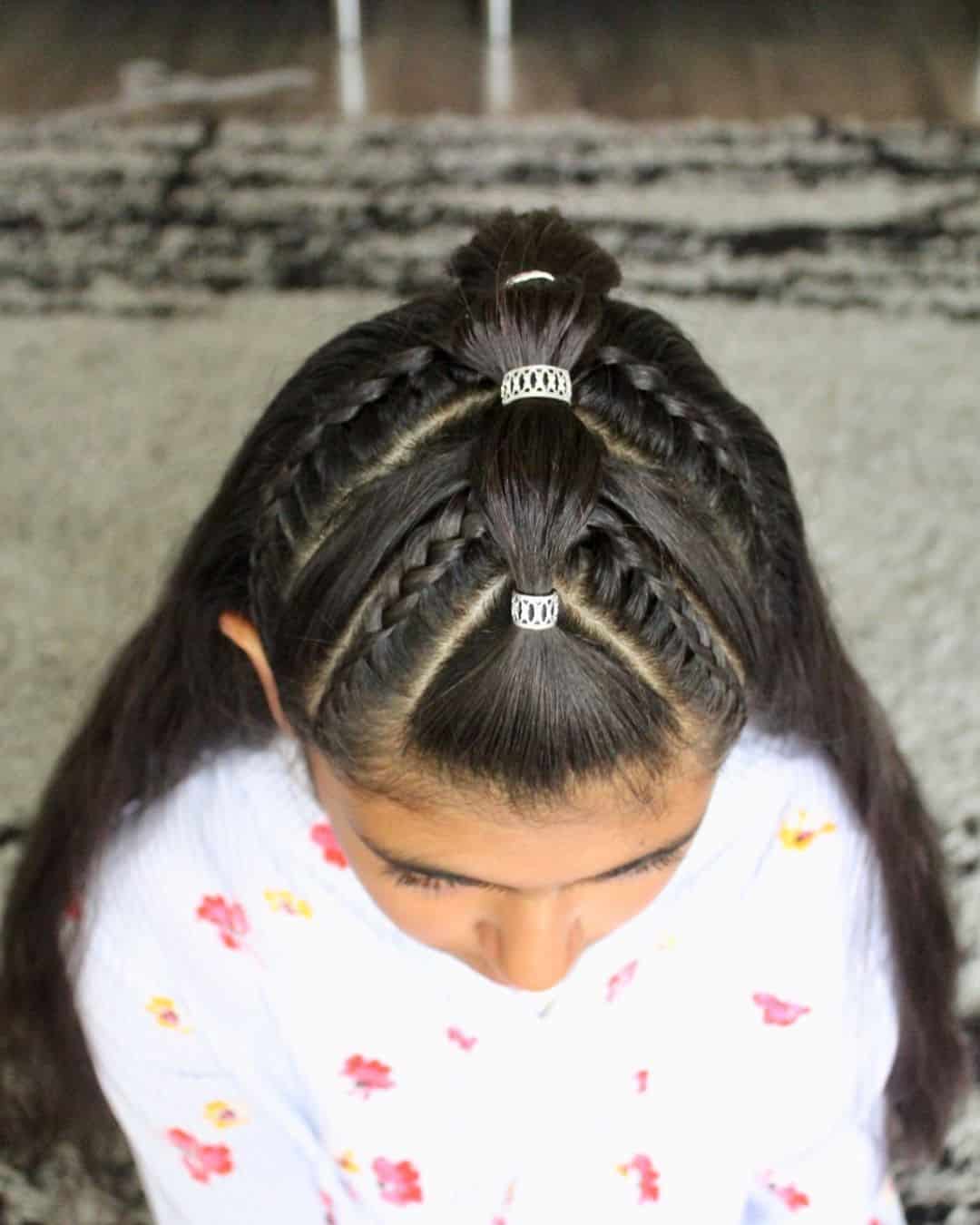 We said it a couple of times, the pony is the ultimate braiding technique for beginners, but also for experts. It gives you so much freedom to do what you like. Whether you want to go for a more romantic look, or for one that is more about confidence.
26. Celtic Knotted Half-Up Warrior Brats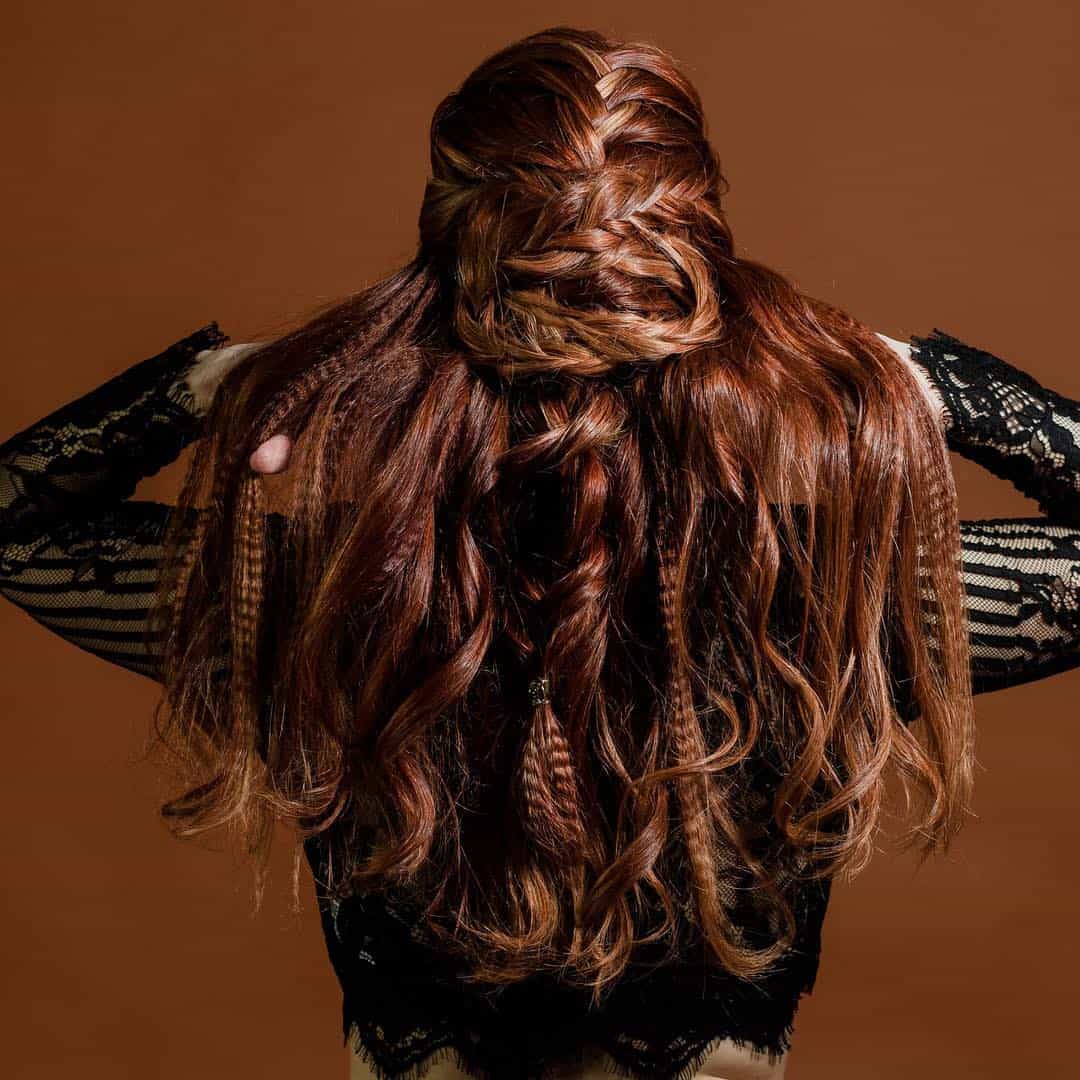 The Celts are known for their ferocious spirit. Nowadays, Celts are still praised as strong warriors. That is why we want to finish off this list of warrior braids with something of a Celtic culture.
Hopefully, you found some long hairstyles that are inspiring, and you are ready for your next makeover.