Rihanna released her first song, "Pon de Replay" in 2005. As a 17-year old teenage girl, Rihanna instantly captured the scene. Her first single reached No.2 on the Billboard singles chart, and announced RiRi as the next up and coming pop star.
From there on, the sky was the limit. Rihanna is one of the most successful singers, selling more than 280 million records and singles since her debut. She has released eight studio albums, two remix albums, one reissue, two compilation albums, and 71 singles.
Over time, her music style has changed. She was always ready to reinvent herself and her image throughout her career. And that included her hair as well.
There is no constant hairstyle she wears. Instead, she is a pioneer who dares to try any edgy hairstyle. With that in mind, if you are in need of some change in your hairstyle, here are some ideas from RiRi to try.
1. Slick Twisted Top Knot
Let's start with a simple, yet elegant hairstyle. Now, RiRi is not known for gathering her hair. But every now and then, she goes for a top knot as well. Especially if she has to attend a red carpet event.
2. Caramels Curls In Loose Top Ponytail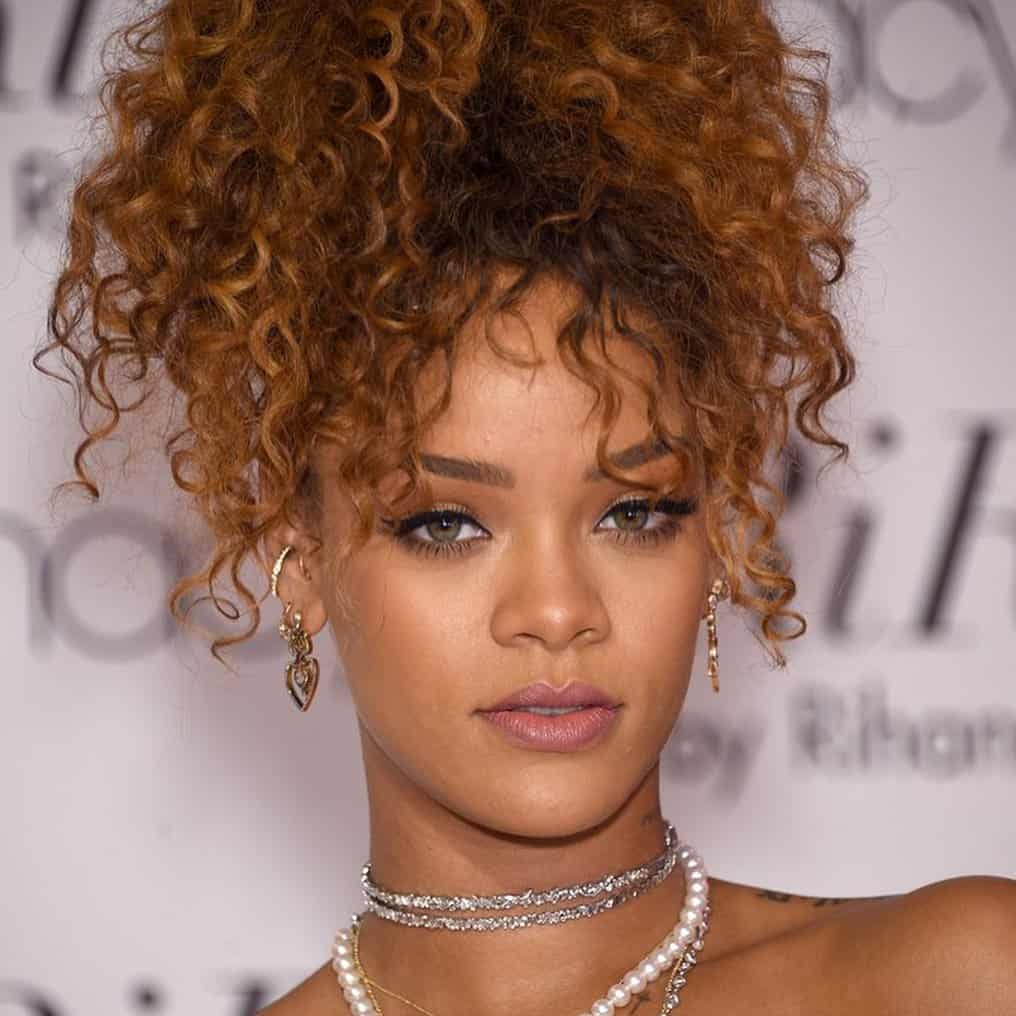 We said Rihanna is known for trying new and edgy haircuts. Well, is there anything better than these caramel curls? Think of it as Afro haircut, but in brown color. And then tied up nicely in a pony.
3. Straight Bright Red Medium Length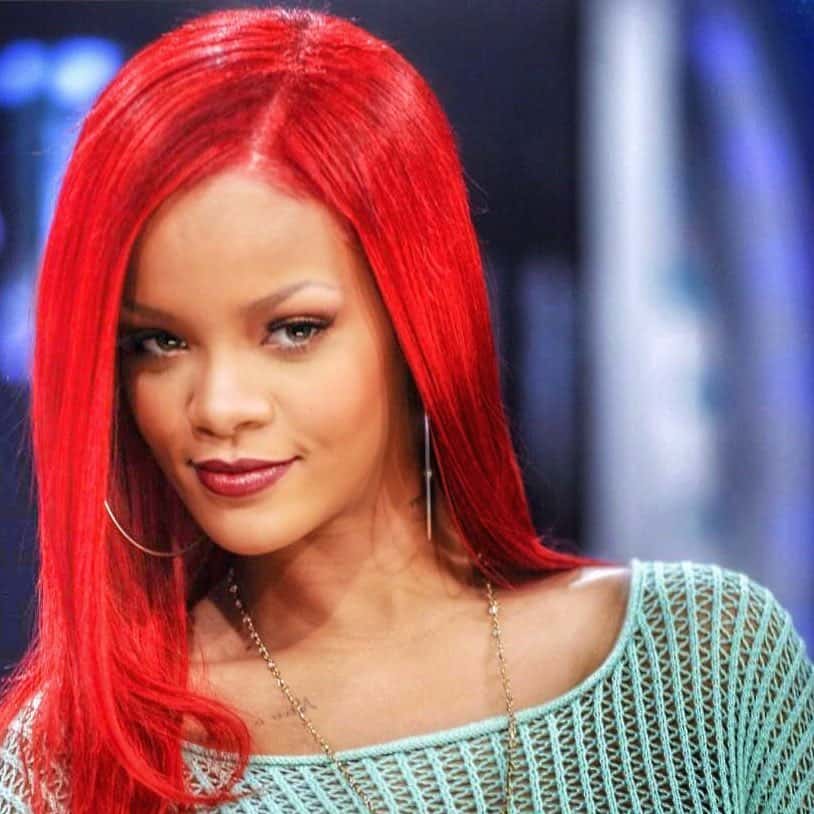 Rihanna is definitely one of the boldest singers we have. She never shies away from pressure and spotlight. And she loves colors that scream courage. Red is such color definitely.
4. Messy Updo With Slick Side Bangs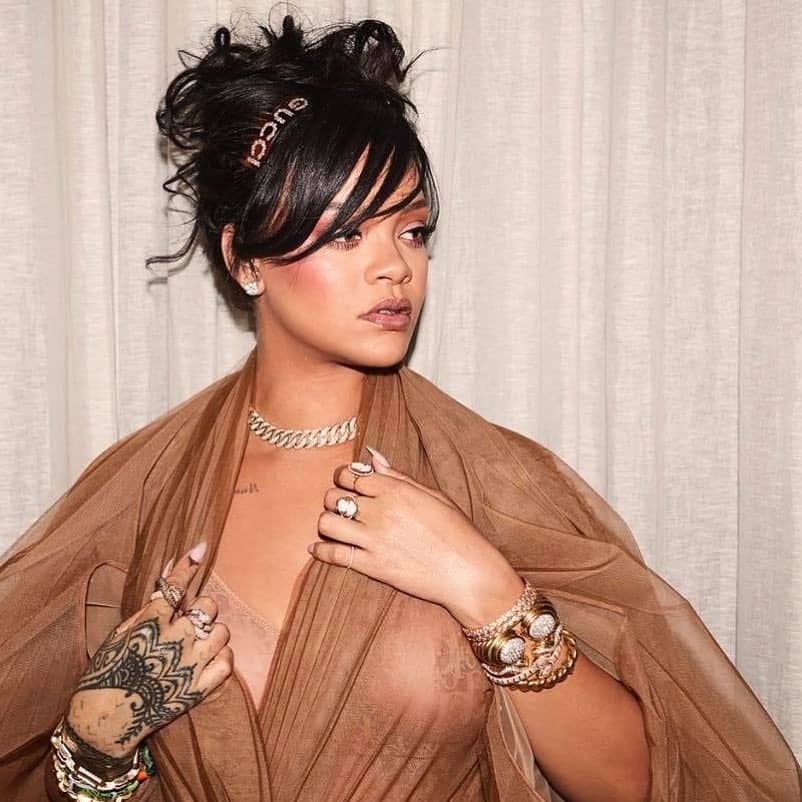 There is something beautiful in looking messy, yet stylish. Right? Well, Rihanna is the queen of looking messy elegant. If you can put it like that.
5. Umber Curls On Long Hair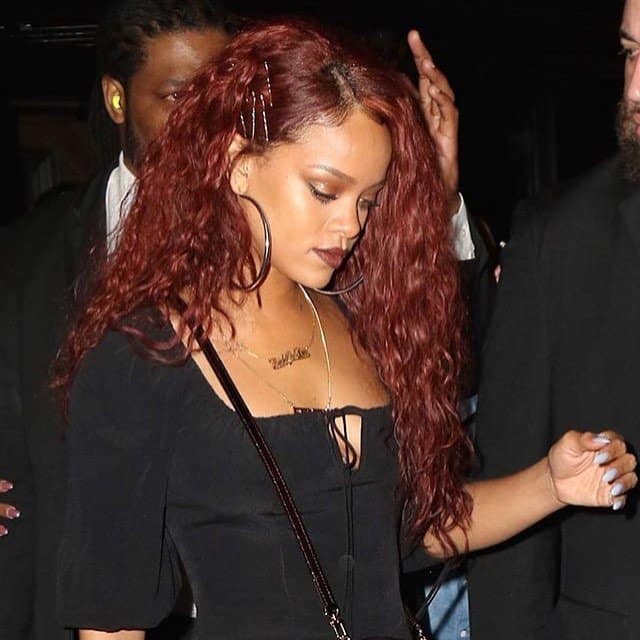 Being from Barbados, Rihanna is blessed with beautiful curly hair. And she loves showing those beach and ocean curls every now and then. RiRi takes it a step further by dyeing her curls in unusual colors.
6. Shoulder Length Honey Brow Wavy Curls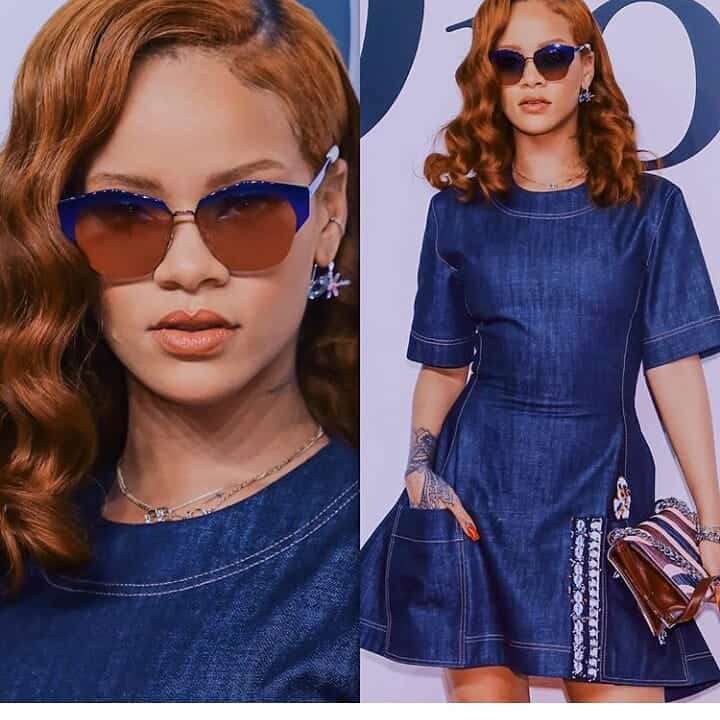 Going a bit retro and vintage, Rihanna can take you back to the 70s and 80s with her haircut. And that is the testament of her beauty. There is not a single hairstyle that does not look good on her.
7. Medium Length Layered Wavy Light Blonde With Bangs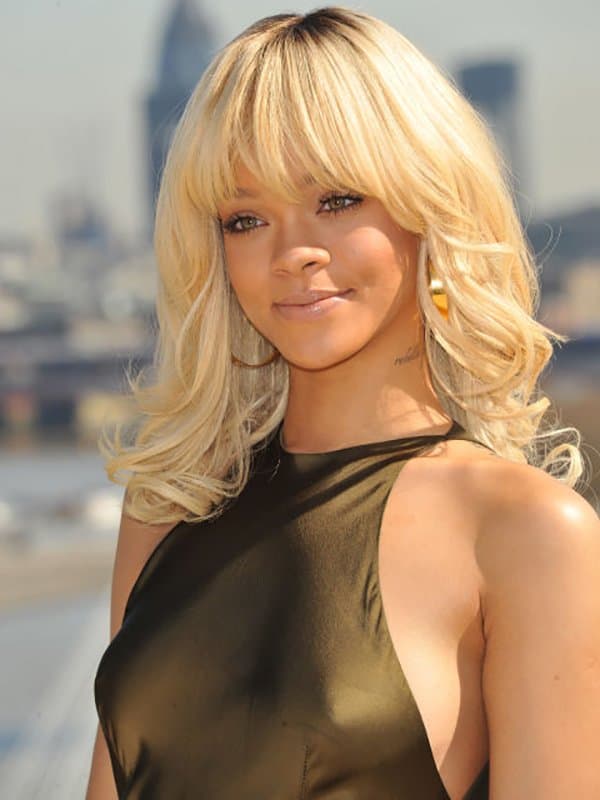 We have to remember that after all, Rihanna is still just 31 years old. And she is still a little girl. This young lady can show her cute and adorable side at any given moment.
8. Long Dreadlocks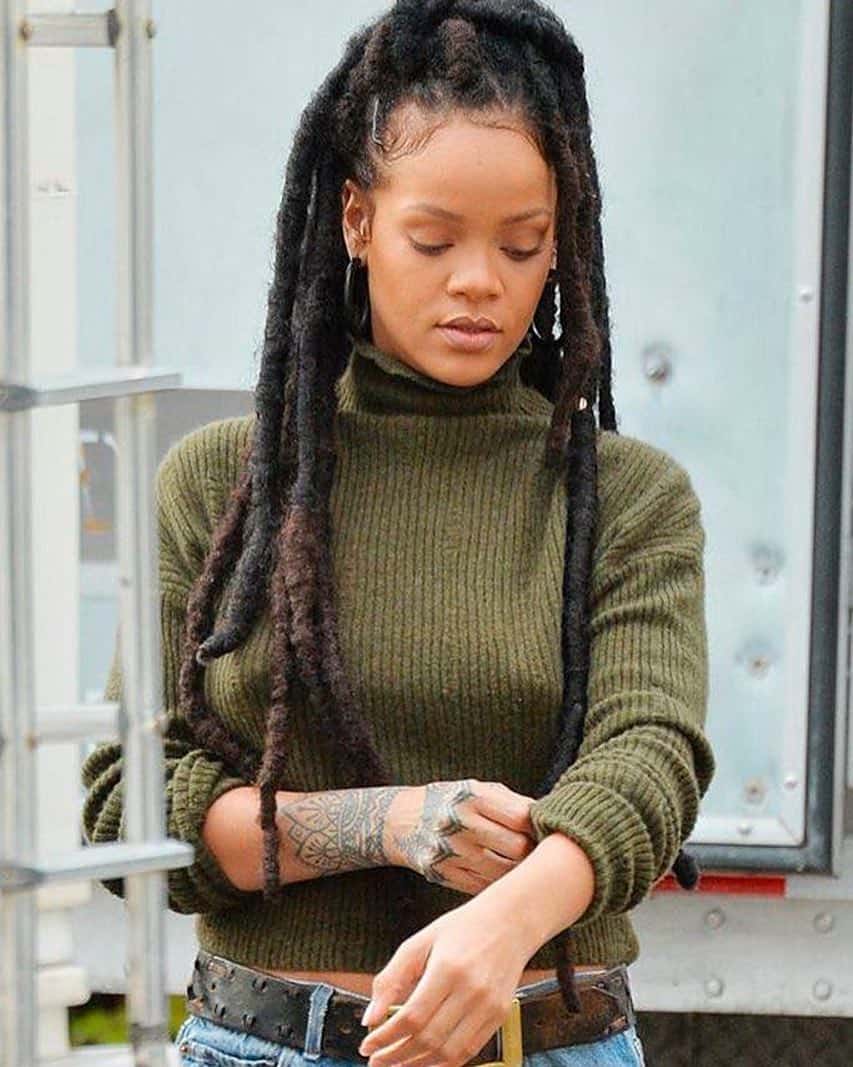 If you think Rihanna is all cute and adorable and sexy, you are plain wrong. She also has an edgy and rebellious side, and she is not afraid to show it. Dreadlocks are definitely something not many celebrities can pull off. But give props to Rihanna for doing that.
9. Retro Styled Red Hair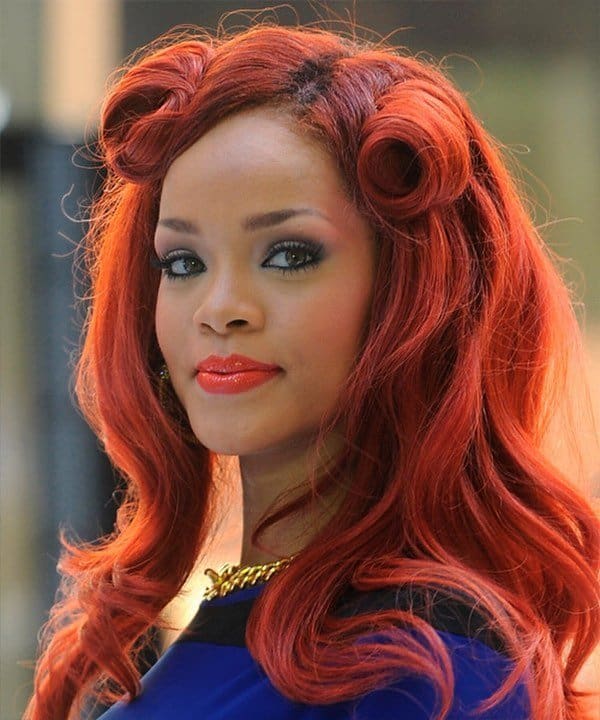 We just love it when RiRi goes retro. She is one of the most beautiful and best-suited ladies for a retro look. She definitely has that Jackie O look when she goes retro. And that is a huge compliment.
10. Pixie With Long Bangs And Gray Highlights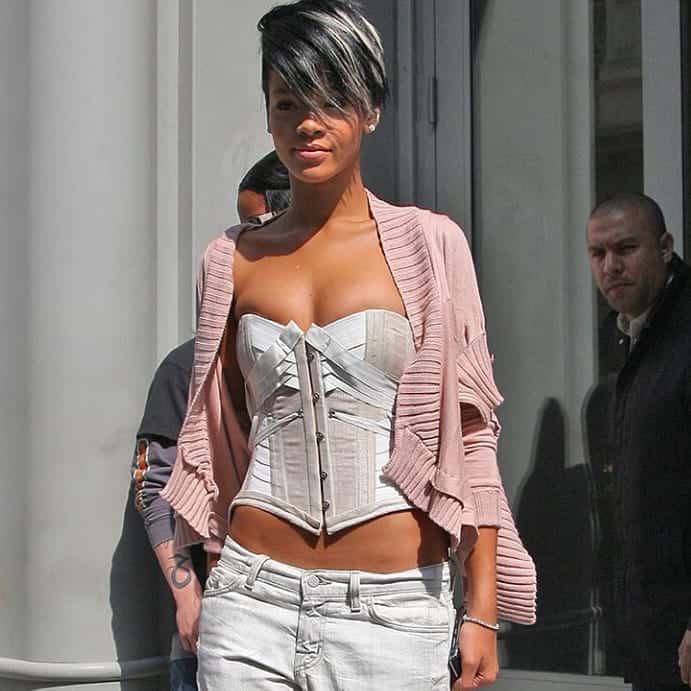 Even though she is just 31 years old, Rihanna plays with gray hair every now and then. Now, she does not have gray hair. But she embraces the trend, even though she is just in her 30s.
11. Bantu Knots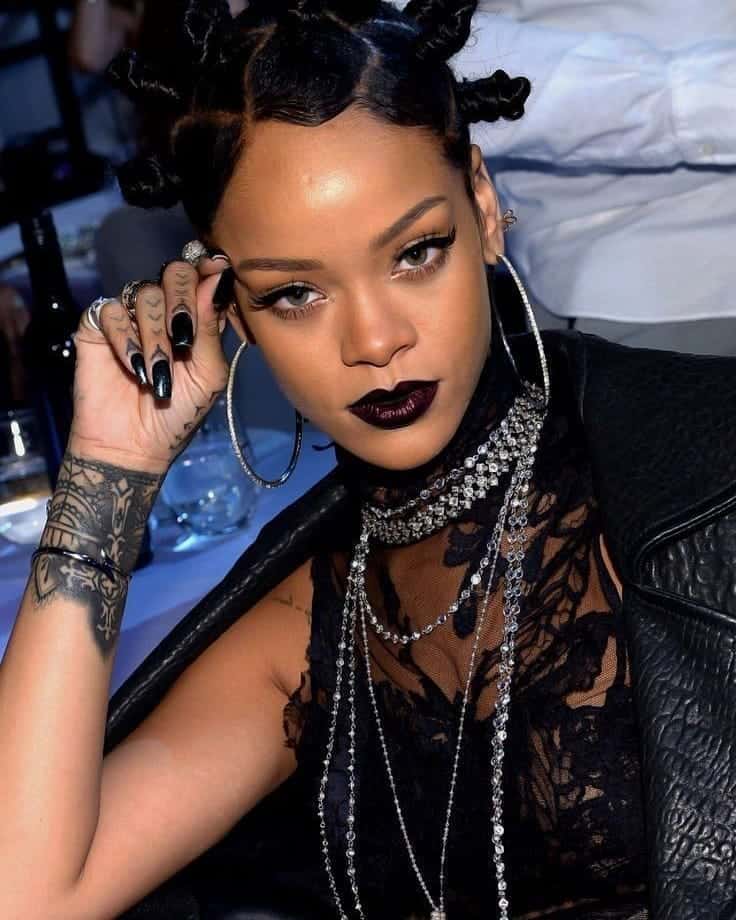 If there is ever a moment when a goth lady looks sexy as hell, this is it. As you can see, Rihanna can adapt and adjust to any style, and still look amazing. There is a reason why people all around the world love her. She is just too versatile.
12. Lob With Choppy Bangs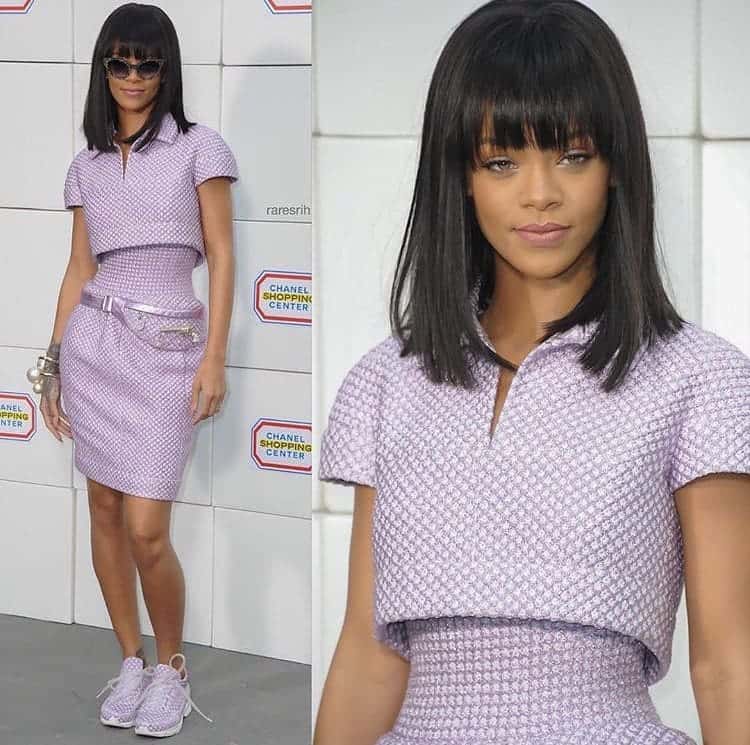 Another retro Jackie O hairstyle, and this time, in a signature sophisticated dress. You can certainly say that Rihanna would be fit as a First Lady, right?
13. Top Knot Updo With Wispy Fringe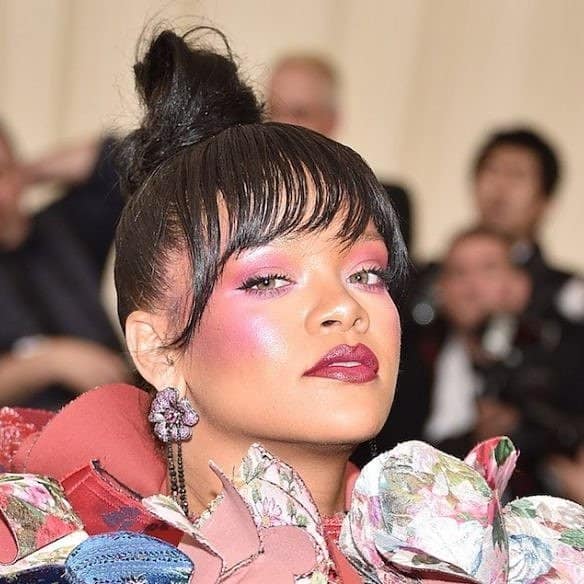 We just love it when Rihanna tries something out of the ordinary. Some would say this is too much makeup. But have you thought about the fact RiRi is trying to look like a geisha? She definitely pulls it off.
14. Green Tipped Liberty Spikes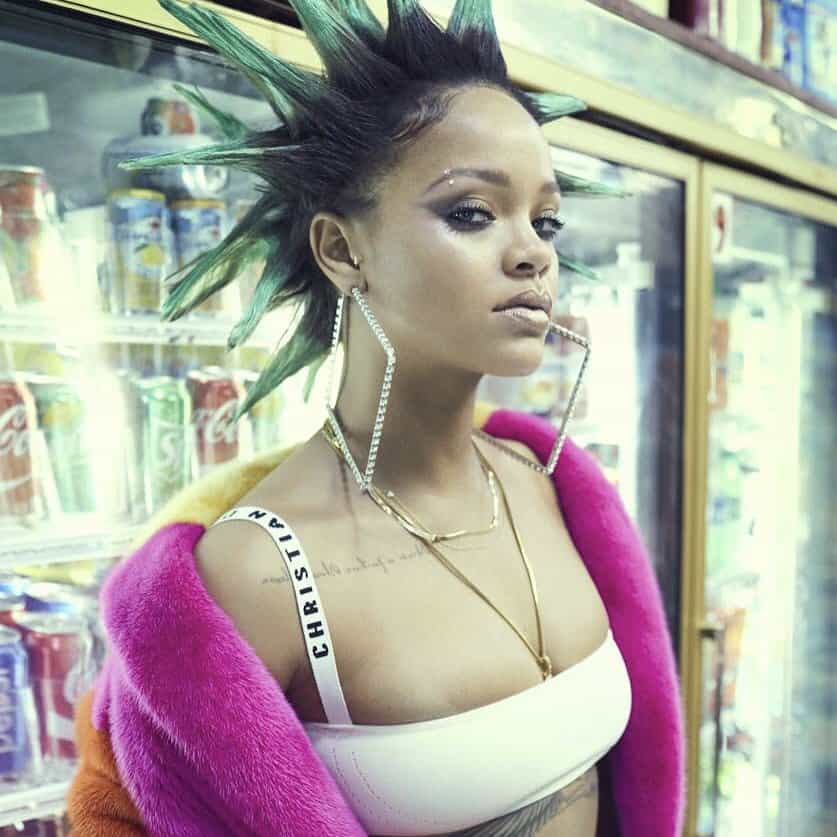 Rihanna can be sexy, beautiful, cute, adorable, and insane in the same time. Not many ladies nowadays can pull off a hairstyle like this one. Getting ready for a music festival, are we RiRi?
15. Pink Pixie With Baby Bangs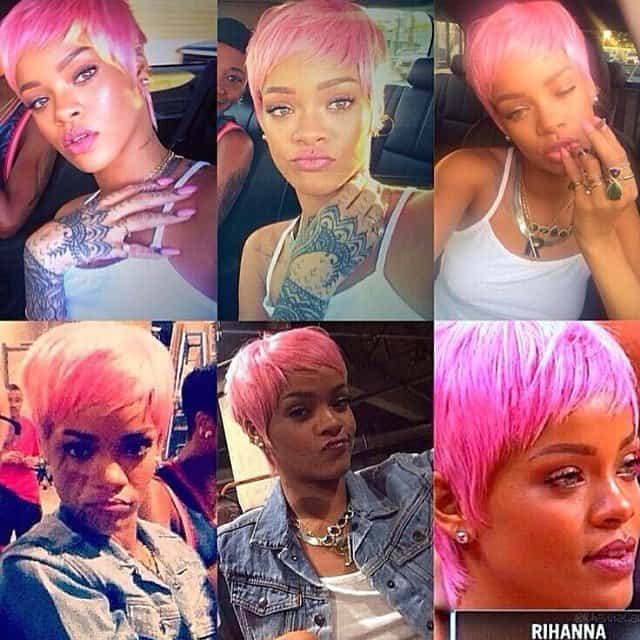 There is no hair length Rihanna has not worn. She has tried everything, from long hair, to medium length hair, and even some short pixie length. And when she tries something common, Rihanna always tries to spice it up with something unusual. In this case, that is the pink edgy color.
16. Long Wavy Brown To Honey Ombre With Side Buzzcut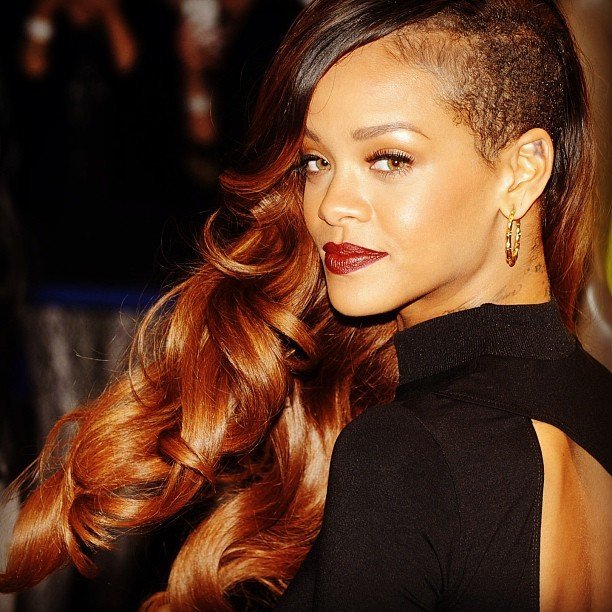 Rihanna was among the first celebrities to embrace the undercut and buzzcut hairstyle. And she combined it perfectly with every hairstyle trending at the moment. Here, we see a bit of an elegant Rihanna with a buzzcut for edginess.
17. Long Red Elegant Side Braid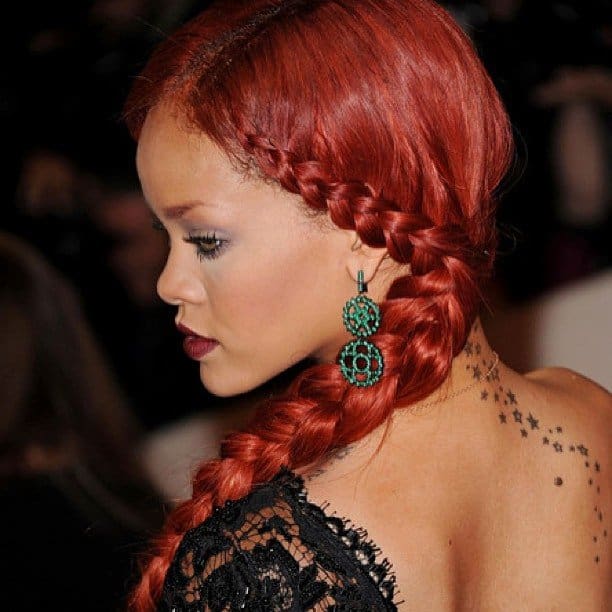 Rihanna can handle herself in many different roles. For example, she can also play Dorothy of Wizard of Oz. Her red braids are definitely fit for that movie.
18. Curly Gray Mohawk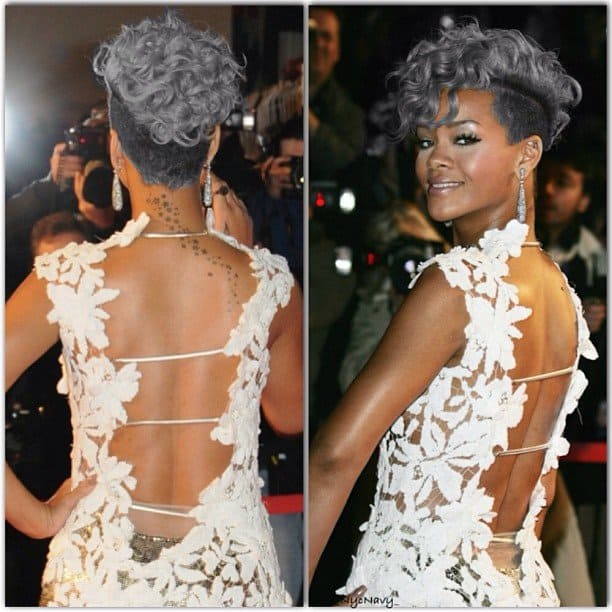 You just have to appreciate Rihanna and her style. She adjusts to everything. Stylish? Yes! Edgy? Yes! Elegant? Yes of course. If you want something out of the box, Rihanna is your best source of inspiration.
19. Short Bob With Slanted Bangs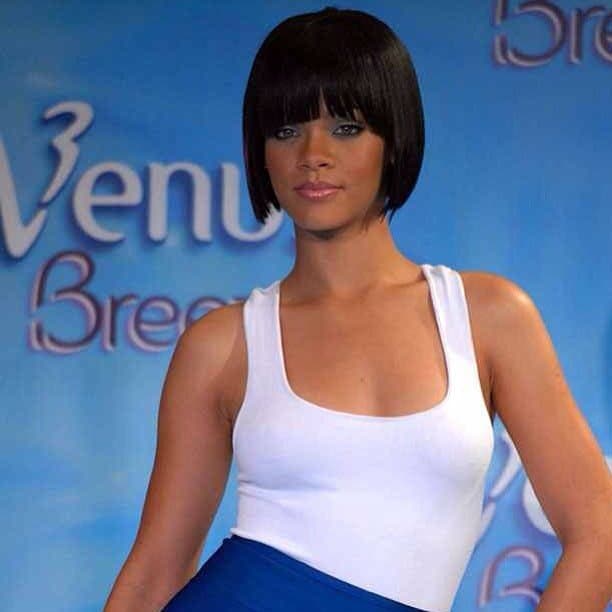 There was a period when Rihanna wanted to look like the cute little girl next door. And she did it marvelously. You look at her, and you think she is this innocent and naive girl. Well, not at all!
20. Red Layered Pixie With Sidecuts And Side Bangs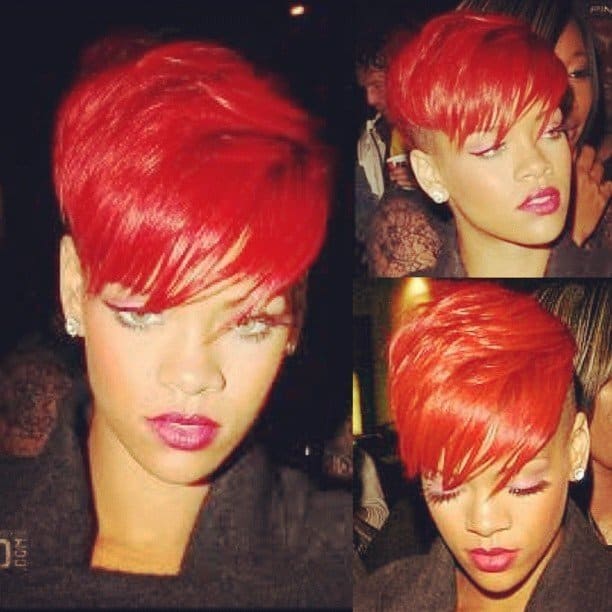 When Rihanna wears a pixie, it is never a classic pixie. She has just had to add something unique to the sauce. Think of her as a chef that has his own special recipes for common dishes. That is the perfect description of RiRi.
21. Layered Light Brown Balayage With Bangs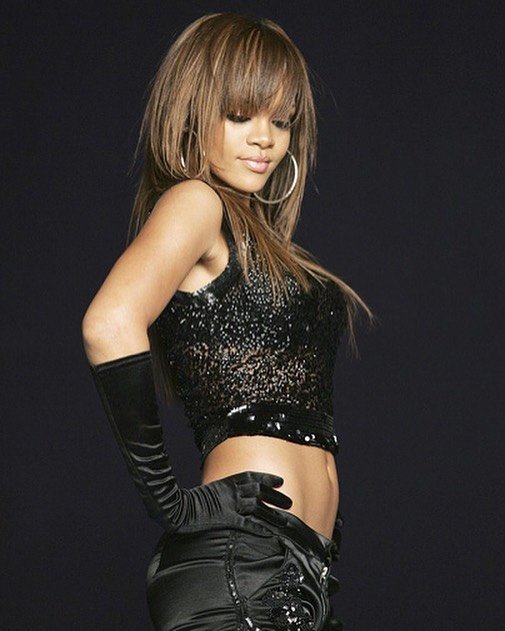 Balayage highlights look perfectly on Rihanna. After all, she is from Barbados, and her skin tone is just tailor made for some highlights. Anything that resembles beach look comes natural to the singer.
22. Pixie With Micro Bangs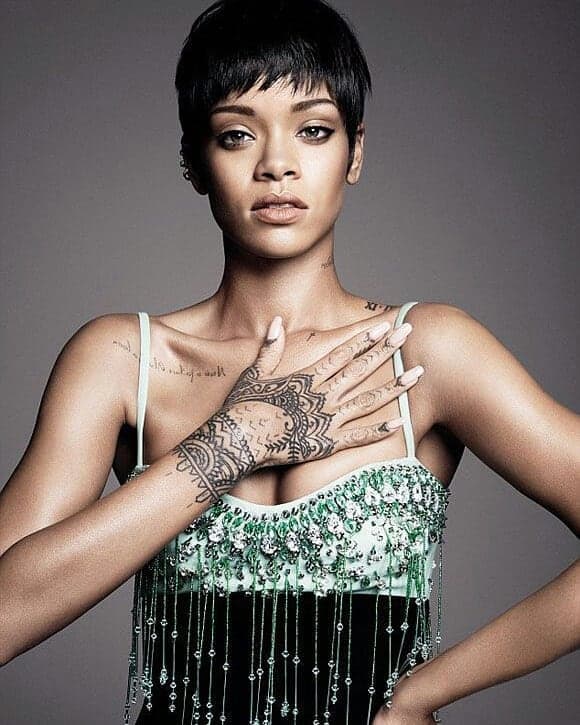 Micro bangs are retro, but also look futuristic in the same time. And they are perfect addition to any hairstyle. In 2018, the micro bangs were the most trendy hairstyle. And Rihanna tried them out.
23. Tied Up Dreadlocks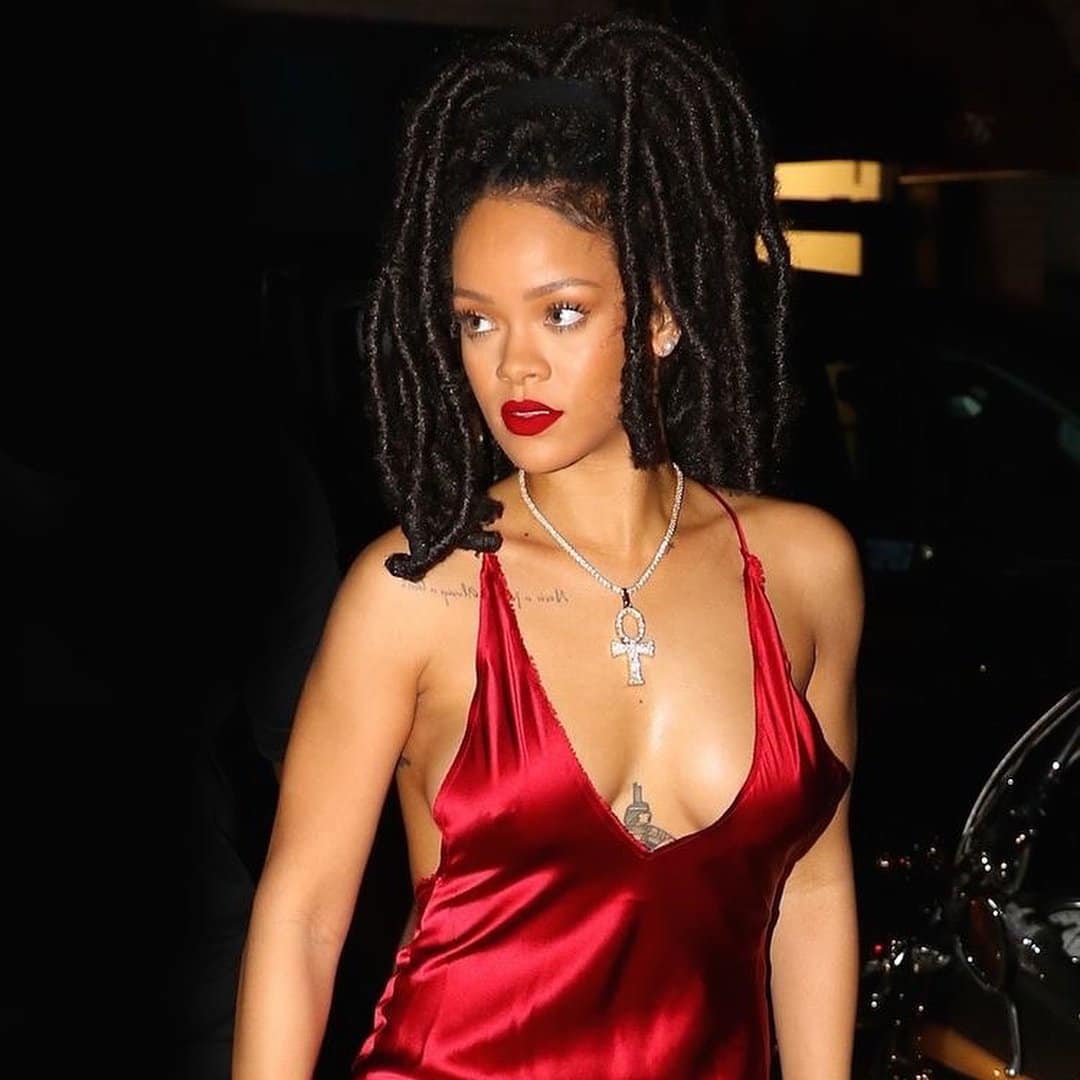 RiRi is probably one of the few celebrities that can rock dreadlocks on a red carpet event. The contrast between her hairstyle and her dress is just amazing. How can you not love her?
24. A-Line Black Bob With Umber And Blond Streaks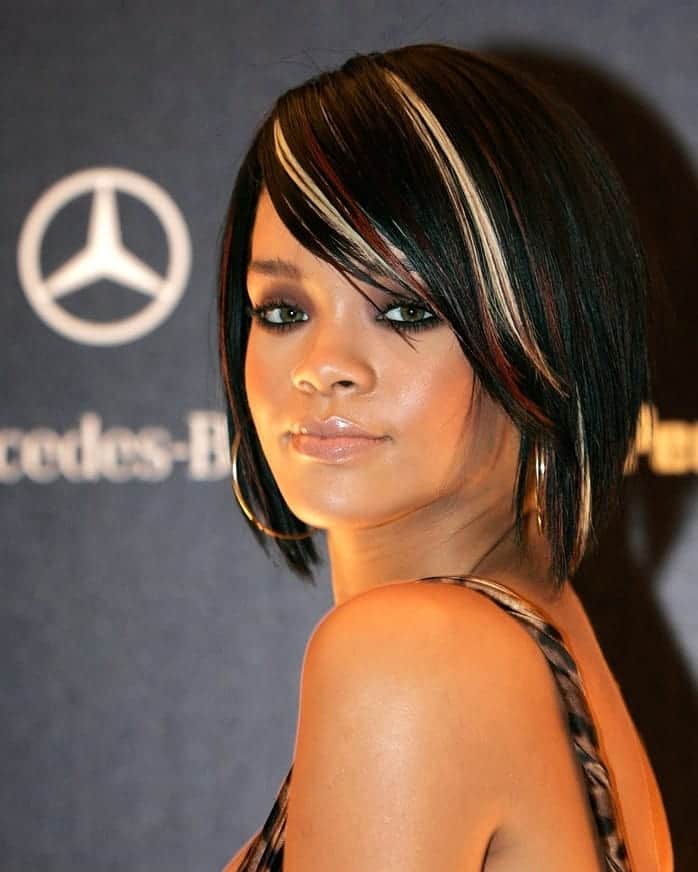 RiRi can make even the bob look unique and playful. She loves to play with different colors, dyes, shapes, textures, and accessories. This edgy hairstyle is the perfect hairstyle for an urban and chic lady.
25. Short Felicia Braids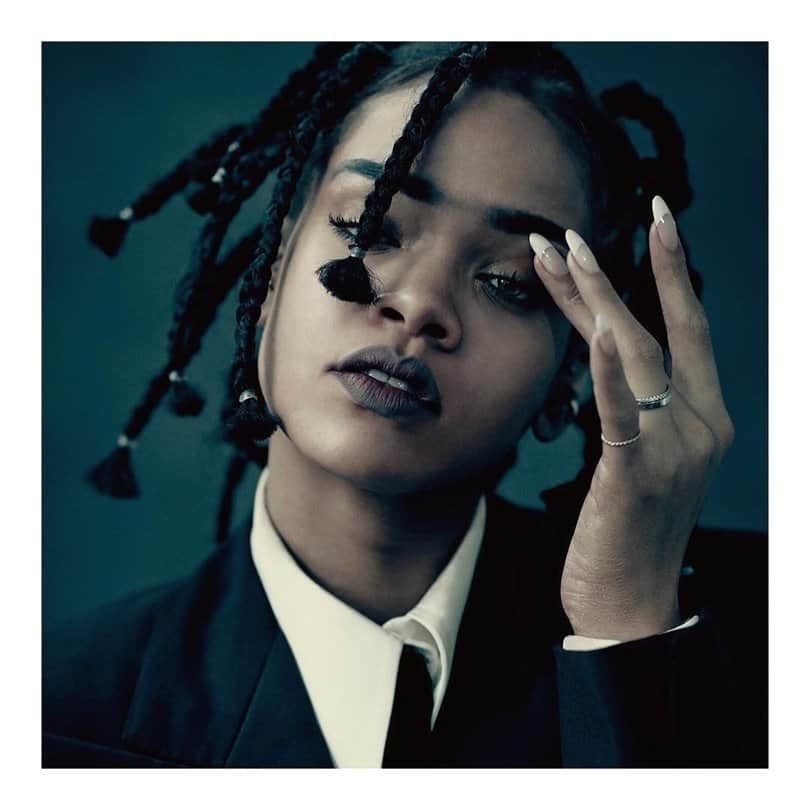 As a woman, Rihanna often pays tribute to important women in history. In a cover for I-D magazine, she rocked some Felicia braids and Bantu knots, paying tribute to an all-time classic movie, Friday.
26. Edgy Mullet With Micro Bangs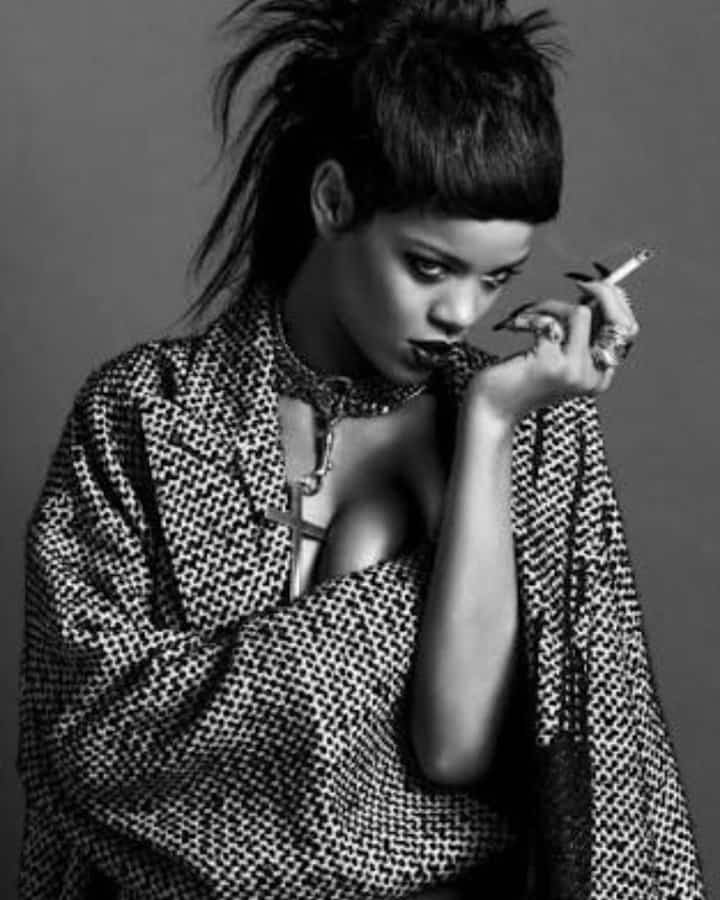 The mullet was one of the more popular men's hairstyles in the 1990s. Footballers around the world wore them. Italians like Roberto Baggio started the trend, and then it caught up. Lately, the mullet has seen his big comeback on the fashion scene. Only this time, women are the ones rocking it.
27. Curly Updo With Headband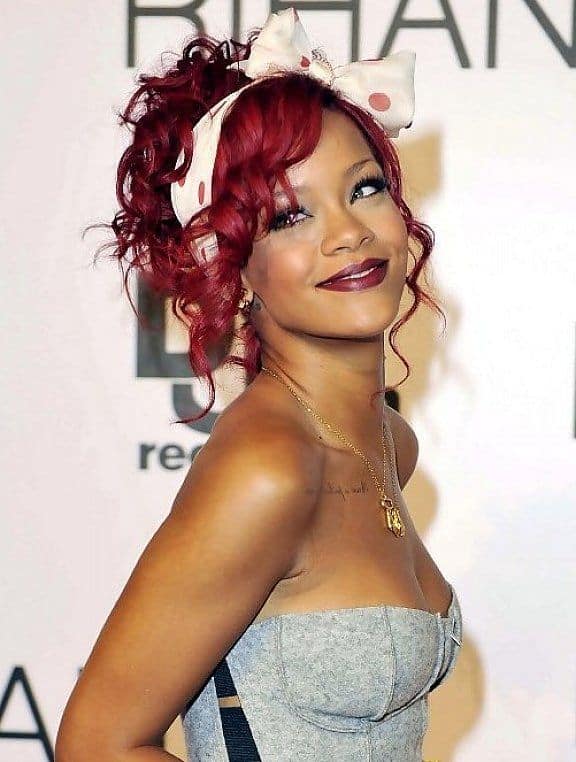 Despite her edgy and sexy look, at the end of the day, Rihanna can be a princess. That character might be too puffy for her, but she can always pull it off. She doesn't need a crown, she is the crown.
28. Slicked Back Low Ponytail With Side Bangs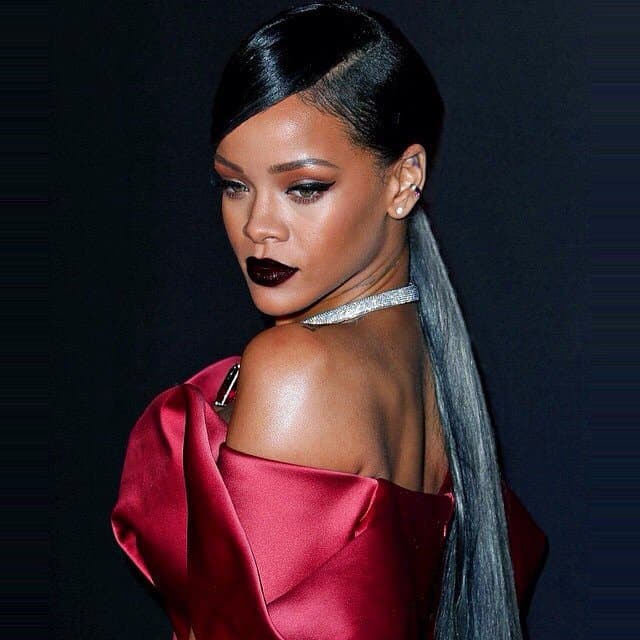 Some of our favorite Rihanna looks are her elegant and sophisticated looks. They are also a bit futuristic, but they show a business woman not afraid to go over anything to get on the top.
29. Caramel Long Side Swept Pixie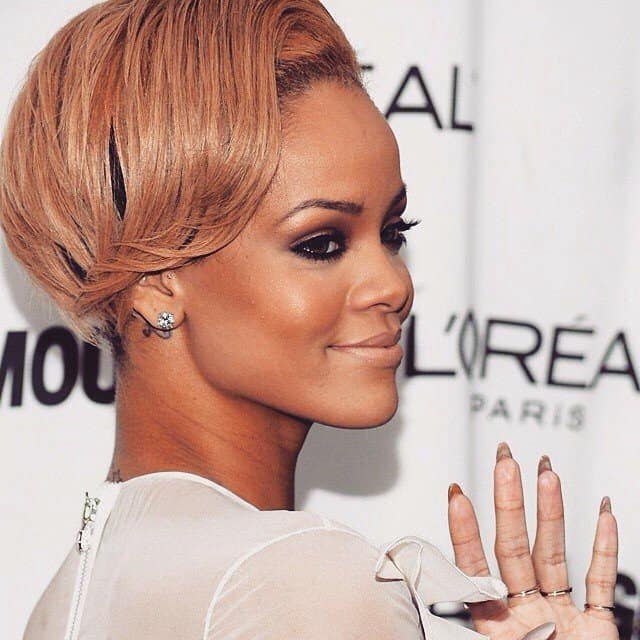 Here is another vintage look that is just tailor made for Rihanna. And she pairs it perfectly with brown manicure. You can say she pays attention to every single detail.
30. Short Mullet With Side Buzzcut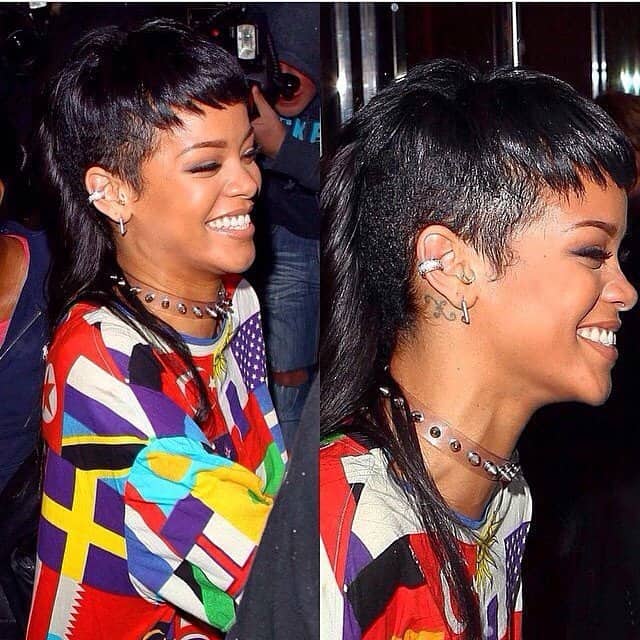 When Rihanna started the buzzcut or undercut trend, however you want to call it, she showed women they can wear it with any hairstyle. And it definitely went viral, as women all around the world wanted to copy her edgy look.
31. Flicked Out Copper Red Lob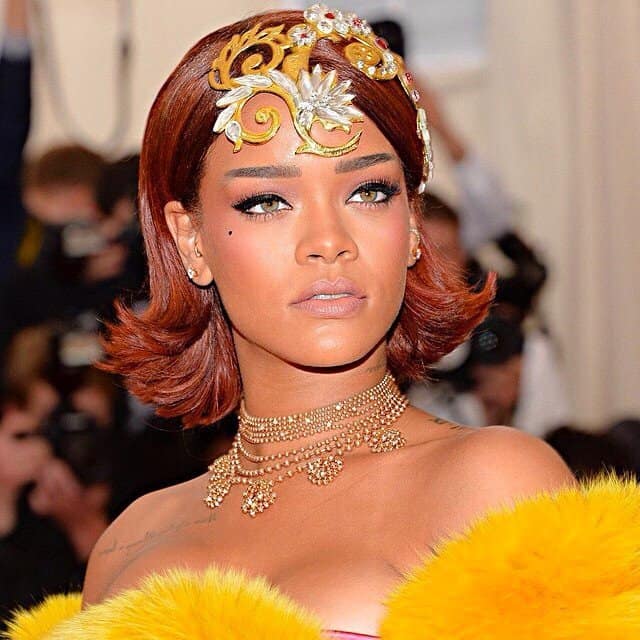 When you want to try retro, just look at Rihanna for inspiration. Doesn't she look like she just came out of the set of Casablanca? Perfect!
32. Classy Updo With Middle Parted Bangs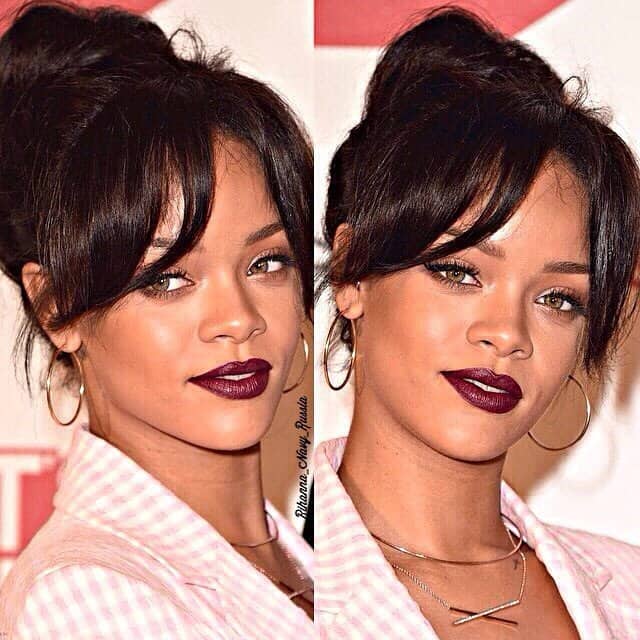 Every now and then, Rihanna tries a classic hairstyle that looks normal. Now, that is not a wrong thing. But it just shows she can wear any hairstyle.
33. Retro Tied Back Loose Hair With Swirled Bangs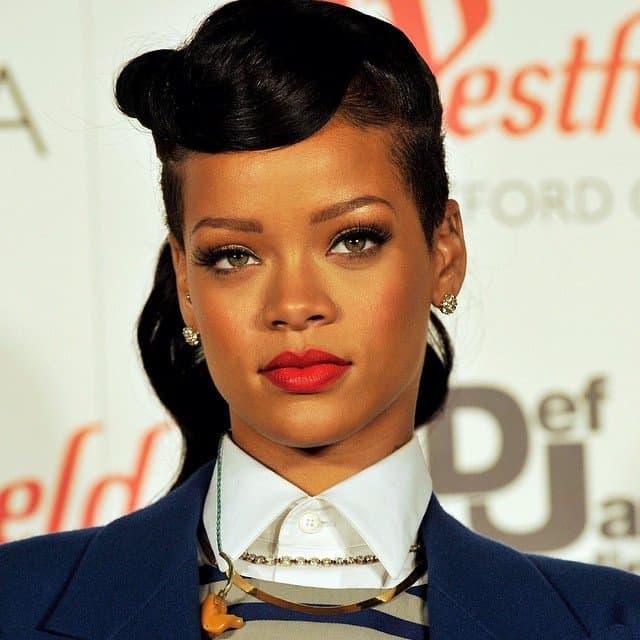 Tied back hair, shirt, and a coat. This is Rihanna at her best. When she wants to try an impersonation of somebody or some trend, she does it perfectly.
34. Slicked Back Top Bun
As mentioned in the beginning, Rihanna loves getting her hair in a bun, knot, or an UpDo for red carpet events. But even then, with a classic hairstyle, she finds a way to make it unique. Here, she does that with a black lipstick that compliments her dress.
35. Gray Fox Highlights In Messy Ponytail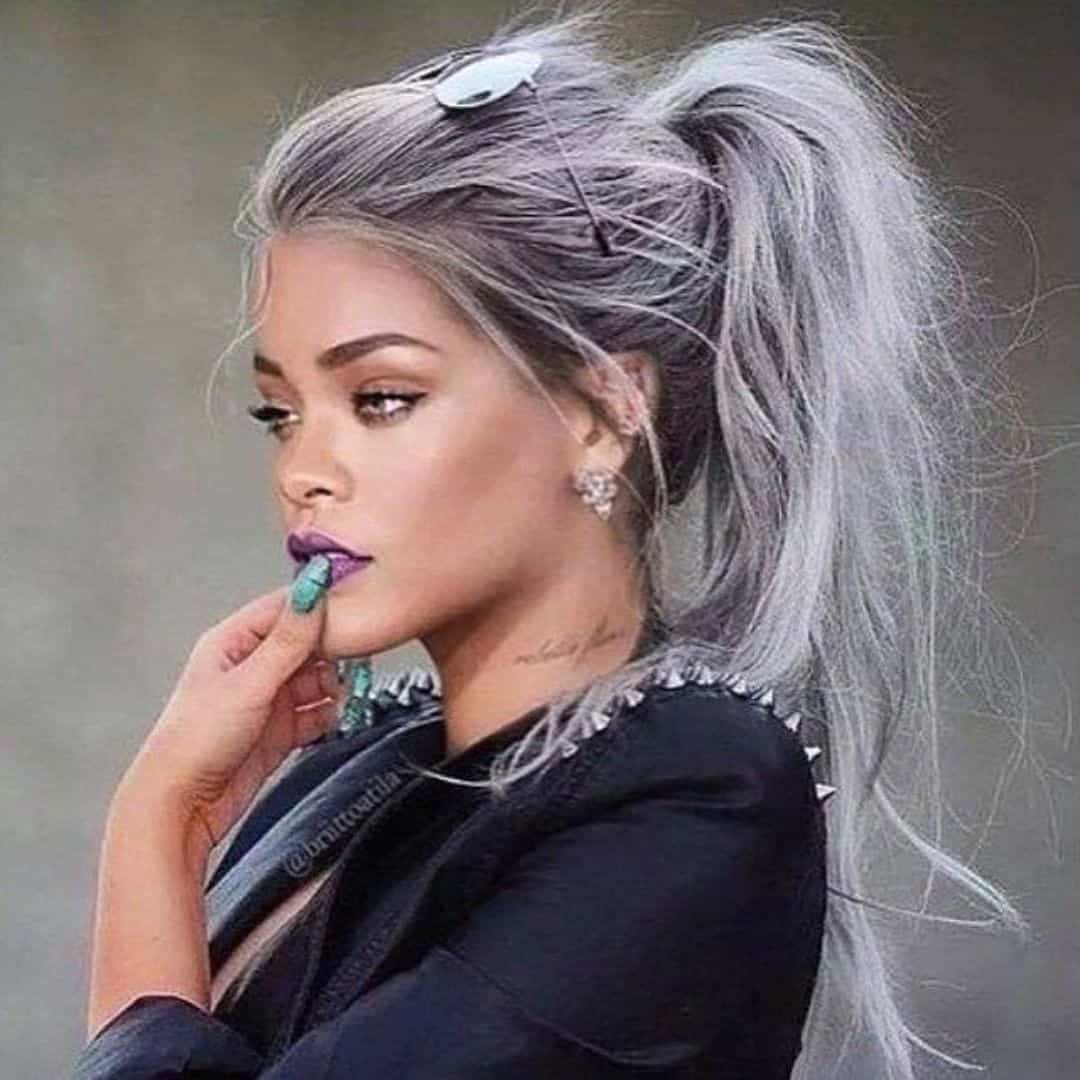 We said before that Rihanna embraced the gray dyeing trend. She is definitely not afraid of experimenting. Yes, even she looks a bit older with gray hair. But she is mature and not afraid of looking old.
36. Pulled Back Loose Soft Curls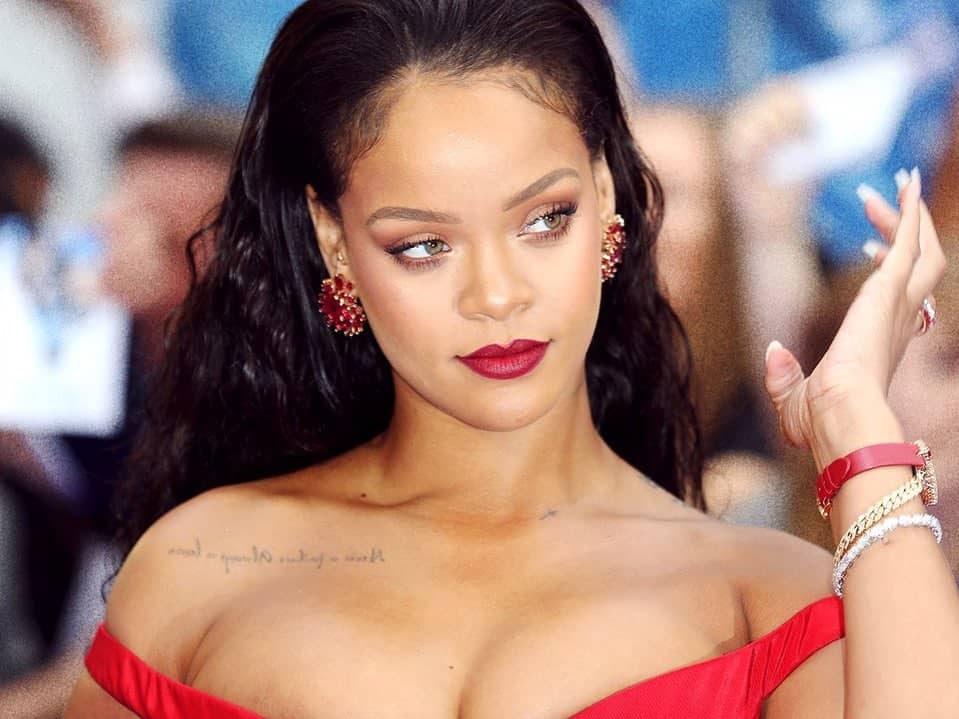 In the end, let's finish this list of Rihanna hairstyles with something she does perfectly. And that is let her hair loose, and show her beauty in full display.